Famous West Virginians (C)
Last revision: Sept. 28, 2017
---
George "Bad News" Cafego (1915-1998), a tailback and safety, was a two-time All-American at Tennessee who became better known for coaching punters and kickers, including Fuad Reveiz and Craig Colquitt. He consulted with several NFL teams on their kicking problems after retiring in 1984. He was the number one draft choice of the Chicago Cardinals in 1940. He was born at Whipple, W. Va., near Oak Hill. He was buried in Oak Hill.
John Callaway, host of Chicago Tonight on WTTW in Chicago and author of the best-selling book of essays The Thing of It Is. He was formerly Vice President of CBS Radio in New York, in charge of development of CBS all-news stations across the country.
Sean Callebs, a general assignment correspondent for CNN based in Washington, was formerly an anchor and editor for WSAZ-TV in Huntington. He is from Huntington and has a degree in broadcast journalism from Marshall University.
Johnson Newlon Camden (1828-1908) was a pioneer oil producer at Burning Springs, a railroad builder, and a coal operator, and was active in oil refining in Parkersburg. He was also a U. S. Senator.
Alexander Campbell (1788-1866) is a founder of the Christian Church (Disciples of Christ), or Campbellites. He immigrated from Ireland to the U. S. in 1809 and later settled in Bethany. At first a member of the Baptist church, he organized the nucleus of the Disciples of Christ about 1827, merging his group with that led by the American revivalist Barton Stone in 1832. Campbell founded Bethany College in 1840 and served as its president until his death.
Bill Campbell was President of the United States Golf Association in 1987 and 1988. He also served as captain of the Royal and Ancient Golf Club of St. Andrews, Scotland, in 1983. The R & A is the governing body for golf outside the U. S. He is the only person ever to hold both positions. Campbell won the U. S. Amateur title in 1964 (beating Oak Hill native Ed Tutwiler in the final). He is from Huntington.
Jack Canfield is the author of the world-wide best selling series Chicken Soup for the Soul. Canfield grew up in Wheeling and in Martins Ferry, Ohio. He attended Linsly Military Institute in Wheeling on a scholarship, later studied at Harvard. (He is not related to "the other Jack Canfield" in Charleston, who was press secretary to Governors Hulett C. Smith and Jay Rockefeller, and is today vice president of Charles Ryan Associates.)
Tom Canning is a keyboard artist who has also written or co-written numerous songs, many of them for Al Jarreau, for whom he was musical director. He graduated from Morgantown High School in 1965.
Gaston Caperton (1940- ) was named President of the College Board, which administers the Scholastic Assessment Test, in 1999. He served two terms as Governor of West Virginia beginning in 1989. He was born in Charleston.
Thomas R. Carper (1947- ), a U. S. Senator representing Delaware, was born in Beckley although he grew up in Danville, Virginia. He was elected to the U. S. Senate in 2000, and was formerly the Governor of Delaware.
Robbie Carrico (1981- ) made it into the top 24 contestants during the seventh season of American Idol. He was previously in a band called Boyz N Girls United. The group opened for one of Britney Spears' tours in the late 1990s. Carrico was born in Beckley, but now lives in Melbourne, Fla.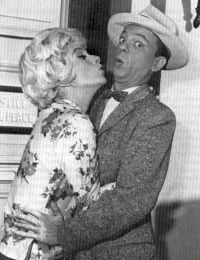 Both West Virginians: Jean Carson and Don Knotts
Jean Carson (1925- ) is an actress perhaps best known for playing Daphne, one of the two "fun girls" from Mount Pilot who appeared in three episodes of the Andy Griffith Show. Her signature greeting on the show was a raspy "Hello Doll." She also appeared on television in Playhouse 90, 77 Sunset Strip, Your Show of Shows, and Peter Gunn. She starred in "The Glass Key," a 1949 telecast of Studio One. Carson was a regular on The Red Buttons Show (1952-1953) and The Betty Hutton Show (1959-1960). She appeared in a 1960-61 episode of the Twilight Zone called "A Most Unusual Camera." She appeared in the film Phenix City Story. She is a native of Charleston and attended a reunion of her class at Charleston High School in 1998. She now lives in Palm Springs, Calif.
W. Hodding Carter, a writer and adventurer, led an expedition which retraced Leif Eriksson's voyage in a replica Viking ship, sailing from Greenland to Newfoundland in 87 days in 1998. He is the son of President Carter's State Department spokesman. Carter lives in Beckley.
Bray Cary is president and chief executive officer of West Virginia Media Holdings, which owns WBOY-TV in Clarksburg, WOWK-TV in Huntington, WTRF-TV in Wheeling, and WVNS-TV in Beckley. He was formerly an executive for NASCAR and and ESPN. He is a native of Hinton and graduated from Hinton High School in 1966. He also attended WVU. He maintains a residence in Jackson County. More information on him is here.
Bernie Casey (1939- ) began acting in the 1960s and has appeared in numerous TV shows and at least 45 movies. In 1997 he wrote, produced, directed, and starred in The Dinner, for which he was nominated for the Grand Prix des Ameriques at the Montreal World Film Festival. He has also played professional football. Casey was born in Wyco. (Another source gives 1940 for his birth year.)
Ted Cassidy (1932-1979), who played Lurch on The Addams Family TV show, was born in Pittsburgh but grew up and went to school in the Philippi area. He attended West Virginia Wesleyan College.
Gale Catlett, the head basketball coach at WVU, is the winningest coach in West Virginia basketball history. He holds a 414-249 record with the Mountaineers. After 28 years as a collegiate head coach, Catlett is 540-293, ranking among the top active coaches nationwide. Catlett grew up in Hedgesville, W. Va., the youngest of 13 children. At Hedgesville High School he was elected senior class president. His performance in high school earned him a scholarship to play basketball at WVU.
Joe Cerisano was the lead singer of the band Silver Condor, which had the 1981 top 40 hit You Can Take My Heart Away Tonight. He is from Fairmont. More on Cerisano is available here.
French Ensor Chadwick (1844-1919) commanded the battleship New York during the Spanish-American War. He was born in Morgantown.
John Chambers was appointed president and chief executive officer of networking giant Cisco Systems, Inc., in 1994. He was selected by his peers as the most admired CEO in the electronics industry. He was born and raised in Charleston and is a 1967 graduate of Charleston High School.
John Davis Chandler (1937- ), an actor who played Bleak in Adventures in Babysitting and appeared in numerous other films and worked in television. He was born in Hinton.
Jeff Chase (formerly Jeff Sniffen) (1968- ), an actor in television and movies, played football at WVU from 1986 to 1991.
Jay Chattaway has written numerous musical scores and has written music for recent Star Trek TV episodes. He is a 1968 graduate of WVU.
Peggy Church (1954- ) appeared in The Big Snatch in 1968 and played the role of Debbie in the movie The All-American Girl (1972). She was born in West Virginia.
Willie Clay (1970- ), a safety for the Detroit Lions and later the New England Patriots. He is a graduate of the Linsly School but was born in Pittsburgh.
John Claypool (or Claypoole) of the Lost River Valley in Hardy County led Claypool's Rebellion against the American Revolution. Governor Thomas Jefferson ordered 500 cavalry to put down the insurrection in one of the most colorful episodes of the war.
Eddie Clayton was an actor who appeared in movies in the 1920s and 1930s. He was born in Charleston.
Christopher Cline, who owns a 150-acre estate in Beckley and a 34,000-square-foot oceanfront mansion in Florida, is worth $1.5 billion, according to forbes.com.
Avon Cobourne (1979- ) played two seasons in the NFL, with the Detroit Lions and the Miami Dolphins. He also played in the Canadian Football League. He was a running back for West Virginia University from 1999 to 2002 before entering the NFL. He lives in Charleston.
Bernard Coffindaffer (1935-1993) spent millions of dollars of his own money planting crosses along highways throughout the U. S. The project began in 1984. He eventually erected 1864 crosses in 29 states. Each site features three crosses, representing Christ and the two thieves who were crucified with him. He was the subject of a PBS documentary Point Man for God and was featured on a segment of CBS Sunday Morning. He was a resident of Craigsville, where he was born. More information is here and here.
Arden Coger is a several time World Champion Wood Chopper who travels the world and competes in chopping contests. He born and raised in Webster County, where he still lives. He was instrumental in starting the Webster County Woodchopping Festival in the 1960s. His son, Arden "Jamie" Coger Jr., is a top competitor on the North American woodchopping circuit. He is the only top competitor in the sport who does not make the circuit his full-time occupation. He is a native of Webster Springs but makes his home in Charleston.
Charlie Coleman. See John Bradford.


Bimbo Coles
Vernell "Bimbo" Coles (1968- ) completed his twelfth season in the NBA in 2002, playing the last two years for the Cleveland Cavaliers. He previously played for the Atlanta Hawks, Miami Heat, and the Golden State Warriors. Coles was a member of the 1988 U. S. Olympic Mens Basketball team. He is the all-time leading scorer at Virginia Tech and holds over 50 Virginia Tech and Metro Conference records; he and one other Virginia Tech basketball player (Dell Curry) have had their numbers retired. He also was drafted twice by Major League Baseball teams, Philadelphia Phillies (26th round/1986) and California Angels (53rd round/1990). Coles was an athlete at Greenbrier East High School in Lewisburg, where his football number (8) and basketball number (24) have been retired. In 2017 Coles was named head boys basketball coach of the Greenbrier East Spartans.
Reno Collier, a stand-up comedian who in 2008 was working with Larry the Cable Guy, is a native of West Virginia. His web site is here.
Al "Jazzbeaux" Collins was one of jazz radio's best-loved personalities for 55 years. His programs featured live performances from Dave Brubeck, Count Basie, and Art Tatum. He was known to jazz lovers as the creator of the Purple Grotto, a fantasy underground that served as the backdrop for his radio show. He also provided the voice-overs for Jazzbo's Swingin' Soundies which air on American Movie Classics. Collins died in Mill Valley, California, at age 78 in 1997. He began his professional career at a radio station in Logan.
Cora Sue Collins (1927- ) was a child actress who appeared in many movies in the 1930s. Her first film, at age five, was The Strange Case of Clara Deane (1932). She played the illegitimate daughter of Colleen Moore in The Scarlet Letter (1934). In her last film, at age 18, she played Elinor Randall in Roughly Speaking (1945). She was born in Beckley.
Larry Combs has been the principal clarinetist for the Chicago Symphony Orchestra since 1978. He was born in Charleston.
Rodney Combs, current NASCAR driver, is from Lost Creek.
Charles E. "Jim" Compton started Grafton Coal in 1942 and invented the Compton coal auger and Compton flexible miner. His auger machine drew national acclaim in 1957 when it was used to drill an escape route for five miners trapped underground in Ohio. Among his other inventions are side-dump trucks and the Compton Flexible Miner, a high-production machine designed to cut through hard material. He endowed the Compton Chair of Nutrition Research at the West Virginia University School of Medicine in 1979. Compton died in 2003 at age 88.
Mike Compton (1970- ), the starting left guard for the New England Patriots, played at WVU, where he became a first team All-American. He was born in Richlands, Va.
Jim Comstock (1911-1996) was the editor of the West Virginia Hillbilly and the Richwood News-Leader and the author of the Best of Hillbilly and the voluminous West Virginia Encyclopedia. Comstock was possibly West Virginia's most prolific writer about mountain culture and history. He saved Pearl Buck's birthplace and helped launch the Cass Scenic Railroad. He graduated from Marshall University and was a resident of Richwood.
Roy Bird Cook (1886-1961), historian and antiquarian, was a leading expert on Stonewall Jackson. His 1924 study, The Family and Early Life of Stonewall Jackson, was reprinted in a fifth edition in 1967. He was also a pharmacist and the 1955 winner of the American Pharmacists Association Remington Honor Medal. He had an old-fashioned drug store on Quarrier Street in Charleston.
Philip Pendleton Cooke (1816-1850), poet and storywriter.
Stephen Coonts (1946- ), author, wrote Flight of the Intruder, the Vietnam War naval aviation novel. Other novels include: The Cannibal Queen, about a flight across country in a biplane, Final Flight, The Minataur, Under Siege, and The Red Horseman, all of which were New York Times best sellers. Coonts is from Buckhannon, where his parents still live. He was born in Morgantown. He graduated from WVU in 1968.
Stoney Cooper (1918-1977) and Wilma Lee Cooper (1921- ), Grand Ole Opry stars. He was born at Harman; she was born at Valley Head.
Wilbur Cooper (1892-1973) pitched 15 seasons in the major leagues, leading the National League in wins with 22 in 1921. Cooper twice led the league in games started with 38, and also twice led the league in complete games with 27. He also topped the league with four shutouts in 1924. His 202 wins is still tops for a Pittsburgh Pirate pitcher. Cooper also played for the Chicago Cubs and Detroit. He was born in Bearsville, in Tyler County.
Jeff Copley (1969- ), country artist, was born at Crum.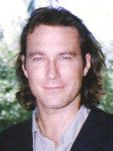 John Corbett
John Corbett (1962- ) played Chris Stevens of KBHR Radio on Northern Exposure and subsequently played Adam MacArthur in the Fox series The Visitor. He also played Ian Miller, a high school teacher, in My Big Fat Greek Wedding. He was born in Wheeling and graduated from high school there in 1979. He started his acting career after an injury put him out of the steel industry.
Ron Corning, who co-anchors World News Now on ABC television, began his career as a reporter and weekend anchor at WBOY-TV in Clarksburg.
Gen. John Corns, a three-star Army general who was commander of bases in Japan and Alaska, and as Inspector General during the Gulf War he insured that American troops were properly prepared before being sent to the region. Corns was the only three-star general who did not attend a military college. He was born in Logan County. When his father was injured in a mine cave-in, the family moved to Ruth, near Charleston, where he grew up. He attended Marshall University.
Cornstalk (1720?-1777), a Shawnee chief, statesman, and warrior, led raids into the Greenbrier Valley and other parts of what is now West Virginia. He was commander-in-chief of the combined Indian forces at the Battle of Point Pleasant. He is buried in the courthouse yard at Point Pleasant; a monument is located near his grave. He was born on the Ohio-West Virginia frontier.
William Harrison Courtney was named special assistant to President Clinton and Senior Director for Russia, Ukraine and Eurasian affairs in 1997. Earlier he had served as Ambassador to Georgia and Kazakstan. He is a native of West Virginia and a WVU graduate.
Charles "Humps" Cowan was an offensive lineman for the Los Angeles Rams from 1961 until he retired in 1975. He played in four consecutive Pro Bowl games from 1967 to 1970. Cowan died of kidney failure in Whittier, California, in 1998 at age 59. He was a native of Braeholm, West Virginia, and graduated from Buffalo High School near Accoville in Logan County, where he was a teammate of Lionel Taylor. At home he was known as Little Humps and his dad was "Big Humps." The nickname was applied to his father, a pitcher; pitchers are know to "hump the ball".
Doran H. Cox (c. 1881-1957) was the assistant director of numerous films from the 1920s to 1940s. He was born in Hinton.
Bantz John Craddock (1949- ) is a former U. S. Army general. His last military assignment was as Commander, U.S. European Command and the NATO Supreme Allied Commander Europe as well as the commanding officer of Allied Command Operations from 2006 to 2009. He was born in Parkersburg and grew up in Doddridge County.
Russ Craft (1919-2009) was drafted by the Philadelphia Eagles in 1943. After serving in the armed forces, he played eight seasons with the Eagles. Craft intercepted four passes in one game and blocked three Steelers extra point kicks in a game. He also returned a kickoff a team record 103 yards. In 1995 he was included in an NFL Films' production of the 100 Greatest Touchdowns in NFL History with a pass theft of Hall of Famer Elroy Hirsch and return for a score. He is credited as the first NFL player to wear a new hard plastic helmet in 1951. He ended his pro career as a player-assistant coach with the Pittsburgh Steelers. He was born in McEwan, Tenn., but played football for Wellsburg High School. He served as the sheriff of Brooke County from 1969 to 1972.
Jet Crandall, vocalist for the hardcore rock group Sam Black Church, grew up in West Virginia, as did guitarist Ben Crandall and drummer J. R. Roach. Roach lived in the town of Sam Black Church. The band, based in Boston, has the best-selling independent record of all time.
Doug Creek is a pitcher for the Tampa Bay Devil Rays. He previously pitched for the St. Louis Cardinals and San Francisco Giants. Creek graduated from Martinsburg High School.
Philip B. Crosby (1926–2001) was a businessman and author who contributed to management theory and quality management practices. He was the author of 13 books on quality. He established Philip Crosby Associates, the web site of which is here. Crosby was born in Wheeling.
Henrietta Crossman (1861-1944) was primarily a stage actress but also appeared in some films, including The Royal Family of Broadway in 1930. She was born in Wheeling.
Robert Crowder (1930- ) is the founder and director of Kulu Mele African American Dance Ensemble. He was born in West Virginia.
George Henry Crumb (1929- ), a composer known for his innovative techniques in the use of vivid sonorities obtained from an enormous range of instrumental and vocal effects, such as hissing, whispering, tongue clicking, and shouting at specified points in the composition. He composed Cosmic Dances for Amplified Piano (1979) and Echoes of Time and the River, for which he won the 1967 Pulitzer Prize in music. He was born in Charleston.
Billy Crystal (1947- ), the comedian, originally wanted to play major league baseball and received a baseball scholarship to Marshall University. He attended attended Marshall in 1965-66, his freshman year. According to a biography, during this time, he hosted a call-in radio show. Crystal transferred to Nassau Community College in Long Island the next year. According to one biography, he transferred because the baseball program at Marshall was dropped; another biography says that during his summer vacation in 1966 he met his wife, Janice Goldfinger, and that she was the reason he decided to transfer.
Kristan Cunningham is the host and lead designer on the HGTV show Design on a Dime. She is from Boone County. She studied interior design at the University of Charleston. She now lives in Los Angeles.
Richard Currey (1949- ) is a critically-acclaimed writer whose books have appeared in ten languages. He is the author of the novel Fatal Light (1988) and the short story collection Wars of Heaven, the title story from which is included in the 1998 O. Henry Award Prize Story Collection. He is from Parkersburg.
Phyllis Curtin (1922- ) is Dean Emerita of Boston University's School for the Arts. She studied opera with Boris Goldovsky and voice with Olga Averino and Joseph Regneas. She has sung professionally in the U. S., Western Europe, Israel, Australia, and New Zealand, and was the leading soprano for the New York City Opera, the Metropolitan Opera, the Vienna Staatsoper, La Scala, and the Teatro Colon. Since 1963 she has been Artist-in-Residence at Tanglewood. She has also taught at the Aspen Music Festival, and has conducted master classes at a number of universities. She was coordinator of the Voice Department and Opera at the Yale School of Music before coming to Boston University. She was born in Clarksburg. Another source gives her birthdate as Dec. 3, 1927.
Austin W. Curtis Jr. is Chairman and President of A. W. Curtis Laboratories in Detroit, which he founded in 1944. The company markets Curtis Rubbing Oil for relief of joint and muscle pain as well as skin and hair care products. Before starting his business, Curtis spent more than eight years as a protégé and assistant to George Washington Carver and is working on a book on Carver. Curtis grew up in West Virginia.
Canute Curtis (1974- ) of the Cincinnati Bengals played college football at WVU. He was born in Amityville, N. Y.
Billy Ray Cyrus (1961- ), the country singer, lived in Huntington in the late 1980s. His band played five nights a week at the Ragtime Lounge.
Leon Czolgosz (1873-1901), the anarchist who assassinated President McKinley in 1901, worked as a wire drawer at a nail factory in Kanawha City in 1899 and 1900. He had earlier worked at nail mills in Ohio and moved to Charleston from his parents' home in the Cleveland area.
---
Front - A - B - C - D - E - F - G - H - I - J - K - L - M - N - O - P - Q - R - S - T - U - V - W - X - Y - Z