Famous West Virginians (D)
Last revision: March 27, 2018
---
Dagmar (Virginia Ruth Egnor) appeared on NBC television on Broadway Open House and with Jack Paar. She was voted the most photogenic girl on TV by a nationwide poll of editors and she appeared on the cover of Life magazine. In 1952 Dagmar starred in her own TV show, Dagmar's Canteen. Earlier in her career she used the name Jenny Lewis. She was born and grew up in Huntington. Dagmar declined to give her birthdate, although it is listed as November 29 in 1920, 1921, or 1927. She died on Oct. 9, 2001. According to TV Guide, she was 79. An article on Dagmar which appeared in Huntington Quarterly is here.


Elliott Daingerfield (1859-1932) was a figure and landscape painter, born in Harpers Ferry. His paintings include Slumbering Fog and The Child of Mary and mural paintings in the Church of St. Mary the Virgin in New York.

Danske Dandridge (1854-1914) of Shepherdstown published two volumes of poetry in the late 19th century: "Rose Brake," and "Joy and Other Poems." She also wrote an estimated 200 gardening articles or letters to magazines, such as Garden and Forest. With the help of her African-American gardeners Tom and Charity Devonshire, she created a fabulous garden with a hundred varieties of roses along with innumerable other types of plant life. She also wrote four books: Historic Shepherdstown, George Michael Bedinger: Kentucky Pioneer, American Prisoners of the Revolution, and an unpublished manuscript about General St. Clair.

David Roman Daniels played himself in the TV series Aardvark in 1999. He was born in Charleston.

Faith Daniels, newscaster on NBC News at Sunrise and The Today Show, worked for a while at WTRF-TV in Wheeling and is graduate of Bethany College.

Mike D'Antoni (1951 - ) played basketball at Marshall University, graduating as the school's career assist leader in 1973. He was selected by the Kansas City-Omaha Kings in the second round (20th pick overall) of 1973 NBA Draft. After several seasons playing in the NBA with the Kings, and briefly the San Antonio Spurs, he moved to Italy where he played 13 seasons for Milan of the Italian League and became the team's leading scorer. An Italian League legend, during his tenure in Italy D'Antoni moved to coaching and led his teams to the playoffs each season. He was twice voted the Italian League's Coach of the Year. He returned to the US and the NBA serving several teams in various capacities, recently concluding his affiliation with the Phoenix Suns where he was selected as NBA Coach of the Year in 2004-05. D'Antoni was appointed Executive Vice President of Basketball Operations and General Manager of the Suns on Mar. 10, 2006. He earned head coaching honors at NBA All-Star 2007 in Las Vegas. One of the NBA's most successful coaches over the past decade, on May 13, 2008 Mike D'Antoni was introduced as the 24th head coach of the New York Knickerbockers. He subsequently coached the Los Angeles Lakers until his resignation in 2014. Mike is a native of Mullens. More information is available at www.nba.com/coachfile/mike_dantoni/.

Iva Toguri D'Aquino (1916–2006), who (among several women) was referred to as "Tokyo Rose," was imprisoned for six years at the Federal Reformatory for Women at Alderson.

Glenn Ashby Davis (1934- ), the world-record holder in the 400-meter hurdles (1956-62) who was the first man to win the Olympic gold medal twice in that event. He was born in Wellsburg.

Henry Gassaway Davis (1823-1916) was the Democratic candidate for Vice President in 1904, at age 80. He ran on the ticket headed by Alton Brooks Parker; they lost to Theodore Roosevelt. Davis had been a Senator from West Virginia from 1871 to 1883. He was one of the founders of Davis and Elkins College. The towns of Davis and Gassaway are named for him. He was born in Woodstock, Maryland, and is buried in Elkins.

John William Davis (1873-1955) was the Democratic candidate for President in 1924. He was nominated on the 103rd ballot at a deadlocked convention. He was born in Clarksburg. Davis was admitted to the Virginia bar in 1895 but returned to his birthplace two years later. In 1899 he was elected to the West Virginia House of Delegates and in 1910 to the U. S. House of Representatives. From 1913 to 1918 he served as solicitor general of the United States, and he was one of President Woodrow Wilson's advisers at the Paris Peace Conference following World War I. He also served as ambassador to Great Britain (1918-21), after which he accepted a partnership in a New York law firm.

Julia Davis (1900-1993) a writer of children's literature, is West Virginia's first and second Newbery Honor winner for Vanio: A Boy of New Finland and Mountains are Free. She was born in Clarksburg.

Kane Davis (1975- ) is a pitcher for the Milwaukee Brewers, having been traded from the Cleveland Indians. He was born in Ripley.

Deacon Dawson (1950- ) is an actor and radio personality. His movie appearances include Body Count, Bandit (Silver Angel Episode), Southern Justice (The Medgar Evers Murder), George Lucas' Radioland Murders (as Peter Lorre), and several made-for-television features. His TV credits include Matlock, Unsolved Mysteries, American Gothic, and various commercials. He is heard on WSYN, Oldies Radio, Sunny 106.5 in Myrtle Beach, S. C. Dawson is a 1968 graduate of Huntington High School and he attended Marshall University.

Jim Dawson is the author of Who Cut the Cheese? - A Cultural History of the Fart which according to this website has sold 100,000 copies and is the world's top-selling book on the subject of flatulence. He has also written or co-written a number of books on the history of rock 'n' roll. He grew up in Parkersburg, although he now lives in California. His excellent website featuring early photos of Parkersburg is here.

Joseph H. Diss DeBar was a noted artist and linguist. He designed the Great Seal and Coat of Arms of West Virginia. He lived in Doddridge County.

Blanche Dee (1936-1987) played the mother in Hallelujah the Hills (1962) and appeared in an episode of Kojak. She was born in Wheeling.

Ed Delahanty played baseball for the Wheeling team in the Tri-State League in 1888 before moving on to the Philadelphia Phillies.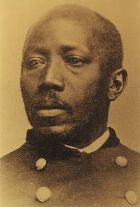 Martin R. Delany (1812-1885) abolitionist, author, and physician. From 1847 to 1849 he edited the North Star newspaper with abolitionist leader Frederick Douglass. He then entered Harvard Medical School. In 1852 he set up practice in Pittsburgh and wrote The Condition, Elevation, Emigration and Destiny of the Colored People in the United States, said to be the first presentation of American black nationalism. In 1854 he helped organize the National Emigration Convention to discuss his proposal for the resettlement of blacks in Africa. At the start of the Civil War he was assigned to recruit blacks for the Union army and became the first black major in the U. S. Army. He was born in Charles Town (then in Virginia). More information is available here.

Bob Denver (1935-2005), who played Gilligan on the TV series Gilligan's Island and Maynard G. Krebs on the TV series The Many Loves of Dobie Gillis, lived near Princeton in his later years. His wife Dreama is from West Virginia. "I think this is the place Bob lived the longest in his entire life," Dreama said in 2006. "I know this house is the one he lived in the longest in his entire life." In the mid-1990s, Bob bought a full-page ad in the Bluefield Daily Telegraph at Christmas expressing his love to Dreama.
William Francis DeVault (1955- ) is the author of more than 6000 poems. His books include PanthEon, from Out of the city, and from an unexpected quarter, which features on the cover his wife, model Ann-Michelle. His fourth book of a forgotten religion is due out in October 2001, and a CD titled simply "Amomancer" is to be released in November 2001. Poetry Now! called him "a master. . .and the future of the Digital Renaissance." He was born in South Carolina but lived in West Virginia from 1967 to 1981. He graduated from Morgantown High School in 1973 and then attended WVU.
Frank DeVol (1911-1999), who played on Fernwood 2-Night and wrote the My Three Sons theme song, was born in Moundsville.
Joyce DeWitt (1949- ) played the part of Janet Wood in the TV series Three's Company. She was born in Wheeling.
Douglas Dick (1920- ), a movie actor, was born in "Charlestown, W. Va.," according to the Internet Movie Data Base.
Hazel Dickens, a singer and songwriter, grew up near Montcalm. Her music became more widely known through the use of her songs in the movie Harlan County, U. S. A. She wrote A Few Old Memories and Mama's Hand, both performed by Dolly Parton, and has performed at the White House. More information is here.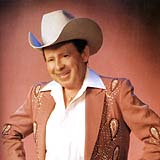 Little Jimmy Dickens (1920-2015) has performed at the Grand Ole Opry since 1948 and was inducted into the Country Music Hall of Fame in 1982. His hits include Pennies For Papa, Take An Old Cold Tater (And Wait), Country Boy, My Heart's Bouquet (all 1949), A-Sleepin' At The Foot Of The Bed (1950), Out Behind The Barn (1954), and May The Bird of Paradise Fly Up Your Nose (1965). Dickens started his career singing on Sundays on WJLS radio station, hitchhiking to Beckley from his home at Bolt. He was born James Cecil Dickens at Bolt and graduated from Trap Hill High School in 1941.

Henry Dickerson played for the Detroit Pistons in 1974-1976 and the Atlanta Hawks during the 1976-1977 season. He later coached at Marshall University and was head coach of UT-Chattanooga from 1997-2001. He is a 1969 graduate of Woodrow Wilson High School in Beckley.
Billy Dixon, frontiersman and scout. [Information Please Almanac]
Carrie Quinn Dolan, who played First Lady Laura Bush in the Comedy Channel's That's My Bush, grew up in Pea Ridge (Barboursville).
Dr. Creflo A. Dollar, a TV minister, played football at Concord College.
Jonathan Prentiss Dolliver (1858-1910), a U. S. Senator, was born near Kingwood (then in Virginia).
Paul Dooley (1928- ), actor and writer, has appeared in A Wedding (1978) and Grace Under Fire and many other movies and television shows. He is from Parkersburg and graduated from Parkersburg High School and West Virginia University. His real name is Paul Brown.
Ryan Dorsey (1983- ) is an actor who has been a guest star on the television series Southland, Parks and Recreation, The Mentalist, and Shameless. He had a regular role in the final season of the FX drama Justified. Ryan was born in Chesapeake.
Shane Douglas (1964- ) was the Extreme Championship Wrestling heavyweight champion on four different occasions. His first two title runs were in 1993 and 1994, before he joined the World Wrestling Federation. After returning to ECW, he won the title twice in 1997. He was the WWF intercontinental champion as Dean Douglas. He now wrestles for World Championship Wrestling. He attended Bethany College, although he is from Pittsburgh. His real name is Troy Martin.

Brad Dourif (1950- ) was the voice of the demented Chucky doll in the "Child's Play" series from 1988-1991 and the 1998 sequel "Bride of Chucky." His break occurred when director Milos Forman saw him in the off-Broadway play When You Comin' Back Red Rider? and cast him opposite Jack Nicholson in One Flew Over the Cuckoo's Nest. He has appeared in numerous other movies and has made guest appearances on The X-Files, Miami Vice, Star Trek: Voyager, and other TV series. He was born in Huntington.

Bertis Downs (1956- ), the manager of the group R. E. M., was born in Montgomery and lived in Smithers until he was five, when his family moved out of the state. His connection to West Virginia led the group to perform on Mountain Stage in 1991.
Jon Dragan helped start southern West Virginia's booming whitewater rafting industry. In 1968 he and his younger brothers started Wildwater Expeditions Unlimited, the state's first commercial whitewater rafting business. A native of Pennsylvania, he died in 2005 at age 62.
Whitney Drolen, a contributing reporter to E! Entertainment Television and the Fox Movie Channel, began her television career at WVVA in Bluefield.

Joanne Dru (1923-1996), an actress who starred with John Wayne in Red River and She Wore a Yellow Ribbon, was born in Logan. She was the sister of Peter Marshall, who hosted the original version of TV's Hollywood Squares.

Joseph D. Duffey was appointed director of the U. S. Information Agency by President Clinton in 1993. He previously was President of the American University in Washington. Duffey is a native of West Virginia and a graduate of Marshall University.
Jim Dukas, actor from Parkersburg, spent his career in New York, mostly on Broadway. He also appeared in Woody Allen's first stage production Don't Drink the Water. His movie credits include The Great St. Louis Bank Robbery, The Detective, and Ironweed. He died on Dec. 13, 2008, at age 83.
Donald F. Duncan founded the company which has been the leading yo-yo company since 1929. Duncan introduced the looped slip-string, which allows the yo-yo to sleep - a necessity for advanced tricks. In 1932 Duncan filed for and was assigned a trademark for the word yo-yo. He held the trademark until 1965 when a court ruled the word had become a permanent part of the language. During the 1950s, Duncan introduced the first plastic yo-yos and the Butterfly shaped yo-yo. In 1936 Duncan founded Duncan Industries to manufacture parking meters; the company soon became the industry leader. Internet web pages claim that Duncan was the inventor of the Eskimo Pie ice cream and the founder of the Good Humor Ice Cream franchise. Duncan was born in 1891 and grew up in Huntington, according to West Virginia by Nancy Hoffman.
Holly Dunn (1957- ), a singer and songwriter, recorded Daddy's Hands and wrote I'm Not Through Loving You Yet, a top ten country hit recorded by Louise Mandrell. She lived at one time in Havaco, W. Va. She was born in San Antonio, Texas.
Monte Durham is the Fashion Director at Bridals by Lori, the South's premier bridal salon featured on TLC's Say Yes to the Dress: Atlanta. A native of Oak Hill, Monte worked in fashion merchandising and hair styling, then made a name for himself as a Washington, D.C.-based bridal image consultant. His work has appeared in the pages of The Washingtonian, Martha Stewart Living, Brides Magazine, and several other publications. Monte's no-nonsense fashion commentary and naughty sense of humor have made him a favorite and regular guest on CNN and Fox. His current project is building the M.O.N.T.E. brand, a line of hair care he created and launched in the fall of 2012. He travels often and keeps homes in Alexandria, Virginia, and in southern West Virginia near his childhood home. Monte devotes his free time to Capital Caring, a hospice organization.
Daniel Duskey led the raid against the federal arsenal and post office at Ripley and against the oil depots at Burning Springs during the Civil War. Captured and tried by a federal tribunal, he avoided execution by being pardoned by President Lincoln. He escaped from jail and returned to the war. He was killed when federal troops poisoned the water he and his men had been using. He was born in Pennsylvania in what is now Allegheny County.
Brig. Gen. Isaac H. Duval was a Civil War general from Brooke County.
---
Front - A - B - C - D - E - F - G - H - I - J - K - L - M - N - O - P - Q - R - S - T - U - V - W - X - Y - Z