Famous West Virginians (F)
Last revision: Dec. 4, 2016
---
H. Smoot Fahlgren, founder of the national advertising firm Fahlgren Inc., created the slogan "Wild Wonderful West Virginia." He was born in Parkersburg.

Adm. Frank George Fahrion (1894-1970) held several command positions during World War II and subsequently served as Inspector General of the Pacific Fleet, Commander of destroyers in the Pacific and Atlantic fleets, and Commander of the amphibious force in the Atlantic fleet. The guided missile frigate USS Fahrion was named for him. He was born in Pickens, West Virginia.

Stanley Robert "Stan" Fansler (1965- ) pitched for the Pittsburgh Pirates in 1986. He was born in Elkins.

Harold S. "Jabo" Fawcett (1917-1999) was a Navy photographer whose photos of the Japanese bombing of Pearl Harbor were widely published in U. S. newspapers and in the Dec. 14, 1942, issue of Life magazine. Fawcett later became a decorated pilot, serving in Bikini in the South Pacific, where he photographed two atom bomb test explosions in 1946. He was a resident of Bridgeport at the time of his death. He was born in Taylor county and graduated from Grafton High School in 1935.

Foge Fazio (1939- ) joined the Washington Redskins as linebackers coach in 2000. He was previously defensive coordinator for the Minnesota Vikings and had been on the coaching staffs of the New York Jets and Atlanta Falcons. He was also the head football coach at Pitt. His father, Francesco, was an Italian immigrant who worked in coal mines in West Virginia before moving to Pennsylvania. Foge Fazio was born in Dawmont, W. Va., a mining camp between Shinnston and Clarksburg. [Evan Jones, who suggested this entry, believes Fazio also lived in Monongah.]

Lt. Robert Femoyer (1921-1944) was killed in action during World War II while serving as navigator of a bomber on a mission near Merseburg, Germany. He was posthumously awarded the Congressional Medal of Honor in May 1945, one of only two navigators to earn the nation's highest decoration for valor. The citation reads in part: "Severely wounded when his plane was hit by three enemy antiaircraft shells despite extreme pain and great loss of blood, Lieutenant Femoyer refused an offered injection of morphine. He was determined to keep his mental faculties clear in order that he might direct his seriously damaged airplane out of danger and so save his comrades. Unable to rise from the floor, he asked to be propped up in order to see his charts and instruments. He successfully directed the navigation of his lone bomber for two-and-a-half hours so well that it avoided enemy flak and returned to the field without further damage. Only when the airplane had arrived in the safe area over the English Channel did he feel that he had accomplished his objective, and then, and only then, he permitted an injection of a sedative. He died shortly after being removed from the airplane." Femoyer was born in Huntington and graduated from St. Joseph High School in 1939. A portion of Route 152 in Huntington is named for him.

Conchata Ferrell (1943- ) pursued an acting career and won both the Drama Desk and Obie awards for Best Actress in 1974 for her off-Broadway role as Gertrude Blum in "The Sea Horse." Conchata has worked steadily in television and films ever since. Along with more than 100 other acting roles, she played Leona, owner of "Mystic Pizza" in the movie of the same name. She has three Emmy nominations, most recently in 2005 and 2007 for her portrayal of the supporting character Berta in "Two and a Half Men," the role that propelled her to television stardom. She was born in Charleston and attended West Virginia University. She graduated from Marshall University with a degree in social studies education. More information is available at www.imdb.com/name/nm0004916/.

Darrel Fetty, a TV and movie actor, is from Milton.

Richard B. Fielder (1921-1999) was the Kings Royal Pilot of Saudi Arabia for two years, flying the King and the Royal Family. At the time of his death he was a resident of Wallace in Harrison County.

Eugene E. Fife was named chairman of Goldman Sachs International in 1988 and joined the Goldman Sachs Management Committee in 1990. After retirement from Goldman Sachs, Fife founded Vawter Capital, LLC, a private investment firm in Charlottesville, Virginia. He is a native of Hinton and a graduate of Hinton High School, where the Fife Scholarship is awarded each year.

Shawn Finney is the head basketball coach at Tulane. He was formerly an assistant basketball coach for the 1998 NCAA National Champions, the University of Kentucky. He is a native of Mullens and a 1980 graduate of Mullens High School.

Addison Fischer is an important figure in the computer security industry. He was born and raised in Clarksburg and attended Washington Irving High School in Clarksburg and WVU. More information is here.

John James "Jimbo" Fisher, Jr. (1965- ) is the head football coach at Florida State University. He was born in Clarksburg. He attended North View Junior High School and Liberty High School before going to Salem College (now Salem International University) where he played quarterback under head coach Terry Bowden from 1985 to 1986.

Suzanne Fisher (1903- ), opera singer, debuted at the Metropolitan Opera in 1935. She was educated in the Sutton public schools and is from Flatwoods.

Walter Lowrie Fisher (1862-1935) was appointed by President Taft to the Railroad Securities Commission in 1910. He was later Secretary of the Interior under President Taft from 1911 to 1913. He encouraged Alaskan development, conservation, and national parks development. He was born in Wheeling.

Sgt. Robert L. Fitzpatrick (1921-2011) toured the USO circuit from Salt Lake City to Chicago as a national celebrity after World War II with Groucho Marx, Gene Tierney, Rita Hayworth, and Orson Welles. Fitzpatrick claimed to have won the Purple Heart, the Distinguished Service Cross, and the Silver Star, and to have been the second-most decorated enlisted man, after film star Audie Murphy, who beat him by a single medal. St. Marys honored him as a hero by holding a Bob Fitzpatrick Day after he returned home in March 1943. Fitzpatrick was born and raised in St. Marys and later lived in Parkersburg. An article published in the Parkersburg News and Sentinel on March 20, 2011, shortly after Fitzpatrick died, cast serious doubt on his claims, reporting that researchers could find no records backing up his claims. The article quoted Doug Sterner, curator of Military Times Hall of Valor, as saying, "It is beyond a doubt the longest-running, most cleverly crafted case of stolen valor I have ever seen."

Terrence Flack (1965- ) attended Marshall University after graduating from Bluefield High School in 1983, and is a graduate of Bluefield State College with a Bachelor of Arts in Social Sciences. He is a member of Alpha Phi Alpha Fraternity, Inc., and has earned a Master's of Arts in the Humanities at California State University. He is a native West Virginian, (born in Bluefield-lived in Bluefield and Princeton) but has resided in Los Angeles for the past 14 years. After completing his undergraduate studies, he lived in Atlanta for (3) years appearing in "The Rover", at the Atlanta Shakespeare Company; in addition to extra roles in "In The Heat of the Night, "I'll Fly Away, and The Real McCoy. (w/Val Kilmer and Kim Basinger) Currently, he can be seen in the upcoming feature "Kings of the Evening", featuring Emmy award winners Glynn Turman and Lynn Whitfield, and Reginald T. Dorsey. In addition, he stars in the independent comedy film "Cain and Abel" (featuring Flavor Flav) which he co-wrote and co-produced with Shane Woodson. He also appears in "The Onion Movie" with Steven Segal. He has been featured in several national commercials including: Dunkin Donuts, Mercedes-Benz, Gap (w/Orlando Bloom and Kate Beckinsale) McDonalds, AT&T, Coca-Cola, Boost Mobil, Visa, National Car Rental, and SkyPlus (U.K.) Additionally, he serves as the voice of Swagger for Old Spice. (www.swaggerizeme.com) Television credits include: "Criminal Minds", "Everybody Hates Chris", "The Shield", "Married With Children", "Strong Medicine", "Cold Case", and most recently on ABC's top rated "Grey's Anatomy." On stage he has recently appeared in Suzin Lori-Parks "365 days/365 plays", "One Fell Swoop", and "Hell Cab", at the Elephant Theatre in Los Angeles. Additional theatre credits include: "Who Killed Woody Allen", (in the role of Spike Lee) "One World", and William Shakespeare's "As You Like It". In 1987 he portrayed PFC Melvin Peterson in Charles Fuller's "A Soldier's Story" in the inaugural performance of the Tampa Bay Performing Arts Center. He is also credited (along with Tim Starks) for casting several music videos directed by Lionel C. Martin; including U.K. star Nathan, and Mint Condition.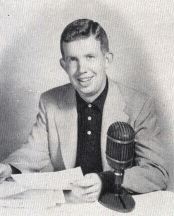 Jack Fleming, formerly the voice of the West Virginia University Mountaineers, is famous for his dramatic call of the Immaculate Reception, Franco Harris' miraculous TD catch in a 1972 Steelers-Raiders playoff game, which has been described by NFL Films as the most replayed in pro football history. The clip is on YouTube here. Fleming got his start as play-by-play man for Mountaineer football and basketball from 1947 to 1959. After station WAJR regained the WVU broadcast rights in 1962 Fleming served again until 1969. He was the Bulls' announcer in the early 1970s. He returned to WVU for good in 1974 after working in Chicago and in Pittsburgh as the sports anchor at WTAE-TV. Fleming also was the radio play-by-play announcer for the Pittsburgh Steelers for 28 years—at the time, the longest such tenure in the NFL. Fleming was born in Morgantown and graduated from Morgantown High School with Don Knotts. Fleming died on Jan. 3, 2001, at age 77.

Col. Johnson C. Fleming experimented with gliding in the 1860s by hitching a horse to bat-like wings of silk and cane that were strapped to his body. The horse pulled him into the air from the hilltop opposite Flemington College in Taylor County.
Robbie Flint, who plays steel guitar with the Alan Jackson Band, is from Sylvester, West Virginia.
Sheila Fern Phillips Wood Foard (1945- ) writes fiction, nonfiction, and poetry. Her award-winning pieces have run in Highlights, Cricket, Spider, Ladybug, Cicada, 'TEEN, Missouri Conservationist (Outside In), Missouri Teachers Write, Country Home, Albuquerque Journal, New Mexico Magazine, and others. Her books include a biography for teen readers of the Mexican muralist Diego Rivera (Chelsea House) and a young adult historical novel, HARVEY GIRL (Texas Tech Press), which won a WILLA Literary Award winner and first place in the YA Fiction Books category of a National Federation of Press Women contest. Past President of Women Writing the West, Foard is a writing instructor for the Institute of Children's Literature (ICL). She was born in Beckley and graduated from Woodrow Wilson H. S. in 1962.
Gen. Robert Fogelsong was vice chief of staff, Headquarters U.S. Air Force, Washington, D.C. As vice chief, he presided over the Air Staff and served as a member of the Joint Chiefs of Staff Joint Requirements Oversight Council. General Fogelsong was born and raised in Williamson and is a graduate of Williamson High School and WVU. November 23, 2001, was declared Gen. Robert H. Fogelsong Day in Williamson, where he was presented with the key to the city and the bridge on U.S. 119 connecting South Williamson, Ky., to Williamson was dedicated and named after him. He retired on Feb. 1, 2006, and subsequently became President of Mississippi State University. More on Fogelsong is here and here.
Garrett Ford played football for the Denver Broncos. He is now an assistant athletic director at WVU, where as a player he set many rushing records.
Bud Forte, host of the TNN show American Legends, was born and raised in Fairmont. He attended high school and college there and spent most of his early career on local radio.
Mike Fox (1967- ), of the Carolina Panthers, formerly of the New York Giants, played college football at WVU. He was born in Akron, Ohio.
Virginia Fox (1902-1982) was an actress who appeared in a number of silent films from 1915 to 1923. She was married to Darryl F. Zanuck. She was born in Wheeling.
Earl Francis (1935-2002), a pitcher for the Pirates and Cards from 1960 to 1965, was born in Slab Fork.
Kitty Frazier of Cross Lanes won three national archery championships in the 1980's.
Gene Freese (1934- ) played baseball for several major league teams in the 1950s and 1960s. He was born in Wheeling.
Jim Fridley (1924- ) played baseball for Cleveland, Baltimore, and Cincinnati in the 1950s. He was nicknamed "Big Jim." He had a career .248 batting average. He was born in Philippi and is currently living in Florida.
Lynette Alice "Squeaky" Fromme (1948- ), who was convicted of the attempted assassination of President Ford, was an inmate at the Federal Correctional Institution for Women near Alderson.
Brig. Gen. Birkett D. Fry was a Civil War general from Kanawha County. Wounded four times, he was captured at Gettysburg.
Joseph A. (Andy) Fry, a former history professor, has published five books: Henry S. Sanford: Diplomacy and Business in Nineteenth Century America (1982), John Tyler Morgan and the Search for Southern Autonomy (1992), Dixie Looks Abroad: The South and U.S. Foreign Relations, 1789-1973 (2002), Debating Vietnam: Fulbright, Stennis, and Their Senate Hearings (2006), and The American South and the Vietnam War: Belligerence, Protest, and Agony in Dixie (2015). He is a native of Ronceverte and a 1965 graduate of Greenbrier High School in Ronceverte. More information is here.
Danny Fulks, a writer of Appalacahian nonfiction, has been published in The MacGuffin, Goldenseal, Timeline, Now and Then, Hearthstone, and Backwoods Home Magazine. Fulks's major contribution to letters has been to show that Appalachian Ohio is southern and set apart from the rest of Ohio by its culture. His stories on moonshine were researched from oral history documents at Marshall University and interviews with former bootleggers from Mingo County and Huntington. Tragedy On Greasy Ridge, 21 true stories from Appalachian Ohio, is for sale at Tamarack and other major bookstores as well as Amazon.com. Fulks was born in Ohio but has lived in Huntington since 1970. He taught in the College of Education at Marshall University for thirty years.
Antoine Fuqua (1966- ), who has directed music videos for Arrested Development, Prince, Stevie Wonder, and Toni Braxton, attended WVU on a basketball scholarship.
Mary Rodd Furbee (1954-2004) was a writer, editor, author, and television producer. She wrote several children's books, mostly biographies of women in American history, including Outrageous Women of Colonial America, Outrageous Women of the American Frontier, Outrageous Women of Civil War Times, Women of the American Revolution, Wild Rose: Nancy Ward and the Cherokee Nation, Anne Bailey: Frontier Scout, and Shawnee Captive: The Story of Mary Draper Ingles. She has also wrote articles and columns which appeared in the Washington Post, Stars & Stripes, the Progressive, and other newspapers and magazines. She teaches journalistic writing and beat reporting, half-time, at the WVU School of Journalism. She grew up in Pennsylvania, but lived in Morgantown late in her life. Her website is here.
---
Front - A - B - C - D - E - F - G - H - I - J - K - L - M - N - O - P - Q - R - S - T - U - V - W - X - Y - Z