Famous West Virginians (G)
Last revision: March 17, 2013
---
Rose Gacioch was a pitcher in the All-American Girls Baseball League from 1944-1954. She played for the South Bend Blue Sox (1944) and the Rockford Peaches (1945-1954). Gacioch worked in a corrugating plant in Wheeling until the plant manager persuaded a scout to come to Wheeling to see her play. She was born in Wheeling in 1915. More on Gacioch is available here.
Bob Gain (1929- ) played football for the Cleveland Browns from 1954 to 1964. He earlier played college football for Kentucky, where he won the 1950 Outland Trophy as the nation's best interior lineman, helping the team to a 10-1 regular season record. Gain was born in Akron, Ohio, but after his father died when he was in the sixth grade he moved with his mother, grandmother, and aunt to live in Weirton. He attended Weirton High School.
Dellos Clinton "Del" Gainer (1886-1947) made the hit that won the 1916 World Series in the longest game in history. He played for Boston in 1915 and St. Louis in 1922. He was born in Montrose, W. Va., and died in Elkins.
Merrill Gainer was the high school football coach at Bluefield from 1959 to 1967 when the Beavers were 87-6-1 and won four state titles. He also coached at three other schools, Poca, Elkview and Big Creek. His 22-season record at the four schools was 181-32-7.
Ellen Galinsky is the president and co-founder of the Families and Work Institute, a Manhattan-based nonprofit organization conducting research on the changing family, workplace, and community. She is also the author of over twenty books and reports, including Ask the Children, a book based on her survey of more than one thousand children that measured how they felt about their family relationships and their parents' work lives. She is a graduate of Charleston High School.
John Gallaher first published the Ladies Garland newspaper in Harpers Ferry in 1824. It was the first newspaper addressed to women.
Jennifer Garner (1972- ) stars in the ABC series Alias. She has appeared in the films Pearl Harbor, Mr. Magoo, Deconstructing Harry, 1999, and Washington Square. Her television credits include series regular roles in the Jennifer Love Hewitt drama, Time of Your Life, and Significant Others, as well as a recurring role on Felicity. She has guest starred on Spin City and Law & Order and has been featured in the television films Rose Hill, Dead Man's Walk, Zoya and Harvest Fire. She was born in Houston but grew up in the Charleston area and graduated from George Washington High School in 1990. She visited Charleston for Christmas in 2003, at which time she was interviewed by WCHS-TV. "I spend all year waiting to come home," she said. "I can't wait to go to (a Charleston bookstore) and have my first latte. ... I was raised by the community. I still feel very loved. It's so comforting to be home. I feel like I could come home and sit in a hundred different laps and be taken care of." More information is here.
Memphis Tennessee Garrison (1890-1988), a McDowell County school teacher and NAACP official, is the subject of Memphis Tennessee Garrison: The Remarkable Story of a Black Appalachian Woman, edited by Ancella Bickley and Lynda Ann Ewen. She was born in in Hollins, Virginia, but grew up in the coal fields of McDowell County and considered Gary her home.
Patrick Gass (1771-1870), the last surviving member of the Lewis and Clark expedition, lived the latter part of his life in West Virginia.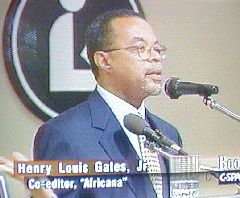 Henry L. Gates

Henry Louis Gates Jr. (1950- ) is chairman of Afro-American studies and an English professor at Harvard University and was listed among the 25 most influential Americans by Time magazine in 1997. He is co-editor of the Africana Encyclopedia. Before joining Harvard in 1991, he taught English and literature at Duke from 1990 to 1991 and taught on the faculty at Yale (1976-1984) and Cornell (1985-1990). Gates is a prolific essay writer on many diverse issues, from the First Amendment, anti-Semitism, ethnic identity and rap music to what he considers to be a crisis in black leadership. Among his books is his 1994 memoir Colored People, which describes what it was like to be black in the U. S. between 1950 and 1970. Gates was born in Keyser and grew up in Piedmont, W. Va., where his father was a paper loader in the day and a janitor at night. After graduating first in his high school class in 1968, Gates enrolled at Potomac State College in Keyser. He transferred to Yale in 1969, graduating summa cum laude in history in June 1973. From there he went on to earn master's and doctoral degrees in English from Clare College at Cambridge University. In 2009 he made news when he was arrested for disorderly conduct and claimed that racial bias was involved; President Obama said that the police acted "stupidly" in arresting Gates.

Horatio Gates (1727 or 1728 -1806), American general in the Revolutionary War whose victory over the British at the Battle of Saratoga turned the tide of victory in behalf of the Revolutionaries. He was born in England and died in New York City, but in 1772 he immigrated to Berkeley County, Virginia, an area which is now in Jefferson County, West Virginia.

James Madison Gates founded Gates Paint Company, once the largest paint manufacturer and distributor in the middle Atlantic states. The Gates Paint Company, on the corner of Summers and Virginia Streets in Charleston, boasted the first "skyscraper" in West Virginia (three stories) and the first elevator in West Virginia.

Frank Gatski (1921-2005), pro football Hall of Famer who anchored the powerful offensive line for the Cleveland Browns in the 1940s and 1950s. He also played with the Detroit Lions. He was All-NFL four years, and played in the 1957 Pro Bowl. Known for his durability, he never missed practice or a game during his entire career--high school, college, or pro. He was born in Farmington and played center for Farmington High School. He worked for a year in the mines. In 2000 at its homecoming football game, the student body of Grafton High School named Gunner an Honorary Alumnus of the school. He attended the football game wearing his NFL Hall of Fame Blazer. He had been living in Grafton at the time of his death. [Sources vary on his year of birth.]

Michael Genevie (1959- ), a movie and TV actor, was born in Weston.

Chris George (1971- ) was the NCAA's all-time leading receiver, playing for Glenville State College. He was in NFL training camps with the Philadephia Eagles and Pittsburgh Steelers, and played with the Hamilton Tiger Cats of the Canadian Football League.

Robert P. George (1955- ) is McCormick Professor of Jurisprudence at Princeton University, where he lectures on constitutional interpretation, civil liberties, and philosophy of law. He also serves as the director of the James Madison Program in American Ideals and Institutions. George has been called America's "most influential conservative Christian thinker." He is a senior fellow at Stanford University's Hoover Institution, and the Herbert W. Vaughan senior fellow of the Witherspoon Institute. In 2012-13, he is a Visiting Professor at Harvard Law School. George grew up in Morgantown, the grandson of immigrant coal miners. [Information from a Wikipedia article].

Rev. David Gerrard helped found and lay out Gerrardstown in 1787. The town is located in Berkeley county. He enlarged the town by platting 100 lots of his own property to be sold to new settlers. It was the site of the first Baptist church west of the Blue Ridge Mountains.

Denise Giardina (1951- ) is the author of Good King Harry (1984), Storming Heaven (1987), The Unquiet Earth (1992), and Saints and Villains (1998). She has won numerous prestigious awards for her writing and was awarded the 1999 Fisk Fiction Prize by Boston Book Review. She has been involved in legislation and promotion against the practice of mountain top removal mining and plans to run for Governor of West Virginia in 2000. Giardina is a graduate of West Virginia Wesleyan. She was born in Bluefield and grew up in a coal camp.

Dr. James Pitzer Gills, an ophthalmologist with a practice in Tarpon Springs, Florida, has performed more cataract and intraocular lens implant surgeries than anyone else in the world. He also has completed six Double Iron Triathlons, eighteen Boston Marathons, and mountain terrain endurance events covering more than 100 miles. He was born in Bluefield, where he lived three houses apart from John Forbes Nash, the subject of the movie A Beautiful Mind. Nash's father worked for Gills' father at Appalachian Power Co. More on Gills is available here.

John Wesley (Pebbly Jack) Glasscock (1859-1947) played for the National League Cleveland Blues from 1879 into the 1884 season, when he joined the Cincinnati Outlaw Reds of the Union Association. He later played for the St. Louis Maroons, the Indianapolis Hoosiers, the New York Giants, the St. Louis Browns, the Pittsburgh Pirates, the Louisville Colonels, and the Washington Senators. He was born in Wheeling.

Hugh Glenn (1788-1833) trader and merchant, born in Berkeley County (then in Virginia). He was a purveyor of supplies to frontier posts in the Ohio Valley and led a hunting and trading expedition from the mouth of the Verdigris River to Santa Fe in 1821.

Danny Ray Godby (1974- ), an outfielder for the Cards in 1974, was born in Logan.

Joe Goddard (1950- ) played in 12 games for the San Diego Padres as a catcher in 1972. He was born in Beckley and attended Marshall University.

Nathan Goff Jr. (1843-1920) was appointed Secretary of the Navy in 1881 in the Hayes administration. In 1888, Goff appeared to have been elected Governor of West Virginia by 130 votes, but the election was contested and the legislature selected his opponent as the winner in 1890. He was born in Clarksburg.

Marshall "Biggie" Goldberg held all of the Pitt rushing records before Tony Dorsett. He went on to play for the Chicago Bears and led the NFL in rushing several years. He was a graduate of Elkins High School.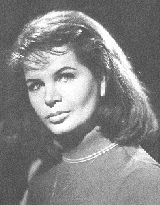 Linda Goodman
Linda Goodman (1925-1995) was a famous astrologer whose 1968 book Sun Signs sold more than 5 million copies. She also wrote Love Signs and Star Signs. Celebrities such as Steve McQueen, Princess Grace, and Sonny and Cher sought her advice. She was born Mary Alice Kemery in Parkersburg. Earlier in her career she had worked as a newspaper writer in Parkersburg and also worked for WCOM radio station there.
Virginia Gordon (1936- ) was Playboy magazine's Playmate of the Month for January 1959. She appeared in the 1962 movie Tonight for Sure. She was born in Chaplin, West Virginia, and is a graduate of Farmington High School and WVU.
Howard Mason Gore (1877-1947) was appointed Secretary of Agriculture in 1924 in the Coolidge administration. He served as Governor of West Virginia from 1925 to 1929 and West Virginia Commissioner of Agriculture from 1931 to 1933. He was born in Harrison county.
Rocco Gorman was selected as the greatest high school coach in West Virginia this century by the Charleston Daily Mail in 1999. The newspaper wrote: "On and off the field, he was a towering figure in state high school sports. As Charleston High's football coach from 1913 to 1917 and 1919 to 1929, his record was 118-31-4. His 1920 team outscored its opponents 379-0 and some historians still maintain it was the best team in the school's long and glorious history. Gorman's Mountain Lion basketball teams won state championships in 1915, 1919 and 1924. He is known as the "father of track" in West Virginia and organized the first state meet in 1914. Gorman founded the West Virginia Athletic Association, which was the precursor to the Secondary School Activities Commission, and the West Virginia Coaches Association. Also, Gorman played major roles in the development of Laidley Field, Watt Powell Park and Coonskin Park."
David Grant, who played football for the Cincinnati Bengals, formerly played football at WVU.
Benjamin Franklin Gravely, inventor of the Gravely garden tractor, originally built the tractors in an old factory he purchased in Dunbar around 1920. Gravely secured 65 patents in his lifetime. Some were obtained in the field of photography, but most of his patents were in the farm implement field. Gravely was born near Martinsville, Virginia, on November 29, 1876. He moved to Huntington sometime around 1900 to work for a photography firm. In 1903 he settled in Charleston, where he opened his own photography studio.
Tracy Gravely (1972- ) plays professional football for the Montreal Alouettes in the Canadian Football League. He was a member of the 1990 New York Giants, which won Super Bowl XXV. He was born in Welch and is a graduate of Mount View High School in Welch and Concord College in Athens.
Tammie Green, a former Marshall golf standout, was on the American teams which won the Solheim Cup in 1994 and 1998. The Solheim Cup is held every two years and involves 24 golfers, the U. S. and European teams consisting of 12 players each.
Hal Greer (1936-) played for the Philadelphia 76ers from 1963 to 1973 and was named the MVP in 1968. He is the 76ers' all-time leader in points with 21,586. He was born in Huntington and attended Douglass High School and Marshall University. Hal Greer Boulevard in Huntington is named for him.
William Gregg (1800-1867) is often considered the father of cotton manufacturing in the South. He started as a watchmaker in South Carolina but quit in his mid-30s and began writing on the need to industrialize the south. In 1846 he erected a cotton mill near Aiken, S.C., drawing workers from among the unpropertied whites in the area. His example was followed widely in the South. His factory ran successfully for 20 years, operating throughout the Civil War. He was born near Carmichaels in Monongolia County (then in Virginia).
Gary Gregor was the first pick of the Phoenix Suns in the 1968 NBA Draft. He later played for Atlanta. Gregor played basketball for South Charleston High School in the 1960s.
Fred Griffith has hosted two popular TV shows on WEWS in Cleveland, Morning Exchange and Afternoon Exchange. He and his wife are gourmet chefs, and have written several cookbooks. He is from Flatwoods.
Wendy Griffith is the Congressional correspondent for the Christian Broadcasting Network, whose news program "The 700 Club" airs on the Fox Family Channel. Before joining CBN, she was the press secretary for Gov. Cecil Underwood; before that, she was a news anchor for WCHS-TV in Charleston. She is a native of Williamson.
Larry Groce (1948- ), singer and songwriter, recorded the novelty tune Junk Food Junkie (1976). He moved to West Virginia in 1972. In the late 1980s, he hosted Mountain Stage, a weekly program on American Public Radio which is recorded by West Virginia Public Radio in Charleston. He was born in Dallas, Texas.
Lefty Grove played baseball briefly for Martinsburg in the Blue Ridge League. He later became a Hall of Fame pitcher for the Philadelphia A's and Boston Red Sox.
Davis Grubb (1919-1980) wrote Night of the Hunter, which became a classic movie starring Robert Mitchum. It was set in the Moundsville area, where Grubb was born. He also wrote the novel Fool's Parade, which was made into a movie starring Jimmy Stewart.
Bucky Guth, an infielder with the Minnesota Twins in the 1972 season, graduated from WVU. He had 3 at-bats.
Jedd Gyorko (1988- ) was drafted by the San Diego padres in 2010. He formerly played for WVU and was named an all-Big East first team shortstop in 2010. Gyorko was born in Morgantown.
---
Front - A - B - C - D - E - F - G - H - I - J - K - L - M - N - O - P - Q - R - S - T - U - V - W - X - Y - Z