Famous West Virginians (H)
Last revision: Dec. 12, 2017
---
Fred Haddad is a Charleston businessman who founded Heck's Discount Stores, which was a regional regional chain of discount retail stores similar in format to Wal-Mart. He was born in Danville, West Virginia.
James Edward "Ed" Haley (1883-1951) was a blind professional fiddler. He traveled to fiddle contests in small towns in West Virginia and Kentucky, often accompanied by his wife Martha, who was also blind and played mandolin. Recordings made by his son on a home disc-cutting machine have been issued on CDs by Rounder Records. Haley was born on Hart's Creek in Logan County.
Tom T. Hall (1936- ), the songwriter and country singer, was living in Ronceverte and working at WRON in the early 1960s when he wrote Harper Valley P. T. A. He also worked in radio at WSPZ Spencer, where the station manager was unimpressed with his singing talent and told him just to be a DJ. He moved to Nashville in 1964. Hall was born in Olive Hill, Ky. Among the hits he recorded himself are (Old Dogs, Children And) Watermelon Wine, I Love, The Year That Clayton Delaney Died, A Week in a Country Jail, I Care/Sneaky Snake, Faster Horses, and Homecoming.
Floyd "Scottie" Hamilton coached basketball at Washington and Lee University and Ohio University. He earlier was an All-American basketball player at WVU. He was raised by his grandmother in Grafton and played for Grafton High School. He was the coach at Welch from 1948-50.
Eli "Rimfire" Hamrick (1868-1945) was an frontiersman whose family helped settle central West Virginia. Records indicate that he and his brother posed for the statue of The Mountaineer on the capitol grounds in Charleston. John W. Davis, the 1924 Democratic presidential candidate, said the 6'3" Hamrick had a face as sad as Lincoln's. He campaigned unsuccessfully for the state senate in 1932 with the slogan, "You put him at the capitol in bronze, now put him there in person." He was born in Webster county and lived there and in Randolph county. [More on Hamrick is available here.]
Mike Hamrick, the athletic director at East Carolina University, graduated from Herbert Hoover High School in Falling Rock.
Col. John F. Hamtramck, of Shepherdstown, commanded the Virginia regiment in the War With Mexico in 1846-1848 and was military governor of Saltillo, Mexico, in 1848.
Alberta Pierson Hannum was a well-known writer of Appalachian culture in the 40s and 50s. One of her works, Roseanna McCoy, was made into a movie. She lived in Wheeling, where her husband was President of Fostoria Glass.
Raymond A. Hare (1901-1994) was a Mideast diplomat and part of the group in the U. S. State Department known as the Arabists because of their early efforts to foster good relations with the Arab Middle East. Hare was born in Martinsville, W. Va.
Will Hare (1916-1997) was an actor from the 1950's into the 1990's. He played Pa Peabody in Back To The Future and Gus Atwater in The Electric Horseman. He has been the face of the best-selling computer program "Chessmaster" since 1986. He was born in Elkins.
Ray Harm is the co-founder of the modern limited edition print industry in the U. S. and has been a nationally known wildlife artist over 30 years. In November 1999, he was named one of the 30 most influential artists in the past 100 years by Decor magazine. He was born in West Virginia.
Minnie Buckingham Harper became the first black woman state legislator in the U. S. when she was appointed to the West Virginia House of Delegates on January 10, 1928, by Governor Howard Gore to fill a vacancy caused by the death of her husband. She was from Welch. She was born in 1886 in Winfield and resided in Keystone much of her life.
Robert Harper was a Philadelphia architect who settled in "The Hole" at the confluence of the Shenandoah and Potomac Rivers in 1734. He ran a ferry service across the Potomac from what was then called Shenandoah Falls. In time, the town at the confluence of the Shenandoah and Potomac Rivers became known as Harpers Ferry. Over the next 30 years, he also built a grist mill on the Shenandoah River and the huge stone house that bears his name.
Colbert Dale "Toby" Harrah (1948- ), an infielder for the Senators, Rangers, and the Yankees from 1969 to 1986, was born in Sissonville.
Dennis W. Harrah played for the Los Angeles Rams and was a nominee for the Hall of Fame in 1992. He was an All American at the University of Miami. He graduated from Stonewall Jackson High School in Charleston.
James R. "Jim" Harrick is the basketball coach at the University of Georgia. He formerly coached at the University of Rhode Island and at UCLA, coaching the Bruins to a national title in 1995, 19 months before he was fired on Nov. 6, 1996, for recruiting violations. He was born in Charleston and graduated from Stonewall Jackson High School in 1956. His wife, the former Sallie Marple, is also from Charleston.
Jack Harris is a popular radio and TV personality in Tampa, Florida. He began his broadcasting career at WVOW radio in Logan after graduating from Logan High School. He later moved on to WAJR in Morgantown. In 1970 he relocated to the Tampa Bay area. He was part of the original broadcast team for the Tampa Bay Buccaneers.
Larry Wayne Harris, a microbiologist and former member of the Aryan Nations, pleaded guilty to fraud charges after he was accused of obtaining bubonic plague bacteria through the mail in 1995. In 1998, he and another man were charged in Las Vegas with possession of a toxin believed to be anthrax. Harris lived in Lancaster, Ohio, but is a native of West Virginia.
Major Harris (1968- ), played football at WVU, where he led the Mountaineers to the 1989 national championship game against Notre Dame in the Fiesta Bowl. He is from Pennsylvania.
Maj. Gen. Thomas M. Harris was a Civil War general from Ritchie County.
Chase Harrison (1984- ) is a soccer player who in 2009 played for the Portland Timbers of the USL First Division. He was born in Huntington.
Nancy Hart (1846?-1913) was a noted Confederate scout, guide, and spy. Hart ran away from home at the age of 14 to join a band of rebel raiders known as the Moccasin Rangers. In 1862 she was captured by Union forces but escaped from jail in Summersville. After the war Nancy Hart Douglas and her husband Josh lived at Spring Creek in Greenbrier County. She also had lived in Roane, Calhoun, and Nicholas counties, but was born in Raleigh, N. C. She grew up on Greenbrier Road near Richwood. She is buried at Manning Knob near the Nicholas-Greenbrier county border.
Clarence Hartzell, a Huntington native who co-starred in two of radio's greatest and most famous shows. Beginning in 1940 he played the role of Uncle Fletcher in Vic and Sade and later he played Cousin Jediah in One Man's Family. He also appeared in the comedy series Lum and Abner, starred in the wartime adventure show The Road to Danger, and was a featured player in Those Websters, a sitcom from the post-war years.
Roy Cecil Harvey (1892-1958) was a pioneer in country music. He was the guitarist for Charlie Poole and the North Carolina Ramblers, one of the most popular string bands of the 1920s, as well as a singer and songwriter. Harvey wrote and recorded "The Virginian Strike of '23" and recorded "Where the Roses Bloom for the Bootlegger," one of Columbia's top-selling records in 1928. He was born in Monroe County. He lived in Raleigh County until 1942, when he moved to Florida to take a job as an an engineer for the Florida East Coast Railway.
Steve Harvey, an actor and comedian, was born in Welch, although he grew up in East Cleveland. His birthdate is given as Nov. 23, 1956, and Jan. 17, 1957.
William Hope "Coin" Harvey (1851-1936) was the Presidential nominee of the Liberty Party in 1932, receiving 800 votes. He wrote Coin's Financial School (1894), the bible of the freesilver movement in the late nineteenth century. He was also the campaign manager for William Jennings Bryan during Bryan's campaign on the the free silver platform. To preserve his writing for future generations "Coin" erected a granite pyramid on his property in Arkansas and placed his work in it. He was born at Buffalo, West Virginia (then in Virginia), attended Marshall, and was a lawyer in Huntington prior to moving to Illinois, then Colorado, and finally Arkansas.
Capt. Andrew Hatfield participated in the famous Battle of Point Pleasant, the first real battle of the American Revolution, in 1774. He had earlier settled on Big Stoney Creek, in what is now West Virginia, where he constructed a fort as protection against Indians.
Carl Hatfield (1947- ) was WVU's first ever cross country All-American. He founded the W. Va. Track Club and led the WVTC to the Boston Marathon team championship in 1974, and the AAU national marathon championship in 1978. A direct descendant of the famous Hatfields and McCoys, he ironically won the Ray McCoy award as the state's best amateur track athlete in 1978. He is one of only a handful of distance runners who have qualified for four U. S. Olympic trials. He was born in Matewan and attended Matewan High School.
Sid Hatfield, the Chief of Police of Matewan, became a folk hero to coal miners and a national celebrity in 1920 when he attempted to arrest detectives who had been hired by coal operators to evict families of fired union miners. A confrontation led to a shootout in which ten people died, including the mayor of Matewan. Hatfield was shot and killed in 1921 in revenge.
William Anderson (Devil Anse) Hatfield (1839-1921) was the leader of the Hatfield clan during the famous feud with the McCoys.
Kathleen M. Hawk was appointed Director of the Federal Bureau of Prisons on December 4, 1992. She is a native of West Virginia and attended Wheeling Jesuit College and WVU.
Alex Hawkins was a wide receiver for the Atlanta Falcons. He played earlier for the Baltimore Colts. He grew up in South Charleston.
Harold Franklin "Hawkshaw" Hawkins (1921-1963) was a country-western singer. He was married to Jean Shepard, another recording artist. Hawkins was killed in the March 5, 1963, plane crash which also killed Patsy Cline and Cowboy Copas. He was born in Huntington.
Allison Hayes (1930-1977) is best known as the scantily-clad star of the original 1957 version of The Attack of the 50 Foot Woman. She appeared in other movies and played Chloe on the TV adventure show Acapulco (1961). She was born Mary Jane Hayes in Charleston, but spent much of her youth in Washington, D. C. She represented the nation's capital in the 1949 Miss America contest.
Sue Haywood (1971 - ) is a two-time national pro mountain bike champion who was named to seven U. S. national mountain bike teams. She won the Pan American Championship gold medal in 2002 and 2004. She has been ranked as high as No. 3 in the world for women pro mountain bikers. Haywood was nominated to the 2004 U. S. Olympic team for Athens only to have an arbitrator rule another racer was entitled because of a USA Cycling clerical error. She grew up in Delaware but attended WVU and has lived in Davis, W. Va., since 1993.
Danny Heater, a native of Burnsville, scored 135 points in a high school basketball game on January 26, 1960. He made 53 field goals and 29 free throws. His team, Burnsville High School, defeated Widen High School, 173 to 43. Heater later became a file clerk for the FBI and a passenger agent for Pan Am in Washington, D. C. The Guinness Book of World Records shows Heater's feat as the record for boys' high school basketball. [In 1924, 156 points were scored by a player in a girl's high school game. That game was six-person basketball. According to basketball statisticians the modern era of the game began with the 1938-1939 season, which was the first without the jump after each goal scored.]
Lt. Gen. Leonard Dudley Heaton (1902-1983) operated on President Eisenhower for ileitis in June 1956. He also removed an abdominal cancer from former Secretary of State John Foster Dulles in November 1956. In 1959 he was made Surgeon General of the Army and later that year he became the first Surgeon General to be promoted to lieutenant general. He was born in Parkersburg.
Ken Hechler (1914-2016) was the author of The Bridge at Remagen, which was made into a movie. He was a member of Congress from 1959 to 1976. In 1951 President Truman asked Hechler, who was then one of his advisers, to prepare a memorandum on President Lincoln's relationship with Gen. George McClellan. Truman used his memorandum the next day when he announced the firing of MacArthur.
Josiah Hedges provided land for the town of Hedgesville in Berkeley county in 1830. As a political entity, Hedgesville is older than the State of West Virginia, being incorporated under the laws of Virginia in 1854.
Alan Henderson (1972- ), a power forward for the Atlanta Hawks, was born in Morgantown. He played collegiate basketball under Bobby Knight at the University of Indiana.
Cam Henderson, a long-time basketball coach at Marshall University, is credited with the invention of the fast break and zone press. He led the team to the 1947 NAIB title and won more games than any other coach in Marshall history.
John S. Hendricks (1952- ), who founded the Discovery Channel in 1982 and acquired the Learning Channel in 1991, is originally from Matewan.
Ken Herock, who played tight end for the Oakland Raiders, formerly played football for WVU.
Don Herron, who plays fiddle, steel, banjo, mandolin, guitar, and dobro for the country group BR5-49, now lives in Moundsville.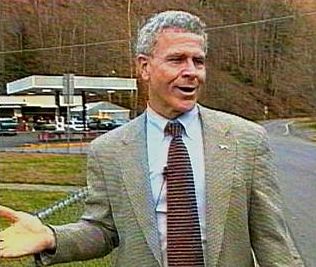 Homer Hickam (picture by Mark Hughes, courtesy of WVVA Newschannel 6)
Homer H. Hickam Jr. is one of the subjects of the 1999 movie October Sky based on his book Rocket Boys. The movie portrays the exploits of six McDowell county teenagers who, inspired by the launch of Sputnik I, launched a total of 31 rockets between 1957 and 1960 at an abandoned dumpsite outside of Coalwood, Hickam's hometown in McDowell county. Hickam attended Big Creek High School. He retired in 1998 as the payload training manager for the International Space Station with NASA, and was living in Huntsville, Ala. The Homer Hickam website is here.
Bobby Hill (1922- ) was a national motorcycle racing champion in the 1950s and is a member of the AMA Motorcycle Hall of Fame. He was born in Triadelphia. More information about him is here.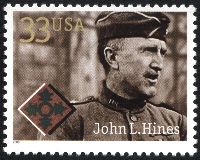 Major Gen. John L. Hines (1868-1968) succeeded Gen. Pershing as Chief of Staff of the Army from 1924 to 1926. Hines graduated from West Point in 1891. He received the Silver Star in the Spanish-American War, having fought in the Philippines in 1901. He served as adjutant to Gen. John Pershing in the pursuit of Pancho Villa in Mexico in 1916. He was promoted more rapidly than any other soldier who served in World War I, going to France as a major and returning as a major general. He was awarded the Distinguished Service Cross and Distinguished Service Medal in World War I. Hines ended his military career in 1932 as commanding general of the Department of the Philippines in Manila. Hines is one of four military leaders who were honored by appearing on a Distinguished Soldiers series of U. S. postage stamps issued on May 3, 2000. He was born in White Sulphur Springs. In an Associated Press article on April 24, 2000, Hines' grandson, Maj. Gen. John R. D. Cleland of Indian Harbour Beach, Fla., said, "He was the son of Irish immigrants and grew up in a small town in West Virginia where he had virtually no opportunity for an education. By virtue of his willingness to work, he was able to go to West Point."

B. J. Hoff is a prominent author of historical fiction and devotional works. Her best-selling novels and inspirational collections have captured a worldwide reading audience. Her awards include Christianity Today's Critic's Choice Book Award for Fiction, a Gold Medallion Award finalist, and numerous Excellence in Media Silver Angel Awards. B. J. (Simon) Hoff was born in Barbour County and attended schools in Wyoming, Harrison, and Barbour counties. She and her husband currently live in Ohio.
Susan Dew Hoff of West Milford in Harrison County passed the examination given by the State Board of Examiners for licensing as a physician on April 19, 1889. She was the first woman to be licensed by examination. Hoff could not attend medical school, but studied with her physician father and on her own. She practiced medicine for nearly 40 years, making house calls on horseback. A nonprofit clinic named for her was scheduled to open in West Milford in the summer of 2000.
Trevor Hoffman (1967- ), closer for the San Diego Padres who tied the National League record for saves in a season with 53 in 1998, was a shortstop for the Charleston Wheelers in 1990.
William Hoffman (1925- ) is a novelist whose first novel, The Trumpet Unblown, was published in 1955. He also wrote The Dark Mountain (1963). He is from Charleston.
Billie Holiday (1915-1959), arguably the best American female jazz singer of all time, lived in West Virginia from May 27, 1947, until March 16, 1948, but would rather have been somewhere else. She served time in the Federal Reformatory for Women at Alderson on a drug charge. She sang in both Parkersburg and Charleston in June of 1938, when she was with vocalist with the Artie Shaw Orchestra, the first black singer to front a white band.
Rush D. Holt (1905-1955) was the youngest person ever elected to the U. S. Senate by popular vote. Elected in 1934 at age 29, he had to wait six months until his thirtieth birthday to take his seat. He was born in Weston. (Sen. Henry Clay was actually younger than Holt but was chosen by the state's legislature, before the Constitutional amendment providing for popular election of Senators.) Holt's son, Rush, was elected to Congress from New Jersey in 1998 and re-elected in 2000.
Lou Holtz (1937- ) is the second-winningest coach in Notre Dame history, behind the legendary Knute Rockne. In 1988 Holtz's Fighting Irish won the National Championship after defeating West Virginia University in the Fiesta Bowl. In 1998 he was named coach at South Carolina. Holtz was born in Follansbee, but grew up in East Liverpool, Ohio.
Craig Honaker was described in 1987 on ESPN's Scholastic Sports America as the smallest high school football player in the United States. Honaker played high school football for Union High School from 1987-1989. He lives in Gap Mills in Monroe County.
Budd Hopkins, artist and author who has written several books on the subject of UFO abductions, grew up in Wheeling. His older brother Stewart remained in Wheeling to take over the family's Chrysler-Plymouth dealership, Hopkins Motors. Hopkins' interest in UFOs grew out of a sighting he had in 1964.
Jeff Hostetler (1961- ) played recently for the Washington Redskins but retired after the 1998 season to help care for his son Tyler, who suffered a severe spinal cord injury in an all-terrain vehicle accident. (Tyler subsequently made what was described as a miraculous recovery from his injury. Not only is he walking, but he even played Little League baseball in the summer of 2000.) Hostetler was the starting quarterback for the New York Giants in 1990, when they defeated the Buffalo Bills, 20-19, in Super Bowl XXV. He is the first quarterback to lead WVU to back-to-back bowl appearances (1982 Gator Bowl & 1983 Hall of Fame Bowl). He is the owner of a bagel shop in Morgantown, where he resides in the off-season. His wife, Vicki, is the daughter of Hostetler's college coach, Don Nehlen. Hostetler was born in Hollsopple, Pa.
J. R. House (1979- ), quarterback for Nitro High School from 1995 to 1998, set national high school records for career total offense, career passing yardage, career touchdown passes, career pass attempts, career passes completed, passing yardage in a season, pass attempts in a single season, completions in a single season, and touchdown passes in a season. In his final game for Nitro, he led the Wildcats to a 69-52 win over Morgantown for the Class AAA title. In that game, he tied another national record with ten touchdown passes. As a first baseman and catcher for the Class A Hickory (NC) Crawdads in 2000, he led the South Atlantic League in batting average, home runs, and slugging percentage. He also finished fourth in the league in both RBI and on-base percentage. House was selected the league's co-MVP, and the Pittsburgh Pirates named him their minor-league player of the year. He graduated from high school in the Daytona Beach area, where he attended school in the spring semesters.
Chuck Howley became a first-round draft selection of the Chicago Bears in 1958. While with the Dallas Cowboys, Howley was the MVP of Super Bowl V (Baltimore Colts 16, Dallas 13). This was the first time a defensive player was Super Bowl MVP and the only time that a player from a losing team was Super Bowl MVP. Howley is from Warwood, near Wheeling, and played for WVU.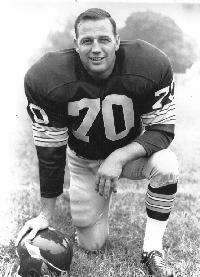 Robert Lee "Sam" Huff (1934- ), one of the best-known athletes to attend WVU, helped lead the team to a combined four-year mark of 31-7 and a berth in the 1954 Sugar Bowl. Huff played eight years with the New York Giants and his last four seasons with the Washington Redskins. In 1982, Huff became the only WVU player besides Joe Stydahar to be inducted into both the college and pro football Halls of Fame. He was born in Number 9, a small coal mining town near Farmington. He attended Farmington High School. In a 2003 Sports Illustrated article, Huff wrote:
I was raised in a West Virginia coal mining camp called Number Nine, near Farmington. My dad worked in the mines, and so did the dads of every kid I went to school with. In those camps you rented your house from the mining company and bought your food and clothes at company stores. You know that Tennessee Ernie Ford song: "You load 16 tons, what do you get/Another day older and deeper in debt"? That was my dad's life. We had to go to a community pump to get water. We didn't have any heat. Can you imagine? Miners would go on strike for weeks and weeks and still find a way to live. I think I did well in football because I was raised to be like them. If you were a boy, you played football. At my high school we played on a field cut into a valley and people sat on the hillside to watch. My hero, besides my dad, was Frank Gatski, who also came from Number Nine. He went to Marshall, played offensive line for the Cleveland Browns and is in the Pro Football Hall of Fame. I never imagined I would play in the NFL, but I knew I didn't want to work in the mines. My father had gone to work there when he was 13, and my older brother, Don, did the same when he was 16. I imagined I could become a coach or a teacher.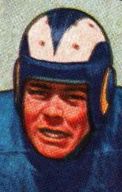 Dick Huffman joined the Los Angeles Rams as a tackle in 1947. He had been an All-American at the University of Tennessee. Huffman graduated from Charleston High School. An image of a 1950 bubble-gum card depicting Huffman is here.

Bob Huggins (1953- ) head coach of the WVU men's basketball team, was born in Morgantown but he was raised in Ohio. He still has family in north-central West Virginia. He coached the University of Cincinnati to the 1992 Final Four and the WVU team to the Final Four in 2010.
Rodney "Hot Rod" Hundley (1934-2015) played for the Los Angeles Lakers and later became a broadcaster for the Utah Jazz. He was a three-year All-American at West Virginia, and the first pick of the 1957 NBA College draft by Cincinnati. His flamboyant playing style earned him the name Hot Rod while at West Virginia. Hundley was born in Charleston, lived on Clendenin Street, and played basketball at Charleston High School.
Cy Hungerford (1889-1983) was a newspaper cartoonist for the Wheeling Register, the Pittsburg Sun, and the Pittsburgh Post-Gazette. Early in his career he did the syndicated daily "Snoodles" strip. Cyrus Cotton Hungerford was born in Manila, Indiana, but grew up in Parkersburg.
Tunney Hunsaker (1930-2005) was a professional boxer whose main claim to fame is that he was Cassius Clay's first professional opponent (before Clay became Muhammad Ali). Hunsaker lost on points. He was born in Kentucky. In 1954 he moved to Fayetteville, where he served as chief of police. He died there on April 25, 2005.
Kermit Hunter (1910-2001) wrote more than forty outdoor dramas and is perhaps the most widely performed playwright in the United States. Among his plays are Unto These Hills, The Lost Colony, and Honey in the Rock, a Drama of West Virginia. Hunter was a native of McDowell county. He graduated from Welch High School in 1929. He played the organ at the Pocahontas Theater and the First Methodist Church in Welch.
Howard Hurt was a starter on the Duke basketball team in 1959, 1960, and 1961, and was drafted by the Los Angeles Lakers in 1961. He played high school basketball for Woodrow Wilson High School in Beckley.
Frank Hutchison (1897-1945), an old time musician, recorded a number of country songs for OKeh Records in the late 1920s. He mixed comedy and musical performances in small mining camp theaters in the 1920s. He was born in Raleigh County and grew up in Logan County.
Bessie Haley Helmick Hyde (1905-1928?) was the first woman to attempt to raft the Colorado River. She disappeared in the Canyon and her body was never found. She grew up in West Virginia and graduated from Parkersburg High School. A chapter in the book Grand Canyon Women by Betty L. Leavengood describes her.
Bernard H. Hyman (1897-1942) produced and directed a number of movies in the 1930s. He was born in Grafton.
---
Front - A - B - C - D - E - F - G - H - I - J - K - L - M - N - O - P - Q - R - S - T - U - V - W - X - Y - Z