Famous West Virginians (J)
Last revision: Nov. 25, 2015

Tony Jacklin is an English professional golfer, winner of the British Open in 1969 and U.S. Open in 1970, participant on numerous Ryder Cup teams, and captain of the European team from 1979 to 1987. After living in Florida for several years, he recently moved to Lewisburg.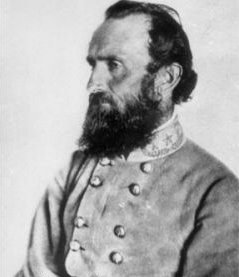 Stonewall Jackson
Thomas Jonathan "Stonewall" Jackson (1824-1863) was one of the leading generals of the Confederacy during the Civil War and is considered among the most skillful tacticians in military history. He was born in Clarksburg (then in Virginia). His father died when he was two years old, and his mother died five years later. Jackson was raised by an uncle on a farm in Virginia. Leigh Ervine provides this information: "Your list mentions that Stonewall lived with his Uncle in Virginia. The Uncle, Cummings Jackson's house was located between Jane Lew and Westin (then Virginia, now West Virginia) on what is now the grounds of Jackson's Mill the State 4-H Camp. In the early eighties I worked on the archaeological dig at the site. We found the Uncle's house (which burned down around 1910 or 1911 and evidence of the house (cabin) Stonewall's father built. The dig was conducted by WVU."
Travis Jackson played basketball for Virginia Tech from 1992 to 1996. In March 1995 at Blacksburg his three-point field goal in the final seconds beat New Mexico State in the NIT quarterfinals and put the Hokies in the NIT Final Four. He is from Peterstown.
William Lowther Jackson (1825-1890) was a brigadier general in the Confederate army, commanding the Nineteenth and Twentieth Virginia cavalries. He also served on the staff of his cousin Stonewall Jackson. After the war, finding that a West Virginia statute disbarred him, he practiced law in Louisville, Ky., and was elected as a judge there. He was born in either Parkersburg or Clarksburg, both then in Virginia; there is some dispute about his birthplace.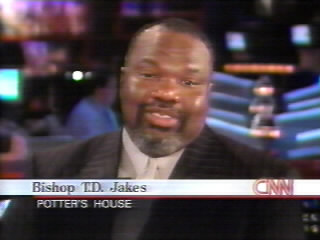 Thomas Dexter "T. D." Jakes (1957- ), called the best preacher in America by Time magazine in 2001, is the pastor of Potter's House Church in Dallas, which had 26,000 members according to a 2000 newspaper article. He has a television ministry and is the author of Woman, Thou Art Loosed! and The Lady, Her Lover, and Her Lord. Jakes quit working at the Union Carbide chemical plant in 1982 and stepped into the pulpit, becoming pastor of Temple of Faith in Charleston before moving to Dallas. Jakes was born in South Charleston. In 2005 he had homes in Charleston and Dallas. On Jan. 29, 2009, Jakes led the early morning prayer service for President Obama at St. John's Church in Washington.
Christopher Janus wrote the novel Miss 4th of July, Goodbye, based on his family's experiences in Montgomery during the Great Depression. The novel is a popular Disney film portraying the struggles of Greek immigrants and African-Americans in that community. He currently lives in the Chicago area.
Jerry D. Jarrell became director of the National Hurricane Center in Miami in 1998. He grew up in Pine Knob in Raleigh County and attended Concord College.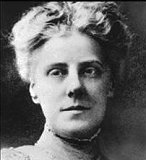 Anna Jarvis (1864-1948) is generally considered the founder of Mother's Day. Following the death of her own mother in 1905, she began campaigning to have one day a year set aside to honor mothers. In 1914 President Wilson signed a proclamation declaring Mother's Day a holiday. Jarvis was the head of the Mother's Day International Association. She was born in Webster, near Grafton. She battled against the increasing commercialization of the holiday and died penniless because of the various legal battles she had waged over the holiday she started. She never had any children.
Joey Jay (1935- ), who played baseball for Milwaukee and Cincinnati in the 1950s and 1960s, lived in Spencer in the late 1950s and early 1960s. He was involved in the oil and gas well business there. He was born in Middletown, Conn.
Brig. Gen. Albert Gallatin Jenkins was a Civil War general from Cabell County. Twice wounded, he died at Cloyd's Mountain in 1864.
Thomas Sidney Jesup (1788-1860) is generally considered the father of the modern Quartermaster Corps. He was appointed Quartermaster General in 1818 and held the post 42 years, exceeding the service of any other officer as head of a department or corps. In December 1836, he was given command of the army in Florida, then in the middle of the second Seminole War. He called for a council, under the truce flag, with Osceola, the Seminole leader. When Osceola appeared, Jesup made him a prisoner; this turned public and congressional opinion against him. Jesup was wounded in a skirmish in 1838 and was then replaced in his command by Gen. Zachary Taylor. He was born in Berkeley County (then in Virginia).
Bob Jeter (1937-2008) played on the Green Bay teams that won the NFL championship in 1965 and the first two Super Bowls. He also played for the Chicago Bears. Robert DeLafayette Jeter Jr. was born in Union, S. C., but grew up in Weirton. He first played for the segregated Dunbar High School in Weirton but concluded his high school career at the newly-integrated Weir High School, where he was an all-stater in the 1950s.
Gary Jeter (1955- ), a star defensive end for the NY Giants in the late late 70's and early 80's, was born in Weirton. Gary played high school football in Cleveland, Ohio, before being named All-American at USC. He is the nephew of former NFL star Bob Jeter, who was raised in Weirton.
James Jett (1970- ), wide receiver for the Oakland Raiders, is the state record holder in track and field sprinting events and won a gold medal in the Barcelona Olympics in the 4X100 meter relay event. He was born in Charles Town, and played for Jefferson High School in Shenandoah Junction.
Joe Johns was named Capitol Hill correspondent for NBC News in December 1993, reporting for Today and other newscasts. In 1988 he won an Emmy for coverage of the Nation of Islam's tactics to rid a dangerous neighborhood of drugs. He is a graduate of Marshall University and began his TV career at WSAZ-TV in Huntington. He is a native of Columbus, Ohio.
Douglas Wilson Johnson (1878-1944) a noted geologist who was a Professor at Harvard University (1907-12) and Columbia University (1912-44). He was known for studies of coastal erosion and was the author of Topography and Strategy in the War (1917), Shore Processes and Shoreline Development (1919), New England-Acadian Shoreline (1925), Stream Sculpture on the Atlantic Slope (1931), and Origin of Submarine Canyons (1939). He was born in Parkersburg.
John Johnson is best known for training Buster Douglas to a victory over Mike Tyson. In the 1970s he was an assistant coach at Ohio State under Woody Hayes. He is originally from Mingo County.
Johnnie Johnson (1924-2005), the pianist for Chuck Berry, co-wrote with Berry, uncredited, such songs as Sweet Little Sixteen and Roll Over Beethoven. Berry's song Johnnie B. Goode is a tribute to his partner. Johnson continued to play and tour all over the world as a solo artist in recent years and had been described as the best blues pianist alive. He was born and raised in Fairmont, the son of a coal miner. He had been living in St. Louis before he died.
Joseph Johnson (1785-1877), the first popularly elected governor of Virginia, lived in Bridgeport much of his life. He was born in Orange County, N. Y.
Katherine Johnson (1918- ) was named a recipient of the Presidential Medal of Freedom in 2015. She was employed by NASA, where she computed flight trajectories. She was born in White Sulphur Springs.
Louis A. Johnson (1891-1966) was appointed Secretary of Defense by President Truman in 1949. He was earlier appointed assistant Secretary of War by President Roosevelt and played a significant role in preparing the U. S. to enter World War II. He was born in Roanoke, Va., but moved to Clarksburg, W. Va., to practice law after graduating from the University of Virginia Law School.
Page Johnson (1930- ), an actor, was born in Welch.
Chad Johnston (1974- ), WVU's starting quarterback from 1994-96, is currently on the roster of the Carolina Panthers. He was born in Peterstown and led Peterstown High School to the state championship in his senior year.
Daniel Johnston (1961- ) is a popular singer-songwriter who has made numerous recordings, including Fun, released in 1994 by Atlantic Records. He was born in Sacramento, Calif., but moved with his family to West Virginia at age 5.
Billy "Red" Jones (1913- ), was a child actor in several movies in the 1920s. He was born William Charles Jones in Wheeling.
Brereton C. Jones (1939- ) served as Governor of Kentucky from 1992 to 1996. He had served as Lieutenant Governor from 1988 to 1992. Before moving to Kentucky and changing his party affiliation from Republican to Democratic, he served in the West Virginia House of Delegates and was House Minority Leader. He was born in Point Pleasant.
Earl Jones (1961- ), who played for the Los Angeles Lakers and the Milwaukee Bucks, is from Mount Hope.
Grandpa Jones (1913-1998), best known for his banjo playing, singing, and comedy on Hee Haw, spent his early years as an entertainer in Wheeling and Cincinnati. He was born in Kentucky.
Greg Jones, one of the most prolific scorers in WVU basketball history, averaged 22.3 points during his senior season. Jones was selected in the third round of the NBA draft by the Indiana Pacers. He was a starting guard in the CBA all-star game in 1984 and 1985.
Sam "Sad Sam" Jones, a pitcher from 1951 to 1964, was born in Monongah. He played for the Indians, Cubs, Cards, Giants, Tigers, and Orioles.
Mrs. Vesta Jones became the first woman mail carrier in West Virginia and one of the first in the country in 1919.
George Joseph, the chairman of Mercury Insurance Group, was born in West Virginia.
Percy L. Julian (1899-1975), chemist, synthesist of cortisone, hormones, and other products from soybeans. He was born in Montgomery, Ala., and died in Waukegan, Ill. However, he taught chemistry at West Virginia State College for Negroes.
James (Jim) Conley Justice II (1951- ) is a businessman who purchased the Greenbrier resort in 2009. In 2012 Business Insider called him the richest resident of West Virginia, saying he is worth $1.5 billion. He was born in Charleston and grew up in Raleigh County.
---
Front - A - B - C - D - E - F - G - H - I - J - K - L - M - N - O - P - Q - R - S - T - U - V - W - X - Y - Z