Famous West Virginians (K)
Last revision: Jan. 2, 2018
---
Craig Karges, illusionist and entertainer, is from the Wheeling area. He attended Marshall University.

Bill Karr (1911-1979) played offensive end/defensive end for the Chicago Bears from 1933 to 1938. He was born William Morrison Karr Jr. in Ripley.

Lawrence Kasdan (1949- ) directed the movies Body Heat, The Big Chill, Silverado, and Grand Canyon. He also wrote the screenplay for The Empire Strikes Back. Kasdan was born in Miami, Florida, but was raised in West Virginia. He graduated from Morgantown High School in 1966.

Paul J. Kaufman (1920-1980) served as a state senator from 1960 to 1968 and as a delegate at large to three Democratic National Conventions. He was a candidate for Governor of West Virginia. He was born in Charleston. On Dec. 28, 1980, he and his wife Rose Jean Kaufman (1928-1980) and a son Steven were delivering Christmas gifts to a needy family when they were all killed by a drunk driver in a car accident.
Lesli Kay (formerly Lesli Pushkin or Lesli Kay Sterling) (1965- ) joined the cast of The Bold and the Beautiful in 2005 in the role of the rebellious Felicia Forrester, the daughter of Eric and Stephanie Forrester. She previously played Molly Conlan on As the World Turns. She grew up in Charleston and attended George Washington High School.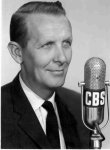 Frank M. Kearns (1917-1986) worked for CBS News from 1953 until 1971. As a foreign correspondent he covered London, Paris, Rome and the Middle East. He was the ghost writer for WAC Capt. Kay Summersby's 1948 international bestseller Eisenhower Was My Boss. After retiring from CBS News, he was a journalism professor at WVU. In 1976 CBS correspondent Daniel Schorr reported that former CBS News President Sig Mickelson identified Kearns as having had CIA connections while working as a stringer. Kearns continued to deny this association until his death. In announcing Kearns' death on the CBS Evening News, Dan Rather said: "His reporting on CBS Radio and Television came mostly from datelines such as Baghdad, Khartoum, Yemen and the Congo. He took the tough stories and never complained, through the 1950s and '60s and on to the '70s. ...Legend may be an overworked word among journalists, but in his quiet, courageous way, Frank Kearns was one around here." Kearns was born in Gary, Indiana, but moved with his family to Morgantown in 1918. He graduated from Morgantown High School and WVU.
Greg Keatley, a catcher for the Kansas City Royals in 1981, was born in Princeton. In 2008 he was living in Columbia, S. C.
Elizabeth Kee of Bluefield was elected to complete the unexpired term of her husband, U.S. Representative John Kee (Democrat), in 1951. She become the first woman in the state's history to serve in Congress.
Derek Keeling competed on the NBC reality television show Grease: You're the One that I Want in 2007. He is from Winfield and graduated from Winfield High School.
Julia Keller, cultural critic and reporter for the Chicago Tribune, won the Pulitzer Prize in feature writing in 2006 for what the judges called a "gripping, meticulously constructed account" of the April 2004 tornado that killed eight people in Utica, Ill. She is a native of West Virginia.
S/Sgt. Jonah Edward Kelley of Keyser was posthumously awarded the Congressional Medal of Honor because of heroic action during World War II at Kesternich, Germany, in 1945. The medal citation reads:
In charge of the leading squad of Company E, he heroically spearheaded the attack in furious house-to-house fighting. Early on 30 January, he led his men through intense mortar and small arms fire in repeated assaults on barricaded houses. Although twice wounded, once when struck in the back, the second time when a mortar shell fragment passed through his left hand and rendered it practically useless, he refused to withdraw and continued to lead his squad after hasty dressings had been applied. His serious wounds forced him to fire his rifle with 1 hand, resting it on rubble or over his left forearm. To blast his way forward with hand grenades, he set aside his rifle to pull the pins with his teeth while grasping the missiles with his good hand. Despite these handicaps, he created tremendous havoc in the enemy ranks. He rushed l house, killing 3 of the enemy and clearing the way for his squad to advance. On approaching the next house, he was fired upon from an upstairs window. He killed the sniper with a single shot and similarly accounted for another enemy soldier who ran from the cellar of the house. As darkness came, he assigned his men to defensive positions, never leaving them to seek medical attention. At dawn the next day, the squad resumed the attack, advancing to a point where heavy automatic and small arms fire stalled them. Despite his wounds, S/Sgt. Kelley moved out alone, located an enemy gunner dug in under a haystack and killed him with rifle fire. He returned to his men and found that a German machinegun, from a well-protected position in a neighboring house, still held up the advance. Ordering the squad to remain in comparatively safe positions, he valiantly dashed into the open and attacked the position single-handedly through a hail of bullets. He was hit several times and fell to his knees when within 25 yards of his objective; but he summoned his waning strength and emptied his rifle into the machinegun nest, silencing the weapon before he died. The superb courage, aggressiveness, and utter disregard for his own safety displayed by S/Sgt. Kelley inspired the men he led and enabled them to penetrate the last line of defense held by the enemy in the village of Kesternich.
Kelley was born in Roda, W. Va. He attended Keyser High School.

John Snowden Kellison (1886-1971) was a professional football player football in the NFL with the Canton Bulldogs and the Toledo Maroons. He was also an athletic director at Marietta College and at William & Mary College. In 1942 he became an assistant coach for the Philadelphia Eagles under Greasy Neale. From 1908 to 1915 he was a tackle at West Virginia Wesleyan, first as prep and later as a college player. He was born in Buckeye, W. Va.

Fern "Peachy" Kellmeyer (1944- ) was an outstanding tennis player in the 1950s and 1960s and a central figure in the growth of women's tennis. She is currently senior vice-president of the Women's Tennis Association. She is from Charleston.

Earl G. "Ken" Kendrick Jr. is a baseball executive with the Arizona Diamondbacks. He was born in Princeton and graduated from WVU in 1965.

John Edward Kenna (1848-1893) was a U. S. Senator and a member of Congress. He entered the Confederate army at age 16. He was born in Valcoulan (then in Virginia).

Sen. Harley M. Kilgore (1893-1956) was the chairman of the Senate Subcommittee on War Mobilization during World War II. He was born at Brown, W. Va. Kilgore earned a law degree from WVU and worked as a high school principal in Eccles for one year before entering the practice of law in Beckley.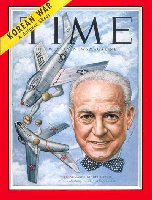 James H. Kindelberger
James Howard "Dutch" Kindelberger became President of North American Aviation in 1934 and built the company into one of the world's leading aircraft manufacturers. He was pictured on the cover of Time magazine on June 29, 1953.
George Smith King led the nation in basketball scoring for two years at Morris Harvey College, from which he graduated in 1950. He went on to play for the Syracuse Nationals, won an NBA championship, retired for one year to coach at MHC, then played another year for the Cincinnati Royals, where one of his teammates was Oscar Robertson. He went on to be assistant coach for Fred Schaus at WVU, and then head coach when Schaus went to the Lakers. From there, he went to Purdue University, first as head coach and then Athletic Director, in which position he retired. He is from Charleston and graduated from Stonewall Jackson High School in 1946.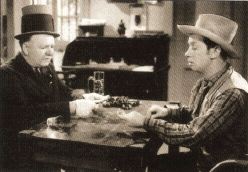 W. C. Fields with Fuzzy Knight in My Little Chickadee (1940)
Fuzzy Knight (1901-1976), a movie actor who appeared mainly in westerns in the 1930s and 1940s, sometimes as Tex Ritter's sidekick. In the early 1920s he was a WVU cheerleader and he wrote the WVU fight song. He was born in Fairmont.
John S. Knight (1894-1981), widely respected journalist and publisher who developed the Knight Ridder Newspapers, a major newspaper chain. He won the 1968 Pulitzer Prize in editorial writing. Knight was born in Bluefield.
Jamie Knoble. See Jamie Noble.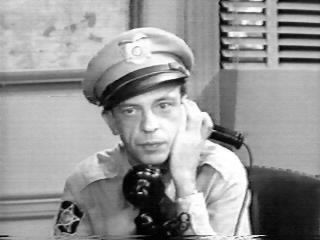 Don Knotts as Barney Fife
Don Knotts (1924-2006), television and movie actor, was born in Morgantown, where his parents and relatives were farmers. He was the youngest of four boys in a family he described as "dirt poor." Knotts said, "It was the 1930s, and those were tough times for all of us, but we had such humor in our family -- except for my father. He was pretty sick. He had a nervous breakdown about the time I was born -- maybe I did it -- but all my brothers were very funny, and my mother loved to laugh." Jesse Donald Knotts graduated from Morgantown High School in 1942. The 1942 school yearbook lists him as Donald Jesse Knotts. He attended West Virginia University, where he majored in speech, hoping to become a teacher. A street in Morgantown has been renamed Don Knotts Boulevard. Knotts played the role of Barney Fife on the Andy Griffith Show. See also the Morgantown chapter of the Andy Griffith Show Rerun Watchers Club, which has photos of Don at Morgantown High School.

John Knowles
John Knowles (1926-2001) was the author of the award-winning novel A Separate Peace, published in 1959, which was required reading in schools across America. He was born in Fairmont, where his father was a coal mining executive, although his parents were originally from Massachusetts.
Gary Alan Kolb (1940- ) was a journeyman outfielder in the National League from 1960 to 1969. He played for St. Louis, Milwaukee, the Mets and Pittsburgh. He said one of his greatest pro moments was that he was the pinch runner for Stan Musial after Musial reached base in his final at bat. He was born in Rock Falls, Ill. In 1998 Kolb was living in Cross Lanes.
Mary Lou Kolanko played in the All-American Girls Baseball League in 1950. She was born in Weirton.
Jerry Koloskie, the assistant athletic director at U.N.L.V., is a former star athlete at Monongah High School in Fairmont.
Hoda Kotb (1964- ), who in 2018 was named co-host of the Today show, grew up in Morgantown, although she was born in Norman, Oklahoma. Her father was a professor of engineering at WVU. "We never missed a home football game. I know the WVU fight song by heart. My childhood closet was covered with Wild Wonderful West Virginia bumper stickers. The day we packed up and moved from 1416 Dogwood Ave., I sat on the front stoop and cried."
George "Speedy" Krise (1922-2011) was a pioneer of the Dobro in early country music and the first to record bluegrass on the instrument. Recently, Pipestem State Park added his picture to their Hall of Fame. His achievements have been recognized by the Library of Congress, and are preserved in a documentary on file at the Library's American Folklife Center in Washington D.C.. He was laid to rest in Hinton in 2011. More information is here.
John Kruk (1961- ) played for the Chicago White Sox, the Philadelphia Phillies, and the San Diego Padres. He later worked for the Philadelphia Phillies organization as hitting instructor for their Class AA affiliate, the Reading Phillies. In 2002 he was one of the hosts of Fox Sports Network's The Best Damn Sports Show, Period. Kruk was born in Charleston. He grew up in Keyser and was later living in Burlington, W. Va.
---
Front - A - B - C - D - E - F - G - H - I - J - K - L - M - N - O - P - Q - R - S - T - U - V - W - X - Y - Z