Famous West Virginians (L)
Last revision: March 16, 2019
---
Joyce Lackey is a writer whose works include Ghosts on Buffalo Creek. She is included in the anthology Mountain Voices. She lives in Richwood.
Ward Hill Lamon (1828-1893) was a personal friend, law partner, and bodyguard of President Abraham Lincoln who was famously absent the night Lincoln was assassinated, having been sent by Lincoln to Richmond, Va. He is the author of The Life of Abraham Lincoln as President. Lamon was born in Summit Point, W. Va. (then in Virginia), and is buried in Gerrardstown, W. Va.
Millard Lampell (1919-1997), a screenwriter, producer, and songwriter, attended West Virginia University on a football scholarship. He was born in Paterson, N. J.
Karl Spencer Lashley (1890-1958), a psychologist who was a major figure in early studies of the localization of brain function. He was director of the Yerkes Laboratories for Primate Biology in Orange Park, Fla., from 1942 to 1955. He was born at Davis.
Jean Lee Latham (1902- ) is the author of plays presented on radio and television and of children's books (Carry On, Mr. Bowditch, fictionalized biography awarded Newbery Medal 1956; This Dear-Bought Land; On Stage, Mr. Jefferson; Young Man in a Hurry; Man of the Monitor; Retreat to Glory: the Story of Sam Houston). She was born in Buckhannon.
Julian Lane Latimer (1868-1939) commanded the battleship Rhode Island during World War I. He later became judge advocate of the Navy. He was born at Shepherdstown.
Matt Lauer of NBC's Today show began his broadcasting career at WOWK-TV in Huntington after studying communications at Ohio University. He was hired at WOWK-TV in 1979 as a producer for the noon news and in 1980 became a reporter for the station.
Lillian Lawrence (1868-1926) was an actress who appeared in numerous silent films in the 1920s. According to imdb.com, she was born in Alexander, W. Va.
Shelia (Davis) Lawrence is the widow of M. Larry Lawrence, the former U. S. ambassador to Switzerland, who died on Jan. 9, 1996. Mr. Lawrence's name made news when it was discovered in 1997 that he had falsified his military record, and his body was subsequently disinterred from Arlington National Cemetery. Shelia Davis is from Brushfork. She graduated from Bluefield High School in 1978. She married Mr. Lawrence on June 9, 1990. Mrs. Lawrence, whose father lives in Bluewell, was recently appointed U. S. representative to the World Conservation Union.
Samuel Spahr Laws (1824-1921) was President of Westminster College in Fulton, Mo., before becoming vice president of the New York Gold Exchange around 1865. He invented the stock ticker. He was later President of the University of Missouri. He is the author of Metaphysics and Christianity: Its Nature. He was born in Ohio County (then in Virginia).
Lloyd Layman, the author of a book on firefighting tactics, was an early proponent of the use of a diffused spray. He was born in West Virginia and was the chief of the Parkersburg fire department in the 1940s and 1950s. An article about him is here.
Blanche Lazzell (1878-1956), a noted modern artist of the mid-20th century, pioneered woodblock printing as part of the Provincetown Art Colony. Her works hang in the Smithsonian and the New York Metropolitan Museum of Art, along with large collections at the University of Charleston and WVU. She graduated from WVU after studying art there and in Europe. She was born near Maidsville, West Virginia.
Rex Lease (1903-1966) an early Hollywood actor who appeared in 154 films between 1924 and 1956. They were mostly westerns but he was in three Ma and Pa Kettle movies, two Abbott and Costello films, and The Grapes of Wrath (uncredited, 1940). He was born in Central City, W. Va.
Carl Lee, the head football coach at West Virginia State College, earlier played defensive back for the Minnesota Vikings and the New Orleans Saints. He graduated from South Charleston High School in 1979, and then played for Marshall University.
Charles Lee purchased property in 1774 in what was to become Leetown, WV. He called his estate "Prato Rio". Soon after this event he was commissioned Major General under George Washington and participated in the Revolutionary War along with Horatio Gates, his neighbor three miles to the north.
Dick Leftridge, who played college football at WVU, was the first-round draft pick of the NFL's Pittsburgh Steelers and the fourth-round selection of the AFL's Miami Dolphins in 1966. He played for the Pittsburgh Steelers before injuries ended his career prematurely. He is a native of Hinton.
Byron Leftwich (1980- ), a quarterback for the Atlanta Falcons, played collegiately at Marshall University. He was born in Washington, D. C.
Doug Legursky was re-signed by the Pittsburgh Steelers in August 2008. He had earlier signed as a free agent but was subsequently cut. He was a center for Woodrow Wilson High School in Beckley and Marshall University.
William Robinson Leigh (1866-1955) was a famous artist whose paintings can be found at Boston's Old North Church, the American Museum of Natural History in New York, and the Rockwell Museum in Corning, New York. His paintings were purchased by important collectors such as the Duke of Windsor and King Albert of Belgium. He was also an illustrator for leading American magazines. He was born at Falling Waters in Berkeley County.
William Leonhart was ambassador to Tanzania and Yugoslavia. He is a 1939 graduate of WVU and a native of Parkersburg.
J. T. Leroy is the author of Sarah, a semi-autobiographical story about a 12-year-old and his mother, both prostitutes, who comb truck stops for tricks. He spent part of his childhood living with his grandparents in West Virginia.
Chester M. Lester wrote the 1981 number one hit She Left Love All Over Me recorded by Razzy Bailey and wrote other songs recorded by Johnny Cash, Willie Nelson, Dean Martin, and Tammy Wynette. He performed during the 60's and early 70's on Charleston radio and TV. Lester was born and raised in the Charleston area and now lives in Hendersonville, Tenn.
Jim Lett (1951- ) in 2012 was beginning his second season as bullpen coach for the Washington Nationals. He was the bench coach for the Pirates in 2005-2007. He previously worked for the Los Angeles Dodgers, Toronto Blue Jays, and Cincinnati Reds. In 1990, he managed the Charleston Wheelers to the South Atlantic League title. During that season, he helped start the transformation of Trevor Hoffman from a weak-hitting shortstop to one of the major leagues' most dominant closers. He was born in Charleston and grew up in Winfield. He is a 1969 graduate of Winfield High School, where he played baseball, football and basketball. According to a recent Charleston Daily Mail story, he lives in his hometown of Winfield in the off season.
Jon D. Levenson is the Albert A. List Professor of Jewish Studies at the Harvard Divinity School. His research interests are in the evolution of Jewish theology throughout the biblical, rabbinic, and modern periods, in literary study of the narratives of the Hebrew Bible, and in the interaction of intellectual history and biblical interpretation. He deals primarily with literary and theological issues in ancient Judaism. He was born in Wheeling and graduated from high school there in 1967.
Charles H. Levine was one of Charleston's most colorful sports figures and generous benefactors. His son Bob bought an International League baseball franchise in 1971 and named it the Charleston Charlies in honor of his father, who was an avid baseball fan and who watched the Charlies, seated in a wheelchair, wearing a derby hat, and smoking a cigar. Levine referred to himself as "Poor Charlie" during his earlier years as a scrap-metal dealer in Beckley. He died in 1981 at age 89. [Information from a 2003 Charleston Gazette article]
R. Fred Lewis was appointed to the Florida Supreme Court in 1998. He graduated from Woodrow Wilson High School in Beckley in 1965. He was student body president in his senior year. Lewis left West Virginia to attend Florida Southern College in Lakeland on an athletic scholarship. Interviewed by the Beckley Register-Herald in 1999, he said, "Beckley's my home. Beckley will always be my home. ... It's kind of a special place for me."
Joseph B. Lightburn was the Constitution Party candidate for President in 1964.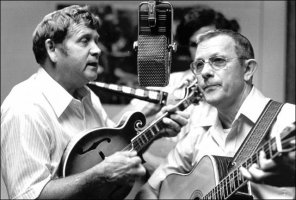 Everett and Bea Lilly (1979). Photo courtesy of the Beckley Register-Herald.
Michael Burt "Bea" Lilly (1921-2005) and Charlie Edwin "Everett" Lilly (1923-2012) and Don Stover (1928-1996) were inducted into the Bluegrass Music Hall of Fame in 2002. The Lilly Brothers and Don Stover performed together in the 1950s and 1960s. The Lilly brothers were born in Clear Creek, West Virginia; Stover was born in White Oak, West Virginia.
Peter B. Lilly was named Chief Operating Officer for the coal segment of CONSOL Energy in 2002, where he became responsible for all aspects of the company's coal production, marketing, and sales. He is a former President of the West Virginia Coal Association. He was born in Beckley and graduated from Woodrow Wilson High School in 1966 and West Point in 1970.
Rebecca Linger, a former wife of Nick Nolte, is an actor and director. She is the mother of Brawley Nolte, who appeared in Affliction, Ransom, and Mother Night.
C. Carwood Lipton was an executive at Owens-Illinois until his retirement. However, his current fame revolves around being a veteran of E (Easy) Company of the 101st Airborne Division during World War II. As a result, he is a central character in HBO's Band of Brothers. He is played by Donnie Wahlberg. Mr. Lipton grew up in Huntington and is a graduate of Marshall University.
James Litton is Music Director of the American Boychoir, widely recognized as the premier concert boys' choir in the U. S. The Choir has performed and recorded under the direction of some of the great conductors including Toscanini, Ormandy, Leinsdorf, Bernstein, Ozawa and Masur. The choristers attend The American Boychoir School in Princeton, New Jersey. Litton is a graduate of Stonewall Jackson High School in Charleston.
William E. Lively was a writer for a number of films produced in the 1940s and 1950s. He was born in West Virginia. He died in 1973.
Earl "Big Cat" Lloyd, the first black to play basketball in the NBA (on Oct. 21, 1950), played college ball at West Virginia State College. However he grew up in Arlington, Virginia.
Logan was chief of the Mingo Indians. The city and county of Logan are named for him, and Mingo county is named for his tribe. Logan was a friend of the white men but became their bitter enemy when his family was killed by a gang of drunken white men at his home opposite the mouth of Yellow Creek in what is now Hancock County.
Mike Logan of the Pittsburgh Steelers (and formerly the Jacksonville Jaguars) played college football at WVU.
Mahlon Loomis is considered by some the true inventor of radio. He was a dentist from New York state who settled in Terra Alta. The following is from QST Magazine: "The first person who succeeded in transmitting through air was apparently Dr. Mahlon Loomis, a dentist. At the close of the Civil War in 1865, he flew two kites, carrying wires, from mountain tops 14-miles (23-kms.) apart. The wire from one kite was attached to ground through a telegraph key; the other kite-wire was grounded through a galvanometer that could measure very small currents. When he operated the key, detectable changes of current occurred in the other kite wire. He was granted a patent on his system in 1872, but no known attempt was made to make use of the phenomenon commercially. Interestingly, the experiment was duplicated 44 years later in London where, during a hailstorm, experimenters successfully communicated over a distance of 3-miles (5-km)."
Adm. T. Joseph Lopez was appointed Commander in Chief of U. S. Naval Forces in Europe in 1996 and retired in 1999. He is one of only two enlisted men in the history of the U. S. Navy to have risen to four-star rank. Lopez is a native of Powellton. The new Chelyan bridge is named for him.
Pare Lorentz (1905-1992), motion picture producer and director. In 1935 he was asked by the U. S. government to organize a film program that would highlight problems in American agriculture. In 1936 he wrote and directed a documentary film, The Plow That Broke the Plains. In 1937 he released The River. In the late 1930s his program was named the U. S. Film Service, and was expanded to produce government motion pictures. Lorentz was born in Clarksburg.


Frank Loria
Frank Loria, a two-time All-American, was a defensive back for Virginia Tech from 1965 to 1967 and went on to become the offensive coordinator at Marshall University. He was killed in the 1970 plane crash that killed most of the football team. He was 23 years old. In 1999 Loria was elected into the College Football Hall of Fame. His son, Frank Jr., accepted the award, saying he never knew his father but knew he was more than just an athlete. "I can tell he was not only a great football player but a great man by the way people look at me and see a little bit of him in me," said Loria, whose mother was seven months pregnant with him when his father died. "I know that my dad would be grateful." Frank Loria was a native of Clarksburg.
Howard M. "Toddy" Loudin (1898-1990) coached basketball, football and baseball for 41 years, 31 of them at Greenbrier High School in Ronceverte. He coached football at Cameron High School in Cameron from 1924 to 1929, at Tyler County High School in Middlebourne from 1929-32, and at Rowlesburg High School in Rowlesburg from 1932-34. His career record in all sports was 1038 wins and 278 losses. In basketball, he had 698 wins and 169 losses. Loudin's 31 teams at Ronceverte won 497 games and lost 138. He was born at Weston and raised at Beverly near Elkins. He played high school sports at Morgantown, where his mother was a teacher. He was a member of the first basketball team ever at Morgantown under Coach Dave Graham. He was a member of the 1923 unbeaten Davis and Elkins football team and graduated from the school in 1924.
Dr. Patricia Love has written or co-written books and articles on relationship topics. She has been a guest on Oprah Winfrey and the Today show. She graduated from Sistersville High School and WVU and currently lives in Austin, Texas.
Don B. Lowe was named National Scoutmaster of the Year in 1975. He founded Boy Scout Troop 3 in Parkersburg in 1917 when he was 25 years old and remained the scoutmaster of the troop for 58 years, until his death in 1975.
Renita Sue Loyd, a writer, is included in the anthology Mountain Voices and was the selected as author of the month on Mountain Echoes. She lives in Sutton. Her web site is here.
Daniel Bedinger Lucas (1836-1909), an author known as "the poet of the Shenandoah Valley," was born at Shepherdstown (then in Virginia). He was appointed a U. S. Senator.
Oliver Luck is the former President of NFL Europe, the former World League of American Football. He was a Houston Oilers quarterback and was a quarterback for West Virginia University. Luck ran for Congress as a Republican from West Virginia's second district in 1990, but lost to the incumbent, Harley O. Staggers, Jr.
Albert "Sparky" Lyle (1944- ) started his baseball career with the Bluefield Orioles. He was born in DuBois, Pa.
Corinne Lyman was a faculty member in the Politics and Government Department at Ohio Wesleyan University from 1968 to 1999. She taught International Relations and Organization, and Comparative Government. In 1978 Corinne won the Sherwood Dodge Shankland teaching award. She edited work for Henry Kissinger and others and worked for numerous international organizations. She was born in Athens, West Virginia, as her father was teaching at Concord College. Information about her is here.
Pfc. Jessica Lynch attracted nationwide attention during the war against Iraq in 2003 when the 19-year-old supply clerk who was held by Iraq for over a week was rescued by a team of U. S. military commandos who stormed into her hospital room. She is a native of Palestine, West Virginia. She played softball and basketball at Wirt County High School in Elizabeth.
---
Front - A - B - C - D - E - F - G - H - I - J - K - L - M - N - O - P - Q - R - S - T - U - V - W - X - Y - Z