Famous West Virginians (N)
Last revision: May 24, 2015
---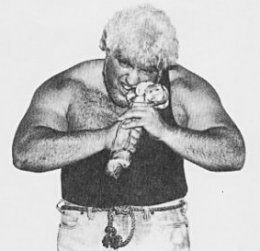 Tony Nardo (1965- ) was a professional wrestler for the WWF from 1985-88. He was trained by Dominick DeNucci, along side Mick Foley (aka Cactus Jack Foley and Mankind). He wrestled under several names but most notably as "Spot," one half of the tag team "The Moondogs." Tony was born in West Milford in Harrison County and attended South Harrison High School. Photo at right: Nardo as Moondog Spot.

Steve Narick, bass player for the band Sleeping Giants, is from Wheeling. The band, which is from West Liberty College, has appeared on Late Night With Conan O'Brien.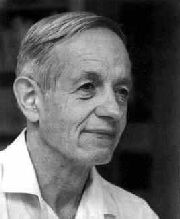 John Forbes Nash Jr. (1928-2015), a mathematician who was awarded the 1994 Nobel Prize in Economics for his landmark work, first begun in the 1950s, on the mathematics of game theory. He shared the Prize with Hungarian-American economist John C. Harsanyi and German mathematician Reinhard Selten. Nash began to experience what he called "mental disturbances" in 1959 and was involuntarily hospitalized for a time. A 1998 biography of Nash, A Beautiful Mind, written by Sylvia Nasar, describes Nash as a mathematical genius at Princeton and MIT who essentially lost 30 years of his life to paranoid schizophrenia and who re-emerged into public glory once the disease was in remission to receive the Nobel prize for a brilliant doctoral dissertation he had done in 1950. Nash blamed his collapse on the mental effort of resolving contradictions in quantum theory. A movie with the same title was released in 2002. Nash was born in Bluefield and grew up there. He attended Wade Elementary School, Whitethorn Elementary School, Fairview Junior High School, and Beaver High School, from which he graduated in 1945. While a senior in high school he took supplementary math courses at Bluefield College. Nash's maternal grandfather, Dr. James Everett Martin, was an early settler in Bluefield, and served as its sixth mayor in 1896-97.

Earle "Greasy" Neale (1891-1973), football end and coach. He coached the Philadelphia Eagles from 1941 to 1950 and was inducted into the Pro Football Hall of Fame in 1969. He also played for the Cincinnati Reds around 1919. Neale was born in Parkersburg, graduated from Parkersburg High School and was once the head head football coach at Parkersburg High School.
Julia Beckwith Neale (1789-1831) was the mother of Stonewall Jackson. She was born near Aldie in Loudoun County, Virginia. After her first husband Jonathan Jackson died, she married Blake B. Woodson, an attorney who was appointed clerk of Fayette County. The family lived in and around Ansted, where she is buried.
Matthew Mansfield Neely (1874-1958) was a U. S. Senator and Governor of West Virginia. As a Senator he was chairman of the Senate Judiciary Committee. For decades, he controlled the state's Democratic "machine" and hand-picked candidates to receive the party's nomination for the state's highest public offices. He was born in a log cabin near Grove in Doddridge County. In 1907 he was elected Mayor of Fairmont. Fairmont's first radio station, WMMN, is named for him.
Don Nehlen (1936- ) was head football coach at WVU for 21 seasons, leading the team to a Division I-A National Championship football game in 1988. He was National Coach of the Year in 1988, Big East Coach of the Year in 1993, and President of the American Football Coaches Association in 1997.
Brett Nelson (1980- ) is a sophomore point guard on the University of Florida basketball team. He graduated from St. Albans High School. He has been called the best player from West Virginia since Jerry West.
Thomas R. Nicely (1943- ), a professor of mathematics at Lynchburg College in Virginia, made national news in 1994 when he discovered a bug in the numeric coprocessor of the widely-used Pentium computer chip. He was born in Massachusetts but grew up in Amherstdale in Logan County. He graduated from Man High School in 1959.
Dustin Nippert (1981- ), a pitcher for the Arizona Diamondbacks in 2007, was born in Wheeling and attended WVU.
Jamie Noble is a member of the World Wrestling Entertainment roster. The WWE web site reported in June 2002: "Introduced by Nidia as her new boyfriend, Jamie Noble made his presence felt when he attacked The Hurricane on the June 6, 2002, episode of SmackDown! Noble became a first-time WWE Cruiserweight Champion after defeating The Hurricane at King of the Ring 2002, thanks to help from his girlfriend, Nidia." His real name is James Gibson. His hometown is Hanover, West Virginia.
Nick Nolte (1940- ) had a home in Charleston and was formerly included in the list of famous West Virginians in the World Almanac. Nolte was married to two West Virginians, Sharyn Haddad and then Rebecca Linger. Rebecca's father, Dr. Thomas Linger, was a consultant on several of Nolte's films. When he was studying for Down and Out in Beverly Hills he is said to have hung out with Charleston's eminent street person, Bill Dunn, known as Aqualung. In an interview, Nolte said that to beef up for a role, he told the director of the movie that he'd just go to West Virginia and eat. Nolte was born in Omaha.
John C. Norman is a distinguished surgeon and a pioneer in organ transplant techniques. He was born in Charleston.
Don Nottingham (1949- ) was a running back who played for the Baltimore Colts and Miami Dolphins. He was born in Widen, W. Va. He attended Ravenna High School in Ravenna, Ohio, and played college football at Kent State University.
David Nutter (1960- ) is an American television and film director and television producer. He is best known for directing pilot episodes for television series, being known as "the pilot whisperer." Nutter's big break came in 1993, when he began directing episodes of The X-Files. Nutter was born in Parkersburg and grew up in Vienna but later moved to Florida.
Madison (Buzz) Nutter played professional football with the Baltimore Colts and Pittsburgh Steelers. During his many years with the Colts he was center for Johnny Unitas. His hometown is Huntington.
Mayf Nutter (1941- ) has appeared in many TV series including The Waltons, where he had a recurring role as the leader of a country and western band. He appeared in a 1984 episode of Murder She Wrote and has appeared on The Whiz Kids. He earlier was a member of the New Christy Minstrels and had at least one hit record on the country charts on his own in the 1970s. He was born Mayfred Nutter Adamson in Bridgeport. He made his first radio appearance at age 12 on WPDX with local favorites Cherokee Sue and Little John Graham. Later, while in high school, he had a part-time job at WBOY-TV, which had a program called the Big Boy Frolics.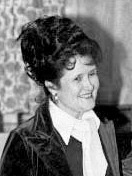 Eldora Nuzum
Eldora Marie Bolyard Nuzum (1926-2004), the first female editor of a daily newspaper in West Virginia, was named the managing editor of the Grafton Sentinel, then a daily, in 1946. She subsequently was the editor of the Inter Mountain, a daily in Elkins, for more than 30 years. She was married to Circuit Judge Jack Robert Nuzum, who served in the House of Delegates from Taylor and Randolph Counties. She was born in Grafton.
---
Front - A - B - C - D - E - F - G - H - I - J - K - L - M - N - O - P - Q - R - S - T - U - V - W - X - Y - Z