Famous West Virginians (O)
Last revision: June 20, 2006
---
Jim O'Brien (1952- ), the head coach of the Boston Celtics, was an assistant coach at Wheeling Jesuit College in 1974-75 and head coach there from 1982 to 1987.

John O'Brien is a writer whose work has appeared in Hudson Review, Massachusetts Review, TriQuarterly, Country Journal, Harrowsmith, and Gray's Sporting Journal. His first book is At Home in the Heart of Appalachia. He was the recipient of a National Endowment for the Arts fellowship. He lives in Franklin, West Virginia. More information is here.

Tim O'Brien led the acclaimed bluegrass group Hot Rize before starting a solo career in 1990. In 1993 he was awarded Male Vocalist of the Year by the International Bluegrass Music Association and in 1995 released Rock In My Shoe, which was number one on Gavin's Americana chart for six weeks. He also composed Walk the Way the Wind Blows and Untold Stories, both of which were major hits for Kathy Mattea. Tim's sister Molly often performs with her brother and has also recorded. He grew up in Wheeling.

Molly O'Day (1923-1987) was a traditional country and honky-tonk singer who also performed under the names Mountain Fern and Dixie Lee Williamson. She recorded several inspirational songs for Columbia records. O'Day was born LaVerne Williamson in Pike County, Ky., but spent much of her life in West Virginia, performing with her husband, guitarist Lynn Davis. After Davis became an ordained minister in 1954, the couple preached throughout the coal mining communities of West Virginia. [Another Molly O'Day, a silent screen star who died in 1998, had no ties to West Virginia.]

Vickie Odegard was a rookie on the 1997 LPGA golf tour and was the 1996 Futures Tour Player of the Year. She was born in Fairmont.

Devon Odessa (1974- ) played Sharon Cherski on the TV show My So Called Life. She also had a recurring role in Angel Falls and has guest-starred in The Wonder Years, Step By Step, Highway to Heaven, Hunter, The Facts of Life, and My Talk Show. She was born in Parkersburg although she and her family moved to New Orleans and she attended high school in California.

Johnny Olson (1910-1985), the TV announcer best known for the phrase "Come on down!" on The Price Is Right, lived in Lewisburg during his off time for many years.

Roger O'Neil is NBC's news chief in Denver and is best known for exceptionally well-written "stand up" news reports on the NBC Nightly News with Tom Brokaw. O'Neil covered the Oklahoma City federal building bombing, among other stories for NBC-TV. He worked for WSAZ-TV in Huntington from 1967 to 1971 and lived in Barboursville.

Bo Orlando (1966- ) played football at WVU before playing for the Houston Oilers, San Diego Chargers, and Cincinnati Bengals. He most recently played for Pittsburgh Steelers, but announced his retirement in June 1999. He was born in Berwick, Pa.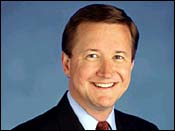 Bob Orr
Bob Orr (1953- ) has been a correspondent for CBS News since 1993, now covering transportation. He has broken several important stories, including the center fuel tank diagnosis as the likely cause of the crash of TWA Flight 800. He received an Emmy Award for his work on this story. Orr was born in Wheeling. He graduated from Bethany College in 1975. More information on him is here.
Burl Osborne (1937- ) is the publisher and editor of the Dallas Morning News. He was born in Jenkins, Ky., but worked for the Associated Press in West Virginia in the 1960s and was a reporter for WHTN-TV in Huntington from 1958 to 1960. He is a 1960 graduate of Marshall University.
Robert M. Overstreet (1938- ), author of the respected Overstreet Comic Book Price Guide, was born in Huntington, although he soon moved to Cleveland, Tenn.
Michael Joseph Owens (1859-1923), inventor and glass manufacturer. By the age of 15 he had become a glassblower. In 1888 he began work in a glass factory in Toledo, Ohio. A series of experiments he undertook as a young man eventually led to the perfection of a completely automatic bottle-blowing machine patented in 1895 and 1904. Before his death he had patented more than 40 devices for improving the manufacturing of glass. He organized the Owens Bottle Machine Co. in 1903 and the Libbey-Owens Sheet Glass Co. in 1916. Owens Community College in Toledo, Ohio, is named for him. He was born in Mason County (then in Virginia).
Warren Owsley won the gold medal in the heavyweight division at the World Jujitsu Games in Auckland, New Zealand, in October 1995. At the time he lived in South Charleston.
---
Front - A - B - C - D - E - F - G - H - I - J - K - L - M - N - O - P - Q - R - S - T - U - V - W - X - Y - Z