Famous West Virginians (R)
Last revision: June 27, 2014
Ed Rabel was NBC's Pentagon correspondent and earlier reported for CBS. Rabel worked in radio in Charleston before becoming news director of WCHS-TV in Charleston. He held that position from 1963 to 1966. He started his broadcasting career at WKLC in St. Albans at age 15. By the time he was 18, he was working at WHMS and he worked there while in college. He also worked for WCAW. He called himself "Ed Rabel on the turntable." After his broadcasting career, he spent four years with Weber McGinn, an international public relations firm in Washington, and subsequently became a consultant. He was born in Nitro and considers St. Albans his hometown. He attended St. Albans High School and is a 1963 graduate of Morris Harvey College.

Jason Rader, from St. Albans, is a former St. Albans High School and Marshall University football player who played professional football in 2005 for the NFL Europe Rhein (Germany) Fire.
Jeramie Rain (1948- ), a screenwriter and actress, played Sadie in Last House on the Left (1972). She is the former wife of Richard Dreyfus. She graduated from George Washington High School in Charleston in 1966. She was formerly known as Sue Davis.
Patsy Ramsey was the mother of JonBenet Ramsey, the child who was murdered in Boulder, Colorado, in 1996, in a case that attracted nationwide attention. Patsy Ramsey was a native of Parkersburg and graduated from Parkersburg High School in 1975. She was Miss West Virginia of 1977. She died in 2006.
Jay Randolph is the TV play-by-play voice of the Florida Marlins. He was an announcer at WBOY in Clarksburg in the late 1950s and early 1960s and later went on to NBC where he did broadcasts of the Olympics and golf. Jennings Randolph Jr. is a son of the late U. S. Sen. Jennings Randolph.
Jennings Randolph (1902-1998), a U. S. Senator from West Virginia from 1958 to 1985, wrote the constitutional amendment that gave 18-year-olds the right to vote. He introduced the amendment 11 times before Congress approved it. Randolph had been a U. S. Representative from 1933 to 1947. He was born in Salem and graduated from Salem College in 1924.
Monroe J. Rathbone (1900-1976) was President of Standard Oil Co. (1936-1944) and President of Esso (1944-1949). He was born in Parkersburg.
Allie Raye (1963- ), an actress, writer and producer, appeared on her first TV show called High Incident on ABC in 1996. Since then she has been seen on The Practice, Once and Again, and Steven Spielberg's Minority Report, in which she played the Hamburger Mom, a role created for her by Spielberg. She wrote and produced her first screenplay in 2002 into a short film entitled Purple Rose, where she co-starred as well. The film has floated around the festival circuit. Allie was born in Parkersburg and spent the first seven years in Vienna. She attended Greenmont Elementary School. She currently resides in Los Angeles, where she is getting ready to star in her first film entitled Charity. You can keep up with her career at www.allieraye.com. Her real name was Lisa Beth Salsitz.
Don Redman (1900-1964), "the Little Giant," was an orchestra leader, arranger and saxophonist. He was one of the architects of early Big Band music and his band was one of the great black jazz organizations of the 1930s. He composed and arranged for big band leaders Count Basie and Jimmy Dorsey and wrote music for radio and television. He was born at Piedmont.
Ben Reed, an actor who fathered two children with singer Tanya Tucker, played quarterback for WVU.
Fred Reed (1945- ) is a writer for the Washington Times. He has also been on the writing staff of Army Times, The Washingtonian, Soldier of Fortune, and Federal Computer Week. He has been published in Playboy, the Wall Street Journal, the Washington Post, Harper's, and National Review. He was born in Crumpler, a coal camp near Bluefield. His interesting website is Fred on Everything.
Ida Lilliard Reed (1865-1951) is said to have published over 2,000 Christian hymns. She was born near Moatsville in Barbour County. Among her compositions are I Belong to the King, Somebody's Praying for You, and Steady, Brother, Steady.
Rick Reed (1965- ), starting pitcher for the New York Mets, and formerly with the Pirates and Royals, was born in Huntington. He pitched for Huntington High School and Marshall University.
Nat Reese (1924- ) is a blues artist who played in the coal fields in the 1930s. He was born in Salem, Va. His family moved to Itmann, West Virginia, when he was four years old. He currently lives in Princeton. More information is here.
John Reger (1931- ) played twelve seasons in the NFL as a linebacker for the Pittsburgh Steelers and Washington Redskins. He was born in Wheeling and graduated from Linsly High School in 1950. Reger was less than six feet tall and weighed 125 pounds when he began competing as a high school athlete. He played fullback and linebacker at Linsly and captained the 1949 Cadet squad which lost only one game. At the University of Pittsburgh his freshman team in 1950 was undefeated, but after just three varsity games the following year his collegiate career was ended by a knee injury. He returned home and was working in a gasoline station when his former high school coach, Etz Rine, arranged a tryout for him with the Pittsburgh Steelers even though he had not played football in three years. Reger opened the 1995 season as one of the Steelers' starting linebackers and played nine seasons in Pittsburgh. He became captain of the Steelers defensive unit and was voted as the team's MVP during the 1959 season. Reger played the Pro Bowl in 1960, 1961, and 1962. He sustained a life-threatening and near career-ending injury during his final season. Reger was hit in the head and had a spasm in his throat that cut off air. Fortunately, the ambulance sent included oxygen and he was revived. Following that incident, every team in the NFL was required to have oxygen on the sidelines. Reger was placed on waivers by the Steelers prior to the start of the regular season in 1964 and he was picked up by the Washington Redskins, for whom he played three more years before retiring.
Jesse Lee Reno (1823-1862), Army Officer, born in Wheeling (then in Virginia). As a Civil War brigadier general in 1861, he was assigned to the North Carolina Expeditionary Corps. He was promoted to major general in 1862 and was sent with his troops to Virginia where they took part in the battles of Bull Run and Chantilly. He led his troops in an attack at Antietam and was killed in the battle of South Mountain. Reno, Nevada, is named for him.
Mary Lou Retton (1968- ), gymnast who won four medals in the 1984 Summer Olympics, including the gold in the all-around competition, and helped the U. S. women's team win a silver medal. She was born in Fairmont. Ronnie Retton, her father, was All American in basketball at WVU in 1959 and played on the runner-up national championship team with Jerry West. He played shortstop for the Augusta (Ga.) Yankees.
Walter Philip Reuther (1907-1970) was president of the United Automobile Workers (UAW) and of the Congress of Industrial Organizations (CIO). He was born in Wheeling.
Robert L. Reynolds (1952- ) is the chief operating officer of Fidelity Investments. He was born in Clarksburg and attended WVU. His first job was in the Trust office at Wheeling Dollar Bank. His father was the mayor of Clarksburg.
Lawrence Rhodes (1939- ), a dancer and ballet director, was born in Mount Hope.
Allyson Rice-Taylor is an actress who has appeared in several TV shows. She was born in Huntington.
Cal Ripken, Jr. (1960- ) of the Baltimore Orioles played in Bluefield in 1978. He was born in Havre de Grace, Md., and grew up in nearby Aberdeen, Md.
Charles (Chuck) Ripper (1929- ) is a renowned wildlife painter. Although born in Pennsylvania, he has lived in Huntington for many years. Many of his paintings have appeared on U. S. postage stamps. His art has also been featured on LL Bean catalogue covers.
Andre "Spiderman" Rison (1967- ) plays for the Kansas City Chiefs. Throughout his NFL career, the much-traveled wide receiver has played for the Indianapolis Colts, Atlanta Falcons, Cleveland Browns, Baltimore Ravens, Jacksonville Jaguars, Green Bay Packers (where he caught the 1st TD in Super Bowl XXXI on the second play of the game), and now Kansas City. He played collegiate football at Michigan State. Rison lived in Fairmont and still has family there, although he was born in Flint, Michigan.
Sylvester Ritter (1952 or 1953-1998), better known as the World Wrestling Federation's Junkyard Dog, played for the Wheeling Ironmen professional football team. Denny Magruder, executive director of the Wheeling Civic Center, said Ritter once told him that living in Wheeling was the happiest time of his life.
Perri David Rlickman (1951-2003) was an itinerant street performer known as Perri the Clown and Perry the Hobo. In the early 1980s he joined the odd family of street performers and characters of the French Quarter in New Orleans and made his living by blowing balloons in different shapes and sizes, and performing magic. During recent summers before his death, he was the talk of Provincetown, on the tip of Cape Cod. At first he was a big hit in the progressive resort town, especially with children. In 2001, the town's police chief tried to revoke Perri's street performer's license after complaints that he made offensive remarks and was frequently drunk. The American Civil Liberties Union stepped in and negotiated another chance on the grounds that bad taste was no reason to deny him a livelihood. He was born in Bluefield.
Cecil E. Roberts (1946- ) became President of the United Mine Workers of America on Dec. 22, 1995. In 1971, he went to work at Carbon Fuels' No. 31 mine in Winifred, W. Va., after a stint in college and military service in Vietnam. He is a native of Cabin Creek and graduated from East Bank High School in East Bank in 1964.
Col. George "Spanky" Roberts was a noted black pilot in World War II. He was from Marion County. He was the first commander of the 99th Pursuit Squadron. He served in both World War II and the Korean War as a fighter pilot and commander. He retired from McClellan AFB in February 1968 after 27 years of active duty.
Stephen Roberts (1895-1936) directed a number of films in the 1930s. He was born in Summersville.
Don Allen Robinson (1957- ) was a second round draft pick of the Pittsburgh Pirates. He pitched for the World Champions in '79. Donnie also played for the Giants and Angels before retiring to Bradenton, Florida. He is from Kenova, and is a 1975 graduate of Ceredo-Kenova High School. He was born in Ashland, Ky.
Ira E. Robinson was a member of the Federal Radio Commission from 1928 to 1932, including a period as its chairman. (The Federal Radio Commission became the Federal Communications Commission in 1934). He died in 1951 at age 82.
Ric Robinson, formerly the Director of Media Relations for the West Virginia State Police, is the author of Cop - The Truth Behind the Badge. According to his website, the book "knocks the politically correct crowd back on its heels with the truth about racial profiling, serial snipers, illegal immigrants, guns, drugs, and more." Robinson previously hosted a talk show on WLW in Cincinnati and has recently been a guest on numerous nationally syndicated talk shows. Except for one year, Robinson lived in West Virginia from 1970 until he retired from the West Virginia State Police in August 1999.


Sen. Rockefeller, courtesy of the Charleston Gazette
John D. Rockefeller, IV (1937- ) is a United States Senator from West Virginia and a former Governor of West Virginia. Rockefeller was born in New York, N. Y. After college, Rockefeller worked for the Peace Corps in Washington, where he served as the operations director for their largest overseas program in the Philippines. He continued his public service in 1964-65 as a VISTA volunteer. He was then elected to the West Virginia House of Delegates in 1966, and to the office of West Virginia Secretary of State in 1968. Following his term as Secretary of State, he served as President of West Virginia Wesleyan College from 1973 to 1976. The people of West Virginia then elected him to be Governor in 1976 and re-elected him in 1980. In 1984, he was elected to the United States Senate, and re-elected in 1990, 1996 and 2002. [Information from http://rockefeller.senate.gov/.]
Ira Errett Rodgers was one of the greatest pre-World II college football players and often considered WVU's greatest all-around athlete of the first half century. He was born and grew up in Bethany. He died in 1963. More information on Rodgers can be found here.
Rich Rodriguez (1963- ) was named head coach of the West Virginia University football team in 2000. "Coach Rod" has led the team to several bowl appearances. He was born in Grant Town, W. Va., and graduated from North Marion High School, where he was an all state football and basketball player.
Charles Calvin Rogers (1929-1990), a U. S. Army officer, was a recipient of the Medal of Honor for his actions in the Vietnam War. He joined the army from Institute and was born in Claremont, W. Va. He was raised in Fayetteville, where he was known as Jackie Rogers. More information, including the Medal of Honor citation, is here.
Jack Rollins, who wrote Frosty the Snowman and Here Comes Peter Cottontail, is from Keyser.
Edd J. Roush (1913-1988), Hall of Fame outfielder for the Cincinnati Reds, retired to West Virginia. He was born in Indiana and died in Florida.
Andrew Summers Rowan (1857-1943), Army officer, bearer of the "message to Garcia," was born in Gap Mills (then in Virginia).
Anna (Newport) Royall (1769-1854), author and journalist, was one of the first women newspaper editors in the U. S. She lived at one time in what is now West Virginia, in Monroe and Kanawha counties.
Wilma Rudolph (1940-1994), the Olympic athlete, lived in West Virginia for a time in the 1970s when she was helping to establish the National Track and Field Hall of Fame, which later was moved to Indianapolis. She was named #41 on ESPN's list of the 50 greatest North American athletes of the 20th century.
James Rumsey (1743-1792), considered by some the inventor of the steamboat. He demonstrated a boat in the Potomac River near Berkeley Springs in October 1783 or in 1786. The demonstration was witnessed by George Washington. Rumsey met Robert Fulton who later built the first steamboat used in commerce. A memorial to Rumsey exists at Shepherdstown, overlooking the bend in the Potomac River where the inventor's boat made its first successful trial.
Jim Runyon (1931-1973) was a radio disc jockey, working at WLW in Cincinnati, KYW/WKYC in Cleveland, and WCFL in Chicago, where he was one of the voices in the Chickenman series. He started in radio at age 13 at WBRW in Welch but was taken off the air until he turned 14 when his age was discovered. A 1951 directory shows him as program director of WELC in Welch. James Hamlet Runyon grew up in Williamson. More information is at Wikipedia here.
John A. Russo (1939- ), a screenwriter and film director most commonly associated with the 1968 horror classic Night of the Living Dead, is a WVU graduate.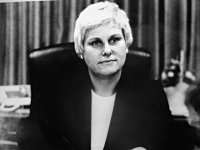 Phyllis J. Rutledge (1932- ) represented Kanawha County in the House of Delegates from 1968 to 1974 and again from 1988 to 1994. During her second stint in the House of Delegates, she became the first female Speaker Pro Tempore, chaired the important Banking Committee, and served on the Finance Committee. She was also the first female elected Kanawha County Circuit Clerk. In 2008 Ms. Rutledge was the Kanawha County coordinator for Hillary Clinton's presidential campaign. During Governor Caperton's administration Phyllis Rutledge was named the West Virginia Humanitarian of the Year. She is a lifelong resident of Charleston.
Dave Ryan does NHL hockey, tennis, and other events for ESPN and ESPN2. He worked for the MetroNews Radio Network in Morgantown in 1989-90.
Cynthia Rylant (1954- ) has won some of the most prestigious literature awards for her children's books, which include Appalachia: The Voices of Sleeping Birds, A Couple of Kooks and Other Stories about Love, and Missing May. She was born in Hopewell, Va., but grew up in Cool Ridge and Beaver, W. Va. She attended Morris Harvey College and Marshall University. [Another source gives 1957 as her birth year.]
---
Front - A - B - C - D - E - F - G - H - I - J - K - L - M - N - O - P - Q - R - S - T - U - V - W - X - Y - Z