Famous West Virginians (T)
Last revision: April 27, 2013
---
Joani Tabor, a Christian recording artist and motivational speaker, was born in Bluefield. Her website is here.

Robert Tabscott (1937- ) is an author, lecturer, Presbyterian minister, and a recognized authority on African-American studies. He has been a commentator on National Public Radio, and has produced numerous radio and television documentaries on black history and press freedom in America. Tabscott has written a book on Elijah P. Lovejoy, an abolitionist newspaperman who was killed defending his press from an armed mob. In 1997 he talked about Lovejoy with Charles Osgood on Sunday Morning on CBS. Tabscott was born in Mullens and graduated from Mullens High School, where he was an all-state basketball player in 1955.

Carl Tacy coached basketball at Wake Forest and Marshall. He is from Mill Creek in Randolph County.

Darryl Talley (1960- ), the all-pro linebacker for the Bills, played for WVU. He was born in Cleveland.

B. E. Taylor, a singer, was born and raised in Aliquippa, Pennsylvania, but was said to be living in northern West Virginia in 2002.

James "Jay" Taylor (1976- ), who signed as a kicker for the Tampa Bay Buccaneers in December 2004, played football at WVU.

Lionel Taylor became the first pro football player to catch 100 passes in a season in 1961 while playing for the Denver Broncos. He is a graduate of Buffalo High School near Accoville in Logan County, where he was a teammate of Charles "Humps" Cowan.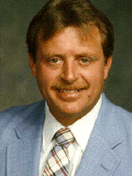 Bob Teets
Bob Teets is the author of West Virginia UFOs: Close Encounters in the Mountain State, which examines more than 125 UFO cases in the state. He has interviewed more than 2000 persons in his research on UFOs. He previously was publisher of two weekly newspapers in West Virginia and published the locally popular Killing Waters book series about the deadly 1985 floods. He believes that his encounter with a UFO on his family farm as a youth was somehow related to the nineteenth-century wireless experiments of Mahlon Loomis, which took place nearby. More on Teets is available here.
Jesse Burgess Thomas (1777-1853), one of Illinois's first two Senators, was born in Shepherdstown, then in Virginia.
Tommy Thomas (1954- ) was a professional heavyweight boxer in the 1970s and 1980s, at one time ranked among the top ten in the world. He later became a police officer. Thomas Franco Thomas was born in Clarksburg.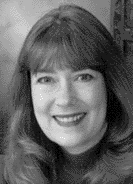 Carlene Thompson
Carlene Thompson (1952- ) is a mystery writer. Among her titles are In the Event of My Death, Tonight You're Mine, All Fall Down, Don't Close Your Eyes, and Since You've Been Gone. She was born in Parkersburg and currently lives in Point Pleasant.
Lonnie Thompson (1948- ) is a glaciologist who has achieved global recognition for drilling ice cores from mountain glaciers and ice caps in the tropical and sub-tropical regions of the world. He and his wife, Ellen Mosley-Thompson, run the ice core paleoclimatology research group at the Byrd Polar Research Center. He was selected as one of America's top scientists by Time magazine in August 2001. He was born in Huntington and grew up on a small farm in Gassaway. An article about him in the July 2007 issue of Smithsonian magazine is here.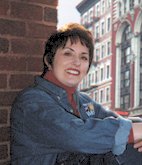 Victoria Thompson
Victoria Thompson, a best-selling mystery author, attended Alderson-Broaddus College. Her father, Vincent Straface, was born in Richard, West Virginia. Her grandparents, Pizzuto and Straface, were Italian immigrants who lived in the Morgantown area. Victoria's mysteries include Murder on Astor Place (1999), Murder on Saint Mark's Place (2000), Murder on Gramercy Park (2002), Murder on Washington Square (2002), Murder on Mulberry Bend (2003), and Murder on Marble Row (2004). Her web site is here.

Rod Thorn
Rod Thorn has been a player, assistant coach, head coach, general manager, and league official in professional basketball. He played professional basketball for Baltimore, Detroit, St. Louis, and Seattle. He grew up in Princeton, the son of the Princeton police chief. Thorn was an all-American guard at WVU.
John Thornton (1976 - ), a defensive tackle for the Tennessee Titans, played for WVU from 1995 to 1998. He is from Philadelphia.
Sedale Threatt (1961- ) of the Houston Rockets played college basketball at West Virginia Tech. He has also played in the NBA for the Philadelphia 76ers, the Los Angeles Lakers, Chicago Bulls, and Seattle Supersonics. He was born in Atlanta, Ga.
Robert (Bob) Tinnell (1961- ) directed Burt Reynolds and Louis Fletcher in Frankenstein and Me and Joe Montegna in Airspeed. He was born in Fairmont.
Russell Todd helped the Northfork High Blue Demons win three (1977-79) of their eight straight championships. The all-state center went on to star for West Virginia University (1979-83) and become a fourth-round draft pick of the NBA's Milwaukee Bucks. He played professionally in Europe after his WVU days.
Toria Tolley, a weekend anchor for CNN's Headline News, previously worked as an anchor at WCHS-TV in Charleston. She attended Bethany College.
Rich Tomaselli played professional football in the 1980s for the Houston Oilers. He is a graduate of Brooke High School.
Dave Tork broke the outdoor world record in the pole vault in 1962 and the indoor world record in 1963. He is a graduate of Fairmont Senior High School.
Sam Trammel plays the role of Kevin "Space" Lauglin in Going to California on Showtime. He is an accomplished New York stage actor whose credits include a Tony-nominated performance in Ah Wilderness! at Lincoln center. He is a 1987 graduate of George Washington High School in Charleston.
Laura Treadwell (1879-1960) had small roles in numerous films in the 1930s and 1940s. She was born in West Virginia.
Harry R. Truman (1896-1980) refused to abandon his lodge and was killed when Mount St. Helens erupted in 1980. A book about him by Shirley Rosen was published in 1981. Truman was born in West Virginia.
Timothy Truman (1956- ) is a writer, artist and musician best known for his stories and western movie-style comic book art. He was born in Gauley Bridge. He graduated from Gauley Bridge High School in 1974. His web site is here.
Brig. Gen. Terry Tucker is commander of a Joint Taskforce charged with a full accounting for Americans missing in Southeast Asia. He is from Buffalo and is a graduate of West Virginia State College.
Renaldo Turnbull (1966- ) of the Carolina Panthers played college football at WVU. He also played for the New Orleans Saints, a first round pick in 1990. He was born in St. Thomas, V. I.
Calvin Turner played for the Denver Broncos in the mid 1980's. He is from Fairmont and is a graduate of Fairmont West High School.
Dr. John Roscoe Turner (1881-1969) was appointed President of WVU in December 1927. He came to WVU from Washington Square College of New York University, where had served as dean. Turner was born in Mattville in Raleigh County and attended Clear Fork public schools. He received his doctorate from Princeton University in 1913. His father was Capt. William Turner, wounded in Union service during the Civil War.
Sonny Turner (1939- ) replaced Tony Williams as the lead singer of the original Platters in 1959. He was chosen out of 100 auditioners at the age of 19. He still performs and has a website here. He was born in Fairmont.
Spyder Turner had one top 40 hit, Stand By Me, in 1967. It peaked at number 12 on the pop singles chart. He was born in Beckley.
Ed Tutwiler of Mount Hope won eleven state amateur golf titles from 1939 to 1963. He also lost the U. S. Amateur golf title to fellow West Virginian Bill Campbell in 1964.
---
Front - A - B - C - D - E - F - G - H - I - J - K - L - M - N - O - P - Q - R - S - T - U - V - W - X - Y - Z