Famous West Virginians (Y)
Last revision: May 17, 2003
---
Michelle Yahn co-produced the film Whatever (1998). She grew up in Wheeling.

Frank Yankovic (1915-1998), "America's Polka King," was born in a small lumber camp in Davis, W. Va. His family moved to Ohio shortly after he was born. (He was not related to rock music parodist "Weird Al" Yankovic.)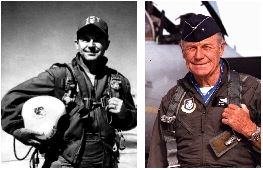 Chuck Yeager
Charles Elwood "Chuck" Yeager (1923- ) became the first person to fly faster than the speed of sound on October 14, 1947, flying the experimental Bell X-1. He also became the first person to fly more than twice the speed of sound, flying the Bell X-1A on December 12, 1953. Yeager was born at Myra in Lincoln County and later moved to West Hamlin. He graduated from Hamlin High School in 1941. In a 1991 interview, Yeager said:
I was born in Myra, West Virginia, which was actually just a post office on Mud River, very near Hamlin, West Virginia. My first recollection was when we moved to Hamlin when I was about four or five years old. And that's where I spent my life until I was eighteen years old. It was a rural town, population of about six hundred. It's in the middle of the hills. Primarily agriculture, timber, coal mines, and some natural gas; my father was a natural gas driller. I attended grade school and I did very well in the first grade, skipped second grade and went to the third grade. And by the time I got to the fifth grade, I spent two years there. It got kind of tough. And then, grade school was just nine months out of the year that I enjoyed either running the hills or fishing, and things like that. In high school, things got a little more serious as far as my education was concerned. And also there were sports -- football and basketball -- I played both. And I also played trombone in the high school band and chased gals, so I was a pretty busy kid. The subjects that I liked very much in school were mathematics, algebra and typing. I could type 60 words a minute easily. Anything that took hand-eye coordination I had a good time at it. History and English literature, my teachers had trouble passing me.
Steve Yeager (1948- ), catcher for the Los Angeles Dodgers in the 1970s and 1980s, was born in Huntington.

Fielding Harris Yost (1871-1946), football coach, nicknamed "Hurry-up Yost." He graduated from West Virginia University in 1897. He was football coach and director of physical education at the University of Michigan from 1901 to 1927, and was appointed director intercollegiate athletics 1921. He was known especially for his "point-a-minute" teams of 1901-1905. He was born at Fairview and graduated from Fairview High School in 1889.

Lenna Lowe Yost became the first woman to preside over a national political party convention when she presided over the Republican National Convention in 1920.

Opal Dean Young had two story books and numerous magazine stories for children published between 1977 and 1986. She credits her ten years of elementary school teaching and her early years of living up Little Laurel Hollow near Richwood for providing material for stories that appeal to children.
---
Front - A - B - C - D - E - F - G - H - I - J - K - L - M - N - O - P - Q - R - S - T - U - V - W - X - Y - Z