HISTORY OF BROADCASTING IN WEST VIRGINIA
Other Stations
---
WKYR, Keyser
WKYR went on the air in 1953, according to the 1954 Broadcasting Yearbook, which shows the station on 1270 kc, 1000 watts daytime, owned by Potomac St. Broadcasting Co. Glacus Merrill, president; S. C. Blevins, general manager; John J. Smith, program director; Louise Westman, womans' director; Frank Aonett Swisher, chief engineer.
The 1956 West Virginia Blue Book shows WKYHR operating on 1270 kc, 5000 watts daytime. Owner: WKYR Inc. Vice President and General Manager: Walter Patterson. Managing Director: Thomas B. Butscher. Program Director: Ken Robertson.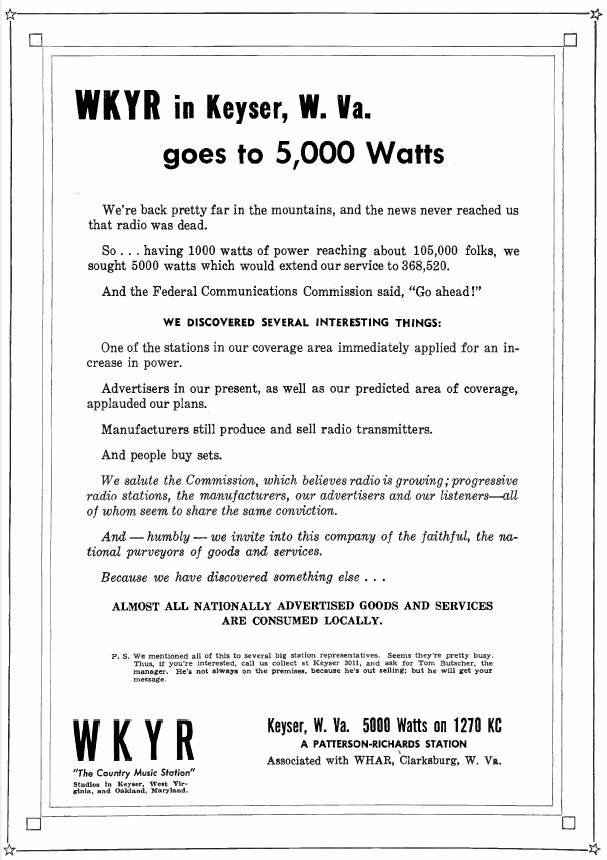 1955 ad announcing the power increase to 5000 watts daytime
WKYR later moved to Cumberland, Maryland, and became WUOK (Super K) and in 1976 it became WCBC.
---
WVMR, Frost
The following was taken from the former WVMR website.
Owned and operated by the Pocahontas Cooperative Communications Cooperative, WVMR is a sole service non-commercial broadcast station, located in Pocahontas County, West Virginia. There are no other radio or television stations in the county, and WVMR was built to serve the residents of this isolated area with a full schedule of community oriented programming, produced locally by volunteers.

WVMR took to the air in 1982 at 1370 khz on the AM dial. Due to the restrictions imposed by the National Radio Astronomy Observatory in Green Bank, West Virginia (some 8 miles north of the WVMR transmitter), no FM broadcasting is allowed. The NRAO has very sensitive radio telescopes that would be overwhelmed by a local FM transmitter, and WVMR was only allowed to broadcast on the relatively low frequencies of the AM dial. Even so, WVMR has become integral to the Pocahontas County region, and is the sole source for news and information, as well as entertainment for the county.

In May of 1995, as part of a long term expansion, WVMR built two new FM stations in adjacent Highland and Bath Counties, Virginia. WVLS, Monterey and WCHG, Hot Springs, provide WVMR programming during the daylight hours, and then bring local programming to each of their listening areas after dark. As the volunteer base for these stations grow, so will the program schedule.

The elevation at WVMR is 2600 feet above sea level. The weather is quite mild in the summer, but can be pretty chilly in the winter. As of early November, WVMR has already recorded three snowfalls, and the temperature on November 4, 1995 (3:00 PM) was 28 degrees Fahrenheit (-1.5 C).

WVMR operates with 5000 watts, and can be heard over a wide area as far south as Lewisburg (on Interstate 64), as far east as Monterey, Virginia, and north into Franklin, West Virginia. WVMR's call letters stand for "West Virginia Mountain Radio".
Keith Miller, a former DJ at WVMR writes:
The station was established I think in the early 1980's to serve Pocahontas County and the surrounding mountainous areas. This area of the state was not covered by any other local media and being as secluded and mountainous as it is, receiving any radio or television signals was near impossible. The station provides better community programing and news than any station I have ever listened to. It is a nonprofit corporation and most of its operating revenue is provided by donations from local individuals and businesses. There are very few paid employees, maybe 3 or 4, and their salary is mostly a token. Almost all the air time DJ's are volunteers providing their time to keep the station on the air from sunrise to sunset daily every day of the year. Therefore, those of us who have worked or are working at this station also like " Where Volunteers Make Radio ".

Some local people who disagree with some of the ways the station provides coverage of the news have also coined " West Virgina Moscow Radio "

WVMR broadcasts on 1370 am, Sunrise to sunset, is located on State Route 28 10 miles north of Huntersville next to Pocahontas County High School which provides many local students the opportunity to experience broadcasting. Their building is three-quarters underground and is designed to be primarily solar heated in the winter and is cooled by the earth in the summer. Anyone traveling in the Pocahontas Co. area is always welcome to stop in and say Hi and see what goes on inside to bring us what we call radio. That's exactly how I got started ( Hijacked ) into being a volunteer DJ.
Information about the stations owned and operated by Pocahontas Comms Co-op Corp is at http://www.alleghenymountainradio.org/. The stations are WVMR (1370), Frost WV, WVLS (89.7), Monterey VA, WCHG (107.1) Hot Springs VA, and Radio Durbin (103.5) Durbin WV.
In a 2008 email, Allegheny Mountain Radio chief engineer Chuck Niday wrote that the company also had construction permits to build three new non-commercial FM stations in West Virginia: Franklin WV 91.1 FM (WVPC), Hillsboro WV 91.9 (WVMR-FM), and Marlinton WV 88.5 FM (call sign not yet reserved) He stated that all three stations will be programmed from the WVMR-AM studios in Frost and that WVMR-AM was broadcasting in stereo using the C-QUAM system.
---
WBLK, Clarksburg
Photos from promotional booklet, about 1940: wblk1.jpg, wblk2.jpg, wblk3.jpg, wblk4.jpg
The WEXP call shown below apparently was never used. The station apparently went on the air as WBLK in April 1937. The Mar. 15, 1937, issue of Broadcasting reported WBLK would probably go on the air "late this month" and the May 1 issue reports WBLK went on the air "last month."
From the FCC microfiche files, January 2, 1995.

                                    WPQZ

 4/25/36  Application made for a new station on 1370kc with 100 watts,
          daytime, at Clarksburg, WV.

  7/2/36  Granted a C.P. for 1370kc with 100 watts, daytime.

  5/4/37  Date first licensed.  The licensee was The Exponent Co.,
          Clarksburg, WV.  The first listed call letters were WEXP.  They
          were granted 1370kc, 100 watts, daytime.

  9/4/36  The call letters changed to WBLK.

 9/14/37  Granted mod. of lic. for 1370kc, 100 watts, unlimited, eff.
          10/26/37.

 3/20/39  Granted a C.P. for 1370kc, 100 watts, 250 watts LS, unlimited.
          License to cover the C.P. granted 5/31/39.

  8/8/39  Granted a mod. of lic. for 1370kc, 250 watts, unlimited.

  3/4/41  Vol. assign. of lic. to Charleston Broadcasting Co., eff. 4/8/41.

 3/24/41  Under NARBA, they were granted 1400kc, 250 watts, unlim.

 1/23/47  Vol. assign. of lic. to News Publishing Co., eff. 2/1/47, on
          condition that C.P. for WOPK is surrendered for cancellation,
          which it was on 2/1/47.

 11/6/50  Vol. assign. of lic. to Ohio Valley Broadcasting Co., eff.
          11/30/50.

  4/5/57  Vol. transfer of cont. of lic. corp. from News Publishing Co. to
          WSTV, Inc., eff. 5/10/57.

 7/15/57  The call letters changed to WBOY.

 7/23/57  Vol. assign. of lic. to WSTV, Inc., eff. 8/1/57.

 3/29/61  Granted a C.P. for 1400kc, 250 watts, 1kw LS, unlimited.  License
          to cover the C.P. granted 7/26/62.

 11/8/61  Vol. transfer of cont. of lic. corp. to United Printers and
          Publishers (Incorporated), eff. 1/25/62.

 8/27/62  Vol. mod. of lic. to change the name of the licensee to Rust Craft
          Broadcasting Co.

 3/20/64  Vol. assign. of lic. to Northern West Virginia Radio Broadcasting
          Co., eff. 7/10/64.

12/16/69  Vol. transfer of cont. of lic. corp. from Fortnightly Corp. to
          Marion R. Ascoli, et al, eff. 12/29/69.

 8/12/76  Vol. assign. of lic. to WBBN Broadcasting Co., eff. 9/30/76.

 10/1/76  The call letters changed to WBBN.

 2/20/80  Vol. assign. of lic. to Allegheny Broadcasting Co., eff. 3/30/80.

 3/31/80  The call letters changed to WPQZ.



---
WKWK, Wheeling
On Jan. 1, 1941, Broadcasting reported that a construction permit for 100 watts on 1370 kc was granted on Nov. 26 to Community Broadcasting Inc.; Joe L. Smith, owner of WJLS, Beckley, W. Va., president, 98% stockholder; Mary E. Meadows, school teacher, vice president, 1%; Hulett C. Smith, clothing merchant and insurance man, secretary-treasurer, 1%.
The article supplied by the station for the 1989 WVBA book has:
WKWK-AM WEEL-FM Wheeling: At 1400 khz, WKWK AM came on the air May 2, 1941. Format on the 1 kw station is oldies channel. The group ownership, CR Broadcasting Inc., acquired the AM station in February 1987 as well as WEEL-FM, at 97.3 mhz; 50 kw power, which came on the air March 17, 1948. WEEL format is easy listening. Owner and sales manager is Mr. Blair B. Brockmeyer. James Bricker is general manager. The stations are located at 88 Waddles Run Road, Wheeling.
---
WHAR, Clarksburg
According to information from the station, WHAR Clarksburg signed on the air November 28, 1946, on 1340 kHz. The licensee of the station formerly was Harrison Corporation, of which James T. Fawcett was President.
Following is the obituary of Mr. Fawcett which appeared Sunday, July 27, 1997, in the Clarksburg Exponent-Telegram.
FAIRMONT - James Thomas Fawcett, 90, of North Conway, N.H., and formerly of Fairmont and Clarksburg, died Friday afternoon in the Clipper House Nursing Home in New Hampshire.

He was born June 22, 1907, in Fairmont, the son of the late James Herdon and Mayme Thomas Fawcett.

Surviving are one son, James C. Fawcett, Grafton; five grandchildren, James Fawcett, Newburg, Elizabeth Doerr, McHenry, Md., Thomas Fawcett, Waverly, Ohio, Greg White, Mansfield, Mass. and Gary White, Amherst, N.H.; four great-grandchildren, Ryan and Kassandra Fawcett, Waverly, Austin Doerr, McHenry, and Abigail Lynn White, Mansfield.

He was preceded in death by his wife, Marguerite M. Fawcett, who died in 1981, and a daughter, Lynn Ann White.

He retired in 1988 as owner-operator of WHAR/WVHF radio station in Clarksburg with 25 years of service. He previously worked at WMMN radio in Fairmont for 10 years, the Jones Department Store, Fairmont and Owens Illinois Glass Factory in Fairmont.

He was a graduate of East Fairmont High School, where he was active in sports and was a member of the First United Methodist Church in Fairmont, where he taught Sunday School and coached basketball.

Friends will be received from 2-4 p.m. and 7-9 p.m. Monday at the Ford Funeral Home, Fairmont, and from 10-11 a.m. Tuesday. The funeral service will be held in the funeral home at 11 a.m. Tuesday with Rev. Roger Waybright officiating. Interment will follow in Woodlawn Cemetery in Fairmont.
(Thanks to Andy Morris for supplying the obituary.)
---
WWBB, Madison
WWBB went on the air on Oct. 27, 1978, on 1450 kHz (a frequency which had been vacant since 1951 when WWNR in Beckley changed from 1450 to 620 kHz). The station was owned by Boone Broadcasting Corp., Richard Callaway, general manager.
Some photos of WWBB by Tim Miller are at Flickr here.
On YouTube there are three audio clips from Trading Post on WZAC-FM Danville-Madison: part 1, part 2, part 3.
---
WMOV, Ravenswood
WMOV went on the air in 1957.
In May 1961 the station was purchased by Good Neighbor Broadcasters Inc., which included Rex Osborne, N. S. Tweel, and Robert Ellis, then the mayor of Huntington.
Information provided by the station in 1989 included the following.
When this group purchased the station, it had been so abused that actually the transmitter knobs had been melted off. After straightening up the transmitter and putting the station into good operating condition, the signal was so much more powerful that neighboring stations complained and the FCC inspector, when he called, mentioned the fact that WMOV could now be heard more than ten miles out of town.
The obituary of Herbert Rex Osborne (1926-2003) stated that he was the owner/operator of WMOV Radio for more than 40 years. It also stated that, following graduation from college, he built and operated radio stations WDOC and WPRT in Prestonsburg, Ky.