HISTORY OF BROADCASTING IN WEST VIRGINIA
History of WCAW and WVAF, Charleston
Newspaper article: Radio Station WCAW Plans to Open Dec. 15, Charleston Gazette, Nov. 24, 1946

Newspaper advertisement: On the air today, Charleston Gazette,Jan. 12, 1947

Newspaper article: Radio Switch Begins Today, Sunday Gazette-Mail, June 5, 1960

Newspaper advertisement: Now on the Air WVAF Stereo, Sunday Gazette-Mail, Jan. 31, 1965

Link: Adam Jones provides a 1961 WCAW anecdote adamjones.info/stories/a-daddycoolwcaw2.htm

Link: Some audio from about 1970 is at http://www.wcaw.radiohistory.net/index.html
---
The following history was supplied by the station in 1988.
An application was filed in 1944 for 1240 khz by Capitol Broadcasting Corporation. That Construction Permit was granted in March of 1946 and work began, with WCAW's first studio and tower being at 18th Street and MacCorkle Avenue, in the South Ruffner area of Charleston. (The 1240 dial location was granted instead to Charleston's WTIP.)
In 1946 WCAW went on the air with 250 watts at 790 KC. In January, 1950 an application for power increase and frequency change was approved, moving from 790 KC to 1300 KC but eventually moved to 1400 KC. [Jeff Miller note: The preceding information is apparently incorrect, as contemporary newspaper accounts show that WCAW signed on the air on Jan. 12, 1947, on 1400 kHz.] The tower site was moved from South Ruffner to Bownemont in January 1955. This site was the old WKNA-TV tower which is now the WTIP/WVSR station location on a hill overlooking Charleston on Suncrest Place. That same year the office and studio were moved to the sixth floor of the Kanawha Hotel in downtown Charleston. In June 1955, the ownership put WCAW up for sale, asking $75,000, but accepted a proposal for $49,200 that August from a Dayton, Ohio man. But that deal fell through when E. M. "Pete" Johnson bought Capitol Broadcasting for an undisclosed sum. Johnson acquired WCAW February 7, 1956.
An application was filed with the FCC in 1957 to change frequency from 1400 KC to 680 KC, but that was not approved until two years later, in 1959. Paul Miles became the General Manager January 3, 1959, with Paul Howard joining the staff one month later as Program Director. That October Miles and Howard purchased stock in Capitol Broadcasting Corporation, with Paul Howard being elected Vice President and Treasurer, Paul Miles elected Secretary and both serving on the Board of Directors.
On October 31, 1962 WCAW increased daytime power from 250 to 10,000 watts. Now established at 680 on the dial, this latest power increase was a real plus for the station. Another long-term employee joined the station in October, 1963. Dee Miller became Continuity Director, a post she maintains in 1988.
Capitol applied for an FM license and this was granted for WVAF December 24, 1963, but it wasn't signed on until February 1, 1965, when automated 'beautiful music' hit the air at 99.9 and in stereo. Paul Howard believes this was the first stereo FM station in the Charleston area. [Note: This is incorrect, as the original WKNA(FM) 98.5 in Charleston was the first FM stereo station in West Virginia - J. M.] The format was later changed to 100% religion until 1977 when station started a "rocking" format.
In 1964 Capitol Broadcasting (with Jack Carr of Elkins) bought another West Virginia station, WMMN, Fairmont, forming Broadcast Enterprise.
Paul Howard became WCAW's Local Sales Manager on May 1, 1965.
Both stations moved into the present Kanawha City office and studio location in January 1966 after being forced to vacate a portion of the sixth floor of the Kanawha Hotel. That hotel was purchased by the U. S. Government for the Job Corps. That December Kenneth Johnson, son of owner Pete Johnson began working for Capitol.
WCAW had a format change on November 1, 1967, when the station changed from Rock to MOD-Country at noon that Sunday. WVAF continued Rock format.
Application for 50,000 watts for WCAW was filed with the FCC in July 1968, a long process, with approval coming in April 1974 and actually increased March 31, 1975, almost seven years later.
Two other long-time employees came to the stations with Rick Johnson beginning work at WVAF (playing religious tapes) February 16, 1969 and Randy Damron beginning work on October 9, 1970. Both of these loyal employees are at the station in 1988, with Randy working morning drive time at WCAW and chairing the statewide Emergency Broadcast System. Rick became WCAW's Program Director in 1976.
In November, 1970 Kenneth Johnson transferred to another Capitol station, WKSJ, Mobile, Alabama. Paul Howard transferred to WKDY, Spartanburg, South Carolina in February, 1971, also one of the corporation's stations. Becoming Vice President and member of the Board of Directors in November, 1972 was Kenneth Johnson, who became President and CEO of the corporation in 1977.
The transmitter site was moved from the Bownemont location to Mission Hollow Road in the Kanawha City area of Charleston in 1976.
Jim Davis came to WVAF (V 100) as General Manager June 15, 1981, with Paul Miles bringing him in from Los Angeles station KMPC. Jim was later a West Virginia Broadcasters Association board member and spring meeting chairman. Paul Howard was a very active WVBA board member as well, serving on the board, chairing the 1987 spring meeting and chairing the 1986 sales seminar in Charleston.
Leaving the stations and Capitol Broadcasting Corporation December 31, 1981 was long-time General Manager Paul Miles. At that time Paul Howard transferred back to Charleston, becoming General Manager of WCAW January 1, 1982. Jim Davis continued to manage WVAF until September, 1986. At that time, Mike Buxser (a former West Virginia broadcaster who had served as Sales Manager of WVAF for about a year, then went to become General Manager of WTCR, Huntington) joined WCAW and WVAF as General Manager, coming directly from a Wilmington, Delaware station. Mike filled a one-year vacancy on the West Virginia Broadcasters Association Board of Directors from 1987 to 1988. He transferred with Capitol Broadcasting to WLVK, a Charlotte, North Carolina station April 4, 1988. Earle Buck then came from Huntington's WGNT WAMX stations to become General Manager of WCAW and WVAF (V 100) April 4, 1988, replacing Mike Buxser.
---
Recording by Bobby Wayne (1962)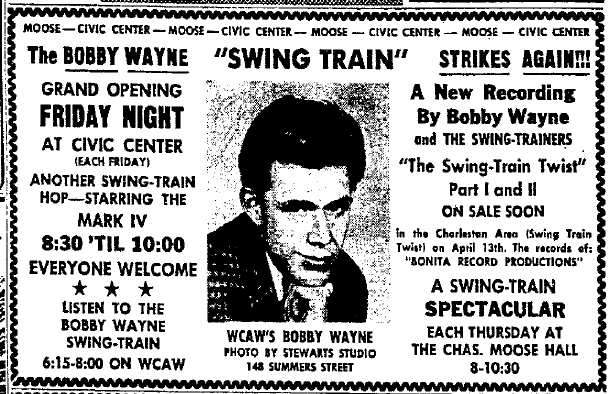 Charleston Daily Mail, April 6, 1962
An MP3 file of Swing Train Twist is here. Wayne also recorded Twistin' Swing Train. Newspaper listings from the period show that Bobby Wayne had moved to WGKV by August 1962. [Information from Paul Urbahns]
---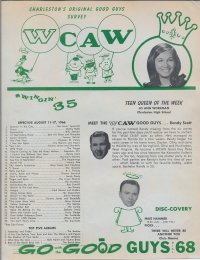 WCAW 1966 music survey. Click for a
larger view. Image courtesy of Randy Scott.
---
Randy Scott and Dick Clark in the WCAW Kanawha Hotel studios, 1967.
Photos courtesy of Randy Scott.
---
Jerry Waters, who provided these two photos, writes: "Rick Johnson and I started at WVAF FM (Christian music) at the same time in 1969. Randy Damron worked weekends because he was still in high school. I left for WVRC in Spencer (two years) to get better experience and after a stint with WXIT (worked with Poppa Jay and Rick Robinson) came back to WCAW in 74 of which by that time both Rick and Randy were working there. I was there until 1976, by which time I had joined the Charleston Fire Dept." (Click on each picture for a larger view.)
---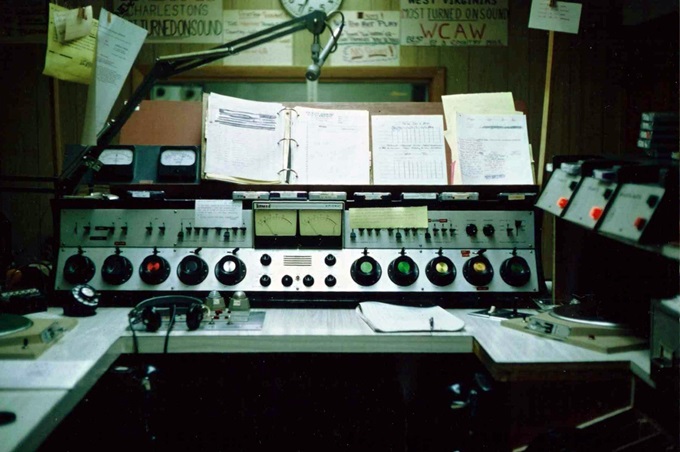 The above photo from 1971 was provided by Rick Johnson, who writes, "Starting as a senior at St. Albans High School, I worked in that room for many years, and loved every minute of it." (Click on the picture for a larger view.)
---
Comment by Bob Myers (2009)
Jeff:
I just read part of your interesting website on radio stations in Charleston, WV. I was particularly interested in WCAW, as its original studios were built on the street where I lived in South Ruffner. Although the writeup says the station was located at 18th St and MacCorkle Ave. the actual location was 16th St. To the best of my knowledge, there was no 18th St. The transmission tower was located behind the station in the middle of a field which was then used for exercising horses kept in stables located on that property on the Kanawha Riverbank. That 20 acre property eventually became the home of the United Fuel Gas Company.
Bob Myers