History of WWYO, Pineville
Some WWYO jingles are here. This page was last revised on June 16, 2014.
The Jan. 20, 1949, Raleigh Register reported that WWYO was awaiting FCC permission to begin regular broadcasting. It reported that investors in the venture were Mrs. E. M. Wilkinson, R. D. Bailey, Robert Bailey, Clarence W. Shufflebarger, Clarence S. Worrell, Mary K. Bowman, James Billig, Paul Goode, Jack Shipman, James Goode, and H. E. Crews, all of Pineville; C. L. White, Nan R. Goode, James Max, and Mable Reynolds, Dr. Frank Penn, John W. Shufflebarger, and N. D.Trent, all of Mullens; Mrs. John Goss, Athens; W. D. Stone, Clarence W. Meadows, and William T. Lively, Charleston. The latter three are stockholders of WCAW in Charleston. The article reported that the station had been testing between 1 and 5 a.m. and would use the slogan "the friendly voice of the hills."
The Feb. 6, 1949, Raleigh Register included a photo with the headline "Station WWYO on Air" and the caption: "Minutes after Manager Robert McKeenan flicked a switch yesterday on a control board at Pineville, radio station WWYO went on the air for the first time commercially. West Virginia's newest and Wyoming County's first airlane medium operated from 7:15 a.m. to 6 p.m. yesterday and will continue this schedule through the month of February."
An Oct. 19, 1949, newspaper article mentions that Bob McKeenan is manager of WWYO.
The 1950 Broadcasting Yearbook shows WWYO operating with 1000 watts daytime on 970 kHz. Licensee: Wyoming Broadcasting Co. President: R. D. Bailey. Executive Vice President: Jack K. Shipman. Commercial Manager: James J. Goode. Program Director: Charles M. Erhard Jr. Chief Engineer: William D. Stone. The station used a Collins transmitter and was a subscriber to UP.
On Feb. 17, 1950, the Charleston Daily Mail reported that the FCC approved the sale of WWYO from Clarence W. Meadows, W. T. Lively, and William D. Stone, doing business as Wyoming Broadcasting Co. to Wyoming Broadcasting Corp. for a consideration of $38,800, plus 55.1 per cent of the common voting stock of the Wyoming Corporation.
On Oct. 27, 1950, the Charleston Daily Mail reported, "The Wyoming Broadcasting Co. Friday announced the appointment of Erle G. Howery as general manager of radio station WWYO, Pineville, Wyoming county. Mr. Howery was promoted from the position of station manager, and succeeds Jack K. Shipman, who will remain as treasurer of the organization. A former war correspondent, newspaper and radio man, Mr. Howery has been affiliated with the Pineville station for the past six months."
Mountaineer Jamboree: Country Music in West Virginia by Ivan M. Tribe has:
The last new station in southern West Virginia to program live country music extensively, WWYO Pineville, did not go on the air until 1949. Nevertheless, it managed to accomplish quite a lot in the next five years. The duo of Scotty and Tar Heel Ruby headed a long list of artists who worked there both on daily shows and on the Saturday night "Wyoming Hayride," Born Perry Edward Scott at Jesse, West Virginia, on April 12, 1912, Scotty married Ruby Fay Ellidge, a native of Walnut Grove, North Carolina, whose family had moved northward to work in the mines. The couple had some early radio experience primarily as part of other groups from 1939 to1941 in Huntington, Beckley, and Welch. Their work at Pineville began in the station's early days and continued until 1955. They employed a band, the Dixie Border Boys, which included Huntington veteran Junior Ruggles on bass, Cecil (Ray) Morgan on fiddle, and J. B. rose on guitar, and did two sessions for Jim Stanton's Rich-R-Tone records. After the live radio era ended, the Scotts settled in Oceana before eventually retiring to North Carolina, where Scotty died on April 9, 1983.

Numerous other musicians worked at WWYO and appeared on the "Wyoming Hayride." Cecil Surratt, a native of Coalwood born in 1926, gained three years of valuable experience at Pineville before moving on to Bluefield, where he worked some radio and even more television. Surratt displayed sufficient versatility to make an impact in the areas of bluegrass, country, and the commercial brand of folk music that flourished in the late 1950s and early 1960s. Rex and Eleanor Parker included Pineville among stations on their circuit for a time. Other artists working locally included Theodore Effler, Sunshine Danny, Eddie Robinson, and Gene Bailey, while bands bore such names as the Sunshine Sweethearts and the Rhythm Nite Hawks."
The 1956 West Virginia Blue Book shows WWYO operating daytime only with 1000 watts. Address: P. O. Box 184, Pineville, Owner: Wyoming Broadcasting Co, President: B. D. Bailey, Sr. Executive Vice President: Jack Shipman. Manager: Edward D. Hawley.
Jerry B. Thomas writes:
In the mid to late fifties I rose from janitor to announcer at WWYO in Pineville, "Your friendly voice of the hills, at 970." Judge RD Bailey was the major owner and Ed Hawley the manager at that time. The engineer for part of that time was Jack Mullins. I think WWYO went on the air in 1949. I worked there on and off in high school and during summer breaks from college and grad school from about 58 to 66. We played a variety of music including country (hillbilly), rock n roll, classic, pop, and gospel.
An October 1972 newspaper article mentions that Don Coleman was manager of WWYO.
The 1980 Broadcasting Yearbook shows the licensee as Wyoming Broadcasting Co. President: Robert D. Bailey Jr. Executive Vice President and News Director: R. D. Bailey III. Operations Manager: L. R. Parks. Sales Manager: Ken Edwards. Music Director: Rex Carleton. Sports Director: Brian Scott. Traffic and Office Manager: Cheryl Cook. Chief Engineer: R. Kerbawy.
The 1986 Broadcasting Yearbook shows the licensee Wyoming Broadcasting Co. President and General Manager: Larry R. Parks. General Sales Manager and Program Director: Stephen K. Browning. Music Director: Rick Baldrich. Program Manager: Theron Jones. Chief Engineer: Gary Green.
Rudy Jennings purchased WWYO in 1989 and is the current owner.
According to the station's web site, the station went dark in the late 1980's and returned to the air on Oct. 12, 1992, under the licensee MRJ, Inc., Rudolph D. Jennings, President.
In 2009 WWYO was reported to be broadcasting with a southern gospel format.
In 2013 the station's facebook page reported that the station plays "an eclectic mix of music ranging from Acoustic Rock to Zydeco and transcribed programming ranging from Answers with Ken Ham to When Radio Was... both religious and secular."
---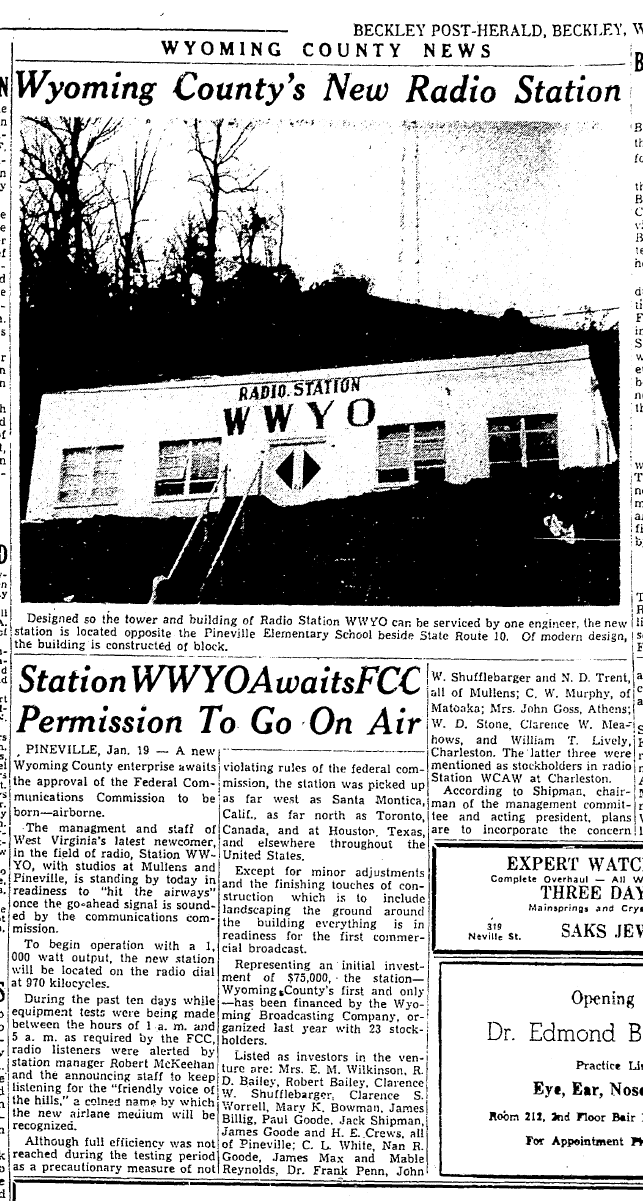 Beckley Post-Herald, Jan. 20, 1949
---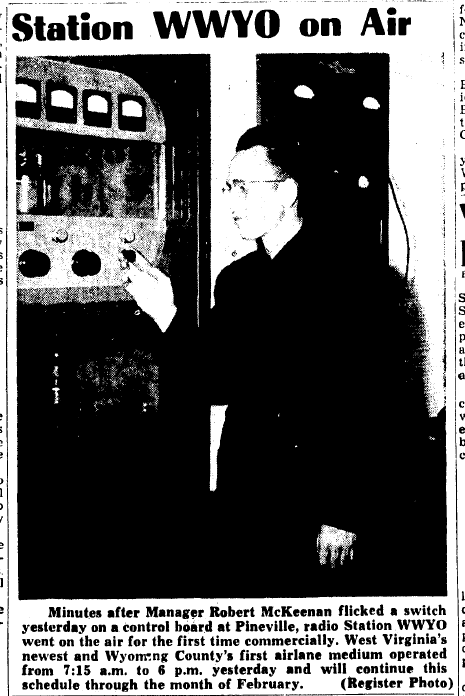 Raleigh Register, Feb. 6, 1949
---
Photos from the station's former web site, about 2002.
---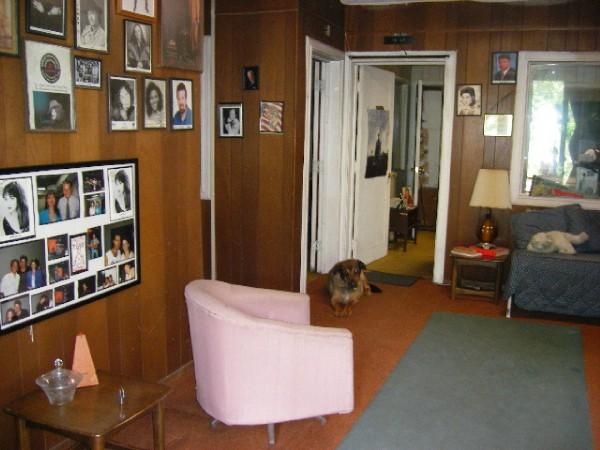 The dog is Judah. 2009 photo by Laura Bush.
---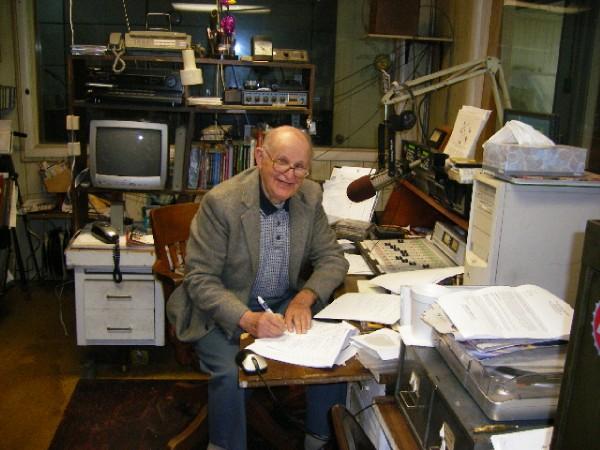 Rudy Jennings. 2009 photo by Laura Bush.
---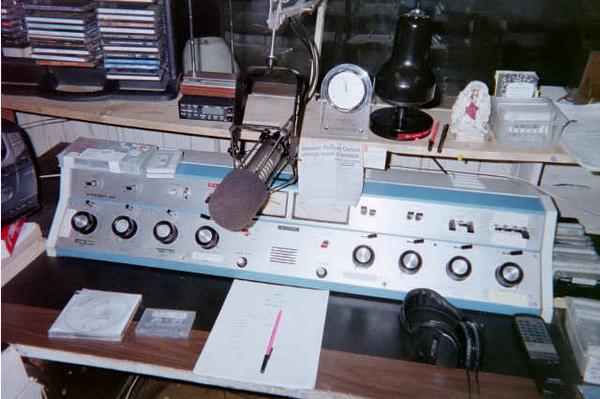 Control room audio console. 2009 photo by Laura Bush.
---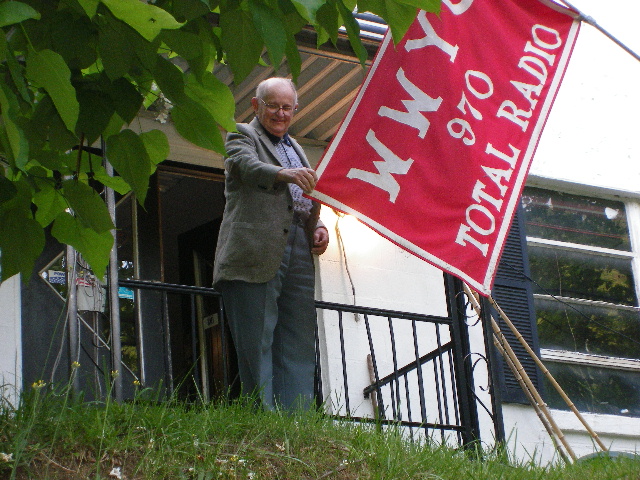 Rudy Jennings. 2009 photo by Laura Bush.
---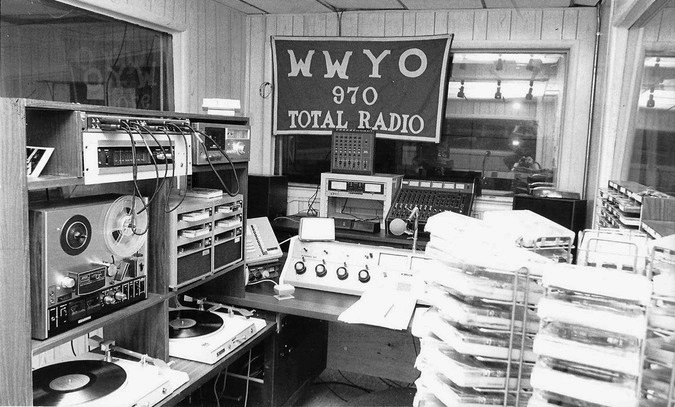 Control room, taken from the station's web site in 2013.
---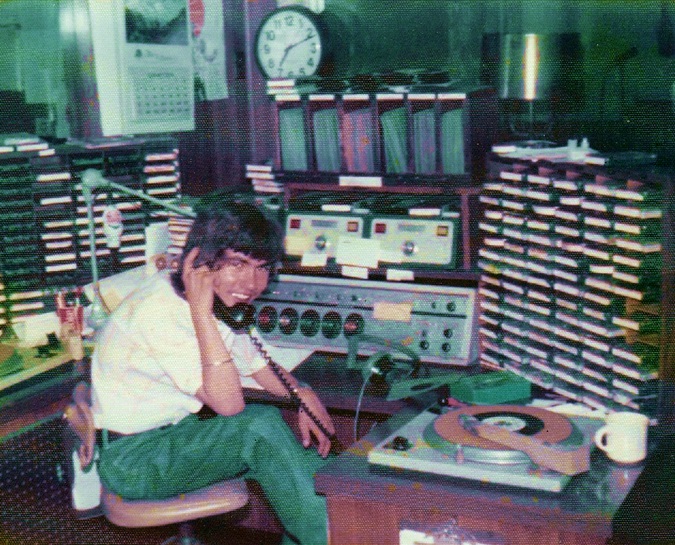 James Robert "Jimmy" Tice (1955-1975). Photo courtesy of Roger Fox.
---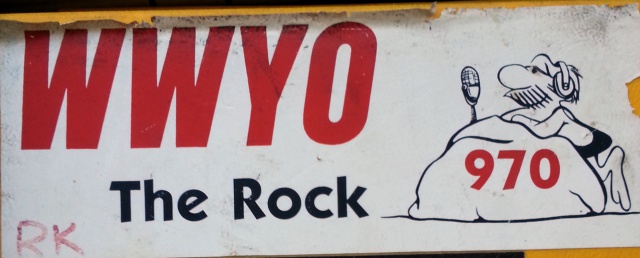 WWYO bumper sticker from 1978. Photo courtesy of Randy Kerbawy.
---
Tower (2014)