WOODROW WILSON HIGH SCHOOL HISTORY
Basketball
---
Newspaper Articles
These are PDF files.
---
Woodrow Champs, 1954: Unlikely Heroes Recall
Their Historic State Championship (2009)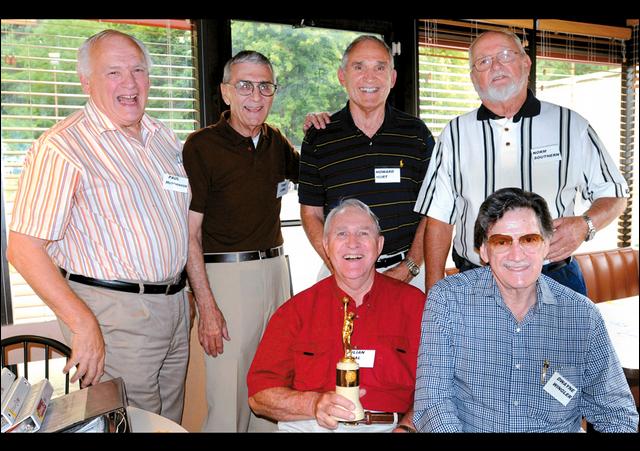 Members of the 1954 state championship Woodrow Wilson basketball team gathered in Beckley last week. Team members include, left to right, standing, Paul Hutchinson, Tony Lusk, Howard Hurt and Norm Southern and, seated, Julian Trail and Dwayne Wingler. Wingler had 44 points in the state championship victory over Mullens, and Trail and Lusk were all-tournament selections. Photo by F. Brian Ferguson.
This article appeared in the Register-Herald on July 25, 2009.
By DAVE MORRISON
How it happened? Well, even the players, to this day, 55 years later, aren't quite sure.
Suffice it to say, Woodrow Wilson was not supposed to win the state championship in 1954.
Despite being the three-time defending champion.
Despite having a lineup that included showstopper Dwayne Wingler and Howard Hurt, the guy who would go on to become Woodrow's all-time leading scorer (a record set without the three-point line in a day when freshmen absolutely did not play and sophomores rarely did. And a record that still stands).
But win it Woodrow Wilson did, despite finishing the regular season with a less-than-ordinary 11-9 record.
And to do it, they had to beat Mullens, a team that had beaten the Flying Eagles twice during the regular season.
"I was in awe of that team," Tony Lusk said of Mullens. "We probably had a mediocre team."
"I figure most people thought we'd lose to Mullens again," Wingler said. "We weren't the best team. We had a good team, and we worked hard."
How did it happen that Woodrow Wilson would beat a Mullens team that entered that game 25-1? And beat that team 84-66.
Most credit coach Jerome "The Grey Eagle" Van Meter.
For instance, Hurt wasn't even a starter when the season started. But ol' Van knew what he had.
"Coach wasn't real big on playing sophomores," Hurt said. "But we went to Hinton early in the season and somehow I got in and I played OK."
"When coach put Howard Hurt in the lineup, that was probably the thing that put us over the top," Lusk said.
"Coach was big on defense," said Julian Trail, who would go on to make all-tournament that year with Wingler and Lusk. "I wasn't a scorer. We had Dwayne and Tony and those guys. But he put me on the best scorer Mullens had and I shut him down. Nobody told me, but I have a feeling that's why I was on the all-tournament team."
An era filled with characters
-----
"The only reason we beat Mullens was because we wanted it more than they did," starter Norm Southern said. "Coach Van Meter wouldn't let you quit. And we didn't. It was a strange year. But we came together."
It was a team of character. And characters.
And nobody fit that mold better than Wingler.
Some folks call him the greatest athlete to come out of Woodrow Wilson, a star in whatever sport he felt like trying.
Some folks think he was a nut.
Wingler laughs at it all.
"I feel like I'm the only athlete who could get so much out of two hours and twenty minutes," Wingler said. "No matter what else I did, that ('54) state championship game is the only game people remember. I played in 300 games; that is the one that sticks out.
"I played against Jerry West when he was a sophomore and I had 34 points, he had six. He kept getting better and better. People don't remember we beat Hot Rod Hundley. We won the state tournament two years before that. I went to Kentucky and played football and basketball for Adolph Rupp."
People remember because Wingler was on in that game. He finished with a record 44 points before fouling out.
Two things stand out about Wingler's performance.
One, it was against Mullens.
Wingler didn't play at Mullens that year, after an altercation in the game in Beckley.
Seems that Wingler fouled Mullens' best player, Vernon Hurt, hard. Extra hard.
"People have been saying for years I knocked a Mullens player into the second row of the bleachers," Wingler said. "Didn't happen. I may have fouled him hard. But the second row of the bleachers?"
"It happened," Lusk said, laughing. "It happened."
So bent on revenge were Mullens fans that they vowed Wingler had better not enter city limits, or he wouldn't be returning.
Van Meter took the threat seriously.
"They called me into the office and my uncle who was with the (state) police, said they didn't have the manpower to protect Dwayne Wingler," Lusk said. "Coach Van Meter said, 'Tony, we can either leave Dwayne home or we can forfeit.' Well, I didn't want to forfeit, but I didn't want to leave Dwayne home, either."
Forfeit wasn't going to happen, not for a Jerome Van Meter team, so Wingler stayed home and listened to the game on the radio.
And he cried, vowing his own revenge if the two would meet again.
-----
Hurt and Trail got their start the old-fashioned way.
Their fathers fashioned a hoop and backboard and they grew up playing on West Virginia Street, close to what is now Mountain State University.
"His dad made the backboard and my dad made the rim," Trail said. "They didn't ask anybody, just nailed it up on a light post and we played out there."
"We had great neighborhood games," Hurt said. "And we had a light, so we could play at night. It was great."
The five — Wingler, Lusk, Southern, Trail and Hurt — along with sixth man Paul Hutchinson, didn't exactly take the regular season by storm.
"When you have won three straight championships, you kind of have that mark on your back," Southern said. "Of course, Dwayne was never going to back down and we weren't going to back down, either."
Wingler would visit a Beckley establishment daily as the tournament approached, where he got "free" milkshakes.
"They'd ask me, 'Dwayne, are you gonna play against Mullens,'" Wingler said. "Now I'd say whatever they wanted to hear, I liked the milkshakes. So I'd say, 'Sure, they have police protection in Morgantown.' We had no idea."
Wingler joked that he is sure they put something in his milkshakes leading up to that tournament.
"Because I played way, way above my means in that game."
But play he did.
And he seemingly scored at will against the best team in the state that year.
Funny, but the bench knew what was going on, maybe because Wingler had 29 points at half-time. So he was well on the way to a tournament record, a record later broken, ironically, by Mullens and WVU standout Herbie Brooks.
"I never told you this before, but during every timeout, when you got to 36 (assistant coach) Preach (Wiseman) would grab my arm and say, 'He's got 36!' and 'He's got 38!'" Lusk told Wingler. "I knew what he meant. Get the ball to Wingler."
And they did.
By the time he fouled out, he had the record. And Woodrow had the state title.
A lot was made that one Mullens player, Robert Tabscott, wouldn't shake Wingler's hand.
Years later, the two became buddies.
Some would say that probably wouldn't happen, either.
But it did.
Sometimes fact is stranger than fiction.
Much like the 1954 team itself.
---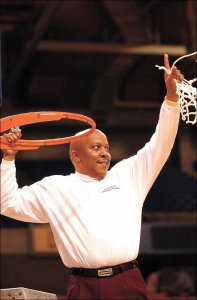 Kidd Named Coach of the Year (2008)
This article appeared in the Register-Herald on April 20, 2008.
By DAVE MORRISON
Photo: Woodrow Wilson coach Ron Kidd cuts down the net after the Flying Eagles defeated South Charleston 67-55 in the Class AAA championship game of the state tournament March 15 at the Charleston Civic Center. File photo/The Register-Herald. Click here for a larger picture.
Few things have been sweeter for Woodrow Wilson coach Ron Kidd than cutting down the nets after the Flying Eagles' record-extending 16th state title in March.
A few months before, it was the furthest thing from his mind.
Kidd went to the hospital last July 4 after stomach pains got to be too much.
"The doctor who was on call told me that my appendix was ready to burst," Kidd recalled. "After they did a CAT scan they told me there was something behind my appendix that didn't look right."
Nobody said anything. There was no need.
"I know then there was a chance," Kidd said. "And a doctor later confirmed it. It might be cancer."
Fortunately, it was detected in time. That didn't stop Kidd from having to go through an extensive, intensive six-month chemotherapy treatment.
"They called it a Cycle 12, every other week I'd have treatment on Wednesday and Thursday," Kidd said. "After a few weeks, I was able to take some of the treatments at home. Everything you hear about it, it's true. I wouldn't want anybody else to have to go through it."
At one point, he realized his basketball season — a season in which he thought the Flying Eagles had an outstanding chance to win a state title — was in serious doubt.
Yet when basketball practice rolled around, he rarely missed practice. Even if it was as a silent bystander.
And it ended March 15 as Kidd stood on a ladder cutting down the nets after his second state title (he led Woodrow to the 2004 state title). It also ended with Kidd being named the 2008 high school coach of the year by the West Virginia Sports Writer's Association.
"It inspired us," senior Damien Tunstalle said. "Coach would come to practice and you knew he was sick. But it never stopped him."
"Coach Kidd would show up at practices and sometimes he'd be working harder than some of the guys on the court," senior Adam Parkulo said. "I think we saw how much he wanted it. I think that has to get you inspired."
On May 4 at the Victory Awards Dinner at Lakeview Resort in Morgantown, Kidd will be presented the state high school coach of the year award. He led an excellent group of coaches in the voting of the award, including, in order, Jefferson baseball coach John Lowery, Wheeling Central football coach Mike Young, Herbert Hoover baseball coach Kevin Buckner and last year's winner, Parkersburg football coach Bernie Buttrey.
"It's a great honor, another blessing," Kidd said. "I have to give a piece of it to (assistant coaches) Stevie (Kidd), Gene (Nabors) and Brian (Nabors). And a big piece of it to the kids. A coach can't do anything without his team."
n n n
As his recovery continued, Kidd usually sat courtside at home games — on the other side of the court from the team bench.
"I just didn't want to get in the way," he said. "I knew (assistant coach) Stevie (Kidd) would handle things. And they did an excellent job."
Kidd made a triumphant return against Nitro at the Mountain State Coal Classic Feb. 1. Woodrow overcame a 20-point second-quarter deficit to win 67-55.
"What coach wouldn't appreciate an effort like that?" Kidd said.
In the previous game, against national power Oak Hill Academy, the Flying Eagles played their first game without two starters who were lost to grades and fell 71-62.
Kidd said he thought that was the turning point.
"I think we showed, with that effort, that we could play with anybody," he said.
It was the start of a weird finish that saw Woodrow Wilson lose its final three regular-season games, play a 6 p.m. sectional game at the Beckley-Raleigh County Convention Center because it had been rescheduled due to weather and then start the Class AAA Region 5 championship against Greenbrier East with five technicals because the team showed up with the wrong jerseys and fell behind 7-0 before winning 71-55.
"Well, we all went through some struggles," Kidd said. "I think what happened there was our kids got mentally tough. And maybe a little physically, too."
It definitely steeled the team, which beat No. 3 seed Martinsburg 51-50 in the state tournament opener on a pair of free throws by Michael Fortune, beat Capital, which had beaten the Flying Eagles by 12 twice in the regular season, 59-50 and then avenged an early-season loss to old nemesis South Charleston 67-55 in the state title game.
No less an authority than former coach Dave Barksdale, who won five state titles in the 1990s and is a historian of sorts of all things Woodrow basketball, considers the Flying Eagles' run in March the best he's seen.
"I go back to about 1954, when I was a kid watching Woodrow," said Barksdale, now an assistant coach at Mountain State University in Beckley. "What they did was amazing, if you think about it. The way coach (Ron) Kidd overcame cancer. And to beat the No. 1 team (South Charleston), the No. 2 team (Capital) and the No. 3 team (Martinsburg) on consecutive nights? That has to be one of the most remarkable runs ever (by a Woodrow Wilson team)."
"That means a lot," said Kidd, an assistant under Barksdale before taking the reins in 2001. "Coach can tell you about all the titles. For him to say that means something.
"It's been great to get back to the top. I kind of felt at the beginning of the season that it would come down to us, South Charleston and Capital. And it did. Like I said, it's another blessing."
---
'67 Beckley-Richwood Tilt Was One for the Ages (2007)
Visiting Flying Eagles Prevailed Over Lumberjacks in Two OTs This article appeared in the Register-Herald on February 24, 2007.
By PAT HANNA
In West Virginia's long, storied high school basketball history, there have been bigger, more important games, notably years of state championship contests in locales like Morgantown, Huntington and Charleston. It's hard to equal, let alone surpass, the drama, the excitement, when two teams are playing for the big trophy.
But the years have also produced some classic regular-season matchups between top-ranked rivals, programs steeped in tradition, battling in packed gyms in struggles so epic they are stored forever in the minds of players, coaches and fans alike.
Such was the case on the night of Feb. 24, 1967 — 40 years ago today — when the state spotlight was focused squarely on a small town in Nicholas County — not altogether unlike the little Indiana town that inspired the movie "Hoosiers" — for a game that had been anticipated for weeks, perhaps months.
The day had arrived: Richwood vs. Beckley.
Forty years have done little to cloud the memories of the events of that cold, snowy night in Richwood — the enormous crowd that began arriving three hours before tipoff and two great basketball teams slugging it out until only one was left standing.
In the end, Beckley prevailed 96-86 in two overtimes in a game that provided the Flying Eagles momentum for a post-season run that ended with a state championship.
It remains arguably — and the arguments are few — the biggest sporting event ever held in Richwood.
"I'm partial because I participated in the game, but yea, without question, I think it was the biggest sporting event that's ever been held here," said the Lumberjacks' center that season, Ernie Williams, who still lives in Richwood.
Teammates agreed.
"I can't remember another game where they had more people, more anticipation, more spirit, or where there was more at stake," said point guard Hughie Johnson, who later coached the Lumberjacks.
"Richwood was always a basketball town ... It was probably the biggest sporting event, in my memory, that ever took place in Richwood," added Mike D. Brown, the team's sixth man that year.
The game left its mark on the Beckley players, too.
"I've never seen a gym packed like that," said Steve Lickliter, a junior guard on that Flying Eagle team who went on to become a touring pro bowler after a stellar career at Morris Harvey College. "Except for the 1967 state championship game, it was the most exciting game I ever played in. The noise, I never heard anything like it. You could hardly hear yourself talk."
"It was one of the most memorable games I was ever in," said John Wooton, a junior forward on the '67 Beckley team. "We had several good games that year, but that's one that really stands out. It was an epic high school contest in southern West Virginia."
"The crowd was not friendly," added John Beard, a junior and the Eagles' point guard that year. "It was somewhat of a hostile environment. But nicely hostile."
- - -
To a man, those who were part of that game first and foremost remember the crowd.
"Someone told me a few years later there was probably close to 2,000 people in that gym that night," Richwood's Brown said. No one was quite sure of the gym's permanent seating capacity, but, Brown added, "It didn't seat near that many."
The day before the game, bleachers from the RHS football field were brought to the gym and set up on the stage normally reserved for the band. (That was also done in 1965 when the West Virginia University freshman team, featuring the great Ron "Fritz" Williams, brought its undefeated record to Richwood to play the West Virginia Tech junior varsity, which had received the OK from WVU athletic director Red Brown to use Mike Barrett, Tech's varsity star and 1962 Richwood great who would go on to win a gold medal in the 1968 Olympics and play professionally. It would probably help the crowd, Brown said. Barrett, who had been told by WVU he was too small to play major-college basketball, scored 31 points as the Tech JVs upset the WVU frosh 86-85.)
But the extra bleachers still weren't enough. Spectators lined both ends of the floor, some sitting in folding chairs, others standing three and four deep. Wherever there was someplace to stand, someone stood.
"There was nowhere to stand to take the ball out," Lickliter recalled. "The old 3-foot line they used to have (a player had to be outside that line to receive an inbounds pass), that was the line they were using when you took the ball out. Several times I went in for layups and ended up on people's laps."
"The place was totally full at 6:30 and the game didn't start until 8," Richwood's Williams said. "Before we went to get dressed, I can remember looking out in the hallway and seeing heads six and seven deep. I don't know how many people were turned away."
Richwood's Johnson wasn't sure he was going to get in himself.
"I was late getting to the gym," he recalled. "It was a little bit before 7 (o'clock), and people were lined up outside to get in. As a matter of fact, I didn't know if I was going to get in. As I was making my way through, people were yelling, 'Hey, buddy, quit jumping in front of people.' I had to fight my way to get in."
Inside, one section of bleachers had been reserved for Beckley fans, but it was hard to keep people out. Then, two chartered busloads of Beckley fans arrived. Somehow, all got in.
There were at least three Mike Browns in the gym that night, two Richwood players and the Beckley Post-Herald sports writer who covered the game, and two future circuit court judges — John Hutchison, Beckley's backup center who later played collegiately at Davis & Elkins, and Gary Johnson, who played on the Richwood junior varsity.
- - -
Today's young fans look at Richwood and see a small, single-A school. But that wasn't the case in 1967. The Lumberjacks were a strong Class AAA program, and had been for some time.
The 1950 team lost a heartbreaking overtime game to eventual champion Wheeling in the semifinals of the state tournament at Morgantown. Tuck Wilt, a sophomore on that team, went on to play at Western Kentucky.
In 1956, senior Jay McKenzie scored 30 or more points in eight games before taking his talents to Virginia.
In 1962, Barrett was the leading scorer on a team that went 18-2 during the regular season and advanced to the regional final before losing to Elkins.
And in 1966, senior Tom Milroy, who would go on to play at Maryland, led the Lumberjacks to a 21-3 record and a berth in the state tournament at Huntington, where they lost by five points to Bob Hummel and Moundsville.
Basketball was king in Richwood.
"We were gym rats," Barrett once said in an interview. "It was just a way of life."
Many in that era followed the likes of Hot Rod Hundley, Jerry West and Rod Thorn. It was also a family thing. Three members of the 1967 team — Williams, starter Byron Chambers and reserve Larry Blake — had older brothers (Larry, Buford and Gary) who played with Barrett on the 1962 team, and another backup, Charles Swearingen, had an older brother, Ron, who played on the 1961 team, the last Richwood squad to beat Beckley.
"Growing up, we wanted to be like our big brothers," Williams said. "I wanted to follow (brother) Larry (who later became an assistant under Carl Tacy at Wake Forest). That's all it was. Byron had Buford (and two other older brothers who played, Ron and John). We wanted to live up to those expectations."
They learned basketball the right way, beginning with Richwood grade school coaches like Ray Corbett and Jim Chapman, who both played on the 1950 team, and Warren Mullens at Craigsville.
"Ray Corbett (at Milltown Grade School) taught us and taught us right," Williams said. "He would get off work at the mines, snow up to your waist, and you'd go in there and play hard for two or three hours. He taught us the fundamentals — how to dribble, how to pass. He put his own hours in, no pay. He never got his due respect."
- - -
It was much the same in Beckley, which had established itself as the City of Champions. Young players moving up through the grade school and junior high ranks wanted to be part of a tradition that included the likes of Dwayne Wingler, Bill Karbonit and Bane Sarrett.
After losing to Richwood in the 1950 regional final, the Eagles won four straight state championships under the legendary Jerome Van Meter. Beckley added another state title in 1957, then in 1962, with Lawrence "Preach" Wiseman at the helm, the Eagles went undefeated and beat Weirton in a memorable state championship game.
Wiseman's 1965 team also brought home the big trophy, the school's seventh in 14 years.
Beckley had also been a big thorn in Richwood's side. The Eagles beat the Lumberjacks in the 1951 and '52 regionals. In 1956, the schools began playing in the regular season, and Beckley won four of the first six games.
In 1962, '63 and '66, Richwood, by then in another region, lost only six regular-season games total. Three of them were to Beckley.
The 1966 game in Beckley was won 54-52 by the Eagles after the Lumberjacks led by eight points in the fourth quarter. A few weeks later, the two teams comprised half of the state Class AAA tournament field in Huntington, with the Eagles losing to a great Dunbar team, the eventual state champion, in the semifinals.
That set the stage for 1967. While Beckley returned three starters — Roger Wood, Wooton and Beard — Richwood had four of its top six players back — Chambers, Mike Greene, Johnson and Williams.
Beckley began the season ranked No. 1 in the state, but dropped after losing in late December to Charleston. Richwood moved up to the top spot and held it through January and into late February.
The Lumberjacks had a couple of close calls along the way — a three-point victory at home over a Shady Spring team they had beaten by 12 earlier and a 67-65 overtime victory at Princeton, which figured to be a close game.
Beckley, meanwhile, had rebounded after the Charleston loss, winning 13 of its next 14 games.
By the time Feb. 24 rolled around, the Eagles were 17-2 and ranked third in the state. Richwood, meanwhile, was 18-0. A game earlier that week at Lookout was postponed because of the weather and rescheduled for the following Monday.
In fact, the roads were still covered by snow on Friday, Feb. 24.
"And it was cold," Beckley's Wooton remembered. "A buddy of mine drove to Richwood that day in a convertible that had a plastic back window when the top was up. It was so cold that somebody touched the plastic and it cracked."
At Richwood High School the morning of Feb. 24, word spread quickly that the game was on. And it became something of a festive atmosphere. It was hard to concentrate on algebra, biology and the like when the big game was just hours away. Albert DeSalvo, the convicted Boston strangler, had escaped from a Massachusetts mental hospital that day. No one paid attention.
For Beckley, the trip to Richwood wasn't easy (and vice versa). Back then, there was no four-lane Corridor L. U.S. 19 was what is now W.Va. 41, down Batoff Mountain to Prince and back up out of the gorge, through Danese to U.S. 60, then back north through Nallen into Nicholas County to Summersville.
"You'd get to Summersville and sigh, then you realized you had another 25 miles to go (on a curvy, mountain road)," Wooton said.
On a good day, it was a good two-hour trip. On a bad day?
"It was an adventure," Beckley's Beard said. "It was a tough drive."
As game time approached, the crowd was in a frenzy. When Richwood took the floor, the roar was, to put it mildly, deafening.
Ernie Williams described the mood in the Richwood lockerroom.
"A lot of anticipation, a lot of nervousness," he said. "We weren't intimidated, just nervous because of what was at stake. Whoever won this game was going to walk away No. 1 and we were trying to hold it."
"Beckley had a lot of tradition," Hughie Johnson said. "That was a game, really, when you went out, nobody had to tell you to get fired up. When you hit the floor, you were ready to play. There wasn't anything else to think about but playing your hardest because of their tradition."
The Lumberjacks were confident, but not overly so. They had won 19 straight home games; their last loss at home was in the final game of the 1965 regular season — to Beckley.
"We were out to prove ourselves against a team that had been established for years," Mike Brown said. "We didn't walk into it thinking we had it locked up. We just wanted an opportunity to prove ourselves. And I think everybody else wanted to know if Richwood was that good. They looked at it as a measuring stick.
"Beckley was Beckley," Brown added. "I remember looking at them during warm-ups. John Wooton stood flat-footed and went way above the rim with two hands and dropped it in. We didn't have anybody who could get up that high."
"We knew it was going to be hard," Richwood's Greene said. "They were the team you had to go through to reach what you wanted to reach. We knew we could play with them. We hadn't backed down from anybody. I don't think there was a person on the team that didn't think we could win."
Beckley's players expected a hard-fought game as well.
"The two teams were very evenly matched," Wooton said. "There were some great players on that (Richwood) team."
"We knew they were big, a strong rebounding team, and they had several good shooters," Lickliter said. "Our team was known for running and shooting. We were probably the best shooting team in the state."
"They had a real good team," said Beard, now in the insurance business in Greensboro, N.C. "Hughie Johnson and I had some good matchups. They had a tradition of playing good basketball. Everybody knew it was going to be close, and, by golly, it was."
- - -
It was game time. Beckley wore its red road uniforms. Richwood was dressed in black. Gene Morehouse readied himself for the radio broadcast back to Beckley on WJLS, as did Tom Hicks and Rod O'Dell on WWNR. (Less than four years later, both Morehouse and Beckley team manager Gary George would lose their lives in the Marshall plane crash.)
Edwin Pratt, Richwood's longtime public address announcer, introduced the starting lineups: For Beckley, seniors Roger Wood and Mike Griffith, and juniors John Wooton, John Beard and Steve Lickliter. For Richwood, seniors Byron Chambers, Mike Greene, Hughie Johnson and Ernie Williams, and junior Mike Triplett.
As Beckley's Wood adjusted a protective brace over his nose, which had been broken earlier in the season, Mike Brown took his spot on the Richwood bench, waiting to be called into action by coach Joe Andrick.
"I generally played four or five minutes a game," he said. "I was planning on sitting and relaxing and enjoying a good game. But Ernie got in foul trouble early and I had to go in."
Williams picked up three fouls in the first half, then was whistled for his fourth on the opening tip of the second half, a foul he still says should have been called on teammate and best friend Chambers.
"So here I was playing a bunch when I hadn't even expected to see the floor," Brown said. "It was a thrill, but terrifying."
Beckley got off to a fast start. The Eagles led by 10, 21-11, at the end of the first quarter, and they stretched their lead to 15 points in the second quarter before the Lumberjacks closed the period with a 10-2 run to trail by seven, 45-38, at the break.
Richwood had been a second-half team all year, but Beckley regained the momentum in the third quarter. Led by Griffith, the Eagles built their lead to 65-53 heading into the fourth.
But the Lumberjacks fought back. With Chambers leading the way, and with Wooton and Griffith finished with five fouls each, Richwood took a 76-75 lead on Johnson's two free throws with 2:44 left.
"When we got the lead, if we could have stopped them, I think we would have won," said Ralph Johnson, a longtime Richwood assistant coach and Hughie's father. "But we never could. They were able to score every time we did."
With the score tied near the end of regulation and again in the final seconds of the first overtime, the Lumberjacks had the ball with chances to win, but couldn't convert. With three seconds left in regulation and Richwood inbounding the ball on its own end of the floor, Williams popped free on the right wing and took the pass, about 22 feet from the basket. He squared up and launched jumper that was on line but just a bit too strong.
"I thought it was going in," he would say a couple of days later. "It went in and out."
In the second overtime, the foul situation caught up with the Lumberjacks. All five starters fouled out, and Beckley pulled away for the 10-point victory.
"We had two shots to win. We just didn't get it done," said Richwood's Greene, who would go on to score more than 1,000 points at Shepherd College and is now the athletic director at Weir High School.
Wood finished with 31 points to lead the Eagles. Griffith added 21, Lickliter 18 and Wooton 12. Chambers led Richwood with 27 points, followed by Johnson with 21 and Greene with 15. The Lumberjacks had a 52-48 rebounding advantage.
"It was a real slugfest," said Beckley's Wooton, who a year later signed with WVU, only to see his career cut short by a knee injury. "What it boiled down to, when it got to the overtimes, was who had the most people left. We just ended up with a few more players than they did. The difference was the players left standing."
"There was good talent on both of those teams," Hughie Johnson said. "If we had played each other 10 times that season, we probably would have won five and they probably would have won five."
"I wouldn't doubt that at all," Wooton added.
- - -
Three days later, Richwood beat Lookout to finish the regular season 19-1. The Lumberjacks then began preparing for tournament play, knowing there was a chance they could see Beckley again.
"I think everybody assumed that," Richwood's Williams said.
Beckley did its part, beating Montgomery and Oak Hill in the sectional, then defeating Scott and Princeton in the regional to secure its place in the state tournament at Morgantown.
Richwood beat Clay and Summersville in the sectional, then traveled to Elkins for the regional with unbeaten Keyser, once-beaten Elkins and Fairmont West.
The Lumberjacks edged Keyser 66-65 in the regional semifinals. But the next night, Elkins ended Richwood's dreams with an 80-67 victory.
"We had to play them on their home floor," Williams said. "I'm not making excuses. They just shot the lights out that night. I think they shot 70-some percent from the floor.
"We were very disappointed. I think the whole town was. The expectation was there, and we as a team didn't expect any less."
So it was Elkins that met Beckley in the state semifinals. The Eagles won 76-66.
"I thought Richwood was probably destined to go to the state tournament," said Wooton, now a Beckley attorney. "I was surprised Elkins beat them. I thought Richwood was the better team."
The next night, Beckley won another state championship, the school's ninth, with a thrilling 75-69 overtime victory at the old WVU Field House against a talented Charleston team led by Curt Price and Larry Harris. Since then, the Eagles have added six state titles for a total of 15, more than any other school in the state.
Richwood finished that year with a 22-2 record. The four senior starters — Chambers, Greene, Johnson and Williams — all averaged in double figures in scoring.
In many ways, it was the end of an era in Richwood basketball. In the six seasons from 1962 to 1967, the Lumberjacks won 111 games and lost only 22. They then had six straight losing seasons.
- - -
Much has happened since that February night four decades ago. The two head coaches, Beckley's Wiseman and Richwood's Andrick, are deceased. The players are now well into their 50s. They went into different careers, became productive citizens and raised families of their own. Some stayed close to home, others ventured to different parts of the state and the country.
Other things haven't changed as much. That old gym on the banks of the Cherry River in Richwood still stands and is still used by the middle school and youth league teams.
Can you still hear the echoes from Feb. 24, 1967? Probably not. But for those who were there that night, a trip back into that gym today can easily bring back images of a classic that produced 38 minutes of fever-pitched basketball and 40 years of memories — and counting.
"I have people still today who will ask me, 'Do you remember that Beckley game?'" Ernie Williams said. "For my generation, as well as the older people and even kids who were in grade school then, they haven't forgotten."
"Forty years later, people still talk about that ball game," John Wooton said. "Not just Richwood people, but Beckley people, too. There are not many games that stand out like that. It was an epic struggle."
One for the ages.
---
Woodrow Goes Through Tourney's Top Three Seeds
For Its 16th State Title (2008)
This article appeared in the Register-Herald on Mar. 15, 2008.
By RANDALL JETT
CHARLESTON — Overcoming all the challenges and obstacles placed in its path, Woodrow Wilson returned to the Class AAA championship game in the state tournament Saturday night at the Charleston Civic Center.
And the journey steeled the Flying Eagles for the final hurdle as they defeated South Charleston 67-55 to claim the 16th state championship in the school's storied basketball history.
For coach Ron Kidd, his second title was just as sweet as his first in 2004.
"I'm just so proud of my kids," he said. "It was all about them. They came down here focused and with the will and the heart to do what it took to win the state championship."
Woodrow's win over South Charleston was extra special for Kidd since it marked the first time in eight years of playing the Black Eagles that a Kidd-led team had come out on top.
"We beat them at the time that was right," he said. "It was very gratifying. South Charleston has tried to model our program. Our kids play the same way. It's just a great win."
On the road to their 16th championship, extending a state record, the Flying Eagles, the sixth seed, defeated No. 3 Martinsburg, No. 2 Capital and No. 1 South Charleston on successive nights.
"That makes it even more gratifying," Kidd said. "We beat the top teams in the state. This was probably the most focused team I've ever had in a state tournament for three games like that. They had to be focused in order to win."
Woodrow (19-7) set the tone early in the contest, avoiding South Charles-ton's trapping defense and finding the open man for easy baskets.
Down 15-13 at the end of the first quarter, the Flying Eagles reeled off a 15-1 run to start the second quarter. Travis Parkulo got things going with a layup and a three-pointer.
Aaron Dobson finally hit a trey with 2:48 remaining in the half to end a seven-minute scoreless streak from the floor for the Black Eagles.
"The second quarter, I thought we shot a little bit too early, too quick," South Charleston coach Bobby Dawson said. "We didn't shoot well and they did. We dug ourselves a little bit of a hole."
After going down by as many as 14 points in the third quarter, South Charleston (24-2) battled back. The Black Eagles cut the Woodrow advantage to two points at 52-50 with 3:17 remaining in the game, but Michael Fortune hit a jumper that swung the momentum back in Woodrow's favor.
"We had to get a stop after I scored there," Fortune said. "It was all about defense."
From there, Woodrow went 12 of 14 from the foul line and allowed the Black Eagles just two more buckets to lock up the win.
"When we got in the tournament, the kids got more focused (on their foul shooting)," Kidd said. "It meant a whole lot more and I thought they did a great job down here on the foul line."
Woodrow went 20 of 25 from the foul line for the contest.
Ryan Powers scored a team-high 14 points, while Damien Tunstalle chipped in 13 points and 11 rebounds and Parkulo tallied 13 points. Fortune added 12 points and seven assists.
South Charleston was led by Dobson and Pierria Henry, who finished with 13 points apiece.
Woodrow Wilson 67, South Charleston 55
Woodrow Wilson (19-7)
Fortune 2-7 7-8 12, Rodriguez 0-1 0-0 0, Powers 4-7 3-4 14, Tunstalle 5-10 3-4 13, Parkulo 5-10 2-2 13, Waldron 0-0 0-0 0, J.Cook 0-0 0-0 0, D.Cook 0-0 0-0 0, Rhodes 0-0 0-0 0, Starkey 0-0 2-2 2, Anthony 1-1 2-4 4, Walton 4-6 1-1 9. Totals 21-42 20-25 67.
South Charleston (24-2)
Dobson 5-12 1-2 13, Harris 1-9 1-1 3, Heyliger 2-3 1-2 5, Henry 6-16 0-0 13, Slusher 2-6 0-0 4, Badger 1-4 4-4 6, Scott 3-6 1-1 7, Marino 0-0 0-0 0, Hudson 0-0 0-0 0, Beatty 0-0 0-0 0, Peden 2-2 0-0 4. Totals 22-58 8-10 55.
Woodrow Wilson 13 17 20 17 — 67
South Charleston 15 6 20 14 — 55
3-point goals—Woodrow Wilson 5-10 (Powers 3-6, Parkulo 1-1, Fortune 1-3), South Charleston 3-19 (Dobson 2-6, Henry 1-7, Badger 0-1, Harris 0-5). Fouled out—Heyliger. Rebounds—Woodrow Wilson 28 (Tunstalle 11), South Charleston 31 (Henry 9). Assists—Woodrow Wilson 15 (Fortune 7), South Charleston 11 (Henry 5). Total fouls—Woodrow Wilson 13, South Charleston 25. Technical—Tunstalle. A—7,247.
---
Kidd Overcame Adversity To Get Eagles To Title (2008)
This artcle appeared in the Register-Herald on Mar. 16, 2008.
By DAVE MORRISON
CHARLESTON — That Woodrow Wilson won the state championship Saturday night, its 16th title, was only half the story in what was a strange year.
Yes, the Flying Eagles got the monkey that was South Charleston off their collective back with a 67-55 upset of the top-seeded Black Eagles.
Woodrow under coach Ron Kidd had never beaten South Charleston.
Not only did they vanquish that ghost, the Flying Eagles also beat long odds, not to mention the Nos. 1, 2 and 3 seeds.
And nobody exemplified that more than Kidd.
There is a prep coach of the year award, and all things considered, Kidd should be the hands-down winner.
First of all, the guy known as "Little Man" to his friends battled back from cancer to return to the bench earlier than even he thought he would.
Obviously, that is more serious than winning or losing a state title, when you're talking about life.
Anyone who knows Kidd expected nothing less.
Then, the Eagles lost two of their top players, Vashawn Wood and Cameron Hallcomb, to grades.
That was a blow to the team, but Kidd regrouped the charges, and following their coach's lead, guys like Damien Tunstalle, Travis Parkulo and Ryan Powers increased their workload.
Then the team had to battle just to get out of the sectional, going to double overtime against Riverside before Michael Fortune, the comeback player of the year for his postseason performance, nailed 9 of 9 free throws to rescue the Beckley bunch.
Then it got strange.
Kidd was told by a member of his own administration that Woodrow was designated the visiting team for the Region 5 final with Greenbrier East.
Tournament director Lee Loy said Beckley officials were plainly told the Eagles were the home team.
Because they wore the road uniforms, they were hit with five technicals before the game even started. Greenbrier East was up 9-0 before Woodrow ever touched the ball.
Makes you wonder whose side some people are on.
Think it ended there?
No.
Despite staying alive in the state tournament, Woodrow traveled back to Beckley after each win. You can almost understand Thursday, with the game ending at 9 p.m.
But after Friday's win, which ended around 11 p.m. and the Eagles not getting out of the civic center until close to midnight?
That is crazy. The coaches were scrambling after the game trying to find somewhere for the team to eat and Kidd was making preparations to get Powers, who suffered an ankle sprain in the Capital win, to the doctor Saturday morning.
Kidd has continually come up big, time after time, despite distractions and adversity — none of it his own making. When things seemed to be conspiring against him, Kidd was at his very best. He always held his head high.
Coach of the year?
In my book, you'd better believe it.
Title or no title.
---
Stories Flow Freely at Barksdale Fete (2008)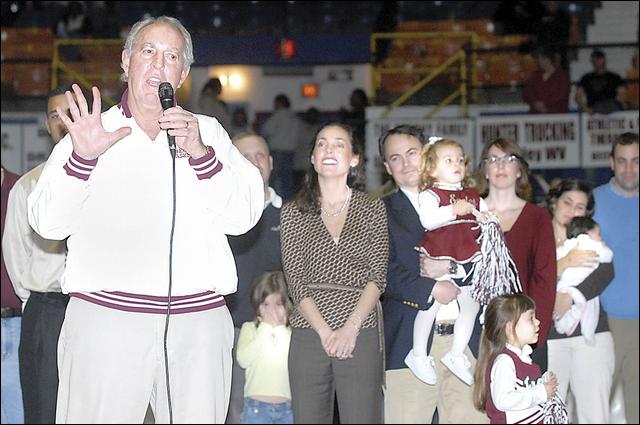 Woodrow Wilson basketball coach Dave Barksdale speaks to the crowd during a ceremony Friday in his honor as friends and family members look on at the Beckley-Raleigh County Convention Center. The court at the 45-year-old facility was named "Dave Barksdale Court." W. Dayton Whittle/The Register-Herald
This article appeared in the Register-Herald on Feb. 8, 2008.
By DAVE MORRISON
Sherman Ross swears it's a true story. A guy is lost in Beckley. He's driving along Kanawha Street and comes upon Dave Barksdale walking down the street.
"Excuse me," the fellow says. "Can you tell me how to get to Charleston?"
Without missing a beat, Barksdale replies, "Man-to-man pressure defense."
Stories like that one flowed at the Beckley-Raleigh County Convention Center Friday as the basketball floor at the 45-year-old facility was christened "Dave Barksdale Court" in honor of the legendary Woodrow Wilson coach.
One by one, key contributors to the Flying Eagle machine that rolled up five state titles in the 1990s spoke about the former mentor.
Sam Hall and Bobby Sanger rarely missed a game in those days.
"I don't think I missed a game in his entire time here," said Sanger, who started going to Woodrow games the year the armory opened in 1962. "He always made you feel like you were part of the program."
Current coach Ron Kidd, as well as two former Barksdale players, Gene and Brian Nabors, were there before leaving to make final preparations for Friday night's game against Parkersburg South, as were former assistants Butch Freeman, James Lewis and Miller Hall.
"What I remember most was watching a guy who worked harder than any man I've ever seen, every single day," Lewis said. "That, and the time coach ripped his pants and had to coach the rest of the game with a towel around his waist."
Barksdale seemed genuinely touched that a group of four players he gathered around to introduce — Bane Sarrett, Bill Karbonit, Howard Hurt and Ryan Culicerto — came to help honor him.
Sarrett and Karbonit were Barksdale teammates on the undefeated 1962 team, and Culicerto was one of Barksdale's players in the 1990s. Hurt played at Woodrow Wilson before Barksdale.
"Howard Hurt was a two-time captain at Duke and the all-time leading scorer at Woodrow," Barksdale, a Woodrow historian, said. "Ryan Culicerto was second. Bane Sarrett was player of the year in 1962 and Billy Karbonit was as good an athlete as there has been here. I think you can say that these four gentlemen were the best players at Woodrow Wilson."
Barksdale's son Ty said he remembers listening to a state tournament game in his parents' room when he was a little boy.
"I remember dad saying that maybe one day we would play at the state tournament," the young Barksdale said. "I just thought that would be a neat thing."
Oh, they went to the state tournament all right.
And won five titles, played in eight championship games, and when Barksdale finally left following the 1999 season, 335 wins were in the books.
"I remember when we played Oak Hill in a regional final at the armory," Ty Barksdale said. "We were up by three and they had a guy named (Sam) Jasper and he hit a three at the buzzer. I looked at dad to see his reaction and he was walking to the opposing bench, like it didn't happen. Fortunately, we won the game (in overtime). After the game, when we were in his car, I said, 'Dad, did you think the basket was no good?' He said, 'I knew it was good, but I had to try.'"
Barksdale said the hardest part of his job was cutting players, which is why he went a week with 80-plus potential players.
"I thought we had to give everyone a fair chance," he said.
He cited former player Kiko Wallington as a player who benefited from the extended tryouts.
"If we just had a courtesy tryout, then Kiko Wallington wouldn't have gone down as one of the hardest-working players I ever had at Woodrow Wilson," Barksdale said.
In a show of class and, obviously, school spirit, current Woodrow coach Ron Kidd, a former Barksdale assistant, kept his players on the court at halftime to witness the moment, despite the fact the Eagles were engaged in a 31-29 skirmish with Parkersburg South at the time.
Kudos to Fred Persinger, who MC'd the event with Bill O'Brien, for mentioning late Register-Herald sports writer Scott Brown, who really would have enjoyed Friday's celebration, as would the late Click Bandy, a long-time Woodrow supporter.
And Brian Nabors came up with the perfect halftime song, when "Eye of the Tiger" was played.
Barksdale was quoted many times as saying his teams played with the "Eye of the Tiger" when they played particularly well.
---
Convention Center Court to Be Named
in Barksdale's Honor (2008)
By DAVE MORRISON
This article appeared in the Register-Herald on Jan. 24, 2008.
For Dave Barksdale, the Raleigh County Armory/Beckley-Raleigh County Convention Center has really been the "friendly confines."
Not to mention a family affair.
Barksdale's late father Frank was a member of the first Raleigh County Armory board and was instrumental in the building of the facility.
And Barksdale himself played in the first game ever contested in the building when No. 1 Woodrow Wilson hosted South Charleston on Feb. 2, 1962.
So it's only fitting that the Barksdale name will grace the court where he won a state high school championship as a player and coached Beckley teams to five more during the 1990s.
The court will officially be named Dave Barksdale Court on Feb. 8 when Woodrow Wilson meets Parkersburg South at the convention center.
There will be a reception prior to the game at 5:30 p.m. Tickets will be available at the armory for $10, which includes the reception and the game. Tickets are being limited to the first 400 people.
"While it means a great deal to me to have the name Barksdale on the floor, I also have to think it's a tribute to my father," Barksdale said Thursday night prior to MSU, where the legendary prep coach is an assistant coach, playing Southern Virginia in the Mountain State Coal Classic college division.
"He was a member of the first board here. After he passed away in the late '70s, I remember someone at the wake mentioning something about naming something after him. It never happened then, but I'd like to think that it's named not only for me, but for him as well."
"I was at the state tournament last year and I read something about Beckley pride and what Dave Barksdale meant to Beckley basketball," said convention center board member Richard Jarrell, who is spearheading the event.
"It just kept burning in my mind that we need to honor someone who has done so much for basketball and kids in this area. Pride burns in coach and we need to recognize that."
Those who have worked with him at the armory over the years would agree.
"First of all, he is the most competitive coach I've come across in 40 years of announcing games," public address announcer Carlos Garten said. "While he was a competitor, he would also do anything for any kid out there. Didn't matter if they went to Independence, Liberty, wherever, if they asked coach for help, he'd give it. How many coaches out there are willing to help kids from other schools? That's Dave Barksdale."
"In my opinion, Beckley is privileged to have a man like coach Barksdale," longtime clock operator Bobby Smith said. "You couldn't ask for a better man, on or off the court. Make no mistake, he wanted to win. And he takes the game very seriously."
"His work ethic is incredible," official scorekeeper Rita Burleson said. "What he tried to do was pull everything he could out of every kid on his team. And his record shows that he was able to do that."
During one streak, Woodrow Wilson was unbeatable at home.
From late in the 1990 season to the 1995 season, Woodrow Wilson didn't lose a game at the armory, rolling up an impressive 53 wins in a row. During that period, Woodrow Wilson won three straight state titles (1990, '92 and '93). The Eagles would again go back-to-back in 1997-98.
"What we want to do is bring back the spirit of 'Dave's Dome,' even if it's for one night," Jarrell said. "And we want to showcase the team we have now. We have a good team and we think they're going to compete (for the state title)."
Jarrell said "Dave Barksdale Court" will be placed on each side of the court, facing the stands.
Barksdale has too many memories to count in the facility, but he does remember that first game.
"We were No. 1 and South Charleston was No. 2," he said. "The place was sold out. It was the biggest crowd any of us had seen. And we beat them. And now, to think all these years later, I was able to watch Woodrow as a fan first, then as a player and then coach. It was always like a big family for us. Like we say, 'Once a Flying Eagle, always a Flying Eagle.'"
Same for Dave Barksdale Court from here out.
---
Beckley The City of Champions ... Again (2004)
By DAVE MORRISON
This article appeared in the Register-Herald on March 21, 2004.
CHARLESTON - The sound echoed down the Civic Center floor like a tidal wave: "Beckley is back!"
Spurred by its lockdown defense and its ability to get back out on the run, Woodrow Wilson won its 15th state championship with a 49-41 victory over Hedgesville in the Class AAA finals Saturday night.
It was the Flying Eagles' first state title since 1998.
Class AAA No. 2 Woodrow Wilson (23-4) finished the game on a 17-game win streak.
No. 5 Hedgesville finished at 24-4.
After a slow first half - Hedgesville led 18-17 - Woodrow was able to get back to its style in the second half, spurred by its tenacious defense.
"I thought our defense really locked down in the second half, plus Mario (Thompson) was in foul trouble the whole first half and he got to play the whole second half, and that was a big difference," coach Ron Kidd said.
With Thompson running the show, and gunning in 13 second half points, Beckley went on a 13-6 run to start the second half. Thompson had a three and a three-point play on the run. A two on a drive to the basket gave the Flying Eagles a 30-24 advantage, a lead Woodrow would not lose.
"I just wanted to come in and speed up the game," Thompson said. "They were trying to slow us up and we want to run. I wanted to speed the game up, give us a spark."
Hedgesville did get to within two in the third, but Mario Walton rebounded a William Dillard miss to give the Eagles a four-point lead heading into the fourth.
Twice, the Eagles of Hedgesville would get within one possession, but a Shane Maynard jumper with 3:37 left pushed the lead back to five.
Woodrow held that lead and, with two minutes left, Duncan Williams missed an NBA range three, and that started a Woodrow parade to the free throw line.
Down the stretch, Woodrow made 7 of 9 free throws, but the big basket came when Walton rebounded a blocked shot and put it in to make it 42-35.
Defense was the name of the game as Hedgesville showed from the start it wanted to slow the tempo down. But Beckley didn't bite, biding its time and relying on staunch defense.
"It was tough; they were a very disciplined team and well coached," Maynard said. "They did what they wanted, slow the tempo and run their offense. We had to dig down deep and play defense for sometimes it seemed like minutes. But we did what we had to do to win and we got it done."
"That's a trademark of Beckley basketball," Kidd said. "Give credit to our seniors. They got down and played hard-nosed D and played with a lot of poise on defense."
Hedgesville shot just 35.9 percent in the game.
"They guarded us good," Williams said. "But if we would have hit more shots it would have been a different score."
"That was absolutely the best we've been guarded on the ball all year," Hedgesville coach Kelly Church said. "When they guard you, they put pressure on you, but they didn't gamble and reach. They played solid, fundamental defense and forced us to take tough shots. It wasn't just their point guard who could guard us; their big kids could guard our guards. They obviously spend a great deal of time staying down in a defensive stance. A lot of teams we played, when we start to be patient and hold the ball that long, they quickly want to start gambling and reaching in and going for steals. They didn't do that."
Maynard led the Flying Eagles with 16 points and nine rebounds. Mario Thompson added 13, all in the second half, and Mario Walton had 12 and eight boards.
Hedgesville controlled the tempo and the scoreboard as the first half came to a close, leading 18-17.
There were six lead changes and two ties.
Hedgesville had the half's largest lead at 13-8, but Beckley stormed back with a 7-0 run to take a 15-13 lead.
The game was tied at 15 before Hedgesville's Tony Powell hit a three. Maynard scooped up a loose ball under his own basket for a lay-in that made it 18-17.
"I wasn't happy with 17 points. I thought we should have had at least 20," Kidd joked.
"When you come in the armory, we've got our banners hanging down," Kidd said. "One thing these guys can say when they come in and point up to 2004, they can say, 'That was me.'"
"We practiced there every day and I'd look at (the banners) while we were stretching," Maynard said. "I always wondered what it would be like to hang my own, and now we've done that."
"They gave us more confidence when we walked in and looked at those banners," Dillard said. "They made us go hard and we worked so hard to get here. We've finally done it."
The Eagle has again landed on top in Class AAA.
Woodrow's Maynard, Walton and Mario Thompson were named to the All-Tournament team along with Williams and Dustin Gregory of Hedgesville, Capital's Josh
---
Woodrow Captures 15th Title (2004)
By DAVE MORRISON
This article appeared in the Register-Herald on March 21, 2004.
CHARLESTON - Ron Kidd may not be at icon status just yet, but give the guy his friends call "Little Man" time. And by all means get out a pen - indelible ink, please - and add his name to a list that includes Jerome Van Meter, Preach Wiseman and Dave Barksdale, all championship coaches at Woodrow Wilson.
Kidd got his state title with a 49-41 victory over Hedgesville in the Class AAA state finals at the Civic Center Coliseum Saturday night.
He did what few gave him a chance to do, though everyone said he had the talent to do it.
The Eagles turned back the upstart Eagles from the Eastern Panhandle and added to its record for state titles with No. 15.
To know what this means, go back to Friday night's thrilling 57-54 semifinal win over Huntington when Kidd and assistant coach James Lewis did a modified version of the Warren Sapp pogo stick dance out along the Beckley bench.
It spoke volumes about what these two men - and assistants Steve Kidd and, two some extent, newer assistant Eric Dillon - have been through. Those banners at the Raleigh County Armory, all 14 of them, cast a mighty long shadow. It's tough to emerge from that shadow and not be reminded of the men who brought those banners and glory to "The City of Champions."
Kidd did it his way. He took the Woodrow Wilson blueprint and he made it his own.
So Saturday night the utopian dream of a state championship became a splendid reality, and nobody deserves the title of state champion coach more than Kidd. He's a lesson in perseverance through patience. He should be commended for his team's 23-4 record. He should be applauded for his team's No. 2 ranking that just shot up a notch. And he should be congratulated for a 17-game winning streak heading into next year.
But most of all, he should be known for what he's always been - a champion, who, like the greats before him, brought a banner back to "The City of Champions."
Today he has the hardware to prove it.
But he knows at Woodrow, there is always tomorrow, when the fans will start talking repeat.
"Monday morning," Kidd said when asked when the fans would be talking about another title. "'Can he do it again. That was luck.'"
Well, it wasn't. It was skillful maneuvering through a season of ups and downs and in-betweens.
---
Kidd Named WWHS Basketball Coach (2000)
By DAVE MORRISON
This article appeared in the Register-Herald on June 14, 2000.
Ron Kidd hopes to make No. 13 a lucky number.
Kidd was named new basketball coach at Woodrow Wilson High School Tuesday at a Raleigh County Board of Education meeting. Kidd becomes the school's 13th head basketball coach.
Kidd, 38, will succeed longtime coach Dave Barksdale, who resigned to take a high school coaching job in Aiken, S.C.
"It's always been my dream to be the head coach at Woodrow Wilson," Kidd, a former Flying Eagle player, said. "When I went to Bluefield State, I played with the late Chase Williams (also of Beckley), and we used to say that some day one of us would be the head coach at Woodrow Wilson. Today I was able to realize that dream."
Kidd was head coach of the WWHS girls' team from 1991 to 1994 before joining the varsity boys' staff later in 1994. Three times his girls' teams qualified for the state tournament, advancing to the second round once.
He also coached the highly successful Woodrow Wilson junior varsity team and was the head track coach and football trainer at Park Junior High.
As a member of Barksdale's staff, he helped the Flying Eagles win consecutive state Class AAA titles in 1997 and '98.
His former boss said Kidd's greatest attribute is "his work ethic, his energy. He's a hard worker, and he's very knowledgeable. And he's willing to learn."
"We won't change," Kidd said. "We'll keep the same system. Coach's program has been so successful, why change that?
In the 1990s, Woodrow Wilson won five state championships. The Flying Eagles have been to the state tournament a record 11 straight years.
Barksdale feels he's leaving his alma mater in good hands.
"Coach Kidd is all Beckley. He grew up in Beckley, he played basketball in Beckley, he coached in Beckley, he runs the (girls') summer league in Beckley. Coach Kidd just bleeds Beckley, and it does my heart good for him to get it and carry it on."
Kidd plans to continue the work on his girls' summer league, which he has built from nine teams into its current 39 teams, the biggest girls' league in the state.
Also at Tuesday's meeting, the board accepted the resignation of Barksdale's other top assistant, Butch Freeman, who took himself out of the running for the head coaching job a few weeks ago.
---
Ron Kidd Captures Flying Eagle Head Coaching Job (2000)
By JODY MURPHY
This article appeared in the Register-Herald on June 14, 2000.
The Raleigh County Board of Education took a historic step in the annals of state high school basketball naming a successor for one of Woodrow Wilson's most successful boys' basketball coaches, Dave Barksdale.
Raleigh County Superintendent of Schools Dwight Dials Tuesday recommended assistant coach Ron Kidd to fill the vacated position by the 17-year coach. The board passed the measure, voting a unanimous 5-0 to install the 38-year-old Kidd as the 13th head coach of a storied program that has won 14 boys state basketball titles, including five in the 1990's under Barksdale.
"He was the best man for the job," Dials said of Kidd.
He was only one of three applicants that applied for the job, including Ripley coach Randy Anderson and Clarksburg Notre Dame coach Mike Robey.
"Very big shoes to fill," Kidd said of replacing Barksdale. "You know (Barksdale) set the standard for the whole state of West Virginia. It was big but in a little but of a slide, he set the standard a little bit higher. I am going to try and raise the bar a little bit more."
"It I can keep it on even keel I'd be doing a whole lot," Kidd said.
The former player and Bluefield State College graduate coached the Woodrow Wilson girls basketball team and was an assistant on six Barksdale-led teams including two state title squads in 1997-'98. He replaced current College of West Virginia basketball coach and athletic director Bob Bolen.
While Kidd won't be starting from scratch, it'll be close.
He lost four starters to graduation and long-time assistant coach Butch Freeman, whose tenure predates Barksdale's, to retirement.
But Kidd sees only a silver lining in next year's program.
"We have a good nucleus," Kidd said of his future team. "Point guard, that's where you start."
He has a good one in returning all-state starting point guard Mike Ross. With Ross leading the team, Kidd said he expects Nate Manns and Brandon Fleenor to be a integral part of the Eagles' fortunes next season.
He is hoping to fill Freeman's spot with his cousin Steve Kidd, and move volunteer assistant James Lewis up.
Kidd has no immediate plans to make any significant changes in the current Woodrow Wilson system.
"If it ain't broke don't fix, right," Kidd said laughing. "I like to run the style and pressure man-to- man defense. The only thing... We are going to be smaller than we have been, we have to block out and put a body on people."
Just like his predecessor, Kidd's eyes will be focused on the hardwood of the Raleigh County Armory this winter but his ears and some of his attention be on the feeder programs of Beckley's basketball machine.
"I have watched the AAU and YBOA do excellent jobs," Kidd said. "I think that's why the programs have been so successful because of all that stuff. People don't realize just how much time Barksdale put into the program. You can go up to his YMCA camps and see what it is all about."
Barksdale and longtime football coach Pete Culicerto will be honored at an informal luncheon at Woodrow Wilson High School on Sunday June 25, from 2-6 p.m.
---
Barksdale Sends You His Best (2000)
This is an excerpt from Mitch Vingle's column in the Sunday Gazette-Mail of May 14, 2000.
People in Beckley are still picking up their jaws over the impending departure of longtime Woodrow Wilson basketball coach Dave Barksdale, who last week accepted another coaching job in Aiken, SC
"No one here knew,'' Barksdale said. "My assistants and everyone were shocked.''
The coach has been part of the Beckley basketball fabric since 1962, when he played on a 25-0 state championship team.
On the coaching front, his tirades and scowls have been legendary. But so have his successes. Like his 334 wins. Like the players. Tamar Slay. Tink Brown. Gene Nabors. Jamel Bradley. Ryan Culicerto. Anthony Scruggs. Shea Fleenor. Kevin Harrington. Drew Smith. Mike Ross. Derek Jones.
And Barksdale's best team?
"Since I'm leaving?'' asked the coach. "Well, my wife [Gelilah] said I shouldn't because I would hurt feelings. But the 1993 team was awful good. That was Culicerto, Fleenor, Scruggs and Nabors.
"Then there was '98, with Bradley, Slay, Drew Smith, Brad Lambert and Kevin Harrington.''
---
Woodrow Wilson: Barksdale Leaving (2000)
By JODY MURPHY
This article appeared in the Register-Herald on May 13, 2000.
After 17 seasons as Woodrow Wilson High School's boys basketball coach - five of them culminating in state championships - Dave Barksdale resigned Friday and announced he had accepted a position as the boys basketball coach at Aiken (SC) High School.
While the announcement came as a shock to many, for Barksdale the move was a long time coming.
"In the back of my mind and my wife's mind, we knew we would eventually go back," Barksdale said. "I went to Furman (University in Greenville, SC,) and stayed down there and coached eight years. My wife, Gelilah, is from Ward, SC, only 20 minutes from Aiken. Four of her brothers and sisters live around the home place at Ward; our daughters live down there. My wife can be with her people; she deserves that ... Ironically enough, when we planned on moving back, Aiken was the town we said we would live in."
Barksdale said he spoke with school officials in Aiken the day after Easter and they agreed to wait until Friday to make the announcement.
"I wanted to talk to our assistant coaches and principal. I wanted our coaches to know before anything," he said.
Typically a move south is viewed as a retirement, but not for Barksdale. He inherits an Aiken program that has had only four winning seasons in the last 20 years and only one in the last 10. Aiken is a Class AAAA school in South Carolina.
"When the Aiken job came open, I didn't think that I would be interested in it except that this is another program that I have to build up," Barksdale said. "I wouldn't have wanted the job if they were on the top of their program. I have always thought that my biggest asset was to build up a basketball program. Hopefully, I have got it in me to go to another school and build another program."
Barksdale grew up in Beckley and played on Woodrow's unbeaten 1962 state championship team. Before returning to Beckley in 1983, he spent eight years as the head coach at Alderson-Broaddus College in Philippi.
Several times while discussing the move Friday, Barksdale said one of the happiest days of his life was when he was hired as Woodrow's basketball coach. But he maintained that while he loved the city of Beckley and the school's basketball program, his love for his wife and his children took precedent.
"I have the best job in the world right here. One of the happiest days of my life was when I was hired. It was my dream job to be the coach at Woodrow," he said. "There are only two things I love more than Woodrow Wilson and Beckley - my wife and my children.
"I will enjoy seeing my wife smile and be happy; she deserves that. ... She was nice enough to pack up everything and move so I could come back to West Virginia (in 1975). One of my saddest days will be this summer when we drive out of Beckley."
During his tenure at Woodrow, Barksdale amassed 334 wins against 93 losses, second all-time in Flying Eagle history to the legendary Jerome Van Meter. His teams made a record 11 straight state tournament appearances, and 12 overall, winning five Class AAA titles in the 1990s. Three times, including this past season, the Eagles were state runners-up.
"This has been a great 17 years," Barksdale said. "I am as sad as much as I love it, but I am excited as much as anything for my wife to be able to spend time with her family. The challenge of trying to build up another basketball program does excite me, but I want to leave here thanking people for giving me the opportunity to coach at Woodrow Wilson."
Barksdale's departure will not be immediate. He says he will remain in Beckley to conduct his summer camps before school opens in Aiken on Aug. 9.
---
Barksdale Era Ends in Beckley (2000)
Woodrow Wilson Coach Takes High School Job
in South Carolina
This article appeared in the Charleston Gazette on May 13, 2000.
By MITCH VINGLE
The heart and soul of Beckley basketball is moving to Aiken, SC
Dave Barksdale, whose Woodrow Wilson High School teams won five West Virginia state titles in the 1990s, has been named the new boys basketball coach at Aiken High.
"I don't mind saying that when I got the Beckley job it was the happiest day of my life," Barksdale said Friday. "When I leave Beckley later this summer, it will be one of my saddest days."
The news is sending shock waves across West Virginia, where Barksdale has become a sports legend. But the intense, fiery coach said the move has been in the works for quite some time.
"My wife [Gelilah] is from South Carolina," the coach said. "And I coached there for eight years. When we came back to West Virginia, I knew we'd eventually go back.
"My wife is from Ward, SC, which is about 20 minutes from Aiken. She has four [siblings] in the area. Plus, our two daughters live in Hilton Head."
The 56-year old Barksdale compiled a 334-93 record - a stellar .782 winning percentage - in 17 seasons at Woodrow Wilson. He took the Flying Eagles to eight Class AAA championship games in the last 11 years, including state titles in 1990, '92, '93, '97 and '98 and runner-up finishes in 1991, 1995 and 2000. Woodrow Wilson has appeared in Charleston's Civic Center for the state tourney the last 11 seasons.
"I'm a basketball coach," Barksdale said. "That's all I know. And when the Aiken job opened up, I knew it was time to go.
"Our program at Beckley is solid. The one at Aiken needs me more than the one in Beckley."
Pat Keating stepped down as coach of Aiken after seven seasons. The school's teams have posted just four winning seasons in the past two decades.
"We're very excited to get him," Aiken athletic director Mark Crawford said. "He's a guy that is dedicated to basketball 24 hours a day, seven days a week."
Barksdale attended Woodrow Wilson High and played on the 1962 basketball team that beat Weir and Ron "Fritz" Williams 71-69 in the state championship. The Flying Eagles finished the season 25-0.
Barksdale attended Furman University then coached high school ball in South Carolina at Ridge Spring-Monetta and Orangeburg-Wilkinson. Then he moved back to West Virginia, accepting the job at Alderson-Broaddus College in 1976, where he stayed seven years until taking the WWHS job in 1983.
"I was an only child," Barksdale said. "I moved back to West Virginia to be with my parents, both of which I lost in my first year at A-B. But at least I was able to spend some time with them."
Now, Barksdale said, it's time to put his wife back in her home territory while he takes on the challenge at Aiken.
"I hope I have one more program to build," the coach said. "I've always felt my biggest asset is building programs. This is a big challenge. They've only had one winning season in the last 10 and that was last year, when they were one game over .500."
Aiken, competing in the largest classification in South Carolina, finished 14-13 last season.
Earlier this year, Barksdale's Woodrow Wilson team lost to Capital by 67-64 in the Class AAA championship game.
---
Woodrow's Greatest Basketball Team: 1962, 25-0 (1975)
This article appeared in the Beckley Post-Herald in a special edition of August 2, 1975.
By ROBERT WHITE
Beckley is known in some circles as the "City of Championships." Woodrow Wilson High School has had it share of champions through the years, but only one undefeated team.
The 1961-62 basketball team was the only one to compile a perfect record, before and since. That year, the Flying Eagles went 25-0 and gave Lawrence "Preach" Wiseman his first state title as head coach.
"We figured we'd have a pretty good ball club, but we didn't think it would be that good," recalls Wiseman. "We didn't have a really big ball club, but most of the boys were pretty smart and could shoot pretty good."
The starting lineup that year consisted of Bane Sarrett, Ronnie Cimala, Pack Hindsley, Bill Karbonit and Dave Barksdale. The number one reserve ("our sixth starter," Wiseman says) was 6-4 Roger Burns.
The 6-5 Sarrett was the big scorer, the man the Eagles tried to feed when points were needed. The 5-11 Karbonit, a good driver, and Barksdale, a top-notch defensive player, were the guards. Hindsley (6-1) and Cimala (6-1) were stationed at the wings.
"Hindsley was one of the best rebounders I had for his size," Wiseman remarked. "He could get position on you and take it back up. The thing Cimala could do best was to go all the way under and lay it back over his head."
This team had its little superstitions. Hindsley wore the same tie all season long. Barksdale always brought a thermos full of tea and had everybody drink some before the game. "I later accused them of having something besides tea in there," Wiseman says with a grin.
Although Wiseman contends, "I never was one for superstitions," he ended up wearing the same red plaid leisure jacket and the same pair of shoes in every ball game.
He says it was largely at his players' urging. "One day I forgot to wear (the coat) to school and they got out of class and went and got it."
One of the highlights of the season was an 84-73 win over South Charleston, the first game ever played in the Raleigh County Armory Field House. Barksdale, rarely a scorer, put in 16 points, while holding his man scoreless from the floor on defense.
An 83-58 handling of Huntington broke a school record for most consecutive regular-season victories. The previous mark of 16 had been set by the 1957 championship team.
The Eagles finished the regular season at 20-0 and got a 43-point performance from Sarrett to edge East Bank in the region final.
Next stop was Morgantown and the state tournament. Beckley won its way into the finals by defeating South Charleston again 62-55, wiping out a six-point deficit late in the game.
The final game with Weirton, which was also unbeaten, was even in the first half, but with 7:03 left in the game, the Red Riders were on top 64-49. During a time out, Wiseman told his players to "keep sawin' wood," an expression he'd heard his father and others use.
"I told 'em we'd have to play some defense," Wiseman recalls. "We went after them (Weirton) all over the floor and forced a lot of turnovers."
Beckley's "panic press" helped chop away the Weirton lead, and with seconds left, Karbonit hit the winning layup. Wiseman had intended to go to Sarrett, but the big man was blanketed. So Karbonit drove the lane and laid it on the board.
Said Pack Hindsley afterwards, "We were going to battle all the way and at least make it close. It was close."
All five starters, plus top reserve Burns, received some All-State mention that year. And after their high school days ended?
Sarrett played at Western Kentucky and Furman, later coached at Clear Fork High, then went into the insurance business. Barksdale was a teammate of Sarrett's at Furman and is now a head basketball coach in South Carolina.
Hindsley went to Davidson on a football scholarship and today is a doctor in Charlottesville, Va. Cimala played some football at Notre Dame and now is employed by a law firm in the Dallas-Fort Worth area and Burns works for a business machine corporation in the Beckley area.
Karbonit, considered one of the best all-around athletes ever to play for Woodrow, had his athletic career impaired by a football injury in his senior year. He now works for the 3-M Company in Huntington.
The one quality that Barksdale remembers about the 1962 squad was its unselfishness -- a willingness by each player to accept the role given him without trying to be the hero.
"We were a real close knit group. We all wanted to go undefeated."
---
Flying Eagle Basketball: Barksdale Bids Adieu (2000)
By JODY MURPHY
This article appeared in the Register-Herald on May 13, 2000.
"We didn't believe it at first."
That was longtime Beckley assistant coach Butch Freeman's reaction to coach Dave Barksdale's announcement that he was leaving the Woodrow Wilson boys basketball program that he had been so successful in rebuilding to start anew in Aiken, SC
"We thought maybe he was pulling our leg. It was a shock ... shock to know that he was going to leave us and go to Aiken," Freeman added.
Perhaps Barksdale knew his work at Woodrow Wilson was done.
After five Class AAA state titles and helping some 70-plus players earn college scholarships, the Beckley native leaves his dream job to try and rebuild another struggling program. Only this one is closer to his wife's home in South Carolina.
"I would like the challenge to try and build it up," Barksdale said of the Aiken job. "I have the best job in the world right here. Our program is solid here. Everybody realizes that the program at Aiken needs me more than the program at Beckley does.
"When I talk about the program being solid it starts with the grade school, the YMCA teams, AAU and our coaches Freeman, (Steve) Lewis and (Ron) Kidd. I can't say enough about what they have done for the program. All of these people are such an integral part of this thing."
"You think about it from the kids' standpoint and the camps and the summer league that he started," former player and assistant and current College of West Virginia coach Bob Bolen said. "From the standpoint of somebody that really loves basketball as I do, you know there are other people in the community that are going to have to pick up the slack to keep it going."
While Barksdale gives credit to the people and players around him as he always has, when it comes down to it he was the chief architect of Beckley's recent basketball fortunes. The void he leaves behind begs the question, who will be his successor?
And while Barksdale said he hadn't been asked, he readily offered a suggestion.
"I am just talking, but whoever picks, I would hope that Butch Freeman gets the job," Barksdale said. "I would hope that he would get it if he wants it and then when he retires I would hope that Ron Kidd would get it when Butch is ready to step down."
If Freeman wants the job, that is.
"I just don't think ... I am going to reserve opinion on that," Freeman said of the idea. "I actually thought he'd be here a few more years and I'd retire before he left because I know how much he loved Beckley. I just wasn't ready for this."
Barksdale even has ideas for future Woodrow coaches.
"I have dreamed of coaching at Woodrow ever since I was in high school," he said. "Coach Wiseman was telling us one day that he hoped one of us (his players) would come back and be his successor as coach."
Barksdale said he tried to get the job in the mid-70's when Wiseman stepped down, but the job went to assistant coach Jackie Robinson. He finally latched onto his dream job in '83 and now 17 years later Barksdale says he has several former players that he would like to eventually take over the reins at Woodrow Wilson.
"Tink Brown, Brian Nabors and Shea Fleenor. That's three kids off the top of my head that might feel the same way about coming back and coaching," he said.
After Friday's announcement it was obvious Barksdale's presence in Beckley will be missed.
"He has done a whole lot to put Beckley back on the map as the city of champions," Bolen said of his mentor. "Beckley is really going to miss him. I am extremely happy for him and Gelilah that they get closer to their kids and her family. Although for a very selfish reason I am extremely sad that he is leaving just out of friendship."
"I knew that he would probably move one day," Freeman said. "He had a lot of offers from different places but he always said he wanted to stay here in Beckley and be successful with this program. A lot of coaches, when they have reached a certain amount of success, they move on and I think he is looking for another challenge to fulfill his remaining coaching years."
---
Capital Defeats Woodrow for Second Straight Year (2000)
By JODY MURPHY
This article appeared in the Register-Herald on March 19, 2000.
CHARLESTON - In the end, the state tournament just didn't have any magic left for Woodrow Wilson.
After a fantastic come-from-behind victory Friday night against Wheeling Park to advance to the Class AAA finals, Beckley, down by three to Capital with time winding down, tried to go to the well one more time.
With just under nine seconds left Woodrow in-bounded the ball and Mike Ross streaked upcourt, driving from side to side. He passed to Leon Smith, who launched a three from the corner.
It banged off the rim and into the hands of Kevin Harrington, who dribbled out to the other side of the court under heavy pressure, turned and fired a three as he faded out of bounds. The arcing shot fell harmlessly beneath the rim as the horn sounded and the Cougars stormed the floor, having just claimed their first state title with a 67-64 win.
"I elected not to call the timeout," Barksdale said of his last-second decision making. "I'll second-guess myself for the rest of my life about that, I suppose. ... The way it turned out I wish now we could have called timeout."
"We fought a war tonight and we came out victorious," Capital coach Carl Clark said of last year's semifinal rematch. "We had to be physical and couldn't back away from anything that they threw at us."
Down by five in the fourth quarter, Beckley kept coming but Capital kept countering in a heavyweight game that had all the intricacies of a championship fight.
A pair of three-point buckets and a jumper by L.B. Booker gave Capital a five-point lead with under two minutes left. Aside from knocking down a pair of threes, Booker slashed and burned his way through the Eagles to the tune of 28 points and seven assists. Patrick Jones, hampered by a pulled hamstring, added 11. The Cougars' work horse, Darrion Scott, worked Beckley for 17 points, 17 boards and six blocked shots.
"Scott had to work for every point he got tonight," Barksdale said.
"We had done a real good job fronting him inside when he catches the ball. We dive down on him and when we did that he threw it out to Booker, and (Booker) hit two big threes on us."
Harrington led the way for the Eagles with 21 points and 15 rebounds, including 11 on the offensive end.
The Cougars were aided by a cold-shooting Beckley team that hit only 4-of-19 from the behind the arc.
"We don't make excuses and nobody wants to hear Beckley make any excuses," Barksdale said after the game.
As a consolation prize, Smith, Ross and Harrington earned all-tournament honors. Booker and Scott received the same for Capital.
After the win, Clark was asked what this championship did for him and the school. After explaining its merits to the school and the kids, Clark said that while Beckley was the team of the 90s, "We want to make Charleston the mecca of basketball, not Beckley. They had their run."
---
WWHS Does It Again (1998)
This article appeared in the Register-Herald on March 22, 1998.
In winning their 14th state title in their 20th championship game, the Woodrow Wilson Flying Eagles extended two West Virginia high school basketball records.
They also set another one Saturday night in their 75-47 victory over Fairmont Senior at the Charleston Civic Center Coliseum.
Beckley's 27-point margin of victory was the largest in a Class AAA championship game since West Virginia went to three classifications in 1959. The previous high of 25 was established in 1966 when Dunbar beat Moundsville 87-62.
It was Woodrow's fifth state title of this decade, all coming under coach Dave Barksdale. The legendary Jerome Van Meter won six championships with the Eagles, while the late Lawrence " Preach" Wiseman won three. One of Wiseman's came in 1962 when Barksdale played for Beckley. The Eagles defeated Weir 71-69 in the final that year to cap an unbeaten season.
Beckley has now beaten Fairmont Senior three times in state championship games. The other two were in 1952 (53-52) and 1992 (79-59). The former Charleston Mountain Lions were the only other team to fall victim to Beckley three times in championship games.
The Eagles were also making their seventh championship game appearance of the 1990s. They lost in the finals to Logan in 1991 and Wheeling Park in 1995.
Woodrow defeated Wheeling Park 83-76 in last year's title game. The Eagles also beat the Patriots 96-87 Friday night in the semifinals to advance to the championship game.
---
Flying Eagles Rip Polar Bears
for Second Straight Championship (1998)
This article appeared in the Register-Herald on March 22, 1998.
By DAVE MORRISON
CHARLESTON -- The Eagles have landed!
After a season of ups and downs, the Woodrow Wilson Flying Eagles found themselves in the same spot they started, on top of the high school basketball world.
Beckley went back-to-back for the second time in the 1990s with a convincing 75-48 victory over Fairmont Senior Saturday night at the Charleston Civic Center Coliseum.
Jamel Bradley scored 26 points and Tamar Slay added 19, with seven rebounds and six steals, as the dynamic senior duo claimed title No. 2 of their careers in impressive fashion.
Beckley has now won five state titles in the 1990s and a record 14 overall. Only five teams have won two consecutive titles since the state went to three classes in 1959.
The Flying Eagle juggernaut took an early lead and was never really threatened, though they led by just eight at the half, 32-24.
But a quick defensive adjustment in the second half broke the game open. The Flying Eagles went to full-court pressure and as a result created several turnovers and quick points.
Drew Smith, who had been struggling from beyond the 3-point arc most of the season, quickly hit a trey from the top of the key and then ended a 10-3 run with another as the Eagles streaked to a 42-27 lead.
That was enough. Fairmont would not get closer than 13 the rest of the night.
"(Assistant) coach (Ron) Kidd put us in a couple of different presses, and that kind of got us going," Flying Eagles coach Dave Barksdale said. "It kind of got the game going the way we wanted."
Each of Woodrow Wilson's returning three starters had a key run in the game for Beckley in front of a statewide television audience.
Slay was the man early, scoring nine first-quarter points, including a 3-pointer and a beautiful scoop shot underneath the basket that staked the Eagles to an early five-point lead. His buzzer-beater at the end of the quarter gave the Eagles a 16-13 lead.
Bradley, who hadn't been hitting on all cylinders from beyond the arc (1-10 coming into the title tilt) hit two within a minute's time early in the second quarter to balloon the Beckley lead to 24-13.
Bradley finished his career by hitting six-of-12 from deep.
Slay returned to the spotlight, scoring six of the final eight points of the quarter as Beckley took a 32-24 lead at the break.
Then Smith, the other returning starter, got his chance to take over. After going 0-for-8 from 3-point range in the first two tournament games and missing his first three Saturday, he stuck his first of the second half to get things going.
"I had been struggling, but making that first one really got my confidence going," Smith said. "Somebody penetrated the gap, and I got an open look from the top of the key. It felt good to get it down."
That put Beckley up by 11, 35-24.
Fairmont cut it back to eight before Smith scored five more to push the lead to double digits, and it never went below that again.
"They have tremendous athletes, and they have a great program," Fairmont coach David Retton said. "When we gave up some threes like we did, that got them excited. That's what they do."
Beckley finished the night hitting 11 treys.
"They're definitely the best team we've faced," Rutgers-bound Rashod Kent said. "It's tough to match up with a team that has two Division I players like that. You've got one at the point and another 6-7 guard, and they can both shoot the three like that ... it's unbelievable. We couldn't get the job done. Basketball is a game of execution. They executed, and we didn't."
Kent finished with 16 points and 21 rebounds for the Polar Bears. No other Fairmont player was in double digits.
In addition to seniors Slay and Bradley, Smith and sophomore Kevin Harrington had 12 points each. Harrington finished the tournament with his second double-double, grabbing 10 rebounds.
"This is a great tribute to our kids," Barksdale said, sitting in a near-empty lockerroom while his players celebrated on the court. "I read where (Poca) coach (Allen) Osborne said this season wasn't any fun for his players because of all the pressure (of trying to repeat as Class AA champion). I really appreciate our kids for being able to come through this."
Beckley finished the season 22-3 and was 46-5 over the past two seasons in winning the two titles.
"I told those guys I want to see them three-peat," Slay said. "I'm a little jealous because they get to try and do it again next year."
---
Believe It or Not, Beckley Gets National Ranking (1998)
This article appeared in the Register-Herald around Jan. 23, 1998.
by DAVE MORRISON
In case you missed it, and with the weather at an all-time low -- feelings based on being stuck in the office for over 24 hours -- you probably did, Woodrow Wilson jumped into the National Prep Boys Basketball Poll.
Coming off an impressive 81-72 double overtime win over No. 20 (USA Today Super 25) Mount Zion propelled the Eagles to No. 22. The poll is compiled by Wheeling Intelligencer Sports Editor Doug Huff and a panel of 35 national prep sports writers.
According to Huff, it's the first time a West Virginia team has made the Top 25.
"There have been teams in the region rankings, several in football, but I can't remember, in 11 years, another team being ranked in the Top 25," Huff said. "I know for sure that no team has been ranked as high as Beckley is right now."
It's the first time Beckley has been nationally ranked since 1993, when it reached No. 23 in the USA Today Super 25.
In typical fashion, coach Dave Barksdale credited his players.
"I think it's a tribute to our players," Barksdale said. "I think it's something that our fans, the school and everybody associated with the program can be proud of."
Woodrow is 9-0 but faces another stern test -- weather permitting -- Friday when Notre Dame Academy comes to the Raleigh County Armory.
In case you're wondering, NDA, 21-2, was a late edition to the schedule. The Eagles were originally scheduled to play in the St. Joe's Tournament, which Woodrow won last year.
But in September Barksdale was informed that the tournament had decided to do away with the Class AAA division.
Enter Notre Dame Academy Friday and Ripley, at Ripley, on Saturday.
Not a bad switch off.
A win over non-ranked Notre Dame Academy would no doubt put the Eagles on the verge of making the USA-Today Super 25.
-------------------
Being nominated McDonald's All-American isn't rare. But having two seniors from the same school make the list of 1,500 players nominated isn't an every day happening.
But that's what happened to Woodrow seniors Tamar Slay and Jamel Bradley.
The seniors will be recognized on Friday prior to the Woodrow Wilson-Notre Dame game.
Both are deserving candidates.
Slay is averaging over 24 ppg. and recently showed up Mount Zion's Corey Hightower, who was touted as potential NBA material. Slay burned Hightower and Co. for 33 points. Guess that means Slay will skip the NBA regular season and play in next month's NBA All-Star Game.
Bradley, averaging over 17 points a game, recently caught Virginia's eye at the Mountain State Coal Classic.
A total of 20 players will be chosen from the 1,500 field to play in the All-American Game at The Scope in Norfolk, Va. on March 25.
---
Mission Accomplished:
Strong 4th Quarter Keys Flying Eagles' Title Win (1997)
This article appeared in the Beckley Register-Herald.
By DAVE MORRISON
CHARLESTON -- Mission accomplished! Woodrow Wilson's season-long joyride as the No. 1 team in the state ended the way it started, with a convincing 83-76 victory over No. 2 Wheeling Park in the Class AAA state championship game at the Charleston Civic Center Coliseum.
"Everybody said that when we lost to them two years ago and we lost those three special players, Gene (Nabors), Donnie (Adkins) and Kevin (Pannell), that we would never win it again," said point guard Jamel Bradley.
"People apparently don't know that this program doesn't rebuild, it reloads. And we were on a mission to bring the state championship back to the place it belongs -- the City of Champions."
As they did all season, the Flying Eagles owned the fourth quarter, outscoring the Patriots, 24-16, to break open a close game.
Derek Jones, who was questionable because of a sprained ankle suffered in the semifinals, hit a big 3-pointer and then followed with a free throw 14 seconds later to give the Eagles a seven-point lead with 3:54 left. After a defensive stop, Tamar Slay's basket gave the Flying Eagles a nine-point cushion, and the victory party was on.
"I kept telling coach (Dave Barksdale) that I was OK and I could play," said Jones, who played less than half of the first half. "I was favoring the ankle early, but then I just decided that it was the state championship and I was going to forget about it."
"When he had to step up, he did," Barksdale said. "I didn't even notice him limping in the second half."
Neither did the Patriots.
"I didn't think he looked too injured," said Park guard Rafael Cruz. "He played with a lot of guts."
Wheeling Park did get as close as seven after a Michael Jebbia 3-pointer and had a chance to get closer when Bradley missed a free throw.
But sophomore Drew Smith battled to get the ball underneath and put it in to put the clamps on Woodrow's 13th state championship (a state record) and the school's fourth in the '90s (another record).
"We had a mission when we came down here, and that was to win the state championship," Barksdale said. "I think it came down to who wanted the game more, and our kids just said they were not going to be denied. And it very well could have gone the other way when we were down by six."
The deficit was actually five, twice in the third quarter.
Wheeling Park ran off six unanswered points to go up 52-47 midway through, but Jones, injured ankle and all, scored back-to-back baskets within 36 seconds to pull the Eagles within one.
Again, Park countered with consecutive baskets to go ahead 56-51, but Ted Green, Woodrow's "unsung hero," according to Barksdale, hit a 3-pointer and Slay had a basket to even the game at 56-56.
UMass-bound Cruz then hit a basket, but again Green dialed long distance to pull Woodrow into the lead.
A late basket gave Park the lead after three quarters, 60-59.
"I was trying to make something happen," Green said. "We play in spurts. Sometimes somebody has to get it started, and I think those two threes I had got us going."
But first it was a Green deuce that gave the team the lead early in the fourth, a lead it wouldn't lose, because Smith hit the biggest 3-pointer of his career, and then Bradley hit a basket to finish off a 7-0 run and put Beckley ahead by six, 66-60.
"When we came to the bench after the third quarter, coach was telling us that it had to be eight minutes our way," said Bradley, who joined Jones on the all-tournament team. "He said that we were the No. 1 team in the state and if we wanted to be state champions it was up to us because No. 1 teams don't lose close games to teams like (Wheeling Park)."
Cruz, who had said he wanted Beckley since the early loss to the Flying Eagles in December, conceded that Woodrow was the better team.
"They proved it tonight," Cruz said. "They can do so much. They play defense. They hit the 3-pointers. They did a good job. They are the best team in the state."
Jones, who scored a gutsy 11 points in the victory, agreed the win validated Woodrow's claim to the No. 1 spot in the state.
"I think a lot of people were looking for Wheeling Park to knock us off," Jones said. "But when we come out running like we did in the fourth quarter, we're a hard team to slow down. That was obvious tonight."
It looked to be anybody's game in an up-and-down, fast-paced first half.
With Jones not playing, Bryan Watts stepped up and provided a spark, scoring seven points to keep Woodrow in front early.
"I knew I had to come in for Derek and pick us up a little," Watts said. "Everybody was telling me all day that I had to step up my game. It just happened to be in the biggest game of the season."
Bradley had a team-high 19 points for the second straight night.
"Derek is our leader, he's the one that gets us going," Bradley said. "I told myself that I was going to have to step up and do that because Derek was out."
Green, who came on strong during Woodrow's eight-game streak to close the season, added 18 points. Slay had 15 points and Smith added 13. Both were a force on the glass, with 11 rebounds.
Jalonii Galloway had a game-high 21 points to lead Wheeling Park (20-7). Cruz had 16 and tied his tournament record with nine assists. Javier Gonzalez had 15 points and a tournament-record seven blocked shots. Jebbia added 11 points.
"You have to give our kids credit," Barksdale said. "They came down here on a mission, but when they fell behind by six, it could have been `Mission Impossible.'|" But it wasn't.
---
Past Championships Remembered
This is part of a 24-page tribute to the Woodrow Wilson Flying Eagles that appeared in the (Beckley, W. Va.) Register-Herald March 27, 1997.
By DAVE MORRISON
Woodrow Wilson's rich basketball history got even richer on Saturday when the top-ranked Flying Eagles knocked off No. 2 Wheeling Park 83-76 for their 13th state title, extending a record.
Here is a brief look at the previous dozen state championships:
---
1993
It wasn't the championship that people will remember.

It was the semifinal. The Brooke Bruins held a 20-point lead, 59-39, over the Flying Eagles entering the fourth quarter. Down the tubes was a 23-2 season.

Coach Dave Barksdale put in subs and something clicked. Back came the Eagles. Back came the starters. Down went the Brooke lead.

Beckley outscored the Bruins 29-7 in the final eight minutes for a 68-66 triumph.

"Our slogan this year is `Whatever It Takes,' and that's what we did," Barksdale said. "We went out and laid it on the line. That's all Beckley basketball is."

"I was thinking this could've been my last high school game," said senior Steve Ball, who had 14 of his game-high 20 points in the fourth quarter and, just as importantly, all five of his steals. "I didn't want to go out of here thinking I didn't do everything I could to help us win."

Reserves Brian Wheeler, Kelvin Pannell, Kenny Hale, Vernon Sweatte and Noel Brown added some spark to the listless Woodrow lineup.

It worked.

The championship game seemed almost anticlimactic. The Eagles soared over George Washington 60-49 behind Gene Nabors' 20 points. Ryan Culicerto, who played a spectacular tournament, finished his career as the only player named to the all-tournament team three times.
---
1992
"In It To Win It" was the theme. And Beckley certainly did that with authority, beating previously unbeaten and, to a certain extent, previously untested Fairmont Senior, 79-59.

It was a record 11th title for the Flying Eagles.

The 20-point margin of victory was the largest in Class AAA state tournament play since 1977.

In another irony, this state championship was played 30 years to the day that Barksdale was a senior guard on the 1962 state championship team.

Shea Fleenor fueled the victory with 23 points and some tough defense on Kentucky signee Jared Prickett in the second half.

"I smiled as soon as coach told me I was going to guard him at halftime," said Fleenor of Barksdale, who moved Ryan Culicerto off Prickett when he picked up his third foul in the first half.

Fleenor held Prickett to just 10 second-half points and the big Fairmont center hit just 9 of 25 shots from the floor. Fleenor even dunked over Prickett to the delight of the Woodrow Wilson throng.

"I think Shea had a heck of a game," Barksdale said. "I thought he had a heck of a tournament. But I thought our entire starting five deserved to be all-tournament."

Players like Brian Nabors, who had 18 points. Or Anthony Scruggs and Ryan Culicerto, with 15 points apiece. Beckley shot over 50 percent (30 of 56) for the game while limiting Fairmont to 24 of 67 shooting.
---
1990
It had been a long time between state championships, but former player Barksdale, a member of the 1962 state title team, finally brought the title back to the town known as the "City of Champions."

It was the first title as coach for Barksdale, who was a member of Lawrence "Preach" Wiseman's first state title team in '62.

Led by Tink Brown's 24 points, Beckley finally ended a 23-year span without a title by beating Martinsburg.

With the score tied at 52-52, the Eagles used a 9-0 run, including seven points by Chris Daniels in a three-second span to put the game out of reach.

After Kevin English, who had 20 points, converted both ends of a one-and-one, Daniels hit a layup and was fouled by Erik Johnson. Johnson was then hit with a technical foul. Daniels converted the free throws, stole the inbounds pass and buried an 18-footer. The result? A 61-52 Woodrow lead with 1:22 left in the third quarter.

Brown sank five of seven free throws down the stretch and English followed with a breakaway slam dunk to finish off the Bulldogs.

"It's what we've been working on all year long and this was like a dream for us," said Brown. "This has to be the best feeling in the world.

Martinsburg, 23-3, had not lost to a state team entering the tournament.

Also during the tournament, the Flying Eagles knocked off previously unbeaten and nationally ranked Logan.

The team's tournament theme, "Won't Be Denied," certainly played out.
---
1967
In an overtime thriller at Morgantown, Beckley defeated Charleston 75-69 to capture its ninth state championship.

It nearly slipped away.

Down 63-54 with 2:46 left, Charleston went to a zone press to outscore the Flying Eagles 11-2 and tie the count at 65-65.

But Beckley went on a 10-4 run in the overtime to take the victory.

Roger Wood paced the Woodrow Wilson effort with 25 points. Mike Griffith and Steve Lickliter scored 19 points each.

"I think it was a marvelous job by my boys," said coach Wiseman. "Coming up here, I only had one statement to make about the game if we met Charleston in the finals. I said Beckley was the only team that could beat Charleston."

Wood and Griffith, along with John Wooton and Lickliter, were named to the 1967 all-tournament team.

"Overall, my team could do a lot of things well," Wiseman said. "I have perhaps had better personnel but none were faster or smarter."
---
1965
This was a title that was supposed to go to Williamson. After all, the Wolfpack entered the game with a perfect 26-0 mark. Woodrow Wilson? A respectable 18-6 mark but hardly perfect.

Ron Lilly converted a pair of free throws with over one minute remaining to put the Flying Eagles up 69-65. But Buster White responded for Williamson, hitting a jumper that put the 'Pack back in the game at 69-67. Lilly missed a layup which would have ended the game and Williamson got the ball back with five seconds left.

White, who had 16 points in the game, missed a shot that would have tied the game, and the Eagles had championship No. 8.

Woodrow Wilson entered the game tied with Wheeling for the most state basketball titles with seven. This would move the Eagles into a lead they would have for some time.

A total of 11 seniors played in the contest for Woodrow Wilson.

"It was the biggest victory I ever had in my life," Wiseman said of his second state title team. "We came here to saw wood and we did."

"It is really hard to go all year without losing and then taste defeat," said Williamson coach George Ritchie.

In victory, the Flying Eagles featured a balanced attack, led by Ron Lilly's 23 points. B. Hutchens had 15, Ron Kyle 14 and Fred Lewis 12.

Lilly, Lewis and Kyle were named to the all-tournament team.

"You never forget it," said Robert Short, a member of the team. "You forget a lot of things about high school, but you never forget that. That is the ultimate. Everyone wants that championship ring.

"It's so easy to come out of there and lose, you can't take it for granted. That's what has been instilled in Beckley coaches, with tradition as well. It's all about, when it's time to put out the old effort, for some reason Beckley has been able to do that."
---
1962
Bill Karbonit made a breathtaking, driving layup with five seconds left as Woodrow Wilson ended a five-year state title drought with a 71-69 victory over Weir in Morgantown.

Both teams entered the championship game undefeated.

The Flying Eagles were nearly Frying Eagles, as Weir had the Beckley bunch down by as many as 13 points in the fourth quarter.

But Wiseman, coaching in his second state championship game -- the Flying Eagles were runners-up in 1961 -- steadied his team by telling them to "keep sawing wood" as they whittled away at the Red Rider lead.

It was considered the greatest comeback in Woodrow history until the 1992 team fought back from 20 down against Brooke in the state tournament.

Karbonit, Bane Sarratt and Hindsley were named to the all-tournament team.

Weir was led by a sophomore named Ron Williams, who went on to star at WVU and professionally.
---
1957
Charleston was bigger, but bigger didn't translate into better as the Flying Eagles beat the Mountain Lions 82-70 in Huntington.

Denny Williams, at 5-10 or maybe 5-11 -- the reports varied -- scored 32 points and grabbed 10 rebounds in the victory and Earl "Jitterbug" Gilbert, who had 33 points in an 88-54 semifinal win over Morgantown, had 28 for the shorter, but steadier winners.

The 25-1 Flying Eagles played just five players in the contest, but that was more than enough against the Mountain Lions.

It didn't appear it would be easy in the first half. Beckley led 37-34 at the half, but a 27-18 third quarter run sealed the Eagles' sixth state championship.

Charleston had been the only team to knock off what many considered the best Beckley team to date, with a 62-61 triumph in Beckley.

That wouldn't be the case in Huntington.

After leading by 12 after three quarters, Beckley played even with the Mountain Lions 18-18.

Charleston actually outgoaled the Flying Eagles, 22-16, but Beckley was a whopping 30 of 39 at the foul line while Charleston could only net 6 of 16.

While Williams and Gilbert were accounting for 60 of Woodrow Wilson's 82 points, only the three other starters played and scored. They were Walt Rappold (4), Robert Young (8) and Charles Bales (10).
---
1954
A year after proclaiming Hot Rod Hundley greatest high school player he'd ever seen, Woodrow Wilson coach Jerome Van Meter had his mind changed for him.

His own Dwayne Wingler scored a then-tournament record 44 points as the Woodrow Wilson Flying Eagles beat Mullens 84-66 in the state championship game.

Beckley wasn't the invincible team it had been in the past. No, these Flying Eagles were just 11-9 during the regular season, its worst record in five years, and it had lost to the Mullens team twice during the season.

Van Meter, after winning his fifth state tournament crown in nine years, called Wingler "not only the greatest I ever had but the finest high school player I have ever seen."

Wingler scored 29 points in the first half as Beckley forged a 40-32 lead that Mullens couldn't overcome.

Ironically, the individual tournament record had been set by University High's Larry Hardman two night's earlier. The current record now belongs to Herbie Brooks of Mullens, who scored 50 against Parkersburg Catholic in 1983.

Wingler also scored a then-tournament record 93 points points, topping former teammate Bill Bergines' 82 points in 1952.

On a humorous note, Beckley Register Sports Editor Bob Willis datelined his story WINGLERSVILLE instead of MORGANTOWN, where the game was played.

[Note: Actually the dateline he used was WINGLERVILLE.--j.m.]
---
1953
Wingler scored 22 points as the Flying Eagles beat Parkersburg 74-58 to win their third straight Class A (only Classes A and B existed) championship.

Wingler, named all-tournament, also had nine rebounds, the team high against the taller Big Reds, who only outrebounded Beckley 41-40 despite a notable height advantage.

A familiar name also came to the fore, as current Woodrow Wilson football coach Pete Culicerto, a senior member of the team, had 10 points and seven rebounds for the victorious Eagles.

As would be the case in the first two championships in the early 50s, a bench player would play a big part in the championship.

Tony Lusk, who didn't play in the first two tournament games, sparked the Flying Eagles off the bench with 16 points.

En route to the title, Beckley again beat Charleston in the tournament, this time 66-60, ending Hundley's career without a state title.

But Van Meter called Hundley "the greatest high school basketball player I ever saw," after a 34-point performance.
---
1952
One of its top players got the measles, spent two days in a WVU infirmary and was on the bench for the state championship game in street clothes and dark glasses.

Its top scorer scored just nine points.

No problem for Woodrow Wilson, which defeated Fairmont West 53-52 for the state title.

Willie Bergines, the usually high-scoring senior, scored just nine. But the last two of his high school career may have been his biggest. Bergines hit a layup with 1:04 left to give Woodrow its second straight state title.

In the physical contest, a state-record 72 fouls were whistled, 42 on Fairmont. Woodrow made 27 of 50 free throws. Wingler, a sophomore who replaced Bill Turner, who had measles, made 10 of 15 foul shots and led the Flying Eagles with 18 points.

Bill Collier had 12 and Bob Davis 11.

Culicerto, a junior center, scored two points and grabbed the rebound after Fairmont's last-ditch attempt went awry.

Beckley trailed by seven, 45-38, late in the game when Beckley fans began chanting "All the way for Turner, all the way for Turner" in reference to Turner, who came down with a case of the measles on the day the tournament started.

Back came the Eagles, who whittled it to 49-47 when Culicerto tapped in a missed shot. After a Fairmont score, Bergines made his first field goal to make it 51-49.

A Polar Bear free throw by John Brzuzy made it 52-49. But Wingler made a two-handed jumper to bring the count to 52-51 with 2:36 left. Fairmont went into a "deep freeze" at that point. After one scoring opportunity, Beckley again got the ball and, after a timeout, got the ball to Bergines for the winning shot with 1:04 left.

Many around the state got a glimpse of why Beckley basketball was so strong by watching the junior high team in the state junior high tournament.

"I see now why Beckley has good basketball teams," Mickey Furfari of the Dominion News in Morgantown told Beckley Sports Editor Bob Willis as the two watched the Beckley Blue Eagles beat Farmington in the junior high championship.

Furfari, who retired from the Dominion Post -- which the News later became -- now works for Thomson Newspapers and covers the West Virginia Mountaineers For The Register-Herald.
---
1951
Lanky 6-5 substitute Lee Estep teamed with the usual suspects, Willie Bergines and Bill Turner, to help Woodrow Wilson capture the first of what would be four straight basketball state titles.

Estep had 15 points and numerous rebounds as the Flying Eagles knocked off Charleston 62-54.

Beckley fell behind early, but its overall ability started taking effect and by the half, Woodrow Wilson trailed by just two, 34-32.

Bergines' rebound and stickback at the 5:43 mark gave the Eagles a 38-36 lead and the lead varied from two to six points the rest of the quarter.

Estep subbed for captain Julius Caldwell, who was hit with his fourth foul shortly after the start of the second quarter. Caldwell owned the defensive glass and had eight points to aid the comeback.

The Van Metermen, as they were called then, led by the boardwork of Bergines and Estep and the floor work of Turner and Bobby Crews, never allowed Charleston to get back in the game.

Bergines had 26, which brought his three-day tournament total to 82 points, believed to be the record at that time.

Beckley overcame a 12-point first-quarter deficit. Charleston's super soph Hundley, who was just beginning to flash the skills that would earn him the "Hot Rod" moniker, didn't miss early, scoring 13 points early as Charleston led 15-3. Bergines' layup and a free throw by captain Julius Caldwell were the Flying Eagles' only points.

In a familiar sounding circumstance, only two Woodrow players were named all-tournament, Bergines and Turner, although many felt Estep deserved a spot and may have earned it had the all-tournament ballots not been turned in by "scribes" covering the event in the first half.
---
1946
In a matchup of two coaches who would become all-time greats, Beckley's Jerome Van Meter saw his Flying Eagles edge Clyde "Pud" Hutson's Stonewall Jackson Generals 40-37 in Morgantown.

The high-Flying Eagles took an early lead then countered every comeback attempt made by the Generals, led by George King.

King, who went on to coach at WVU, stole the ball from Bill Hope and found Bill Jarrett for a basket to cut Beckley's lead to one, 38-37.

Super sub Pat Nickells gave the Eagles some breathing room with a one-handed jumper in the closing minute to give Beckley its final margin of victory. King made it interesting, by again stealing the ball and passing to George Pierson, but the General missed a wide-open shot.

Flying Eagle co-captain Bill Caldwell grabbed the rebound and the Eagles were able to ride out the clock to victory.

Big Lawrance Hunt, Woodrow Wilson's all-tournament center, led the Eagles with 14 points. Nicky "Greek" Bakalis, had 12 points and was named all-tournament, too, along with Frankie Rodriquez. Caldwell added seven points for the new champions.

The state championship was actually the second of the week for Beckley, as the Central Junior High Blue Eaglets beat Fairmont to capture the junior state championships in Charleston.
---
Hoppy Kercheval: Dave Barksdale Made
Beckley Special (2007)
This article appeared in the Charleston Daily Mail on March 16, 2007.
One of the icons of high school basketball in West Virginia is Dave Barksdale, the former longtime coach of Beckley's Woodrow Wilson High School.
As coaches, players and fans gather this week in Charleston for the tournament, the stories will be told and retold about Barksdale and his Flying Eagles.
People who met Barksdale never forgot him. It took me only a few minutes in his presence to realize that here was a coach who, if you were on his side, would go through hell in a gasoline suit for you.
But if you stood between the Flying Eagles and victory, Barksdale could lash out like a timber rattler on Flat Top Mountain.
His record at Beckley was spectacular: 17 seasons, 335 wins and 93 losses, 11 straight trips to the state tournament and five championships.
He was a solid X and O man, but more than anything he was a great motivator. I've never seen a team -- at any level -- play as hard on a consistent basis as Barksdale's Flying Eagles.
The Beckley defense under Barksdale was legendary -- a flailing maelstrom of body parts that engulfed opponents and left them with bulging eyes frantically scanning the court for help.
All the while, Barksdale worked the officials, pacing the sidelines like a seething prison inmate on the verge of starting a riot.
Sometimes he went too far. During the semi-finals of the 1995 tournament, he picked up a technical foul. Raleigh County school rules prohibited him from coaching the next game, in this case the state championship game.
Barksdale took his punishment like a man. He sat in the stands and watched the next night as his Flying Eagles lost 99-96 in triple overtime to Wheeling Park. It was one of the greatest championship games ever -- and there Barksdale sat, unable to do anything but watch helplessly as his boys went down to defeat.
It is amazing that the stress and frustration didn't kill him.
Barksdale was wildly superstitious. If Beckley won, he wore the same clothes the next game. That's why in all the times I've seen Barksdale at the state tournament, I've never noticed him wearing anything other than khaki slacks and a maroon pullover. Maroon and white are the school colors.
Once I went to a Beckley practice just hours before a championship game. At one point Barksdale abruptly stopped practice, gathered his players around, and went on a tirade.
"It's all about pride," Barksdale yelled. "Our pride against their pride. That's all it is."
His young players looked right into his fiery eyes. I knew then Beckley would win the championship game that night.
Barksdale left Beckley in 1999, moving to South Carolina to be closer to his wife's family. He coached high school basketball there, but it wasn't the same. Basketball had been a way of life in Beckley. In South Carolina, it was just a game.
Barksdale is back in West Virginia now, serving as an assistant coach at Mountain State University. His good friend and former Flying Eagles play-by-play man, Fred Persinger, says Barksdale is enjoying himself.
Perhaps never in history has a team been such a prohibitive favorite as is Huntington this year, with two of the best players in the nation in O.J. Mayo and Patrick Patterson.
But in the annals of West Virginia high school basketball, there was never a more dangerous underdog than Beckley when Barksdale held forth on the bench.
Huntington vs. Beckley would be the sort of matchup that Barksdale lived for. And even when the master motivator and strategist didn't win, it sure was fun watching him try.
Kercheval is host of TalkLine, broadcast by the MetroNews Statewide Radio Network from 10 a.m. to noon Monday through Friday. The show can be heard locally on WCHS 580 AM.
---
Barksdale, Nabors to be Inducted
Into Woodrow Wilson Hall of Fame (2001)
This article appeared in the Register-Herald on Dec. 21, 2001.
By Dan Stillwell
Register-Herald Sports Writer
One of the greatest basketball coaches in West Virginia history, along with one of his finest players, will be inducted into the Woodrow Wilson Hall of Fame tonight.
Dave Barksdale, who guided Beckley to five Class AAA championships and numerous state tournament appearances, and former Beckley guard Gene Nabors will be honored during Woodrow's 8:30 p.m. game with Hurricane in the WJLS Classic at the Armory.
Barksdale was the point guard for the 1962 Flying Eagles, who went 25-0 en route to capturing the 1962 title. Nabors followed in his footsteps 21 years later.
"If you don't have a good point guard, you can't win," Barksdale said. "Gene came in as a sophomore and we won the state championship. He started from day one."
Nabors fondly recalls his sophomore year, when he was the young guy in a lineup featuring seniors Ryan Culicerto, Anthony Scruggs, Shea Fleenor and Steve Ball.
"It was great. Those guys helped me out a lot," he said. "They told me to just go out there and play my game. So I had the confidence to do what I had to do - get those guys the ball."
Now a pro basketball player in Europe, Nabors credits Barksdale for much of his success.
"I had a great coach to learn from. He taught me the game when I was eight years old," he said.
"Gene's records at Woodrow were 25-2, 23-1 and 20-5. To have 68 wins says it all," Barksdale said. "And for him to go on and play college ball and get his degree, we're just so proud of him."
Nabors played two years at Louisiana State University before transferring to Robert Morris College in Pittsburgh. He graduated in 2000 with a degree in communications.
Last year he helped a pro team in Sweden win its league championship. This weekend he'll head back across the Atlantic to compete for an Israeli team.
"It's a great experience to play over there and be doing what you love to do," Nabors said. "I'm 24 now and I hope to play at least 13 or 14 more years if I don't have any injuries."
Years ago Barksdale wished he could have played pro ball, but it wasn't in the works.
"All I've ever done is play sports, but I wasn't good enough in baseball or basketball to be a professional," he said. "So the next best thing was coaching."
He played basketball four years at Furman University, then coached eight years at high schools in South Carolina. He came back to West Virginia for seven seasons at Alderson-Broaddus before he finally fulfilled his dream of coaching at Woodrow.
"When I played for coach (Lawrence) Wiseman our senior year he'd always get us together at the end of practice and he'd have a philosophy session, talking about life," Barksdale recalled. "One day he said that he wouldn't be there forever and he wished one of his players would come back and coach Woodrow. I thought that would really be something. It was a dream of mine for a long time."
He coached the Flying Eagles for 17 seasons, leading them to 12 state tournament appearances.
"For 17 years I was very fortunate to have players who could play and loved basketball," Barksdale said. "Our players realized how important our success was to the community and that's why they were up later and worked harder."
He credited his own elementary, junior high and high school coaches for teaching him the game, but also praised his assistants - Butch Freeman, Miller Hall, Jim Turner, Bob Bolen, Ron Kidd, James Lewis, Click Bandy, Steve Webb and Kevin Maupin for their efforts.
"Our program wouldn't have been the way it is without those coaches," Barksdale said. "I appreciate going into the Hall of Fame, but they all shared in this and I'm very grateful."
He gave thanks to his family for their support.
"My wife (Geliliah) and children (Brantley, Stacey and Tyson) have had to sacrifice a lot," he said. "She's my best friend and has stood by me."
Barksdale is now an assistant for Bolen at Mountain State University.
"My love for the game hasn't changed since the time I was a little kid," he said. "I can't wait to go to the gym every day."
---
Barksdale Blames Self for Aiken Losses (2001)
This article appeared in the Register-Herald on March 1, 2001.
By Jody Murphy, Sports Writer
Former Woodrow Wilson basketball coach Dave Barksdale has always had his fair share of critics, but none tougher than the 56-year-old coach himself.
Perhaps that was his undoing at his new digs in Aiken, South Carolina.
Early last week, the highly successful Beckley coach resigned, failing to complete his first season with the Hornets. And in typical Barksdale fashion, he blamed himself for failure.
"I didn't relate to the kids. I just wasn't effective," he said during a phone interview.
"Kids and basketball have been my whole life. When you aren't effective and can't relate to the kids, I'm not the kind of person that is going to cheat anybody. I knew basketball hadn't done real well (at Aiken), but I knew there was no reason to not get the kids to enjoy the game and practice and play hard. I just wasn't able to do that."
Going from a highly successful program at Beckley to a school that's traditionally thought of as a football power, Barksdale knew he had his work cut out for him but plowed ahead with fellow Beckley native and assistant coach Steve Webb by his side.
"Coach Webb has come down here and really worked. That's just what he had to do," Barksdale said. "I want people to know how great he was. I couldn't have asked for more in the way of friendship and hard work."
"You ask me how it was," Barksdale said when asked to compare Aiken to Beckley. "The first time you can play organized basketball (in Aiken) is in the seventh grade. If I'm trying to teach a 10th grader how to dribble with his left hand, that tells it all."
The lack of enthusiasm and drive for basketball began to take its toll on the intense coach, affecting his health. Not because of the losing (a 7-14 record) or the kids, but because he felt he wasn't communicating with them.
"I'm 56 years old, maybe the kids relate to younger coaches better. I have no answer for that. I haven't forgot how to build a basketball program," he said. "That had nothing to do with it. I should have been able to, in my way of thinking, get that turned around to where the kids had the eye of the tiger.
"You don't want to admit it, but I knew I wasn't effective. That means a lot. I have to realize that I am getting older. If that's the case younger coaches certainly have a better rapport with the kids."
The lack of communication with kids isn't new to Barksdale.
He says he felt things were starting to go downhill after Woodrow Wilson's 1998 state championship as far as communicating with and understanding his players.
"In 1998 we won (the Class AAA state title) and I thought I was doing a good job," he said. "In '99 and 2000 I thought that if I had left that team to coach (Ron) Kidd, (Butch) Freeman, Steve Kidd, and (James) Lewis they would have won it. Coach Kidd and the staff that I just mentioned would have related to the kids and played with more enthusiasm. I really believe they would have won it."
Barksdale says he doesn't know what his immediate plans are, but quickly ruled out a return to Beckley.
"Coach Kidd is certainly the man for the job (at Beckley). I think my move has worked out great for Woodrow Wilson basketball and for my wife (Gelilah), and two out of three ain't bad. That certainly ends speculation of me coming back."
For now Barksdale considers himself retired - from Aiken.
He must be retired. On Tuesday he did something he never did as a coach - go watch a former player in a college game.
"For the first time I'm going to see Jamel Bradley (a '98 WWHS graduate who's playing at South Carolina)," he said. "I have never seen any of the kids play in person unless they came to the Armory. Not that I don't still follow them."
---
Barksdale Throws in the Towel at Aiken (2001)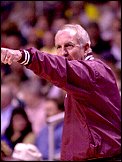 This article appeared in the Register-Herald on Feb. 21, 2001.
By Scott J. Bryan, For the Register-Herald
Aiken (S.C.) High School boys basketball coach David Barksdale, who has been on sick leave since Feb. 9, resigned Monday morning. Barksdale, who won five state championships at Woodrow Wilson before taking the Aiken job this season, cited exhaustion and fatigue as the primary reasons for his stepping down. "Coming into a new school and basketball program, I expected to get the players to play with fire and enthusiasm," Barksdale said in a statement. "I envisioned the players coming to practice full of energy to learn and become better. This first year should have been one where the new coach and the players in the program bond so that everyone pulls for each other and are on the same page."
"My inability to accomplish these things, along with my poor rapport with some of the physical education students (I taught), kept bothering me to a point that it almost destroyed my health. I kept reflecting back to where players enjoyed playing for me and students enjoyed being in my class. I have always put the students first and prided myself in working with them. I regretfully walk away from this. I'm sorry to end my teaching and coaching here because I was unable to meet the goals I hoped and should have been able to achieve."
Barksdale's wife, Gelilah, also felt the move was necessary.
"I was very concerned about him," she said. "It was complete and total exhaustion. He's not sleeping and eating."
Vic Lancaster, named interim coach when Barksdale requested sick leave, will remain in charge through the end of the season on Friday.
"The kids have been doing pretty good," said Lancaster. "To have that happen with five games to go, they handled it really well. They acted like young adults and they've done a pretty good job."
When Barksdale left the team, Aiken was 7-14. The Hornets have since lost three games without him.
"Having been in education and coaching for 33 years, I certainly know when I'm doing a good job and when I'm not," Barksdale continued in the statement. "I came here to help Aiken High School, not to hurt it. If I couldn't even get the players to play hard, to play with enthusiasm and go out every game with the 'eye of the tiger,' ready to lay it on the line, then I'm not doing a good job for Aiken High School.
"You build a program step by step, but I couldn't even get the foundation started here. Having this happen here, for the first time in my career, has been a devastating experience for me."
Barksdale originally asked for a sick leave during the school day of Feb. 9, forcing a coaching change prior to a game against Orangeburg-Wilkinson High School that night. He also missed games against Irmo High School and cross-town rival South Aiken High School.
While the losses were difficult, Barksdale didn't feel the team's record was the reason for him leaving.
"I didn't mention wins or losses in my statement," he said. "If the kids gave all they had, we would have won five or six more games. That's why it's been so devastating. When I see the kids not playing with enthusiasm, that's when it started to get to me."
Barksdale replaced Pat Keating, who finished his seven-year coaching stint with a 65-106 mark.
The 56-year-old Barksdale, a 1968 graduate of Furman University, posted a 77-40 mark at Ridge Spring-Monetta High School and a 57-14 record at Orangeburg-Wilkinson High School.
Barksdale left the Palmetto State to return to Beckley and coach his alma mater.
---
A Comeback for the Ages — 1993 (2019)
Flying Eagles' Remarkable Fourth Quarter Lives in Lore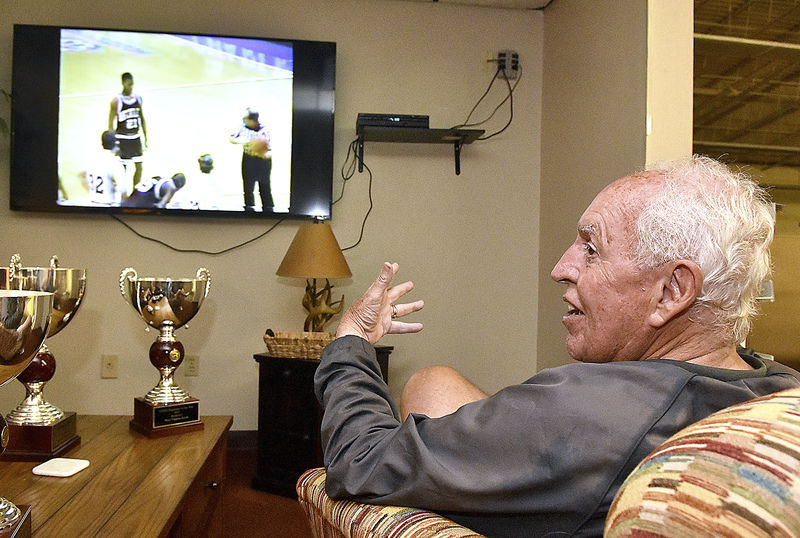 By TYLER JACKSON
This article appeared in the Register-Herald on Nov. 28, 2019.
Editor's note: "Remember When?" is a series highlighting the area's most memorable performances, whether it be a game, season or individual player performance.
Coming into the 1992-93 season, Woodrow Wilson was a heavy Class AAA favorite.
The defending champions brought back a core of players that included two eventual Player of the Year award winners, a Marshall signee as well as sophomore phenom Gene Nabors.
But the road to a second straight title wasn't as smooth as the Flying Eagles players thought it would be and head coach Dave Barksdale knew that.
"We won it in '92 and had everybody back and had Gene coming up," Barksdale said. "I'm telling you the honest truth, (Tony) Caridi and them had the talk shows and people already gave us the trophy after our '92 win. So what do you worry about? You worry about the kids being complacent.
"John Flournoy was a really good friend of mine and he was at Midland Trail coaching," Barksdale said. "He said 'Coach would you think about coming over and scrimmaging with our kids? I think that would be good for our program.' I told him, yeah. When we walked in that gym, I watched our kids and it was almost like they thought they were God's gift to basketball. We played and I got a feeling, that we needed to make sure we didn't get complacent, that we kept that fire."
Afterwards Barksdale pulled made a move that's been told in various different ways.
"After that we got on the bus and I sat in the back and to be honest, it wasn't that bad, but I thought to myself 'Barksdale, you've got to try and get them to realize they have to play. They're not going to give us the trophy.' When I got on that bus I told them we didn't block anybody out. The bus was riding and I'm mad as anything. We get to that light in Fayetteville past that bridge and I have coach (Butch) Freeman, coach (Bob) Bolen all on the bus. I said 'I can't take this anymore, I'm getting off.' The bus driver told me I couldn't do that and I said 'I've got assistants here. I can't stand being here around this.'
"Bob gets back to Beckley and calls my wife and she tell him I'm a grown man, I can take care of myself. I got to about the outskirts of Oak Hill and Click had come back to pick me up. A lot of people thought I had lost it, but I just needed them to see that you have to go out there and play ball. You can't just think you're all that. The only games we lost were to the four-time defending Class AAAA Georgia state champions and to South Charleston at their place."
Though those concerns didn't bleed into the regular season, they did pop up in the postseason, leading to what many consider the greatest comeback in state tournament history.
For this story, Barksdale visited the Register-Herald in June, watching and recounting the 1993 Class AAA semifinal game against Brooke.
Through the first three quarters, the heavily favored Flying Eagles had dug themselves into what seemed an insurmountable hole, entering the final frame down 59-39. No team had ever come back from a deficit that large, in fact the largest fourth quarter comeback was a 15-point redemption effort from the 1962 Woodrow team in the state title game against Weir. Barksdale was a guard on that team that finished the season undefeated with a 71-69 win over the Red Riders.
Still, that didn't deter the Flying Eagles as Barksdale made a call that didn't change the deficit, but inspired his team.
"We took all five starters out and we put five new ones in," Barksdale said. "They didn't make up any ground, but they hustled their butts off. They were diving for loose balls. I looked at our kids at the beginning of the fourth quarter and said 'Are y'all ready to play?' But then they had seen our other kids hustle and work and they jumped up there and that's how they played the fourth quarter. They just sat on the bench and watched. I said if we're going to lose, we're going to lose with people hustling and trying."
"I didn't know if we'd comeback. All I wanted was our kids to play hard. That second bunch really did. Our kids had the eye of the tiger."
Just three minutes into the fourth quarter, Woodrow cut the deficit from 20 to 13, and eventually down to 11.
Woodrow, which had become a program many cheered against because of its success, having played in the previous three title games and winning two of them, began drawing the support of those in attendance.
"The crowd really got into it," Barksdale said. "Some of our people told me 'Well coach, I left. I have to admit I left.' We kind of came back and the crowd really got into it. You play hard when crowds get into it. Our kids liked the crowds."
Just as the first unit cheered on the second in the third quarter after they were benched, the second unit returned the favor and the team continued to feed off of it.
"You see our second bunch over there?" Barksdale asks, pointing to the bench celebrating on the screen with the deficit growing smaller. "That's how we were. Now you can hear our crowd getting into it too."
"Beckley traveled to the state tournament as well as anybody. By that point we were kind of the villain. Our kids kind of liked that though. We liked that. Towards the end we could feel the neutral fans starting to pull for us. People wanted to see something like that. It was like bedlam in there."
A bucket from Ryan Culicerto continues to power the Woodrow momentum, forcing Barksdale to recall one of his first encounter with the eventual Player of the Year.
"He's a senior this year," Barksdale said Culicerto. "Just to show you what kind of kid he was, when we won it in '90, he was at the junior high, coming over the next year. After we won it, he came up to me and said 'Hey coach, congratulations, just think, now we're going to win it four years in a row.' That's exactly what he said. He was in ninth grade and hadn't even come over yet and had that mentality. All of them had that killer instinct, but he had that attitude that he wasn't going to lose."
As Woodrow continues to cut the deficit on screen, Barksdale reflects on that Brooke team and the effort they gave.
"They played really good," Barksdale said of Brooke. "They played like they were the favorite and played really well."
That's evident as Brooke is up 11 again with three minutes left.
"Golley, they couldn't have given it to us could they?" Barksdale mutters, watching a ball deflect out of bounds and awarded to Brooke.
With under three minutes left, a decision from Brooke comes that Barksdale remembers clearly as head coach Dave Reitter calls a timeout.
"Now remember, this is their last timeout," Barksdale says. "When the lead was cut, they couldn't call a timeout if we scored. It's no given right now at this point what would happen either way."
With 2:06 left to play, Shea Fleenor nails a free throw to make it 62-55 in favor of Brooke. Woodrow answers with its patented press and the least heralded player of the bunch, Steve Ball makes the plays to give his team hope.
Ball comes away with back-to-back steals and layups on inbounds plays, making it 62-59 with 1:54 left
"See, they can't call timeout here to settle down," Barksdale says.
"I'm sure they were trying to hold it after that. They were playing not to lose rather than to win. They were pretty much just trying to keep from losing. The first half they played to win."
On the ensuing play Ball comes up with his third steal in as many possessions, pushes the ball up court to Culicerto who crashes in the lane, but is called for an offensive foul, foreshadowing what's to come.
"They didn't give us no help there, did they?" Barksdale says of the officiating.
After that charge Barksdale calls a timeout to settle his group down with over a minute left.
"We just have to get a stop," Barksdale says.
At this point Woodrow has outscored Brooke 20-3 in the quarter.
"Give our second bunch credit for hustling and working," Barksdale said. "I'm sure that made Brooke tired too. Now these kids that we have on the floor are pretty fresh."
As quickly as Woodrow grabs the momentum, going for the knockout, Brooke swings back with a haymaker.
Rick Windbigler scores on a layup for Brooke, Fleenor misses a 3-pointer, and Windbigler on the fast break gets to the rim for another layup, making it a 66-59 game with 57 seconds left.
"It's over isn't it?" Barksdale says with a smile.
Fortunately for the Flying Eagles, everything Barksdale said about Culicerto turns out to be true.
The senior takes the inbound, drives up the court and before coming to stop launches a 3-pointer from the right wing
"Watch Ryan here," Barksdale says. "Ryan isn't going to lose. That's just the way his attitude was."
"I remember I couldn't believe this was how it's going to end," Culicerto told the Register-Herald on a phone call. "I remember running back to try and strip the ball from Windbigler on that fastbreak and I fell into the crowd. I remember hearing some Brooke fans yelling at me and telling me I sucked. So on the next possession I just pulled up for a 3-pointer and it went in."
The lack of timeouts for Brooke head coach Dave Reitter again loomed large. Unable to calm his team down, they made another back-breaking mistake. The following inbounds pass was rushed in an effort to get the ball up the court before Woodrow could get in its press and as a result, it sailed over the head of Windbigler on the near sideline.
Nabors launches a trey with Woodrow down four, but it clanks to the left and Anthony Scruggs saves it before it eventually goes out of bounds off a Brooke player.
The next inbounds comes to Nabors at the top of the key who swings it over the Scruggs. With his hand heavily taped to the point he can hardly shoot, he launches a 3-pointer from the right wing. It's good and the deficit is now down to just a point — a far cry away from the seven points it was just 30 seconds ago.
Now the Flying Eagles are forced to foul Chad Cantor with 24 seconds left.
"He was a 90 percent free throw shooter," Barksdale said. "But we had to foul whoever got it. We had to save time. That kid was a good free throw shooter."
"Right before he stepped to the line, I told him these would be the biggest foul shots he ever shot in his life," Culcierto said. "Some of the guys from Brooke knew what I was going to say and tried to get in my way. If you go back and watch it, you can see it and it almost escalated, but we had to do whatever we could to keep that pressure on them."
Cantor, a 90 percent free throw shooter who made all 16 of his attempt in the quarterfinal game, misses the front end of the one and one and Woodrow secures the rebound.
"We just played here," Barksdale said. "Even if we had a timeout, we still would've played it through."
Nabors grabs the ball, races up the court and finds an open Steve Ball on the right wing. His 3-point shot goes up and gives Woodrow a two point lead with 15 seconds left.
"I always thought of Steve (Ball) as 'ole reliable," Barksdale said. "The other kids always got the publicity. Culicerto was Player of the Year, (Shea) Fleenor signed with Marshall, Scruggs was Player of the Year in '94 and Gene (Nabors) was first-team all-state, but the you've got Steve Ball that played defense, scored and he was just reliable."
After Ball's shot comes the gutsiest play of the game.
"I remember Steve pulling up and I was trying to get offensive rebounding position on the weakside in case he missed it Culicerto said. "I couldn't believe it went in. I turned and sprinted and realized we were still in the press and I was at half court and realized I was still in position. One thing you learned under coach Barksdale was how to take a charge."
Culicerto applied what he learned.
With 10 seconds left, Culicerto stepped in behind the Brooke player receiving the inbounds pass and drew a charge, giving the flying Eagles possession.
"Coach always said plant your foot on the sideline and they have to run over you," Culicerto said. "I was already there and I knew if I stood there and took the charge like a man, the referee couldn't call it block."
"That was the same (referee) that called the charge on Ryan earlier," Barksdale said.
Woodrow inbounds the ball to the backcourt with a 68-66 lead, but Brooke can't could until only 3.9 seconds remain.
Scruggs goes to foul line, but misses the free throw. A last second heave fall short from 70 feet away, completing the comeback with a 68-66 win.
"Anthony missed the foul shot and came running over." Barksdale said. "He was saying 'I'm sorry coach! I'm sorry coach!' and I said 'Shoot Anthony, you made a three right before that.' He was more worried about missing his foul shot. I told him not to worry about it."
As the video ends, Barksdale reflects upon the first half that led to the comeback in the first place, complimenting how well Brooke played.
"Even though I was disappointed and took the kids out, Brooke played awfully good that first half," Barksdale said. "We weren't sharp, but they made plays there that made them look like the favorites."
Though the video holds great memories, Barksdale insists he doesn't sit around watching them or even similar performances.
"I don't watch them," Barksdale said. "I coach too much. When I watch them I want to coach, so I can't enjoy them."
This was evident as he spent much of the viewing correcting the mistakes his team made, noting what they should've done differently at different points of the quarter.
After that scare the Flying Eagles made sure to avoid any similar situations the next night as they defeated George Washington 60-49 for the program's third title in four years.
"We won Thursday night and coach Bolen was great with the kids," Barksdale said. "The night before we had Click (Bandy) in a hotel room with Ryan and Shea. Coach Bolen could tell something was wrong and asked what it was. They said 'We hate to say it, but we couldn't sleep because (Bandy) snored so bad.' So Bob told me and somehow Click got ahold of it.
"The next night, Click laid in his bed until they were asleep, he got up, went downstairs got in his truck and slept overnight in the truck. Those were the kind of coaches we had."
Even though they won the title, for many the Brooke game is the one that first comes to mind, both for the lasting legacy it had and how it helped cement the program as a dynasty.
"It took an hour after the game to really process what happened," Culicerto said. "There were too many things that happened and it took me awhile to figure out. I remember I was in the locker room and I had a pulled hamstring and I remember being in the shower after the game and I became so overwhelmed with emotion and I actually cried. It was the first time I actually cried because of happiness.
"I told everyone it was because of my hamstring, but that's the truth. It was just one of those games and one of those moments that nearly 30 years later you can't really put into words exactly what happened."