HISTORY OF BECKLEY AND RALEIGH COUNTY
Gen. Alfred Beckley (1802-1888)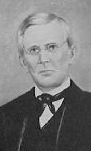 The main sources for this page are Raleigh County West Virginia by Jim Wood and Beckley USA by Harlow Warren.
Alfred Beckley was the founder of Beckley, West Virginia. His father was John James Beckley (1757-1807), who came to Virginia from England in 1768 at age 11 as an indentured servant. John James Beckley became the first Clerk of the House of Representatives during the administration of George Washington. According to Gary Ross Hoffman, John James Beckley's parents were John Beckley and Elizabeth Withers. Another theory, perhaps less likely, is that John James Beckley was born John James Bickley, that his parents were William Bickley and Maria Elizabeth, and that he changed his name to Beckley after he arrived in the U. S. According to this theory, John James Bickley's mother went by the name Elizabeth Beckley in America, but was officially Lady Bickley when she lived in England.
According to Confederate military records, Alfred Beckley was 5 feet, 9 inches tall, his complexion was fair and his eyes were blue. A eulogy read at West Point in 1888 included:
Fayette County had only a small population and no professional men when Beckley went there. He, therefore, studied medicine and practiced it without charge in relieving the sick and suffering. Being a devout man, he also took upon himself the office of local preacher. In truth, he was the leading man of his community, and was much revered and greatly beloved for his valuable services and many estimable qualities. He speaks of himself as being 'of sanguine temperament and quite irascible,' yet he was of a forgiving disposition, ever looked upon the bright side of life, and even in his old age, cheerfully bore the burden and infirmities of years.
The following is a timeline of the life of Gen. Alfred Beckley.
May 26, 1802. Alfred Beckley is born in Washington. He was the only child of John Beckley who did not die at a young age.
Apr. 8, 1807. Alfred Beckley's father dies. Later that year his mother moved to Philadelphia with Alfred, her only child.
May 1814. Alfred Beckley's mother moves to Frankfort, Kentucky. Alfred wrote, "While in Philadelphia I was sent to several schools of repute, and in Kentucky was the pupil of Kean O'Hara, one of the finest classical scholars in that state, and became a Latin scholar."
Sept. 25, 1819. Alfred Beckley enters the U. S. Military Academy. His mother had secured a cadet appointment through Sen. William Henry Harrison.
July 1, 1823. Alfred Beckley graduates from the U. S. Military Academy, ninth in a class of 35. After graduation he was promoted to the Artillery and served in garrison at Fort Monroe (Artillery School for Practice), Fort Marion, Florida, and Fort Hamilton, New York, and for over six years was on Ordnance duty.
March 6, 1828. Alfred Beckley serves on Ordnance duty at Pittsburgh Arsenal (until Dec. 31, 1833).
1828-1829. Alfred Beckley visits Logan Court House, and wrote in his memoirs, "from the round spring at Shady [Spring] to Logan Court House I found but three stopping places."
1834. Alfred Beckley wins title to contested land his father had owned in western Virginia.
About 1836?. Alfred Beckley marries Amelia Neville Craig, daughter of Neville B. Craig, editor of the Pittsburgh Gazette. He met her while stationed as a commander at the Allegheny Arsenal near Pittsburgh.
1836. In the summer of 1836, Alfred Beckley takes a three-month leave of absence from his army duties to inspect his land.
Oct. 24, 1836. Alfred Beckley resigns from the army to look after his inherited property in Fayette County, Virginia.
1836. Alfred Beckley moves to the area which was soon to become Beckley, in Fayette county, Virginia. According to his history: "Having resigned my commission in the United States Army in October, 1836, during the latter portion of that year, I removed to Fayette county with a view to improving my interest in the Moore and Beckley Patent. I took possession of a double log cabin built for me in the fall of 1835, by Mr. John Lilly, Sr., of Blue Stone, and I changed the name of my residence from 'Park Place,' a name given it by my kinsman, Clarkson Prince -- to that of 'Wildwood.' My family, consisting of my wife, Mrs. Amelia Neville Beckley, my two sons, John and Neville, and my son Henry Martin, then a babe in arms, joined me in March 1837."
1836. Alfred Beckley discovers what he called "an ancient stone fort" on Big Beaver Creek, estimating it was several centuries old.
Apr. 4, 1838. The Virginia Assembly creates the town of Beckley, with boundaries not to exceed 30 acres. The trustees are Alfred Beckley, Clarkson Prince, William Prince (1816-1885), John Bailey, and Richard McVey. Beckley was named for Alfred Beckley's father, John Beckley. [Bailey had come to Paint Creek from Franklin County in 1827. Richard McVey, according to his great, great grandson of the same name, was one of the original settlers in Raleigh County, and was a surveyor who helped to do much of the early land layout with Alfred Beckley. McVey says his family remains on the original property between Coal City and Pemberton.]
July 5, 1839. Alfred Beckley is appointed the first postmaster.
1841. Alfred Beckley builds a small log school house on Neville St. and Walnut Lane, the second building erected in Beckley, according to his son John Beckley.
1844. Because land sales were slow, the Beckley family moves to Fayetteville.
1845. Alfred Beckley is the postmaster of Fayetteville.
Mar. 9, 1845. Amelia Beckley dies at Fayetteville, seven weeks after the birth of their daughter Emma Jane. [Mr. and Mrs. Neville B. Craig of, her parents, came to visit the Beckleys and when they returned to Pittsburgh they took Emma Jane and the four youngest boys with them.]
1846. Alfred Beckley is a delegate at large from Virginia to the National Democratic Convention at St. Louis.
1849. The General Assembly of Virginia elects Alfred Beckley as Brigadier-General of Militia, creating a new brigadier district for him.
1850-1852. Alfred Beckley serves as Clerk of the Circuit Court of Law and Chancery.
1850-1873. Alfred Beckley serves as superintendent of common schools.
Apr. 1850. The 1850 census shows Alfred Beckley, age 48, Clerk-C.
1860. Alfred Beckley is elected Grand Worthy Patriarch of the Sons of Temperance, which he regarded as "the greatest honor I ever received from my fellowmen."

Staunton Spectator, Jan. 31, 1860
May 18, 1861. From a website on the Civil War:
On Saturday, May 18, a general muster of Confederates held at Fayetteville was largely attended. Brigadier General Alfred Beckley was present, and during the three days training of officers, showed much energy in imparting military instruction. General Alfred Beckley and General A. A. Chapman, who had command of the militia in Fayette and nearby counties were ordered to collect their forces in preparation for action. General Wise advanced to Dogwood Gap, while Floyd occupied Summersville. The only Federal forces in the region were Cox's at Gauley Bridge and Colonel E. B. Tyler's at Carnifex Ferry. Colonel P. B. Anderson, attacked the Federals at Hawk's Nest. He was forced to abandon his stand, but took a position covering Miller's Ferry and Liken's Mill. At the same time, Generals Beckley and Chapman succeeded in driving the Federals from Cotton Hill to within two miles of Montgomery's Ferry on the south side of the river, and even threw some balls into the camp at Gauley. Floyd got the idea that Cox was moving to attack him, and made no aggressive movement. On September 10, the Federal advance under Rosecrans attacked Floyd at Carnifex Ferry. They were repulsed and withdrew, intending to renew the attack the next morning, but Floyd considered his own position too hazardous to withstand another attack, so withdrew to the opposite shore of Gauley River, and from thence to Sewell Mountain.
Aug. 15, 1861. Alfred Beckley, the colonel of the 35th regiment of the Virginia militia, writes to Robert E. Lee, complaining about the trouble he was having finding sufficient men. He said that he had about 250 men from Raleigh and Fayette counties, and hoped to muster into his regiment four companies newly organized in Mercer county. But when he went to Mercer, the units refused to join his regiment.
August 26, 1861. From a Civil War website, "Floyd achieved a victory over Colonel Erastus B. Tyler at Cross Lanes, Nicholas County, where he took one hundred prisoners and killed fifty Federals. In that engagement he had the aid of Generals Augustus A. Chapman and Alfred Beckley, as well as McCausland and Colonel Christopher Q. Tompkins."
Sept. 1861. Alfred Beckley's militia, in cooperation with Gen. Chapman's, skirmish with Union troops at Cotton Hill and along the south side of the Kanawha River.
Sept. 8, 1861. From "War-Time Reminiscences of James D. Sedinger Company E, 8th Virginia Cavalry (Border Rangers)":
September 8th. Captain Corns was ordered to Powels Mountain. Upon arriving we found Captain [Alfred] Beckley trying to whip [General William S.] Rosecrans Army with the Logan Wild Cats. We undertook to help them. When the Yanks sent a brigade of infantry on our flank and it was all we could do to make the run, but we were successful in our escape. Captain Beckley and infantry started for Summersville and we tried to hold the road ourselves, but we could do nothing with them as they kept a regiment as advance guard so we fell back every time they developed enough strength to drive us."
Sept. 15. Alfred Beckley returns to Raleigh County.
1862. Early in 1862, General Floyd disbands Alfred Beckley's militia at Jumping Branch.
Feb. 8, 1862. Alfred Beckley resigns his commission at Richmond.
Mar. 16, 1862. Alfred Beckley writes a letter of surrender to Rutherford B. Hayes, Colonel of an Ohio regiment in the Northern army and later President of the United States.
March 22, 1862. Rutherford B. Hayes writes of Gen. Beckley: "The old general is an educated military gentleman of the old Virginia ways--weak, well-intentioned, and gentlemanly; reminds me of the characters around Chillicothe from Virginia--probably of less strength of character than most of them. A citizen here described him to Dr. McCurdy as 'light of talent but well educated.'" Hayes also wrote that he "converses readily and entertainingly; told an anecdote of General Jackson capitally...."
Apr. 3, 1862. Hayes receives an order from General John C. Fremont requiring the arrest of Alfred Beckley and that he be taken to Wheeling. Hayes wrote, "The arrest was made. General Beckley's wife and family felt bad enough. The general said he recognized the propriety of it and did not complain."
Apr. 29, 1862. The New York Times reports:
Gen. ALFRED BECKLEY, of Raleigh County, who has been confined in Wheeling, Va., for several days, was sent to Camp Chase on Friday last, by Maj. DARR, to be disposed of as the authorities may determine. Gen. BECKLEY was at one time quite an active Militia General in Raleigh and Fayette Counties, and was a man of distinction and influence. He mustered the militia under the secession flag, and is said to have done considerable harm. Recently, however, he announced his determination to become a loyal citizen, and accordingly reported himself to the National authorities, but for some reason or other our officers were afraid to trust him. Gen. BECKLEY, it is said, is a graduate of West Point, and served thirteen years in the United States army.
May 3, 1862. Alfred Beckley is paroled at Camp Chase in Ohio and released to the custody of Ohio Governor David Tod.
May 22, 1862. The Pittsfield Sun reports:
A REBEL GENERAL GIVES UP.—Gen. Alfred Beckley, of Raleigh Court House, Western Virginia, who commanded a rebel brigade under Wise at the battle of Gauley Bridge, gave himself up to General Cox upon the advance of our forces through his town, recently, and asked to be permitted to give his allegiance. He had resigned his commission in the rebel army, disbanded his men, and was living at home quietly. Gen. Cox sent him to General Fremont, who had him sent to Columbus, O. Beckley was a graduate of West Point, and formerly an army officer. He is a man of wealth and of great influence in his county.
1872. Alfred Beckley is the County Superintendent of Schools, according to his writings.
1872. Alfred Beckley is a delegate from Virginia to the National Whig Convention, where he voted for Henry Clay for President.
July 1872. John Beckley, Alfred's oldest son, is elected Beckley's first Mayor.
June 27-29, 1876. Alfred Beckley is a delegate to the Democratic National Convention. He is listed as being from Raleigh C. H.
1877. Alfred Beckley becomes a member of the West Virginia House of Delegates.
Feb. 22, 1877. Alfred Beckley, the oldest living graduate of West Point, reads Washington's Farewell Address to the House of Delegates.
May 26, 1888. Alfred Beckley dies, on his birthday. According to a eulogy read at West Point, "When his last hours approached he had a strong presentment that he would die upon his birthday, as he did, May 26, 1888, having completed eighty-six years of a well-spent life." A newspaper account reported:
CHARLESTON, W. Va., May 31.—General Alfred Beckley, a graduate of West Point, died at his home in Raleigh County Tuesday on his eighty-sixth birthday. He was a prominent man and well known throughout the State. He made the prediction a few days ago that he would die on that day.
---
The Autobiography of Gen. Beckley
The following is Gen. Beckley's autobiography, written at Beckley on Nov. 10, 1887.
J. C. Alderson, Wheeling:
My Dear Sir:
I have received your kind letter of the 5th inst., and as you know human life is uncertain, for I have recently heard of the sudden decease of Maj. Alph. Mordecai, the head of the class of 1823, leaving four including myself the survivors, I have written the enclosed account of my humble life and career. You can put it in proper shape, should you care to publish it. Give my kind regards to Mrs. Alderson and my reverend regards to your dear mother.
I am truly your friend,
ALFRED BECKLEY.
Alfred Beckley, Sr., born in Washington City, on Capitol Hill, on 26th day of May, 1802, during the first term of the immortal Thomas Jefferson's presidency. My father, John Beckley, was the Clerk of the House of Representatives during the presidency of Washington, the elder Adams and Jefferson; was in 1783 Mayor of the city of Richmond, and a member of the Board of Aldermen, Clerk of the House of Delegates and Secretary of the Convention of 1787. He was the warm personal and political friend of Jefferson; was the first Librarian of Congress.
My father died on the 8th day of April, 1807, and my mother removed to the city of Philadelphia in that year with myself, a boy of five years, her only child. She lived in Philadelphia till some time in May, 1814, when she removed to Frankfort, Ky. While in Philadelphia I was sent to several schools of repute, and in Kentucky was the pupil of Kean O'Hara, one of the finest classical scholars in that state, and became a Latin scholar. In 1819, Mr. Monroe, then President, and a warm personal friend of my father, on the application of my mother, through General William Henry Harrison gave the warrant of cadet of the United States Military Academy at West Point, N. Y., and this warrant signed by the great War Secretary, John C. Calhoun, I keep as a relic of the past. Upon General Harrison's invitation, I became an inmate in his family at North Bend for six months, availing myself of the instruction of General Harrison's private instructor to his children. In August the General placing me in the care of Mrs. Kirby and paying my expenses to West Point, out of his own pocket, I started for West Point, but was taken sick on the journey and did not reach the Point until the 25th of September, 1819, when my class of 1823 had been at their studies a whole month. I was examined alone by the academic staff and admitted on the 25th of September. I graduated on the 1st of July, 1823, number nine in a class of thirty-five, and was commissioned as a Second Lieutenant of the Fourth Regiment of United States Artillery on the same day. I served thirteen years honorably in the United States Army; two years in Florida 1824 to 1826; two years at Old Point Comfort in Virginia in the schools of artillery practice; six years on ordnance duty at the Allegheny arsenal near Pittsburgh, and two years in garrison at Fort Hamilton Narrows, New York. In 1836, having married Miss Amelia Neville Craig, daughter of Neville B. Craig, Esq., editor Pittsburgh Gazette, I resigned my commission as First Lieutenant, and removed to Fayette county, Va., to improve a body of unsettled stony lands for my widowed mother and myself, lying in the southern part (now Raleigh county). I devoted myself to building up wild lands, was instrumental in the building of the Giles, Fayette and Kanawha turnpike, and in the establishment of the new county now embracing above 10,000 inhabitants. I was first Clerk of the Circuit Court of Raleigh county; in 1872 the County Superintendent of Schools; was treasurer of the school funds; was the delegate from the Thirteenth Electoral District of Virginia to the National Whig convention at Baltimore and voted for Henry Clay and Theodore Frelinghuysen for President and Vice-President. In 1876 I was delegate at large from West Virginia to the National Democratic convention at St. Louis, Mo., and in 1877 represented Raleigh county in the House of Delegates at Wheeling, and was appointed by that legislature to deliver at the evening session of February 22, 1877 an address on the character of George Washington, and read his farewell address. These duties I performed and received the unanimous thanks of the House of Delegates. I was as warm an advocate for the acts of that Legislature, eventually placing the State Capitol at Charleston, as any other member and rejoice that our efforts were successful.
In 1849 the General Assembly of Virginia elected me as Brigadier General of Military, creating for me a new brigadier district. In the civil war of 1861 to 1865 I was called out by General Henry A. Wise and served with my brigade in guarding the fastnesses of Cotton Hill and the ferries of New River. The militia rendered poor service and at my earnest solicitation General Floyd disbanded the militia early in 1862 at Jumping Branch. In 1861 Col. Hays garrisoned Raleigh Court House with part of the 23rd Regiment of Ohio Volunteers, and I came home and surrendered myself to Col. Hays. In April 1862 General John C. Freemont sent a telegraphic order from Wheeling to Col. Hays to arrest me and send me under guard to the headquarters of the Mountain Department at Wheeling. I was started with a guard of a lieutenant, sergeant and eight privates, but at Charleston General Core sent back the guard, and told the lieutenant to conduct me honorably to the Mountain Headquarters. After some detention Freemont sent me on to Camp Chase prison. I was in pen No. 2 about a month when Governor Todd released me on my parole and gave the United States quartermaster orders to give me transportation to Raleigh county Court House. I went as a prisoner under guard and returned as a gentleman thanks to Governor Todd. Since I left the Army I have spent half a century in West Virginia and have filled many civil offices and been instrumental in founding a new county and the improvement of West Virginia and have ever aimed by the grace of God to present a good, religious, moral, temperance record to my fellowmen.
I have omitted my record as a friend of temperance. I had always kept up a division of the Sons of Temperance at Raleigh C. H. and I think I saved my two eldest sons by this means.
In October, 1839, I attended the session of the grand division of Virginia of 1839 at Lynchburg, which was composed of delegates representing 15,000 sons of temperance and I was elected Grand Worthy Patriarch of the Sons and served during 1860 as Grand Worthy Patriarch. This I regard as the greatest honor I ever received from my fellowmen. I laid the corner stone or rather dedicated the monument in memory of Rev. Lucian Munroe, a most distinguished son of the order at Williamsburg, Va., and then attended the session of the National Temperance grand division at Portland, Me., and ascended Mt. Washington, New Hampshire, and with my brethren of the National Division, we held a temperance meeting with a good many sisters of temperance on top of the White Mountains.
---
Children of Alfred and Amelia (Craig) Beckley
This information was compiled by Theressa A. Deck, a Beckley family historian, and was taken from Raleigh County West Virginia by Jim Wood.
John Beckley was born 26 March 1833 at Allegheny Arsenal near Pittsburgh. Educated in Pittsburgh, he married Margaret J. Price 21 November 1855 in Greenbrier County. He was part owner and operator of the Beckley mill on Piney Creek, where he made his home from 1856 to 1866. He then bought the home of Captain Stephen Adams on Neville Street in Beckley. John Beckley was a pioneer school teacher in Raleigh County and the first mayor of Beckley (1872), clerk of the County Court 18 years and of the Circuit Court 12 years during the same time period. He operated a mercantile business on Neville Street for a while. A member of the Raleigh County District School Board for 25 years, he also held various other public offices and was prominent in religious and fraternal activities. His children were Mary Emily, Betty Dickson, and John Price Beckley. He died in Beckley 10 June 1910 and is buried in the Beckley family plot in Wildwood Cemetery.
Neville Craig Beckley was born 27 December 1834 at Fort Hamilton, Long Island, New York. He was educated in Pittsburgh and served on the Raleigh County Town District School Board for a time. His first marriage was to Elizabeth O. Love, whom he married in Beckley 27 April 1854. The name of his second wife is unknown. He enlisted in the Confederate States Army 5 August 1861, serving as a lieutenant and captain. He was wounded, captured and held prisoner at Point Lookout, Maryland. A minister in the Methodist Episcopal Church until his death in 1885 of paralysis in Kanawha County while en route to his next assignment at Malden, he was buried in the Beckley family plot at Wildwood Cemetery. Some of Neville's children were Emily J., Annie D., Mary Alice, Martha, Robert W., Neville Jr., and Lena.
Henry Martin Beckley was born 23 November 1836 at Allegheny Arsenal near Pittsburgh. Educated in Pittsburgh, he enlisted in the Confederate States Army 27 May 1861 and attained the rank of colonel. He was wounded, captured and held prisoner at Fort Delaware. He practiced law in Beckley briefly before the war. Henry married Mary Johnson and moved to Fincastle, Virginia, where he operated a mercantile business after the war. He died in Baltimore, Maryland 16 September 1868 while on a trip to purchase supplies for his store. His body was returned to Fincastle and buried there. His children were Gilbert Lee and Clarence Johnson Beckley.
William Gregory Beckley was born 29 July 1839 at Wildwood. Educated in Pittsburgh, he was postmaster of Raleigh Court House from 1860 to 1866. He enlisted in the Confederate States Army 3 June 1861, serving as a lieutenant, was captured and held at Johnson's Island. He married Margaret E. Duncan 22 April 1862 in Greenbrier County and moved to Calloway County, Missouri in the 1870's, where he became a successful farmer, dying there in 1912. He was buried there. His children were Laura Ann, John Duncan, Walter Lee, Amelia Neville, Martha Jane, Neville and Gussie.
Isaac Craig Beckley was born 3 March 1841 at Wildwood. Educated in Pittsburgh, he enlisted in the Confederate States Army 6 June 1861, was captured and held prisoner at Point Lookout, Maryland. He married Mary R. Duncan 23 October 1866 in Greenbrier County and operated his father's Raleigh House tavern in Beckley 1878-1881, then moved with his family to Calloway County, Missouri, where he was a prosperous farmer until his death in 1921. He was buried there. His children were Clinton, Theodore, Rubina, Edward Craig, Comingo, Sarah and Mae Belle.
Alfred Beckley Jr. was born 5 March 1843 at Wildwood and educated in Pittsburgh. He moved to Allegheny Springs, Virginia, where he made his home until he enlisted in the Confederate States Army in Montgomery County, Virginia. After the war he moved to Fincastle County, Virginia where he bought a farm and married Emma Carper 12 November 1867. He lived in Fincastle until his death in 1925. His children were Annie Davidson, Lila Craig and Stuart Heber.
Emma Jane Beckley was born 12 January 1845 at Fayetteville. She died 20 August 1848 of scarlet fever in Pittsburgh and was buried in the Craig family plot there.
Children of Alfred Beckley by his second wife, Jane B. (Rapp) Beckley
Stuart Heber Beckley was born 21 August 1851 at Wildwood. A surveyor, land agent and businessman, he was active in Raleigh County social and fraternal societies. Contracting typhoid fever, he died at Wildwood 21 December 1875 and was buried in the family plot. There was no known marriage or issue.
Daniel Webster Beckley was born 28 October 1853 at Wildwood. His business interests were in coal, lumber and real estate. He died 11 October 1890 at Wildwood and was buried in the Beckley family plot. There was no known marriage or issue.
Maria Elizabeth Beckley was born 1 July 1857 at Wildwood. Educated at Union Female Seminary in Monroe County, she was an accomplished musician, studying piano with Mr. Heinfelter, a German. Shortly after her engagement to Dr. Thomas R. Evans, she contracted typhoid fever and died 17 November 1883 at Wildwood. She was buried in the Beckley family plot.