Frank Bull –
Los Angeles Sportscasting Pioneer
By JIM HILLIKER
Copyright 2016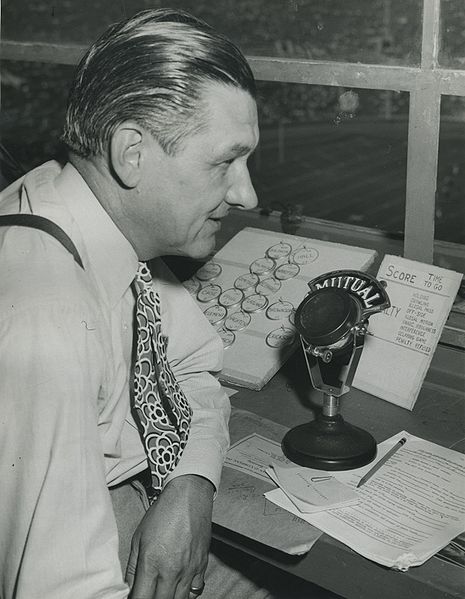 Introduction
The name Frank Bull probably doesn't mean anything to Southern California sports fans today. But it is possible that some of the "older generation" might remember hearing him doing the play-by-play descriptions of college football games on the radio into the 1950s. He was also the stadium announcer for the Los Angeles Rams home games in the 1950s and into the early-'60s. Bull made his mark as a pioneer sports broadcaster in Southern California long before Bob Kelly, Tom Harmon, and Vin Scully arrived in Los Angeles. His last sports broadcast on radio was more than 60 years ago. But, being a sportscaster was not Bull's main career goal in the world of radio.
In a 1950 profile of Frank Bull in Broadcasting magazine, he was described as a radio time salesman and advertising executive by day. By night and on the weekends, Frank Bull was a sports play-by-play announcer and sports commentator on Los Angeles radio for 28 years. He even found time to work part-time as a disc jockey on KFWB from 1939 until the end of 1956. As a DJ, Bull was best known for his nightly one-hour America Dances record program. With disc jockey Gene Norman, they presented the annual Dixieland Jubilee concerts during the 1940s and '50s at the Shrine Auditorium in Los Angeles.
By 1959, he was mostly known to sports fans as the longtime "Voice of the Rams" home games on the Coliseum public address system. That same year, Los Angeles Times sportswriter Jeane Hoffman wrote that Frank Bull qualified as the "Dean of Sportscasters" in the Southland. He was 62 years old at the time. But Bull considered his work as a radio sports announcer and commentator a hobby. He continued as the Rams' P.A. announcer into the 1960s, while still running his own advertising agency.
Discovering Who Frank Bull Was
My interest in Frank Bull's sports announcing career was sparked by an email I received in September of 2014. It came from a man in the Midwest who owns a tape recording he purchased from an antique dealer some years ago. The aircheck was recorded in Elkhart, Indiana, off radio station WSBT (960-AM) in South Bend, Indiana. The reel-to-reel tape contains the entire broadcast of the USC-Notre Dame football game played on November 28, 1953, at the Coliseum in Los Angeles. (Notre Dame, the #2-ranked team in the nation, beat #20 Southern California by a score of 48 to 14 on that day.)
The play-by-play announcer heard on the tape is Frank Bull (1897-1975). His broadcast partner on this tape is Mark Scott (1915-1960). At the time, Scott was play-by-play announcer for the Hollywood Stars minor league baseball team and sports director for KFWB in Hollywood. He died unexpectedly in 1960 at the age of 45, while hosting the weekly syndicated television show Home Run Derby. On the recording of this 1953 game, the 25th year of the USC-Notre Dame game, Mark Scott is the color commentator and mostly gave background information on the players and the two teams. He also provided scores of other college games that day. Frank Bull is heard primarily doing the actual play-by-play description of the game.
The owner of this aircheck had read my 2008 article on some of the college football games that were heard on Los Angeles radio stations from 1922 to 1942.
He saw that Frank Bull was mentioned at least twice in that article. His question to me was, why was Frank Bull, a west coast football announcer, heard on WSBT in Indiana? After doing some research, the answer was found in an issue of Broadcasting magazine from August 10, 1953. The USC-Notre Dame game was one of several major college games that the Tidewater-Associated Oil Company sponsored that year on radio.
How Frank Bull's 1953 SC-ND Broadcast Made It to WSBT
The game from Los Angeles was sent over KHJ-930 to the Don Lee-Mutual network on the west coast and the Rocky Mountain states, sponsored by the Associated Oil Company, owners of Flying A gas stations. Frank Bull was one of several west coast sportscasters that had worked on Tide Water-Associated Oil football games since the late-1920s. While WSBT was a CBS network affiliate, the article about the 1953 schedule of Associated Oil football games said the games would also be carried on a few other selected stations.
Checking some newspaper radio logs from that day in other cities, I found the same football game was also on WGN, the Mutual station in Chicago, and on the NBC station, WMAQ. It was also heard in New York City on WNBC and WRC in Washington, D. C., the NBC affiliates in those cities. I learned from the August 17, 1953. issue of Broadcasting that the NBC radio network also featured a "College Game of the Week" each Saturday, and that NBC chose to air the USC-Notre Dame contest that week, too.
How and why WSBT ended up with the Frank Bull radio broadcast of the Southern California-Notre Dame game was explained in the November 27, 1953, issue of the South Bend Tribune. Normally, WSBT aired all Notre Dame games through the Irish Network, with Joe Boland at the microphone. He had been broadcasting Notre Dame football games since 1946 on that specific network.
However, USC's athletic director, Willis O. Hunter, said in the article that NBC radio was given the exclusive rights to broadcast that week's game against Notre Dame. Boland added that USC was the only school Notre Dame dealt with that sold exclusive football broadcast rights. So, WSBT had to carry the NBC feed of the game and Boland would not be heard until one week later on WSBT.
The newspaper story also reported, "Frank Bull, a west coast NBC announcer, will handle the play-by-play of the Saturday game, beginning at 3:30 p.m. (Central Time). He will be assisted by Mark Scott." The radio page of the November 28, 1953, Chicago Daily Tribune indicates that the Mutual network affiliate, WGN, was to carry the game at 3:15 p.m., while WMAQ, the NBC affiliate, would join the broadcast at 3:45 p.m. According to the South Bend Tribune, WSBT was to carry the game at 3:30, probably from the KHJ-Mutual feed with Frank Bull and Mark Scott. As for the NBC stations, they too may have carried the same feed, or NBC could have used their own announcers. But if Mutual and KHJ had the broadcast rights on the west coast for this football game, the other stations on the NBC network that carried Notre Dame football, and WSBT, likely also had to carry the feed with sportscaster Frank Bull.
The owner of the Mutual-Don Lee network aircheck emailed me 3 sample audio clips of the game, so I could hear what Frank Bull sounded like. It was thought that most of the commercials and station IDs were edited out of the tape, which has been converted to a digital format. Bu, in one clip, when Frank Bull pauses for station identification, you can hear the announcer say, "This is W-S-B-T, the South Bend Tribune Station." The owner of the tape recording of the broadcast of this football game said he was planning to donate it to the University of Notre Dame Archives of Audio-Visual Materials.
From Bank Executive to Radio Broadcaster
Frank Bull was born in 1897 in Kansas and his family moved to Los Angeles in 1911. He attended Los Angeles High School and Los Angeles City College, where he played baseball for both schools. He later held several jobs, including vice president of a bank. In 1926, a friend asked him to take part in a program on a San Diego radio station. As president of the Beverly Hills Kiwanis, he became an expert in making speeches. He liked doing the radio program so much, he went back to San Diego to take part in similar ad-lib radio shows. In 1927, he was so interested in radio that he went into broadcasting for good. He became General Manager of KNRC-Santa Monica (now KABC-790) in January of 1928 at age 31.
First Job as a Sportscaster
Bull entered the field of sportscasting somewhat by chance. He had sold an advertiser a series of Loyola College (now Loyola-Marymount University) football game broadcasts on KNRC (now KABC-790-AM) in September of 1928. He then discovered there was no announcer to handle the play-by-play of the games. The sponsor was angry and was about to cancel the deal. But Bull, who was a big football fan, decided he would go on the air himself to describe the game to the fans who were listening. The sponsor was happy and did not cancel the contract.
(In another version of the same story in a 1947 Utah newspaper, Bull said he had an announcer for the game. But after that announcer told listeners that a player was "down on the 55 yard line," the sponsor wanted to cancel the entire deal. He said the announcer didn't know enough about football. Bull told the sponsor he could do the play-by-play himself, since he was a fan of the game and knew all the rules. The sponsor let Bull announce the next game. He was happy with what he heard and didn't cancel his sponsorship of the games. Bull also said the announcer who did not know there was no such thing as the 55 yard line, had become a very famous radio announcer by 1947. Bull refused to reveal that man's identity.)
By November 11, 1928, KNRC changed call letters to KTM. A small item in the Los Angeles Times for November 23, 1928, said the game between Loyola and Gonzaga University of Spokane, Washington would be broadcast direct from the playing field at 2:15 p.m. on 780 kilocycles, station KTM, formerly KNRC.
That was the beginning of more than 20 years on the air in Los Angeles and on network radio calling college football games, until he retired from sportscasting in 1948. But by 1950, Bull went back on the air to broadcast some sportscasts on a limited basis.
Bull outlasted other sportscasters of his era, who began calling football games on radio in the 1920s and '30s. In the late-1920s, Glen Rice of KNX and Carl Haverlin of KFI were the best known play-by-play announcers of college football games, when Bull started in 1928. In the early-30s, a few others such as Don Wilson and Ken Carpenter of KFI and NBC also called college games for a few years. But all of these sportscasters left sports to work mainly as announcers or in management.
Branching Out into Other Sports
It wasn't long before Bull was announcing for other sports broadcasts, starting with basketball in 1929. In the fall, it was back to football. A November 5, 1929, story by John S. Daggett in the Los Angeles Times described in great detail how six Los Angeles radio stations and their sports announcers covered the recent USC-California game at the Coliseum. Frank Bull and Harry von Zell were the game announcers for KMTR-Hollywood (now KLAC-570-AM).
During the 1930s, '40s and '50s, Bull also did radio play-by-play for many other sports, including baseball, track and field, Rugby, ice hockey, automobile racing, boxing, wrestling, yachting, golf, tennis, swimming, polo, Olympic meets, and even bicycle racing.
But his favorite sport was football. In a 1947 Los Angeles Times story, his longtime broadcast sports partner and columnist Braven Dyer saluted Bull on his 20th consecutive year of Broadcasting major West Coast college football games on radio and called him "the dean of Southern California sportscasters." Dyer said Frank Bull was at his best on the air working without a script and ad-libbing during his broadcasts. He also wrote that Bull's "accurate, factual, and impartial reporting has marked him as an ace on-the-spot commentator." According to Dyer, no major sportscaster in 1947, except Ted Husing of CBS, had more experience on the air describing sporting events.
In the 1959 article on Bull by Los Angeles Times sportswriter Jeane Hoffman, Bull spoke of the hard work in the early days of announcing football games on radio for KNRC-780 during the 1920s. There were no press box facilities for radio yet, so he hooked his equipment into a special telephone line back to the radio studio. With a long microphone cord, Bull said that he ran up and down the sidelines carrying his microphone with him, describing each play. He joked that he probably made more yardage that the players.
But after another announcer on the field tangled half the team in his microphone cable during a foggy Washington State game, officials of the conference made radio play-by-play announcers move to the stands, where, Bull soon learned, the broadcasters could see the game much better.
Advertising Was His Main Profession
Following his 1928 start in radio as general manager of KNRC-Santa Monica and selling air time, filling in for other announcers, plus announcing college football games, Frank Bull bought a partnership in KDB-Santa Barbara in 1929. After selling that station in 1930 to Don Lee, Bull became a vice-president with Freitag, Inc., which operated KMTR-Hollywood (now KLAC-570), KMPC-Beverly Hills (now KSPN-710) and KMIC-Inglewood (now KEIB-1150) under a leasing arrangement. In mid-1930, Mr. Bull became manager of KMTR. His duties with that station included sportscasting and selling station time for all three of the Freitag stations.
In 1936, the Freitag lease on the three radio stations expired. Bull and several other salesmen were out of work. So, they started their own business, the Allied Advertising Agencies in early 1937. Along with Frank Bull were his partners Dick Smith, W. F. Gardner, Russell Rust and Walter McCreery. Because of excessive corporation taxes, that partnership ended more than a year later. Next, Frank Bull and Dick Smith formed Smith and Bull Advertising. Mr. McCreery joined them as a partner in February 1945.
In October 1949, that partnership ended when Mr. McCreery left to form his own agency, while Smith and Bull Advertising continued with headquarters at 6642 Sunset Blvd. in Hollywood. In June of 1950, their agency handled more than 40 accounts with an annual billing of $1,500,000 (worth $15,033,368 in 2016), with half of the clients' money spent on radio and television.
Other Radio Sports Assignments
While working hard into the 1930s as a radio and advertising executive, Frank Bull continued his "hobby" of play-by-play sports broadcasting, winning praise from listeners and those in the radio industry. He was soon signed by the Associated Oil Company in 1929 to be their main sports announcer for college games on radio in Southern California, mainly USC, UCLA, and Loyola. The oil company signed up sportscasters in each Pacific Coast Conference (now the Pacific 12 Conference) city, along with a network of radio stations in Seattle and Spokane, WA; Portland, OR; San Francisco and other parts of California; and later, the Rocky Mountain states.
For instance, if USC, UCLA, or Loyola was playing in L. A., Frank Bull would cover the game. The audio from the Los Angeles radio station was then sent along a network of stations through northern California and the Pacific Northwest. If UCLA or USC was playing at UC Berkeley or Stanford, the San Francisco sports announcer for Associated Oil would call the game and it would be sent south to KFI, KECA, KHJ, KNX, or another Los Angeles station. Away games for the L. A. schools in Oregon and Washington would also be broadcast by the oil company's sportscaster in those markets. This was typical of the way college football and basketball games were heard on Southern California radio from the 1930s into the 1950s, until individual colleges got exclusive rights to sign up radio stations and their own sports announcers for their home and away games.
Each week during football season, Bull was kept busy. On October 4, 1930, he announced the game between USC and Oregon State for KMTR, which was heard on four other Los Angeles stations that afternoon. His future broadcast partner, Braven Dyer, called the game for KHJ; Carl Haverlin and Don Wilson were the sportscasters for KFI that day; former USC star Morley Drury was heard on KNX along with Tom Wallace, while sportswriter Dick Hyland was the announcer for KFWB's play-by-play of the game.
A few days after USC upset Notre Dame 16-14 to stop the Irish 26-game winning streak on November 21, 1931, and win the national championship, Frank Bull was on the air when the Trojans returned to Los Angeles. The special broadcast he emceed included a downtown L. A. victory parade in front of 300,000 fans.
In July of 1932, Bull was announcing the nightly Los Angeles Angels Pacific Coast League baseball games from Wrigley Field on KMTR-570, while the team's regular play-by-play man Oscar Reichow was on vacation. Bull was manager of KMTR at the time. (KMPC-710 carried the night games of the Hollywood Stars PCL baseball team.)
Bull was also very busy during the 1932 football season. He began the season by calling the Friday night game at 8 p.m. on KRKD-1120 between UCLA and the California Aggies, on September 23. The next day, Bull was heard on KRKD describing the game between USC and Utah. Six other Los Angeles stations were also broadcasting the game. The following Friday night, September 30 at 8 p.m., Frank was at the KRKD microphone for the UCLA-Idaho game.
While working with the Freitag group stations (KMTR, KMPC and KRKD), Bull was head announcer and sportscaster for KRKD-1120 during 1932, but a 1933 Broadcasting story said he was moved back to the sales force of KMTR-Hollywood.
Bull's long resume in Broadcasting includes some non-sporting events. On September 16, 1933, Carrol Nye of the Los Angeles Times wrote that "the veteran Southland announcer (Frank Bull) would handle the special Los Angeles County Fair broadcast over KFI at 7:15 p.m., presenting Stuart Hamblin and his Covered Wagon Jubilee, assisted by the radio character "8 Ball." Hamblin was a very popular radio host and singer on KMTR, and 8 Ball was also featured on KMTR. At the time, Frank Bull played straight man in the nightly comedy feature on KMTR "Mr. Bull and 8 Ball", which was heard weeknights at 7:30 pm in 1933. This comedy program that Bull took part in was one of the most talked about radio programs in L. A. at the time, along with another show he was part of called "The Two Professors."
On September 23, 1933, Frank Bull announced the football game between Whittier College and Occidental on KRKD, one of 6 stations that carried the game that afternoon. The KHJ announcer, Gary Breckner, had once coached football at Whittier. Also, future U. S. President Richard Nixon was on the Whittier team that year. One week later on the 30th, Bull called the USC-Loyola game for KRKD, one of seven Los Angeles stations broadcasting the game. (KFI carried the UCLA-Stanford game from Palo Alto sent by KPO-San Francisco.)
In 1934, Bull was at the microphone for KMTR on February 18 to describe the 250-mile Gilmore Gold Cup auto race at Mines Field. It was one of many car races that Bull announced over the years. He also interviewed famous drivers of that era to give radio fans interesting sidelights of the race.
On March 29, 1934, Frank Bull was the emcee for the special broadcast from Hollywood's Roosevelt Hotel, which celebrated KMTR's 10th anniversary on the air. The program, which featured entertainers and speakers from several other Los Angeles stations, was broadcast from 9 to 11 p.m., but the show inside the Blossom Room of the hotel lasted until 1 a.m.
Carroll Nye's radio column of April 28, 1934, reported that a track meet featuring the top western junior colleges would be covered exclusively by KMTR at 2 p.m. that day from the Los Angeles Coliseum. Nye added, "Frank Bull will traipse along the Coliseum field with a 300-foot (microphone) cable and a newly designed crystal microphone, getting reactions from the various contestants."
On September 23, 1934, "KMTR's ace sportscaster," Frank Bull, called the rapid action of the Southwest Tennis Tournament between 1 and 4 p.m. over KMTR-570.
On January 1, 1935, Frank Bull announced the Rose Bowl game between Stanford and Alabama on KMTR-570. His broadcast partner was UCLA coach Bill Spaulding. The game was also heard on KFI-640 and KFWB-950.
In February of 1935, Broadcasting wrote that Frank Bull would announce college basketball games over KMTR-570 for Associated Oil Company of San Francisco. It was the 4th season of college basketball that the oil company put on the air, with announcers also assigned to call the games in the San Francisco Bay area, Portland, Oregon, and Spokane and Seattle, Washington. He had already been broadcasting the local college basketball games as early as January 18, 1935, when he called the USC-UCLA game over KMTR at 8 p.m. that night.
On January 1, 1936, Bull was assigned to broadcast another Rose Bowl game, SMU against Stanford for KMTR. Comments about the game at halftime were given by Los Angeles Times sportswriters Braven Dyer, Bill Henry, and UCLA coach Bill Spaulding. The game was also broadcast by Don Wilson over KFI-640 and KECA-1430 over NBC, and on KFWB-950 and KNX-1050. When the new college football season started eight months later, Frank Bull was called upon to announce the Loyola-Redlands game from Gilmore Stadium on Friday night, September 25th, over KEHE-780, one of many games he was heard announcing that fall. The next day, he was also heard describing the USC-Oregon State game at the Coliseum.
Bull got some criticism from radio columnist Dale Armstrong in the Los Angeles Times in his RADIOPINIONS column of October 18, 1936. While giving his opinion of the active sportscasters covering college games from Los Angeles, this is what Armstrong had to say about Frank: "Frank Bull handles his assignment for the oil company with quiet ease, but just misses that rousing note in the voice when the crises occurs on the field. And this does not mean shouting. Too many mike-men are doing that."
In 1937, Bull was again calling the college basketball games for Associated Oil over KEHE-780 (now KABC-790). In addition, the May 1, 1937, issue of Broadcasting reported that he was hosting his own 15-minute sports program three nights a week called "The Sports Bulls Eye with Frank Bull." It was heard on 8 of the Mutual-Don Lee network stations, including KHJ-Los Angeles, KVOE-Santa Ana, KGB-San Diego, KXO-El Centro, KDB-Santa Barbara, KGDM-Stockton, KDON-Monterey, and KFRC-San Francisco. This sports show was heard on these stations for at least two years and was later a daily feature on KFWB and sometimes KMPC in the 1940s and '50s.
The 1937 football season was another busy one for Bull on the broadcasts for Tidewater-Associated Oil. More than 100 western stations were used to transmit 90 football games. The oil company used stations from 5 networks, including NBC Red and Blue, CBS, Mutual-Don Lee, and the California Radio System (a short-lived network that linked KFWB, KFOX-Long Beach, KTMS-Santa Barbara, and KOH-Reno.) As usual, Bull was heard describing the big college games that were played in Los Angeles. In 1938, it was announced that Sam Hayes would be added as one of Associated Oil's sportscasters in Los Angeles, along with Bull. During 1939, former UCLA football star Mike Frankovich replaced Sam Hayes as the other Los Angeles sportscaster. Station coverage of some games grew larger, too. For instance, the UCLA-Oregon game was carried by 30 stations from Los Angeles through Oregon and Washington.
On December 7, 1940, the annual USC-Notre Dame game played in Los Angeles at 1:45 pm was heard over KFI in Southern California and on KPO in San Francisco, with Frank Bull describing the game. Associated Oil ran a story to promote the game in a Berkeley, CA newspaper and an Arlington, WA, paper told fans they could hear Associated sportscaster Frank Bull describe the game over KOMO-Seattle.
Bull continued broadcasting college basketball during the late-1930s and '40s for the oil company. He was heard on KFAC and KEHE describing the action. In the fall of 1941, Associated Oil carried the football games of the Pacific Coast conference on 60 Don Lee, NBC Blue, and independent radio stations up and down the west coast. During that season, the announcers in Los Angeles were again Frank Bull and Mike Frankovich.
In 1942, the college basketball games in Los Angeles were heard over KMTR, KRKD, and later on the new KPAS-1110 in Pasadena.
Also during 1942, popular Los Angeles Angels baseball announcer Mike Frankovich went into the service. Frank Bull was hired to replace him as the team's play-by-play announcer. In later years, Frankovich (1909-1992) became a hugely successful head of Columbia Studios and later as an independent movie producer. Some of the films he produced include Bob & Carol & Ted & Alice, Cactus Flower, and John Wayne's last movie, The Shootist.
Billboard magazine of October 9, 1943, said that "Frank Bull was back in his old role of sportscasting." His first assignment was describing the USC-UCLA football game on KHJ and the Mutual-Don Lee network on September 25, 1943.
On September 15, 1944, the Walt Disney Studio released the cartoon How to Play Football, the 13th release in the Goofy series of animated shorts. According to D23, the Official Disney Fan Club, "ace sports announcer Frank Bull was hired by Disney to narrate this short and provide his football language and reporting style." This cartoon featuring Frank Bull's voice can be viewed on YouTube here.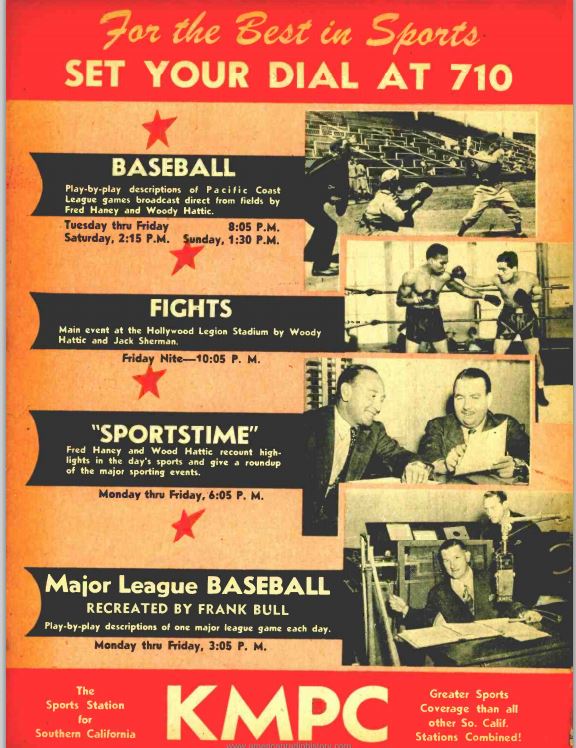 July 9, 1944, advertisement in Radio Life
During the 1944 football season, many of the college games Bull described on the air were heard over KMPC or KHJ and carried by the Mutual Broadcasting System. The games were heard on more than 20 stations in California and many others in the Pacific Northwest. On September 22, 1944, at 2:30 p.m. on KHJ, Bull was again describing a USC-UCLA game from the Coliseum.
Also in 1944, Frank Bull received an award from Harvard University for promoting "better speech" in sportscasting, for his "distinct enunciation and a ready choice of words."
On the Scene of a Big City Disaster
On Saturday, July 28, 1945, Bull was in New York City on business. Specifically, he was in the offices of the Smith, Bull, and McCreery advertising agency on the 73rd floor of the Empire State Building. Just before 10 a.m., a U. S. Army B-25 bomber crashed into the building in heavy fog at the 78th floor. The plane crash killed 14 people and injured 26 others. Damage was estimated at $1 million, which is more than $13.2 million in 2016.
Within three hours after the disaster, Bull was on the phone, talking with Bob Reynolds of KMPC in Los Angeles. According to a report in the August 12, 1945, edition of Radio Life, "Bull gave a graphic eyewitness word picture which was first heard on Frank Hemingway's Seaboard Finance News broadcast at noon Pacific Time." Later, Dick Smith of Smith, Bull, and McCreery in Los Angeles also talked to Bull to hear what happened. Bull's first-hand story was carried on all major newscasts that Saturday.
With Bull in the office at the time were F. W. Smalley, manager of the New York office and former manager of station KFVD, and Virginia Frazier White, secretary, also formerly of Los Angeles. He reported that none of his staff was injured.
Postwar Broadcasts
After the war in 1947, the Associated Oil football sports announcers in Los Angeles were Frank Bull, Sam Balter, and Bill Welsh. Around the same time when the war ended, Bull teamed up with Los Angeles disc jockey Ira Cook on radio to call boxing and wrestling matches at the Olympic Auditorium.
The December 3, 1947, edition of the Ogden Standard-Examiner in Ogden, Utah, ran a story on "colorful Frank Bull" at the mike for the USC-Notre Dame football game that Saturday on KLO in Ogden and the Intermountain network, sponsored by Tidewater-Associated Oil. The paper told the story of Bull's 20 years covering college football games on radio. The article also described how Bull became a sports announcer while he was manager of 500-watt KNRC in Los Angeles in 1928. Bull said in the days before equalized telephone lines, the late-1920s phone link from the Coliseum to the radio studio and transmitter sometimes didn't have a clear sound connection. Frank remembered that during one football broadcast, his radio audience somehow "got a burning mixture of the game from one phone line, and a telephone conversation between a passionate young man and his girlfriend from another line!" The December 6, 1947, game between USC and Notre Dame was played in Los Angeles and was heard over KHJ in the Southland and the Don Lee-Mutual network along the west coast, as well as over the Intermountain Network, which brought the game to KLO and 16 other stations in Utah, Idaho, Wyoming, and Montana.
By February of 1948, the Tidewater-Associated Oil Company decided to drop Frank Bull as one of its announcers on college basketball games from Los Angeles. Bull had been the main voice heard on Associated Oil college football and basketball games, as well as track and field events played in Los Angeles, since the early 1930s. This may have been the 1948 retirement from sportscasting that was mentioned in a 1950 article on Bull in Broadcasting magazine. But by 1950, he was again heard on some sportscasts on radio on a limited basis.
During his 16 years on the sports staff of Tidewater-Associated Oil Company, Bull was picked many times as an outstanding sportscaster and football announcer in various polls and surveys.
Columnist Art Ryon of the Los Angeles Times on September 5, 1952, implied in his column that the Los Angeles Rams' public address announcer Frank Bull was getting too fancy with his vocabulary. At one point in the game, Bull said the Rams were penalized for "encroachment on the line of scrimmage." He could have simplified it for the fans by saying they were offside.
In March of 1953, according to Broadcasting magazine, Bull formed his own ad agency, Frank Bull and Company, in Hollywood, after Dick Smith and Bull dissolved their partnership in Smith and Bull Advertising Agency.
By September of 1953, Frank Bull was on the air again, calling college football games played in Los Angeles for Associated Oil. The schedule included the November 28th meeting between the USC Trojans and the Notre Dame Fighting Irish over KHJ and the Mutual Don Lee network. The broadcast of this game was described in detail earlier in this article. This may have been his final job as a play-by-play sports announcer.
On March 19, 1955, Frank Bull was still doing a sports news and commentary program on KFWB. On this Saturday broadcast, Bull conducted an interview on the upcoming Coliseum Relays. And at 6:30 p.m. that same day, Bull hosted a record show called "Strictly Dixie."
On December 6, 1956, Variety reported that Frank Bull, who had heavily promoted Dixieland Jazz on his nightly record show over KFWB, was leaving the station after 16 years, as the station retooled its music in favor of more popular music.
On March 16, 1958, Don Page reported in his Los Angeles Times radio column that Frank Bull, the public-address announcer for the Los Angeles Rams games, brought back his "America Dances" record show to KHJ Sunday mornings at 11 a.m. With Bull's return to radio, Page said that Bull's voice was a familiar one to music and sports fans in the Southland. The article also said that Bull's record collection numbered 20,000.
At the time of the February 17, 1959, Times article on his life and career, Bull was still doing his Sunday morning music show on KHJ from 11 to noon, which lasted only a while longer that year. He was also still in charge of the Frank Bull Advertising Agency in Hollywood. Along with his job as announcer on the Coliseum public address system during Rams football games, Bull was active in other areas of sports.
He was on the board of the Coliseum relays, a member of the executive committee of the Olympic Games, advisor to the UCLA Bruin rugby team, master of ceremonies for the Rams Fan Club, in charge of UCLA's spring sing, advertising director for Western Harness Racing, and was in charge of radio and TV promotion for the Pro Bowl and Rams-Redskin games.
On January 18, 1963, the Walt Disney Studios comedy film Son of Flubber was released in Los Angeles. A crazy football game between two fictional colleges was featured during the climax of this sequel to Disney's Absent Minded Professor. Frank Bull's voice was used in the movie as the stadium field announcer. (Bull's voice was also heard in nine forgettable movies that were made between 1934 and 1940, though the Internet Movie Database says he was uncredited in those films. Bull was usually cast as the voice of a radio announcer or police dispatch announcer.)
Bull continued as the voice of the Rams over the Coliseum public-address system for some 15 years. In 1965, while apparently retired from any radio sportscasting and disc jockey jobs, his name turned up in the May 1 edition of Billboard magazine. The short article reported that station KFWB in Hollywood had received a letter addressed to Frank Bull. The letter had a 3-cent stamp, but was marked 2 cents postage due. The article said Bull was a disc jockey for KFWB during the war, though more specifically, he did his record show there from 1939 to 1956. The letter requested that Bull play one of two records. The 1965 story said he was still operating his own firm of Frank Bull Advertising.
He later retired and moved from Hollywood to Malibu and Palm Desert. Frank Bull died in Palm Desert in 1975 at age 78.
Some Final Words
All because of a random email I received in 2014 asking me for information about "west coast sportscaster Frank Bull," I was able to dig up a lifetime of details about the man's hobby of sports broadcasting and his life's work as a radio executive and advertising agency owner. He got into radio from the ground up, when broadcasting was still fresh and new. His pioneering work in calling sports on radio continued through radio's "golden age" into the early years of television.
I knew nothing about Frank Bull when I wrote my earlier article in 2008. Now we actually have recordings of his voice to go along with the story, thanks to the discovery of the 1953 aircheck I described in this article. I have included here (bull1.mp3, bull2.mp3, bull3.mp3) the three sample audio clips from the WSBT air check of the 1953 USC Notre Dame game, which includes the voices of Frank Bull and Mark Scott. The third audio clip was made when the sun was setting and the AM signal is heard fading in and out, along with audio from a co-channel station. It is this clip that contains the WSBT station identification. I hope you find them interesting.
I also was able to contact Frank Bull's granddaughter, Kathy Teufel of San Luis Obispo, California. She had quite a few transcriptions discs of Frank Bull's broadcasts from the 1930s and '40s. Those have now been donated to SPERDVAC (The Society to Preserve and Encourage Radio Drama, Variety and Comedy) to be transferred to digital audio and will one day be available to the public to hear.
Jim Hilliker
November 20, 2016
Monterey, CA
jimhilliker@sbcglobal.net