HISTORY OF WOODROW WILSON HIGH SCHOOL
WWHS Hall of Fame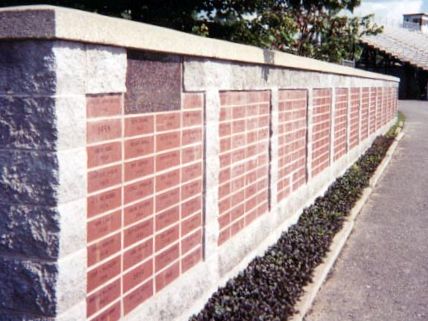 ---
Woodrow Hall Gets Two New Members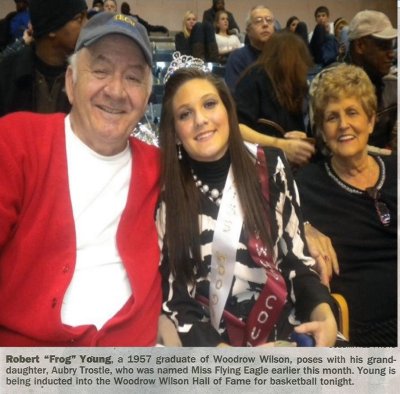 This article appeared in the Register-Herald on Jan. 30, 2010.
By JIM WORKMAN
Two new members will be inducted into the Woodrow Wilson High School Basketball Hall of Fame tonight.
Robert "Frog" Young and Fred Persinger are scheduled to be honored at halftime of tonight's Woodrow Wilson vs. Parkersburg boys basketball game, weather permitting, at the Beckley-Raleigh County Convention Center.
The inductees will receive a plaque from the Hall of Fame committee and a framed jersey will be hung in their honor in the Ring of Fame, placed in the corridor of the home of Flying Eagles basketball at the convention center.
The Woodrow Wilson High School Basketball Hall of Fame Class of 2010:
Robert "Frog" Young
"I had a dream one day that I might make it," Young said of the honor. "I sure am pleased. I was overwhelmed (at the news) at first. It wasn't something I was expecting. This is something my grandchildren can look back on. I think of it as something for them mostly.
"When I went into high school I had two goals — to play for Coach (Jerome) Van Meter and to put on the Flying Eagles uniform. The rest was just a bonus."
Young was a member of the Woodrow Wilson state championship basketball team of 1957.
The Flying Eagles went 26-1 that season and avenged their only loss by beating a strong Charleston High team 82-70 in the state title game.
"We really got after them," Young recalled. "I remember in warmups that day, Charleston's first four players were dunking the ball. You were allowed to at that time. They were putting on a show. We all stopped what we were doing and just watched. It was something else to see. They were so tall."
But the exhibition didn't intimidate the Flying Eagles one bit.
"I remember going back in the locker room before the game," Young said with a laugh. "I was in a bathroom stall and (teammate) Walt Rappold went into the next stall, stood up on the toilet and looked down at me and cracked a joke. It was so funny to see him up there — he looked 9 feet tall. We kept each other loose."
Young was a 6-foot guard, a defensive standout on that championship squad that also included Rappold, Danny Williams, Charles "Buddy" Bales and Earl "Jitterbug" Gilbert.
All five starters on the '57 title team have now been inducted into the Hall of Fame.
"I always took on the opponent's top scorer," Young said. "I wasn't a terrific scorer, all I shot would be 3-pointers today."
Young went to West Virginia Tech on a football scholarship.
Upon graduation from Tech, he served two years at Woodrow Wilson as an assistant coach in basketball, football and track before moving on to Wirt County High School, where he led the school to a state football title as a head coach in 1966.
Young has distinct memories of his assistant days on the Flying Eagles bench, however.
"I was 3-0 as a basketball coach for Beckley," he quipped. "Coach (Lawrence) Wiseman got thrown out of three games and I took over in all three games, and we won. So I have the all-time winning record, percentage-wise."
Young also remembers some of the outstanding competition he faced in that era of high school hoops in West Virginia.
"I played against Jerry West, Rod Thorn, Leo Byrd, Chris Smith, Willie Akers and so many others," he recalled. "And one of my teammates in my junior year, Howard Hurt, was one of our all-time leading scorers. He went on to be a captain at Duke."
Young hasn't slowed down much.
"I'm retired now, but I'm enjoying my golden years," he said. I'm teaching a line dancing class at the senior citizens center. I really enjoy it. We took a group out and performed just a few days ago."
Fred Persinger
The veteran broadcaster got his start in radio in Beckley at WWNR where he did Woodrow Wilson football and basketball games from 1975 until 1980 before moving to WTNJ from 1980 to 2001.
It was then that Persinger moved to MetroNews, where most recognize him now as "the Voice of High School Sports" in West Virginia.
"That's a moniker that I'm very proud of," Persinger admitted.
Persinger hosts the popular "Game Night" program on 41 MetroNews affiliates on Friday nights during football season, is the lead play-by-play announcer for state tournaments in baseball, football and basketball. He also handles the hosting duties for post-game shows of the West Virginia University Mountaineers on the network.
But his ties to Beckley remain strong. Persinger will be the emcee at the Big Atlantic Classic banquet on Sunday, an annual rite for him.
"I'll have to admit, when I see a Beckley team come to the Charleston Civic Center for the basketball tournament, I still have a soft spot in my heart," he said. "I am also a member of the Flying Eagles Football Hall of Fame, so it feels good when you go to the stadium and see your name there on the wall. I was at a basketball game (at the Beckley-Raleigh County Convention Center) recently and I walked around and saw all of the names up on the wall. When you think about the names that are there — it's quite an honor.
"I do this because it's a labor of love," he added. "I love what I do. But being selected to be in the Hall of Fame is very important to me. I've been very fortunate. I wouldn't trade my career in radio for anything."
Persinger becomes only the third broadcaster honored by the Woodrow Wilson Basketball Hall of Fame, following current Flying Eagle play-by-play announcer Bill O'Brien of WJLS, a 2009 inductee who is in his 41st year at the microphone, and the late Gene Morehouse.
Morehouse was the voice of the Flying Eagles for 16 years and was named West Virginia's outstanding sportscaster in 1963 and 1965. He went to Marshall University in 1968 and became the Thundering Herd play-by-play announcer and sports information director. He perished in the tragic Marshall football plane crash of Nov. 14, 1970.
---
Six to Be Enshrined to Woodrow Hall of Fame
This article appeared in the Register-Herald on Sept. 4, 2008.
By DAVE MORRISON
Six new members will be inducted into the Woodrow Wilson football hall of fame tonight at halftime of the Woodrow Wilson-Parkersburg game at Van Meter Stadium.
Three players — Thomas Mitchell, Brad Acord and Darius Law — were members of a pair of Woodrow teams that lost just three games between 2000-2001.
Magic Staples, who played in the 1990s, is the fourth member inducted in this year's class as a player.
Dr. Gary Poling and Coach Butch Lambert are being inducted as honorary members.
Woodrow Wilson will honor area military personnel by holding Armed Forces Night during tonight's game.
All military personnel, active or retired, will be admitted free and will be honored before kickoff.
The event is sponsored by the Beckley Quarterback Club.
---
Three Former Flying Eagles Inducted into Basketball Hall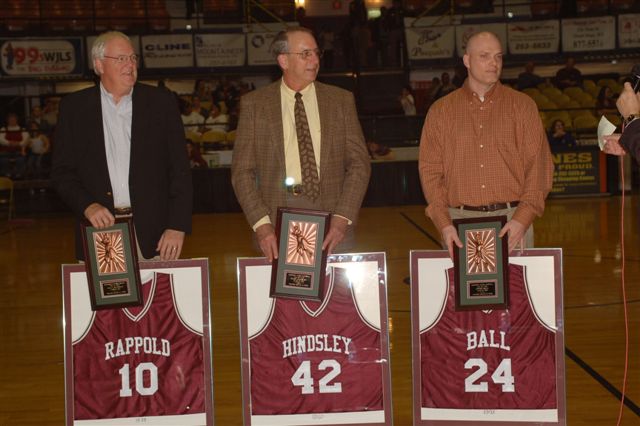 This article appeared in the Register-Herald on Feb. 6, 2008.
By DAVE MORRISON
Three former Flying Eagle greats, all with state titles on their sterling resumes, were inducted into the Woodrow Wilson Basketball Hall of Fame Wednesday night at halftime of the Eagles' 76-49 win over George Washington.
Walt Rappold (Class of 1957), Dr. Pack Hindsley (Class of 1962) and Steve Ball (Class of 1993) will have their jerseys hung in the armory and received plaques during the ceremony.
"It's such an honor to be recognized by the type of program we have here at Beckley," said Ball, who helped the Flying Eagles win back-to-back titles in 1992-93.
"I had the opportunity to play with a lot of great players, some who are already in the hall. To have a chance to hang two banners for this program will always mean a lot to me."
Ball, now a Beckley lawyer, said he relished the opportunity to play for coach Dave Barksdale at Woodrow.
"We were always ready to play, we were always well prepared and we always had that intensity," Ball said. "You wanted to fight for him because you knew he was fighting for you."
Hindsley knows that, as a teammate of Barksdale on Woodrow Wilson's only undefeated team in 1962.
"We had a lot of great players on that team. I believe the first six went on to play either football or basketball in college," said Hindsley, himself an All-America football player at Davidson, the first player to receive that honor at the school. "That was a really special team. We had played in the state championship the year before, but we lost. We thought we had a chance to win it the next year. But going undefeated was the furthest thing from our minds at the time."
Hindsley had a chance to play in the pros out of Davidson but choose to go to medical school instead.
He and his wife reside in Washington, N.C.
Rappold is another current North Carolina resident, living in Raleigh.
The 1957 Woodrow graduate helped the Flying Eagles beat Charleston in the title game.
"We thought we had a chance to do it," Rappold said. "Danny (Williams) didn't play in the first game against them (in the regular season), so we thought we could hang with them. The thing I remember about that game was how big they were. They went 6-foot-6, 6-5, 6-4, 6-4 and 5-9. I was our tallest player at about 6-1 1/2. We just ran them to death. Like coach (Jerome) VanMeter said, we picked them up at the dressing room door."
---
Springer to be Inducted into Woodrow Hoops Hall
This article appeared in the Register-Herald on Feb. 13, 2007.
By DAVE MORRISON
It was a ritual. Every Tuesday, Ann Springer and her siblings would take their dad George his lunch at the old site of the Beckley Post-Herald in downtown Beckley.
"We'd always see daddy at his desk with that cigarette hanging out of his mouth," his daughter, Ann Miller, said.
Springer, a longtime Beckley Post-Herald sports editor and the commissioner of the West Virginia Intercollegiate Athletic Conference, and two others will be inducted into the Woodrow Wilson Basketball Hall of Fame tonight.
Mike Ross Sr. (Class of 1979) and Kevin Harrington (2000) will also be honored at halftime of tonight's Woodrow Wilson-Parkersburg game at the Raleigh County Armory. Former coach Dave Barksdale will be the presenter and the Voice of the Flying Eagles, WJLS' Bill O'Brien, will be the master of ceremonies.
"I think it's wonderful and something that is overdue," Miller said. "Daddy never missed a football game or a basketball game, even though he didn't own a car and had to bum a ride. He was good friends with all the coaches, coach (Jerome) Van Meter, coach (Vic) Peelish and coach (Preach) Wiseman."
"He never missed a basketball tournament, whether it was high school or junior high."
His column, "Sports Jottings," appeared in the paper almost daily and he was known as "The Jotter."
"We felt it was high time we honored 'The Jotter,'" O'Brien, a member of the Hall of Fame committee, said.
"I'm glad that the people in Beckley see fit to honor George because he is certainly deserving," longtime state scribe Mickey Furfari said. "I'll say this about George — he worked a long day seven days a week."
Springer moved to Beckley in 1946 after a short stint at the Clarksburg Exponent. He was originally from Massachusetts, where he worked at the Springfield Republic. He left there after 20 years when the paper went on strike.
"Daddy needed a job because he had three kids and another on the way," Miller said. "He loved West Virginia, he loved Beckley and he loved Woodrow."
He left the paper in 1966 to become the full-time commissioner of the WVIAC. He stayed there until 1974.
"I think that the WVC really grew in stature under his leadership," Furfari said. "That tournament used to pack the old Charleston Civic Center."
Springer passed away in 1982 at age 78.
Springer was inducted in the West Virginia Sports Writers Hall of Fame as well as the national Marbles Hall of Fame. He was the 1946 Sports Writer of the Year and he also started the Pony League, which later became the Little League.
"He just loved sports, it was his life, morning to night," Miller said.
Ross Sr. plans to make the trip from Michigan, where he moved after his son, Mike, a star on the 2000-2001 Woodrow Wilson teams, began his career at Eastern Michigan.
Harrington, a starter on the 1998 state championship team as a sophomore, is currently playing for Vermont in the NBA Developmental League and won't be able to attend.
---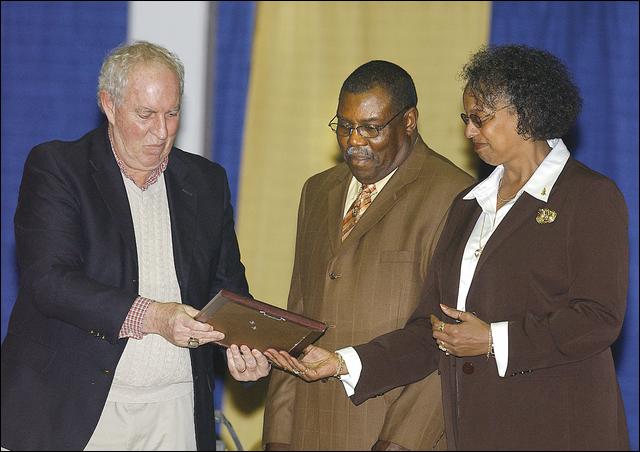 Former Woodrow Wilson basketball coach Dave Barksdale hands a plaque to Kevin Harrington's mother, Diane Williams, and his stepfather, Lee Williams, as the pair accepted the honor for Harrington during the Woodrow Wilson Hall of Fame ceremony at the Raleigh County Armory Monday night in Beckley. Photo from the Register-Herald, Feb. 26, 2007, by W. Dayton Whittle.
---
Two New Inductees to Woodrow hall
This article appeared in the Register-Herald on Oct. 9, 2003.
Two new members have been added to the Woodrow Wilson High School Football Hall of Fame.
Mike Duncan and Butch Poindexter will be inducted tonight at halftime of the Flying Eagles' game with D.C. Coolidge.
Duncan, Class of 1998, was a two-way lineman and a second-team all-state offensive line selection his senior year.
Poindexter, class of 1972, was a defensive back/running back during his Flying Eagle career.
There will be a Hall of Fame induction dinner beginning at 4 p.m. today at the Woodrow Wilson cafeteria. The public is invited.
---
Barksdale, Nabors To Be Inducted Into Woodrow Wilson Hall of Fame
This article appeared in the Register-Herald on Dec. 21, 2001.
By DAN STILLWELL
One of the greatest basketball coaches in West Virginia history, along with one of his finest players, will be inducted into the Woodrow Wilson Hall of Fame tonight.
Dave Barksdale, who guided Beckley to five Class AAA championships and numerous state tournament appearances, and former Beckley guard Gene Nabors will be honored during Woodrow's 8:30 p.m. game with Hurricane in the WJLS Classic at the Armory. Barksdale was the point guard for the 1962 Flying Eagles, who went 25-0 en route to capturing the 1962 title. Nabors followed in his footsteps 21 years later.
"If you don't have a good point guard, you can't win," Barksdale said. "Gene came in as a sophomore and we won the state championship. He started from day one."
Nabors fondly recalls his sophomore year, when he was the young guy in a lineup featuring seniors Ryan Culicerto, Anthony Scruggs, Shea Fleenor and Steve Ball.
"It was great. Those guys helped me out a lot," he said. "They told me to just go out there and play my game. So I had the confidence to do what I had to do - get those guys the ball."
Now a pro basketball player in Europe, Nabors credits Barksdale for much of his success.
"I had a great coach to learn from. He taught me the game when I was eight years old," he said.
"Gene's records at Woodrow were 25-2, 23-1 and 20-5. To have 68 wins says it all," Barksdale said. "And for him to go on and play college ball and get his degree, we're just so proud of him."
Nabors played two years at Louisiana State University before transferring to Robert Morris College in Pittsburgh. He graduated in 2000 with a degree in communications.
Last year he helped a pro team in Sweden win its league championship. This weekend he'll head back across the Atlantic to compete for an Israeli team.
"It's a great experience to play over there and be doing what you love to do," Nabors said. "I'm 24 now and I hope to play at least 13 or 14 more years if I don't have any injuries."
Years ago Barksdale wished he could have played pro ball, but it wasn't in the works.
"All I've ever done is play sports, but I wasn't good enough in baseball or basketball to be a professional," he said. "So the next best thing was coaching."
He played basketball four years at Furman University, then coached eight years at high schools in South Carolina. He came back to West Virginia for seven seasons at Alderson-Broaddus before he finally fulfilled his dream of coaching at Woodrow.
"When I played for coach (Lawrence) Wiseman our senior year he'd always get us together at the end of practice and he'd have a philosophy session, talking about life," Barksdale recalled. "One day he said that he wouldn't be there forever and he wished one of his players would come back and coach Woodrow. I thought that would really be something. It was a dream of mine for a long time."
He coached the Flying Eagles for 17 seasons, leading them to 12 state tournament appearances.
"For 17 years I was very fortunate to have players who could play and loved basketball," Barksdale said. "Our players realized how important our success was to the community and that's why they were up later and worked harder."
He credited his own elementary, junior high and high school coaches for teaching him the game, but also praised his assistants - Butch Freeman, Miller Hall, Jim Turner, Bob Bolen, Ron Kidd, James Lewis, Click Bandy, Steve Webb and Kevin Maupin for their efforts.
"Our program wouldn't have been the way it is without those coaches," Barksdale said. "I appreciate going into the Hall of Fame, but they all shared in this and I'm very grateful."
He gave thanks to his family for their support.
"My wife (Geliliah) and children (Brantley, Stacey and Tyson) have had to sacrifice a lot," he said. "She's my best friend and has stood by me."
Barksdale is now an assistant for Bolen at Mountain State University.
"My love for the game hasn't changed since the time I was a little kid," he said. "I can't wait to go to the gym every day."
---
Woodrow Baseball Hall to Induct 10
This article appeared in the Register-Herald on Jan. 31, 2002.
By GARY FAUBER
One of the area's baseball aficionados, Mark Daniel felt it was time Woodrow Wilson's greats in the sport be recognized.
What better time to do so than in front of a capacity crowd during halftime of a Flying Eagle basketball game?
For the second year in a row, the school's baseball Hall of Fame will hold an induction ceremony at the Raleigh County Armory. It will happen tonight, after the second quarter of the Eagles' matchup with northern rival Wheeling Park.
"We call it the Leadoff Banquet," Daniel, Woodrow's third-year baseball coach, said. "We expect 55-60 people just at the dinner."
That will take place in the armory's West Virginia room beginning at 5:30 p.m.
Ten new inductees will be presented with plaques. Daniel said the committee concentrated on the 1960s in considering the class.
"Next year we will get into the 1940s and 50s, and try to get up-to-date with the 90s," Daniel said.
Here is a list of tonight's honorees, in alphabetical order:
Dave Barksdale, class of 1962. Known for his success as coach of the basketball team, Barksdale was captain of the 1962 team. In '61, he hit a grand slam to win the regional championship.
Don "Duck" Belcher, class of 1965. A left-handed pitcher/first baseman, Belcher had a brief career in the Pittsburgh Pirates' minor league system.
Danny Ellison, class of 1961. Ellison played only one year, but he was considered the "best glove man in the area," as Daniel has been told.
Pat Estes, class of 1987. One of the more consistent players in Woodrow's history. He hit .474 in both his junior and senior seasons. His career average? .474. He also had 11 career homers and 56 RBIs.
Ronnie Fama, class of 1980. Fama is No. 2 all-time at Woodrow in innings pitched in a season with 81. He had 99 strikeouts that season, and is second in career strikeouts with 170. He also played at NCAA Division III power Marietta (Ohio) College, and played in a College World Series.
Pat Fragile, class of 1962. Now widely known as one of the area's most recognizable officials, Fragile was largely responsible for getting coach Preach Wiseman to reinstate the baseball program in 1961. It had been halted since 1953.
Charlie Gillian, class of 1992. Gillian is the school's career strikeouts leader with 2-5. He was a freshman All-American at Virginia Tech, where he once led the country in saves. He played three years in the Minnesota Twins' minor league organization.
Buddy Hutchens, class of 1964. Hutches also turned pro, playing minor league ball for the Cleveland Indians.
Fred Lewis, class of 1965. Obviously an intelligent player, Lewis is now a Supreme Court judge in Florida. He played both baseball and basketball at Florida Southern College.
Steve Lickliter, class of 1968. Lickliter may be the best all-around athlete ever to come out of Woodrow. He was a four-sport letterman at Morris Harvey College, now the University of Charleston. That school inducted Lickliter into its Hall of Fame two years ago. Lickliter is now pro bowler, competing on the Senior PBA circuit.
Also at halftime, Brandon Gravely and Jon Sullivan will be honored for begin named first-team all-staters last season. Gravely, a Delaware State signee, is a senior and will be a top player of the year candidate this spring. Sullivan is now a second baseman at Potomac State College.
---
Parham, Others Named to Woodrow Sports Hall of Fame
This article appeared in the Register-Herald on Feb. 24, 2002.
By DAN STILWELL
Register-Herald Sports Writer
It was just like old times for Tom Parham.
The longtime Woodrow Wilson baseball coach, now retired, was reunited with several of his former players Friday night during induction ceremonies for the school's Sports Hall of Fame.
Parham, who coached the Flying Eagles from 1975 to 2000, was inducted along with Larry Hickman, Chuck Tate, Andy Wakefield, Larry Maiolo and Beckley Industrial League pioneer Bob Cernuto.
"We had some great teams," Parham said. "We never won the championship, but we were there a few times."
Woodrow finished state runner-up twice under Parham. His squads won 243 games (with a .590 winning percentage), 10 sectional titles and four regional crowns.
Current Flying Eagles coach Mark Daniel orchestrated the Hall of Fame ceremony, which was held at halftime of the Woodrow-Parkersburg South basketball game.
"This was the first (induction) class for baseball in the Hall of Fame," Daniel said. "It's long overdue."
Wakefield, "Bam-Bam" to his friends, traveled from Healdsburg, Calif., (an hour from San Francisco) for the event. He played catcher and first base for the Flying Eagles in 1976-78, batting .690 his junior year and .560 his senior season.
"I've got so many memories. We were a close-knit group, and coach Parham was a straight-forward, hard-working coach," he said. "We all respected him."
Wakefield holds the Woodrow records for slugging percentage with 1.410, on-base percentage with .610, and is tied for home runs with 19. He hit 13 round-trippers in 1977 despite playing in just 15 games and finished his career with a .500 batting average.
"He knocked the cover off the ball," Parham said.
Hickman, who played in 1986-88, earned all-state recognition and still holds the school record for career hits with 105 and doubles with 20. He was second in RBIs with 68 and had a career batting average of .432.
"Larry was one of the best shortstops you'd ever see," Parham said.
Maiolo (1976-78) is the all-time leader in mound victories with 18 and is first in career earned run average (1.85) despite pitching in just 18 games.
During the 1977 season he fired a no-hitter in the state tournament, only to lose in eight innings.
"Larry was an all-state wrestler, and when he came up for baseball he was underweight. His eyeballs were recessed in his head!" Parham said with a grin. "But he went on to become one of our premiere pitchers and an all-stater."
Chuck Tate (1982-83) holds the single-season home run record with 14 and is tied with Winkfield for career four-baggers (19). He batted .435 and had 73 RBIs.
"I'm really proud of these guys," Parham said.
Cernuto played baseball for Woodrow in 1945-47 and started Industrial League baseball in the area in 1954. He ran the league for 45 years and played on the West Virginia Glass team until he was in his 50s.
"There were 12 teams, with two divisions, that went from War to Summersville," Daniel said. "Bob organized it and funded several teams."
He added there will be more inductees each year.
"We've got a committee, and we're trying to go back to 1941," he said. "We'll try to honor as many as we can."
---
Four to be inducted into Woodrow hoops hall
This article appeared in the Register-Herald on Jan. 12, 2006.
By RANDALL JETT
Woodrow Wilson will add four inductees to its Basketball Hall of Fame tonight at the Raleigh County Armory.
Former assistant coach Butch Freeman, former players Robert Walton and Brian Nabors, and the late radio announcer Gene Morehouse will be honored at halftime of the boys' game with Cabell Midland, which tips off at 7:30 p.m.
Freeman was on the bench for the Flying Eagles for 20 years. During that time, he touched a lot of young players' lives.
"I always tried to encourage each and every player," he said. "I always felt that was number one, always trying to help each one improve and be a better player."
He spent 17 years assisting former coach Dave Barksdale and served under Gary Nichols for three seasons before that.
"You couldn't ask for a better coach, a better man and a better friend for me than coach Freeman was," Barksdale said.
"He was a tremendous coach. Those are the great qualities, and you put dedication, not only to the basketball program but to Woodrow Wilson High School, in there and he certainly deserves to be in the hall of fame. He's just quite a person. He was very instrumental in our basketball program all 17 years."
On the court, Freeman worked with the big men inside during practice.
"I was mainly the post player coach," he said. "We worked on their moves, things to do to try to score and get the ball and rebounding and things of that nature. We worked a lot on defense, especially on the inside."
Freeman started as a junior varsity coach and assisted with the varsity before moving up to full-time assistant varsity coach with Barksdale. The duo left the bench at Woodrow together after the 2000 season.
Freeman taught for three more years and was the Eagles' assistant golf coach before retiring in 2003.
The former assistant said his time at Woodrow Wilson was an interesting period in Eagles' basketball history.
"We had a lot of really good players, a lot of good kids to work with," he said. "That made it a joy. Working with someone with the knowledge and the class of a Dave Barksdale was a real pleasure. We had some other good assistant coaches that worked with us over the years — Ron Kidd and Bob Bolen, just to name a couple."
Before coming to Woodrow, Freeman was on the coaching staff at Independence High School when it was first formed in the consolidation of Stoco and Sophia. He also started the prep golf program at Independence.
Nabors was a member of two championship teams ('90, '92) and one state runner-up ('91) during his career at Woodrow. He is the career assists leader for the Eagles.
"His leadership abilities were there, even as young as a sophomore," Barksdale said. "(Nabors) always had a lot of leadership ability, which you have to have as a point guard."
He was a captain of the 1992 Class AAA championship team and was named to the all-tournament team that season.
Nabors went on to play at the University of Charleston, where he captained the basketball team as an underclassman.
Walton played for the Flying Eagles in the mid '70s. He was a member of the 1975 squad that advanced to the state semifinals and was an all-tournament selection that year.
During his Woodrow career, Walton averaged 17 points and 14 rebounds per game. He is the uncle of current Eagle Mario Walton.
Morehouse was a longtime radio announcer of Eagle games for WJLS. He was the voice of Woodrow for almost 20 years throughout the 1950s and '60s and worked the state basketball tournament with Jack Fleming for many years.
Morehouse had his career cut tragically short in 1970 when he died in the Marshall plane crash.
---
The list below is incomplete, as new inductees have been added since this list was obtained. According to an email I received, Robert L. Long Sr. (class of '31 or '32) was inducted in the late 1990s. Please report any errors or omissions via email.
---
--1958--
Fred Hurt 1930
Chester Lynch 1923
C. J. McQuade 1924
Tom Covey 1930
Paul Malone 1928
John Calloway 1934
Raney Broyles 1949
Stan Huffman 1938
Nick Rahall 1949
Nelson Bragg 1934
Don Hudson 1949
Frank Huffman 1934
C. E. "Red" Underwood 1933
Sam Tucker 1931

--1959--
John O. Smith 1939
Jim Kuhn 1939
Vic Peelish 1939
Raymond Bair 1921
John Douglas 1936
Andrew Bailey 1923
Harold Woodell 1947
Paul Adamos 1937
Clyde Underwood 1936

--1960--
Harry Roberts 1922
Walter Rappold Sr. 1928
Benson Lewis 1929
George Davis 1940
Bill Sigmund 1948
Bill Collier 1953
Jesse Hanson 1939
Leo Vecellio 1933
Augie Hovanski 1947

--1961--
Eldridge Hedrich 1923
Howard Griffith 1930
W. Bull Warden 1929
Charles Johnson 1949
David Romine 1937
Joe Davies 1939

--1962--
Cecil Lacy 1934
Robert Douglas 1939
Fred Salem 1929
Dwayne Wingler 1954
Tillman Galluccio 1958
Lloyd Shutko 1958
Griffith Lynch 1924

--1963--
Howard Hurt 1956
Jim Turner 1949
Everett Keyser 1923
Steve Ulaki 1944
Robert Turner 1932
William Barrett 1939
Pat O'Leary 1936
Orice Lilly 1933

--1964--
Dr. C. A. Smith 1924
Cameron Roberts 1927
Pete George 1927
Danny Williams 1957
Nick Joe Rahall 1931
Walter Rappold Jr. 1957

--1965--
Ted Cook 1939
Carl Neff 1932
Dick Davis 1948
Jack Davis 1949
William McQueen 1952
Hulett Smith 1934

--1966--
Bob Davis 1952
Bob Lively 1932
Zernie Wickline 1948
Robert Young 1957
Bob Crews 1952
Bill Chandler 1948
Jim Pickney 1923

--1967--
Lewis Webb 1952
Lester Willis 1929
Bob Goldsmith 1945
Frank Rodriquez 1947
Ned Quinn 1930
Joe Kosco 1949
Clyde Knighton 1934
Charles Stansbury 1936

--1968--
H. Ustus Taylor 1934
Pack Hindsley 1961
Don Warden 1953
John Waid 1952

--1969--
Bill Karbonit 1962
David Lynn 1949

--1970--
Lunda Sarrett 1930
Ben Carbo 1940
Norman Southern 1955
Bill Turner 1952
Russell Walls 1960
Gene Warden 1930
George Grisinger 1931

--1971--
Jimmy Ford 1965
Nick Bakalis 1946
Rudd Mahoney 1956
Pete Culicerto 1953
Harold Riffe 1944
Willard Webb 1933
Melvin Wood 1938
Robert Moore 1931

--1972--
J. D. Kidd 1950
Robert Saks 1942
John Thackston 1955
Jack Pack 1954

--1973--
Delbert Thurman 1940
Joe Coute 1950
Bob Bruce 1953
Fred Lewis 1965
Robert Gardner 1955
Robert Pruitt 1961

--1974--
Lance Powers 1942
Bill Beubeck 1936
Jim Page 1942
Charles Smith 1946
Tom Phillips 1964
Henry Dickerson 1969
James Starr 1956

--1975--
William Stone 1965
James Ritter 1956
Bill Gurack 1955
Phil Fisher 1954

--1976--
W. W. Vines 1930
Randy Fink 1946
Walter Groseclose 1954
Julian Trial 1955
Elbert Smith 1966
Thomas Coleman 1968

--1977--
Jim Eskins 1954
Rudy Coleman 1964
Ray Vest 1958
Carl Smith 1930
Bob Daniels 1950
Joe Ciatto 1951
Paul Brown 1945
Scott Hindsley 1967
David Allen 1970
Tim Daniel 1972
Bruce McDaniel 1972
Winston Woodson 1972
Doug Lewis 1957
Miller Hall 1971

--1978--
Wallace Brubeck 1936
Jose Rodriguez 1972
Charles Munson 1963
Larry Cole 1957
John Peery 1952
Larry Powers 1954
Tyrone White 1964
Mike Lester 1973
Charles Gilliam 1973

--1979--
Wiley Bolen 1922
Joe Farris 1931
John Coleman Cook 1934
Bernard Menghetti 1954
Bill Hill 1955
David Thomas 1971
Roosevelt Neal 1971
Mathew "Chip" Keatley 1974
Paul Wheeler 1974
Joe Saunders 1974
Richard Phillips 1974
Doug Lough 1974
Eddie Culicerto 1974

--1980--
Bob Johnson 1944
Gordon Grissinger 1935
Arnold Yost 1941
Willie Highland 1958
Michael George 1967
Lawrence Hamilton 1975
Mike Hamrick 1975

--1981--
Dave McGlothlin 1976
John Hairston 1976
John Marks 1953
Manuel Rodriguez 1976
Oliver Bradley 1974

--1982--
Wayne Tucker 1958
John Fitzpatrick 1938
Mike Evans 1977
Mike Lewis 1976
Mike Seelinger 1949
Bill Edmonds 1953
John Beasley 1975
Mike Misiti 1975
Patrick Gillian 1977
Norvel Woodson 1976

--1983--
Rob Anderson 1978
Jesse Bandy 1978
Mark Stafford 1978
Andy Wakefield 1978
Kevin Radford 1978
Laslie Lilly 1932
Buddy Hutchens 1964
Roger Robinson 1977
Hubert L. Jackson 1932

--1984--
Donald Burton 1971
Willard Jennings 1971
Anthony Pachuta 1979
Phil Culicerto 1979
Mike Ross 1979
Randy Glen 1979
Don Parker 1969

--1985--
Charles Honaker 1973
Sam Monroe 1973
Jim Spreaker 1974
Randy Lilly 1975
Scott Morris 1976
Kenny Washington 1978
Sam McDaniel 1979
Danny Culicerto 1980
James Mickey 1980

--1986--
Earley Wiley 1933
Orford Thompson 1933
Mike Peelish 1944
Mike Tachak 1952
Andy Earehart 1958
Danny Atkinson 1971
James Riffe 1972
Doug Korczyk 1974
Murrey Loflin 1974
Frank Hartenstein 1976
Mike Radford 1981
Marty Stafford 1981

--1987--
Joey Culicerto 1982
Warren Entsminger 1978
Rod Fama 1980
Jack Marshall 1977
Richard McGraw 1977
Kyle Phipps 1961
Tom Phillips 1964
Vernin Knight 1982
Harold Harriston 1982

--1988--
John Chappell 1983
J. D. Goss 1982
Richard "Rusty" Rappold 1967
Paul Sanna 1947
William Simmons 1977
Dale Stafford 1983
Charlie Toney 1970

--1989--
Jack Turner 1944
Bill Cadle 1944
Earl Hilbert 1945
Jim Orren 1946
Jim Lamb 1964
Lloyd Lyons 1964
Steve Wood 1965
Steve Hatcher 1978
John Wheeler 1982
David Houck 1983
Tony Chappel 1984
Danny Goss 1984
Steve Thompson 1984

--1990--
Robert Culicerto 1985
Willie Robinson 1985
Chris Miller 1984
Bill Lane 1949
Charley Farley 1951

--1991--
Donald Parker 1986
Brian Friley 1986
Dr. Paul Legg 1983
Gary Dorsey 1969
Ronald Bowling 1968

--1992--
Curtis Mills 1937
James Goss Sr. 1957
Mike Green 1985
Russell Manns 1982
Marvin Lawson 1985
Frank Cain 1950
Lewis Williams 1958
Terry Nicholes 1986

--1993--
John Wooton 1968
Jeff Huffman 1978
Robert Douglas Jr. 1964
Jon O'Dell 1987
Dennis Pryor 1968

--1994--
Dallas Bandy 1976
Tommy Moore 1989
Charlie Hill 1981

--1995--
Paul Gregiel 1957
Bane Sarrett 1962
Steve Kelly 1983
Aaron Morton 1981
Dallas Cooper 1986

--1996--
Lee Fuqua 1959
Dwight Riggi 1967
David Alexander 1982
Doug Wright 1982
Chris Grose 1991
Fred Hill 1991

--1997--
--1998--
Jon True
Jason Cempella
James Cantley
Michael Prunesti
McCray Pennington
Gene Morehouse

--1999--
James Mahan 1994
Ricky Law 1993
David Earehart 1968
Richard Cooper 1966
Robert Short 1965

--2000--
Brian Denny
Mike Guilliams
Tony Jones
Chad "Street" Sarrett
Tom Wooton

--Honorary Members--
C. G. Peregory
Jerome Van Meter
Lawrence Wiseman
George Springer
Dr. Wade Rardin
Ross Irle
Kenneth Wheeler
Glen Sallack
Ross Hutchens
Joel Hicks
J. Murray Jeffries Sr.
Ken C. Hunt
Roy Harmon
Earl Riner
Tom Elkin
Dave Stafford
Dr. Walter Klingensmith