HERBERT LEWIS KISER
AN AMERICAN LIFE WELL LIVED
By JAMES A. HATCHER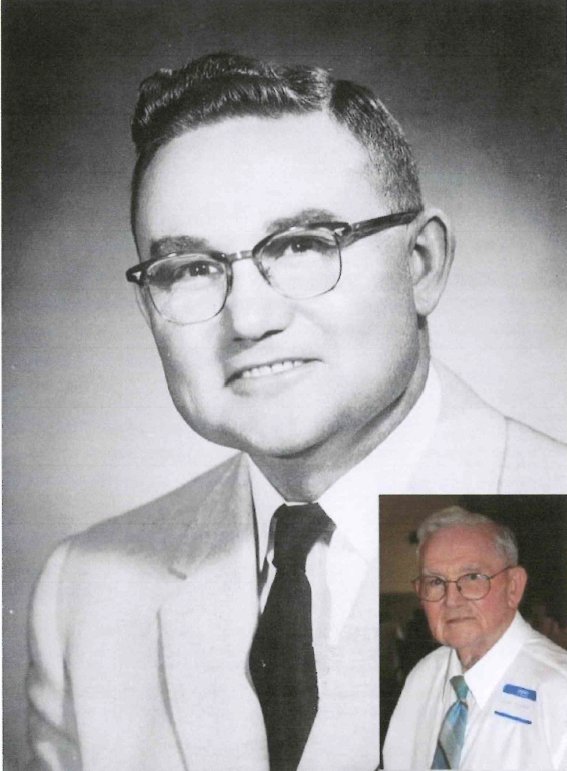 Photo credits: The black and white photo portrait of Herb appears in the Woodrow Wilson High School (Beckley, West Virginia) Class of 1959 year book – The ECHO. The candid color photo portrait was taken at Herb's 90th Birthday celebration and is furnished by Judith M. Hatcher of Camden, South Carolina
By James A. Hatcher
A Student of HLK
Copyright 2013
James A. Hatcher
Camden, South Carolina
To Herbert Lewis Kiser –
one person, important to and admired by many.
If we view the year 1922 from the perspective of world history, a subject Herbert Lewis Kiser taught thousands of students, we would find Warren G. Harding serving as 29th President of the United States. During the course of the year President Harding introduced the radio into the White House in Washington, D.C., the United States Supreme Court upheld the legitimacy of the Nineteenth Amendment to the Constitution of the United States awarding women the right to vote, the United States Navy entered a new era when a former coaler had a flight deck installed on it and was commissioned U.S.S. Langley, first U.S. aircraft carrier, Jimmy Doolittle flew from coast to coast in less than one day making but one stop (Kelly Field, Texas) between take off in Pueblo Beach, Florida and landing in San Diego, California, the Lincoln Memorial was dedicated in Washington, D.C., leases for the Tea Pot Dome oil reserves in Wyoming were let by the United States Secretary of the Interior, construction of Yankee Stadium began in the Bronx, the State of Massachusetts opened all state offices to women and Rebecca Felton of Georgia took the oath of office, becoming the first female United States Senator.
George V was King of the United Kingdom of Great Britain and Ireland at the beginning of 1922. During the course of the year independence in name if not in deed was granted Egypt and the entire island of Ireland effectively seceded from the United Kingdom of Great Britain and Ireland forming a new dominion, the Irish Free State. The next day, County Antrim and County Down seceded from the Irish Free State and established the Parliament of Northern Ireland. These events relegated George V to being King of the United Kingdom and Northern Ireland.
Benito Mussolini marched into Rome, Italy with tens of thousands of Fascist supporters. Premier Facta requested the implementation of martial law, but King Emmanuel refused to sign the decree. Premier Facta resigned and King Emmanuel appointed Mussolini to be the new Prime Minister, giving him dictatorial powers in an effort to restore order.
In Germany, ancestral home of the Kiser name the Weimar Republic was struggling with severe economic problems, labor unrest and political fragmentation during its third year of imposed post World War I representative government. Desperate German banks were issuing bonds at unrealistic interest rates and Wall Street banks were pouring money into those bonds in an attempt to take advantage of the Germans. The German people resented their government favoring the king who had been deposed in order to gain peace.
It is against this backdrop that Herbert Lewis Kiser was born on September 28, 1922 in Charleston, West Virginia. "Herb" as he would become affectionately known to friends and family was the fourth son and fifth child of Robert Lewis Kiser and Lily Margaret Simerly-Kiser. A sixth child, daughter Ruth would follow.
Robert Lewis Kiser was a veteran of the United States Army during World War I. He held a life time certificate as a teacher but turned down a position that offered $35 per month (covering six months out of a year) to accept year around employment at Kelly's Ax Factory. When that business closed, Robert Lewis Kiser provided for his family by working in the West Virginia coal mines and farming. Lily Margaret Simerly-Kiser never sought employment outside of her home that included in order of birth: Sterling Counts Kiser, Loomis Abram Kiser, Anthia Easter Kiser, Virgil Valentine Kiser, Herb and Ruth Kiser, the youngest child.
While growing up, Herb was active and curious. He might be described as a live wire - complete with growing pains. Those growing pains include a broken collarbone resulting from being dropped by his older sister, a broken collarbone while watching older boys playing baseball and coming too close to the batter who accidentally struck Herb, a third broke collarbone while hitting it on a rock during a wrestling match and a fourth broke collarbone while playing football. Same collarbone all four times. At the age of six years, he heard his older brothers talking about your tongue sticking to something cold so he tested the theory by going outside on a cold winter day and sticking his tongue to an axe. The theory worked and his tongue stuck!
Herb first attended school in Charleston, transferred to Bradley Elementary School in Raleigh County, and then to North Sand Branch Elementary School. His early school memories include walking to school with his cousin Beaulah Burdette. Elementary school was followed by attending Woodrow Wilson High School (WWHS) in Beckley, West Virginia.
Student Kiser's favorite subject throughout his school years was history. He liked all of his teachers but has special memories of WWHS teachers Miss Jean Porter (English) and Miss Eva Keyser (Social Studies). During his high school experience Herb's favorite extracurricular activity was the track team. Taking his next step in the process we call life, Herbert Lewis Kiser graduated from Woodrow Wilson High School on June 11, 1941.
High school studies complete, Herb contemplated adulthood while working part time at the Great Atlantic and Pacific Tea Company (A&P) store on Prince Street in downtown Beckley (referred to as uptown by locals). This was the position in life Herb found himself on December 7, 1941. While sitting in a movie theater he learned that the Japanese had attacked United States military installations located at Pearl Harbor, Hawaii. The attack on the United States surprised young Herb as it did most Americans. It also changed the course his life would take.
Answering his country's call to arms Herb raised his right hand on December 15, 1942 and swore an oath to defend the United States of America against all foes, foreign and domestic. Then he departed Beckley, West Virginia for Parris Island, South Carolina as Pvt. Herbert L. Kiser, U.S.M.C. In his new position anything he wore on his head would be called a cover, anything beneath his feet would be called a deck, stairs were ladders and candy, soft drinks along with all other snack foods, when allowed and where available, were known as pogey bait. Recruit training as vigorous and accelerated in 1942-43 as the entire 12 week program was compressed into only 8 weeks.
Upon graduation from recruit training (commonly referred to as boot camp) Herb was sent to Portsmouth, Virginia for guard duty where he was promoted to the rank of Private First Class (PFC). Portsmouth was followed by two weeks Advanced Infantry Training (AIT) at Camp Lejeune, North Carolina.
Marksmanship is said to be the Holy Grail of the United States Marine Corps and when Herb qualified with the M-1 Garand rifle he came within four points of tying the U.S.M.C. record. This achievement is all the more impressive in that the M-1 was a new weapon to the Marine Corps at the time. Although the United States Army down through stateside reserve units and National Guard had received and trained with M-1s, they were not issued to the Marine Corps until after the Battle of Guadalcanal had been won with Springfield rifles left over from World War I.
PFC Herbert L. Kiser's next assignment was Company A, 1st Battalion, 25th Marine Regiment (generally referred to as the 25th Marines). The 25th Marines were activated at Camp Lejeune in May 1943. During the organization process, the executive officer of Company A sought out Herb with a proposition. The exec told Pvt. Kiser that there was only one volunteer position in the entire company, personal runner to the company commander. The runner's primary responsibility would be to carry messages from the company commander to various recipients. The runner would double as the company commander's foremost communication link on the battlefield. According to the exec, the company commander was looking for the most reliable Marine he could find to fill this slot. When the exec offered the position to Herb, he felt it an honor to be selected from the 200 odd Marines who formed Company A and he accepted. His track training in high school would be put to good use as a Marine.
The 25th Marines, known as the Cold Steel Warriors, were subsequently transferred to Camp Pendleton, California where they joined the 23rd Marine Regiment (infantry), 24 Marine Regiment (infantry), 14th Marine Regiment (artillery) and the 20th Marine Regiment (engineers) to form the 4th Marine Division on August 14, 1943 - Major General Harry Schmidt, commanding.
Following five months of intensive training at Camp Pendleton, the 25th Marines and the other elements of the 4th Marine Division shipped out for the Pacific Theater on January 13, 1944. Where earlier Marines stopped in Australia or New Zealand for training exercises before being introduced to combat, the 25th Marines did not receive such luxury. They went directly into combat in with the invasion of Kwajalein Atoll on January 31, 1944. PFC Herb Kiser was kept quite busy during this phase of his life making history his future students would study.
The Kwajalein operation lasted only a few days. The island was declared secure on February 7, 1944. This was the shortest invasion/conquest by American forces since the attack on Pearl Harbor. However short, the Kwajalein operation gave the 25th Marines their first experience in combat and their first taste of success.
On his last night on Kwajalein, Herb received a visit from his older brother Virgil. Virgil Valentine Kiser had graduated from Woodrow Wilson High School with the Class of 1938 and had put his education at Beckley College (Beckley, West Virginia) on hold to answer his country's call to arms when he joined the Marines in November 1942. By being approximately one month from each other during the training phase of their enlistments, Virgil and Herb had been able to keep close tabs on each other up to this point. Virgil had made the Kwajalein invasion with Company F, 2nd Battalion, 24th Marines. Following the fighting on Kwajalein, Virgil's camp was within walking distance of Herb's camp.
During this visit, Virgil confided in Herb that he felt something bad was in store on the next operation. Virgil did not know if he would be killed or wounded and if wounded, whether it would be a severe wound or a minor wound, but his premonition was that something bad awaited him. Up to this point, when the Kiser brothers had parted following their visits, they had shook hands. When they parted on that last night on Kwajalein, Virgil reached out and hugged Herb. Then he went back to his 24th Marines encampment.
That next operation turned out to be the Invasion of Saipan. It occurred on June 15, 1944. Morning activities on the troop carriers anchored off Saipan started at 0430 hours (4:30 AM) when early reveille sounded. Out of their bunks the 25th Marines grabbed a quick shower, dressed and headed for the mess hall to eat a traditional combat breakfast of steak and eggs. Back in their berthing area, the Marines dawned and checked their gear, checked their buddy's gear, had the buddy check their gear, assembled and boarded their designated amphibian tractors. Inside the landing craft they checked their gear one more time, checked their buddy's gear and had the buddy check their gear in turn. The amphibian tractors departed the troop carriers (LSTs), circled until all landing craft participating in the first wave were present, formed a straight line and at 0700 hours (7:00 AM) headed for the beach. The invasion of Saipan was beginning in earnest and the Cold Steel Warriors were committed to their second campaign in less than five months.
Weeks of aerial bombardment and two days of warship bombardment of Saipan had preceded the landing, but the 29,000 Japanese troops who had been estimated at 19,000 by American intelligence were not effectively diminished by the pre invasion firepower. The United States Marines arrival on the southwest coast of the island was hotly contested and counterattacked.
Herb had made it off the beach and his company commander dispatched him to inform another Marine unit that their position was about to come under attack by Japanese artillery. He found a sergeant major in charge at his destination and delivered the message. The sergeant major began to withdraw the Marines from their position and Herb started back for his company command post. Hearing pop, pop, pop and bullets breaking air around him, Herb quickly realized that someone was shooting at him and hit the deck (ground). When he got oriented to the situation he saw that he was under fire from not one but two Japanese soldiers. Firing his M-1 Garand from the prone position, the young Marine eliminated both targets.
Back on his feet, Herb continued running toward his company command post. He heard an incoming mortar shell and dived for the deck but the explosion caught him mid-air. His left elbow was shattered and filled with shrapnel, his left jaw was broken and the shrapnel had penetrated the left side of his face and other parts of his body.
When Herb finally got back to the company command post, he learned that his company commander had been killed during his absence. Herb was evacuated to the beach and then out to a troop ship in the harbor for initial medical assessment. The next morning, a wounded Marine from the 24th Marines who had been serving with Virgil Kiser recognized Herb and informed him that his brother had been killed during the night.
We can learn by studying the Invasion of Saipan that the battle would rage until July 9, 1944. (Actually, one small band of Japanese soldiers held out until December.) Japanese casualties are hard to calculate because they include Japanese civilians living on the island but total Japanese deaths are generally estimated at 30,000. Of the 71,000 invading American troops (Army and Marine) 2,949 were killed in action and 10,464 were wounded. Virgil's name would be forever listed among the killed in action and Herb's name would be forever listed among the combat wounded.
Herb was transferred from the troop ship to a U.S. Navy hospital ship when one became available, bound for Hawaii. The trip and treatments lasted four weeks. The only good part of this story, other than the fact that his life had been spared is that the then new wonder drug penicillin saved his arm. Herb's combat days were behind him.
Following hospitalization in Hawaii, another Navy ship brought Herb home to the United States. He received his discharge from the United States Marine Corps at Quantico, Virginia on November 15, 1945 with the rank of Private First Class. His decorations and campaign medals included the Purple Heart reserved by a grateful nation for its combat wounded.
During his time in military service Herbert Kiser determined that he would pursue the teaching profession. His father was a college graduate who held a lifetime teaching certificate he never used and always regretted earning but never putting his teaching credentials to use. Herb was determined to complete that pursuit.
Where his father provided the goal, Herb's military service provided the financial means to pursue the education requirement necessary to achieving his goal. Herb Kiser was one of millions of American military veterans who attended college under the G.I. Bill of Rights. The stipend did not provide for a luxurious life at college. However, it provided an education to those who could sustain themselves on a limited budget. No greater investment in its citizens has ever been accomplished by the government of the United States of America.
Herb chose to attend Concord College in Athens, West Virginia, a teaching institution. On the road to receiving his bachelor's degree and his teaching certification he accomplished his student teaching assignment at Athens High School.
During the course of his studies at Concord, a chance encounter took place. During an evening session at the college library, Herb saw pretty Peggy June Thompson of East Gulf, West Virginia meeting with a friend to get help with a math problem. Herb entered the conversation and offered to help with the solution to the math problem. He walked June home at the end of the session. This led to a date. The date led to courtship. After 15 months of courtship the happy couple visited a minister's home at Sprague, West Virginia and left that residence as man and wife. Obviously, June was keeping Herb around for abilities other than being a mathematics tutor. He still has not solved that math problem.
Peggy June Thompson was born at East Gulf, West Virginia a daughter of George Elliott and Sarah Catherine Curry-Thompson on December 2, 1926. Her father was a coal miner and Church of God minister. She graduated from Trap Hill High School in Raleigh County. Peggy June enjoyed school and liked to help others learn. These interests led her to pursue a teaching degree at Concord College for much the same reasons that Herb was pursuing his, to be of service to others. June, as she is generally known to her friends received a Bachelor of Arts degree at Concord during the summer of 1949 and later earned a Master of Arts degree in Media at the University of South Florida in Tampa.
Teaching degree and credentials in hand, Herb accepted employment at Clear Fork High School in the fall of 1948. While there, he taught English, history and journalism. Herb sponsored publication of a school newspaper and the yearbook. During his last three years at Clear Fork he directed the senior class play, organized the first College Day, served as Senior Class Advisor and took the seniors of the class of 1953 to Washington, D.C. by train. The trip lasted three days. Several students had never been that far from home before. Each year he continued to teach it became clearer that Herb had found his calling in life.
In 1954, Herbert Kiser returned to his alma mater (Woodrow Wilson High School) as an educator. From this point through the 1962 school year, Herb taught world history and journalism. Additionally he sponsored the Hi-Y Club and published the school newspaper (Eagle Dispatch). One of his students wrote an article in the Eagle Dispatch that won a 1st place national award.
In the classroom Herb came across to his students utilizing wisdom, sense of purpose and humor. Where wisdom was concerned and remembering that the 1950s and 1960s were filled with the red scare of Communist domination, Herb told his students that if the United States would avoid war with the Soviet Union long enough, the Soviet Union would collapse under its own weight resulting in an American victory won by intellect and not armed conflict. During the 1980s, the Union of Soviet Socialist Republics imploded under its own weight and went out of existence.
Herb provided sense of purpose to his history students by introducing participants and historical events and then weaving those participants and events into a story. When he finished the story, he would identify the successes and failures of those participants along with the events in question and how the results affected the world his students were living in. Thus, history became an important sequence of stories and not just a list of characters and dates.
Herb was a constant source of funny stories. The man could have become a standup comic if he had wanted. One story that comes to mind is his two chances story. A man gets his draft notice during the period in time when our military services filled their ranks by conscription.
At this point, the man has two chances: either he will be inducted into the Army or he will not be forced to serve.
If the man forced to serve in the Army he has two chances: either he will be sent into combat or he will not see combat.
If the man goes into combat, he has two chances: either he will make it through or he will be killed in action.
If he is killed in combat, he still has two chances.
Herb Kiser's class was never a waste of time. He met all students on their own level, making them believe that their challenges and accomplishments were as important as those of the adults around them.
Another fateful day in Herb Kiser's long life was September 1, 1956. That is the day daughter Stephanie Lynne joined the family. Lynne, as she is generally called by friends and family, would be the final addition to the Kiser household. With both a mother and a father who taught school, forgetting to do her homework would never be an option for Lynne. Neither would the old story about the family dog eating her homework.
By the age of 40 Herb developed painful back problems which drove him from the classroom. Even with two incomes within the household, teaching had not afforded an address on Easy Street so Herb had supplemented his and June's combined income as a part-time insurance agent. In order to ease his physical strain he left teaching and opened an Allstate Insurance office on Main Street in Beckley providing life, automobile and home owner's policies to the general public. Again, Herbert Lewis Kiser proved he would be successful at whatever endeavor he followed in life. Although his insurance agency provided greater financial reward than teaching, it did not provide the personal satisfaction he had experienced in education. Herb found a solution to this dilemma when he accepted employment as school principal at Richmond District High School (Raleigh County) in 1967.
During the late 1950s and early 1960s the Kiser family decided they would rather dream of a white Christmas than to dig out from under one on the hillsides of Beckley. So they started going down to Melbourne, Florida to visit June's sister Kathleen and her family during the holiday season. In December 1967, Herb, June and daughter Stephanie Lynne traded their West Virginia snow shovel for Florida designer sunglasses and made their move south. Melbourne would become home.
Upon arriving in Florida, Herb accepted a position teaching history at DeLaura Junior High School. The next year, he started the school's first yearbook. A counseling position opened up and Herb took it. This led Herb to enroll at Stetson University in Deland, Florida where he added counseling degree to his list of credentials. In January of 1981 he transferred to Sea Park Elementary School. He remained at Sea Park as a guidance counselor.
Herb Kiser turned the next page in his life's story when he retired from the education force in January 1988. Retirement brought more activity than it brought sedentary idleness when Herb took on his granddaughter Sarah's daycare. Two years old at the time, Sarah quickly became "Grand Daddy's Girl." Together they spent their mornings eating breakfast at McDonalds and bird watching. They shopped for groceries Sarah insisted her parents needed but which never found their way to Sarah's parents' home. At the end of "Meme's" day, Herb and Sarah would be on hand to pick June up at the DeLaura/Satellite Media Center. When her brother Sam was born, Sarah quickly took him under her wing.
June would follow Herb into retirement in May of 1990 upon completing 43 years in public education. Beginning in 1947, she had taught 1st and 2nd grades, 7th grade English, high school English, mathematics at both junior high and high school levels and had served one junior high school and one high school as librarian.
During their retirement years Herb and June have found time to share during two trips to England, Ireland, Scotland and Wales, two trips to Canada, two trips to Hawaii, two trips to the Bahamas, two trips to Branson, Missouri, three trips to West Virginia, along with outings to Australia, New Zealand, Hot Springs, Arkansas, Dollywood, Tennessee, Washington, D.C. and lots more! They enjoy timeshares at Sebastian, Florida and Williamsburg, Virginia.
Daughter Stephanie Lynne followed her educator parents into public education. She received a Bachelor of Arts degree in Elementary Education in 1978 at Stetson University in Deland, Florida and a Master's Degree in Administration and Supervision at Nova University in West Palm Beach. At the time of this writing, she is teaching 3rd grade at Sea Park Elementary School, one of two schools she has taught in where her father preceded her. Lynne is married to Ron Dedmon, a teacher and public schools administrator, currently serving as principal of an elementary school in Brevard County, Florida.
Granddaughter Sarah Dedmon followed her parents and grandparents into public education and is currently teaching first grade in Baltimore, Maryland. Robert Lewis Kiser's dream of educating America's youth is now being carried out in its fourth generation.
Grandson Sam Dedmon has completed two years college is a nationally certified EMT and finished training as a Paramedic in November 2012. He will began his next two years of college in January 2013 at the University of Central Florida in Orlando as a nursing major.
Of all of the guidance Herbert Lewis Kiser has passed on to his students over the years, he feels his most important words of wisdom are, "You can do anything you aspire to do! Work hard and never give up!"
When life's work is complete, a politician's legacy can be measured by the highest office achieved, laws enacted and monuments erected. A military officer's legacy can be measured by highest rank achieved and battles won or lost. An industrialist's legacy can be measured by products produced and the size of the business entity created. The educator's legacy is measured by the inspiration instilled in students, leading to their success in life, especially those inspired to follow into public education.
In turn, the inspiration that developed new educators produced the greatest single accomplishment in this nation's history – public education. Herb Kiser saw the importance of public education from the time he was a young man and spent his entire professional life contributing to that endeavor.
Herb's military service to our nation when he was young, years of service to our community through teaching and making countless contributions to the lives of those around him create a sterling example of an American life well lived.
---
APPENDIX
September 28 In History
September 28 is celebrated as the Feast Day of St. Mark
Said on September 28:
"I know no safe depository of the ultimate powers of the society but the people themselves;"
—Thomas Jefferson, 1820
Born on September 28:
1573. Michelangelo Merisi de Caravaggio in Caravaggio, Italy, Italian painter. Michelangelo was a creator of the Italian baroque style.
1834. Andrew Carr Cameron in Berwick on Tweed, England. Andrew Cameron became an American labor leader and founder of the National Labor Union.
1839. Francis Elizabeth Caroline Willard in Churchville, New York. Francis Willard is remembered as an American educator and reformer who served as president of the National Council of Women.
1841. Georges Clemenceau at Mouilleron en Pareds France. Georges Clemenceau became a French political leader who served as premier of France during World War I.
1909. Alfred Gerald Caplin in New Haven, Connecticut. Alfred Caplin became known to the world as Al Capp, American cartoonist who created the Li'l Abner comic strip.
1922. Herbert Lewis Kiser in Charleston, West Virginia, a son of Robert Lewis Kiser and Lily Margaret Simerly-Kiser. Herbert Kiser served during World War II as a United States Marine and thereafter became an American educator in West Virginia and Florida.
Obituaries for September 28:
1895. Louis Pasteur, a French chemist remembered as the founder of microbiology.
1938. Charles Edgar Duryea, an American industrialist who founded Duryea Motor Wagon Company in 1895.
1978. Pope John Paul I, on the 34th day of his reign. Pope John Paul was the first pope to choose a double name; also known as the smiling pope.
September 28, Shipwreck
1912. The Japanese steamer Kichemaru sank off the coast of Japan; 1,000 fatalities.
September 28, Air Disaster
1992. A Pakistan International Airlines Airbus 300 jetliner crashed at Katmandu, Nepal; 167 fatalities.
Additional significant events occurring on September 28:
1066. Invaders led by William of Normandy (to become known as William the Conqueror and also as William I) landed at Hastings, on the southern coast of England.
1542. Portuguese explorer Juan Rodriguez Cabrillo leading a Spanish naval expedition entered San Diego Bay in California. He named the bay San Miguel.
1704. The colonial assembly in Maryland enacted a law authorizing ministers to provide for separation of couples in certain circumstances.
1745. The first known public rendering of the British national anthem, God Save The Queen, took place at the Drury Lane Theater, London, England.
1781. American Revolution - American and French troops under the command of General George Washington began the siege of Yorktown, Virginia where British Army units commanded by Lord Cornwallis lay entrenched and fortified.
1787. The Continental Congress released the newly created Constitution of the United States to the individual states for ratification consideration.
1850. The United States Navy banned flogging as a form of punishment for its sailors.
1864. The International Workingmen's Association was founded in London, England by a group of English and French workers.
1874. United States Army cavalry under the command of Colonel Ranald S. Mackenzie attacked and burned five Indian villages of varying tribes in the Palo Duro Canyon, Texas panhandle.
1904. A woman was arrested for smoking a cigarette in an open automobile in New York City.
1920. Professional Baseball. - eight Chicago White Sox (American League) players were indicted on charges of having taken bribes to intentionally allow the Cincinnati Reds to win the 16th annual World Series; the team then became known as the Black Sox.
1924. Professional baseball - the Cincinnati Reds defeated the St. Louis Cardinals by a score of 8-2 in Cincinnati, Ohio. Rogers Hornsby of the Cardinals hit a double in two times at bat completing the season with a .424 batting average.
1930. Professional baseball - the New York Giants defeated the Philadelphia Phillies by a score of 7-6 at the Polo Grounds in New York City. Memphis Bill Terry of the Giants got no hits in five times at bat completing the season with a .401 batting average.
1937. President Franklin Delano Roosevelt dedicated the Bonneville Dam on the Columbia River in Oregon.
1941. Professional baseball. - the Boston Red Sox defeated the Philadelphia Athletics by a score of 7-1 in Philadelphia, Pennsylvania. Ted Williams of the Red Sox hit a double and a single in three times at bat completing the season with a .405 batting average.
1958. French voters approved return to a republican form of government by 79.2 percent of votes cast. The government calling for a president and parliament became France's Fifth Republic.
1961. The first telecast of the medical drama series Dr. Kildare was presented on the NBC television network.
2012. Herbert Lewis Kiser celebrated his 90th birthday in Melbourne Beach, Florida.
---
25th Marine Regiment History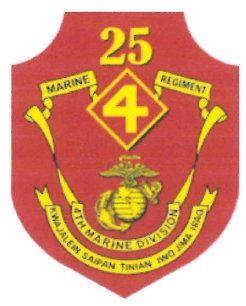 The 25th Regiment of Marines was activated in May 1943, at Camp Lejeune, North Carolina. The regiment was subsequently assigned to the 4th Marine Division at Camp Pendleton, California for service in World War II. Known throughout the Marine Corps as the Cold Steel Warriors, the 25th Marines along with other elements of the 4th Marine Division were the first to go directly into combat from deployment from the United States.
The 25th Marines participated in the invasions of Kwajalein, Saipan, Tinian and Iwo Jima (in that order) during 1944 and 1945, wining two Presidential Unit Citations for their actions. The regiment was deactivated on November 10, 1945.
The 25th Marine Regiment was reactivated in July 1962 as a Marine Corps Reserve Regiment. In February 1991, the 25th Marines were activated for service in Operations Desert Storm and Desert Shield. Since January 2001, some elements of the 25th Marines have participated in no less than 10 activations involving operations in the Iraq and Afghanistan armed conflicts.
---
The Children of Robert Lewis Kiser and Lily Margaret Simerly-Kiser
Sterling Counts Kiser who died at the age of 19 years resulting from an automobile accident.
Loomis Abram Kiser was in charge of maintenance for the School Board of Raleigh County, West Virginia. He is deceased.
Anthia Ester Kiser became a homemaker until her death in 2005.
Virgil Valentine Kiser was killed in action on June 15, 1944 during the invasion of Saipan while serving as a United States Marine.
Herbert Lewis Kiser
Ruth Kiser is a homemaker living in Coca, Florida as of September 30, 2012.
---
Peggy June Thompson-Kiser – 43 Years in Education
June, as she is generally known to her friends, received a Bachelor of Arts degree at Concord College, Athens, West Virginia during the summer of 1949 and later earned a Master of Arts degree in Media at South Florida University in Tampa.
Teaching Experience:
7th grade English, 1947, at Athens Elementary School (teacher training)
1st and 2nd grade, 1948-50, at Dorothy Elementary School
Clear Fork High School, 1950-1952, math and librarian
Mark Twain High School, 1952-53, math and English
Beckley Junior High, 1953-67, math
Johnson Junior High, 1968-69, math for 1 semester
DeLaura Junior High, 1969-1990, librarian
---
Acknowledgements
Details included in the life stories of Herbert Lewis Kiser and Peggy June Thompson–Kiser were graciously provided by both, during written interviews and one brief personal interview with Herb on the occasion of his 90th Birthday celebration at Melbourne, Florida on September 30, 2012. Daughter Stephanie Lynne Kiser- Dedmon also provided pieces of information about her parents and her own life story. Thanks to all.
The only printed reference used in developing Herb Kiser's biographical sketch was Harry A. Gailey's Historical Encyclopedia of The United States Marine Corps. Lanham, Maryland and London: Scarecrow Press, Inc., 1998. The websites for the 25th Regiment of Marines and 4th Marine Division were consulted for dates and sequence of important events. Marine Corps routine and jargon were colored by my own Marine Corps experience occurring April 1957 – January 1960.
A special thank you goes to Mr. Jeff Miller (WWHS Class of 1968) who is currently an educator in New Port Richey, Florida. Jeff edited the manuscript for correctness and style.
JAH