REMEMBERING KPPC-AM
THE BIRTH AND DEATH OF A HERITAGE RADIO STATION
REMEMBERING KPPC-AM
THE BIRTH AND DEATH OF A HERITAGE RADIO STATION
(January 18, 2007)

Station Founded by Pasadena Church Silenced 10 Years Ago

By Jim Hilliker (photo) Copyright © 2006 Jim Hilliker

Licensed: December 1924

First broadcast: December 25, 1924

Last broadcast: September 1, 1996.

Had been on the air roughly 71 years and 8 months.

License deleted: July 11, 1997
INTRODUCTION
I began researching and writing parts of this article in the 1980s and again around 1994. My first draft was edited a few years ago by Jerry Lewine (the man who got the KHJ call letters back on 930-AM in Los Angeles in 2000!). With apologies to Jerry, I felt the article needed to be expanded after I found new material on KPPC's early years. This led to obtaining stories from several people who worked at KPPC. The project then took on a life of its own, which is why it has taken me so long to complete this, to my satisfaction.
For those who were expecting a major article on the groundbreaking "underground" KPPC/fm of the late-1960s, you may be disappointed, but that station does play a part in this story. However, I focus mostly on the AM station. It is by no means the complete story of KPPC-AM, but I hope you like what I have put together here, based on the amount of research I've been able to accomplish.
My main goal, in presenting this story, is to explore in-depth the earliest years of KPPC and take a look at what caused it to go off the air. In-between, I hope to show some examples of what the station was like over a span of nearly 72 years. I was hoping to have this ready by Christmas of 2004 for the 80th anniversary of its first broadcast, but am happy to present it now in 2007, 10 years after KPPC-AM went off the air. This may not be as exciting or interesting to some readers as an article on the Boss Radio years at KHJ, KRLA, or the Color Radio days of KFWB, or even articles on KFI or KNX. But, I think the history of KPPC-AM is a unique slice of Los Angeles radio history that may be unknown to many people. In order to preserve that history, I feel it should also be shared by anyone interested in radio history.
AN UNUSUAL RADIO STATION
If you are the owner, station manager or program director of a radio station, how would you like to be told by the FCC that you had to take your station off the air so that another station on your frequency, in a nearby city, could broadcast for a few hours? Or, how would you feel if the FCC told you that in order to allow the other station to go on the air two times a week, you could stay on the air too, but you were forced to reduce your power significantly? For many years, KPPC radio in Pasadena forced these situations on other radio stations in Southern California.
This is the story of a small (by today's standards) AM radio station in Pasadena, California. KPPC served its city of license for many decades, despite its low power and a very limited and unique broadcast schedule. The call letters stood for its original owner, the Pasadena Presbyterian Church. It was one of the earliest cases in which a radio station owner requested a customized "K" call sign. This was out of the sequential order of call letters that were assigned by the Department of Commerce, which began with 'KF_ _' in the western United States in 1924.
In the "childhood short pants" days of radio broadcasting between 1922 and 1930, there were many AM stations owned by churches, but most were eventually sold. KPPC outlasted most of the other early AM stations in that category. In the mid-1920s, it also was normal for most stations to use only 10 to 1,000 watts to be heard and be on the air just a few hours per day. But, in later years, when most of the AM stations around Los Angeles boosted their output power and were on every day, KPPC stuck to low power and a twice-a-week schedule, though it was not the station's choice to be put in that situation. Those circumstances made this AM band survivor a mysterious and possibly a "strange" radio station to other L.A. broadcasters in more modern times. To other people, such as the DX radio hobbyists seeking unusual and low-powered signals to tune-in, KPPC was a rare "catch," if they could hear its signal, and its call letters were a bit magical and special. In the late-1960s, KPPC became the first AM station with a "free-form underground" rock format, when it simulcasted its sister FM station twice a week. By the 1970s, KPPC was one of the last AM stations in the nation to use only 100 watts of power and one of the last to continue using a wire transmitting antenna, instead of a vertical tower. And, by continuing to serve the public interest and renew its license at renewal time, the FCC allowed KPPC to go on the air just twice-a-week year after year. The FCC also gave KPPC signal protection, by forcing an adjacent channel station and co-channel station to lower their power level whenever KPPC was broadcasting.
PASADENA'S OLDEST RADIO STATION
In 1989, I received a letter from KPPC program director Bob Gourley, answering my inquiries about the station. The letterhead stated, "Pasadena's First Radio Station Since 1924." That, however, was not exactly accurate. KLB was actually Pasadena's first station, going on the air in January of 1922, but only lasted one year. KLB appeared to be followed by KDYR, which was to be the Pasadena Star-News' first venture in broadcasting, but there is no evidence that KDYR made even one broadcast. The KDYR license was eventually deleted in December of 1922, apparently without ever having gone on the air. But, until the 1940s, this pioneer broadcaster was the only radio station in Pasadena. Then, starting in 1924, KPPC was the first radio station in Pasadena to take hold in the community and thrive.
During the first few years that radio grabbed the attention of Americans, a new radio station going on the air was quite an event. The beginning of KPPC was no exception. Religious stations had already taken hold in this area of Southern California: KJS at the Bible Institute of Los Angeles had been broadcasting since March of 1922, the first U. S. station using only religious programming on days other than Sunday; Aimee Semple McPherson's KFSG began broadcasting two years later; in February of 1924; and a church in Whittier had obtained a license, KFOC. Another church-owned station, KGEF at Trinity Methodist in Los Angeles was on the air at the end of 1926, but was shut down by the Federal Radio Commission in 1932. All of these radio stations were there to serve their own listeners and were non-commercial. The feeling at that time was that church-owned stations were not in the business of making money.
A LOOK BACK TO 1924
To give you an idea of how long ago 1924 was, here are a few facts about American life then. In 1924, the population of the United States was 114 million. The average yearly income was $1,124. The median price of a new home was $7,720. The average cost of a new car was $398. A gallon of gasoline cost 21 cents. A quart of milk went for 13 cents, a loaf of bread was 9 cents, a dozen eggs sold for 43 cents and a pound of steak was 41 cents.
In 1924, Pasadena had a population of about 57,000, which would increase to more than 76,000 by 1930. The city boasted of several movie theaters, including the Raymond Theater, the Florence, the Strand, Warners' Egyptian Theatre, Pasadena Photo-Play, Bard's Pasadena and the Pasadena Theatre. But the "silent" motion picture was getting some new competition from another modern invention, as a way for Americans to enjoy their leisure time.
Radio broadcasting was still fairly new and evolving in 1924 like the personal computer industry was, not too long ago. Radio was gradually catching on, mainly with men and boys, who tried to convince the rest of the family that it was not a passing fad. The family was then introduced to the music and voices that could be heard over their crystal set headphones or loudspeakers from battery-powered radios with one or more tubes.
In 1924, less than 5% of U.S. households had a radio, but new radio stores kept popping up in most cities and towns, including Pasadena. At that time, Pasadena had a dozen radio stores. By 1925, some 15 businesses in the city were selling "radio apparatus and supplies." This was an era when many people were still attempting to build their own radios, since completely built radio sets were slow to come down in price. The number of U.S. households with radios increased to 27% by 1928, as the technology, design and ease of operation of radios continued to improve. The cost then gradually came down, which drew more people into buying radios by the end of the decade. And in December of 1924, at the time KPPC got started, ads in magazines and newspapers across the nation were suggesting to consumers that a radio would be a nice Christmas gift for the family.
HOW KPPC GOT STARTED
Despite some early setbacks, radio broadcasting, which gave people a reason to own a radio, was gaining in popularity in the Los Angeles area by 1924. After several early station failures, stations KNX, KJS, KHJ and KFI had survived and were getting better every day. Three new stations came on the air in 1924, including KFSG, KFON in Long Beach (now KFRN-1280); and KFPG, (now KLAC-570). During the next year, KFWB and KFVD (now KTNQ-1020) also joined the ranks of L.A. area broadcasters. Radio fans in Southern California were excited about the increased number of stations and program choices they would be able to hear.
The time seemed right for the large, wealthy, conservative Pasadena church located at 585 East Colorado Blvd. to build its own radio station. The church's plan was mainly to broadcast the church services, first on Sunday mornings, and later on Wednesday nights too. But the leaders of Pasadena Presbyterian Church also saw this new, modern technology as a way to keep their congregation informed of church events. In addition, they saw radio as a way to bring church services to shut-ins and those too ill to attend. As a side benefit, it's likely that KPPC also attracted some new church members who had previously been merely listeners. But unlike Angelus Temple's KFSG, which was on the air nearly every day and night, KPPC's ministry stayed fairly small and localized.
The pastor at that time, Reverend Robert Freeman, liked the idea of having a radio station for his church. To help fund the necessary broadcasting equipment, he proposed that each member of the congregation donate 5 cents toward this new radio station. This probably took place during 1922 or early 1923 during the first wave of radio broadcasting in Southern California. The equipment for KPPC was purchased with the donations from the church members. That first broadcast equipment for KPPC ended up costing between $5,000 and $10,000, according to James Mason. The church had been founded in 1875 and it was hoped to have their radio station ready and on the air for the 50th Anniversary of the church in 1925. David Black, a prominent church layman and later administrator, helped obtain the original license, which the government assigned as number BR-34. (This was simply a bookkeeping number. It did NOT mean that KPPC was the 34th radio station in the United States! In chronological order, KPPC was the 40th radio station to receive its broadcast license in Los Angeles and Orange Counties, although only slightly more than half of those actually got on the air. There were well over 500 United States radio stations licensed in 1922 alone, so I'm not sure how this claim that in 1924, KPPC was the 34th station to go on the air was ever made by the station, as was reported in a 1967 newspaper story on KPPC!)
The call letters KPPC were requested and granted by the Department of Commerce in December of 1924. The necessary equipment was then purchased, installed and tested in preparation for the station's first broadcast. KPPC was assigned to use 50 watts of power on a wavelength of 229 meters, or 1310 kilocycles. The transmitting antenna was common for the time, a longwire "flat-top" strung between two wooden masts on the roof of the church chapel. The station's control room was located on a lower level of the church tower. (In later years it moved to the attic of the old chapel building, where a projection booth was used as an announcer booth. By the 1960s, KPPC was in the basement of the "new" chapel building.)
Because of the excitement of radio fans in the 1920s over a new radio station, many times the local newspaper carried detailed stories about a station's construction, complete with many technical details of the antenna, transmitter, microphones, etc. On December 4, 1924 the Pasadena Star-News carried such a story: "Work Begins On Radio Station." The call letters were not given, but the story indicated that the installation was underway for "the 50-watt radio telephone broadcasting equipment in Pasadena Presbyterian Church." The church was hoping to have work finished in time to broadcast the first of their Christmas services on Sunday December 21st. The H.L. Miller Electric Company of Pasadena installed the station equipment. The transmitter was a Western Electric number 103-C. According to the story, the plans for the station included "having broadcasting microphones placed in the main auditorium of the church, in the chapel, in the Kirk House, in the belfry, in the main organ loft, in the echo organ loft and in pastor Dr. Robert Freeman's study." The article also said the new radio station "would broadcast church sermons, general talks and music from the main auditorium, chimes from the belfry, special music events from the chapel of Kirk House and special talks and musical programs from the study."
Today, it's taken for granted how a radio microphone works, but in 1924

just about every aspect of a broadcasting station was still new to most of the public. The newspaper story detailed some of the station equipment this way: "The speech input equipment consists of Western Electric high quality, distant talking microphones, input amplifier, control apparatus and batteries. The microphone is mounted on a casing, which minimizes the effect of mechanical vibration, which might affect the clarity of reproduced sounds. It may be operated by talking "close up" or from a distance of several feet. Provision is also made for adjusting the degree of amplification."
James Mason, who had a long association with KPPC and the church, knows a lot about the station's history and the history of the church. He told me that the first equipment in 1924 was a combination radio station and public address system for the church. Apparently, when the radio station equipment was switched on, it also made the public address system operate. This also made it possible for any outside radio programs to be brought into any or all of the church buildings. The radio station equipment was powered by a motor generator and storage batteries. In the operating room, the engineer was supplied with a Western Electric radio receiver. Government regulations at that time required broadcasting stations to go off the air if a "distress signal" was sent by a ship at sea. The radio was also used to determine if transmitting operations of KPPC were causing interference with other radio communications.
FIRST DAY ON THE AIR
KPPC's first official broadcast took place on Thursday, December 25, 1924. That is when listeners to Pasadena's new station were actually able to hear the Christmas Day services live from the Pasadena Presbyterian Church in their living rooms and parlors. The Christmas Eve edition of the Star-News explained the situation this way:
"It was originally planned to use the broadcaster (KPPC) for the first time last Sunday morning, but installation was not completed in time. It was then arranged to make the Christmas carols on December 25th the first program to be transmitted." The story reminded readers of the 229-meter wavelength and power of the station, and that the first broadcast would take place the next day (Christmas) at 8 a.m.
George Anton Pohlman was the station's first broadcast engineer and announcer. Luckily for us, he also kept a diary of each broadcast. His entries included the weather, date and time KPPC was on the air, a report on any technical problems, along with Pohlman's personal comments regarding the speakers and musicians who were heard on KPPC. The first such entry was brief and to the point:
"December 25, 1924 --Thursday, 8 a.m. Weather clear, very cold. About 30 carolers singing Christmas carols from the church pulpit, led by the Rev. Dr. Robert Freeman and Mrs. Roy V. Rhodes, with George H. Woods at the organ. Later - at 10 o'clock, a half-hour Christmas service by Dr. Freeman. Broadcast reception was very clear." That's how KPPC radio began nearly 82 years ago. I have also learned that Mr. Pohlman was reportedly one of the most-involved people who helped put the station on the air, as part of his senior class project while he attended Occidental College in Los Angeles. The first broadcast was a success.
On Friday December 26th, the Star-News headline said it all: "Broadcasting Station Is Now Open." The newspaper story proclaimed, "The broadcasting station of the Pasadena Presbyterian Church was used for the first time on Christmas Day and hundreds of residents of Pasadena and vicinity enjoyed the music and Christmas message. The church has been receiving reports all day today as to how successfully the new station worked. Many spoke of how distinct and clear the message came and of the pleasure it gave family groups all over the city to 'tune-in' on these initial performances." The story also said several people reported they could not locate the station (on their radios). It was explained by engineers at the church that the reason was most likely that "their receiving instruments were not adjusted for such a low wavelength as 229." The Broadcast Band had been expanded a year earlier to include 550 to 1350 kilocycles, but some older radios could not tune the entire range up to KPPC's 1310-AM dial setting. Another newspaper story on KPPC that week reported that after the first broadcast on Christmas Day, the station would be on the air every Sunday at 11 a.m. and 7:30 p.m. to broadcast the church services. KPPC-AM continued to broadcast the Sunday morning services from the church until it went off the air in 1996.
A little more than two weeks later, another diary entry from G. Anton Pohlman for Sunday, January 11, 1925, 11 a.m. stated: "First broadcast of the church's Tower Chimes, as played by Samuel Allen." The chimes usually signaled the start of a KPPC broadcast and were very familiar to radio fans in Southern California in the 1920s. Incredibly, Allen continued playing those chimes into the early 1960s! On Wednesday January 25, 1925, the Star-News radio listings in the newspaper showed that KPPC would broadcast the Wednesday night church services for the first time, at 7 and 9 p.m. Another newspaper story from January of 1925 gives an example of the novelty of radio broadcasting in those days. The article says KPPC would broadcast both of the Sunday services starting at 10:30 a.m. and 6:45 p.m. It went on to say, "Anton Pohlman, the church's radio operator and announcer will broadcast in detail both programs, giving names of organ and choir numbers and reading first verse of same, scripture and text references, number and page of responsive readings, etc."
By February of 1926, KPPC was on the air Monday through Saturday nights at 7:30 with the tower chimes and some brief announcements, followed at 7:45 by a short address. The Sunday schedule consisted of going on the air at 10:30 with some announcements, followed by the 11 a.m. church service. Another broadcast took place at 7 p.m. that evening and lasted about an hour. On Wednesday nights KPPC broadcast that evening's lecture and prayer service, beginning at 7 p.m. The nightly broadcast of the tower chimes was short lived however, and the station soon settled on its twice-a-week broadcast schedule, which varied only a few times during the station's existence. Radio Doings magazine promoted the station by listing its program schedule quite often, starting in 1925.
EARLY FREQUENCY ASSIGNMENTS
In those early days, KPPC shared 1310 kilocycles with KFQG, but that station went off the air in May 1925. Unfortunately for KPPC listeners, starting on June 15, 1927, KPPC again had to share their frequency, this time with a brand new station just down the road in Burbank, KELW. Was relief in sight? On February 20, 1928, KPPC was moved to 950 kilocycles by the new Federal Radio Commission, but on that same day, the FRC ordered KPPC to share the 950 dial position with station KPSN, owned by the Pasadena Star-News, which was immediately adjacent, next-door to KPPC. Then on November 11, 1928, the FRC reallocated the entire broadcast band and this time moved KPPC to 1200 on the dial. The station now had to share time with KFWC-Ontario (which later moved to Pomona and then San Bernardino). But, since the church had decided they only needed to be on the air on Sunday and Wednesday, a time-share agreement on the same frequency wasn't such a bad thing.
FREQUENCY MOVE IN 1929 SEALS KPPC'S FATE
One year later, on November 15, 1929, KPPC was moved from 1200 to 1210 kilocycles, along with KFWC, as its owners immediately changed the San Bernardino station's call letters to KFXM. On this same date, the wise folks at the FRC also assigned Los Angeles station KGFJ to move from 1420-AM to 1200-AM. This radio dial position was only 10 kilocycles away from KPPC!! Even though KPPC went on the air only twice a week, its transmitter was just 10 miles away from adjacent channel KGFJ. This situation would be a point of contention between the two radio stations for more than 50 years. This pretty much sealed KPPC-AM's fate, preventing it from becoming a full-time station. However, it seemed the church wasn't interested in that, at least early on. I understand that in later years, when they tried to move to another frequency, there were no empty spots on the L.A. radio dial and they were locked into a two-day on-air schedule. The 50-watt KPPC also had to live with interference from the 100-watt KGFJ, and make an agreement with co-channel KFXM as to when they could divide the broadcast time on 1210-AM between them. (This comment is my "Monday morning quarterback" session, long after the game is over. But, I'm wondering, if the church wanted to be on the air more than two days a week, why KPPC didn't apply to the FCC for a possible move to an open frequency without any local station interference? They could have possibly applied to move to another 'local channel' such as 1310 or 1420 before 1941, or maybe 1490 after 1941, before Burbank laid claim to it. Such a move would've given them more power and a better signal in their listening area.)
In accordance with these time-share arrangements, KPPC managed to continue its short on-air schedule, usually for Sunday and Wednesday. However, during the depth of the Great Depression, it is interesting to note the schedule for both stations. In October of 1934, KPPC was on EVERY day from 9:30 a.m. to 12:30 p.m. KFXM didn't sign-on until 3:00 p.m., but then went off at 6 p.m. KPPC got its turn to broadcast again from 7:30 till 9 p.m. and KFXM finished its broadcast day, going on again from 9 p.m. until midnight.
MORE THAN A RELIGIOUS STATION
Though KPPC is known early on for its years as a church-owned station, it should be noted that many secular events were also aired. These included broadcasts of current events, cultural and civic programs, along with educational material. The March 4, 1925 inaugural address of President Calvin Coolidge and the oath administered by Chief Justice William Howard Taft were heard over KPPC, with NBC's Graham McNamee announcing. A much bigger and well-known station, KFI, also broadcast this newsworthy event, but the church obviously felt it was important enough to have Pasadenans hear it over their very own station. Pasadena High School graduation exercises were also broadcast that year. Other events covered in KPPC's early years included a radio show in Pasadena sponsored by the local Radio Dealers Association. In April 1925, Helen Keller spoke over KPPC during her west coast speaking tour that year and Christine Miller sang. The diary of Mr. Pohlman indicated that the two famous women took time to visit the station's broadcast facilities.
KPPC continued throughout the 1920s and '30s, in fact, as long as the church owned it, as a non-profit station, which operated as a community service. It managed to stay on the air through church finances and the voluntary services of its congregation, who served on the Radio Committee and worked as engineers and announcers. But the years of the Great Depression may have been hard on the station. There were times in 1933 and '34 where it was listed as "silent", or off the air. This may have been a mistake or misprint in RADEX magazine, since one expert on the church and KPPC told me the station never went off the air, but possibly a technical problem kept it from broadcasting occasionally. However, the Pasadena Post radio logs for March of 1933 do not list any broadcasts for KPPC that month, and seems to match the RADEX magazine listing, which said KPPC was off the air at that time. The Pasadena Post does show KPPC on the air with its regular broadcasts in October of 1934, silent again in January of 1935, but on the air the remainder of that year. So far, I've found no explanation for the irregular broadcast schedule of KPPC, which was printed in the newspapers for those months.
By 1936, KPPC again had to cut back its broadcast schedule and was on the air for only a short 8 and 3/4 hours a week, including the Sunday services and a Wednesday night prayer service. This schedule continued into 1938, when the station was on the air Sundays from 9 a.m. to 1 p.m. and 6:45 p.m. to 9 p.m. KPPC would return to the air on Wednesday nights from 7 p.m. to 9:30 p.m. By this time, David Black was Station Manager and N. Vincent Parsons was the KPPC announcer who doubled as chief engineer. Parsons had held that position since at least 1933. He remained with KPPC into the late 1940s, when he entered the new field of television and was eventually hired at KNXT, channel 2 in Los Angeles.
KPPC POWER IS DOUBLED
In 1935, KPPC applied to the FCC to double its output power from 50 to 100 watts, while continuing to share time on 1210-AM with KFXM. The church also had asked that daytime power on Sundays be raised to 250 watts. This was denied, due to the interference that would be created with adjacent channel KGFJ on 1200 kilocycles, which was only 10 miles away from KPPC. The Federal Communications Commission report on these two issues stated the following: "The recommended separation between two such stations such as KPPC and KGFJ is 53 miles, whereas the actual separation is only 10 miles. On their existing frequencies, and with their present assigned power outputs, there is now interference experienced between the applicant station and KGFJ. However, the Commission has before it a situation which already existed before it became the licensing authority. If the application before us now were granted, seeking an increase in power of Station KPPC to 100 watts night, 250 watts day, the interference which exists between KPPC and KGFJ would be increased considerably during the hours that Station KPPC operates, to Station KGFJ's detriment. However, with respect to the application of Station KPPC to increase power to 100 watts, the Commission is of the opinion that it is in the public interest that all local stations operate at night whenever possible with the maximum power permitted under the rules. The granting of this application would serve to equalize the interference between the two stations; that is to say, such operation would be expected to limit the service area of Station KGFJ to approximately its 3 mv/m contour in that portion of it service area more distant from Station KPPC. At the same time, interference would also be expected to Station KPPC from Station KGFJ, limiting Station KPPC to its 3 mv/m contour in that portion of its service area more distant from Station KGFJ."
The FCC acknowledged that KPPC offered at no charge, a high degree of service to its community. Even with its short broadcast schedule, the Commission said, "KPPC gives liberally of its time to other churches and to civic groups, education institutions, city schools, the Red Cross and similar organizations."

The FCC acknowledged that KPPC would likely grant even more airtime to such groups, but was unable to do so, due to its limited time on the air. The FCC eventually did grant the power increase to 100 watts on April 24, 1936, a power level that KPPC used until 1985. (In 1936, KGFJ was also using only 100 watts, so they were able to stay on the air while KPPC was broadcasting, but KFXM would still go off for KPPC.)(1926 KPPC/KPSN program schedule)
KPPC AND THE STAR-NEWS
Unlike the competitive situation that exists these days, there was no lack of cooperation between KPPC and its next-door neighbor at 525 Colorado Blvd., the Pasadena Star-News, which owned and operated KPSN, beginning in November of 1925. Not only did both stations share time on 950 kilocycles from February 20, 1928 until November 11, 1928, they also helped one another before then. The Star-News had been printing the KPPC schedule in its daily radio program listings and even some 1926 program listings in Radio Doings magazine showed that some of the Sunday night services of the church were aired over the more powerful 1,000-watt KPSN, apparently when KPPC had technical problems. In August 1927, a "Radio Doings" program listing shows BOTH KPPC and KPSN airing the Sunday morning church service! In April 1931 the Star-News decided to take KPSN off the air forever, after being forced to share-time since late-1928 and only getting as little as 15 minutes per day of airtime on its frequency. The newspaper had clearly lost interest in the radio station. In the end, the FRC had actually canceled the station license due to inadequate technical equipment, and the newspaper did not appeal the decision.
But the paper allowed KPPC to move its longwire transmitting antenna from the church roof to the old KPSN towers. In 1936 when power was raised to 100 watts, KPPC revamped this antenna system, a top-loaded 'T', strung between the two 125-foot towers on top of the 5-story newspaper building. The actual radiating element of the antenna was the 121-foot vertical lead, with the horizontal wire element acting as a capacitive load. The ground system was installed under the tarpaper of the roof, with a fan of copper wire running into a series of strategically placed grounds on a lot next door. Many of those grounds were silver-soldered to buried, large copper stills, reportedly used by bootleggers during Prohibition. They were seized and donated to the church by the government for KPPC's use. The two radio towers supporting the KPPC antenna had the words "Star-News" displayed on each side, a reminder of the past cooperation KPPC had with the paper and the old KPSN. The KPSN call letters were removed from the towers soon after its demise, but the KPPC call letters were never placed on the towers. Sadly, for radio historians, in the fall of 1990 the old KPSN/KPPC towers and longwire 'T' antenna were taken down as well. A new antenna of the same type was placed partly on the roof of the church and ran to the top of a nearby medical building. This could only be seen if you traveled behind the church. The antenna system was new, but the old ground system, including the buried stills, was still used. This antenna was still in place long after KPPC went off the air in 1996.
KPPC SIGNAL HEARD OUTSIDE CALIFORNIA
| | |
| --- | --- |
| | (This is a card mailed to a radio hobbyist in Illinois in 1944 for a correct reception report, verifying that this person heard KPPC radio outside the station's regular coverage area. The QSL card was likely designed by chief engineer N. Vincent Parsons and was used by the station in the 1930s and '40s) |
KPPC engineers tried to satisfy the demands of the DXer (long distance radio buff) over the years. In the 1920s, and to a lesser extent in the 1930s, many radio fans tuned-in at night simply to hear far-away stations. They took part in what would be called "channel surfing" today. The practice of the DXers was to twist the radio dials and listen for an announcer giving the station call letters and the city it was broadcasting from, then tune to the next station to see where it was coming from. Once these radio listeners heard the call letters, they didn't care about the programming. They moved on to the next frequency to see how far away from their location the next station was located, despite interference, noise and fading signals.
The short twice-a-week schedule of KPPC and its low power made it a prized "catch" for many DXers. During the 1920s and 1930s, its signal was received fairly often on the east coast and elsewhere, due to both the un-crowded conditions of the broadcast band and considerably less man-made noise affecting AM radio than we have today. Here's a small example of a radio hobbyist who picked up the KPPC signal in northern California. I happen to own a copy of Broadcast Weekly magazine from February 28, 1928 addressed to a man in Santa Cruz. Inside the magazine, there are many pencil markings with notes about what radio stations this person heard, along with the dial markings for the stations on his TRF radio. Most are from outside of California. But at the bottom of the Sunday night program listings, I was surprised to see that the man wrote "KPPC-Pasadena-34-34-35, (church), off 1 minute to 9." The three numbers refer to the number settings of the three tuning dials used on those TRF (Tuned Radio Frequency) radios of the 1920s.
Even when KPPC was listed as off the air in March of 1933, RADEX magazine reported that KPPC had a special program for DXers scheduled on Friday night March 3rd/Saturday morning March 4th from 12 midnight to 6 a.m. Pacific time. This was a special program on the air all night, as a test to see how far the KPPC signal "got out." It was quite common at the time for radio stations to do these types of tests programs for radio hobbyists on occasion. By coincidence, I have a photocopy of a verification letter dated February 9, 1933 sent to a man who heard KPPC in Victoria, British Columbia, Canada. The letter confirmed his reception of the Pasadena station January 31st and thanked him for the signal report. The letter closed by telling the distant listener that "our next (DX) test will be on the morning of March 4th." It was signed by KPPC engineer/announcer N. Vincent Parsons. KPPC reportedly got reception reports for this test from as far away as Philadelphia. It's likely that during the overnight test broadcast that engineer Parsons played phonograph records interspersed with frequent station ID's, in an effort to see how far KPPC's signal was 'getting out.'
Because 24-hour-a-day stations were still rare in those days, and most were off by midnight, KPPC not only had a clear shot to the eastern USA, but it likely had the 1210 channel to itself for much of the DX test. Stations such as KPPC were also heard in those years during periodic late-night frequency checks, since the FCC rules then called for all other stations on that frequency to go off the air during the test. Also, in those days before directional antennas were common, KPPC and other area stations regularly received cards and letters from far-away radio listeners and DXers who had picked up their signal during those late night or early morning hours. We've included a 1944 QSL sent out by KPPC to a DXer who heard the station on the east coast. We also have a photocopy of the same QSL sent to a radio hobbyist in Illinois who heard KPPC. The QSL card was designed by N. Vincent Parsons, who had a keen interest in the distant signal reports which KPPC received while he was with the station.
| | |
| --- | --- |
| | "I found this a few years ago at a postcard show and sale in Concord. This is a group of people who were heard on the KPPC program Story Time in 1948. One woman appears to be seated at a piano, while the man and woman in the foreground are holding their scripts for the show, standing at a KPPC microphone. The postcard was mailed in 1948 to a man who lived on Roxbury Drive in Pasadena. The message on the back reads, "Thanks for your card John--and best wishes from all of us on Story Time." - Hilliker |
Mike Callaghan, who today is chief engineer for KIIS/fm in Los Angeles, was chief engineer for KPPC-FM and AM from March of 1970 to October of 1973. Mike told me in an email that with KPPC-AM's type of wire transmitting antenna, there wasn't much of a ground wave for a good local signal and at night, the signal from the antenna tended to go "straight up into the air." Mike added that even with the crowded AM band conditions compared to the 1930s and '40s, KPPC-AM still got DX reports from as far away as the Hague in the Netherlands! When Mike showed the reception report to the general manager, his comment was, "Great, the AM gets to Holland, but I can't hear it in Rosemead!!!" Mike said he even heard bits and pieces of the 100-watt signal himself while camping in Oregon, but we'll save that story for later in the article.
The 1989 letter I got from KPPC's station manager said they still received an occasional report from DXers in New Zealand, who used very long wire antennas aimed at North America. KPPC even received one letter about that time, from a woman in Oklahoma who claimed that she picked up the station's signal in her teeth! I first heard about the unusual Pasadena AM station around 1974 or so, but I didn't try to listen to it until much later. When I lived in Anaheim in 1982, it was a thrill for me to pick up KPPC via its groundwave signal, just because of its 100 watts of power and the fact it could be heard broadcasting only two times a week. Using my Kenwood R-1000 communications receiver and a good loop antenna, I was able to partially block out the San Bernardino station with lowered-power and hear the program from KPPC clearly. At only 45 miles away, the 100-watt signal was loud enough to make out the music and speech by the announcer, but still had a "far-away" quality to the sound in my radio's speaker. After listening to a dj play records on a Gospel music show for about an hour, I heard the recorded legal ID at 2 p.m. A woman's voice said, "The difference is in the music, AM 12-40, K-P-P-C, Pasadena." Next, a male voice came on the air to talk about the final half-hour of "Gospel Concert" for the afternoon. I sent a cassette tape recording of my Sunday afternoon reception to the chief engineer. In his reply to me, Steve Cilurzo stated that after he listened to my recording of the station, he felt KPPC was doing well for its low power and center-fed "T" type wire transmitting antenna. I think I may have tuned into KPPC-AM only once or twice after that to see if I could again hear its signal, but that afternoon in 1982 is my only clear memory of actually listening to KPPC for any length of time. I'm happy to report I still have my recording of that KPPC broadcast heard in Anaheim in 1982.
THE 1940s BRING MORE CHANGES
As mentioned previously, KPPC, along with most other early stations, did not stay on its original assigned frequency. On March 29, 1941, the FCC shifted KPPC's frequency a final time, from 1210 to 1240 kilocycles. This was in accordance with the new North American Regional Broadcast Agreement. KPPC's share-time partner, KFXM, was also assigned to move from 1210 to 1240 on the radio dial. In all those years, the agreement called for KFXM to leave the air during the hours that KPPC was scheduled to broadcast. In 1947, KFXM moved from 1240 to 590 on the AM dial and a new station in San Bernardino took over the license 1240 kilocycles.
FROM SHARING TIME TO SPECIFIED HOURS
The time-share plan on 1240-AM for KPPC ended three years before KFXM's frequency change, on June 13, 1944. The FCC ruled on that date that KPPC would be limited to going on the air only Wednesday evenings and all day on Sunday. KPPC had been broadcasting only on those two days already for several years, so the FCC decided to make it official.
KPPC's limited hours of operation were designated as "specified hours." Under this plan, the FCC said KPPC would be allowed to broadcast Sundays and Wednesdays nights only, but KGFJ-1230 in Los Angeles now had to lower its power to 100 watts to reduce the amount of interference to KPPC. The 1240 station in San Bernardino could now stay on the air while KPPC was broadcasting, but also was required to lower it power to 100 watts. Later, when the daytime power of the San Bernardino station was allowed to increase to 1,000 watts, they had to lower their day power to 500 watts when KPPC operated. In the late-'40s, KGIL-1260 came on the air in San Fernando, posing another interference problem to KPPC. This new station, which had a directional antenna pattern in later years, had to use its night directional array on Sundays when KPPC came on the air. All this protection for 100-watt KPPC was due to a "grandfather" clause in FCC rules and regulations. Since KPPC came on the air before KGFJ and 1240 in San Bernardino, and well before rules that required a radio station to operate at least 18 hours-a-day, the FCC said the station deserved to be protected from interference from the other adjacent and co-channel stations nearby. The other station owners hated it, but they abided by this rule, which lasted 41 years, until 1985!
KPPC 1940s PROGRAMMING
During the World War II years, KPPC was as busy as ever. It was broadcasting its church-related programs, along with other shows of interest at the time. The Wednesday night broadcast from KPPC had some heavy competition from the 'prime-time' evening entertainment shows on the air nationwide on KFI/NBC Red Network, KECA/NBC Blue Network, KHJ/Mutual Broadcasting System and KNX/CBS Network. But, members of the church congregation in Pasadena were probably quite loyal to their hometown radio station. In 1941, a sampling of the KPPC programming included "Music of the Masters," a dramatic show called "County Seat," a program featuring the Pasadena Hobby Club, another drama called "Cosmopolitans" and a show on National Defense. Also in 1941, KPPC aired a local quiz show featuring businessmen and other important people from the community competing against one another. The show was called "Pasadena Preferred", and the idea was for the contestants to answer questions related to important facts about Pasadena. Service clubs such as the Lions Club, Kiwanis, etc. sponsored the program. A 1943 Radio Life magazine listing shows that the first program aired on a Wednesday evening at 7 p.m. was for the Pasadena Department of Recreation. There were also programs that night featuring the Red Cross, Occidental College and a talk on Civil Defense. (As for the Occidental College broadcast, research has found that Charles Lindsley, a Professor of Speech at Occidental from 1923 to 1960, produced 23 religious/educational broadcasts for KPPC in 1942 and '43. For several years, there were many Pasadena Presbyterian Church members who were trustees of Occidental College and major donors. Professor Lindsley was also Director of Radio for Pasadena Playhouse, which also produced some radio programs for KPPC over the years).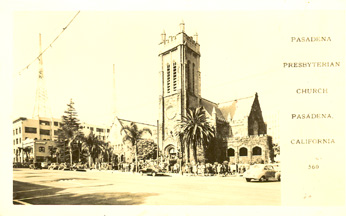 A half-hour panel discussion show called "Let's Talk It Over" was also broadcast, and featured several church leaders and various laymen. This was a regular KPPC feature for many years. A Sunday night show in 1943 was a religious drama called "The Clarion Call", which aired at the same time over KFWB. It probably doesn't sound exciting by today's standards, but it was likely fairly typical of radio production techniques used at that time. Also in the early years, the station featured organ recitals by George A. Mortimer and Robert W. Allen, former organists at the church. By the late-1940s, KPPC was also airing a weekly locally produced show called "Story Time."
MORE HOURS
KPPC nearly doubled its hours on the air for its 20th Anniversary in December of 1944. The station was on the air for 12 hours on Sundays, from 9 a.m. to 9 p.m. The Wednesday evening broadcasts continued to last from 7 to 9:30 p.m., for a total of 14 ½ hours on the air per week.
A 1950s LOOK INSIDE KPPC
It may be impossible to come up with a comprehensive list of LARP who got started in broadcasting at KPPC, especially during the station's early years. One big name from Los Angeles radio who got his earliest training in broadcasting at KPPC was Vince Campagna, who was a longtime newscaster at KFWB from 1969 to 1997. Vince was at KPPC from the late-1940s into the early-1950s, according to James Mason.
I have two specific sets of KPPC memories from LARP who were there in the 1950s. Fred Volken is a well-respected radio engineer in Southern California. He is the man who redesigned the KFI auxiliary antenna's tuning network some time ago to support the current 25,000-watt operation. This was before the main KFI tower was destroyed in a plane crash in late-2004.
Fred learned about KPPC from friends in school. He worked there between 1948 and 1952, first as an unpaid volunteer technician and later as chief engineer. In an email to me, Fred said, "The two paid part-time positions at the station then were the station manager and chief engineer. Many of the other persons who worked at KPPC as volunteers were also in school (in high school or attending Pasadena City College or the Pasadena Playhouse theater school, for example). There never seemed to be a shortage of persons to make up a talented and skilled program and technical staff. The station's standards for program quality were remarkably high, and there were always enough experienced knowledgeable and talented people involved in a variety of ways to make the experience there a valuable one.
In the earlier years, the offices and studios were in the Kirk House building on Union Street (which was also used for the church school), and the transmitting equipment was located on the top floor of the former chapel building on Colorado Blvd. In addition to the regular Sunday morning church service, the broadcasts included talks given by church ministers, organ recitals and various other music recitals, poetry readings, discussion programs, a weekly dramatic presentation that was produced (and even written) by volunteers at the station, major music programs presented by the church, occasional remote broadcasts for charitable events, programs of interest produced outside the station (and received on transcription discs), and a lot of recorded classical music." Fred also recalled, "A big event in those days was the temporary installation of a new transmitter in the Kirk house building to permit continued broadcasting, while the former chapel building was replaced with a new chapel and parish house building that was designed to include space for both offices and studios and the transmitting facilities for KPPC. Another exciting event was the acquisition of a new Ampex tape recorder that permitted high-quality recording of programs for later broadcast."
Bill Kingman

(r)got his start in radio at KPPC in 1959 and '60. Since 1961, Bill has resided at Lake Tahoe as a disc jockey and chief engineer at Tahoe's local stations. Bill recalled how he got involved with KPPC:
"KPPC was my first station. It was March 1959, I was 17, and I was at the church one evening – they actually had their own hardwood floor roller-skating rink there – and after skating I wandered down to the basement. I didn't know they had a radio station, but I spied it and was entranced. It happened to be a Wednesday evening when KPPC was on the air. An older distinguished-looking gentleman who kind of resembled WKRP's Arthur Carlson (the late actor Gordon Jump) saw me ogling at the hallway window and asked, "Well, young man, are you interested?" Five minutes later I was seated in the main live music studio, reading the back cover of a classical music LP into a boom microphone. That man was Del Mar Reynolds, the Program Director, and he was auditioning me from his perch in the control room. I was too numb to be nervous! He came out and said, "You volunteer your time, and we'll teach you radio." After a few Sundays of polishing microphones, cleaning equipment, learning the board, and learning to respect the whole operation, he put me on the air to "board-op" and do station ID's. Shortly, he gave me my own half-hour show each Sunday night at 8:30, which I called "Hi-Spot" for some reason I've totally forgotten. But I've never forgotten the thrill of my first listener phone-calls and letters – yes, in those days listeners would write letters, and I still have my first letter!"
Bill shared several other KPPC memories for me: "The people I knew at KPPC in 1959 included Dave Scott, a young prodigy and talent who syndicated his show to 200 stations, but who died of leukemia at age 25; chief announcer Bob Holden, who was still putting KPPC's transmitter on the air for the 11 a.m. Sunday church service when I visited in 1996; chief engineer Clayton Blake, an electronics genius; and program director Del M. Reynolds who auditioned and hired me. Other announcers were Bob MacLeod, Walter Eby, Steve Elliot, Robert Scott, Dave Berkus and other names now escaping me."
Bill went on to describe the KPPC studios at that time, some of the equipment and what the station aired: "KPPC was built like classic big network facilities for live broadcasts, with a glassed-in control booth facing each live studio. KPPC had two such studios, each with elevated-floor control booths, all Collins electronics, RCA microphones, and Gates turntables. Cart machines had not been invented yet. KPPC operated 7 a.m. – 12 midnight on Sundays and 7 p.m. – 11 p.m. Wednesdays. This schedule included the Pasadena Presbyterian Church services on Sundays and Wednesdays, plus live broadcasts of the church bells in the steeple, as well as concerts by the church choir. Programming, recorded or live, was wholly classical or religious until late evening, when it would lighten to Percy Faith, Mantovani, et cetera."
| | |
| --- | --- |
| | "This picture shows the control booth for KPPC Studio A. This booth was about 6'x15' and faced the actual studio, about 15'x30', a not-squared room on the other side of the slanted double-glass window in front of me. "Not-squared" meaning none of the walls exactly parallel-facing each other, so as to prevent sound reverberation! The studios each had a grand piano, large table, water pitcher, and several floor-standing boom microphones, mostly RCA 77-DX's. Studio B was smaller." (Photo: Bill Kingman) |
"Behind me (left of this picture) is another slanted double-glass window to Master Control, about 15'x20' which looked like the control console set in Star Trek. The seated on-duty transmitter engineer had the Collins 100-watt transmitter free-standing behind him and the Master Control Console in front of him. To his right were two cabinet-standing Ampex 300's. The wall to his left was entirely built-in equipment racks filled with amplifiers, routers, monitors, meters and patch bays. He could switch or route any audio source in the station plus remote microphones upstairs in the church itself. KPPC and Master Control was in the basement of the Pasadena Presbyterian Church, and had a remote mixing booth in the steeple for the church bells and choir concerts." Commenting on KPPC's non-commercial operation and being supported by church finances and donations, Bill said that there was NEVER a plea for money aired on KPPC.
By 1962, KPPC had mostly the same staff members that Bill Kingman worked with a few years earlier: Clayton Blake was the station manager, and had been there since 1947. He became chief engineer in 1952 and designed the station's main studio. Robert Holden was chief announcer and maintenance engineer; Del Reynolds was program director and John Boyd was transmitter engineer.
FM COMES TO KPPC BEFORE BECOMING KROQ
Pasadena Presbyterian Church officials had wanted to make KPPC-AM a full-time station for a long time, but when that became impossible under FCC rules for the AM band, they applied for an fm station license. Bill Kingman had left KPPC by then. Here, he tells how he learned of the church's new radio station:
"In the fall of 1960, I was at KPER, Gilroy. Each late afternoon, the UPI teletype would churn-out the FCC's actions of the day. One day --in October, I believe UPI reported: "...granted 106.7 mc to Pasadena Presbyterian Church." This decision came after a lengthy contested battle against another applicant. I knew my KPPC buddies had been sweating this for a long time. I promptly sent a congratulatory telegram to KPPC. Shortly thereafter, my phone rang and Bob Holden was asking, "What are you talking about? Where did you hear this?" He/they were cautiously ecstatic! Apparently my telegram preceded notification from their own attorney!"
It took some time to get their fm station on the air, but it finally happened about 18 months later. It was on May 20, 1962, some 37 years, four months and 26 days after KPPC started on the AM band, that the church put KPPC/fm (now KROQ) on the air at 106.7 MHz. for its first day of broadcasting. The new fm station used a 4,400-watt transmitter (22,500 watts effective radiated power) to supplement the lower-powered AM station. The FM's 5-bay antenna was attached to one of the KPPC-AM towers, atop the Pasadena Star-News building adjacent to the church. The dedication broadcast on the first night of the new fm included the dedicatory sermon by Dr. Ganse Little. The voices of Dr. Eugene Blake, Dr. Myron Nichols, Dr. Thomas Stone and others were then heard, telling of the trying early days of KPPC and of the compensating rewards that followed. A tape recording was also played of Dr. Robert Freeman, the minister at the time KPPC went on the air in 1924.
Don McCulloch was a new addition to the volunteer staff at KPPC in November of 1962. He went from window washer at the station, to become a board operator, booth announcer and was later promoted to host his own show. Don was a junior at Pasadena High School at the time. He was trained by KPPC engineer Bob Holden and another Pasadena High student worker, James Mason. The previously mentioned Dave Scott Show was a Sunday night feature on KPPC. The former child radio actor played records and interviewed guests in the studio.
As McCulloch mentioned earlier on

LARADIO.com

(see archives for July 11, 2005), "

In 1964, KPPC/fm became a commercial station. Mike Stroka was named manager and Bob (Holden) became chief engineer. I survived the transition, but a whole new parade of staffers had begun: David Pierce, Tom Carroll, David Varney, Tom Lewis, Bob Roberts, Graham Alexander, Walt DeSylva, and many others. The variety programming had been replaced by a more homogenous MOR format." Don McCulloch was part of KPPC and KPPC/fm until early 1966, but returned briefly in 1968 during the station's "underground" days. (Photo: Bill Holden, mid-1960s)
By this time, Don said they were getting paid for their work on the fm, after it went commercial. He recalled that the fm band was like the "minor league" of radio and one could develop one's radio skills and talents on an fm station, even in a major market like Los Angeles back then. Don also told me about an unauthorized broadcast he took part in on KPPC/fm with his friends. It happened on the morning of January 1, 1965 after the New Year's Eve celebration at midnight had died down along Colorado Blvd. McCulloch had teamed up with Bob Roberts for a 9½ hour program every Saturday on the fm called "Weekend." A mutual friend, Berry Kunz, also took part in the New Year's radio stunt. Kunz, who had been on the air for KPCS at Pasadena City College (now KPCC), was home from the Army for the holidays, and was heading next to Armed Forces Radio in Korea, known as AFKN. Since Don had the keys to get inside KPPC, the three radio buddies decided to go there next. About 12:30 a.m., one of them decided they should fire up the FM transmitter. Don recalled that they signed back on the air legally with the full station ID, and then proceeded to do an impromptu music and comedy show on 106.7. Don added that since Berry was the 'funny' one of the three and did a lot of comedy voices, etc., he was on the air most of the time for this show. It lasted maybe 90 minutes to 2 hours, by Don's estimate. Looking back on it now, Don says they may have had one phone call the whole time, but due to the low audience for fm at that time, he never heard from anybody, not even church officials, about this 'renegade' broadcast after KPPC/fm had officially signed off for the night! Don says he pulled another similar stunt on the fm station the following New Year's morning.
| | |
| --- | --- |
| | James H. Mason had been with KPPC before Don McCulloch arrived. James is now chief engineer of KLCS television, channel 58, and has been employed by the Los Angeles Unified School District for 33 years, which owns KLCS. Mr. Mason got his start in broadcasting at KPPC at age 16. He also happened to be a member of the church for many years, until fairly recently. Mr. Mason told me that the church had "youth opportunities" for those interested in working in radio. After washing the windows of the radio station every Sunday for a few weeks, station officials saw that he was serious about wanting to be there. He was gradually trained in announcing, giving a station ID, how to operate the control board and cue up records, mixing audio sources, etc. He was then given his own show on the station along with other responsibilities. He was at KPPC for a couple of years on the AM and FM stations, then left to go to college. In the 1970s after the Sylmar earthquake damaged the church, Mason became involved again with the station and the plans to build a new sanctuary. He left briefly, but came back again in the 1980s to take charge of the Sunday morning church service broadcasts from Pasadena Presbyterian for KPPC, with help from Bob Holden. |
CHURCH SELLS ITS RADIO STATIONS
The days of station ownership by Pasadena Presbyterian Church were soon ending. The church leaders apparently found that programming and running a commercial fm station full-time was a lot more work than putting their non-commercial AM station on the air only two days a week. KPPC-AM and FM were sold five years after the fm went on the air, but the church kept the 1240-AM transmitter in the basement of the new chapel building, along with its 25 by 35 foot main studio with perfect acoustics (designed by Clayton Blake), two smaller studios, record library, shop, and a reception room. The church rented out the studio and transmitter space to the new owners.
Those new owners, Crosby-Avery Broadcasting, purchased KPPC, effective October 5, 1967. The sale was first reported in the Los Angeles Times on August 12, 1967. The purchase price was $310,000 for the AM & FM. The story indicated that besides the Sunday church services, KPPC-FM/AM was broadcasting news, "middle of the road" music, and a variety of community-oriented public affairs programs. At that time, these community-oriented programs on KPPC included a show called "About Science" featuring interviews by nationally known scientists, arranged in cooperation with Caltech and distributed by the National Education Network to 110 member stations; "What Is a City" produced by the Pasadena Rotary Club, and programs by the League of Women Voters of Pasadena, Pasadena Coordinating Council and the Pasadena Arts Council. The newspaper story indicated that the AM signal reached a distance of about 55 miles, which may have been a generous estimate for the signal to be heard on the average AM radio of the day. Station officials were also quoted as saying the station would likely remain in Pasadena, but at a new location. However that did not take place until 1970.
In 1967 the station had a staff of 10, including station manager Edgar Pearce and program director Bob Mayfield. The church had put the two stations on the market about a year earlier. Pearce told the Times the fm had not shown a profit for the church, but added, "…its income had markedly increased in the past several years." Church officials reportedly felt the money used to subsidize the AM & FM could be better spent elsewhere. Pearce said, "A commercial effort such as radio in the non-commercial atmosphere of the church is just not compatible."
The new owners would soon use KPPC/fm to change the course of L.A. radio. However, the new licensee was still required as a condition of the station sale, to continue broadcasting the Sunday morning services of Pasadena Presbyterian Church over KPPC-AM.
By this time, 1240 AM was an obscure weak signal buried among the many more-powerful AM radio signals in and around Los Angeles vying for advertising dollars, while KPPC was still non-commercial. That was about to change after nearly 43 years. KPPC-AM's schedule had increased at this time to roughly 22 hours per week: Sundays from 7 a.m. to 1 a.m. Monday morning, and Wednesday nights from 7 p.m. until midnight.
NOT YOUR FATHER'S KPPC
In late-1967, the new ownership and management at KPPC decided to broadcast a format on 106.7/fm that could not be done on AM at the time. It was already on the air at San Francisco fm station KMPX, which was also owned by Crosby-Avery. The programming, initiated by Tom Donahue was called "free form underground" or "progressive rock" radio, which gave the flower children and counter-culture of the day a radio voice of their own. It was unlike any of the Top-40 AM rock music stations in the country, which is what the new KPPC djs/air personalities were rebelling against. The decision was made to simulcast the KPPC/fm format on 1240-AM when it was on the air, so KPPC-AM became the first AM station in the U.S. to air such programming. It was a mix of long-play rock album cuts straight from the hippie-drug culture of the time. The disc jockeys were relatively young (though some were a bit older), were into the music and sounded very "mellow," as if they had woken up from a deep sleep and were about to doze off again. They communicated one-on-one with the young listeners. It was a style of talking on the air much different than the fast-talking, high energy djs on the pop/rock AM stations of the era. Unlike the AM music stations popular then, these djs didn't talk over song intros and didn't repeat the call letters over and over or play jingles. They played sets of several songs in a row without talking, and they played longer songs and rock music that couldn't get airplay on AM radio then. Many young people who found the new FM station liked this format, with very few commercials, and language they could understand. The younger generation opposed to the policies of Presidents Johnson and (later) Nixon, a generation against the Vietnam War and the draft, social injustice, and who didn't trust anyone over 30, had a radio station they could identify with, when they discovered KPPC. So, KPPC-AM could be credited with helping to start what would become a hugely popular fm radio station in Los Angeles and across the nation, by broadcasting the 106.7 FM station on 1240-AM on Wednesday nights and Sundays.
Here's a piece of KPPC trivia that I did not find out about until December 2006! According to radio historian Bill Earl, in 1967, Tom Donahue tried to change the call letters of KPPC AM and FM to KHIP, but the station owners would not let him.
According to Ted Alvy's Web site, KPPC's change to freeform underground rock music got started with this lineup:
"Exactly 10 years after KFWB went Top 40, Program Director Tom Donahue debuted his KPPC hipster air staff on January 2, 1968 in the basement of the Pasadena Presbyterian Church:
6AM-11AM LES CARTER (KBCA/fm)

11AM-4PM ED MITCHELL (KFRC)

4PM-9PM B. MITCHEL REED (KFWB, WMCA)

9PM-MID TOM DONAHUE (KMPX-FM, KYA)

MID-6AM DON HALL (KPPC/fm)
The original 1968 KPPC air staff also included TED ALVY (Cosmos Topper) and STEVEN SEGAL (The Obscene Steven Clean)."
A man named Jay Murley had worked in sales at KPPC-FM/AM back then. He was about to be named FM-AM sales manager in March of 1968, when the air staff went out on strike, and according to Jay, "the fiscal structure came apart." In 1973, Jay Murley wrote an article for the AM band DX club IRCA (International Radio Club of America), called "Not Your Average Radio Station." In his story, Murley wrote the following about KPPC:
"With candid discussions of grass, acid, pot and speed, and anything else that might pop into some freak's head (from studios where contact highs were unavoidable), KPPC-AM quickly became something much different from its original intended purpose. Those studios (in the church basement), thankfully, were separated from the front office by good air conditioning — for staffers and guests who didn't appreciate contact highs."
Murley also explained in his article that due to the twice-a-week simulcast, KPPC-AM forced the first exception to the FCC rule then, which said AM & FM stations could not duplicate programming more than 50% of the time if located in major markets. Crosby-Avery Broadcasting claimed in 1968 that it was the fm programming that was intended to be unduplicated, while 106.7/fm was being duplicated about 8% of the time on KPPC-1240 AM on Sundays and Wednesdays.
Murley referred to KPPC-AM's engineering in 1968 as "atrocious." He wrote, "Who worries about modulation on a hundred-watt share-time station, when your total music needs involved half-a-dozen pipe organ solos a week, or a few numbers from an off key choir?" As for the previously mentioned KPPC wire antenna system, Murley said KPPC's flattop was different. While the antenna design looked good, Murley described it this way: "It's roughly parallel with all the leaky auto ignitions of Colorado Boulevard. It's anchored to a structure that anchors the printing press of the daily paper published next door. KPPC has a static machine for an AM long-wire (antenna), the sort of static machine that does a job on 1240 and local adjacent channel operations, such as the black-programmed KGFJ on 1230."
"In spite of its extraordinarily limited schedule and its very limited coverage pattern (barely reaching West Hollywood's Sunset Strip, never reaching the Pacific and covering less than a third of the Los Angeles market within the half-millivolt contour), this relic out of the past once performed a key function. It offered to the listener without the fm set the chance to sample free-form underground radio during its initial growth period, without having to listen to a friend's fm. FM set sales skyrocketed among 18 to 24 year-old males, audiences jumped and the rest is history," Murley concluded. This goes along with what James Mason told me about why the church didn't keep the AM when the fm was sold in 1967. Apparently, new owners Crosby-Avery wanted 1240-AM to promote the fact that if listeners wanted to hear B. Mitchel Reed and other KPPC djs playing this music every day, the listeners should go out and buy a radio with FM, so they could hear KPPC fulltime on 106.7, and not just the two days a week that 1240-AM was on the air with the same music. So, the church replied, if you want the AM station, you'll have to continue to broadcast our Sunday service. The new owners agreed to that requirement.
One of the KPPC djs in those days was Ted Alvy. Ted related to me a story that shows the strange connection between the older AM station and the fm in those days, when many of the "older generation" members of Pasadena Presbyterian Church still tuned into KPPC-AM every Sunday morning to hear the church services from 11 a.m. to noon. However, they soon got an "earful" of what the younger generation liked, when the church service ended on 1240-AM and the noon simulcast began on 106.7/fm and 1240-AM. Ted recalled that incident:
"I remember that sometime in the fall of 1970 (soon after our fm station went full power from Flint Peak), KPPC/fm reclaimed the AM signal on Sundays at noon, when it started its simulcast of our hippie underground music, as KPPC AM & FM for the rest of Sunday (just after the end of the church service broadcast on KPPC-AM). An uninformed part-time deejay once played a 'blue' routine by Lenny Bruce just as the simulcast began, and our station gm got a serious complaint from a shocked Presbyterian Church listener. The KPPC studios were now located at 99 South Chester (since Les Carter took over as pd on April Fools day 1970). My memory is a little foggy here, but sometime later our fm may have also simulcast (on 1240-AM) for an hour or two on Wednesday night after the church service ended."
According to then-chief engineer Mike Callaghan, a similar incident was heard over KPPC-1240 when the Sunday church service ended earlier than scheduled, due to technical problems:
"A fraternity brother of mine, Mike Mathieson, was running the board at 99 S. Chester one Sunday morning, when the mike at the Church suddenly opened and a hurried voice said, "This concludes this morning's service from the Pasadena Presbyterian Church. We now return you to the main studio." Period. No warning, no nothing. (The church's console had started smoking). Mathieson had absolutely NOTHING cued up or ready to go. Veteran dj Don Hall was pulling records for his 12 Noon shift, and he handed Mathieson an LP and said, "Here, play this!" Mike grabbed the record and, greatly relieved, started tracking it. "GIVE ME AN 'F' -- GIVE ME A 'U' -- GIVE ME A 'C'......." – It was The Fish Cheer From Woodstock. The old ladies tuned into 'God Squad' never even had a chance to turn it down. Mathieson didn't say a word. He just stood up, lifted his license off the wall, and walked out the door, never to come back."
KPPC Strike of '68 Brings Changes
KPPC had its share of growing pains and problems, just a few short months after the sale and format change to "free-form underground" rock. Both KPPC/fm and sister-station KMPX djs in San Francisco went on strike at 3 a.m. on Monday March 18, 1968. Ted Alvy explains how and why this took place:
| | |
| --- | --- |
| | "KPPC and KMPX employees went on strike against harassment by the management and their attempts to prevent artistic and personal freedoms by replacing the long haired, bearded, or barefoot employees who created success at both stations. Tom Donahue resigned his management position to join the strike. Management bled both operations financially, as checks bounced week after week while most of the salaries were far below the average in the industry, often below the level of decent subsistence. Management misrepresented the goals of the striking employees in order to induce people to work as scabs. (Photo: Ted Alvy) |
After the strike ended at the end of Spring of 1968, some employees returned to KPPC, because KMET would only hire B. Mitchel Reed. Some good deejays played music in the church basement studios, but with little overall direction. So it took the sale of the station and the hiring of Les Carter as pd and building the state of the art studio near Cal Tech at 99 South Chester to allow a freeform air staff that was both creative and influential in spreading good music over the airwaves. The increase to full power with a transmitter on Flint Peak in September 1970 gave KPPC/fm a much bigger audience, even against KMET/fm with their powerful signal."
Alvy went on to say, "I believe that KPPC/fm had two amazing Underground Radio airstaffs: if KMET had hired the KPPC air staff with B. Mitchel Reed, Tom Donahue and Les Carter in June 1968, KMET would have revolutionized radio in Los Angeles, and across the country, as it would've made lots of money playing lots of great music, with many imitators; if the program director Les Carter's creative air staff had not been fired on October 24, 1971. The freedom given to intelligent deejays at KPPC was responsible for its creative success."
Charles Laquidara

(r),

who had an incredibly long and successful career in rock radio in Boston as host of his Big Mattress morning show on WBCN until 1996, got his start in radio at KPPC. After getting his Bachelor's degree in theater arts from Pasadena Playhouse, Charles tried radio announcing as a job, while seeking acting roles in Hollywood. Charles was at KPPC twice, first in 1965 and again in '68 after the church had sold the FM and AM stations. In an email to me, he passed on these memories:
"I worked at KPPC as a part-time Classical music announcer in 1965. [Actually got a write-up in the Pasadena Star-News from the Arts/Entertainment editor, who called me the "refreshing new voice on Classical radio" because of, "his simple, straightforward delivery, which brings classical music to the average working folk..." [Think he was saying I didn't sound snobby and sophisticated like most announcers of the genre.] I still have the article somewhere – very proud of that one! The show was a Sunday night feature called 'KPPC's Opera of the Air,' I believe. I left in 1966 to return to Boston because of illness in the family, and when I came back to radio at KPPC in 1968, it was an Underground Rock station. I was hired as the late night 10 p.m. – 2 a.m. announcer and worked there over a year. Because I didn't know that much about Rock – and only a bit of Classical, I got some kind of reputation [or notoriety!] as the "crazy dj who mixes the Beach Boys with Bach and Jazz with Jagger." Soon I was offered a job in Boston to replace Peter Wolf, who was leaving WBCN to form the J. Geils band."
Charles also added that when he returned in '68, an event at Griffith Park took place one day to pay tribute to Lenny Bruce. Charles told me that suddenly, without warning, a bunch of Los Angeles police officers swooped down on his group and attacked them for no apparent reason. He told me that young people today would have a hard time understanding this time [late-1960s] in the USA, when people in their teens and 20s didn't trust anyone over 30, and the police who were supposed to protect you, were not your friend. Charles says he realized then that he could mix his radio entertainment show with serious social commentary of the day. He talked about the Griffith Park incident on his radio show that night and did much the same on future KPPC shows.
Mike Callaghan, who has been mentioned previously in this article, started at KPPC in May of 1970. Mike gave me the story about how he started working at KPPC, his first job in radio broadcasting: "I was taking the Electronics Curricula at Pasadena City College, and one of the classes prepared you for the FCC First Class License. The teacher, Ken Johnson, told us on the first day that if we passed the test and got the license before the course was over, he'd give us an 'A' and we'd never have to come back to class. It made sense to me, so I studied like mad and passed. When the license arrived I hung it on the wall at Dow Radio, where I was selling radio parts. One of the KPPC people came in, saw the license, and asked if I wanted a job. I'd always been interested in broadcasting, so I interviewed and got hired. That was in the basement of the church. We had a Collins FM transmitter, and when it rained we'd wait until it stopped and took the station off long enough to drain the water out of the cable that went to the antenna. KPPC's [FM] signal was terrible. One of my first jobs, as the new chief engineer, was to design an antenna made out of a broomstick and coat hangers. We called it the "KPPC Super-Signal-Sucker Antenna" and sent hundreds of copies of the plans to listeners that wanted to hear us better."
I asked Mike to please share at least one interesting memory or story about operating the stations: "It was so loose it was ridiculous. When we were building the new studios so we could get out of the [church] basement, we ran into last minute problems. The dj on the air kept saying how excited he was to be getting out of the basement, and it was I who had to call [literally about 2 hours before we were supposed to move] and confess we weren't moving for a few more days. The phone in the basement rang and rang, and finally someone answered. I asked who it was, and back came the answer, 'Oh, this is Howie!' 'Howie? Who the heck are you? Where's the dj?' 'Oh, he went out to get a sandwich.' 'He did, eh? Who's running the radio station?' 'Well, I guess I am... Anything special you'd like to hear?' 'Ah, Howie, do you happen to have a license to run a radio station?' 'License, why on earth would I want a license?' And so it went."
Mike added that generally, there weren't any problems between the church and this underground rock station operating from its basement: 'The church left us alone. Their business manager, Bill Benke, was my contact if I needed anything [circuit breakers reset, etc.]. I only called him once on a Sunday afternoon, and he was totally ripped. Not happy at all about coming in. Generally speaking, there weren't that many people in the basement at one time. The Church heard about the 'Flashing Statues' and did ask us to leave. But by that time, we'd already had the Beatles, Stones, and other stars down to the basement. It was more of a drag for us to ask them into a church than it was for the church."
Mike includes this funny story about the statues on his own Web site. Just one month after starting at KPPC, Mike managed to get the entire station kicked out of the basement studios. As the new chief engineer, Mike had rigged a set of plastic statues of the Holy Family with lights hooked up to the cart machines. When the first spot [commercial] was done playing, Joseph would light up. When the second spot was done, Mary would light up. Also, when the disc jockey turned up the volume too loud for the transmitter, Jesus would light up. Quoting from the Web site, 'The church elders decided it was time to get the 'heathens' out of the basement and gave us two weeks to move. The deadline to move was a Sunday, and the party held in the basement Saturday night is still legendary. About a month after the studio move, we started building a new transmitter plant on Flint Peak between Pasadena and Glendale."

(Photo: Mike Callaghan)
I also asked Mike about the AM's 100-watt signal when he worked there and if the AM usually simulcasted the fm station twice a week. Mike replied, 'The AM ground system was better than you might expect. When it signed on in 1924, the IRS donated a bunch of copper stills they'd confiscated, and they were buried around the perimeter of the newspaper building. Copper straps went up the sides to the roof and were tied together. The signal was really crappy, though. No real ground wave to speak of. When I did a request show with Art Laboe from a root beer stand in East Pasadena [on KPPC-1240 AM], I had to buy a top-notch Sony receiver to make sure we were on the air. Even so, I did get QSL reports from as far away as the Hague in the Netherlands. That one made my day.' (Author's note: I believe the copper stills used as part of the ground system came later than 1924. KPPC's antenna from 1924-1936 was on top of the church roof, not on the Star-News building. The church got permission in 1931 to use the former KPSN antenna system atop the Star-News roof, and that's where the copper stills for the ground system were placed, possibly in 1931 or when the antenna system was re-done in 1936 for the power increase from 50 to 100 watts). Mike added, "If I had nothing else to do on a Sunday afternoon, I'd feed it [KPPC-1240 AM] from the Production Studio and play stuff I'd brought from home. No one cared. When there was a significant election in Pasadena about the School District, I took a tape deck to the meetings and ran them on 1240 on Wednesday nights."
Mike recalled more about the move from the church basement:
"I remember all this well, as I was still in school when we moved. The exodus from the basement to 99 S. Chester was in May of 1970. After that was done, we started on Flint Peak, and that move was in September. What it meant was that less than 6 months after being named chief engineer, I had moved the entire station to new digs. KPPC-AM did stay in the Church basement. It was remote controlled from Chester St. And on 'Black Sunday', when the staff got fired [October 24, 1971], the jocks all were despondent when the FM went off and the police walked in and gave the staff 5 minutes to clear out or get arrested for trespassing. They all forgot the mike was open and the AM was still on the air. Now THAT is an aircheck I'd like to have!"
There's much, much more to the KPPC/fm story during its "underground rock" glory years, including details of its format, air personalities, photos, etc. For more details, you are invited to explore these Web sites put together by Ted Alvy and Mike Callaghan, which are dedicated to the memory of KPPC/fm: KPPC, DUCK RUSH (Neon Mallard) KPPC-FM 1967 – 71.
As Ted points out, a lot of talented people came through KPPC/fm during that era, including all the previously mentioned names above, along with The Obscene Steven Clean (Steven Segal), Dr. Demento (Barry Hansen), The Credibility Gap (Richard Beebe, David L. Lander, Michael McKean and Harry Shearer), Don Hall, Mississippi Fats (Joe Rogers), Miss Outrageous Nevada (Susan Carter), Johnny Otis, Cosmos Topper (Ted Alvy), The Firesign Theatre and Jeff Gonzer. Other names that I've found associated with KPPC during this general era include Paul Anthony/Ralph Hull (1968); Steve Dahl (1972); and William F. Williams (1971). My apologies for not finding and including more of you. I hope those from the fm side can tell their history one day. Also, for an excellent overview on the history of this era of American broadcasting, a good source is the chapter "The FM Revolution," from the excellent book Listening In — Radio and the American Imagination by Susan J. Douglas. You may be able to find it at your public library or at a used bookstore.
GRADUAL END OF UNDERGROUND ROCK BRINGS MORE CHANGES
KPPC AM and FM were later purchased by the National Science Network on October 8, 1969. I asked Ted Alvy if he knew why Crosby-Avery sold the stations. Ted said he believed Avery was ill and Crosby had financial problems. Ted added that two years later, General Manager Doug Cox fired the KPPC air staff on October 24, 1971. He claims that Cox also convinced the National Science Network that program director Les Carter was putting the station license in jeopardy for various violations the djs supposedly committed. The new owners also forced KPPC to run commercials for their own products, such as Isodine mouthwash and Kerid eardrops. Ted said Isodine turned out to be on a federal list of products known to be ineffective. Mike Callaghan remembers that National Science Network also wanted to run their pharmaceutical ads on KPPC/fm's subcarrier, a hidden channel you can't hear on a regular radio.
ART LABOE SHOW BRIEFLY HEARD ON KPPC
Mike Callaghan told me that L.A. radio legend Art Laboe was heard for a short time on KPPC-AM around 1972. So, I sent an email to Art to find out why he was on the low-powered Pasadena outlet. Here's his email reply:
"In about 1970, Dick Moreland [previously with KRLA in the 1960s], program director of KPPC/fm decided he would like to try my old drive-in show on his #1 fm station KPPC/fm, but first he would try it out on his KPPC-AM station, 100-watts, which only broadcast Wednesday and Sunday evenings. For 4 hours each of those days, I was on from 8 p.m. to midnight. Just that one day per week. A restricted license held over from when KPPC-AM was owned by the Pasadena Presbyterian Church. PPC being the church's call letters. The show was on for about 3 months and for the 1st time in history was IN the Arbitron ratings. Quite a feat since it could only be heard in the general area of the church and [the signal] cut off at the freeway leading to L.A. The show was successful, but never got scheduled on the fm. That's the story. Thanks, Art Laboe."
Mike believes Art's show was heard on KPPC after the October 1971 firing of the air-staff: "It was later than 1970, because Dick Moreland didn't become the pd until after Les Carter and his cronies were fired. KRLA's Doug Cox was the station manager, and Moreland was the pd. I remember being at a meeting at Moreland's house when he was picking the replacement air staff. He said, "Hmmm. Let's see who else I owe a favor to..."
MORE STORIES FROM THE 1970S
Bernie Alan shared with me his memories of when he worked for KPPC at this time: "I worked for the National Science Network in New York. In 1972 [after being fired at KFAC], I was out of work here in L.A. when Stan Gurell, the manager in New York offered me the job at KPPC (FM and AM). It would only be for a few weeks, he said, while the paperwork was completed for the new owners [KROQ] to take over. It turned out to be seven months. The takeover [Big Band] is quite a story, but I'll save it for later. We simulcast the FM on AM that first Wednesday night, causing a great deal of bad feeling among the Art Laboe fans. Throughout my tenure, the Sunday and Wednesday AM broadcasts were simulcast with the fm. I left when the [fm] station was turned over and became KROQ, but a month later Gary Bookasta called me and I went to work for them…and that's another story."
The FCC records show that on November 15, 1971, control of the KPPC [AM] license was transferred to Ingrid and Thomas Burns, upon the death of Ludwig Frohlich. He was the founder of the National Science Network and the stations were passed on to his heirs, the Burns'. Two years later, KPPC AM and FM were sold to Burbank Broadcasting Company on October 30, 1973, which owned KROQ [1500-AM]. They kept KPPC/fm and changed the call letters of the 106.7 FM station to KROQ. KPPC chief engineer Mike Callaghan says this is when he left the station: "I left because KROQ had bought the station and paydays were a maybe thing. As soon as you got the check, you raced to the bank while there was still enough in the account to cash it."
KPPC-AM on 1240 was immediately sold to KPPC, Inc. doing business as Universal Broadcasting, owned by Marvin Kozofsky. It operated for the first time as a commercial religious station, with no church ties or affiliation of any kind, but kept the agreement to broadcast the Sunday morning service of its founding owner.
On July 29, 1974, KPPC moved into the same building with co-owned KMAX/fm-Arcadia. The two stations were programmed separately from 3844 East Foothill Blvd. The 1240 KPPC transmitter remained at the church basement on Colorado Blvd. and the antenna remained at the same location. The Sunday and Wednesday 22-and-a-half hour per week schedule also stayed the same and KPPC became commercially successful with Gospel music and by selling blocks of airtime for religious programs. The station also continued airing the Sunday morning church services from Pasadena Presbyterian at 11 a.m., said to be – at that time – one of the oldest continuing radio program in America.
Mike Callaghan added this information about 1240-AM after the 1973 sale of KPPC/fm, and also had another memory of hearing the 1240-AM signal out of town: "After KROQ bought KPPC, they had to spin off the 1240 because they already had 1500 in Burbank. It went to Marvin Kazofsky of Universal Broadcasting, and was run by Eric North. Pure block religion, and PI's in between. He used to run this particularly obnoxious spot for the 'Three Blind Boys from Alabama'. I went camping in Oregon, and dialed up 1240 on a Zenith Transoceanic. On a Wednesday night, in the midst of all sorts of buzzing, hum, interference, fading and heterodynes, I could barely make out the lead-in music for this spot. I called Eric at the studio and said, 'Hey, you just ran the Blind Boys spot - I heard it here in Oregon!!" Eric said, "Wow, we're getting to Oregon?" "You bet, clear as a Bell!!"
Douglas C. Brown also sent his reminiscences: "My only experience with KPPC-AM was this. After KPPC/fm was purchased by Burbank Broadcasters and became KROQ/fm in fall '73, I was production director and/or overnight dj on the fm at 99 S. Chester in Pasadena, the FM studios. Part of the sale agreement was that we had to provide studio time for KPPC-AM when it was on the air Wednesday nights [I think] and Sunday. It always struck me as kinda funny being in the middle of this hip rock 'n' roll environment. Every Wednesday and Sunday, the owner of the AM [can't remember his name] would show up with the worst quality "sermon" type tapes and/or live religious types to take over the production studio for some hours. I saw cash changing hands for the airtime. Just a few steps away, Jimmy Rabbitt, China Smith or Shadoe Stevens [with Flo & Eddie] would be rockin'. This is when I realized that the only thing technical you really needed to operate a profitable radio station was/is a cash register. Of course, KROQ was forced off the air by bankruptcy in May of '74, so I don't know how the AM operated...there was no power at the studio for lack of utility payment."
| | |
| --- | --- |
| | Mike Callaghan (l) adds a bit more to this part of the KPPC-AM timeline: "National Science Network's 1969 purchase included 1240 AM. We mostly simulcast the fm programming on it, but there were some shows towards the end that were separate. I did a dj show on Sunday afternoons, playing oldies, and the Beaton Brothers, who then owned KIEV, bought time on my show to advertise their station. |
"When Gary Bookasta [Burbank Broadcasting Company] bought the fm, the AM went with it. He already had an AM on 1500 in Burbank. So he had to spin it off. The winning bidder was Marvin Kozofsky of Universal Broadcasting. I stayed on as KPPC-AM's chief, and Marvin was always calling to complain he couldn't hear the station in Westwood. Marvin paid $50,000 for it. [I bid $25,000 for it and didn't win.]

"When Bookasta sold all the technical equipment to Pepsico Leasing to get money to buy the fm, he included all the AM stuff, including the transmitter. KPPC-AM was programmed from one of the KROQ production rooms for the 22 hours it was on each week. One Tuesday, we learned the sheriff was coming Thursday to impound everything, so after the Wednesday night show on 1240, we carried all the AM equipment [namely, a production studio] out to a huge van and whisked it away to a new KPPC-AM 1240 suite of offices on the second floor of 3844 E. Foothill in Pasadena."
I also heard from George Chambers who works at KXIT-FM/AM and KXDJ/fm in Dalhart, Texas. George was with KPPC during the mid and late-1970s, and wanted to share some thoughts on his time there:
"I worked for KPPC around '76 to the end of '80. Universal Broadcasting owned it and KMAX, the old Sierra Madre Station. The manager was Eric North and KPPC aired mostly Black Gospel and the Pasadena Presbyterian Church on Sunday Mornings. I followed Hank Landsberg of Henry Engineering, who took care of the fm and Mike Callaghan who took care of KPPC AM. KPPC AM used a Collins [approx 1956, I do not remember model] transmitter and Mike had the transmitter looking and working like a new box. The transmitter was moved into a closet, but in earlier years was in a larger control type room a few feet away. The studios were at 3844 East Foothill Blvd and we could not hear the station there, so we used a 15 kHz loop antenna to monitor off air. The control room was the production room for KMAX and had an RCA console. The equipment included one cart machine and a couple of reel-to-reel Scullys. Programming included tons of live church programs from all over SoCal. You would call the church and whoever would answer the phone would lay it on a table and the broadcast began! I started the nighttime idea and management at KGFJ did not go along with the idea."
Chambers continued: "KPPC operated at 100 watts and KGFJ reduced to 100 watts when we operated. I left in late 1980 and soon after, the FCC was going to allow Class 4 stations to operate at 1 kw full time, however KGFJ could not go to 1 kw, having to stay 100 watts. The engineers got together and created the first nighttime station in America. I am foggy on the exact details and might be off a bit. Burt Weiner was the chief at KGFJ and was always wonderful to work with. KPPC always had a very interesting lineup of programs. Earl Victor Smith had gospel music as well as Ruth Dickerson and Rev. Roger G Decure. One never knew what was going to be happening next."
"The owners were Howard Warshaw and Marvin Kozofsky," wrote Chambers. "Howard lived in New York and Marvin in the Wilshire district. Marvin would come to the studios every couple of months in his Jag. It always broke down on the way there, so one of the staff had to pick him up between Pasadena and L.A. There were several General Managers, one of the longer stays was Darby Cunningham from Y-100 in Miami. When I was a young broadcaster I had problems with him and as the years have gone by, I have a new respect for his style. He could sell anything to anyone! One day we went into an office furniture store looking for some desks and chairs – remember KPPC and KMAX ran programming from all over the world – several languages every day. The store manager asked Darby to describe the station and he replied, "We run a variety of talk shows", and the next day the furniture arrived! The station was once described as a Mish Mash of Everything Poorly Produced. After I left L.A. for Tehachapi KTPI, Douglas Broadcasting took over the stations. A few years later the towers came down and a long wire was used off the side of the Star News Bldg and the church and the station went away a bit later. Sad to see BR-34 go this way. Those years were fun and the people I worked with were great.
MORE POWER, NEW SCHEDULE
While some people in the broadcasting industry may have thought of KPPC as a relic from the past, big changes in the mid-1980s made the station an ongoing AM band survivor. In 1985, after 61 years on the air, KPPC was granted a long-awaited power increase from 100 to 250 watts. The station was re-licensed to operate during nighttime hours only (sunset to sunrise) Monday through Saturday, and on Sundays from 6 a.m. until 2 a.m. Monday morning. KPPC-1240 may have been the only AM station in the United States licensed to operate only during nighttime hours (though historically, during the early and mid-1920s, just about all radio stations operated only at night or mostly at night, because they didn't have many daytime listeners then, and to take advantage of the AM skywave signal, which allows stations to be heard far away at night, mostly during the winter months).
However, because of the power increase and night-only broadcasts, KPPC lost all protection from the stations that had to provide it since mid-1944. To get KGFJ to agree to the power increase, KGFJ-1230 was now allowed to operate at 1,000 watts instead of 100 watts when KPPC was on. Also, 1240 in San Bernardino (then KKLA-AM) was free to run 1,000 watts (not 500) when KPPC was on, and 1260 in San Fernando was no longer required to operate with its nighttime array during Sunday's daytime KPPC hours.
With the power boost and increased airtime to 6 nights each week and 20 hours on Sunday, KPPC's format expanded to mostly Spanish language programming on weeknights and Saturday from sunset to 2 a.m. Some occasional Hindi language programming was also scheduled. Sundays were devoted to religious and Gospel programming, along with the traditional 11 a.m. church service from the home of KPPC's original owner.
Some of the staff members from KPPC I've found in past Broadcasting Yearbooks include:1981: Darby Cunningham-general manager; Bob Gourley-program director; and George Chambers-Chief Engineer. 1984 had the same listing, except the Chief Engineer was Fred Follmer. The 1985 edition listed Dick Marsh as vice president and gm. The 1986 Broadcasting Yearbook described the KPPC format as 'inspirational and ethnic.' Dick Marsh remained the vp/gm; Bob Gourley, pd; and James Tolliver was chief engineer.
In 1989, KMAX/fm was sold and KPPC operated independently. For a time, the transmitter was in the Pasadena Star-News building.
HISTORIC KPPC TOWERS TAKEN DOWN
| | |
| --- | --- |
| | The antenna towers for KPSN/KPPC atop the Star-News Building were Pasadena landmarks since late-1925. But the towers never had the KPPC call letters on them. Mike Callaghan grew up in Pasadena and recalls that when he was young, he often rode his bike past the Star-News, thinking the towers were shortwave antennas used by the paper to gather news stories from distant places. Mike also explained that the city used to have two newspapers. "The Southern tower bore the neon for the Star-News and the North one had the Independent. The 'STAR-NEWS' was all in block letters, and the 'Independent' was in upper and lower case. |
The printing presses (for the newspaper) were in the basement. When they used to start a run and the presses were coming up to speed, KPPC's power would sag due to the drain," said Mike. Later on, Mike said the north tower was without a sign for many years.
By the autumn of 1990, the next-door newspaper ordered the old KPPC antenna and towers to be dismantled and the KPPC transmitter removed from their building. The 1240 transmitter was moved back to the church basement, and, as I stated earlier, a new longwire antenna to transmit KPPC's signal was put up, partially on the roof of the church. On April 28, 1990 the Star-News reported that a local structural engineering firm did a study on the radio towers. It found that the concrete bases of the towers were crumbling due to stress from winds and earthquakes over the years. The study concluded that a quake or strong wind could dislodge pieces of un-reinforced concrete, which might fall onto the street or onto neighboring buildings. The price to conduct a 'stress survey' to see if the towers could be saved was going to cost $30,000, while the cost to the newspaper to remove the old towers was $25,000.
Former KPPC student-worker and chief engineer Fred Volken did the work on the new antenna. According to Fred, "I was not involved with the operation of the station in any significant way after 1952, with the exception of the work on a new antenna around 1990. This was some years after the station had become licensed to a commercial broadcasting firm, with the licensee renting space for the transmitting equipment from the church. For safety reasons, it had become necessary to dismantle the station's antenna towers and "flat top" antenna on the roof of the Star-News building. At that time, I was involved in the design and construction of a new "flat top" antenna that was suspended between a 60-foot tower on the roof of one of the church buildings and an anchor point on the roof of a nearby office building. This antenna, which is still in place, remained in use until the station stopped broadcasting."
In 1992, KPPC was owned by Universal Broadcasting, which acquired the station in the 1970s. The General Manager was Linda Johnson Hayes and the program director was Bob Gourley. The 1992 Broadcasting Yearbook lists KPPC's format as inspirational and ethnic. The 1994 edition listing for KPPC was similar, except Mark Pompey was pd/CE. By 1996, Mark Pompey was listed as gm; Jose Duarte, station manager and news director; Felipe Villescas, general sales manager; Urith Lynn Walker, music director; and Bob Gourley, public affairs director.
By the early-1990s, this historic station had only a few years left. Mark Pompey was KPPC's chief engineer and station manager during its final years. He has said the broadcast signal actually got worse after the 1985 power increase and the loss of protection from the local 1230 and 1240 stations. Mark added that the signal also seemed worse after they got rid of an old RCA tube transmitter for a solid state Nautel model. And, with the FCC ruling in late-1984 allowing other class IV stations on 1230 and 1240-AM to use 1,000 watts at night instead of 250, fringe areas of KPPC's audience really suffered due to increased interference from the other stations.
KPPC AND THE SECRET SERVICE
In October of 1993, a brushfire destroyed 115 homes in Altadena and Sierra Madre, adjacent to Pasadena. Not long after, a prayer service for the victims of the fire was held at Pasadena Presbyterian Church. The national news media was there that Sunday morning, because President Clinton was there to attend the service, though he was not scheduled to speak, so it was mostly a 'photo-op' for the press. James Mason was in charge of not only the radio and cable TV broadcasts of the church service, but helped get special phone lines installed for this media event. As he gave the Secret Service a tour of church layout Saturday afternoon in advance of the President's visit, they wanted to make sure there would be no interference to their two-way radio equipment. Mason then asked if they knew that a 250-watt AM station with its transmitter in the church basement would go on the air Sunday morning. They did not! They immediately asked that the transmitter be turned on for a short time to see if KPPC would cause problems for their two-way communications system. Mason switched the transmitter on for a short time and the signal on 1240-AM didn't cause any interference with Secret Service communications. A few minutes later, the phone rang. Mason said it was KPPC pd Mark Pompey. From his office at the main studio, he noticed the dead carrier and asked if Mason had turned the transmitter on and why. Mason said yes. Using a serious tone of voice, Pompey excitedly said something like, "You can't do that! We're not licensed to be on the air until after dark." James Mason told Mark that you don't say no to the Secret Service in a situation like this, and besides, the FCC is 3,000 miles away.
NEW OWNER PLANS TO SILENCE KPPC
The beginning of KPPC's demise came in April of 1996. KGFJ-1230 in Los Angeles had been sold to new owners (Douglas Broadcasting), who also purchased the KPPC-1240 license, apparently with the intent to take KPPC off the air (even though the KPPC call letters were later changed to KXPA). The new owners were planning to simulcast a special talk format on 1230 and 1240 kHz., along with the Pomona AM station on 1220 they also bought. This plan was soon dropped when they felt Pasadena Presbyterian Church (where the transmitter and antenna were located) was charging excessive rent for station space. They also felt the 250 watts on 1240 would not help increase their overall coverage very much and still caused interference to 1230-AM, which was changed from KGFJ to KYPA on May 1, 1996.
CHURCH PROPOSES PLAN TO TAKE BACK KPPC
James Mason had been the volunteer General Manager of Broadcasting for Pasadena Presbyterian Church for a good many years, by the time KPPC was sold to Douglas Broadcasting. Mason was the man who coordinated the broadcast each Sunday of the morning church service for KPPC radio and later, Charter Cable TV. Mason told me in a phone conversation that the church first learned of Douglas' plans to take KPPC off the air in early 1996. I asked him about the story I heard regarding the effort to buy the station back for the church. James replied, "God knows, we tried!" With Mason acting as spokesman for the church, he immediately proposed that Douglas Broadcasting donate KPPC-1240 back to Pasadena Presbyterian Church. The church would then operate KPPC with only 50 watts of power and go on the air ONLY for the Sunday morning church services. Douglas' new station KGFJ-1230, soon to become KYPA, would not have to reduce power while KPPC would be broadcasting. Mason told me that the folks at Douglas showed some interest in the church's plan. However, one person in their group objected, claiming that there was nothing to stop the church from going back to the FCC to apply for higher power and more hours on the air. This was enough of an argument to convince the others at Douglas they should not give the station back to the church, so the deal was off. Mason adds that Leased Management Agreements (LMA's) between stations were just starting then, and he believes now that if Douglas had let the church run KPPC under an LMA, that things would've worked out much better for all the parties involved and KPPC-1240 might still be on the air today.
KPPC GETS TO SAY GOODBYE IN A 4-HOUR SHOW
It's very rare for a radio station to be allowed to say goodbye to its listeners and fans whenever there's a format change or sale of that station. But luckily, KPPC-AM got this chance in 1996. On a negative note, there was no time to publicize this historic event, so it's likely this broadcast wasn't heard by a large audience of listeners!
The new owners allowed the staff of KPPC-1240 to make one final broadcast the night of April 19, 1996. It lasted 4 hours, and featured chief engineer and manager Mark Pompey as host of the program, along with about 20 guests in the studio who discussed the station's history. Mark did a great job putting this special broadcast together in only two days! It was a sad moment for many of those there who understood the historical significance of this little AM station. A few past KPPC employees also called in and told the nostalgic story of KPPC Radio's more than 71 years of broadcast service to Pasadena, through various periods of local radio history. It went from serving the congregation of a single church, through the days of free-form-rock music, and ended its time on the airwaves serving the religious community again. The broadcasters explained why this was to be the final time KPPC was to be heard. Hopefully, whoever was listening was also able to understand why this unusual AM radio station had been such an icon in the folklore of Southern California and even United States radio history! The time probably went by all too quickly for those involved, as they gave proper credit and respect to a radio station that helped form the foundation of the giant broadcasting industry of today! Then, the transmitter was turned off one last time, and KPPC-1240 was apparently silent. Or, was it???
Bob Gourley is the former operations manager of KPPC. He sent along these comments: "KPPC was one of the most interesting stations ever. I was Operations Manager there from 1977 until 1989 and I remember a lot of characters that were involved. I was also there the last night the station was on the air. We had a farewell (broadcast). You may hear from Mark Pompey who was actually general manager the night the station went off the air. It went off because Douglas Broadcasting had purchased KGFJ 1230AM and wanted to cut the interference that KPPC AM generated. So he decided to take it off the air, even though Mark had gotten the billing up pretty well. My main remembrances are of the transmitter at the church, the dipole antenna, and the still that was the ground system for the antenna. I also remember some of the calls we got from outlying areas. The signal was better than you would think at certain times of the year. Anyway, there will never be another station quite like KPPC AM.
"I'm glad you mentioned James Mason. I had worked with him a lot over the years, but had forgotten his name. It is true that the station did broadcast only on Sundays for the remainder of the contract. Also, the church did try to buy the station, but for some reason it didn't work out. KYPA-1230 is now owned by Multicultural Broadcasting. They are based in Pasadena and bought 1230 sometime ago. There are several employees there that worked at KPPC and might share some more stories. As far as programming, the station made money by brokering out time to churches and some foreign language broadcasters as well. I used to install the equipment at various churches so that they could broadcast. I remember one that was actually in a woman's living room. She had set up a very small pulpit by the fireplace. There were about five chairs in the living room. She would broadcast from there. We used to put a device on the phone that would hook into her small PA equipment. It was simple but worked well, as long as the phone didn't get disconnected," concluded Bob.
Bob also mentioned that KPPC was sold to Douglas Broadcasting for "around $900,000. Quite a lot for a station they wanted off the air." Mike Callaghan had this response when he learned of the 1996 sale price for KPPC: "$900 K??? Universal bought it from [Gary[ Bookasta for $50K!!! I offered $25K, but got outbid. The $900 K is amazing! The 1997 Broadcasting Yearbook listed the sales price as "$825,000 for stock."
CHURCH IS OWED MORE AIRTIME ON KPPC
While the April 19, 1996 broadcast was the final DAILY KPPC broadcast, it was not yet the end of this pioneer radio station. James Mason told me that Pasadena Presbyterian Church officials kept the station on the air, after they discovered that the church had 6 months left in its contract to broadcast the Sunday services over KPPC each week. The station was again able to go on the air, but only once a week! The license still allowed for the transmitter to be turned on every Sunday morning at 11 a.m. for one hour, then turned off when the church service ended. KPPC had come full circle during its final year on the air!! Its sole purpose once again was to broadcast the services of its founder from the site where the station first went on the air on Christmas Day of 1924. The station remained silent the other 6 days of the week.
A FINAL VISIT TO KPPC-1240
During that spring of 1996, Bill Kingman, who received his first radio broadcasting training at KPPC in 1959, paid a nostalgic visit to the station, only a few months before it signed off the air for good. Here's what Bill recalls of that visit:
"In April of 1996 (possibly May), I was in Pasadena for a school reunion. On Sunday morning, I heard KPPC's 1240 carrier come on "cold" at 11 AM with a brief station ID and introduction for the Pasadena Presbyterian Church services broadcast. At 12 noon, as soon as the service ended, the carrier went OFF. During that hour, I happened across a small business office on an east Pasadena side street parallel to Colorado Blvd., a few miles from the church. It was labeled "KPPC" on the stainless steel glass door and had a storefront window. A small room with only a desk and chair, I think, and frankly it looked like an abandoned storefront, maybe just to meet FCC "presence" in the community of license. I think there was mail on the floor.
"I then drove to the church, mostly rebuilt following the 1971 earthquake, but the underground facilities remained unchanged. I think it was my first visit to KPPC in more than 30 years, and memories flooded me as I saw again the same pale walls, linoleum floors, incandescent light fixtures, and the old-style 12" x 12" acoustic tiles with 1-inch borders (like school classrooms) covering studio walls and ceilings. But the Master Control room and Studio A booth that very day were being torn-out! That's the room in that old B&W photo of 17-year-old me at the Collins console. Then it was weird standing at that very spot as it was being ripped apart where the other photo was taken of me (wearing suit & tie) seated at the RCA 77-DX with the KPPC mike flag.
"Bob Holden explained that they had a new Nautel transmitter temporarily positioned somewhere else which fed a slant-wire antenna off the roof "out back." I didn't see it. The roof-top towers next door were long gone. Bob would simply turn the transmitter ON at 11 AM Sunday and OFF at noon, for 1-hour a week. KPPC was not active any other time. He said the radio facilities were being removed in favor of new cable television studios. I don't know if PPC or a paying tenant was doing that. And that was my last contact with Bob and KPPC. I wish I had taken pictures!"
THE LAST BROADCAST
The final broadcast on KPPC-1240 took place very quietly, with no media publicity on September 1, 1996, after yet another Sunday morning service broadcast from Pasadena Presbyterian Church. The transmitter was routinely turned on at 11 a.m. with a station I.D. After the church service ended at noon, it was also the end for KPPC-1240. The very last legal station identification heard over this pioneer radio station, "KPPC, Pasadena", was spoken by Cindy Chow. You maybe be asking yourself, who is she?? It turns out that she is the wife of the person in charge of the cable TV broadcasts for the church. She was there by chance and was chosen to speak the final historic station identification into the microphone. Following that historic final station ID, the 1240-AM transmitter was then turned off by James Mason for the final time. After nearly 72 years of broadcasting to Pasadena, KPPC was off the air forever. The next day, the chief engineer for KYPA-1230 stopped by the church to pack up the 250-watt Nautel transmitter and other equipment from the now-dark KPPC.
But was this to be the end for 1240-AM in Pasadena? After "going dark", there was a call letter change to KXPA. The group owner of KYPA-1230 (ex-KGFJ) and KWPA-1220 who forced KPPC-1240 to cease broadcasting, changed the call letters one more time on January 31, 1997 to KBLV (K-Believe). It looked as if they were possibly going to try and get 1240 on the air again to simulcast their Personal Achievement format. But if their intent was to take KPPC off the air, why did they file for a call letter change?
With or without a call letter change, the AM radio station on 1240 licensed to Pasadena was gone forever. The FCC finally deleted the license and call sign for KBLV-1240 on July 11, 1997 at the request of the licensee. With its "radio voice" now silenced, Pasadena Presbyterian Church continued to televise its church services via local cable TV. Maybe this was a radio station that had outlived its time and/or usefulness and couldn't make it in today's highly competitive Los Angeles radio market. But, the real history of this station ended with the last broadcast of KPPC-AM on September 1, 1996.
KPPC's PLACE IN HISTORY
The radio station founded nearly 82 years ago by Pasadena Presbyterian Church should be remembered for several things today. KPPC-AM was arguably the most unique radio station, AM or FM, in the historical records of the Federal Communications Commission. It was fully licensed, but had to divide its air time with a co-channel station or operate only during specified hours for most of its existence, which allowed the station to broadcast less than 2 days per week! In addition, KPPC was probably the last 100-watt AM station in the United States, before the 1985 power increase and one of the last AM's to use a wire-transmitting antenna. When it left the air for the final time, KPPC was the 7th oldest radio station in the Los Angeles market and the 18th oldest in California. KPPC was also among the 315 or so oldest radio stations in the United States still broadcasting since December 1924, when it went off the air.
As for the programming, KPPC had one of the longest continuously running programs in radio history. The Sunday morning service from Pasadena Presbyterian Church was heard over KPPC from December 28, 1924 until the final radio broadcast on September 1, 1996. The church services are still broadcast today over cable TV. And its record of public service to the community is on record as being consistently excellent. The church continued to remember its radio station through the years. Just two years before it went dark, there was a special KPPC 70th Anniversary celebration at the church in 1994 organized by James Mason, Bob Holden and Jill Brown. The special celebration included many former KPPC workers, along with two people who had been there when the station went on the air in 1924, the widow of KPPC's first announcer/engineer, George Anton Pohlman and Bob Holden's father, Marshall Holden.
Mike Callaghan had this to say about KPPC-AM's legacy:
"First, when the Church had it, they did an INCREDIBLE job of serving Pasadena. The Philharmonic performed in a really large room they'd built just for that (purpose). There was public affairs, local news, etc. When the Church wanted the FM, they went into a competitive hearing with another applicant. He wanted to move the transmitter to Flint Peak and play rock music. But when the Commission looked at what the Church had done with their 100 watts, it was no contest. Pasadena was, and is, an incredible city with a legacy virtually unmatched in California. From the Huntington Hotel, to 'Millionaire's Row' (South Orange Grove Ave.) to the Rose Parade and the Rose Bowl, it deserved the best in broadcast service. Because the church was unsaddled by competition to make money, KPPC could air the best programming and do it in an unrushed and truly professional manner. The number of listeners to that Sunday Service revealed the legacy the Church had in the city and among its listeners. Locked into a power of just 100 watts, and with no other place to construct a better antenna, the station was doomed as soon as 1230 lit up in L.A. and 1240 got socked in by San Bernardino. It was just a matter of time. The tower lease with the Star-News was $65 a year. The towers got hit by lightning occasionally and no one cared. But after the newspaper went to computerized typesetting and the last lightning strike destroyed the computer system, the paper moved quickly to get the towers down. Like many stations, it just ran out of time."
When asked how KPPC should be remembered, Bill Kingman replied, "KPPC, during the church ownership years, was probably one of the most respected examples of top-quality radio broadcasting management, both technically and in programming. KPPC would never succumb to the usual crass commercial influences nor prostitute its stature. It should be remembered at least for that!"
James Mason had his own ideas on how KPPC should remembered. "As a (broadcasting) pioneer, as a training ground for people, not just in radio broadcasting, but in life, I think." James told me that there were still a lot of 'old-timers' in the church who were saddened when their radio station was gone, but now, with the church service on cable TV, it's time to move on. He also said that the story of KPPC could be possibly remembered as a cautionary tale for those who want a radio station, but to warn them that they should be careful what they wish for, and to have a clear plan for their station. Mason thinks that the church went into radio without a clear vision of how to use KPPC to further the mission of the church or tie it into the church. He says the same could be said for the old KPPC-FM. James says that after telling people in the church how much 106.7 FM has been worth over the years after each sale, their jaws drop in disbelief. It's likely many with the church have regretted selling their FM and AM stations in 1967 for $310,000. In 2005, that FM station, KROQ, was the #1 billing radio station in the United States. Not just in L.A., but the entire country! Maybe if they had kept the FM and run it as a commercial religious station, it would've worked out better, but that's another guess in hindsight by me.
Other KPPC alumni from the church ownership years told me that it should not be forgotten that KPPC was a FREE training ground in a major market for dozens of future broadcasters, who went on to became disc jockeys, newscasters and broadcast engineers in Los Angeles and elsewhere. Long before there were very many radio broadcasting programs at local colleges and universities, KPPC was the radio classroom for people such as Vince Campagna, Fred Volken, Jack Calaway, Bill Kingman, Bob Holden, James Mason, Don McCulloch and many, many others.
FINAL THOUGHTS
So, here we are, 10 years later, with KPPC off the air, for better or worse. It also just happens to be close to the Christmas Day founding of KPPC. Should it have been left on the air, even for just one day a week? I'm not sure if the FCC would have approved of that deal, but I would have supported such a plan to keep it on the air. When I told a radio engineer friend of mine about KPPC-AM's demise a few years ago, he remarked, "You'd think that even a 'peanut-whistle' AM signal in the Los Angeles market would still be worth saving and be able to stay on the air." KPPC was full of life during its 7-plus decades of broadcasting, but like a cat, it ran out of its "nine lives."
Even in the 21st Century, I'm still quite amazed that voices, sound effects and music can travel through the air and be heard on my radio from distances close and distant. KPPC went on the air during the "gee whiz" phase of radio and lasted nearly three-quarters of a century. It is a shame it couldn't last longer, even for only one day a week to air the church broadcasts of its founder. Its legacy of serving its church, its city of license and bringing out the best in the people who worked there is a record to be proud of, and should be remembered and honored.
I hope that by writing this history of KPPC-AM radio, even with its imperfections, has accomplished my goal. I wanted to show that this unusual radio station was more than a novelty and did a fantastic job over the years of serving the public interest, convenience and necessity. I also hope that this profile of KPPC will preserve some radio history of the past that deserves to be archived and shared in the future, to show that this really did happen. I certainly hope you liked this story on KPPC's history and I thank you for taking the time to read it.
MAJOR SOURCES FOR THE ARTICLE
Most of the newspaper stories I quoted in the article are already listed, but here are the other main sources I used in my history of KPPC:
Radio Service Bulletin. Issued monthly, beginning in January 1915 by the Bureau of Navigation, Department of Commerce.
Commercial and Government Radio Stations of the United States. Annual list issued as of June 30th for 1920 through 1931 by the Department of Commerce.
Department of Commerce card files, station "History Cards" on microfiche, and call letter files at the Federal Communications Commission, 1919 M Street, NW, Washington, DC.
FCC files, including the 1936 ruling on the KPPC power increase (In the matter of Pasadena Presbyterian Church/KPPC, Pasadena, California for Construction Permit and Modification of License. Docket Numbers 2891 and 2905. Decided April 24, 1936). Thanks to Thomas H. White for finding this report for me.
"Church Radio Station Honored", from the Pasadena Star-News, June 6, 1962, story by C. Fred Shoop on the debut of KPPC-FM and history of KPPC-AM.
Radio Doings magazine, program schedules from various issues from 1925 and 1926
Pasadena Star-News stories from December 1924 and January 1925 and various radio program listings from 1924 to 1954.
My sincere thanks to the many people who contributed to help make this article on KPPC as complete as possible: Bernie Alan, Ted Alvy, Douglas C. Brown, Mike Callaghan, George Chambers, Bob Gourley, Art Laboe, Bill Kingman, Charles Laquidara, James Mason, Don McCulloch, and Fred Volken.
Also, a very special 'thank you' to the staff of the Pasadena Public Library, especially librarians Jean Penn, Laurie Whitcomb, Katy Curey and Dan McLaughlin for helping me with my research, whenever I asked them to look up various newspaper pages about KPPC, then surprised me with photocopies of the articles and radio log pages I requested, mailed to me at no charge!
Thank you also to Jean Paul, the Library Archivist at Occidental College in Los Angeles, for providing information regarding the close ties Occidental had with KPPC and Pasadena Presbyterian Church in the past.
Details on KPPC's antenna system came from a one-page history sheet sent to me by KPPC's chief engineer in 1983.
I'm also indebted to radio historians Scott Fybush, Donna Halper and Thomas H. White for their help with my research
Thank you also to Don Barrett for publishing this article on his LARadio Web site.
Thanks to Jim Hilliker for this fascinating look at KPPC. The series continues next week. If you would like to contact the author, Jim's email address is: jimhilliker@sbcglobal.net
---
Send mail to db@thevine.net with questions or comments about this Web site.
Copyright © 1997-2009
Last modified: March 11, 2009