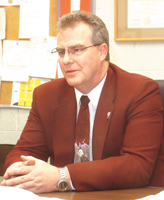 This article appeared in the Register-Herald on Jan. 18, 2004. Photo by T. M. Grant.
By GARY FAUBER
Bob Maynard worked 12 years in the coal industry. That's a little less than 25 percent of his life that he will cherish forever.
But he also knows his coal days were only part of a plan designed by a higher authority. From the dark mines of southern West Virginia coalfields to the bustling hallways of several area schools and now to his seat as principal at Woodrow Wilson High School, Maynard has lived a charmed life.
Sure, it took something as drastic as a torn-up ankle to make Maynard realize that. But the Cabin Creek native is comfortable with the direction his life has taken.
"To be honest with you, I am a true believer that God has a plan for you," Maynard said. "God has intervened with us (the Maynard family). He started me on the path in education, and I enjoy it. I enjoy working with the kids.
"It's a challenge, but I enjoy it."
Raised on the upper end of Cabin Creek, Maynard and family moved to Raleigh County the summer after his fourth-grade year. He graduated from Marsh Fork High School in 1971 and spent the next four years at Glenville State College.
Maynard was an offensive guard for the Pioneers' football team, one that lost 10-3 to Northwestern Iowa in the NAIA Division II national championship game in 1973.
"It was a game we should have won, but I had the opportunity to play for a national championship," Maynard said. "It's a small college, but it helped pay for my education."
Something of which Maynard got plenty. In addition to his bachelor's degree in health and physical education, Maynard went on to earn master's degrees in safety management from West Virginia University and administration from the West Virginia College of Graduate Studies.
It was at Glenville State that Maynard met his wife, Marlena, a native of Fairmont. It was also while in college that Maynard got his start in the coal industry.
While working in the mines as a college student, Maynard applied for a spot in WVU's safety management program.
"They only took (something) like 12 students a year," said Maynard, "so I had to wait a year to get in."
He and Marlena got married, and Maynard spent the year working to save money for his entrance into graduate school.
Once that was completed, Bob and Marlena moved back to Raleigh County. He took a job with Beckley Coal in Glen Daniel.
"I worked in the union, became a salary person, worked in the safety department, got my foreman papers and became a boss, a foreman," Maynard said. "I was there for about four years, and after that I was transferred to Pikeville, Ky."
That's where the Maynards' life began its fateful path.
The pair of mines in Pikeville shut down after Maynard put four years into the company. Maynard estimated that "about 800 people" were laid off.
Maynard had the opportunity to stay in Kentucky and get another job, but his hometown roots would not let him.
"At that time, in that area, you could get a job in non-union mines," he said. "But growing up here in the southern West Virginia coalfields, that wasn't me."
So, Maynard came home - again. He went back to Beckley Coal, but all the while something wasn't right.
His experience in Pikeville prepared him for bad times.
"I could see the handwriting on the wall again," Maynard said. "I could see that we were going to shut down."
Like the Almighty Himself, Maynard had a plan. He had his teaching degree, and decided the time had arrived to begin putting it to use.
Busy days were certainly ahead.
"I had to take six hours (of college courses) to renew (his certificate), and I was working six or seven days a week," Maynard said. "I was doubling back to probably eight or nine shifts a week, and going back at nights to renew my teaching degree.
"I was making good money in the mines, but I was never home."
It was during this hectic time that a life-altering event occurred.
"About that time I tore my ankle up," Maynard recalled. "We stepped off into a big water hole, and I turned (the ankle). So I had to have surgery on it."
Maynard thought the ankle had recovered significantly through rehab, so he went back to work. He found out how wrong he was when the pain immediately returned.
A second surgery was required. Maynard didn't know it at the time, but the pain was actually a blessing.
"The doctor told me, 'You can continue to work in the mines and make good money, or you can get out and work where you can walk on a flat surface,'" Maynard said. "If not, they were going to have to fuse the ankle together."
Maynard opted for the second choice. Not because he was afraid of another major surgery, or even more pain.
Once again, Maynard had a feeling.
"I could see that eventually the mines (at Beckley Coal) were going to shut down because I had been through it in Kentucky," Maynard said.
So Maynard got out of the career that he had enjoyed for 12 years. He took a teaching job at Pettus Elementary.
Two months later, Beckley Coal permanently shut down operations.
"They haven't worked a day since," Maynard said.
Maynard is now in his 17th year in education. He taught seven years at a range of schools, from Pettus and Beaver elementary schools to Marsh Fork High School.
The switch from the coal industry to education certainly presented one major difference.
"It was a shock when I got that first paycheck," Maynard joked. "I said, 'Well, here's my lunch money, Marlena. Now what do I do?'"
Even as a teacher, everything that happened in Maynard's career seemed to come with purpose. He went to West Virginia COGS for his administration degree, a move that would help broaden his qualifications.
"During that time there were some jobs open in the county, but there was always somebody who had more experience," Maynard said.
Then, one day, Maynard got a call from his father-in-law in Fairmont. The assistant principal position at Grafton High School had opened.
Or so he thought.
"When I called and asked about the vacancy at Grafton High School, they said, 'How do you know about the job?'" Maynard said. "And I said, 'Well, my father-in-law lives in Fairmont ... he heard one night on the news that the assistant principal had gotten in trouble or something.'"
Maynard was told the position would indeed open up within a week's time. He applied and was awarded the job.
The Maynards - Bob and Marlena and sons Chase and Shane - lived in Grafton for five years. They got to spend valuable time with Marlena's side of the family.
But, in 1999, fate came knocking again.
"Out of the blue, I get a call from (Raleigh County Assistant Superintendent) Mr. (Racine) Thompson telling me that the assistant principal and athletic director's job would be open (at Woodrow), and he wanted to know if we were interested in coming back home," Maynard said.
It really seemed to be an ideal situation. Bob and Marlena could return to the area they knew so well. Chase, who eventually played football at Concord College, could play for an up-and-coming program at Woodrow Wilson High School. Shane, now a senior at Woodrow, could play for one of the most reputable prep basketball programs in the state.
The answer really was quite simple.
"We sat down and felt like it was a good move to come back to Beckley," Maynard explained, "because Marlena and I lived here for a good 10 years. She always worked in the school system. She taught at Clear Fork High School, worked at Liberty High School, Marsh Fork High School. This was home to us."
That happened in November 1999. Four months later, then-Woodrow Wilson principal Miller Hall took a position in the board's central office.
That opened up the Woodrow principal job. Guess whom that position went to?
"For a person who grew up on the Coal River and went to Marsh Fork High School - I am very proud of the accomplishments of the high school there - and a person who worked in the coal industry, to be principal of Woodrow Wilson High School is a major accomplishment," Maynard said.
"I am proud of that fact."
Maynard makes it known he thoroughly enjoys his position. But, make no mistake, these days are nearly as hectic as those spent as a student and career man back at Glenville State.
During a simple 24-hour period, anything can happen.
"The first buses usually roll in around 6:30 in the morning, and a lot of times we have student assistant team meetings where we meet with students and parents at 6:30, 6:45," Maynard explained. "So I can have two meetings before seven o'clock.
"Then you go through your day, and you can have an agenda planned and things lined out, what you want to do that day, but something may happen on the bus or something could go opposite (of your plan). You have to be very flexible."
The final bell rings at 2:20 p.m., but Maynard's day is far from over. Sure, he may get out around 3:30, maybe 3:45.
But a high school principal's day is never really over.
"There is always some type of basketball game or soccer game, so I'm back here - especially in the spring time - two or three, four nights a week," Maynard said. "I may be here from 6:30 in the morning to 10 or 11 o'clock at night, and I'm always on call. And we have something going on in this building at all times.
"I'm not here all the time, but you are always on call in case something happens."
Hectic, certainly. But Maynard wouldn't change a thing. He is very proud of the work ethic displayed by everyone at Woodrow Wilson. And he is especially thankful he has a supportive family that understands his situation.
True family time is scarce, but it hasn't brought down the Maynards.
"Two years ago, all four of us were here," said Maynard, looking on the bright side. "Marlena is a counselor here and we had Chase and Shane both here (as a senior and sophomore, respectively). Did I get to see them? Maybe I would see them in the hall or in the lunchroom walking through, but I at least had the opportunity to see them."
Family is definitely important to Maynard. He talks proudly of the accomplishments of his sons. He speaks with appreciation of his supportive wife.
He speaks with undeniable love of his late mother, who had such a profound influence on the lives of Chase and Shane.
"When I taught at Marsh Fork or Pettus, and she lived at Whitesville, we would get up in the morning early and take the kids to The Learning Tree (day care), and if they were sick or whatever, I could call home and she would meet me at Marsh Fork and take the kids," Maynard said. "Or if things were real bad, the next thing you know she would be at the house.
"She was a vital part of their lives."
Which may partly explain why Maynard is so hugely proud of Chase and Shane. When Chase had made a huge decision about his future, he thought his parents would be mad.
Instead, Bob and Marlena respected their oldest son for doing what he wanted.
"Last spring he says, 'Dad, will you get mad at me if I don't go back to school in the fall?'" Maynard recalled. "I asked him why, and he said he would like to take some time off, work and then make up his mind. I said, 'Son, I have no problem with that at all. You're 19 years old. You've got a lifetime ahead of you.'
"I think he went to Concord just to prove he could play. He worked very hard for (Woodrow Wilson) coach (John) Lilly, and coach Lilly really worked hard with him and did a great job.
"Chase worked super hard and is a heck of a football player."
Maynard also suspects Chase - a first-team all-state performer at Woodrow - wanted to witness little brother Shane's senior year of basketball. Last season Shane was a first-team all-stater for the Flying Eagles. He helped the team advance to the state tournament for the 12th time in 13 years.
"Sure, they had their brotherly fights and everything, but they are each other's best friends," Maynard said.
Shane even played football as a sophomore to be with Chase during his senior season.
"But he broke that collarbone, and that did it for Shane," Maynard said. "Shane could have been a heck of a quarterback. He's 6-foot-5 and sees the field well. Basketball is his love, but that's how close they are."
Like family, athletics are important to the Maynards.
Bob was thrilled with his experiences at Glenville State. The 1973 team that went undefeated in the regular season wound up losing to Fairmont in the West Virginia Conference championship game.
Still, the Pioneers qualified for the NAIA playoffs. They beat Carthage (Wis.) - the team thought to be the favorite - 14-7 in a semifinal game before losing the title to Northwestern Iowa at Marshall's Fairfield Stadium.
Even before then, sports were important to Maynard. Being a native of Cabin Creek, Maynard knew all about Jerry West, the East Bank High School legend who went on to WVU and a Hall of Fame career with the Los Angeles Lakers.
Maynard never got to meet "Mr. Clutch," but he did listen to WVU games on the radio. Maynard was well aware of what West did - not just for the game of basketball, but for all of southern West Virginia.
"He had always been an idol of mine," Maynard said. "He displayed a hard work ethic and showed you can become somebody if you work hard enough. Sure, God gave him a skill, but he worked those skills, just like Chase and Shane. God gave them skills, but they both have worked very hard to get where they are at."
Just like their old man.
---