WOODROW WILSON HIGH SCHOOL HISTORY
Glenn Sallack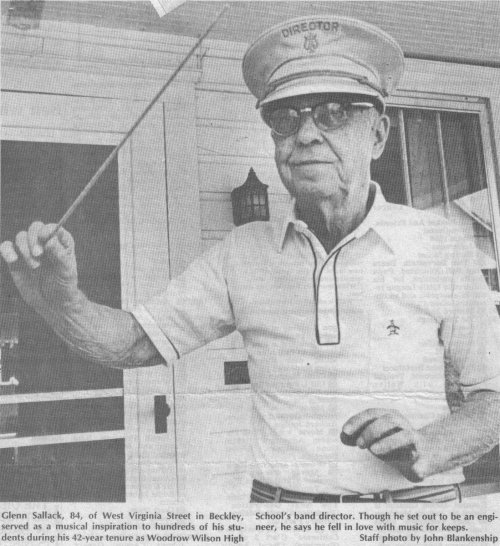 Legends In Their Time
Music Man
Fondness for Music Brought Engineer to Beckley
Glenn Sallack was born in 1901 and died in 1985. This article appeared in the Beckley Register-Herald not long before his death, as it reports he was 84 years old. Thanks to Doris Dransfield for transcribing this article.
By JOHN BLANKENSHIP
In Beckley, the "Music Man" is Glenn Sallack.
He'd just graduated from Syracuse University with a degree in electrical engineering when he came to Beckley to teach mathematics and band music in 1924.
But the young engineer liked music better than engineering. He brought musical enjoyment to hundreds of students during his 42 year tenure at Woodrow Wilson High School, and he helped launch many musicians on successful careers.
At age 84, Glenn's step is still springy, his enthusiasm for music still keen. At his home on West Virginia Street, the mild-mannered musician listens to his favorite bands on the radio. He still has the uniform and baton he used to instruct three generations of students.
Glenn played in a professional concert band while in college. He also played with theater orchestras.
"There were no sound movies when I started," he says with a broad smile.
"The movies were silent, and theater owners would hire 35 piece orchestras to accompany the films."
Glenn soon made a name for himself as a musician. During his last two years in college, Glenn directed the band at Syracuse. He came up with some new half-time field maneuvers for a game at Yankee Stadium when the Orangemen took on the Pitt Panthers in a football game in the early 1920s.
"We'd make one letter at a time," he says of the field routine." It caught on and has been popular ever since.
Though Glenn went to college to be an engineer, the dean of music at Syracuse had other ideas for the talented musician. "When graduation rolled around, he told me about Beckley needing a band teacher. I came down here, got the job and stuck with it."
Glenn started a music program from scratch at Beckley High School, on year before the Woodrow Wilson High School facility on Park Avenue was finished in 1925.
"Students were eager to learn," he recalls of the early days. "They came early and stayed late. I just couldn't give it up."
But it wasn't easy starting a new music program, says Glenn. When I called for volunteers, about 40 students wanted to play the guitar. "he recalls." I wanted wind instruments. They thought I was crazy.
And during that first year, the new teacher rewrote dozens of classical band songs so that his students could play them. "The songs were written for professionals," he says. "I had to adapt them."
Glenn wrote the music for the school's fight song, which is still used today.
After a few years, the flying Eagles had come of age with their music, and one of the band's biggest thrills came in Chicago, during a festival at Soldier Field, sponsored by the Chicago Tribune.
Some 90,000 spectators stood up and cheered when the Beckley band unfurled a 40-foot American flag that the band director's wife, Wanda had sewn for the occasion.
Bandmasters from all over the country wrote the Beckley music teacher, asking for permission to use the maneuver.
Glenn's band got another ovation in the early 1950s, while performing at the Orange Bowl in Miami, Fla. When the band's trumpeters soared to high C in front of the reviewing stand on the field, U. S. army Gen. Douglas MacArthur stood up and saluted.
As the band passed by, thousands of screaming spectators stood and applauded.
During his tenure at Woodrow Wilson, Glenn helped develop the best instrumentation of any high school in the state. He added bass clarinets, alto clarinets, bassoons, eight French horns, a flegelhorn and an English horn.
And, it was only natural for some outstanding dance orchestra musicians to be developed in Glenn's music program: Frankie Thornton had his own band in Sydney, Australia; Brud Moon, a saxophone player, had his own band in Sarasota, Fla; Earl Kirk, now a physician in Texas, played professionally for years; Don Boyd played the trombone with Harry James, Glen Gray and Les Brown; and Charlie Higgins, a former Episcopal rector at Little Rock, Ark., and missionary to China, was a professional teacher and trumpet player.
Glenn's bands rated tops in West Virginia for decades. For 18 consecutive years his musical squad got first rating at the annual state band festival.
In 1931, Glenn married the former Wanda Lowe, who had been a member of his first band in Beckley. They live at 204 West Virginia Street, and have two daughters Betty Sallack Wilson, a music teacher at Maxwell Hill Elementary School and Barbara Sallack Southern, who is employed with the Putnam county Board of Education.
Glenn has had many honors during his career. He helped organize the first All-State High School orchestra in 1929 and served as the orchestra's director. He is a former president of the state high school bandmaster's organization. He is a member of the First Baptist Church and the Masonic lodge.
Glenn is distinguished for his graduate work at new York University, West Virginia University, Ithaca Conservatory, and the Eastman School of Music in Rochester, N.Y.
He had considerable experience as a cellist.
The veteran music teacher likes to talk about his former students, but he admits he's had some embarrassing moments. For instance, at a forest festival concert at West Virginia Wesleyan Many years ago, Glenn and his male band students were lodged in a gymnasium, sleeping on portable bunks.
The janitor turned the lights out at about midnight. The gymnasium was in darkness. One of the students threw a shoe across the floor, the noise startled the dozing music teacher, who leaped out of his bunk and exclaimed, "What was that!"
None of the boys answered their teacher. Suddenly, Glenn realized he didn't know how to find his way back to his bunk in the dark.
"I couldn't see, I couldn't find where my bunk was," he recalls of the incident.
"It really was embarrassing. Luckily, the kids never found out about that one.
---
A 1960 newspaper article about Mr. Sallack is here. The image can be viewed in various sizes.