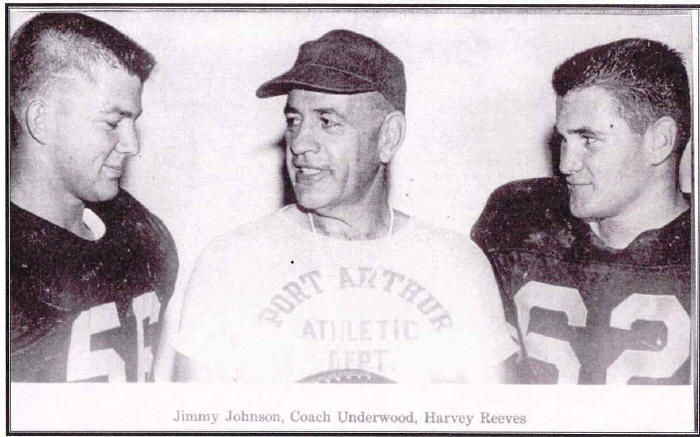 A Tribute to Coach "Buckshot" Underwood
Hello everyone. My name is Robert Young. Some of you will probably know me as "Frog" Young. I graduated from WWHS in 1957. I received my teaching degree from WV Tech in Montgomery, WV in 1962. I then taught and coached in the WV public school system for 30 years. I have been retired for 15 years.
I can remember it was every boy's dream to play sports for the late and great Coach Jerome Van Meter. The name Van Meter was synonymous with Beckley, "The City of Champions". I consider myself very fortunate to have played for Coach Van Meter. Coach taught me a lot about life and influenced my own style of coaching.
One night, not too long ago, I was surfing the Internet. I decided to visit the WWHS home page where I found a chart with all the names of the former football coaches at WWHS. While looking at the list, I came across the name of Clarence Underwood. That name rang a bell. Years ago, I had heard other coaches and athletes talk about a coach by the name of Underwood. As a matter of fact, I can remember them talking about a Coach "Buckshot". .
I knew that Coach Van Meter took a leave of absence to serve his country during WW II and that Coach Kenneth Hunt had replaced Coach Van Meter during that time. But, the information contained on the WWHS site listed Clarence Underwood as the head football coach during the 1942-43 season. I had no idea anyone else was the head football coach during the war years other than Coach Kenneth Hunt. This piqued my interest even further. Many questions came to mind: Who was Clarence Underwood? Who was this Coach? Did anyone know anything about him? Were Coach Underwood and Coach "Buckshot" the same coach or a different coach? With all of these questions, I knew I had to come up with some answers. With the help of telephones and computers, I decided to do some detective work.
I started my research by calling Ralph Beckett. Ralph was a 1950 graduate of WWHS. Ralph has, after years of searching, found a copy of every yearbook ever printed from Woodrow Wilson High School. After Ralph thumbed through the yearbooks, we discovered that Clarence Underwood had attended WWHS and was a four-year football letterman. He graduated from WWHS in 1934. In addition, Clarence Underwood was the Head Football Coach during the 1942-43 season. And, to my surprise, he was called Coach "Buckshot".
After completing my conversation with Ralph Beckett, I remembered having a football program of the annual Thanksgiving football game of November 27, 1930. This was always the last game of the season. I ran upstairs to dig into my WWHS memorabilia and I found the 1930 football program. Quickly, I opened the program to check out the WWHS roster. Guess what? Listed as the starting right tackle (170 lbs.) was "Buckshot" Underwood! He graduated in 1934 and attended Marshall on a football scholarship.
I next called Bob Davis a 1952 WWHS graduate and a great all-round athlete for the Flying Eagles. I asked Bob if he knew anything about a Coach "Buckshot" that coached football at WWHS? Oh, yeah, he knew "Buckshot". Bob told me that he dreaded the day that he would get to WWHS because his brother Jack played for "Buckshot" and he heard the stories about how hard he was going to have to work. Bob did not have to play for "Buckshot", but came close because Kentucky was interested in Bob's ability and he met with "Buckshot" at the University of Kentucky.
I was really getting interested in "Buckshot" now. Did anyone know what happened to "Buckshot" after he left Kentucky? I knew "Bear" Bryant went to Texas A&M. Did Underwood go with him? I had information from someone telling me that they heard that Coach "Buckshot" was somewhere in Texas, but in the movie "The Junction Boys" there was no mention of a Coach "Buckshot" Underwood.
A couple of weeks ago, while viewing a high school sites in Texas, I saw the name of a coach Underwood. I emailed the site and said, " I am not sure who will answer this email", but was looking for some information on a Clarence Underwood who might have been an assistant coach at your school. This was the reply:
Robert...Buckshot Underwood, who passed away in December of 1985, became a LEGEND in Texas High School Football. He was not an assistant he was the head coach at Port Arthur's Thomas Jefferson High School. I was very fortunate in later years (I graduated from TJHS in 1961) to spend some time with him. He coached many great teams and players...including Jimmy Johnson. Buckshot and I went to several Miami University games where he shared a lot of History. He once told me, " My father was an Underwood and my mother was a Remington, parents didn't know if I was going to be a typewriter or a shotgun". Give me a call sometime and I will collect my thoughts and share them with you. Also can lead you to some other Buckshot pupils. If you have not read the book BLEACHERS, do so...
Best regards,
Jim Maxfield
This email started a friendship with two old football players which will, I hope, last a very long time. Jim Maxfield has given me a lot of information on "Buckshot". Jim also played on the line with Jimmy Johnson and they are still very good friends and stay in close contact with each other. Jim just got back from a fishing trip with Jimmy Johnson, but had no fish stories to tell. I am expecting some photo of the trip soon. Jimmy Johnson told Jim Maxfield that Terry Bradshaw was coming to visit next. I will bet that Bradshaw will have some fish stories to tell.
Knowing I was looking for some information on Coach Underwood, I received an email from Ronny Landry, an All-State quarterback at Port Arthur, who started at guard at the University of Texas. Landry said," Coach Underwood was a legend in Texas High School Football, but most importantly he was a father figure and a positive influence on a large amount of young mens lives during that time period."
Jim Maxfield tells me that when "Bear" Bryant left Kentucky for Texas A&M "Buckshot" did not go with him because of some health problems and surgery at the time. While "Bear" was at Texas A&M he heard of an opening at Port Arthur, Texas for a head football coach and was probably the main influence behind Port Arthur's, Thomas Jefferson High School, hiring "Buckshot" for the head football coach in 1956 and the rest is history.
The following is an article from SPORTSLOCAL news columns written by Barbara Hanson on Underwoods first year at TJHS.
It was Clarence Underwood's first year as the Port Arthur Yellow Jackets' Head Football Coach. His main purpose was to "Build Character" even though this 1956 team won 5; tied 2; lost 2; placed four players on the All-District Team; and one of those on the All-State Team.
That's not bad for a first year coach whose number one goal was character building through the game of football. His All-Stater was Fullback Jimmy Landrum who was recruited by "Bum" Phillips, winning out for Texas A&M over other top colleges. Jim's first year at A&M was one of facing off with the likes of Jack Pardee and John David Crow, Coach "Bear" Bryant's stars of his #1 Team in the Nation. That was Bryant's last at A&M before moving on to coach the Alabama Crimson Tide to its highest laurels.
In another email from Jim Maxfield he states that in 1957 Underwood went to the State Championship only to lose after starting quarterback was injured. Had three first team all-state players. In 1959 lost in semi-finals to Corpus Christie Ray (my junior year) the best team I ever played. My senior year (1960) season, we lost in the semi-finals 6-0 to C. Christie Miller (Johnny Roland) was their running back. Johnny set many records while playing for the Cardinals of the NFL. All loses in playoffs were to eventual State Champions.
At the time of "Buckshot's" death, he was living in Tomball, Texas. He was a volunteer coach for their team (Coach Etheridge). The team had lost in the State Championship game two years in a row. Coach "Buckshot" Underwood died of a massive heart attack, after a morning walk, one day after the loss. He came very close to the championship but never winning one. In later years when he and I went to see Jimmy Johnson at Miami, ALL the coaches and their assistants knew him from Florida, Oklahoma and Miami. He would hold court on the field during pre-game. After leaving Port Arthur Coach Underwood resumed his duties at the University of Kentucky from 1965 to 1968. After this email from Jim Maxfield I figured I had all the information I could find on Coach Underwood and was about to end this article when Jim emailed me again and said, "Frog" I hit pay dirt, here is the email address of "Buckshot's" daughter Nancy and also Mrs. Clarence Underwood who is in great health and does a little "surfing" herself.
I find out that Coach Underwood has three beautiful daughters, Janet Ordway who now lives in Dallas, TX, Nancy Pace, who lives in Spring, TX and Barbara Tuttle who lives in Grand Marais, Minnesota. He also has 6 grandchildren and 3 great grandchildren. Rumor has it that one daughter may have went to Alabama on a football scholarship.
I received the following email from Mrs. Clarence Underwood:
Dear Frog: I would like to thank you for undertaking the article on my husband, Buckshot. I will be glad to give you all the information that I can if you have the time to put up with me. He played varsity football at Marshall and lettered 3 years and was named Little All-American Guard. He graduated in 1938 with an AB Degree majoring in Math and Physical Education. After graduating from Marshall he came back to Beckley to coach at WWHS from 1938 to 1942. From 1943 to 1947 "Buckshot" served his country as a Lieutenant in the United States Navy. He served in the South Pacific, Okinawa, Guam, and Ulithia. After the war "Buckshot" became an assistant football coach for the legendary Paul "Bear" Bryant at the University of Kentucky where he was line coach for Coach Bryant from 1948 to 1955. From 1956 to 1966 Thomas Jefferson High School, Port Arthur, Texas as Head Coach and Athletic Director, winning District titles in 1958, 1959, 1960, 1963, 1964 won quarter finals in 1959, 1960 State finalists 1957. Head Defensive Coach at the University of Kentucky. During his coaching career in Texas, he was named "Coach of the Year" and was selected head coach of the 1960 South All-Star Football Team for the Texas High School Coaches Association. Director of THSCA 1959-61. Chairman of the Selection Committee for 4 years. Represented high school coaches on the NCAA Rules Committee. Received Special Commendation by American Football Coaches Association and the NCAA. Retired from University of Kentucky 1979 and returned to Texas. Did volunteer coaching. He attended Woodrow Wilson Junior High and played under Ross Irle in 1928. The team was called the Eaglets.
Edith
Was this the end of the story? I now decided to call Jim Maxfield on the phone. All of our correspondence up until now has been on the Internet. I told him I was finishing my article and if I had any mistakes it was all his fault. He laughed and related an interesting story concerning "Buckshot". Jim and "Buckshot" were attending a Miami game and were in an crowded elevator with Jimmy Johnson and some reporter who were trying to get close to Jimmy to ask him some questions when Jimmy says, "hold on guys, you can now talk to the source, here is my high school coach, pointing to "Buckshot", he coached me and Schnellenberger." (Howard Schnellenberger won a national championship while coaching at the University Miami and was coached by "Buckshot" at Kentucky). If the truth were known "Buckshot" probably gave George Blanda some pointers on kicking field goals and extra points. We know that he protected Blanda with his lineman.
Jimmy Johnson knew, through Jim Maxfield, that I was looking for some information on "Buckshot" and he offered the following in an email:
One thing I learned early from Underwood was speed on defense--especially at linebacker. Coach Underwood emphasized repetition until we, the players, got it right. In practice, when Underwood said "one more play", it usually meant we had one more hour of hard knocks. In later years, Underwood visited me when I was Coach at University of Miami. Several games, University of Florida and the University of Oklahoma, I had Underwood on the sidelines. Although he had been retired for years, he knew all the assistant coaches on my staff--and the opposing team as well. I remember him, bent over with his hands on his knees, and his eyes on the field...I could tell he was judging all the plays and players. He was a true football man...and had a great influence on my life both on the field and off.
......Jimmy Johnson....
While attempting to finish my article on "Buckshot" I decided to go to the Internet one more time to "Ask Jeeves". I insert the name Clarence "Buckshot" Underwood and to my surprise, I find two more people that came under the influence of Coach "Buckshot" Underwood. John Cooper, coach at Ohio State and Tom Hicks who purchased the Texas Rangers from a group headed by Gov. George W. Bush for $250 million.
John Cooper was talking about Antoine Winfield, "You don't teach instinct," said Cooper. "He's the type of kid that if he were playing baseball, at the crack of the bat he'd get a jump on the ball. He just makes plays. He plays better than we coach. I coached with a guy by the name of Buckshot Underwood down at Kentucky. He used to tell us that all the time. You've got to recruit players that play better than you coach. You don't coach instinct. You might improve it a little bit. You coach position and keys and stance and alignment and responsibilities and all that stuff, but some guys make plays and some guys don't."
The following is from an article in USA Today on Tom Hicks, owner of the Texas Rangers and the Dallas Stars of the National Hockey League:
This month, as the family sailed the Caribbean in a chartered yacht, Hicks' Dallas staff made arrangements for the man whose high school football nickname was "Ice Pick" to be able to watch all the key bowl games.
Hicks got that nickname because he was a 6-3 string bean when he first went out for football in the southeast Texas town of Port Arthur.
"It was the thing to play high school football there, and I was a late-bloomer physically, so it was very hard," Hicks says. "Finally, by the time I was a senior, I was 180 pounds, so I finally achieved my goal of starting. I think that whole experience gave me an attitude of never giving up. I think that's probably helped me a lot. I usually don't give up, and I get my way because I outlast the other guy." Giving up wasn't an option under Hicks' Port Arthur coach, Clarence "Buckshot" Underwood, who had been an assistant under Bear Bryant at Kentucky.
There seems to be no end of the influence "Buckshot" had on former athletes. I wish I could have met Coach Underwood, but I feel like I have and what a great legacy to have influenced so many lives. I am sure I will find more lives that "Buckshot" has touched. Seems as though all you have to do is go to the Internet.
Beckley truly is the "City of Champions" and we are really proud of all our coaches. I only hope that I have kept one of the great ones from slipping through the cracks. I know that Port Arthur is very proud of Coach Underwood and if you want to visit Port Arthur's, Thomas Jefferson High School web site and browse you will find it at: http://www.tjhs-news.com/
What a great time I have had doing this research on Coach "Buckshot" Underwood. To hear former players, coaches and family talk about this coach has truly been a great experience. I am sure he touched many lives and I only hope that I have expressed in words what a great person and coach he must have been and made the family proud. I can now understand why I often heard Coach Van Meter and former athletes refer to a coach by the name of "Buckshot".
Coach Robert "Frog" Young
UPDATE: In 2013 Underwood was inducted into the Texas High School Hall of Honor. An article in the Register-Herald is here.
This page was last updated on Wednesday May 25, 2005