WOODROW WILSON HIGH SCHOOL HISTORY
Van Meter Stadium Memories
Tree Can Tell the Tale of Grand Old Place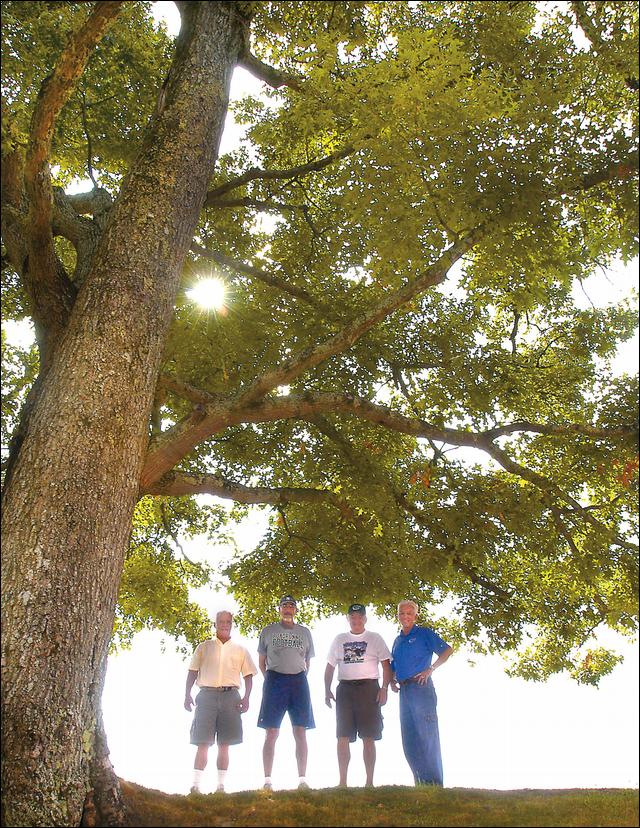 From left, Wayne Bennett, Pete Culicerto, Robert "Frog" Young and Mel Hancock stand under a scarlet
oak, which is estimated to be 200 years old, at Van Meter Stadium. C.L. Garvin/The Register-Herald
The following article appeared in the Register-Herald on July 14, 2007.
By DAVE MORRISON
If that old scarlet oak tree could talk, the tales it could tell.
The tree has been a part of old Van Meter Stadium ó soon to be renamed Bobby Pruett Stadium óas long as the field has been there.
Even longer.
"I was talking to some folks who did analysis on the tree, and they said it could be as old as 200 years old," said Mel Hancock, a former Flying Eagle track and football player, who played on the field and is co-chair of the fundraising committee to refurbish the grand old stadium. "Itís been here longer than the city of Beckley has been here."
And it has seen it all.
Like the opener, back in 1926, when the Flying Eagles shut out Mullens 46-0 in a downpour. The article in the paper the next day said many of the sellout crowd left but missed quite a showing by the Beckley reserves.
All that work by the shop class getting those stands ready did not go to waste over the years, as folks would often walk to the games, all played before packed houses.
Used to be the Flying Eagles would start the season with Mullens and end the season with Hinton ó on Thanksgiving Day.
The tree witnessed grid greats and track title holders who passed through and played on the field during some of Woodrow Wilsonís most glorious athletic days. Fortunately, there are others around to recall those days.
And like the tree itself, they all have their memories of what was once Woodrow Wilson Field before taking on the name of the Gray Eagle, Jerome Van Meter, the longtime and legendary late coach.
Van Meterís name has been given to the current home of the Flying Eagles ó Flying Eagle Stadium, on the Woodrow Wilson campus. And with the old stadium beginning to show the cracks of time, Wayne Bennett ó the chair of the committee ó Hancock and others acted.
"Because I love Bob Pruett, I love Woodrow Wilson, I love kids and I love history," Hancock said of his passion for the project. "This is a historic landmark. Weíd like to get it added to the National Registry of Historical Landmarks. Itís played a key role in the lives of tens of thousands of people. And it still has the potential to play a key role for kids today."
"To say the least, Iím thrilled to death," Pruett said. "Having grown up here, I started watching games there when I was in grade school. There were a lot of great athletes, a lot of great times. Itís a big thrill. Anyone getting up in the golden years will remember the field."
And the times.
The tree witnessed one of the oddest, if not inopportune, tackles in Woodrow Wilson history.
"Must have been about 1954-55, we were playing Parkersburg," said Howard Hurt, class of 1956. "I remember, my uncle had just returned from the Korean War and he was at the game. It was raining like heck. I intercepted a pass and I was returning it for a touchdown. Well, Tony Pauletto (who later died in a canoeing accident), my teammate, tackled me and kept me from scoring. Our uniforms were so muddy, he couldnít tell which team it was. Iím pretty sure he did some running for that one."
The scarlet oak was there the day its new namesake went AWOL ó to dance.
"It was track season," Pruett recalled, laughing at the memory. "Me and Johnny Haggerty, we called him ĎDoc,í went out and took a warm-up lap. Then we snuck back down to the fieldhouse and went to Oak Hill, where they had this show called "West Virginia Bandstand" (a takeoff on "American Bandstand" was broadcast at a local TV station). Well, coach Van Meter ends up seeing it. The next day, he called us out. He said, ĎBoys, we have a couple of Arthur Murrays with us.í He called us twinkle toes."
The tree knows the reason that Princeton and Woodrow Wilson didnít play for years.
Call it "The Fight."
"I had just come off the field, it was late and we were substituting," recalled the Class of 1957ís Robert "Frog" Young, who went on to coach at Park and Woodrow Wilson. "I was watching our center, Doug Lewis. Usually, he ran up to the line first. This time he just kept going and didnít stop until he got to the Princeton safety. He got him down and was hitting him and the benches emptied and then the stands emptied. Iíve never seen anything like that, before or since. We didnít play Princeton again for years. That has always been a very vivid memory."
Legendary coach Pete Culicerto, the last coach to lead Woodrow Wilson to the state title and who also was a player on a state championship team, told Hancock his favorite memory doesnít involve himself.
"He said it was when Butch Alexander threw a touchdown to his son Joe, on a last second pass, to win a game," Hancock said.
Culicertoís family was one of several that had multi-members play at the field.
The Rappold family is another.
The tree even witnessed what Hancock said was his moment of fame.
"We were playing Parkersburg, the preseason No. 1," Hancock said. "They had a great player named Dick Bittle, who later went on to captain a Duke team. Sometime in the third quarter, well, me and Dick got in a fight and they kicked us both out. We didnít miss old Hancock but they missed Bittle. Best play I made at Woodrow. I ran off the field and coach Underwood was pointing toward the locker room. I just sat in there, afraid to come out because coach might be out there with a stick. All of a sudden, the crowd roars. I was thinking, ĎWhat happened, did we score, are we still winning?í I went through a teammates pants, got his car keys and, muddy uniform and all, went to his car and listened to the rest of the game."
Hancock said he is hopeful that the field will be done soon.
"Itís exciting to give current and future athletes the same opportunities the Bobby Pruetts, the Dwayne Winglers, the late Bill Stone, the Bill Karbonits and the Howard Hurts had," Hancock said. "There are young people who will someday leave their mark. And they need a place to play."
There will be a wall commemorating the coaching greats who have traversed the sidelines, including Ross Irle, Ross Hutchins, Jim McNish, Robert "Frog" Young, Pete Culicerto, Vic Peelish, Ken Wheeler, Lawrence "Preach" Wiseman, Van Meter and Joel Hicks.
Anyone wishing to contribute to the fund can do so at Raleigh County Schools Stadium Fund, Attention: Wayne Bennett, 212 Park Ave., Beckley, W.Va. 25801.