History of WBRW and
WMCD/WOVE/WXEE, Welch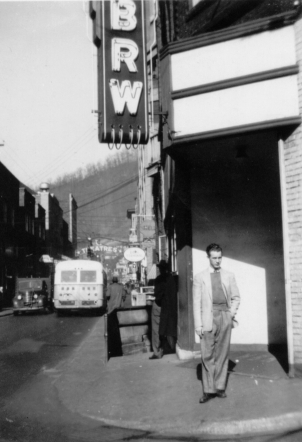 Photo at left: John Sinclair, manager of WBRW
This page was last revised on Oct. 8, 2017.
The call letters WBRW stood for the last names of the original owners, John W. Blakely, L. E. Rogers, and J. Read Werness.
On May 15, 1940, a construction permit for 250 watts on 1310 KHz was issued.
On Aug. 24, 1940, the Bluefield Daily Telegraph reported that the station "will probably begin broadcasting Monday, it was reported yesterday by Harold McWhorter, station manager." The article stated that the studios are located "on the ground floor of the Lambert building, at the foot of Riverdrive, with a 180-foot transmission tower having been erected on top of the Dor building."
WBRW began regular broadcasting at 6 a.m. on Aug. 29, 1940, according to a 1945 article, or Aug. 25, according to a 1940 article.
On Jan. 1, 1941, Broadcasting reports that WBRW is licensed to McDowell Service Co.; J. W. Blakely, insurance man and theatre owner, president, 60 shares; L. E. Rogers, theatre owner, vice president, 40 shares; J. R. Werness, insurance man, secretary-treasurer, 40 shares; W. H. Rogers, theatre owner, 10 shares.
The 1941 Broadcasting Yearbook shows WBRW on 1310 kHz, to switch to 1340 kHz, 250 watts. The licensee is McDowell Service Co., 10 Riverside Drive. Phone 818. Owner, J. W. Blakely; General Manager and Commercial Manager Harold McWhorter; Program director, Joe J. Herget; Mdsg. or Promotion manager, Gordon Redding; Chief Engineer, Thomas Phillips Jr.
On March 29, 1941, WBRW changed from 1310 to 1340 kHz as part of a nationwide shifting of frequencies of most stations.
The 1944 Broadcasting Yearbook shows WBRW on 1340 kHz, 250 watts. The licensee is McDowell Service Co, 10 Riverside Drive. Phone 818. Owner: John W. Blakely; General Manager and Commercial Manager: Ralph J. Nash; Program Director, John Villani; Mdsg. or Promotion Mgr., Ralph J. Nash; Chief Engineer, John E. Timberlake.
An article about Jim Runyon (1931-1973) in the June 1963 TV Radio Mirror has:
Jim started in radio at the proverbial bottom rung of the ladder, as a janitor at station WBRW in Welch, West Virginia. He was only thirteen years old at the time, but he was already possessed of a driving ambition to be a radio announcer. One Saturday, the regular deejay failed to appear and Jim persuaded the station manager to let him go on the air. Except for a two-month interval (State Child Welfare authorities found out he was only thirteen and insisted he stay off the air until his fourteenth birthday), Jim's been on ever since.
Runyon later worked at WELC in Welch, but went on to WLW, KYW/WKYC, and WCFL, where he was one of the voices in the Chickenman series.
On May 11, 1947, an article in the Bluefield Daily Telegraph mentioned that Margaret Bulis, a senior at Welch High School, had been an announcer for WBRW for two years, working about two hours per day.
The 1949 Broadcasting Yearbook shows J. G. Hunt, President; Ellis Landreth, commercial and general manager; John Villani, program director; Howard R. King, chief engineer; Carl Loose, commercial and program manager.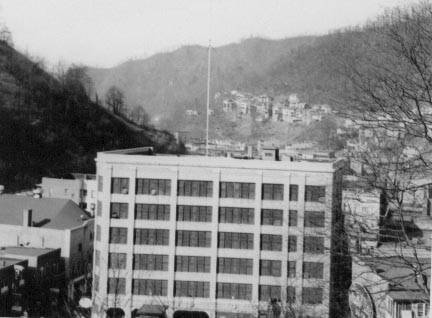 The 180-ft tower of WBRW in 1950. The tower consisted of three 60-ft sections. The top of the tower is washed out by the sky and not visible. The guy wires were anchored to hardware bolted onto the side of the building shown, and to another building not in the photo. The tower fell in 1955. Photo courtesy of Johnny Moore.
The 1955 Broadcasting yearbook shows WBRW on 1340 kc with 250 watts, owned by McDowell Service Co., 10 Riverside Dr., affiliated with MBS and KBS. Joseph G. Grant, president; Paul William Marlowe, general manager and commercial manager; Willis Seaman, chief engineer; Michael Silagi Jr., office manager.
On March 23, 1955, the Charleston Gazette reported that high winds toppled the transmitter tower of radio station WBRW yesterday. "Miraculously, it hit no persons or automobiles and no one was hurt."
Apparently the station ownership did not return the station to the air after the tower collapse.
On Aug. 1, 1955, WBRW was deleted at the request of the licensee. Thus, from the standpoint of the FCC, in 1955 WMCD was a new radio station operating on the same frequency as WBRW instead of a change in call letters.
On Nov. 17, 1955, WMCD sought authority from the FCC to increase power from 100 watts to 250 watts.
The 1956 Broadcasting yearbook shows WMCD on 1340 kc with 100 watts, owned by Williamson Broadcasting Co., Second Ave. at Court St. Alice Shein, president.
On April 4, 1958, the Raleigh Register reported:
George Yazell, Beckley, has reached an agreement with the Williamson Broadcasting Co. to purchase Radio Station WMCD, Welch, which halted broadcasting on March 19, he said. The station which ceased broadcasting last Saturday will resume operations soon under the new ownership. Yazell said approval of the sale by the Federal Communications Commission would be necessary. The purchase price was not disclosed. Yazell said he hoped to assume ownership of the facility within 60 days. WMCD was a 250-watt station with full-time operating privileges. Yazell currently is assistant manager of radio station WOAY, Oak Hill, and prior to that was with WJLS, Beckley.
Apparently, Yazell did not purchase the station.
In 1958 the call letters were changed to WOVE.
The 1959 Broadcasting Yearbook has: WOVE (1939): 1340 kc; 250 w. Rhodes Bldg. Phone Hemlock 6-2790. Welch Broadcasters Inc. (acquired station Sept. 11, 1958). Sale pends to South C. Blevins. Network: MBS. Rep Weed. C. E. Feltner Jr., pres & gen mgr; James A. French Jr., coml mgr; Don Amon, program dir; Joyce Amon, women's & promotion dir; Frank Greenwald, chief engr; Jack Scammel, news dir.
On Jan. 1, 1964, the station was acquired by WOVE, Inc.
The 1965 Broadcasting Yearbook shows WOVE on 1340 kc, 1000 watts day, 250 watts at night, McDowell Street. Phone 436-3333. Licensee: WOVE, Inc. (acq 1-1-64). Net: MBS. Kenneth J. Crosthwait, president and general manager and commercial manager; George H. Hall, chief engineer.
In 1966 WOVE-FM, 106.3 MHz, began broadcasting.
The 1969 Broadcasting Yearbook has: WOVE Dec. 1, 1955: 1340 kc; 1 kw-D, 250 w-N. McDowell St. (24801). 436-3333. WOVE Inc. (acq 1-1-64). Net: CBS. Spec progs: Neg 10½ hrs; C&W 24 hrs, both wkly. Kenneth J. Crosthwait, pres & gen mgr; Don F. Kesler, stn mgr; George H. Hall, chief engr.
On May 24, 1969, the deejay lineup at WOVE was reported as Gene Johnson, program director Jim Roberts, Eva F. Fabin, music director Arnell Church who just moved over from WJBE in Knoxville, Nick Druggish, and Art Jones.
The 1971 Broadcasting Yearbook shows the FM call letters as WKJC(FM). The call letters stood for Kenneth J. Crosthwait, President. The 1972 yearbook does not show an FM station in Welch. The 106.3 frequency was subsequently used by WBDY(FM), licensed to Bluefield, Virginia.
On Aug. 1, 1971, WOVE was acquired by Davis-Major Communications Corp. The call letters were changed to WXEE, pronounced "wix-ee" and named for WIXY in Cleveland, where the new owners were from.
The 1974 Broadcasting Yearbook has: WXEE Dec. 1, 1955: 1340 khz; 1 kw-D, 250 w-N. Rhodes Building. (24801). 436-4191. Davis-Major Communications Corp. (acq 8-1-71). Net: ABC/C. Format: Contemp. Spec progs: Relig 10 hrs wkly. Gerald E. Davis, pres, gen mgr & chief engr; Leonard Artis; coml mgr; Andrew A. Pitt, prog dir; Deborah McCoy, mus dir; Brad Walker, news dir; Floyd Graham, sports dir.
In a recent post in a radio message board, in the thread "The best W. Va. stations ever," TXRAD wrote, "Sorry I didn't see this thread earlier, but I would have to nominate WXEE in Welch, which for a brief, shining moment in the early 70's was ridiculously good for such a small market. It had recently been bought by a couple guys from Cleveland (Jerry Davis and Lenny Major) who brought in some great talent. However, it didn't take long to realize there weren't enough dollars in the market to support their overhead, so it became a typical small-market station shortly thereafter."
A brief history of WXEE, provided by the station in the late 1980s, indicated the station was affiliated with the ABC Entertainment Network and MetroNews and featured a satellite country music format from Transtar. Personnel listed were: President: Tommy L. Kuhn; Vice President and General Manager: W. Dale Ellis; Program and News Director: James S Sassak; Chief Engineer: Jesse Faust.
WXEE discontinued broadcasting in February 1997, according to an Internet posting.
---
WBRW On The Air
This article appeared in Broadcasting on Sept. 1, 1940.
The new WBRW, Welch, West Va., authorized by the FCC May 15 to operate with 250 watts on 1310 kc., went on the air Aug. 25 and Harold McWhorter, general manager, has announced the addition of the following personnel: Joe Herget, formerly with the West Virginia Network, program director; David Fann, salesman; Harold Haught, formerly with WPAR, Parkersburg, West Va., announcer; Thomas Phillips and George Yazell, both from WBTH, Williamson, West Va., engineers. A 180-foot Union Metal Mfg. Co. vertical radiator has been erected atop the Dor Bldg., adjacent to the studios on Riverside Drive.
---
1945 Article
This article appeared in The West Virginia Review in November 1945.
Service has ever been the by-word of radio - and the need for a broadcasting station to provide service for the rich coal-mining areas of McDowell and surrounding counties was fulfilled with the installation of radio station WBRW in Welch.
Early in 1940, John W. Blakely, L. E. Rogers, and J. R. Werness formed the McDowell Service Company, a corporation to engage in the business of operating a radio broadcasting station. Application was made to the Federal Communications Commission to construct a 250-watt station on a frequency of 1340 kilocycles. In due time, permission was granted and construction started. The studios and transmitter were installed at 10 Riverside Drive and a 180-foot transmitter tower was erected atop the Dor Building, just opposite that location.
Finally, during the last week in August, 1940, the last in a long series of equipment tests was completed, and at six o'clock on the morning of August 29, WBRW went on the air with its first scheduled program. It would be difficult to explain the feeling of excitement that attended that opening day. Practically every member of the staff was a seasoned veteran, yet there was that thrilling sensation which precedes events of importance. No matter what the feeling of the staff may have been, WBRW's first programs, carefully rehearsed, timed, and produced, were broadcast with the quality and characteristics of a veteran station.
Listeners were quick to realize that WBRW was on the air to serve them. Invitations were issued to civic and fraternal organizations, schools, and churches, to make use of this new instrument for the furtherance of civic, cultural, and social aims. This spirit of co-operation has always existed and no one who has a message of interest is ever refused the facilities of the station.
As time went on, the WBRW listening audience came to depend more and more on their radio station for service. With the fast-breaking developments on the war fronts making each and every newscast a separate chapter in history, WBRW became an important part of the daily lives of its listeners. Details of major events were broadcast at almost the very moment they occurred; regular programs were interrupted whenever necessary to keep listeners abreast of the news. From Pearl Harbor to V-J Day, and on up through the present, WBRW was, and is, a "news" station.
Located as it is in the hills of southern West Virginia, WBRW provides the greater portion of listening service for a large number of people. This is especially true in daytime. Consequently, it has always been the policy of those in charge of preparing the station's programs to maintain a balanced schedule of features. Music of various types is presented throughout the broadcast day, newscasts are given so as to fit in with the daily schedule of the individual, and light entertainment and comedy are interspersed so there is never a lack of variety. That this method of programming is serving its purpose was made apparent in the early days of WBRW's career, and the practice is still followed. [...]
---
Comment from Johnny Moore
Jeff, I've found your web site of WV BC stations very interesting. Engineers George Yazell and Tommy Phillips hired me as a "gopher" during the construction stages of WBRW in Welch. They did the planning and design of the physical aspects of the station. I was in high school at the time but had a ham license (W8UEN) and it was great experience for me. The station was all under one roof and located in the heart of Welch. The tower was mounted on the roof of a 6-story building. One set of 3 guy wires ran over one of the main streets, across a creek to anchor to another building, which coincidentally was the building housing the station.

In the mid fifties, the tower came crashing down into the street below. Fortunately, it was in the early morning hours and no one was injured. I wasn't living in the area at this time and never learned what failure brought the tower down. This was the demise of the station for it never went back on the air.

While the station was in operation, it received news from Trans Radio Press, which sent the news via international Morse code at 37 ½ words per minute. An ex-maritime radio operator was hired to copy the news off the air. Before the days of WBRW, the only stations that could be received in Welch were WHIS in Bluefield (about 30 plus straight line miles away) and WLW in Cincinnati (probably close to 250 miles distant). WLW was running 500 kw at the time with an experimental license.

I went on to get a First Class Radiotelephone ticket but never went into the BC business. I always thought it was interesting but not lucrative. The early days of FM were very interesting for me. I remember the expensive FM tuners, some with the low band (in the neighborhood of 40 mHz in addition to the current FM band. Also, recall some "high fi" am receivers which had wide band TRF circuitry and a 10 kHz whistle filter for taking the heterodyne with the adjacent station. All very interesting.

Johnny Moore (Ocala, FL)
---
Memories of WXEE by Henry Alan Benach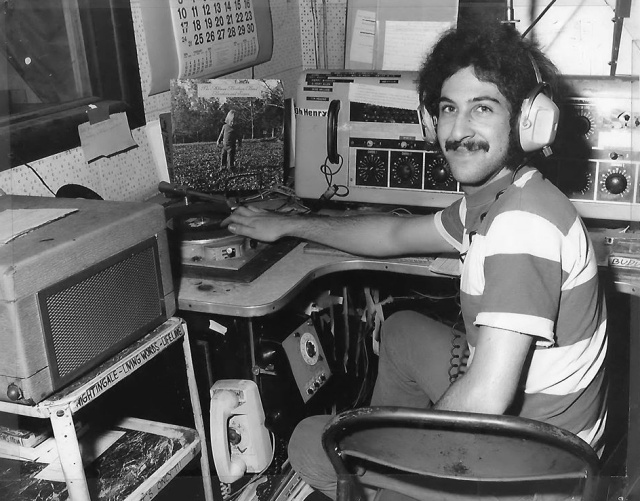 Henry Alan Benach on the air at WXEE in March 1974. His on-air name was O'Henry Allan.
Jeff, just a few thoughts about my days at WXEE Radio in Welch WV.
After graduating from broadcasting school I was made aware of WXEE in Welch WV. The owner, Jerry Davis, had been a camera man for WJW TV in Cleveland and wanted his own station. He bought WXEE and only hired graduates of the WIXY School of Broadcasting in Cleveland. I even bought the rights to the jingles of WIXY 1260 in Cleveland. I sent him my demo tape but never heard from him. I began to call the station every day to try to talk to Mr. Davis, but he would not take my calls. When I would call, the secretary, Debbie, would say to me. "He is not here right now" I began to call the station about 15 times a day. I did this for a few weeks until finally he took my call. He said, " You're not what we are looking for, but anyone that wants to work that bad, I will hire."
I left Cleveland and went to Welch, which was a small Coal Mining town, deep in the mountains.
Within a few months, all the Jocks left and went back to Cleveland. They included, Bill Lenkey, who later became Bill Lee, also known as Broadway Bill in New York city. Later XM, 70s on 7. Scott Howitt, known as the "Smoker" Great announcer, who later returned to Cleveland Radio, Jack Beach, known as John Paul Jones. That left me alone with only the station owner, Jerry Davis.
I worked 6 hours on, 6 off, then back on till sign off at 10PM. What I remember most is that Jerry and Lenny, his co-owner, would do tradeoffs with Ramey Chevy to get their cars. We played Ramey Chevy spots every break, all day.
Because there was not rooming house rooms, I slept in my car at night and stayed at the radio station during the day. There was a shower and a hot plate for me to cook my meals. I did find an apartment in a month.
I stayed at WXEE from August of 1973 to November of 1974 and then joined the other guys back in Cleveland and then on to Columbus GA.
One funny incident for me was, there was a Murphy's 5&10 downstairs from the radio station. They had the best Chili dogs. One day I put on the record "Smoke on the Water" and ran down to get a dog. I thought I had more than enough time to get the hot dog and come back up to change to the next record. When I returned, the record had been skipping the whole time I was gone. I calmly announced that this was the "long version" LOL
I would have worked there for no pay as I really wanted to break into Radio Broadcasting. Turned out I almost did as I was paid 57 dollars a week.
Great memories of a time that is now gone.
Thanks for your time.
Henry Alan Benach
O'Henry Allen
---
Recollections of Jim Hoge
Jim Hoge wrote the following on Facebook in 2017.
The story I heard was the station went on the air in the very early 1940's as WBRW on 1340 kHz. When the tower fell in 1955, they may have already been dark. Regardless, they threw in the towel as WHIS-TV channel 6, was nearing sign-on in Bluefield. This was a dark time for radio.
The transmitter, a classic Gates 250-A , was loaned to WHIS-AM in Bluefield when their transmitter site burned on Mother's Day that same year. Having that transmitter available allowed WHIS to return to the air in just hours of the disaster.
WHIS-AM also succumbed to TV by turning in its license for the 5 kW directional at night as it re-built as 5 kW day and 500 watts night, both non-directional, so the site could be remote controlled and transmitter operators reassigned to the TV transmitter on East River Mountain.
The old WBRW transmitter was purchased by WHIS, remote controlled and kept for both Conelrad operation and as an auxiliary.
Sometime in the 1960's, WBRW in Welch was rebirthed as WOVE AM/FM by Kenneth Crosswait. The Crosswait's lived in Bluefield (as I went to elementary school with daughter, Melony.) The transmitter site was on a hill top outside of Welch. The equipment was Gates.
In the late 60's, or early 70's, Ken petitioned the FCC to reallocate 106.3 WOVE-FM to Bluefield, Va. He sold the AM in Welch to the guy from Cleveland where it became WXEE. Ken kept the FM, renaming it, WKJC --his initials. It ran a mix of religion and country music.
By the mid-70's, Ken was ready to cash out. I was in high school working on-air at WHIS. I begged my Dad to buy it to no avail, as FM was right on the cusp.
WKJC sold for $30,000 to the sales manager of WHIS becoming country WBDY. He made a killing!
With that colossal missed opportunity, I figured it was a great time to head off to college and make my own way.
1977, WHIS bought new transmitters and the old WBRW Gates 250-A was retired. WHIS gave me that transmitter.
A friend and I carefully disassembled and stored it. In 1981, I trucked it to Charleston where Dick Callaway and I updated and rebuilt it showroom new. It was used as the auxiliary for WXIT until Dick sold the station.
The last I heard, Dick moved it to Madison WV to co-owned WWBB where it was stored. A couple years later, Dick sold 'BB' too, and the transmitter's whereabouts are unknown.
Needless to say, if that old WBRW Gates 250-A transmitter still exists, it is not only a collectors item but a piece of WV broadcast history.
---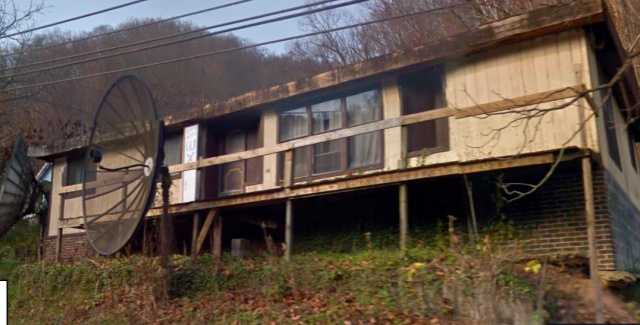 Nov. 2015 Google Street View image shows the final location of WXEE,
long after the station had ceased operations.
---
The following is the FCC microfiche file on WXEE, covering the period 1955 to 1978, and provided to this page by Xen Scott.
From the FCC microfiche files, January 2, 1995.

                                  WXEE

 5/11/55  Application made for a new station on 1340kc with 100 watts,
          unlimited, at Welch, WV.

 8/31/55  Granted a C.P. for 1340kc, 100 watts, unlimited.

11/17/55  Date first licensed.  The licensee was Williamson Broadcasting
          Corp., Welch, WV.  The first listed call letters were WMCD.  They
          were granted 1340kc, 100 watts, unlimited.

 3/21/56  Granted a C.P. for 1340kc, 250 watts, unlimited.  License to cover
          the C.P. granted 6/20/56.

  9/3/58  Vol. relinquishment of pos. cont. of lic. corp. by Alice Shein
          through sale of stock to Phil Beinhorn, eff 6/26/58.

 9/10/58  Vol. assign. of lic. to Welch Broadcasters, Inc., eff. 10/9/58.

 9/16/58  Call letters changed to WOVE.

  9/2/59  Vol. assign. of lic. to South C. Bevins, tr/as McDowell County
          Broadcasting Co., eff. 10/5/59.

11/30/60  Granted a C.P. for 1340kc, 250 watts, 1kw LS, unlimited.  License
          to cover the C.P. granted 7/19/61.

 9/13/61  Vol. assign. of lic. to Raymond L. Anderson tr/as Community
          Broadcasting Co., eff. 10/23/61.

 4/12/62  Vol. assign. of lic. to South C. Bevins, tr/as McDowell County
          Broadcasting Co., eff. 5/19/62.

 5/18/62  Granted auth. to sign off at 7:45pm except for special events.

 9/12/62  Vol. mod. of lic. to change the hours of operation to specified
          hours (Mon.-Sat.-6am to 7:45pm; Sun.-7am to 7:45pm).

 3/20/63  Vol. mod. of lic. to change the hours of operation to unlimited.

12/19/63  Vol. assign. of lic. to WOVE, Inc., eff. 1/1/64.

 7/20/71  Vol. assign. of lic. to Davis-Major Communications Corp., eff.
          8/1/71.

  8/4/71  Call letters changed to WXEE.

  5/8/78  Vol. assign. of lic. to Mountaineer Broadcasting Corp., eff.
          6/1/78.