History of WBTH and WXCC, Williamson
Bumper sticker from 1985. larger
See also www.thenewoldiesshow.com, which has an article on WBTH coverage of the 1977 Tug River flood and an article on the building of WXCC(FM).
This article was provided by the station.
Not since talking pictures had made their debut in Williamson the previous decade had this community observed such a momentous occasion as the launching of Tug Valley's first radio station - WBTH.
It was April 19, 1939, that WBTH took to the air at six AM, continuing its initial broadcast until 12 midnight. This all-day program, which included musical numbers by local individuals and organizations, and talks by a number of prominent citizens of Williamson, marked the station's formal bow to the public.
General Manager A. C. Rodgers estimated that 6,000 persons visited the studios. The opening of the station was planned by Eddie Whikehart, program director, and Manager Rodgers.
Officials of the station had, for several weeks prior to the opening, been granting audiences to many radio hopefuls and some were chosen to be used during the first broadcast and succeeding ones.
Of considerable interest on opening day was an eight pm program which continued until midnight's "sign-off" called "Let's Get Acquainted." Featured on the program were the Williamson High School Band, representatives of Rotary, Kiwanis, Quota and Woman's Clubs and the Chamber of Commerce, followed by an interval of music.
The then mayor, J. Matt Smith, offered congratulations to Williamson's newest enterprise. Talks followed by Sheriff W. E. Burchett, Sr., who later became head of the West Virginia State Police for a period of years; Williamson Attorney William B. Hogg; Circuit Judge C. W. Ferguson; William P. Booker, and E. R. (Gene) Ward.
Booker and Hogg were directors of the broadcasting company. Others were Francis Wagner, radio engineer, and the late George W. Taylor, Williamson businessman. The call letters of the station were the initials of the family names of the four directors.
Frequency of WBTH was 1370 kilocycles. Daily broadcasts were from 6 A. M. to 7 P. M. The first staff consisted of Manager Rodgers; Program Director Whikehart; Chief Engineer Wagner; Richard Taylor and Orland Booten, outside sales representatives; Wilbur (Bill) Nunguessor, engineer; James Clarke, announcer; Alice Shein, bookkeeper; George Yazell, engineer; Charlotte Oliver, stenographer, and Napoleon (Nap) Hambrick, building custodian.
Among the "Hillbilly" entertainers so fondly remembered by early staffers were the Stepp Brothers, Zeke and Ezra, who were guitarists and singers; the James Trio (mother, son and daughter); "Red" Jones, who played the spoons with a musical group and who square-danced with the "best of 'em" at the Saturday night jamborees sponsored by the station and held in the Memorial Building, now the Court House Annex. Then there were Cousin Ezra Cline and his gang, and Cowboy Tex, to name only a few.
WBTH had its own "Glen Campbell" in those days, except this Campbell was named Clyde. TV's Glen Campbell had nothing on Clyde Campbell for the latter played a guitar with equal aplomb and sang much in the same manner, with a little wailing and some "lee-oh-leety-whos" along the way. Clyde's brother Bill also was a WBTH personality.
Red Birds baseball players in the old Mountain Leagues were in the habit of wandering upstairs to the studios and "killing time" until they boarded a bus for what was then the Montezuma Ball Park to practice. There was one 17 year-old player who created a sensation in the Mountain League with his pitching and hitting. He was Stan (the boy) Musial from Donora, Pa., who later became known all over the world as Stan (the man) Musial of the St. Louis Cardinals' team in the National League. Stan went on to the baseball Hall of Fame.
Rodgers did not remain long as manager. He was succeeded by a congenial manager named Harold McWhorter, who as they say, "played a mean piano."
Alice Shein, listed as the station's first bookkeeper became one of the major stockholders in the mid-fifties. During this time she served several years as manager and also became one of the early enthusiasts for a statewide broadcasters' association becoming its president for a two year term in 1952. (And to date, the only woman president of the West Virginia Broadcasters Association.) It was under her management that the station joined the Mutual Broadcasting System.
WBTH was purchased by Harvit Broadcasting Corporation in June, 1966 and broadcasts on 1400 kilocycles with 1000 watts power. Robert B. Harvit, president of the corporation, refined the station's community programming and strengthened its identity with the coal producing region.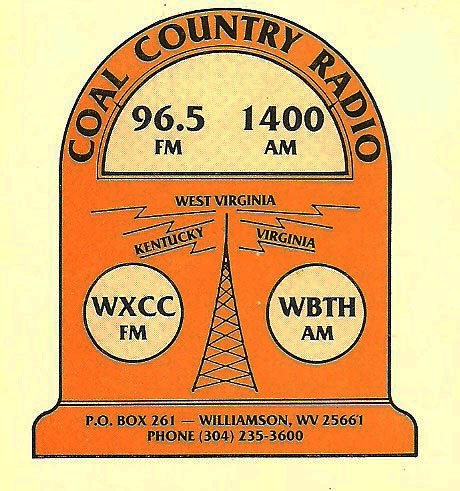 It was the nation's oil crisis in the mid 1970's that provided the opportunity for Harvit to put WXCC-FM on the air. The sudden population growth created the ideal market for a 50,000 watt country music station. With the sound of Tennessee Ernie Ford's rendition of "Sixteen Tons" WXCC - coal country stereo 97 took to the airwaves on October 27, 1978.

Harvit continues to own and operate both stations. He started his broadcast career at WWNR in Beckley. In addition to WBTH and WXCC, Harvit is presently a partner in WSLW, White Sulphur and WMON in Montgomery, both in West Virginia.

Janet Coleman Evans is president and general manager of WBTH-AM and WXCC-FM, having started as a secretary/bookkeeper in the early 60's.

WBTH was established to provide service as well as entertainment to the community and through the years its services have been engaged in many ways.

Among the most prominent daily broadcast features are: Open Forum, a Monday thru Friday interview program focusing on local and regional issues; Mutual Broadcasting System Network news and features; local and regional news prepared by a full time news staff; West Virginia's Metronews Network and the Kentucky News Network; a consistent schedule of local, college and professional sports; a music mix designed to combine favorites of the past, current hot hits and tomorrow's pick hits. With its syndicated modern country format, WXCC has continued to grow, becoming the regional voice of coal country.

With the small number of executive women broadcasters in the West Virginia area, it is unusual that two of them cut their "broadcast teeth" so to speak at the same station.

Evans was honored as Distinguished Broadcaster of the year at the 1987 fall meeting of the WVBA. As Evans, a former board member of WVBA, also says, "We try to keep coal country residents informed as to what is happening in the industry. Today as in the early years, our primary goal remains unchanged. . .that of providing a valuable service to a growing community."
---
WBTH Staff Complete
This article appeared in Broadcasting on April 15, 1939.
Completion of the staff of WBTH, Williamson, W. Va., was announced by A. C. Rodgers, general manager, as the new station prepared for its inauguration April 16, operating with 100 watts daytime on 1370 kc. Mr. Rodgers, formerly with KTOK, Oklahoma City, and WOPI, Bristol, Tenn., stated that Eddie Whikehart will be program director; F. W. Wagner, chief engineer; James Clark and Eddie White, announcers; George R. Taylor outside salesman. Mr. Whikehart comes from WPAY, Portsmouth, O., as does Mr. Wagner. Mr. Clark formerly was with WHIS, Bluefield, W. Va. Mr. White and Mr. Taylor are new to radio. The station will have Collins equipment throughout with a Lingo radiator, and has subscribed to UP news service.
---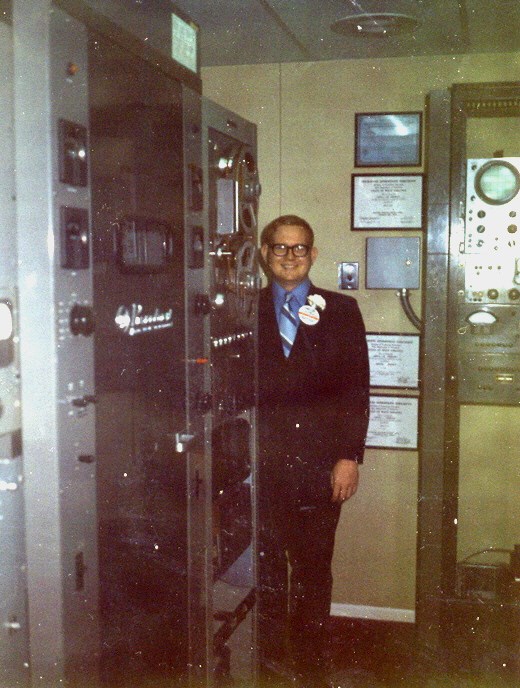 Station engineer Harold Cremeans in October 1971
---
FCC Microfiche File
The following FCC microfiche file was transcribed by Xen Scott of ABC News, Washington, and is used here with his permission. These files contain no information past the early 1980s.
12/23/38 Granted a C.P. for a new station on 1370kc with 100 watts, Daytime, at Williamson, WV, eff. 12/30/38.
4/19/39 Granted auth. to operate until midnight 4/19/39 to celebrate the opening of Station WBTH.
7/11/39 Date first licensed. The licensee was Williamson Broadcasting Corp., Williamson, WV. They were granted 1370kc, 100 watts, Daytime.
7/26/39 Vol. transfer of cont. of lic. corp. from George W. Taylor to W.P. Booker.
10/3/39 Granted a C.P. for 1370kc, 250 watts, unlimited. License to cover the C.P. granted 11/28/39.
3/24/41 Under NARBA, they were granted 1400kc, 250 watts, unlimited.
8/1/44 Vol. transfer of cont. of lic. corp. from George W. Taylor, William P. Booker and William B. Hogg to Lewis C. Tierney and Helen S. Tierney, eff. 9/15/44.
2/2/49 Vol. assign. of lic. to Mingo Broadcasting Corp., eff. 3/3/49.
8/2/49 Vol. mod. of lic. to change the name of the licensee to Williamson Broadcasting Corp.
4/8/55 Vol. acquisition of positive cont. of lic. corp. by Alice Shein, eff. 4/15/55.
9/3/58 Vol. relinquishment of positive control of lic. corp. by Alice Shein through sale of stock to Phil Beinhorn, eff. 6/26/58.
10/9/58 Vol. acquisition of positive cont. of lic. corp. by Phil Beinhorn through purchase of stock from Alice Shein by Williamson Broadcasting Corp and retirement thereof, eff. 11/10/58.
10/20/60 Granted a C.P. for 1400kc, 250 watts, 1kw LS, unlimited. License to cover the C.P. granted 2/8/62.
4/26/66 Vol. transfer of cont. of lic. corp. from Phil Beinhorn, Lillian Beinhorn, S.P. Goodman and Walter M. Goodman to Harvit Broadcasting Corp., eff. 5/31/66.
7/22/66 Vol. assign. of lic. to Harvit Broadcasting Corp., eff. 8/15/66.
10/21/71 The Commission, by letter, notified station WBTH of apparent liability for $2000 forfeiture for violation of Section 73.87.
11/22/72 The Commission, by Memo, Opinion and Order, ordered WBTH to pay a forfeiture of $2000 for rule violation.
10/22/81 License renewed.