HISTORY OF BROADCASTING IN WEST VIRGINIA
History of WCAW and WVAF, Charleston
Information for this page is largely taken from a history supplied by the station in 1988. Additional information was provided by Mack Miles and Jeff Miller. This page was last revised on Feb. 19, 2019.
Newspaper article: Radio Station WCAW Plans to Open Dec. 15, Charleston Gazette, Nov. 24, 1946
Newspaper advertisement: On the air today, Charleston Gazette,Jan. 12, 1947
Newspaper article: Radio Switch Begins Today, Sunday Gazette-Mail, June 5, 1960
Newspaper advertisement: Now on the Air WVAF Stereo, Sunday Gazette-Mail, Jan. 31, 1965
Link: Adam Jones provides a 1961 WCAW anecdote adamjones.info/stories/a-daddycoolwcaw2.htm
Link: Some audio from about 1970 is at http://www.wcaw.radiohistory.net/index.html
---
WCAW
WCAW signed on the air on Jan. 12, 1947, on 1400 kHz. The 1988 history article by the station reported that the first studio and tower were at 18th Street and MacCorkle Avenue, in the South Ruffner area of Charleston. However, Bob Myers writes that the actual location was 16th Street. He writes, "The transmission tower was located behind the station in the middle of a field which was then used for exercising horses kept in stables located on that property on the Kanawha Riverbank. That 20-acre property eventually became the home of the United Fuel Gas Company."
The tower site was moved from South Ruffner to Bownemont in January 1955. This site was the old WKNA-TV tower which is now the WTIP/WVSR station location on a hill overlooking Charleston on Suncrest Place.
Also in 1955 the office and studio were moved to the sixth floor of the Kanawha Hotel in downtown Charleston.
In June 1955, the ownership put WCAW up for sale, asking $75,000, but accepted a proposal for $49,200 that August from a Dayton, Ohio man. But that deal fell through when E. M. "Pete" Johnson bought Capitol Broadcasting for an undisclosed sum. Johnson acquired WCAW February 7, 1956.
A WCAW advertisement in the Charleston Daily Mail on Nov. 20, 1955, listed the on-air staff as Al Walker, Rex Barney, Bert Files, Fred Scott, Hal Murphy, Cliff Tobey, and Stan Kordella.
[The information for Rex Barney in the ad is: "Rex Barney - WCAW. Hails from Omaha. At 16 years Rex was being scouted by Major League Baseball Teams. At 17 with the Brooklyn Dodgers and according to the Great Freddie Fitzsimmons, one of the most brilliant pitchers in a decade. Then a bad leg, and a new career is built in Radio. Rex is not an announcer - he's an Athlete. His knowledge of sports is endless. His is the quiet, unassuming voice of 'knowledge in sports.' He IS Sports in Charleston Radio. Hear him at 8:00 A. M., 5:45 P. M. and on all games." An article about Rex Barney in Wikipedia is here.]
In 1957 an application was filed with the FCC in 1957 to change frequency from 1400 kHz to 680 kHz. It was approved in 1959.
On Jan. 3, 1959, Paul Miles became the General Manager. Paul Howard joined the staff one month later as Program Director.
In October 1959, Miles and Howard purchased stock in Capitol Broadcasting Corporation, with Paul Howard being elected Vice President and Treasurer, Paul Miles elected Secretary and both serving on the Board of Directors. Paul Miles came to Charleston from Wheeling, where he was Sales Manager at WHLL.
On June 5, 1960, WCAW changed its frequency to 680 kHz. The transmitter was moved from the Bownemont location to Mission Hollow Road in Kanawha City.
On October 31, 1962, WCAW increased daytime power from 250 to 10,000 watts, greatly increasing the coverage area.
In October 1963 long-term employee Dee Miller became Continuity Director, a position she still held in 1988.
In 1964 Capitol Broadcasting (with Jack Carr of Elkins) bought another West Virginia station, WMMN, Fairmont, forming Broadcast Enterprise.
In 2019, Mack Miles wrote:
While cleaning out some office items from both Betty and Paul Miles, I came across a plaque with a nickel attached and a brass plate saying "E. M. Pete Johnson's lucky $6000 nickel – 1964." I took the plaque to Edgewood Summit last Friday thinking that Paul Howard was the only other person who might have a clue as to its meaning. Sure enough he had a story. This lucky nickel was used in determining the purchase price of WMMN in Fairmont. Apparently Pete Johnson and Paul Miles were within $6000 of the asking price for that station. One of them suggested they flip a coin and if they won the toss the purchase price was their offer and if they lost, the price was what the seller was asking. They won!
Paul Howard became WCAW's Local Sales Manager on May 1, 1965.
In January 1966 both stations moved into the present Kanawha City office and studio location, after being forced to vacate a portion of the sixth floor of the Kanawha Hotel. That hotel was purchased by the U. S. Government for the Job Corps.
In 2019, Roger Galloway wrote:
I worked at WCAW in 1964 and again in 1966 as News Director. On Labor Day weekend, we became the first station ever to air "getting deliberately intoxicated on the air." I took the idea to Paul Howard, who didn't particularly like it. However, Paul Miles gave the go-ahead. Mike Hammer and I drank a lot of booze that day. I also had a psychiatrist, a state senator, the police chief, and a doctor on as well. It was an amazing success and covered nationally by NBC, CBS, the New York Times, etc. Paul Howard, to his credit, came to me afterwards and said he was wrong. It went just great. I did it again in 1968 in Tucson with my on air colleague, later to be known as Shadoe Stevens.
In December 1966 Kenneth Johnson, son of owner Pete Johnson, began working for Capitol.
On November 1, 1967, WCAW changed from a rock format to country music.
Application for 50,000 watts for WCAW was filed with the FCC in July 1968, with approval coming in April 1974 and the power increase occurring on March 31, 1975.
On Feb. 16, 1969, Rick Johnson began working at WVAF, with its religious format, and on Oct. 9, 1970, Randy Damron began at the station. Both of these loyal employees were still at the station in 1988, with Randy doing morning drive time at WCAW and chairing the statewide Emergency Broadcast System.
In November 1970, Kenneth Johnson transferred to another Capitol station, WKSJ, Mobile, Alabama.
In February 1971, Paul Howard transferred to WKDY, Spartanburg, South Carolina, also one of the corporation's stations.
In November 1972 Kenneth Johnson became vice president and member of the board of directors. In 1977 he became President and CEO of the corporation.
In 1976, Rick Johnson became WCAW's Program Director.
On July 11, 1977, the Charleston Daily Mail reported:
The Mission Hollow transmitter site of WVAF and WCAW radio was destroyed by fire early Saturday, leaving both stations temporarily off the air. The electrical fire apparently started in a 50-kilowatt transmitter and spread to adjoining transmitters, said General Manager Paul Miles. With an estimated damage, the building and its contents were destroyed. The first of four transmitters is expected to arrive this afternoon from Illinois, Miles said, and broadcasting in the Charleston area is expected to resume Tuesday or Wednesday. A new 50-killowatt transmitter, responsible for long-distance transmitting, is expected to be installed early next week. Miles said. The fire started at about 7 a.m. when engineers were on duty.
On June 15, 1981, Jim Davis came to WVAF as General Manager. Paul Miles brought him from KMPC, Los Angeles. Jim was later a West Virginia Broadcasters Association board member and spring meeting chairman. Paul Howard was a very active WVBA board member as well, serving on the board, chairing the 1987 spring meeting and chairing the 1986 sales seminar in Charleston.
On Dec. 31, 1981, long-time General Manager Paul Miles left the stations and Capitol Broadcasting Corporation. At that time Paul Howard transferred back to Charleston, becoming General Manager of WCAW January 1, 1982.
In 1986 Mike Buxser joined WCAW/WVAF as General Manager, succeeding Jim Davis. Buxser came from a Wilmington, Del., station but had earlier served as sales manager of WVAF for about a year before becoming general manager of WTCR.
In 1988, Earle Buck became General Manager of WCAW/WVAF, succeeding Mike Buxser, who transferred to WVLK, Charlotte.
---
WVAF 99.9
WVAF(FM) signed on the air on February 1, 1965, with an automated beautiful music format in stereo on 99.9 MHz.
The station was often identified as "99.9 - almost perfect - WVAF." That slogan made the frequency easy to remember. (However, if 99.9 was "almost perfect," what was 102.7?)
In 1969 the format was changed to religious programming. The manager of WVAF (With Voice And Faith) at that time was Bill Jeffers.
Rock music on WVAF apparently began in 1974. on Oct. 6, 1974, a column in the Sunday Gazette Mail had: "WVAF-FM, which has been programming really nice rock music after midnight, has moved the starting time up to 3 p.m. Word has it that a few calls of encouragement might get full time rock at the station. Pray for it...."
On March 23, 1975, the Sunday Gazette Mail reported, "WVAF — stereo 100FM — which plays rock from 3 p.m. to midnight is now programming an hour each evening in quad. They're the first local FM station to play music for four ears."
On Dec. 28, 1975, in a column about radio in the Sunday Gazette-Mail, Jim Carnes wrote, "WVAF is the local station most into what one recognizes as FM radio. The music is predominately album cuts, the commercials are pretty much bunched together, and the deejay stays pretty much out of the listener's way. Evening and night times on WVAF find the announcer to be a foxy-sounding woman who doesn't say much more than the names of the preceding three or four cuts. She sounds nice and the music is sometimes now the kind you'll hear if you move over to KAZ or some other AM station." Regarding automated programming on WXIT, he wrote, "For one thing, the programming is the usual drek and the announcer has none of the style or grace of the WVAF women."
On Jan. 11, 1976, the Sunday Gazette-Mail reported:
Beginning at 6 p.m. today, radio station WVAF-FM will expand the number of hours it devotes to rock music. Religious programming still will be broadcast on Sunday until 6 p.m. when progressive rock music will take over. Rock will be aired until 2 a.m. each Sunday. Program director Tom Owens said that effective Monday the station will go to full time stereo progressive FM WVAF will broadcast rock from 6 a.m. to 2 a.m. Monday through Saturday. Daytime music will be "light, melodic, familiar contemporary and classic," Owens said. "We may harden it up a little as the day progresses, but we'll emphasize mellowness," he said. Owens said the disc jockey approach during the day will be the same as at night. A series of three or more records will be played without interruption. The approach will remain low-key, he said.
---
Recording by Bobby Wayne (1962)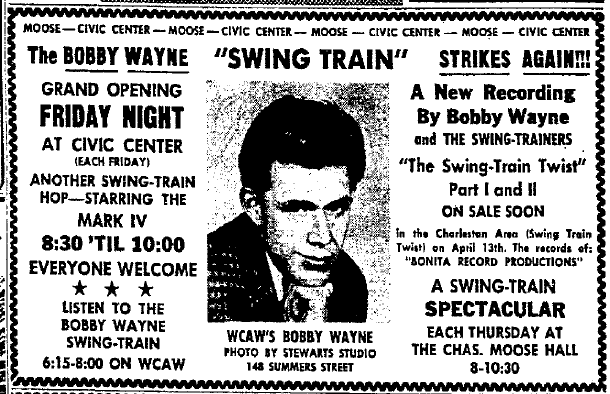 Charleston Daily Mail, April 6, 1962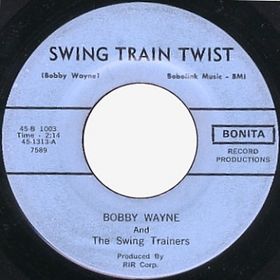 An MP3 file of Swing Train Twist is here. Wayne also recorded Twistin' Swing Train. Newspaper listings from the period show that Bobby Wayne had moved to WGKV by August 1962. [Information from Paul Urbahns]
---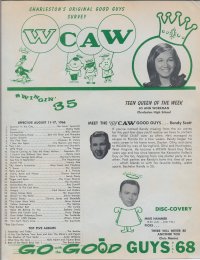 WCAW 1966 music survey. Click for a
larger view. Image courtesy of Randy Scott.
---
Randy Scott and Dick Clark in the WCAW Kanawha Hotel studios, 1967.
Photos courtesy of Randy Scott.
---
Jerry Waters, who provided these two photos, writes: "Rick Johnson and I started at WVAF FM (Christian music) at the same time in 1969. Randy Damron worked weekends because he was still in high school. I left for WVRC in Spencer (two years) to get better experience and after a stint with WXIT (worked with Poppa Jay and Rick Robinson) came back to WCAW in 74 of which by that time both Rick and Randy were working there. I was there until 1976, by which time I had joined the Charleston Fire Dept." (Click on each picture for a larger view.)
---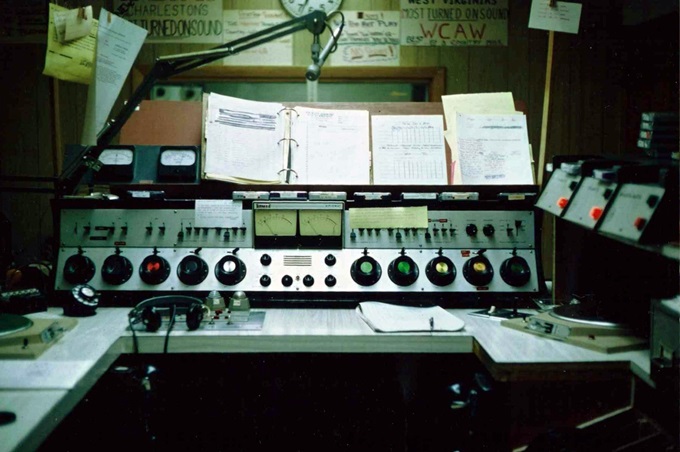 The above photo from 1971 was provided by Rick Johnson, who writes, "Starting as a senior at St. Albans High School, I worked in that room for many years, and loved every minute of it." (Click on the picture for a larger view.)