History of WCEF/WADC and
WCEF-FM/WIBZ/WMGP, Parkersburg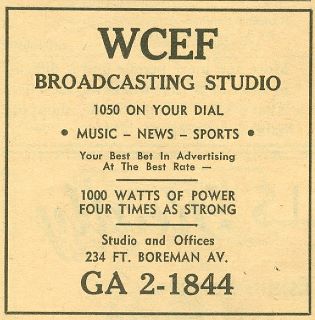 This article was last revised on Sept. 24, 2018.
WCEF went on the air on April 9, 1954, according to the 1961-62 Broadcasting Yearbook.
The 1956 Broadcasting Yearbook shows WCEF on 1050 kHz, with 1000 watts daytime. The address is 234 Ft. Boreman Ave. The owner is Clarence E. Franklin, who is also shown as the general manager and chief engineer. Other personnel are Robert Sadler, commercial manager; Paula Carr, station manager and program director, Robert O'Brien, promotion manger.
The ad to the left is from 1956.
Two images of a WCEF matchcover from about 1958-62 are here and here. They were provided by Mark Aulabaugh, who writes, "The Garfield 2-1844 phone number is the number for the 8th street studio. In about 57/58 Mr. Franklin put on a station in Socorro, NM, and was there most of the time. The GM and his wife ran Parkersburg when Mr. Franklin was in NM and took about 5 thousand dollars—1950s money, so a lot then. Mr. Franklin had to move studios back to the transmitter and sell NM."
The 1961-62 Broadcasting Yearbook shows the licensee as Franklin Broadcasting Co. (original owner). Personnel are: C. E. Franklin, president, general manager, and chief engineer; Morris Leon, station and commercial manager; Randy Jay, program director; Betty Isner, program manager; Charles Marlow, farm director; Mike Morris, sports director; Dorothy Leon, women's director.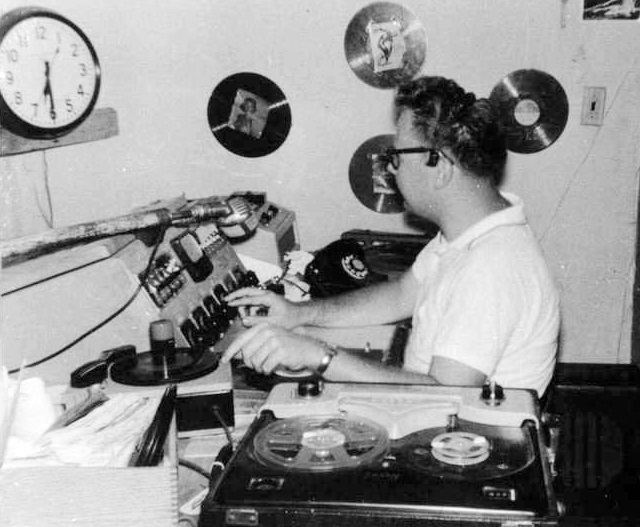 Charles Marlow in the production studio, about 1963-64.
The 1969 Broadcasting Yearbook shows WCEF as a 5000 watt daytime station on 1050. Licensee is Franklin Bcstg Inc. Personnel are C. E. Franklin, pres, general manager, program, and news dir and chief engr; Gary Pinkerman, commercial manager; Betty Moore, program manager.
The 1969 Broadcasting Yearbook shows WCEF-FM on 99.3 MHz with 3000 watts and an antenna height 210 feet above average terrain. It indicates WCEF-FM went on the air on Sept. 1, 1965, and carries separate programs from WCEF.
Ralph Allen (real name Allenbaugh) was the morning personality, program director, and operations manager of WADC. He recalls:
WADC was a very special radio station to me. It sounded as much like WABC in New York as I could make it. The jocks were great, the station just had that sparkle...that aliveness that is so very missing in today's incestuous relationships with ARBITRON and more music without all the talk.... How I loved that radio station! My mentor, Calvin Dailey Jr. (Randy Jay) trusted me with his radio station...and totally turned me loose to do my job.
Allenbaugh also worked at WPAR and WKYG, and currently owns Ralph Allen Media in Vienna.
An AP article in the Charleston Gazette-Mail on Feb. 3, 1974, reported:
PARKERSBURG, W. Va. (AP) — Fire of undetermined cause destroyed the building housing the transmitter of radio station WCEF Saturday, the second time in three years that fire had knocked the station off the air. Officials estimated damage at $75,000. A station spokesman said WCEF's AM and FM programming could be back on the air in a week to 10 days. The 1971 fire kept the station off the air for a month.
The 1977 Broadcasting Yearbook shows WADC operating on 1050 kHz with 5000 watts. The licensee is Franklin Broadcasting Inc. (acquired Aug. 15, 1974). The network is MBS. Personnel are: Calvin Dailey Jr., president, general and program manager; C. J. Fagan, program director; Randy Mollendick, music director; Mark Allen, news director; Jeff Thurston, commercial manager; Charley Fagan, chief engineer.
The 1977 Broadcasting Yearbook shows WIBZ(FM) co-owned with WADC, on 99.3 MHz. The licensee is shown as Randy Jay Broadcasting Co. Network is ABC/FM. Personnel are Raymond Reich, general manager; Steve Wells, commercial manager; Linda Wild, news director.
The 1986 Broadcasting Yearbook shows WADC owned by Parkersburg/Marietta Broadcasting, Inc. (acquired March 9, 1984). Network ABC/C. Personnel are: Jim Embrescia, president; Jean Guzay, general sales manager; Randy Greene, program director.
The 1986 Broadcasting Yearbook shows WMGP(FM) co-owned with WADC, on 99.3 MHz. Network ABC/FM. Personnel are Ken Ward, program and music director; Jed Donahue, news director.
A 1989 history indicated that WADC and WMPG(FM) were recently acquired by Signal One Co., Kim Colebrook, president. Don Staats was the general manager. The stations were located at 703 Market Street in downtown Parkersburg.
Sid Grubbs, The Mojo Man, was heard on WCEF.
---
WCEF Recollections by Bob Franklin (Adam Jones)
This article was contributed by Adam Jones on Feb. 9, 2009.
STAND-UP-SIT-DOWN AND THE MOP SINK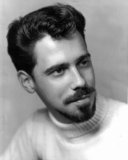 Since the last time I put brain to paper I heard from a nice guy, Mark Aulabaugh, and to my amazement, he once worked at WCEF in Parkersburg, WV. I worked there in 1960, as Bob Franklin. We had a nice long talk. Not only is he a "lifer" but he's the owner of KSEY in Texas (way to go!) He also worked at WCAW in Charleston, so we knew a lot of the same people—like C. E. Franklin, the owner of WCEF, or as I called him (for the first few days I worked there), "The guy that barfed in the mop sink." That sink was at the end of a short hall that separated the studio from the newsroom. C. E. (or "Frank") would be out drinking at the Red Fox Club, then come back to the station. And half dozen 3.2 beers were heard from again (at least that's what Gene Snyder told me.) I never worked mornings (thank God.) This little ritual added to the station's ambiance, which was about the same as a Turkish prison.
When I went to work at WCEF for Gene Snyder, I was dying to get back to personality radio and I took a cut in pay to do it. My first night in town, I stayed at the Blennerhassett Hotel for $5.00, in a room that was so small that you had to move the bed to get in the bathroom. The next morning I went in search of the station. Snyder had told me that it was on a side street next to the YMCA, and that the call letters were right on the door. I kept walking back and forth from the corner to the YMCA and all I could see was an alley and a flight of stairs in an old building that had a hat shop on the main floor. When I started up the stairs, I saw that there was a swinging door on each side of the stairway with "WC" on one and "EF" on the other.
At the top of the staircase you could see extension cords drooping from the ceiling with one end connected to a big fan in a window at the end of the hall. When I got to the top, I turned right, into a hall that was so dark that it looked like the inside of a giraffe's neck. Halfway down was the station office door with an air conditioner sticking out of the transom. As if on cue, when I opened the door, it dripped condensation on my head. The first thing I saw when I came in was a time clock! How ignominious! (Snyder later told me that Frank had gotten caught by the Wage Hour Board, and they made him put it in.) Just past the infernal machine was a receptionist who was so pregnant that she looked like she was peeking at me from behind herself. (I found out later that she was perennially in this condition.)
Just as I was thinking to myself, "Years from now, I'll laugh at this but right now I think I should get the hell out of here," in bounds Gene Snyder, all happy and smiling (I would see this look in years to come, mostly when he was trying to con me into working at some crappy radio station.) WCEF had the only sit-down-stand-up studio I've ever seen. It was a dumpy little room with no outside window. Well, there was a window in the corner. But it had a big air conditioner stuck in it, and the top part was so dirty it looked like Zero Mostel's window in the "Producers." And speaking of that a/c, it was hooked up to the mic switch. When the mic was on, the a/c was off. Now, at that time, the average Rock & Roll record was 2 1/2 minutes or less, so on a hot afternoon the a/c couldn"t catch up, and you'd be forced to play a four minute cut from an Ahmad Jamal album just to keep from passing out. Oh yes—the a/c stuck out in the alley across from the YMCA shower room, so when their fans were blowing out, and the station's a/c was sucking in, the studio smelled like old sweat socks. Snyder told me that the last time they painted in there, they had to put Absorbine Junior in the paint.
The DJ had to sit staring at a blank wall using a Gates board. Up above at about head level was a heavy plywood shelf with an Ampex 601 recorder on each side. All the spots intros and stuff were on those dreaded five-minute tape reels. So after you put a record on you had to: Jump up, rewind the spots that were on the machines, put those tapes back, find the next two spots, cue them up, sit down, log the on and off times for each commercial, cue up the next record, and try to think of something entertaining to say before the two-minute record ran out.
After four hours or more of this your knees and your brain were shot! I don't know how we did it, but the station had great ratings. Years later, in 1998, my son and I went to see Snyder and he showed us some Hooper ratings that showed WCEF with 60's in the a.m., and 70% in the afternoon. Not bad for a daytimer with a sliding sign-on—in a four-station market! I asked Gene why he had never shown me those numbers before. "You would have asked for a raise. Frank would have said no, and you'd have gone somewhere else!" As it was, a few months later we all went somewhere else—me, Gene, and David B. Simmons. I saw David B. a few times on TV over the years. Gene Snyder died a few years back. We were friends for almost 40 years and worked together several times. From time to time we'd talk on the phone about our exploits. I miss that!
---
WCEF Recollections by Mark Aulabuagh
The following article was contributed by Mark Aulabaugh.
I started my radio career in 1965 at WCEF when I was still in Junior High School. The station had just put FM on the air. WCEF FM was the first FM back on the air in Parkersburg since WPAR/WAAM FM in the early 50s. After school, I immediately went to the station to ride the board. My voice was "changing" (remember what that was like) so I was not allowed to talk. At 3:30 programming would split, FM from the production studio so all commercials had to be produced before 3:30. There were few FM tuners and nobody at the WCEF really knew what to do with the FM. I don't think management really cared since AM was making so much money. Still, FM wasn't ignored. There was no pressure to show a profit on FM, so PD Gary Brookhart had "radio" fun with it. From 65 to 66, FM was Top 40, Beautiful music and County. No cash was coming in but Brookhart demanded quality. More on Brookhart, later.
Here is a bit of WCEF history and what I remember most about the Station through the 50s and 60s.
WCEF signed on in 1954 and was licensed to CE Franklin who, as I understand, was a top notice engineer who learned all about broadcasting engineering when he was in the military. That was apparent by the homebrewed equipment at the station and his ability hold things together with TV transformers and parts pirated from other pieces of equipment. If it was broken, Mr. Franklin could make it work!
The station signed on with 250 watts, quickly increased power to 1000 watts and then 5000 watts, all between 1954 and 1957. When WCEF increased to 5000 watts they were so proud of the new Gates 5KW transmitter they promoted the station as "Your jolly green giant"—since the transmitter's color was, sort of, green. The transmitter/studios through most of the 50s and 60s were right along the Little Kanawha River, so a decent ground system. At 5KW, the signal was in Clarksburg, fringe Wheeling and Charleston and half way to Columbus.
It is worth saying more about the studio/transmitter location. Both were right across the Little Kanawha River from downtown Parkersburg, in an unincorporated section of County. The nearby bridge linking downtown Parkersburg to this area had been closed for years. Just to find your way to the station from downtown was a challenge, cross a bridge two miles away then travel a maze of alley like streets through South Parkersburg. Some in Parkersburg called Fort Boreman Avenue "Tin Can Alley" or "Skid Row." Remember the TV documentaries about poverty in the South? Any of them could have been filmed on Fort Boreman. Broken sewer mains that were never fixed, junk cars, old washing machines—even a few homes made from cardboard. Most of the neighbors near the station didn't have phones. I can remember a few locals coming by to ask me to pass along a message to "whoever" when they would call the station for them. Yet it was safe on Fort Boreman, poor people, not mean people.
The Fort Boreman Studios were in a large, cinderblock building that always needed painting. I don't think the call letters were even on the building. The base of the self supporting 200 foot tower was no more than 20 feet from the building. Since the tower was self supporting, I still can't understand why it had guy wires? And the layout was just as wacko! You could not get to the production room or AM transmitter without going through the FM transmitter room and bathroom. And it really was a bathroom, it had a bathtub - and the teletype and coke machine. There were no individual offices. All office staff worked in a large room - bookkeeping/traffic/copy in one area, sales in another and GM and PD somewhere else. There was no phone system, single lines with extensions everywhere. But the equipment was amassing! Mr. Franklin was always up and down financially, but when he made money he bought the best! Several years after high school, I left Parkersburg for WGOW in Chattanooga, then owned by Ted Turner. Equipment they were using was on a par with retired junk WCEF stacked in the back room. Studios weren't much better, but there was a phone system!
When WCEF went on in 1954 the format was block programming. Whatever you could sell or find to put on the air, since there was no network affiliation. But rock n' roll was in the wings and WCEF was the first station in Parkersburg to rock. This story could be twisted radio legend but here's how it goes. Mr. Franklin, who everyone called Frank, met Gene Synder and Gary Brookhart, two talented announcers at WCOM. WCOM was a well run, top notch "adult standards" operation. Gene, Gary and Frank would get together to drink beer and talk radio. One night while drinking beer at the Last Chance Bar and Grill, a dive south of Parkersburg, Frank agreed to go rock and hired Synder and Brookhart. Two weeks later there was a format change. This was in 56 or 57. Over the years Synder, Brookhart and Franklin had a stormy relationship. He would fire one or both of them, they would come back. then quit - etc. On one occasion, Synder departed in the middle of the night and took all the 45s with him and bulk erased all the commercials. In the late 50s, Calvin Dailey (Randy Jay) responded to a "do you want to be a disc jockey" ad on the radio and was hired. Calvin later became manger, bought the station, sold it and brought it back. Synder eventually left for good and ended up at WHAS and several other stations in Louisville. He died in the late 80s. Brookhart went on to WMNI in Columbus, Mutual, WVIC in Lansing and did state network play-by-play for Michigan State. But in 1965, Brookhart is back and puts together a magic staff. John Potts from WPAR, Sam Anthony from WTAP Radio (the former WCOM) - even a guy named Mike Nardone from WCOL, Columbus. Meanwhile, Calvin Daily raids WPAR's and WTAP's staff. But they glory days are short. In 67 or 68 Calvin Daily leaves to manage WPAR. Franklin and Brookhart have a falling out about the same time. Brookhart, Potts and Anthony all leave for WCAW in Charleston, Brookhart as PD and Charleston Rockets play-by-play. Brookhart was soon back in Lansing and died in early 90s. John Potts left Charleston, came back to Parkersburg, ended up in State College, PA and now back in Parkersburg. WCEF was never able to bounce back from the 67/68 staff upheaval. In 1974 Mr. Franklin sold the stations to his former GM, Calvin Dailey. The call letter were changed to WADC and WIBZ FM when Dailey took over. I worked for Calvin when he bought the stations. I'll have more later on the early days of WADC/WIBZ.
---
WADC Recollections by Robin Pyatt Bellamy
Hi Jeff — Just happened across your site's page on WADC et al. What a place that was.
I started my "career" in radio at WOBN at Otterbein College (Westerville, OH) for a few months of 1981. After that I did Sunday mornings at WMOV in Ravenswood, WV (my hometown) before getting tapped for weekend overnights at 95XIL in Parkersburg. Gary Pinkerman lived next door to my grandma and he and his wife were longtime casual friends of my dad. I'm more than sure that connection is what got me the job. I was 19 and had the world by the tail. The things I learned at XIL were almost overwhelming.
One story — The studios were located above a bank. One night, the alarms in the building went off. It was the dead of winter, and ice was everywhere. I didn't know what to do, so I put on an album and got out of there. That's when I discovered the door locked behind me and of course I didn't have keys. There was a pay phone out front, so I called my grandma and she went over and got Gary to come let me in. We never did figure out what set off that alarm.
I worked there from August 1981 to May 1, 1982. They gave me my "name" (Robin Layne) and I used it forever. I only left because I got married (to a listener fan) and moved to NC. The evening guy at the time was Scott Reynolds and my new married name was Reynolds so the rumors were flying, but his real name is John Gallagher and we had a good laugh about it.
While I was there, there was a big snowstorm and frigid temps and nobody could get to the station. Doug Phelps and I took turns on the mic and sleeping on the floor, eating from the vending machine. The whole weekend.
Fast forward to 1995 and I was back in WV after my divorce. A neighbor was the secretary at WADC/Power Country 99 and she was overworked. She convinced Randy J (Calvin Dailey) to hire me part time in the office as I had lots of traffic experience by then. The afternoon guy, Mark Eveland, heard my speaking voice and convinced Randy to put me on 10-2, following John Potts. Kevin Brooks (Kevin Morehead) had evenings and Mark was on between Kevin and I. The numbers were really good and working with those veterans was terrific. Mark and I ended up dating and eventually married. We were both fired from there, and to this day I don't know why. Mark died in 2001 from complications of renal failure. He had moved to WMOV in Ravenswood and I went to Big Country 99 in Point Pleasant, WV. When Mark got sick I got out of radio. One of us had to make some money!
Some of us still keep in touch. Radio is family. I still do some voiceovers and commercials from time to time, but the "radio personality" has gone the way of the dodo so I doubt I will ever return.
Thanks for your website and all the great memories!
Robin Pyatt Bellamy
Triedit.net
---
Gary Pinkerman
The obituary of Gary Pinkerman from the Parkersburg News and Sentinel, January 11, 2004:
BELPRE - Gary O. Pinkerman Sr., 74, of Belpre died Jan. 10, 2004, at his residence. He was born Aug. 1, 1929, in Proctorville, Ohio, a son of the late Capt. Ernest Pinkerman and Ferne Pinkerman Chamberlain. He graduated from Proctorville High School and the Cincinnati Conservatory of Music and was a veteran of the Korean War. Gary was a well-known radio and TV personality in the local area. His career in broadcasting began at WMOR, Morehead, Ky., before moving to WIMA in Lima, Ohio. After relocating to the Parkersburg area, he was a radio and TV announcer for WTAP. He later announced for WPAR, WCEF, WKYG and WXIL before retiring from WTAP in 1992. He is survived by his wife of 41 years, Doris Suck Pinkerman; three sons, Gary Jr., Mark and Steve, all of Belpre; three granddaughters, Jennifer Pinkerman of Belpre, Elizabeth and Olivia Pinkerman of Indianapolis; a sister and brother-in-law, Carolyn and Buck Crawford of Belpre; sister-in-law and brother-in-law, Joann and Max Hart of Columbus, Ohio; sister-in-law, Mary Stone; and brother-in-law, Jim Suck of Ravenswood. There will be no visitation. Services will be held at the convenience of the family. Memorials may be made to Housecalls/Hospice, c/o Camden-Clark Memorial Hospital Arrangements are being handled by Leavitt Funeral Home, Belpre.
Mark Aulabaugh writes, "Gary was in radio in the Tri-state before coming to Parkersburg. He wanted to get into Television and tried to get a job at WHTN. He was told that he had talent—but he needed to get some experience in a smaller market and and come back in 6 months. He got a job doing mainly radio at WTAP and talent for Television. Back in the 50s, if you were on WTAP Radio, you were likely going to be 'talent' for TV. Gary was very popular on both radio and TV and decided to stay. He eventually went into sales at WTAP, WCEF and was GM at WKYG."
---
Gary Brookhart, a.k.a. "Bob Sherman" (1938-1993)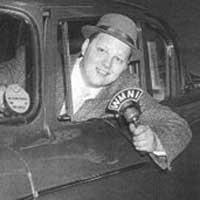 Gary Brookhart graduated from Newark Senior High School with the Class of 1956. He was involved in theatrical plays and debate while at Newark High School. Gary earned a letter in debate, competed successfully across the state in that program and was a member of the Thespian Club. Since he was a youngster, Gary Brookhart was interested in sports. It was said that at the age of three he could name the starting lineup of the Cincinnati Reds along with the players' batting averages. He was one of those rare persons who at an early age knew exactly what he wanted to do; broadcast on the radio. Between the ninth and tenth grade, Gary obtained a job in a small radio station in Parkersburg, WV (WCEF) where all summer he flipped records, announced the news and sports and learned the business of radio announcing. He held that job each summer until he graduated in 1956 and returned to WCEF to work fulltime.
In the late 1950s Gary Brookhart landed a job with radio station WCOL in Columbus, Ohio where he again flipped records and broadcast the news and sports. Using the radio name of "Bob Sherman", Brookhart moved to radio station WMNI, also in Columbus, where for a number of years he was the voice of The Ohio State Buckeyes for that station. Gary anchored the Fred Taylor Show during the years OSU basketball was a powerhouse with players such as Lucas, Havlicek, Nowell, Siegfried and a young Bobby Knight. He also announced Buckeye Football games. In the mid-1960s, "Bob Sherman" moved to East Lansing, Michigan and started a radio stations with the call letters WVIC. At that station he was the voice of the Michigan State Spartans covering the like of Magic Johnson, Kirk Gibson and future Dodger pitcher, Mike Marshall.
During his radio career, Gary Brookhart was always heavily involved in broadcast all kinds of sporting events especially motorcar racing. Since first watching races at Newark's Jones Speedway, Gary had learned the sport and excelled in telling its story. While in Columbus he was the announcer at the Powell Motor Speedway and during the summers while at WMNI he broadcast the Columbus Jets Baseball games. After moving to Michigan, Gary Brookhart became involved with announcing the Indianapolis 500 Motor Race and spent the month of May each year producing on-minute spots covering the "500" for the Mutual Broadcasting Company. Moving to Battle Creek, Michigan, Gary opened his last radio station WKKQ and continued to work the month of May for Mutual Broadcasting providing short updates on the "Greatest Spectacle in Racing". During this time Gary worked as the announcer of the Michigan Panthers, a team in the short-lived USFL. Over the years, Bob Sherman received many awards for his radio broadcast journalism including his covering of the Buick Open, the Detroit Hydroplane Races, and for his coverage of Michigan high School basketball. Gary and Detroit Pistons radio announcer, George Blaha, received a national award for their radio coverage of the "Death of Joe Louis".
Gary Brookhart was truly the "ultimate spectator" bringing alive for the radio listener the happenings and occurrences on the field and on the tracks of sporting events across the country.
Notes from Mark Aulabaugh — In WV he always used his real name, Gary Brookhart - Bob Sherman in OH and MI. Gary returned to WCEF in 1966 as PD and left in 1968 for WCAW in Charleston as PD and Play-By-Play announcer for the Charleston Rockets. When he left, he took most of the WCEF jocks with him. Brookhart was the guy who flipped WCAW's format from Top 40 to Country. He was back in Lansing about a year later and eventually brought WVIC.