History of WCMI and
WCMI-FM/WAMX/WRVC-FM/WDGG,
Ashland, Kentucky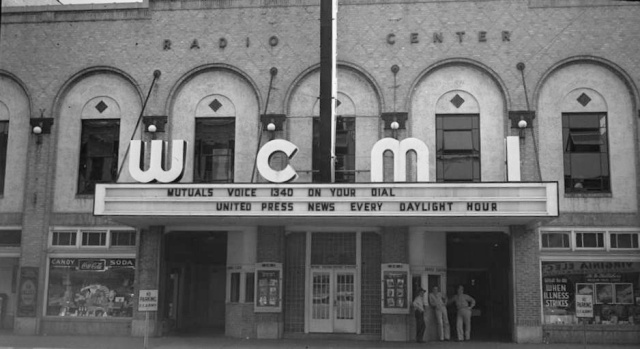 ---
WCMI(AM)
WCMI went on the air in early 1935, sometime before April 15. The original call letters were to be WMFP. On March 15, 1935, Broadcasting reported that the call was changed from WMFP to WCMI.
On April 28, 1935, a newspaper ad for the Henry Clay Hotel says that it is the home of WCMI Radio.
On Sept. 15, 1936, a new tower under construction collapsed.
A newspaper article of Aug. 11, 1939, reported that Mutual had announced several new affiliates, one of which was WCMI.
On Dec. 16, 1940, the Radio Center building was dedicated as WCMI's new studio facility. It is shown in the advertisement below.
On Sept. 7, 1941, the Portsmouth Times reported, "R. Robert MacKenzie, general manager of radio station WCMI since 1929, announced [Sept. 5] that he had resigned, effective immediately, preparatory to accepting another position. Gilmore N. Nunn, Lexington, president of the Ashland Broadcasting Co., said that Warren Davis will continue in his present position as business manager. T. J. Carroll, commercial department, Dallas Wyant, program director, L. D. Newman will continue as manager of the Huntington studios. Mr. MacKenzie came to Ashland from Amarillo, Tex., and has been residing in Greenup county."
In June 1945 Joseph B. Matthews was named general manager of WCMI. He had joined the staff of WCMI in March, and previously was employed by WGKV for five years.
On June 15, 1945, WCMI became a CBS affiliate.
In July 1953 Charles Sawyer, a former Secretary of Commerce, announced that he had purchased 70% of the stock of WCMI pending FCC approval. He bought the stock from J. Lindsey Nunn and Gilmore N. Nunn of Lexington for $140,000. He announced that he would apply for authorization to set up a television station.
On Dec. 5, 1953, WCMI manager Charles C. Warren was killed in an auto accident. He had been with WCMI since 1941, and was also an Ashland city council member. Richard C. Martin, who had been manager of the Huntington office of WCMI and who had been with the station since 1945, was named acting manager to replace Warren.
On March 11, 1954, WCMI announced that it would drop plans to establish a television station on Channel 13. The move left only Huntington Broadcasting Corp. (WPLH) and Greater Huntington Radio Corp. (WHTN) as applicants for the TV station.
In May 1956 the sale of WCMI from Charles Sawyer to George H. Clinton of Parkersburg was announced. The sale price was $165,000.
In 2017 WCMI-1340 was broadcasting a sports format.
---
Ad in the 1941 Polk's Huntington City Directory; Dec. 15, 1940 Huntington Advertiser
---
1949 city directory; 1952-53 city directory
---

1966-68 city directory
---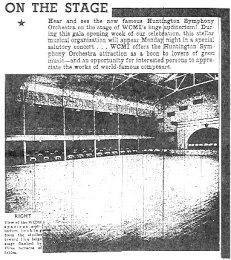 WCMI's auditorium
---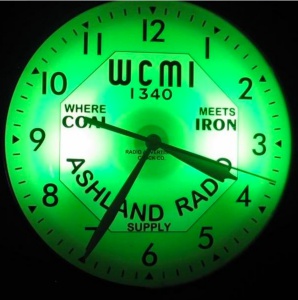 WCMI clock
---
WRVC-FM Huntington (1989)
This history was provided by the station for a 1989 WVBA book.
A conditional grant was obtained December 30, 1946 from the Federal Communications Commission by WCMI, "one of the Nunn Stations", to build and operate a new Frequency Modulation station at Ashland, Kentucky on 93.7 megacycles with power of 4.4 kw Effective Radiated Power. Ownership was Ashland Broadcasting Company, headed by President Gilmore N. Nunn. This authorization was subject to further review and approval of engineering details. The "Class B" FM station was granted a construction permit in late 1947 along with the call letters WCMI-FM.
In early October 1948, WCMI-FM took to the FM airwaves from studios at 120 South 20th Street, Ashland, Kentucky with a 190 foot tower located at 47th and Clay Streets. It duplicated fully the AM program schedule, including network programming. Charles C. Warren was station manager. On June 14, 1949, WCMI-FM was licensed by the FCC for 4.1 kw power—still broadcasting on 93.7 megacycles. Power was raised to 4.3 kw in late 1949. In the fall of 1953, WCMI-FM along with its AM sister station were purchased from Gilmore N. Nunn and his father J. Lindsay Nunn by the Great Trail's Broadcasting Corporation (of Ohio)—Charles Sawyer was president and treasurer of the firm which acquired 70 percent interest in The Ashland Broadcasting Company for $140,000. Gilmore N. Nunn retained 25 percent interest with five percent interest shared among several employees as gifts. FCC approval came on August 19, 1953.
Power of WCMI-FM was reduced to 4.1 kw ERP in 1953. Station manager Charles C. Warren died on December 5, 1953. His replacement in 1954 was Whitney R. Martin. In 1955, WCMI-FM, still duplicating the WCMI program schedule on the FM band, reduced power to 2.75 KW. The station, in a corporate change, was transferred to the Edwina Broadcasting Company in August of 1956. George H. Clinton was president and majority owner of Edwina. Mr. Clinton then named W. R. Martin to the post of general manager of the WCMI stations. (Clinton was one of the earlier presidents of the West Virginia Broadcasters Association, serving in 1949-50). WCMI Radio Inc. (Frederick Gregg Jr., president and principal owner) acquired both WCMI and WCMI-FM for $69,285 in a sale gaining FCC sanction October 29, 1958. Henry G. Grad then succeeded W. R. Martin as general manager and William Pierce was appointed station manager, a newly created position. In February 1959, both WCMI-FM and WCMI dropped their CBS network affiliations; opting then for independent operation. By 1959, the station maintained a remote studio in nearby Huntington. Main studios continued to be located at 120 20th Street in Ashland.
WCMI Inc. (owned by President Donald J. Horton along with G. D. Kincaid) acquired WCMI-FM February 1, 1960 for $163,000 (the price included the AM facility as well!). The license transfer garnered FCC sanction December 22, 1959. The pair had varying interests in two other Kentucky stations and a radio station in Orlando, Florida. O. C. Halyard Jr. was named by the new owners as WCMI-FM's new General manager in 1960. The stations rejoined the CBS Radio Network March 1, 1960. WCMI-FM's ownership was reorganized December 22, 1960 when WCMI Inc. came under the control of the Bluegrass Broadcasting Company. Ralph Worster was President and 11.4 percent owner. The station was still broadcasting with 2.75 kw from a 190 foot antenna tower, duplicating the AM program schedule. In 1963, Donald Horton and G. D. Kincaid sold their interest in WCMI Inc. to majority owners of the Bluegrass Broadcasting Company.
O. C. Halyard Jr. rose to vice president and general manager in early 1964. By mid-1964, WCMI-FM was operating 19 hours daily. At this time it continued to maintain an auxiliary studio in downtown Huntington. A construction permit was granted by the FCC February 12, 1965 for WCMI-FM to increase ERP from 2.75 KW (190 foot antenna height) to 50 kw (170 foot antenna height). Also in 1965, the station began multiplex stereo operation and Ronald R. Nickell succeeded Halyard as general manager. Power rose to 50 kw in early 1966. The FCC licensed the station on March 25, 1966 covering the raise in power and the installation of a new transmitter.
WCMI-FM (and its AM counterpart) were acquired effective July 1, 1966, by Charbert Industries Inc. for $325,000. FCC approval came on June 10, 1966. The firm was owned by Robert E. Levinson (50 percent) and by Charles B. Levinson (50 percent). Under the new ownership, W. Richard Martin was appointed WCMI-FM's new general manager. In 1967, the 50 kw stereo station began full time separate programming and dropped its duplication of the WCMI-AM program schedule. WCMI-FM affiliated with the new American FM Radio Network on January 1, 1968, the inaugural date of ABC's new four network service.
Two simultaneous transfers were approved by the FCC on November 2, 1970. First, WCMI and WCMI-FM were acquired from Charbert Industries Inc. by the Greater Ashland Broadcasting Corporation (O. W. Myers, President et al). While the new owners retained WCMI, WCMI-FM was spun off to Stereo 94, Inc., a new firm organized by W. Richard Martin, WCMI's general manager. Mr. Martin paid $50,000 for the FM station, and changed its call letters to WAMX-FM on November 20, 1970. On December 1, 1970, WAMX-FM became the property of Stereo 94, Inc. Mr. Martin then became both president and general manager. Its ABC/FM Network affiliation was then terminated. Earlier on November 17, 1970 WAMX-FM was granted an FCC permit to change transmitting location to Musser Lane and Terrapin Ridge Road, 4.3 miles SSE of Ashland, install a 400 foot antenna tower there, and allowed remote control operation of its transmitter from the studio site. This was amended April 27, 1971 to specify a move of WAMX-FM's studio to the Musser Lane and Terrapin Ridge Road site.
WAMX-FM joined the American Entertainment Radio Network in 1972 (an affiliation acquired from WCMI). It had formerly operated as an independent. In 1972, the station began using its new 405 foot antenna tower. It was now airing a "middle-of-the-road" music format. In 1974, this changed to a new stereo "Contemporary" Top 40 music format. On January 10, 1979, the station was granted an FCC permit to reduce ERP from 50 kw to 31 kw (horizontal and vertical polarization) and to increase antenna height to 460 feet (horizontal and vertical polarization). The station's studio and transmitter location by June of 1979 was 1301 Morningside Drive, Ashland. Power rose to 66 kw (from an antenna height of 463 feet) in 1980. At this time, the station operated 24 hours a day. In 1981, the station switched to a "Top 40/MOR" music format and changed its affiliation from the ABC Entertainment Network to the ABC Contemporary Network.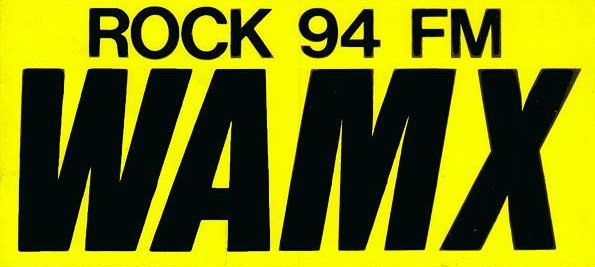 1978 bumper sticker (Thanks: Jim Owston)
Stereo 94 Inc. ("Dick" Martin, president and owner) sold WAMX-FM on February 1, 1983 to the Stoner Broadcasting System Inc. which paid Mr. Martin $1,750,000 for the FM station. The Stoner group owned WGNT in nearby Huntington, and the purchase of WAMX-FM raised the total Stoner station group number to eleven. FCC approval for the sale took place December 17, 1982. In 1983, Toufie L. Kassab, General Manager of WGNT, was given additional duties as general manager of Ashland's WAMX-FM. Richard T. Wilson became corporate vice president of the Stoner group of stations in 1983.
Studios were relocated in 1983 from 1301 Morningside Drive, Ashland to Suite 200 in the Coal Exchange Building, at 401 Eleventh Street, Huntington, West Virginia. In the same year, the station dropped its ABC Contemporary Network affiliation in favor of independent operation and the station switched to an "Album-Oriented Rock" music format. Power of the station changed from 66 kw to 50 kw (at an antenna height of 463 feet) later in 1983. In early 1984, the station switched to a "Contemporary Hit Radio" music format. The FCC on February 8, 1984 granted WAMX-FM a construction permit to change antenna height to 570 feet. This was modified December 13, 1984 to specify an antenna height of 590 feet. In mid-April 1985, Rick Wilson, Corporate Vice President, left the company. The FCC granted WAMX-FM a permit to double its power output from 50 kw to 100 kw (at 590 feet antenna height) on April 30, 1985. This permit was modified December 19, 1985 to allow for an antenna height of 741 feet (still authorized 100 KW operation).
Today, the station operates 24 hours a day on 93.7 mHz with a power of 100 KW from studios at 401 Eleventh Street (the Coal Exchange Building), Huntington, West Virginia, but remains licensed to the city of Ashland, Kentucky. The stereo adult contemporary formatted station, was sold by Stoner Broadcasting System, Inc. to Fifth Avenue Broadcasting, Inc. in early 1988. Owner is Huntington businessman Tom Wolf, with Joe Johnston, part owner named General Manager. (He had been Sales Manager at WKEE, Huntington.) With the ownership change, the call letters were changed to WRVC-FM in 1988.
---
Recollections from John Davidson
In an email in 2008, John Davidson, now living in Florida, wrote the following.
In January of 1972, I was the first announcer to hit the airwaves for Hal Murphy at his new station WCAK-FM in Catlettsburg, Ky. It's a little fuzzy at this point, but the station was either 3kw or 5kw. I had an air name picked out, but Hal, bless his pointed head, forgot what the name was (and after all these years, I can't even remember what it was!) and introduced me as John Davidson when the station first went on the air. We did big band music from 6am to 6pm and country from 6p to 6a!
I was going to the Ashland branch of the U.of K. and majoring in broadcasting. By October of '72, I was fed up with playing Glenn Miller, Whistling Fred Lowery, Jonah James, Stan Kenton, et al from 6am to noon every day and went out and talked to Dick Martin at WAMX. We talked back and forth for a few weeks and I persuaded Dick to hire me to do nights at WAMX and let me program ~my~ music. The first three nights I was on the air, I pushed the music out as far (using my own album collection) as I could until Dick would call me up and tell me to back off as the music was "getting too rocky." I was programming the area's FIRST underground rock radio show. For the next month, I went to the edge every night and played music that I knew the kids in the area and the college students at Marshall would get into more than what the long time Top 40 stations, WCMI in Ashland on the AM side and WKEE in Huntington on the FM dial would play. Every night, I would leave Dick a note on how many requests I had and what they had requested (needless to say, there was a ~little~ padding in there! LOL!) One night in January of 1973, Dick came out to the station on Terrapin Ridge and told me that he had been advised that my program had gone from #11 in the market out of 11 stations on the local cable tv feed, to #1. He then told me that I could play whatever I wanted to play as long as I made money for the station (for decency's sake, I will not repeat what he actually said to me, but he finally had something he could sell to advertisers in the area!). From that point on, I was hell on wheels and did a full-blown underground rock radio show at night.
I was doing the underground/progressive rock format BEFORE any other station in the area, including Charleston. Our signal would drift in and out of Charleston, but it covered the immediate market quite nicely. You could hear anything from blues to Bloodrock, The Mothers of Invention, Blue Oyster Cult, Grand Funk, Alice Cooper and everything else in between. I even played Eric Satie (for which one listener, who was obviously floating above the floor in his house, called up and threatened to come out and "hang me and my car"! I asked him if he planned on wrapping a piece of string around the fuel line in an attempt to throttle my car! LOL!). It was a total free-form format, so the audience never knew exactly what was going to come up next. In early January of 1974, I went to Dick and asked for a raise (I was making $90 a week and did a shift from 7pm to 2am). He told me that he "couldn't afford to give me a raise", although he had gotten himself a new, top of the line Buick and the other two owners/Neil and Don had as well. He then told me that my show wasn't doing that well and I needed to soften up the sound to attract more female listeners. He must of thought that I was just some long-haired hippie kid that had lint between my ears and was too stupid to call his bluff. What he didn't count on was the fact that the station's office was there at the studio and the file cabinets were unlocked. I got my hands on the ratings book and went in to his office couple of days later and told him that I wasn't going to change my show as it would be physically impossible to pull MORE female listeners 18-24. He was quite surprised when I dumped a copy of the ratings on his desk with my ratings circled. In the immediate Ashland market (five stations) I had a 4.0 men 18-24 and a 1.0 women 18-24. The other four stations in the market, including WCMI, the Top 40 station had a whopping combined total of....0.0 in both men AND women! In the Huntington market, I was one - tenth of a percentage point of being third overall in the 11 station market at night and it was a fight between me and WKEE for the 18-24 demo. They did have more women by a small margin, but I OWNED men. I told Dick that he needed to come off the purse strings and give me a raise as I had done as he had asked, made money for the station. He still declined, so I walked into the control room and proceeded to cart all of my albums out to my car and told him that I wished him luck in finding someone who had as many albums as I did and knew how to put them together in a manner that his audience would appreciate, but I no longer worked there.
---
Timeline from the Web Site wcmifm.com
This timeline is taken from the wcmifm.com web site, which no longer exists. I do not know who wrote this so I did not ask permission and cannot acknowledge the author.
1935. WCMI signs on the air in Ashland, Ky, at 1310 kHz with 100 watts non-directional, the Tri-State's first station authorized for full-time operation, though it is 8 years after WSAZ moved to Huntington (1927), making it the 2nd station in the Tri-State. The call letters stand for "Where Coal Meets Iron", the slogan of the City of Ashland.
1941. WCMI changes frequency to 1340 kHz, because of the NARBA treaty, power by this time is 250 watts full-time non-directional.
1945. WCMI applies for FM, in the old 40 MHz FM band, one of, if not the first stations in KY or the Tri-State area to do so.
1946. WCMI is perhaps the first station in KY or the Tri-State to get a "conditional grant" for FM in the new 88-108 MHz FM band. WCMI was owned at this time by Gilmore N. Nunn. Studios are at 120 20th Street, with an additional studio in Huntington, WV, at 627 4th Avenue, in a building known at that time as the "Radio Center". This building was the site of early Marshall basketball games, and would later house WHTN AM/FM (WKEE), and WHTN-TV (WOWK TV 13).
1947. WCMI constructs a new tower and transmitter site at 47th and Clay Streets in the eastern part of Ashland, near the Ohio River. The tower is free-standing, 1/2 wavelength in height (approximately 380 feet). WCMI also begins broadcasting Ashland high school sports at this time.

1948. WCMI-FM signs on the air for the first time, at 93.7 MHz with 4.4 kW of power, from WCMI-AM's 380 foot tower. WCMI-FM signs on after WHTN-FM 100.5 in Huntington. The FM simulcasts the AM 100%.
1949. WCMI-FM's power reduced to 4.1 kW on June 14, then raised to 4.3 kW later in the year.
1953. Controlling interest in WCMI AM/FM are purchased by Great Trails Broadcasting of Ohio for $140,000. Gilmore Nunn remains 25% ownership, with another 5% divided among several of his longtime employees. WCMI-FM's power reduced (yet again) to 4.1 kW.
1954. W. Richard "Dick" Martin becomes general manager of WCMI AM/FM.
1955. WCMI Radio is bought by Edwina Broadcasting. WCMI-FM's power is cut to 2.7 kW. WCMI AM/FM begin broadcasting one of, if not the first formula "Top 40" format. Like many stations do today, WCMI played a record over and over as a stunt to alert people to the format change. This format change is a huge success, WCMI quickly rises to #1 in the market, despite its weak 250 watt signal. Edwina's principal owner is George H. Clinton, Dick Martin remains GM.
1958. WCMI Radio Inc acquires WCMI AM/FM, with Frederick Gregg Jr as owner. The stations were bought for $69,285. Henry G. Grad replaced Dick Martin as GM (at this time Dick Martin left to found "GO" Radio in Grayson, WGOH)
1959. WCMI drops its CBS Network affiliation, and opened a new studio in Huntington. Main studio continued to be at 120 20th Street in Ashland.
1960. On February 1, WCMI Inc (Donald J. Horton and G.D. Kincaid), bought WCMI radio for $163,000. WCMI again became a CBS affiliate. On 12/22, Bluegrass Broadcasting Co. acquired WCMI AM/FM. By this time, WCMI-AM is broadcasting 1 kW daytime, 250 watts night, non-directional full-time.
1964. WCMI AM/FM (still a 100% simulcast) are broadcasting 19 hours per day (6AM-Midnight, a schedule that WCMI-FM would still be keeping as late as 1994). OC Halyard Jr is GM at this time.
1965. WCMI-FM gets approval and increases power to 50 kW at a 170 foot antenna height (still on the WCMI-AM tower), with stereo.
1966. July 1, Charbert Industries purchased WCMI AM/FM for 325,000. Dick Martin returns as GM of both stations.
1967. WCMI-FM began running its own programming. WCMI-AM remained a Top 40 station, WCMI-FM ran ABC FM Network programming.
1970. On November 2, WCMI-AM was sold to O.W. Meyers. WCMI-FM 93.7 was sold to Dick Martin Sr, and changed calls to WAMX on November 11. This ends the run of the original WCMI-FM, (1948-70). Dick Martin Sr. would own WAMX until 1982, when it would be sold to Stoner Broadcasting (which owned 930 WGNT)
1970's. WCMI-AM remains a live, local Top 40 station, calling itself "13 Super CMI!"
1983. WCMI-AM is sold to W. Richard "Dicky" Martin Jr (because of his father's non-compete condition on his sale of WAMX to Stoner Broadcasting). First Comm Inc is the corporate name. First Comm acquires 92.7 WCAK-FM, a 3 kW FM station licensed to Cattletsburg, from the estate of Hal Murphy, running an Adult Contemporary format. WCMI switches to a country music format sometime around this time. Studios are at 1301 Morningside Drive, where they would remain until 1999. Dicky Martin and Mark Justice are the morning personalities on WCAK, with Dicky's brother Scott, also an air talent (he would remain on 92.7 FM until 2000!)
1986. Around this time WCMI raises nighttime power to 1 kW, becoming a fulltime 1 kW facility. Calls of WCAK are changed to WKQI, with the slogan "Q-92", though the format remains Adult Contemporary. Around this time, WCMI AM begins running this area's first ever adult standards format, "Music of Your Life".
1988. Call letters of WKQI are changed to WCMI-FM, formats over the next few years include AC, Oldies, AC again. The bathroom at the WCMI studio had a "WRVC Lite Rock 93.7" bumper sticker plastered in the urinal, the station's opinion of the new format of the station who's ownership would acquire WCMI in 1995...
1992. WCMI AM/FM change format to Classic Rock (ABC satellite network), the first such station to originate from the Ashland-Huntington metro. The stations are managed by Dicky Martin. WCMI-AM simulcasts WCMI-FM except for sports talk programming (Pete Rose Show). Program schedule is 6AM-Midnight, except for UK sports and Reds games that go overtime. Some weekends, WCMI-FM would stay on the air 24 hours. WCMI-FM also used these slogans: "Ashland's Radio Tradition", "Coolest Station in the Nation", and "Wall of the Classics". WCMI-FM attempts to broadcast Ashland and Russell on the same station at the same time, in the left and right stereo channels. It didn't work all that well, but it was very innovative.
1994. November 9, WCMI AM/FM are acquired by Kindred Communications (Owners of WRVC AM 930 and FM 93.7). Dick and Dicky Martin remain minority partners, and WCMI AM and FM are held by "KenMar Inc"
1995. By January, WCMI-FM is simulcasting WRVC-FM's Oldies format. WCMI-AM simulcasts the FM for awhile, before becoming a satellite gospel music station. In March, the calls of WCMI-FM are changed to WRVC-FM, ending the run of the 2nd WCMI-FM (1988-95).
1996. WCMI ceases to be a full-time Cincinnati Reds affiliate. WCMI will continue to broadcast the Reds at times they cannot be carried on WRVC 930 AM because of schedule conflicts.
1997. WCMI is heavily damaged by the Ohio River flood, and is off the air for months, then back on at very low power (from a 30 watt LPB transmitter) for several months after that).
1998. WCMI's facilities are at their worst. Patched back together after being heavily damaged by flooding the year before, the station's transmitter (Harris MW1), and audio processing are a wreck. Still transmitting from facilities built in 1947, WCMI needs lots of work. The studio at 1301 Morningside Drive still uses much equipment from the 1950's!
1999. Dicky Martin leaves WCMI for AMFM Inc's WBVB radio, taking Ashland Tomcat sports with him (ending a nearly 50 year tradition). Scott Martin remains on WRVC-FM. In September, WCMI's transmitter site is moved across the Ohio River to the 92.7 FM site (1/2 wave tower, 1 kW fulltime). WCMI's signal, and audio quality are MUCH improved, sounding good for the first time since the 1997 flood. A year later it became known this was without FCC approval. Studios were moved from 1301 Morningside Drive to the 2nd floor of the Coal Exchange Building in Huntington (with the other 3 Kindred stations). FCC records showed a transfer of WCMI and WRVC-FM from "KenMar" to "Kindred" (Fifth Avenue Broadcasting). Apparently the Martin family sold its minority interest in the company. The WCMI building on Morningside Drive and 13th Street now houses a bakery.
2000, September. WCMI radio is forced off the air by the FCC when it's found that the 1999 transmitter move was done without approval. An application has been filed for the 92.7 FM tower location, with 700 watts fulltime, non-directional. As of this writing, WCMI remains off the air. Scott Martin, the last of the Martin family still associated with the company that owns WCMI, and the two former WCMI-FM's, leaves for 101.5 "The River", after being air talent on 92.7 FM since 1983.

As 2000 drew to a close, the future of WCMI radio was in serious question, a sad ending for a station that once set the standard in this area for innovation, community service, and quality. WCMI was the dominant station in this area for many years, and served as a model for other stations, such as Ken Auble's WIRO, and WGOH/WUGO in Grayson, which was also managed by Dick Martin. Today only WGOH and WUGO remain full-service community oriented radio stations.
2001, Feb WCMI returned to the air in late February, with the same gospel music format that had run since 1995.
---
Facebook Post by Gregg Gehringer, Jan. 3, 2014
"Cascading over Kentucky, Overloading Ohio and Wailing over West Virginia with 100,000 watts of Music Power 94 WAMX Ashland Huntington," the classic Joe Kelly ID I loved. We had that one in the fall of 86. But they were all sweepers from Joe Kelly and SuperSpots out of Chicago. WAMX pretty much stopped using the sung jingles by early 85 and were primarily using the sweeps. They were trying to differentiate themselves from WKEE. KEE was leaning a little AC during the day. Thom Robinson the WAMX PD was attempting to make it a much cooler, hipper CHR. However the Arbitron numbers were still in KEE's favor hence the switch to a Rock based CHR approach starting in the Summer of 86 which also was a complete failure. Then came the full on AC with W-Mix 93.7 in early 1987 with no jingles or sweepers. It was truly awful. I probably shared far more info than was necessary. Then in 1988 Stoner sold it and it became WRVC and I left and went to KEE.