HISTORY OF WEST VIRGINIA BROADCASTING
History of
WCOM/WTAP/WKYG, Parkersburg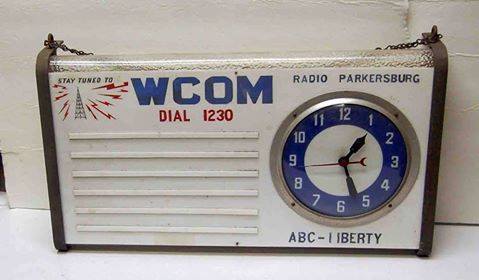 This article was written and supplied to this website by Jack See.
Following World War II, a group of Parkersburg businessmen formed Parkersburg Broadcasting Company and started WCOM, the second radio station in Parkersburg. Included was Joe Handlan, President of the Corp., who later was in the State Legislature, and a Circuit Court Judge. Joe did news and handled play-by-play broadcasts for the Parkersburg Big Reds from 1948 into the '60s...then came back in the '70's for another 10 years of sports broadcasting. Also in this group was E. I. Satterfield, owner of a music-store in Parkersburg and whose son, Jack, played trombone with Teddy Powell's Big Band, and later was first trombone in the New York Philharmonic. Some of the other original stockholders included Chuck Leary, B. P. Barickman and John Anderson.
Carl "Mutt" Loose was Vice-President and General manager and Paula Carr, Program director.
WCOM went on the air Sept. 6, 1947 from studios on Ninth Street. It operated on 1230 kc, with 250 watts full time. The transmitter and the Truscon self-supporting tower was located off New York Avenue, in the vicinity of Mt. Olivet. Dick Cotterman was the next General Manager, followed in the early '50's by Audra Archer, who remained as manager until 1960. Buford "Red" Barickman was first Chief Engineer, and upon his recall to service during the Korean War, was replaced by Bill Collins. Jack See became Program Director in 1951, and left in 1955 to help put WTAP-TV, Parkersburg on the air. Some of the early announcers included Tom Neale, also with WTAP-TV and WCHS-TV Charleston. John Simpson, Harold McWhorter, Marsh McCarty, Alex Mumford and Sam Goodman. In 1953, Mary Alice Kemery, a Parkersburg girl, came with WCOM as continuity writer and traffic director. It was here she met Sam Goodman, and they later married in Pittsburgh, where they were both working. Mary Alice is better known as Linda Goodman, world-renowned astrologer and author of the 1968 book "Sun Signs," which sold over 5 million copies and spawned the top-selling sequels "Love Signs" and "Star Signs." People Magazine said of her, "For millions of Americans, the age of Aquarius arrived with Linda Goodman." She died in 1995. Sam Goodman died in 1983.
Some of the other early air-personalities included H. B. "Cappy" Kenny, Sam Slater with sports, J. Fred Earley, Dr. Jim Wade, The McGeary Sisters, a vocal trio, and The Venetian Singers, an Afro-American choral group, who broadcast weekly. WCOM was affiliated with the American Broadcasting Company, and later with Gordon McLendon's ill-fated Liberty Broadcasting system. The station operated with a MOR format, and was heavy on news and sports, carrying both Parkersburg High football and basketball, as well as West Virginia University's games.
In 1948, WCOM won BILLBOARD magazine's national first-place award for Sports Programming for "Football Flashbacks"...a weekly re-creation of Parkersburg High School football games from the past. Joe Handlan did play-by-play (from newspaper reports) of the games, and the broadcasts were complete with the crowd, cheers, bands and the half-time shows, produced by Jack See.
In one of the first network sports broadcasts in the Parkersburg area, WCOM broadcast West Virginia University's appearance in the SUN BOWL in El Paso, Texas in 1949.
In the early 50's both Parkersburg radio stations (WPAR and WCOM) cooperated in originating one of the first "Stereo" broadcasts in the United States. Separate broadcast lines were installed to both transmitters. A turn-table was modified, with one channel going to WPAR the other channel to WCOM. The announcers...who were in the same studio, talked into separate mikes, with one going to the WPAR transmitter, the other to WCOM transmitter. The audience had been instructed to get two radios..tune one to WPAR and the other to WCOM, and to place them across the room from each other. Early prototype stereo records were used...and the total effect was Stereo Sound with voice and music coming from both radios. The broadcast was well-received in the area...but people said it would never happen again, because the two stations would never broadcast from the same place again!
In the mid-50's, WCOM operated three mobile vehicles with two-way radio communication, and many of the station's local newscasts were originated from these moving vehicles with on-the-scene reports as they cruised the Mid-Ohio Valley.
All of this innovative "cutting edge" technology was conceived and implemented by Chief Engineer Bill Collins. In about 1957, Parkersburg Broadcasting was awarded a CP and put station WMOV in Ravenswood on the air. Lloyd Daugherty was General manager.
In 1958, WCOM became a network switching-point, and several ABC radio Network programs were originated (via transcription) from the WCOM control-room, to the Southeast leg of the network.
In 1959, WCOM was purchased by Zanesville Publishing Company, who owned WTAP-TV in Parkersburg. The station became WTAP-AM, and was moved to the television operation on 7 1/2 Street. Milt Komito was General manager.
In the mid 60's, WTAP added an FM station at 103.1 and in 1972 sold both the AM and FM to Fahlgren Advertising. The AM call letters were changed to WKYG, and the format was changed to CW. At about the same time, the AM power was increased to 1,000 watts. In 1977, the FM call letters were changed to WQAW-FM, and in 1979 both stations were moved from the Fahlgren Complex to the Park Shopping Center. In 1980, Robert Mitchell became General Manager. In 1982, both stations were purchased by Jacor, and the call letters of the FM station was changed to WXKX; the format changed to CW. In October 1985, both stations moved to their present location on St. Marys Avenue in Parkersburg. On Jan. 1, 1988, Fritz Broadcasting bought WXKX-FM and WKYG.
In 1993, WXKX-FM and WKYG entered into an LMA agreement with WXIL-FM, and became Results Radio, with WXIL-FM also moving into the St. Marys Avenue location. In November 1996, Fritz sold all its interests to Burbach Broadcasting, owners of WXIL-FM. In 1998, Results Radio purchased WHCM-FM and WADC-AM from Randy Jay Broadcasting. In 2000 WXKX-FM moved from 103.1 to 99.1 is now WGGE-FM and WHCM-FM became WHBR-FM at 103.1. WKYG is now "talk radio WVNT."
---
Recollections of Mike Hopkins
Mike Hopkins wrote the following in a 2011 email.
My first paid job was as a fill-in announcer and dj at WCOM in 1959-60. I look back and cringe at my inexperience and amateurism. But what fun! I played top-40 records (remember those?), read the news off the teletype, worried about hitting the ABC network on the split second, and tried to deliver commercials in a mature manner. When WCOM was bought by WTAP television, I worked there a couple of summers. Jack See was my first boss. I spoke briefly at his funeral as the only one there with a connection to WCOM, long gone.
Cueing records, holding them with one finger while giving the intro, rushing to cue up 3-inch reel-to-reel tapes of commercials (long before cartridges), finding 45s and large commercial-grade recordings of programs, tearing news bulletins off the teletype, ad-libbing all sorts of things to fill time, recording weather reports from the phone connection with the local weather bureau, filling out logs and reports, and on and on. Even today I check my watch to see if the network is going to be joined on-time when I'm listening to radio. Once in that business you never get over it! Nor do I want to!
I cannot imagine what it must be like to work in local radio today. I would be lost in front on today's computer boards and digital music. I have the feeling it was much more fun fifty years ago! I'm just glad I was part of it.=
---
Jack See Obituary
John A. "Jack" See, 83, of Briscoe Road, Parkersburg, passed away March 2, 2010, at St. Joseph's Hospital in Parkersburg.
He was born Oct. 24, 1926 in Parkersburg, a son of the late Gilbert G. and Mildred Barnette See.
Jack was a January 1944 graduate of Parkersburg High School and attended Freed-Hardeman University. He was a World War II veteran, with the Naval Entertainment Unit, USNTC, Samson, N.Y. and abroad with the destroyer, USS Radford.
He was a Radio-TV pioneer in West Virginia as announcer with station WPAR in 1943 and at WSAZ in Huntington. He was on the original staff of station WCOM, Parkersburg as Program Director and also on the original staff of WTAP-TV as News Director.
He worked at Channel 12, WBOY-TV/Radio in Clarksburg as Program Director of WBOY Radio and News/Anchor and Weather Man for WBOY-TV. He returned to Parkersburg as Program Director at WTAP-TV and was associated with other radio stations in the Parkersburg/Marietta area. He retired from Clear Channel Radio in 2005.
Surviving are two sons, Robert (Judy) See of Wellsville, Ohio and Richard M. See of Washington, W.Va.; five grandchildren, Nathan See, Jackie (Trevor) Fawley, Scott (Jeannie) See, John M. (Tara) See and Ryan See; four great-grandsons and one great-granddaughter; and several nieces and nephews.
In addition to his parents, he was preceded in death by his wife, Carlene Blair See; a son, John D. See and a brother, Dick See.
There will be a service of Remembrance held 1 p.m. Friday at Kimes Funeral Home, 521 Fifth Street, Parkersburg, with Pastor John Barker assisting. The family will receive friends beginning at noon on Friday at the funeral home.
Memorial donations may be directed to the Alzheimer's Association.
Messages of condolences may be sent to the family by visiting www.kimesfh.com