HISTORY OF BROADCASTING IN WEST VIRGINIA
WELD, Fisher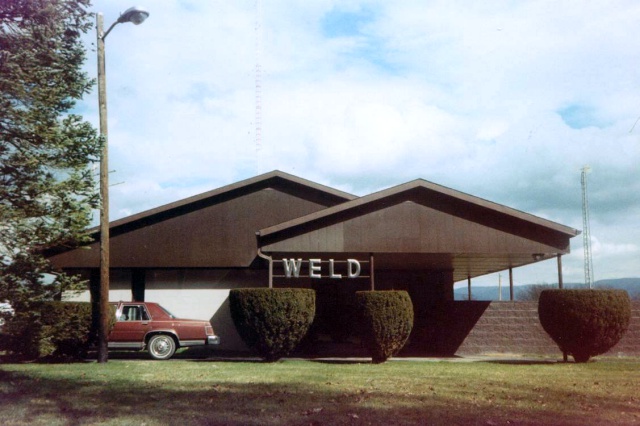 Photo courtesy of Scott Reppert
See also this YouTube video
Thanks to Barbara Weese for providing this article, which was taken from Hardy County Family History to 1990, copyright 1991, Hardy County Commission and Don Mills, Inc., printed in USA by Walsworth Publishing. The address for Don Mills, Inc., is PO Box 34, Waynesville, NC 28786, telephone (704) 452-7600.
Reportedly Fisher was chosen as the site for WELD because it is midway between Moorefield and Petersburg, and neither city would feel slighted. When this station signed on the air, Fisher must have been one of the smallest towns in the United States to have a radio station licensed to it.
WELD-AM Fisher, signed on the air for the first time in August 1956 to serve the communities of Moorefield, Petersburg, Franklin, Romney, Wardensville and other small communities in the counties of Pendleton, Grant, Hardy, Hampshire, and other areas of the Eastern panhandle of the state, including the South Branch Valley. Richard Fields Lewis, Jr. was owner and Kimberly Johnson was manager. He and Johnny Bell and a young lady called "Alice in Recordland" made up a staff for the new daytime station.
The early format was popular or easy listening with periods of the new music sensation, Rock and Roll, in the evening for school-age listeners. Sometime in late 1959, the format changed to full-time country music and remains the same today.
Richard F. Lewis, Jr. passed away suddenly in 1958 and wife, Marian, became owner. In 1962, Kimberly Johnson was promoted to manager of a new station purchased by the Lewis family in New Hampshire. "Zag" Pennell, who had come to WELD in 1959 from WXGI, in Richmond, Va. was named manager. He held this position until retirement in spring of 1985.
In March, 1985, South Branch Communications, a general partnership consisting of Willard L. Earle, Carl D. Thorne, and Randall W. Thorne purchased WELD-AM from the Lewis heirs.
February 6, 1987 FM radio came to the South Branch Valley area when WELD-FM signed on the air. The same year the facilities were remodeled and doubled in size. Several future studio rooms were added.
WELD has always prided itself on community service: live coverage of local fairs and festivals, and local high school basketball, baseball, and football games. Perhaps the greatest service to the area occurred during the November 1985 "Great Flood". WELD remained on the air around the clock to make emergency announcements and to keep people informed. WELD was the only means of communication as telephone and power lines were wiped out.
The present staff includes managing partner, Willard Earle who came to WELD in November of 1960, Edwin "Biddy" Allen (1961), Calvin "Jack" Hose (1963), Alan Yokum (1969), Harold Garber (1985), Eloise Hines (1989), Jim McPeake (1989), and Daniel "Zag" Pennell who works part time. "Zag" was honored as West Virginia Broadcaster's Association's Distinguished Broadcaster (Mel Burka Award) for 1985. Sue Earle handles office duties with help from Annabelle Keller; and Edwin Allen and Larry Kuykendall handle engineering.
Others who worked at WELD over the last thirty years include "Gust" Boyd, Glen Wright (deceased), Charles Alt, Tom Leatherman, Jack Leatherman, Billy Ray Dunn, Julie Shobe, Irene Webster, Margaret Kesner, Amie Thompson, Kenny Pack, and Kathy Rohrbaugh.