History of WJLS, Beckley, West Virginia
---
New WJLS Makes Debut (1939)

This article appeared in Broadcasting on Mar. 15, 1939. The actual sign-on date was March 5, rather than March 7.
The new WJLS, Beckley, W. Va., 100 watts night and 250 watts day on 1210 kc., authorized for construction last October by the FCC, went on the air March 7 under the managership of Joe L. Smith Jr., licensee. Mr. Smith, a 1935 graduate of the University of West Virginia, has interests in a local electrical appliance shop, hotel and newspaper. He has announced the appointment of C. H. Murphey Jr., formerly of WHIS, Bluefield, W. Va., as commercial manager; James L. Cox, formerly of WHIS and WLAP, Lexington, Ky., program director; Marion H. McDowell, formerly of WMMN, Fairmont, W. Va., chief engineer; Clifford Gorsuch, formerly with WWSW, Pittsburgh, and WMBS, Uniontown, Pa., engineer; James V. Sims, formerly of WEW, St. Louis, WCBS Springfield, Ill., and KICA, Clovis, N. M., engineer; Barnes Nash, formerly of WHIS and WOPI Bristol, Tenn., chief announcer; Enzo Alessandrini, new to radio, announcer. A composite transmitter with Collins speech input and a 200-foot Wincharger guyed radiator are used.
---
A Fire in 1939 Only One of Many Highlights
in WJLS - WJLS-FM History (1950)

This article appeared in the 560 News in Sept. 1950.

The beginning of WJLS dates back farther than 11 years and six months the station has actually been broadcasting programs, news and special events for listeners of southern West Virginia.

The idea of a radio station for Beckley originated in the late 1930's. Joe L. Smith, Jr., started working on the application, later submitted to the Federal Communications Commission as early as 1938. He thought then that a local Beckley owned radio station could be of a real service to the people of not only Raleigh County, but other areas throughout the southern part of West Virginia.

There were many trials and tribulations connected with the erection of a radio station at that time. One of the biggest obstacles was the Communications Commission, the governing body of all radio broadcasting in the United States. Where today the Commission has somewhat of a liberal feeling toward new stations, then they required stores of information not only from a technical standpoint, but also from the financial background of the applicant, and also the area the station was to service.

Many hours of laboring over statistics went into the application forms for WJLS. In many cases Mr. Smith had to dig up or provide surveys for the information requested by the federal body. Today in many cases the Chamber of Commerce provides the same information as a service to everyone.

In early 1939, the FCC granted permission for the construction of WJLS. At this time work began on the second floor of the WJLS building, with an entrance then on Main Street, to construct the offices and studios needed for the station.

Originally, the station shared the second floor with the Home Insurance Agency and James Lilly, Real Estate. It took over one half of the floor space and turned it into three offices; two broadcasting studios, a control room, and an observation room for audiences to watch local programs.

And finally on Sunday afternoon, March 5, 1939, at 3 o'clock, Barnes Nash, who is now program director of Radio Station WHIS in Bluefield, marked the beginning of the station with the words:

"Ladies and Gentlemen. Today we inaugurate a new and modern service to Beckley and the surrounding coal capitals. Radio Station WJLS is beginning its first official broadcast at this time to continue until 6 o'clock this evening. First, let us explain that beginning Monday morning at 6 a. m., WJLS will broadcast on a regular full time schedule. The powerful electrical voice of the Smokeless Coal Capital will be heard until 10 p. m. each weekday. And now a few words concerning the personnel and construction of WJLS. As in the case of all modern stations such as this, the building of WJLS involved a tremendous expenditure financially. It has taken the united and untiring efforts of technical and production engineers."

And so WJLS was a part of the everyday life of residents throughout the southern West Virginia coal fields.

The program schedule in those early days featured local talent, and transcribed programs. Such names as David Mullens and his poetry program; Cowboy Jack, the one-man jamboree; Dixie-Lee; The Hollywood String Band; The Glen White Trio; Homer Bennett and his Mocking Birds; Judie and Julie, will long be remembered by the listeners to the early days of the station.

In the beginning too, the station remained on the air from 6 A. M. to 10 P. M., Monday through Saturday, and on Sundays from 9 A. M. to 6 P. M. About six months after the first broadcast the Sunday schedule was changed from 9 A. M. to 9 P. M. to allow for the broadcasting of the church services from the Oak Hill Baptist Church in the evening hour.

Then as WJLS became more and more important to the businessmen and to the residents, broadcasting times were increased. The facilities of the original station were increased during the first year of broadcasting. This came about in an odd way, for actually a fire caused the new construction work. Yet the fire itself did not damage the station.

It was in the early spring of 1939 that the Swan Cafe building burned. When the building was rebuilt the Home Insurance Agency and James Lilly, Real Estate, moved into the second floor of the building, thereby leaving the additional room for expansion at WJLS. First, the offices of the Insurance Agency were renovated to suit the needs of the station, which had discovered shortly after beginning operation that the three offices it had built were not enough to take care of the work adequately. Then a new studio was constructed, and still today it stands as the largest of the program originating units of the station.

In 1939 also the station began operation of a mobile unit, listed under the call letters W-A-I-E, immediately tabbed by the personnel to mean "We Air Important Events."

In 1941, the station moved from its original location on the radio dial of 1210 kilocycles to a new frequency alloted by the Federal Communications Commission. When this change was completed the station operated on a frequency of 1240 kilocycles.

Then came the war years, and even they failed to stop the growth of the station. In 1943, the station became affiliated with the Columbia Broadcasting System, which today ranks as the nation's number one network. There were many reasons for this affiliation, but chief among them was to provide better broadcasting for the listeners in southern West Virginia. This affiliation came in June of 1943. Then in the early part of 1944, there was another frequency change, a move which came while the station was proposing an increase in the original power allotment of 250 watts. The move to 560 kilocycles brought the listeners to the lower end of their radio dial to pick up the station.

In 1947, the power increase application was granted by the Federal Communications Commission, and the transmitter site was changed to the east end of Beckley, and the station began broadcasting by 1,000 watts in the daytime, and 500 watts at night.

In 1947 also, the station's headquarters were remodeled, redecorated and added to. The present building consists of five offices, three studios, two control rooms, a music library, teletype and newsroom, a modern lounge, and foyer.

There were the developments of the station itself. But additional broadcast services were to be inaugurated through the years. In 1946, WJLS-FM was born, though experiments in FM broadcasting were conducted by the station's engineers as early as 1940. The war, of course, stopped such new inventions and it wasn't until after the end hostilities that this new service could be provided. In 1948, WJLS-FM jumped from its original power allotment of 5,000 watts to its present broadcasting ability of 34,000 watts.

In 1941, Joe L. Smith, Jr., organized the Community Broadcasting Company in Wheeling and erected station WKWK. In 1946, the present corporation of Joe L Smith, Jr., Incorporated, erected station WKNA in Charleston. And today these three stations are linked together to serve more than one-half of the state's population under the banner of the Personality Network. These were the big events in the life of WJLS.

They brought about certain good and bad memories down through the years. The fire in 1939 brought about a scare to the station personnel. It occurred on a Saturday night, and probably this fact coupled with another, that the station did not go on the air until 9 A. M. on Sunday mornings, kept the listeners from wondering what happened to the station that day. The telephone lines, needed in the linking of the studios to the transmitter, were burned during the fire. Crewmen from the telephone company worked fast to keep the station from losing air time.

But despite obstacles such as this, and failures in the transmitter which occur in the best of radio stations from time to time, the station won two awards in its early years of broadcasting.

In 1940, WJLS was the recipient of Variety Magazine's "Showmanagement," and in 1941, the "Exploitation Award" came from Billboard magazine.

These awards came through the tireless efforts of the personnel. And it's no wonder that today the station is able to sit back and look at network radio and count a great number of its personnel now working in a division of radio that serves the entire country.

There have been many changes in the staff at WJLS, and that's natural in all parts of radio but among the best remembered of the personnel that has come and gone are these:

Enzo Allessandrini, known today to thousands of listeners to the CBS network programs originating in Chicago, as Larry Alexander. Enzo, too, can be counted among the Raleigh County citizens who have succeeded in other places of this nation for he graduated from Woodrow Wilson High School in Beckley in the spring of 1939. He came to work at WJLS shortly after it went on the air and remained through the summer months of 1939, and then entered West Virginia University. The following summer, he spent a few weeks at WJLS, then worked at WCHS in Charleston. From there he went to Atlanta, Georgia, and just before entering the Naval service in the early days of the war he worked at KDKA in Pittsburgh. After the war, he stopped off in Hollywood, attempting to fulfill his life-time ambition to be an actor. Times were hard, and there was a job at WBBM in Chicago, the CBS station in the Windy City, and he took it in 1947. He's been there ever since as a staff announcer. And more recently, during these summer months, he has been heard on the replacement program "Cloud 9" broadcast on Friday nights. In this program he was a character actor. Today, this product of Beckley is married and has one daughter.

There were others who came from all parts of the country to WJLS, and then left as they climbed the ladder to fame. Among them are Jon Arthur, known to Beckley listeners as Jon Goerss. Today Jon has a program on the American Broadcasting Company network which is heard each Saturday morning. It's titled, "No School Today." Jon came to Beckley direct from radio school and his home in Pittsburgh. He married a Fayette County girl and they have one child.

The others include John T. Gelder, a Michigan native, who started as an announcer with WJLS, then went to WKWK in Wheeling as a commercial salesman, and then later took over as manager of WKNA in Charleston when the station was under construction. In 1948 he became General Manager of WCHS in Charleston, a position he still holds. He married Elizabeth Stairs of Beckley in 1941, and they have two children.

These are the three that have succeeded and who can be claimed in part as West Virginia residents.

There were others: Jay O'Reilly, now is heard as John O'Reilly on the Mutual Broadcasting System programs originating at WOR in New York. Duane Nelson, until recently the chief announcer at WBBM in Chicago and heard on the CBS network as Bill Duane, also started his radio career in Beckley. At present he has a television program in Chicago. There was Dick Slade who also was at WBBM, and is now connected with an advertising agency in Chicago; Norman MacDonald, a producer on CBS shows originating from Hollywood, California, Peter Arnell, now in New York, and many others, such as Barnes Nash mentioned as the first announcer to broadcast over the station.

These were the voices heard over the station. There's more to the operation of a radio station than the broadcasts heard through a radio.

Behind it all there's a station manager. The first was Joe L. Smith, Jr., but with the coming of World War II necessary personnel changes in all departments were to be made because of the need for men in the Armed Forces. Mr. Smith was the first of the station's personnel to be called. He departed in October of 1941, and his brother, Hulett C Smith, assumed the position until his departure to the service in 1942. Herb Kendrick became general manager then and remained until 1944. Mr. Kendrick is now general manager of Station WHGB in Harrisburg, Pennsylvania. Following the departure of Mr. Kendrick, Mrs. Virginia N. Cooper assumed the general manager's position. She had been with the organization from the beginning as chief bookkeeper.

When Mr. Smith returned from the service he devoted his time to the combined leadership of the three stations, WJLS, WKWK, and WKNA, leaving Mrs. Cooper to head the Beckley station.

The engineering staff was originally headed by Marion H. McDowell of Fairmont. In 1941, A. J. Ginkel, also a Fairmont native, assumed the position of Chief Engineer. He came to WJLS from the State Police radio division. Since that time he has become Chief Engineer for the Personality Network, and Donald Moye, a Beckley native, has taken over the leadership of the engineering department in Beckley.

Originally the transmitter location was on Maxwell Hill. This was during the days when the station operated at 250 watts power. When the increase in power was granted in 1947, a new location for the transmitter was found, and new transmitting towers were erected. This was done at Gray Flats, in the East Beckley area near the Pinecrest Sanitarium. And it is at this location the transmitter has remained until this time.

Presently WJLS employs 21 persons, and Beckley residents dominate the staff. Included among the employees are:
President and General Manager: Joe L. Smith, Jr.
Station Manager and Business Manager: Virginia N. Cooper
Production Director: Robert R. Brown
News and Special Events Directors: William R. Barrett
Announcers: Jack Pevora, Sid Doherty, Arnold Jeffers, and Tom Shafer
Sales Representatives: Willard S. Jackson and George Haldane
Traffic Manager: Santa Tipane
Bookkeepers: Nellie Amato and Mary Cesaratto
Continuity Writers: Robert Rush and Sue Grieg
Chief Engineer: A. J. Ginkel
Engineers: Donald C. Moye, Tony Gonzales, James Crews, and Willis Seaman
Custodian: Harry Traynham
---
War Years Trying For Radio Station's Technical Department (1950)

This article appeared in the 560 News in Sept. 1950.

Engineers have problems, and when they are dealing with electricity they can be numerous, but despite the fact a great amount of electricity has been used in the short history of WJLS, and other parts of the Personality Network, it hasn't brought about the problems that World War II created for the station's technical department.

A. J. Ginkel, who is WJLS's second chief engineer, and who now heads the Personality Network's Technical Department, said that the war years were the toughest.

"Why there were times when we had to bury tubes in the ground to keep them when such tubes were scarce, and we had to use women as transmitter operators, and too, we used the engineers as announcers in order to keep the station on the air," reported Ginkel.

These were the trying days that came after the station had been on the air for two years. Marion H. McDowell, of Fairmont, was the station's first chief engineer and he did only transmitter work, though he put into operation the station's third and largest studio shortly after the fire in 1939.

In those early days though the engineers were heard on the air, Cliff Gorsuch and Jim Sims, who rounded out the first engineering staffs, made names for themselves as personalities on the air. Gorsuch ran the musical clock program. actually opening up the station every morning as an announcer and then transferring to the Maxwell Hill transmitter site later in the day to work a shift watching the equipment there.

Jim Sims. worked an evening shift as an announcer, doing the first poetry program on the air. Jim was a perfectionist for this; he hand-picked the organ melodies, then turned all the lights out in the studios save one small reading lamp, and read poetry in the last remaining broadcast scheduled each day. Prior to his announcing shift, he pulled a transmitter trick.

But those were in the early days of the technical department. The first major change came in September 1939, when two control operators were put to work two relieve the duties of the announcer. These two--Bill Barrett of Beckley, and Jim Shott, Jr., of Bluefield--divided the broadcast day of 16 hours into two shifts and worked at the control board, spinning the records and throwing the switches while the announcers devoted their full time to working on the programs to be broadcast.

Early in 1941, the station changed from a frequency of 1210 to 1240, in an overnight switch, the first of several moves on behalf of the technical department which caused no loss of air time for WJLS listeners. The second came in early 1943 [actually 1944--j.m.], when the station moved from 1240 to its present location of 560 on the dial.

This move was made at noon, and the station's chief announcer today, Jack Pevora. read the announcement at noon requesting all listeners to turn their dial to 560 and by the time they did, WJLS was operating at the new frequency.

In 1947, when the station moved from a 250 watt outlet to a real voice of southern West Virginia with 1,000 watts, the switch came early one morning, after Chief Engineer Ginkel and a factory engineer had worked all night installing the new equipment at the Gray Flats transmitter site. They threw the switch to see how the new equipment would work, and it performed beyond expectations so they telephoned the old transmitter site and at a given cue threw the switch which gave WJLS listeners better radio service without the loss of one-second's air time.

These were the highlights of the technical division of radio...a staff that once at WJLS was operating a 250 watt transmitter with three engineers. Today that staff has grown to five men, who operate four transmitters, though one of them does not belong to the radio station itself.

At the Gray Flats site, there's the 1,000 watt A-M broadcasting transmitter and a 15-watt micro-wave transmitter which beams all of the station's programs to the Flat Top Mountain transmitter site of WJLS-FM.

High on Huff's Knob, there's the 34,000 watt FM transmitter, and a 50 watt FM unit belonging to the United Fuel Company which calls trucks of the gas company.

Down through the years there have been many names connected with the technical division of WJLS's broadcasting--besides Sims, Gorsett, and McDowell, there's Ray Spence, who came to WJLS from Parkersburg, and is now located in Morgantown; Jimmie Coste, a Hinton boy who is operating his own radio store in the Summers county community now; Henry Robeson, now with WOSU at Ohio State University; Bill Barren, who went from here to WKWK in Wheeling and is now working in New York; Charlie Houston, who is Chief Engineer for a Lancaster, Ohio station, and two Beckley boys, Estil Wills, currently Chief Engineer for WWNR, and Harold Dew, part owner in the Doy Radio shop in Beckley.

Don Moye, WJLS's chief engineer today, started out as an engineer in Beckley, and John Novak, recently moved on to WKNA in Charleston. On the engineering staff today are Ginkel, Moye, Tony Gonzales, Robert Crews, and Willis Seeman, who operates the FM transmitter at Flat Top.

In the days gone by, besides Barrett and Shott, the control room operators included Homer Riffe, Glenn Lee Bellamy, Robert McCollum, Lee Hatfield, and five women, Billie Sowards, Bessie Callaway, Dolly Ingram, Jean King, and Genalia Underwood. The girls went to work during the war years, and served the station well.

Ginkel came to WJLS after several years with the radio division of the State Police. And today, outside of the station manager Virginia N. Cooper, is the oldest employe of the station. He was born and raised in Fairmont, and educated at Carnegie Tech in Pittsburgh. Prior to working for the state police he was employed by the C & P Telephone Company and at one time was chief engineer for Radio station WMMN in Fairmont.
---
WJLS-AM Celebrates 60 Years On the Air (1999)

This article appeared in the Register-Herald in March 1999.
By NEALE R. CLARK
"A lot of people feel that the Golden Age of radio was in the 1940s and maybe the mid-50s," said Bill O'Brien. "But frankly, we think the Golden Age of radio is now."
Either way, WJLS in Beckley has seen -- or currently is witnessing -- that age.
Started by Joe L. Smith Jr., WJLS-AM first hit the airwaves on March 5, 1939.
"Mr. Smith told me they came on at 12 noon," O'Brien said. "It was a Sunday and they went off at 6 o'clock that night. They had every hour programmed and it was all done live."
O'Brien, WJLS general manager, said Smith had spent months planning for that first day of broadcasting and had lined up everything from hillbilly to highbrow music, poetry and story readings and even a remote from Charleston.
Everything went off without a hitch and the station switched off at 6 p.m., only to realize that they had absolutely nothing lined up for the next day.
"When WJLS came into being in 1939, we were the ninth station to go on the air in the state of West Virginia," O'Brien said. "Now there are more than 140 stations, so everybody has more to choose from."
When Smith started the station, there were no radio stations between Bluefield and Charleston. O'Brien said Smith went to New York and studied radio network operations as a pattern.
"I'd call him a pioneer, because he not only got this station on the air but then continually improved it," O'Brien said.
"He changed the frequency to a better frequency, to 560. The lower you are on the dial, the better your outreach. We started out at 250 watts, today we're at 5,000 watts."
Today, WJLS -- both AM and FM bands -- reach from Blacksburg, Va. to Bluefield, Logan, Ripley.
Smith acquired radio stations in Charleston and Wheeling, and even put a television station on the air in Charleston. "But it was a UHF station and there were no receivers at that time."
One of the station's early announcers was native son Little Jimmy Dickens, now internationally acclaimed as a country star.
"He would hitchhike to the studio from Bolt, and he'd sign on the station at 6 in the morning by crowing like a rooster."
During the early years, listeners would hear a smorgasbord of programming, jumping from polka music to soap operas -- "The Romance of Helen Trent" -- to big band to Art Linkletter's House Party, the network programs transmitted to the studio via telephone lines.
Most of the programs were in 15- or 30-minute blocks.
"In fact, radio is still measured by Arbitron (a national rating service) in quarter-hour shares, and that's how it came to be that way," O'Brien said.
During the early 1940s, WJLS signed on to the CBS radio network, the smallest market area in America to become a part of that web.
"Loudspeakers were positioned along Main Street so the population could hear the war news every hour," O'Brien said. "That's how important this station was during that time."
Also in the 1940s, WJLS began broadcasting Woodrow Wilson High School sports, with announcer Bill Barrett taking the helm as the first "Voice of the Flying Eagles."
Barrett was followed by Gene Morehouse, whom O'Brien described as a great play-by-play man, killed in the Marshall University plane crash.
"He was good enough, I understand, that he turned down a job as the voice of one of the NFL teams," O'Brien said.
Around the time WJLS was celebrating its 30th anniversary, Joe L. Smith Jr., who had decided to switch programming to completely country music, hired a gangly young man who had just come back to Beckley after working a stint for WSAZ radio and television in Huntington.
"They brought me in to do the morning show and to be music director, and so that's how I started here, and I'm not a morning person and I knew nothing about country music," O'Brien said of his early days with the station.
Among the various hats he would come to wear, O'Brien has for those past three decades become regionally identified as the most enduring "Voice of the Flying Eagles."
A few years later, Sandy Smith came aboard and now serves as the station's programming director. While WJLS-FM focuses on country music, the AM side concentrates on Southern gospel.
"It's a Christian music format that is basically a very common format," Smith explained.
"It is home, family values, getting back to different things. We do have some teaching and preaching programs, but it's mainly Southern gospel music."
Smith said she has seen the technology at the station evolve from turntables spinning 45 rpm records and reel-to-reel tape recorders to cassette tapes and now, most prevalent, compact discs.
Whereas earlier programs may have been pre-recorded and mailed in on tape, much of the national programming is fed by satellite.
Although the station could benefit financially by changing its format and relying more on satellite feeds, O'Brien said that simply will not happen.
"There are satellite music formats, Southern gospel formats that we can get, and we are not going to do that. We feel that if a listener wants to call in a request or a birthday or an announcement of public service interest, here we are. We're here to serve," he stressed.
Smith noted that people have come to depend on the station.
"They rely on us in the mornings. We do a wake-up show. We provide the school information and all that, and when we do the programs, a lot of people rely on those for companionship.
"Maybe they're at home alone, they can't get out and go to church or whatever the case is and so we're their church and they make friends."
O'Brien said Smith grilled into him the acronym PICAN. "Radio is here for the Public's Interest, Convenience And Necessity. That's been our creed, we're here to serve the community," O'Brien said.
That is why, two years ago, the station was one of only 10 in America to win the National Association of Broadcasters' Crystal Award.
"To do that, you've got to be involved, you've got to be available, you've got to be of service. We do that," O'Brien said.
Three years ago, O'Brien and his wife Lynn became owners of WJLS, and he said he thinks it is significant that, in such a volatile industry wherein station ownerships change hands so often, in 60 years the WJLS property has seen only two owners.
And while technological advances have sped the immediacy of radio service, strengthened its delivery, broadened its reach and refined its sound quality, O'Brien said not everything has changed for the best.
"It's a lot easier to work this business, but it takes special abilities to excel," he said.
"Because there is so much satellite involved now, there is not enough talent coming through the pipeline. The smaller communities would feed talent to the smaller market and then to the middle market, then to large and then to major markets."
WJLS has excelled because it has been the staff that has made the difference, O'Brien said.
"We tried to hire people who had talent, and if they had talent they could certainly move up the ladder, and we encouraged that."
---
High Profile: Bill O'Brien (2002)

This article appeared in the Register-Herald on Nov. 24, 2002.
By ANNETTE Z. FOX
Who IS the face behind that mike?
Most radio listeners would agree it is quite intriguing to attempt to put a face to the voice they hear every day when tuning in to their favorite station.
But that's not the case of WJLS' Bill O'Brien. Everyone knows his face - as well as his voice - because he's literally everywhere. You won't find him inside pushing paper all day as the general manager. And, as he puts it, he likes to utilize his skills in every aspect in the broadcasting field, from handling remotes for longtime advertisers to serving as emcee at community events and doing sports play-by-play, his favorite duty.
WJLS, on air in Beckley since 1939, originated as an AM station. As an FM station, it is the oldest station in the state, having gone on the air in 1946.
"Back then, nobody had an FM radio," O'Brien said. "So they had this opportunity, but nobody could pick it up."
Joe L. Smith, the founder of WJLS, knew the "higher your tower, the more your power," and sought the highest mountain to place a radio tower. That tower is still located on Flat Top Mountain on a 99-year lease.
------
O'Brien began working as a part-timer for WJLS in 1967, filling in during the summer as an announcer, and pursued full-time employment two summers later. He's been there ever since.
With more than 30 years in radio, O'Brien has seen several announcers and newsmen head on to bigger and better things outside the Beckley area.
One who started his career in radio was Little Jimmy Dickens, the early morning announcer in 1940.
"And here's what he did," O'Brien recalled. "He'd hitchhike to Bolt, and at that time, the station signed on at 6 a.m. That's what's so amazing. Now we're kind of an all-night operation. Back then, no one had overnight programming. We were one of the first stations to go on overnight in 1972.
"Little Jimmy would come up here, he'd hitchhike and sign the station on by crowing like a rooster at 6 in the morning," he said with a chuckle. "He was here until he had his break and wound up, obviously, in Nashville. And he still performs at the Grand Ole Opry. We've had a few who have gone on."
Bill Barrett, who worked with United Press International news service at WJLS, ended up in Washington for ABC doing a children's program.
Recalling Barrett's image, and referring to an old photograph of the newsman at work, O'Brien described the local icon.
"He had a typewriter, he had the hat on and he had a pipe. He was the play-by-play guy and the news director. He was the scoop with the latest and went on to bigger and better things."
Additionally, WJLS had Dan Lucas, who moved on to become Disc Jockey of the Year at WWL in New Orleans - "a big station there." Lucas began as an afternoon announcer for WJLS.
Eventually, WJLS changed to WBKW, the airline designation for West Virginia. At that point, the station attempted "elevator music" and southern gospel, to no avail. The station then switched back to its original call letters and format.
Ask O'Brien just about anything when it comes to WJLS and he knows its history as well as he knows his own name.
------
But how did he get to where he is today and where did his love for radio develop? Many county residents - or state residents for that matter - know O'Brien's mother, Inez.
Inez, 82, was one of the first women in the state to enter the world of radio. At one point, she was the emcee for fashion shows, then became a curtain caller in a local drama group formerly located in the old theater across from WJLS on North Kanawha Street.
As Inez recalls, she received a phone call one day from manager Dick Booth of WWNR, previously located on Harper Road and owned by Joe Rahall. Booth's secretary actually made the call, requesting Inez to meet the station manager for an interview.
"Well, I thought this was a ruse because I didn't know any of them," a spry Inez remembered. "I said, 'Yeah.' I was hysterical."
Booth, she soon found out, wanted to involve her in a program.
His secretary called Inez a second time, explaining the offer was serious. Inez met with him and a year later started the first local radio call-in talk show.
She initially refused the offer, saying she didn't have the experience. Booth explained she would have guests on the morning show and the rest of the day she would "do continuity."
"Well, you know, I knew the word, but I didn't know how you did it. And I thought, 'Wonder what continuity is?'"
The main reason she declined the first offer was because of her two sons. The younger, Steve, was still at home. And, of course, her husband didn't support her, telling her "definitely not" when she explained the offer.
Booth told her he would call again the following year once Steve entered school.
"And next year he called me," she continued. "And I went out there and that's how I got started on the program. It was called 'The Woman's Angle' and it started out as a half-hour show and went into an hour and it really developed."
Inez remembers vividly sitting in a tiny room with a "huge book" from which she read commercials with a "huge clock" in front of her. She was required to account for every minute when reading commercials.
In front of her were two turntables - for 78 rpm records.
"Well, I was terrible at getting them queued," she said, laughing. "And one time I had this thing to do for the church. I had the one for the church and another one, and I hit the wrong one and it came up '7-Up.'"
When she began hosting the program, guests were embarrassed to go on the air, as the entire concept of talk radio was new to many. One of her first guests, the owner of the only deli on Harper Road, admitted he was too nervous to go on the air.
The man, who also distributed Gideon Bibles in motel rooms, said "he didn't think he could go on, you know. 'I threw up before I came here,'" Inez recalled.
Inez' radio experience would take her many places. In 1960, when the "Honey In the Rock" outdoor drama began, she worked with Tony Gonzalez, a part-time salesman and engineer. He accompanied Inez as she interviewed a cast member each morning on the show.
"By the end of the month, Tony and I knew all the roles, knew all the parts."
In 1962, she had the privilege of interviewing former first lady Eleanor Roosevelt, who was "politicking for (John F.) Kennedy" on the bypass at Honey in the Rock Restaurant. Inez was so nervous, she didn't know what to ask.
"Tony said to ask her anything," she said. "And I look up and she's asleep. She was older then, too."
Inez had heard Roosevelt took 20-second naps to wake up refreshed.
"I'm on my knees talking to her and we scoop this station," she smiled, referring to WJLS and glancing at her older son.
And Bill jokingly added, "And we're still mad over it."
------
As for radio, Inez is the first to say she just happened into it. But the career turned out to be probably the most enjoyable one she could choose.
"It was so exciting and I just loved it," she said. "And it was fun."
Inez moved to WJLS in 1970 with a talk show known as "Out Your Way," which still airs today. But when her parents both died suddenly, she said she couldn't deal with it anymore and quit.
Gene Morehouse, the station manager, later wanted to talk to her about doing some continuity.
"I found out, by the way, what continuity was," Inez chuckled. "I came home and read it. He wanted me to write commercials."
Inez remembers well her first radio commercial for a piece goods shop located on the corner of Main and Kanawha streets. The store sold fabrics and buttons, and she was asked to put together a 30-second spot.
"Button, button, who's got the button," she recited the commercial. "Not only a wonderful selection of buttons but also fabrics of all sorts and all your sewing needs. Stop by ...
"I still remember that. I don't remember what happened yesterday," she laughed again.
Inez is a firm believer that relatives should not work together. Knowing her son, Bill, "had it," she didn't want to interfere with his career and resigned.
"You can tell when a person's got the ability to do something," she noted. "He has it and I'm getting out of here. I've been here long enough now."
She then went on to become the executive director for the American Red Cross in Raleigh County for 23 years.
------
Bill's love for radio is apparent.
He began working in the field at Marshall University, but admittedly was never interested while his mother was on the air. He knew the announcers at her station, but didn't really catch the fever until at Marshall. There was an opening at the campus radio station in 1966 for a bi-weekly sports show.
Bill found it to be quite fun and it soon turned into daily work. Then, he said, the station needed someone to help with sports.
Basketball was what led him to broadcast from Madison Square Garden within three months of beginning his radio career.
Ironically, Bill had called into the station to find out just the night before Morehouse had worked a Glen Rogers High School game. And there he was, in New York doing play by play.
"So the Marshall team was very, very good that year," Bill commented. "They had just terrific players - Dan D'Antoni of Mullens and Jeff Davidson from Logan were two of the team's stars."
In 1967, Marshall received a bid to the National Invitational Tournament and off to New York Bill went.
"In fact, the first game I did went into overtime and Marshall won it (at) the last second (at) the foul line, and they used my play-by-play on Armed Forces Radio," Bill recalled. "It was around the world they sent that excerpt. At that time, there was no ESPN.
"So here's this punk kid - and made it," he added.
The following year, Marshall played in New York again, in the first college game in current Madison Square Garden.
"So I did the first radio college broadcast out of the current Madison Square Garden. And they didn't have any press facilities yet," Bill recollected. "They set us up in front of the organist in the opposing cheering section. That was fun. And we lost to St. Peter's of New Jersey and those people were pretty vicious. In double-overtime, they lost. They were yelling obscenities. It was not a pleasant night, but anyway, that was the Big Apple. It was a fun thing to do and a great place to be."
At one point, Bill was working three stations at a time and would "have to literally have a card in front of me to remember what station I was on." He worked at the university's station, WMUL, WSAZ in Charleston and WJLS, part time.
"That was the beginning, in fact," he admitted. "I just couldn't get enough of it."
------
Play-by-play is Bill's means of escape. In his job as general manager at WJLS, he deals with a lot of pressure and responsibilities. Many broadcasting GMs can be found on the golf course or somewhere other than the office, but not Bill. He chooses to wear many hats within the station.
If radio is done right, he says, "you can paint a picture of what's going on."
Bill still produces commercials, conducts live remotes and keeps his hands in all facets of radio.
"That's the fun part still, just to be on the air every day," he added.
Bill is approaching sports broadcast number 1,400, including his time in Huntington, and more than 2,000 interviews, including one with Leslie Nielsen during his September visit to Beckley. He has also broadcast every election since 1970 from the Raleigh County Courthouse.
------
Bill's only sibling, Steve O'Brien, adopted radio into his life about four years ago. He began working at WWNR as a salesman for about five months before taking over a talk show.
"With my mother and brother being in radio, I knew a lot about it," Steve said. He never sought radio as a career and actually hated the idea of "playing records and doing things like that."
What little radio he had done, he didn't find enjoyable.
Now, he views radio in a different light.
"It's absolutely the best two hours of my day," Steve said, referring to his daily talk show on the AM station. "I enjoy this more than I would ever have imagined."
Although he's not spinning records, he takes calls from listeners and initiates discussion on state and local issues.
"It just gets more enjoyable every day," he added. "It seems like I'm on the air about 10 minutes."
"My mother's creativity is what I think led both of us in the direction of entertaining ...," he said of himself and his brother. Steve always watched his mom and brother when around the station. With his mother writing commercials and hosting a show, and Bill involved as he was, it gave Steve an in-depth look at operating a radio station.
Bill, likewise, says although he wasn't necessarily interested in radio when his mother started out, she more than likely indirectly contributed to his affection for a broadcasting career.
---
Wes Fondale Pipes Fife Impression On Beckley Airwaves (1997)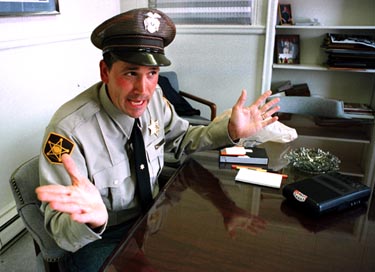 By SANDY WELLS
This article appeared in the Charleston Gazette in November 1997. Photos are by Erin Beach.
BECKLEY - When "The Andy Griffith Show" folded, Barney Fife moved to Beckley. He has two jobs - one at the sheriff's department, naturally; the other at WJLS radio.
He's as klutzy as ever. He still gets in all kinds of trouble. His voice still quivers when he's nervous. He's well known around town, as beloved in Beckley as he was in Mayberry.
Do you believe all that?
You would if you heard Wes Fondale.
On the WJLS morning show, the 36-year-old impressionist imitates Bernard P. Fife in a voice so distinctively Barneylike it could fool Andy and Aunt Bea.
"There's probably a small percent out there who wonder if it's really Don Knotts," Fondale said.
During the show, Fondale's Barney interacts with show hosts Jeff Davis and Margaret Ann O'Neal. Barney works at the station, see, and of course, he's constantly in hot water.
"Every morning, I give them some new situation for Barney to get into," Fondale said. "He always means well. He doesn't mean to get everybody mad, but he really does a good job of doing it.
Photo: Official-looking badge and nameplate lend authentic touches to Wes Fondale's Barney Fife imitations.
"He might blow up the bank or get beat up interviewing somebody. Barney works security for every event that goes on here. I've even had him skydiving off the gorge bridge."
Bernard P. Fife and Wes Fondale are a lot alike, Fondale said.
"Barney is me. To do his voice, I'd have to identify with him. I admire Barney's sincerity," he said. "Whether he's doing a good job or a bad job, he's sincere about everything he does. I'm clumsy like him, and I would hope I'm sincere in the things I do."
Now, Fondale even works in the sheriff's department, just like Barney. He takes care of the cars for the Raleigh County Sheriff's Office.
"I really get to drive a police car. Isn't that scary?"
His Barney impressions on WJLS started years before he got the garage job. He's almost embarrassed by the coincidence.
"I thought if I told anybody I did the Bernard P. Fife impressions and worked at the sheriff's office, no one would believe it," he said.
On the air, Barney sometimes acts up with Gomer, another of Fondale's soundalikes. A self-proclaimed hick, Fondale says his natural Southern twang makes Barney and Gomer easy to imitate. "But I don't call them hicks," he said. "I call them good, old-fashioned people, and that's what I like about them. I think everybody wishes down deep inside that they could live in a town like Mayberry and have a neighbor like Gomer and a best friend like Barney."
A lifelong fan of "The Andy Griffith Show," Fondale faithfully watches reruns, drawn by the show's clean, down-home humor and the acting of Don Knotts.
"I think Don Knotts is probably the best comedian of our time," he said, "and the show is clean. That's what I like about it. There's not enough clean television nowadays.
"To keep on imitating Barney is like keeping 'The Andy Griffith Show' alive," he said. "I heard a statistic that 'The Andy Griffith Show' had never been off the air since the first one came on. That speaks for itself, doesn't it?"
Photo: Wes Fondale shifts back to Wes Fondale after a recording session in the WJLS sound booth.
He started imitating voices as a schoolboy. "My dad used to impersonate people, and I thought that was so neat. I'm a Baptist, but I went to a Catholic grade school, and I used to impersonate the nuns and family members and neighbors. One time in high school I was imitating a math teacher, and I looked behind me and there he was. I don't think I made beyond a C."
The first celebrity voice he mastered was Howard Cosell. A schoolmate who became a radio announcer remembered Fondale's impersonations and asked him to do some commercials.
"I did a couple of old men's voices, just made them up, and the next thing I knew, I was doing commercials for different radio stations in town. Barney started there."
The hardest part about perfecting Barney was the nervous quiver, he said.
About 10 years ago, he approached WJLS Vice President Bill O'Brien about the idea of doing Barney on the morning show.
"WJLS has been fabulous," he said. "Not many stations would experiment like that."
His repertoire features such make-believe characters as Elvin the Janitor and Billie Jean Lillybrook, and a celebrity roster that includes Jimmy Stewart and former Presidents Ronald Reagan and Jimmy Carter.
"The only voice I had a hard time getting down was Reagan," he said, slipping into the role. "I tried to get the breathing and the shakiness down first. I would tape his news conferences and put them in the car and listen to them over and over again. I knew more about foreign policy than he did."
Impersonating isn't mocking someone, he said.
"I thought Ronald Reagan was one of the best presidents we ever had. That's the way it is with impersonators. You have to admire someone a great deal to spend any amount of time learning to impersonate them. It's not making fun of them. It's playful picking."
Now he has problems picking someone to pick on.
"I have a pretty decent arsenal of voices. The trouble is, they either get too old or they die. I don't do Jimmy Stewart anymore, for example. And I'm not impressed enough with today's stars to take the time to tape them and listen to them."
Blessed with a sense of humor as keen as his impersonating skills, he's content cutting up behind a mike in a radio sound booth in Beckley. A devout Christian, he said God apparently hasn't tapped him for the big time.
"Since I've asked God to direct everything I do, this especially, he has me here right now because that's exactly where he wants me."
The closest Fondale came to a stage performance was his recent appearance at a Crime Stoppers dinner for law enforcement groups. For the first time, he portrayed Barney in uniform. Raleigh County Sheriff Frank Lavender furnished the uniform, belt and gun. He borrowed the hat from the Beckley Police Department. He bought the Mayberry Sheriff patches on a trip south and picked up a Mayberry sheriff's badge at Dollywood.
"I really did feel like Barney," he said. Playing the role to the hilt, he issued tickets to troopers, deputies and police officers. "Look here, pal," he said, sliding into Barney's voice, "you may be king out there, but right now I'm in charge."
Of course Fondale has visited Mount Airy, N.C., Andy Griffith's hometown. "There really is a Snappy Lunch restaurant," he said, "and the Mount Airy Jail actually has a sign that says 'Closed on Sunday.'"
---
Radio Station Has New Owner (2012)

Longtime Statewide Personality Returns As General Manager
By CARRA HIGGINS
This article appeared in the Register-Herald on Dec. 16, 2012.
Certain voices and radio station call letters can be an instant signal that you're close to home. Now, one of those familiar voices is back where his radio roots began ... even if he won't be soaring over the airwaves as the voice of Flying Eagles basketball.
A little more than a week ago, West Virginia Radio Corp. purchased WJLS, the "Big Dawg," and a longtime state-wide radio personality, Beckley's own Fred Persinger, is back as the station's general manager.
"It's good to be back," Persinger commented. "Growing up, this was the station. When I was asked to be the GM, I gladly accepted."
It was at WWNR that Persinger got his start in radio in 1971. Nine years later, he was the first person hired at WTNJ in Mount Hope. For more than 10 years before he joined West Virginia Radio, he was a part-time employee of the company by lending his voice for the play-by-play action of high school state tournaments. In 2001, he moved on to full-time work for West Virginia Radio.
The sale of WJLS to West Virginia Radio started because owner John Raese has had a passion to own a station in Beckley. Bill O'Brien, recent WJLS owner, says he is "thrilled" with the new ownership and thinks it's an exciting time for the station.
"West Virginia Radio is a top-notch property," O'Brien commented. "They're radio people and they know how to do it the right way. It's a good marriage."
As the transition of ownership continues, Persinger said there is still work to be done. He explained the station is in the process of hiring more people — local people. Some of WJLS's current staff — whom Persinger described as "passionate" about their work — will be retained.
Persinger is one of those passionate people, too.
"I don't have to come to work; I get to come to work," Persinger said. "I never look at the clock."
Although Persinger is back in Beckley and at the helm of the station, he says he won't be on air at WJLS. Don't be fooled, though, by an upcoming on-air voice. His son, Fred Persinger II, sounds just like his father and will be a midday personality. Fred Persinger II will be coming back to the Beckley area from Martinsburg.
Persinger did say he plans to continue his statewide high school sports coverage for West Virginia MetroNews, also owned by West Virginia Radio.
Even though Persinger doesn't plan to be on the airwaves, he's looking forward to making radio at WJLS fun and informative and to giving area residents what they want and need — including programming from MetroNews and live, local on-air personalities who can be contacted with a quick dial of the phone.
Persinger added that there are no plans to change WJLS-AM's gospel music programming. He said he and West Virginia Radio want to serve local residents and people enjoy the religious selections on the AM station.
"It's going to be fun again to listen to the radio," he commented.
Persinger explained that earlier in the week he took a break from his office at the WJLS studio, walked through town and saw several people he has known for many years, and he's looking forward to seeing even more in the future.
He plans to continue residing in Hurricane — it's closer to his granddaughter — but Beckley residents can count on seeing him throughout the week. Persinger said he's planning to become involved with local organizations, such as United Way of Southern West Virginia and Rotary. And expect to see him in the stands during some Flying Eagles basketball games.
As for O'Brien, even though the station is under new ownership, he plans to still be involved in the Beckley community as he has been for the last 45 years. He enjoys his board membership at the Beckley Area Foundation and plans to emcee events during the next few months. He's also planning to visit with his grandchildren soon.
"As they say, 'Old broadcasters never die, they just fade to commercial,'" O'Brien said. "I'm happy in retirement."