HISTORY OF WEST VIRGINIA BROADCASTING
History of WJPB-TV/WDTV, Weston
Some of the information for this page was taken from an article written by the station in the 1980s. Assistance with this page was provided by Clarke Ingram and Jim Hines, the IT Manager of WDTV. This page was last revised on Dec. 23, 2013.
A Jan. 6, 1951, Associated Press story reported:
FAIRMONT, Jan. 6. - (AP) - The Fairmont Broadcasting Co. announced today that it has applied for permission to start a television station here. At the same time, the company said it has been informed by the Federal Communications Commission that Fairmont will be allocated a TV channel in the ultra high frequency range. This range has not yet been used by TV stations. Existing stations broadcast in what is called the very high frequency range. Fairmont Broadcasting Co. headed by former State Sen. J. Patrick Beacom, operates two Fairmont radio stations - Standard broadcast outlet WVVW and FM station WJPB. The announcement noted that the Fairmont application to the FCC will not come up for hearing for some time because of the current "freeze" on TV applications. The Fairmont firm estimated it could hold TV construction costs to $125,000 by use of existing facilities of WVVW and WJPB.
A newspaper article on Oct. 17, 1951, reported that the amended application of Fairmont Broadcasting Co. was to operate on channel 35 with an ERP of 17.5 kw. It reported, "An antenna would have an effective height of 225 feet above Palestine Knob, highest point in the Fairmont vicinity." The station would be known as WJPB-TV.
On March 23, 1953, Broadcasting reported that Polan Industries filed a petition asking that Channel 5 be allocated to Glenville. On April 27, Broadcasting reported that the FCC adopted a notice of proposed rulemaking to allocate Channel 5 to Glenville. On May 27, 1953, WCYB in Bristol, Va., filed in opposition to the allocation for Glenville and instead requested that Channel 5 be allocated to Weston, saying that the Glenville allocation would conflict with its application for Channel 5 at Bristol but would not conflict with a bid of WOPI, Bristol, Tennessee. It also noted that counsel for Polan is also counsel for WOPI and it claimed that Glenville is too small to support a television station. On July 27, 1953, Broadcasting reported that the FCC finalized its allocation of Channel 5 to Weston.
An AP story in the Charleston Gazette of March 7, 1954, reported:
FAIRMONT, March 6 (AP) — Station WJPB-TV here will begin telecasts on Sunday, March 28, with an elaborate inaugural program, President J. Patrick Beacom of the Fairmont Broadcasting Co. announced. Operating on Channel 35 in the ultra-high frequencies, the station will have an interim power of 22,000 watts video and 11,000 watts audio. Beacom said an increase to 100,000 watts would be possible if conditions warrant it. Beacom also announced that the station, to operate from 4 p.m. until midnight daily, would offer "live" programs from ABC, NBC, CBS and Dumont television networks. It will be the first television station in Central West Virginia.
According to Broadcasting magazine, WJPB-TV commenced operations on March 28, 1954. A newspaper article that day reported that the first broadcast would take place from 4 to 7 p.m. Jennings Randolph, vice president of Capitol Airlines and a former West Virginia congressman, would be master of ceremonies. Others taking part would be Gov. William C. Marland, U. S. Sen. M. M. Neeley, and Rep. Robert H. Mollohan.
An advertisement by General Precision Laboratory in the Feb. 15, 1954, issue of Broadcasting magazine stated that Fairmont was America's smallest market with a camera chain station for live shows. The company provided equipment for WJPB-TV. The advertisement includes photos of Beacom, Robert M. Drummond, vice president and general manager of WJPB-TV, and the century-old mansion which housed the WJPB and WVVW studios and offices.
The 1956 West Virginia Blue Book shows WJPB-TV, Fairmont, operating on channel 35 with 25,000 watts. The station was operated by Beacom Broadcasting Enterprises, J. Patrick Beacom, President. Other principal owners were Thomas P. Johnson, former major stockholder of the Pittsburgh Pirates, and George W. Eby, also of Pittsburgh. The station was affiliated with NBC and ABC. The address was Radio-TV Centre, 400 Quincy Street, Fairmont.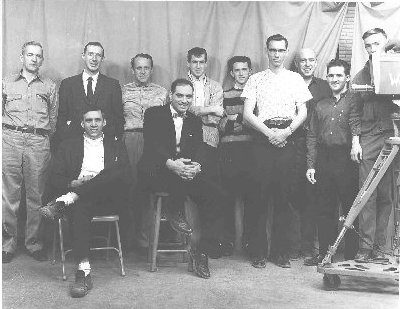 Original staff at WJPB-TV at Broadcast Studios at Jane Lew.
Photo courtesy of John Cooper, who is wearing the bow tie at right front.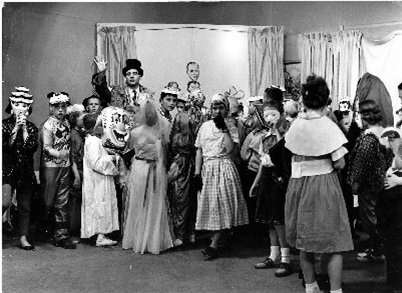 A live Cooper and Friends show with kids in their Halloween costumes at WJPB-TV.
Photo courtesy of John Cooper.
WJPB-TV on channel 35 went off the air on Feb. 28, 1955.
A newspaper article on Apr. 3, 1955, reported, "The Fairmont Broadcasting Company, Fairmont, W. Va., today asked the Communications Commission approval to transfer for station WJPB-TV to WJPB-TV Inc. Patrick Beacom, Fairmont director, told the commission the television station 'operated at a loss for almost a year until February 28 when it suspended telecasting.'"
John Cooper recalls, "Pat Beacom in 1952 had Channel 35-UHF on the air in Fairmont, but only a few people could get it, and there were not that many TV sets around. I worked there part-time doing a kid-show. He closed it down, paid off all the bills, and waited, and waited...until 1960's..for Channel 5-TV that started out as a completely non-commercial channel station. I remember, as I was the operations-manager. We had to bring in the local West Virginia state colleges and give them plenty of program air time. Then the station became half-commercial and half-non commercial air-time. Then the station suddenly got to be all commercial time."
The applicants for Channel 5 in Weston, besides WJPB-TV, were
Telecasting Inc., which owned WENS-TV, channel 16, in Pittsburgh. In December 1955, this company asked the FCC to move Channel 5 to Pittsburgh. WENS-TV went dark in 1957.
West Virginia Radio Corporation, which owned WKJF-TV, channel 53, in Pittsburgh.
WJPB-TV and Telecasting Inc. merged their applications for channel 5 in order to get the grant. West Virginia Radio Corp. agreed to the dismissal of its application.
An article in the Charleston Gazette on April 8, 1957, reported that WJPB-TV would apply this week for permission to operate on Channel 5.
A newspaper article on Sept. 21, 1957, reported that WJPB-TV, which had been off the air for several months, would resume telecasting on channel 35 sometime in November and that the station was applying for authority to transmit "pay-as-you-see" television on a limited basis for three years. The article reported that Beacom said that his station was making application to the FCC for permission to participate in the subscription television demonstrations which are scheduled to start in March 1958.
On Nov. 4, 1959, WJPB-TV was granted the permit for Channel 5 in Weston.
An AP article in the Dec. 6, 1959, Charleston Gazette reported, "Dr. Perry E. Gresham, president of Bethany College, has been appointed chairman of the educational advisory committee for television station WJPB-TV. The station, which expects to go on the air about April 1, has announced a policy of devoting 15 per cent of its broadcast time to educational programs. These programs will be the concern of the committee headed by Gresham, other members of which will be named later. WJPB-TV will have its main studios in Fairmont and its transmitter near Weston."
An advertisement in the Morgantown Dominion-Post on Jan. 15, 1960, said that WJPB channel 5 would be coming soon.
WJPB-TV began broadcasting on Channel 5 in 1960. On June 27, 1960, Broadcasting reported, "WJPB-TV Weston-Fairmont-Clarksburg, W. Va., signed on the air Thursday (June 23). Station engineers have estimated that the ch. 5 outlet will serve 800,000 viewers in five states and 55 counties. Studios and transmitter are located atop Mt. Fisher near Jane Lew, W. Va., 2,500 feet above sea level." Another source gives the on-air date as June 22, 1960.
An advertisement in the June 27, 1960, issue of Broadcasting is here.
The 1961-62 Broadcasting Yearbook shows WJPB-TV operating on channel 5 with 100 kW visual power, 60 kw aural power, and an antenna height of 884 ft above average terrain and 509 feet above ground. The address is 400 Quincy St. The phone numbers are 363-0700 (Fairmont) and 2098 (Weston). The licensee is WJPB-TV (original owner). Ownership is J. Patrick Beacom, 50%; Thomas P. Johnson, 45%; George W. Eby, 5%. Network: ABC-TV. Personnel are J. Patrick Beacom, president and general manager; Eugene Adam, station manager; Eugene LaRosa, commercial manager; N. C. Pellegrin, program director; Raymond Hearst, program manager; Byron Parrish, news director; Edward Yerky, chief engineer.
The call letters WDTV had been in use since 1949 in Pittsburgh. In 1955 that station, under the new ownership of Westinghouse Broadcasting, changed its call letters to KDKA-TV. The WDTV call was then picked up by a dark UHF station in Harrisburg, Pa. That station never returned to the air and surrendered its construction permit in October 1964. In December of that year, WJPB-TV changed its call letters to WDTV.
On August 24, 1966, WDTV was sold to Broadcast Industries (formerly Medallion Pictures Corp.) At that time the general manager named to manage the station was Thomas Stillwagon.
John Cooper & "Oley," daily kids show, 1960s
In April 1967, John E. North became the new general manager. North at that time moved the station office to Main Street, Bridgeport, with additional offices located at the transmitter and studio site in Weston, West Virginia.
Under the management of John North, WDTV went to network and local color and began using videotape. In the two-station market, WDTV became the first station to air syndicated programming in color.
On June 5, 1967, WDTV switched affiliation from ABC to CBS.
The TV tower on Fisher Mountain. Bobby Bolyard is believed to be the person in the right photo.
In September 1969, Robert L. Johnson became general manager. Johnson relocated the Main Street executive office to office space located in the Benedum Airport Terminal Building in Bridgeport and also moved the office out of the studio building in Weston to the airport in January 1970.
The 1969 Broadcasting Yearbook shows WDTV operating on channel 5. The address is 240 West Main Street, Bridgeport. The licensee is Broadcast Industries of West Virginia, Inc. Network: CBS-TV. Personnel are W. William Grossman, president; John E. North, vice president, general manager, sales manager, and film buyer; N. C. Pellegrin, program director; Robert Camp, news director; Kermit Wendt, chief engineer.
In 1973 the broadcast tower on Fisher Mountain collapsed during a wind storm. A temporary tower was erected, followed by a replacement tower which was shipped by train from Florida to Clarksburg and then to Fisher Mountain by truck.
On April 5, 1973, WDTV was purchased by Withers Broadcasting Company of West Virginia, W. Russell Withers, Jr., owner.
In July 1973, John Peters was named general manager.
The 1977 Broadcasting Yearbook shows the licensee as Withers Broadcasting Co. of West Virginia (acquired May 8, 1973). Ownership: W. Russell Withers Jr., 90%. Network: CBS, ABC. Personnel are W. Russell Withers Jr., president and general manager; John Peters, station manager and film buyer; Rick Terry, general sales manager; Nick E. Pellegrin, program director; Mike Bonasso, news director; Phil Philips, chief engineer.
In July 1978 Dustyn Wayman was named the general manager.
On October 1, 1983, Melvin T. Kofod became general manager. Kofod came to WDTV from WBOY-TV, where he had been the general sales manager for five years previously.
On April 30, 1984, WDTV moved its studio operations from Fisher Mountain to a new fifteen thousand square foot facility on Lodgeville Road in Bridgeport. The new address became 5 Television Drive, Bridgeport.
The 1980s history of the station listed the following personnel: Melvin T. Kofod, General Manager and Sales Manager; Nick E. Pellegrin, Program Director; Gene Heskett, Chief Engineer; Nancy Dotson, Local Sales manager; Ken Selvaggi, News & Sports Director; Robert Collins, Assistant Chief Engineer. (Selvaggi left WDTV in the mid-1980s and became new director of WSAZ-TV, and more recently became general manager at a station in Topeka, Kansas.)
In 1988 Michael Smith, who had been a salesman for WDTV, was named general manager.
In 1993, Tim Defazio was named general manager.
In 1994 assistant chief engineer Robert Collins was killed when the plane he was piloting suffered a malfunction and crashed at Benedum Airport.
About 2001, Gene Heskett retired as chief engineer and was replaced by Dave Compton, who was at the time the chief engineer of WVFX-46, although he had been employed earlier at WDTV as assistant chief engineer.
In 2004, John Dahlia, who had served as news director for eleven years, resigned that position. He was succeeded by Scott Snider.
In September 2004, the management of WDTV (with years of employment at WDTV) were as follows: Tim Defazio, General Manager (16); John Breen, Operations Mgr/Production Mgr. (18); Scott Snider, News Director (10); Cassie Busdeker, Promotions Director (6); Jim Hines, IT Mgr. (22); Nathan Allen, Programming Director (15).
In 2004, FCC records showed WDTV was licensed to Withers Broadcasting Co. of Mt. Vernon, Ill. The station was operating with 100 kW ERP, 268 meters HAAT and 652 meters AMSL. The station's web site is at wdtv.com.
WDTV hosts the DISH network's uplink connection for the Clarksburg stations. During the summer of 2004, DISH installed a $750,000 facility behind WDTV's studio with antennas for WDTV, WBOY, WVFX, and WNPB on the WDTV microwave tower. In 2004, IT manager Jim Hines wrote, "It really was a grand day when they set the building in place, already complete and delivered via truck, with two cranes. A 16,000 lb building, made of solid concrete now stands there. We send the four signals (with heavy mpeg2 compression) to Oklahoma via a DS3 connection, where it is uplinked on satellite."
---
Robert "Bobby B" Bolyard (1938-1995)
The following information was submitted by Dr. Cassandra Bolyard Whyte in Sept. 2004. It was updated by Dr. Whyte in May, 2010 (wwhyte5404@aol.com).
During the late 1950's and early 1960's, a young radio top 40's announcer and news broadcaster by the name of "Bobby B" was very popular as an employee of WVVW, Grafton-Fairmont where he was officially Commercial Manager. The station was owned and operated by Beacon Enterprises. He was also a television personality (newscaster and teen dance host) serving at another Beacon business with the call letters of WJPB-TV. Bob's full name was Robert Glen Bolyard (11/19/1938-10/29/1995). He was born in Grafton, West Virginia and at the time of his death was a resident of Bridgewater, Virginia right next to Harrisonburg, Virginia. He left WVVW and WJPB to go into the U.S. Army. While in the army he studied business at the University of Hawaii.
Bobby Bolyard was a well-respected and liked DJ and news announcer. He was a dark-haired, handsome, intelligent young man with quick wit and a gift for helping teens from various schools interact in a friendly fashion on a weekly TV version of the Dick Clark cloned dance show. The listening and participating audience came from North Central West Virginia from the towns of Fairmont, Grafton, Clarksburg, Weston, Buckhannon, and Morgantown and the surrounding smaller communities of each. Mostly high school students attended events, but Fairmont State, WVU, Salem and Alderson-Broaddus higher education students also loved the music.
Bob Bolyard was named most versatile in his senior class at Grafton High School in 1956. That could be easily seen by the trust older citizens had in his broadcast news programs. The adaptability and persistence required in this era of telecommunications was rewarded by dedicated audiences. Daily he carried his dress shirt, tie and jacket to anchor the 6:00 p.m. and 11:00 p.m. TV newscasts after a day communicating via radio.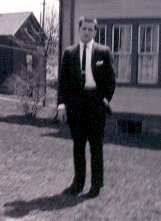 He was very successful at outdoor sock hops that were broadcast live from places in communities. A well-known dance location was the Grafton Dairy Queen. Bob would stand on top of the flat-roofed Dairy Queen and announce the top hits while students dressed in mid-calf skirts, bobby socks, jeans, and pony tails danced in the parking lot below while eating ice cream, hot dogs, french fries, and drinking colas. Parents were supportive of the events because there was little trouble, and they were chaperoned all over "on the air" by listening parents when he did the teen television shows.
Bob Bolyard returned from the U.S. Army, after being in New Jersey, Texas, Hawaii and Thailand during the Vietnam era and worked at TV stations in New Bern, North Carolina and Harrisonburg, Virginia. He served as a Vice President and General Manager of the New Bern Station television station of WCTI-TV12 and served as National Sales Manager at the Harrisonburg television Station WHSV-TV3. While in New Bern, he taught classes at Craven County Community College.
He worked at the Harrisonburg station WHSV-TV3 when he died at an early age of 56 years after being married to Jacqueline Westfall Bolyard for approximately 32 years. Bob and Jackie Bolyard had 2 children, Jon Robert Bolyard who married Rachel Taylor of Dayton, Virginia, and Dawn Michelle Bolyard Wescott, who married Terry Wescott, and they reside in Bridgewater, Virginia. Robert Glen "Bob" Bolyard's parents were Roy Everett Bolyard and Georgia Ellen Deavers Bolyard of Grafton, West Virginia. Though he did not live to see them, his grandchildren were Lauren Kate Wescott, Isabelle Louise Bolyard and Emma Katherine Bolyard.
He died of heart disease. Bob Bolyard served on the Board of Directors of the American Heart Association in the Harrisonburg, Virginia area. Robert Glen"Bob" Bolyard had been a recipient of an artificial heart valve at the University of North Carolina in Chapel Hill in his later twenties when the efforts were in pioneering stages and the valve served well for about thirty years. His Starr-Edwards stainless steel heart valve was among the longest functioning artificial heart valves of this type on record at the time of his death and he was part of research in regard to mechanical methods for prolonging human heart function. He had a very active life, not only working full time, to the height of a Vice President and General Manager position, but coaching Little League and serving with various community organizations also. Every year he is honored by WHSV-TV for helping start the Sports Scholarship of the Year Award to benefit the local Harrisonburg, Virginia students aspiring to higher education.
Bob, as mentioned, was the son of Roy Everett Bolyard (1901-1983) and Georgia Ellen Deavers Bolyard (1909-1994) of Grafton, West Virginia. He had three sisters: Eldora Marie Bolyard Nuzum, the first female editor of a daily newspaper in West Virginia and interviewer of U.S. Presidents; Vonda Jean Bolyard Norris, a dental assistant and laboratory assistant; and Dr. Cassandra Sue Bolyard Whyte, the Vice President for Administrative Services of West Virginia State University. Eldora, Vonda, and Bob, as well as Bob's parents, are deceased.
Robert Glen "Bob" Bolyard's respect from local citizens of North Central West Virginia, the coast of North Carolina, and the Shenandoah Valley of Virginia was well deserved.
| | |
| --- | --- |
| | Robert Glen "Bob" Bolyard (1960 or 61), news anchor and sports caster on WJPB-TV which became WDTV. He was doing a live broadcast pictured in this Polaroid photograph. Bob Bolyard "Bobby B" also was the host of a weekly "Top Forties" Dance Show for local college and high school students. During this time period, he was also a radio announcer and Sales Manager for WVVW Radio in Grafton, West Virginia, a station owned by the same business, Beacom Enterprises. |