History of WKNA(FM), Charleston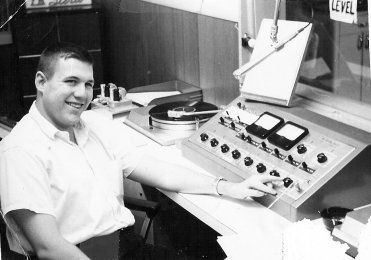 Jim Smith in the control room, about 1963. larger image
See separate articles on this web site about the earlier WKNA (950-AM and 97.5-FM) and WKNA-TV.
In 1960, a second WKNA radio station in Charleston—this time FM only—was opened by Joe L. Smith Jr. on 98.5 MHz, at the former WKNA-TV site. The 98.5 MHz frequency had earlier been used by WGKV-FM around 1950.
On July 14, 1960, the Beckley Post-Herald reported:
West Virginia's newest radio station will open broadcast facilities in Charleston on Sunday. Joe L. Smith Jr., president of WJLS radio in Beckley, says the opening of WKNA-FM will make it one of five FM stations presently operating in the mountain state. WKNA will operate at a frequency of 98.5 megacycles with an authorization of 3.65 kilowatts effective radiated power with broadcast studios at 505 Randolph street. WKNA, an all music and news station, will operate full-time seven days a week. Plans are to have WKNA's sister station, WBKW in Beckley, duplicate programming in the Charleston studios within 60 days. New station manager of both FM stations will be Bill Sandefur of Danville, Va. The licensee, Smith, has operated WJLS since 1939. At one time Smith operated station WKWK in Wheeling and WKNA radio and television in Charleston.
WKNA was authorized to operate on 98.5 MHz prior to the adoption of the FM table of assignments. It was later grandfathered into the table even though it was substantially short-spaced to WKPT-FM in Kingsport, Tenn., which operated on the same frequency.
WKNA is shown with a start date of June 1, 1960, in the 1961-1962 Broadcasting Yearbook. The Yearbook shows the station licensed to Joe L. Smith Jr., who is listed as President and General Manager, and it shows G. W. Sandefur as the station manager and Harold Dew as chief engineer. The station had an ERP of 2650 watts.
WKNA operated with an automated beautiful music format. It was the first stereo radio station in West Virginia, and engineer Harold Dew recalled in 1998 that it was the eleventh stereo station in the U. S. WKNA used a Gates FM-1B transmitter with a Standard Electronics stereo generator. J. Fred Riley, who joined the station in 1965, writes, "In those days, there were no FM modulation monitors. The first company to market a type-accepted FM modulation monitor was Collins Radio Company and, in 1965, they brought their monitor to Charleston for a live demonstration. WKNA became one of the first stations to transmit a properly aligned stereo signal, thanks to the demonstration of the modulation monitor. Automatic Tape Control delivered an automation system to WKNA in the summer of 1965 and it provided the programming for both WKNA and WBKW through a subscription to a programming service. The sales force was nonexistent until 1966 when a salesman was hired."
In the 1960s the more powerful WBKW in Beckley, which was co-owned with WKNA, operated as a satellite station of WKNA. This system began no later than May 28, 1961, as it is mentioned in a Sunday Gazette-Mail article on that date. WBKW rebroadcast the WKNA programming, inserting its own commercials automatically when WKNA commercials were airing. WBKW received the signal off-air at the WJLS(AM) transmitter site at Gray Flats, near Beckley, using four yagi antennas mounted on telephone poles, and the programming was then relayed to the WBKW transmitter site at Flat Top via a 950 MHz link.
On April 15, 1962, the Sunday Gazette-Mail reported that WKNA would broadcast it first stereo programs today.
WKNA was sold to Perfection Music, Inc., on September 16, 1967, and at about this time the program automation system was moved to Beckley for use by WBKW.
The 1969 Broadcasting Yearbook shows Ray C. Tincher as President, G. W. "Bill" Sandefur as Vice President and General Manager, and Virginia Sandefur as Music Director.
The station went dark in the early 1970s.
On April 17, 1974, the FCC dismissed applications by Nick Ciccarello Jr. for renewal of the license of WKNA and transfer of control of Perfection Music Inc., licensee of WKNA, from Ray C. Tincher to Mr. Ciccarello, and then to Hawey A. Wells Jr. (80%), Hawey A. Wells Sr. (10%), and Margaret S. Wells (10%); deleted station call letters, and declared license forfeit.
WKNA's license was forfeited on June 6, 1974.
On Aug. 12, 1974, the FCC on its own motion issued a notice proposing deletion of the assignment, saying it would be in the public interest to delete this short-spaced assignment since the license of WKNA was forfeited. This deletion would leave Charleston with four FM assignments and would be consistent with general population criteria, according to the FCC.
On Feb. 19, 1975, the 98.5 assignment to Charleston was deleted. WRVZ Pocatalico (98.7) and WCEF Ripley (98.3) subsequently operated on adjacent frequencies.
J. Fred Riley, who was employed at WKNA in 1965, writes, "Revenues were never very substantial and sometime later the station was sold. The sale of the station was a complicated matter in that the acquiring company forgot to do all the paper work with the commission. And then the station was sold again without paper work. The commission finally caught up on all this and yanked the license later."