HISTORY OF BROADCASTING IN WEST VIRGINIA
WKYR, Keyser
WKYR went on the air in 1953, according to the 1954 Broadcasting Yearbook, which shows the station on 1270 kc, 1000 watts daytime, owned by Potomac St. Broadcasting Co. Glacus Merrill, president; S. C. Blevins, general manager; John J. Smith, program director; Louise Westman, womans' director; Frank Aonett Swisher, chief engineer.
The 1956 West Virginia Blue Book shows WKYHR operating on 1270 kc, 5000 watts daytime. Owner: WKYR Inc. Vice President and General Manager: Walter Patterson. Managing Director: Thomas B. Butscher. Program Director: Ken Robertson.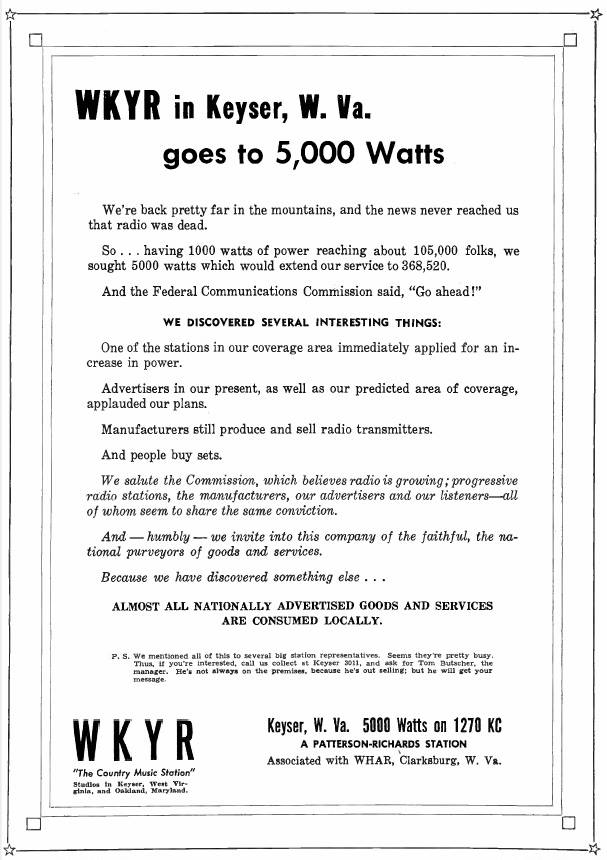 1955 ad announcing the power increase to 5000 watts daytime
WKYR later moved to Cumberland, Maryland, and became WUOK (Super K) and in 1976 it became WCBC.