History of WMMN, Fairmont
This article appeared in The West Virginia Review in November 1945.

A true pioneer of radio in West Virginia is WMMN, Fairmont. In 1928, the Holt-Rowe Novelty Company of that city purchased the equipment of WEBH in Chicago. This was transported to Fairmont and set up in the Fairmont Hotel. Broadcasting from a studio on the mezzanine floor, the first program was given to the world on December 22, 1928. The two 90-foot towers on the hotel roof were a landmark.

On March 21, 1935, WMMN was purchased by the Fort Industry Company of Toledo, Ohio, of which George B. Storer is president and J. H. Ryan is vice-president. The studios were moved to the station's present location at 208 Adams Street the latter part of August, 1935, and plans were made to erect a new transmitter building and tower a few miles from Fairmont, near Monongah. To climax a busy year of expansion, WMMN became affiliated with the Columbia Broadcasting System on November 1, and on December 10, 1935, permission was granted by the Federal Communications Commission to increase the station's power from 500 watts daytime and 250 watts nighttime to 1,000 watts daytime and 500 watts at night. Subsequent power increases and added facilities resulted in WMMN's Monongah transmitter building being increased in size, a new Western Electric transmitter installed, three 280-foot towers built, and day-and-night operation with a power of 5,000 watts.

The coverage area of WMMN includes the central and northern part of West Virginia, along with western Pennsylvania, western Maryland, and eastern Ohio. Within this area live 1,129,400 people. However, during October, 1945, the station received mail from thirty-two states and two provinces of Canada.

From a group of eleven people, the staff of WMMN has grown until today forty-six persons are employed, including the station's musicians and entertainers. The executive personnel is comprised of Stanton P. Kettler, managing director; Frank Lee, program director; Robert Hough, chief engineer; and Raymond Warden, office manager.

The most outstanding feature of WMMN's operation is its live talent programming. Since 1940 more than one million pieces of mail have been received as a result of this programming, and the entertainers taking part in the various programs of the station have personally appeared before audiences totaling over three hundred thousand people.

WMMN is especially proud of its educational programs, the oldest of which is presented each week by Fairmont State College. This institution has been broadcasting over the station for sixteen years. A modernly equipped studio is maintained at West Virginia University in Morgantown and programs have been carried from that point for the past eight years.

Touching the life of West Virginia at many vital points as it does, the operating policy of WMMN has always been constant and simple -- to understand and serve. Its entertainment and educational features, news, and daily service are governed by that ideal. The expression of affection and confidence, as told by thousands of listeners' letters, confirms the station's faith and strengthens its purpose. WMMN looks to the future with high hopes; WMMN listeners know they will always get the best from the "5,000 Watts of Friendship, WMMN Fairmont."
---
Radio Station WMMN Is Heard All Over U. S.
Most Powerful Broadcasting Station in West Virginia Opened
This article appeared in the Fairmont Times on Dec. 23, 1928.
Radio station WMMN, the most powerful broadcasting base in West Virginia and the official voice of Fairmont, went on the air last night and sent to the four extremes of the United States a program that is still echoing north and east, south and west. The second program will be presented today.
The new station, located in the Fairmont Hotel, last night was the seat of interest for radio enthusiasts of all parts of the United States and the immediate vicinity in particular. The Western Electric Supply Co. sent a hug basket of national poinsettias with an attached card of congratulations. More than 250 messages poured into the studio, all congratulatory in the extreme.
Robin Hood of this city sent a wire from far Hot Springs, Ark., announcing unequalled receptivity and asking that Clem Bray and his Fairmont Theatre Orchestra play "Hail West Virginia." The program was received in Brooklyn, N. Y., Staunton, Va., Pittsburgh and other points too numerous to detail.
Great satisfaction was expressed last night by the station personnel. Clyde S. Holt and A. M. Rowe, owners of the station and the two Holt-Rowe Novelty stores of this city, were highly gratified at the splendid national and local reception tendered the first program of the station. Fred L. "Joe" Doringer, director of programs, was especially pleased because of the success of the program which consisted solely of Fairmont talent. The station hopes to continue the same program policy. Glenn Beerbower and his assistant, Doug Reynolds, and Holland Engle, announcer, also were well pleased.
Senator Mansfield M. Neely, in whose honor the station was named, fittingly introduced the local plant. In a five-minute address of typical brilliance, the senator expressed his faith in the success of the new station and presented it to the radio world in general. He congratulated the owners of the station and dwelt happily on the future of the new base. It was in large part due to the senator that the station was authorized by the Federal Radio Commission in Washington.
An address of welcome was delivered by Mayor Arthur G. Martin who in the name of the city welcomed the station as a new and powerful organ in advertising Fairmont and as material evidence that such men as Messrs Holt and Rowe have faith in the future of the city. Mr. Hoult and R. L. O'Neal, manager of the Fairmont Hotel, also gave short talks. Capt. G. M. Alexander, president of the Monongahela West Penn Public Service Co., addressed Christmas greetings to the country and to Fairmont, and Brooks Fleming, Jr., assistant to the president, Consolidation Coal Co., expressed similar greetings.
The program, composed chiefly of song and dance numbers presented by local artists, orchestras and groups, was given as planned, with one exception. "Happy" Havelchek, master of the keys, played several numbers on the piano in the absence of Miss Jean Billingslea, soprano, who was unable to sing because of illness. Miss Billingslea will appear on a later program, it is announced.
A program consisting in large part of sacred pieces will be broadcast today over the station. Church service at the First Presbyterian Church will be put on the air at 10:45 o'clock this morning.
Mrs. Florence Dunham will give an extensive organ recital at 2 o'clock this afternoon on the new $10,000 Pilcher organ at the First Baptist Church. The West Virginians Quartette will sing as a part of the recital.
The remainder of the program is as follows: 4 p. m. - Mr. and Mrs. Karl E. Gooseman, religious selections; 4:15 p. m. - novelty program, Holland Engle, Gene Etz, Premier Four; 4:45 p. m. - Irish melodies; 7:40 p. m. - Methodist Protestant Church services and choir selections; 8:30 p. m. - Gene Etz, piano, and 9 p. m. - Waverly hour.
---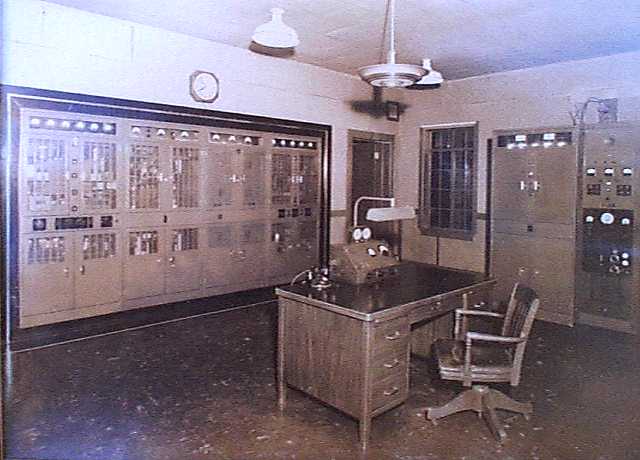 Two pictures of the WMMN transmitter site in 1943, courtesy of
the Museum of Radio and Technology in Huntington
---
Blue Bonnet Girls at WMMN. Photo has Ray Stoker or Stokes, 1942. Image courtesy of Larry Shockley.
---
Two more images at Flickr are here.
---
From the FCC microfiche files, September 19, 1994.

    

    WMMN

12/10/28  Date first licensed.  The licensee was Holt Rowe Novelty Co.,
  
            Fairmont, WV.  Granted 890kc with 250 watts, 500 watts LS.


             2/17/31  Vol. assign. of lic. to Holt Rowe Broadcasting Co.

 8/30/32  Vol. assign. of lic. to A.M. Rowe, Inc.

 
              3/5/35  Vol. transfer of cont. of lic. corp. to West Virginia Broadcasting
          Corp.

 4/23/35  Granted a C.P. for 890kc, 500 watts, 1kw LS.  License to cover the
          C.P. granted 1/7/36.

 9/22/36  Vol. mod. of lic. to change the name of the licensee to
          Monongahela Valley Broadcasting Co.

  2/2/38  Granted a C.P. for 890kc, 5kw-D, 1kw DA-N.  License to cover the
          C.P. granted 12/20/38.

 1/17/39  Granted a license to use the old main transmitter (W.E. D-96021)
          as an auxiliary.

10/22/40  Granted a C.P. for 890kc, 5kw DA-N.

 3/28/41  Under NARBA, they were granted 920kc, 5kw LS, 1kw DA-N.

 5/26/43  License granted to cover the C.P., as modified, for 920kc, 5kw
          DA-N.

12/20/48  Vol. assign. of lic. to The Fort Industry Co., eff. 1/9/49.

 6/30/52  Vol. mod. of lic. to change the name of the licensee to Storer
          Broadcasting Co.

 8/19/53  Vol. assign. of lic. to Peoples Broadcasting Corp., eff. 8/31/53.

 12/6/63  Vol. assign. of lic. to Broadcast Enterprises Inc., eff. 12/31/63.

 9/30/74  Vol. assign. of lic. to Marja Broadcasting Corp., eff. 10/31/74.

 9/29/75  Vol. assign. of lic. to Marion Broadcast Corp., eff. 9/3/76.


---
Additional Notes
Thanks to Jonathan Fox for the following information.
On October 15, 1991, the owners from Charleston announced to the eight staff people that it would be WMMN's last day. At midnight the station signed off for the last time with Reid Amos at the controls. Mr. Frank Lee, a WMMN announcer for 48 years said "It's been a real good ship down through the years. The ship finally ran up on the rocks. I guess." Mr. Lee's "Sports Journal" program was one of the longest running continuous shows in the country.
When WMMN had signed off it had been broadcasting for 63 years.
Mr. Nick L. Fantasia tried to buy WMMN, but the owners turned down his offers. Finally in 1992, he purchased the station. In 1992 WMMN began using only use tower number 1 which was built in 1938. Towers 2 and 3 were torn down due to structural problems. WMMN's tower is also home to WGYE 102.7 FM.
WMMN is still the home for FSC Fighting Falcon Sports, Fairmont Senior High Polar Bear Sports, Pirates baseball, and many other professional sports. Reid Amos is the voice for "Fighting Falcon" sports. Joe Sengewalt is his color commentator. Jeff Carpenter is the voice of the Polar Bear Sports.
WMMN aired CNN Headline News until after Labor Day 2001. AM 920 changed to a talk/sports format with Imus in the Morning.