History of
WPAR/WIKS/WLTP/WHNK, Parkersburg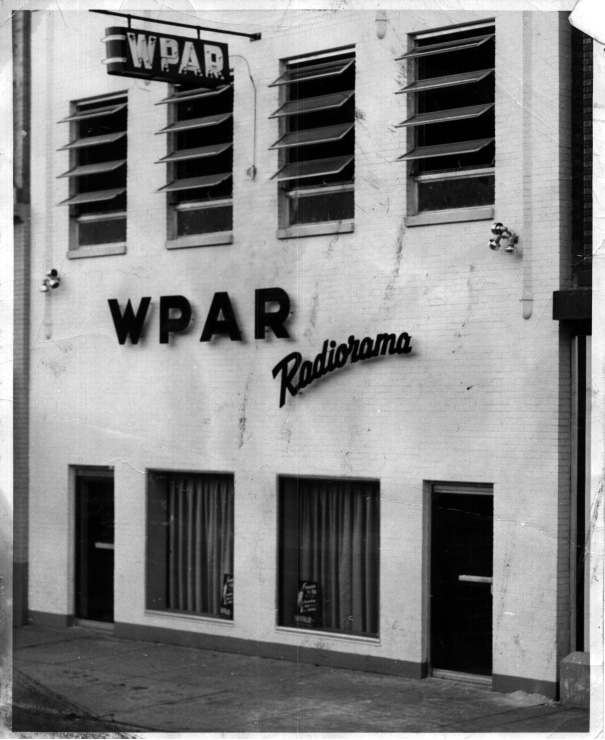 Numerous early photos of WPAR are available at
---
WPAR Provides Only Outside Contact As Flood Waters Immerse Parkersburg
This article appeared in Broadcasting on Feb. 15, 1937.
By HAROLD McWHORTER
Manager, WPAR, Parkersburg, W. Va.
On Jan. 21, 1937, the citizens of Parkersburg and the Central Ohio Valley became conscious of the fact that a flood, perhaps of major proportion, might be expected. That consciousness was doomed to become a physical reality, and upon this premonition WPAR prepared for a service to be continuous until any threat to life and property might be dissipated.
On Friday, Jan. 22, reports from the Northern Ohio Valley gave complete background and authenticity to rumors formerly advanced that this flood was to be actually and without question one of the worst in the history of Parkersburg and vicinity, since that of 1913. At that moment, WPAR with studios in Parkersburg and Marietta, commandeered all facilities including human and mechanical to serve those whom the flood might rob of normal living conditions and privileges. The city of Marietta was the first consideration of our station, since that city was situated at the confluence of the Muskingum and Ohio Rivers.
Warnings were immediately broadcast to the business men and to the residents of the lower geographical areas of Marietta to evacuate and/or to prepare the evacuation of both residences and business establishments. Upon this warning evacuations of the city in those referred to areas was begun ... and by Friday evening the basement of Hotel Lafayette in which our studios are located, was being flooded ... as were other portions of the city. It was at that time, more commonly known in Marietta than in Parkersburg that the situation was without question to become serious. In order to continue our service to Marietta and environs our broadcasting equipment at that point was transferred to the lobby from which point sequential warnings and bulletins were broadcast.
WPAR cast aside all other phases of broadcasting activity and dedicated its available 24 hours a day to the service of humanity in general. By midnight Friday, the situation gave evidence of a likelihood of a heretofore unheard of flood. Throughout the night our agents not only stood by for warnings and reports, but also gave every assistance to local authorities, organizations, and agencies, humanly possible.
Then came Saturday morning, Jan. 23, and with it cold and snow, adding to the misery and desolation of the entire scene. Calls for help increased in frequency. Demands for vehicles and equipment increased in intensity, and facing these facts, WPAR began to devote 24 hours a day to securing this help and to assisting in the procuring of such mechanical vehicles and equipment which might become necessary in the elimination of human suffering and property loss. Saturday night, Marietta was almost completely submerged. Its business district offered a bed for the Ohio which chose not to sleep -- instead it chose the antics of one which might be disturbed by most fantastic nightmares and mental hallucinations. And so through its gigantic influence it spread fear through the minds of those who inhabited its once peaceful and beautiful valley.
Portsmouth, an industrial center of the southeastern Ohio Valley, inhabited by some 43,000 residents, was completely at the mercy of Neptune. Its 60 foot sea wall gave evidence of breaking and Saturday evening in lieu of that fact, this wall was cut and more than half of the city of Portsmouth became the home of the seething, rolling tide of water.
The local weather observatory offered a humble announcement that Tuesday might bring 56 to 57 feet, and that Wednesday might find the waters of the Ohio at a height of 60 feet in the Parkersburg flood zone. Every facility and means of communication with the outside world was practically "out," with the exception of WPAR. Not only was the matter of news, concerning the condition of the river, etc., broadcast, but we began the job of locating individuals -- carrying messages from families here and abroad to one another, so that fear for their well being might be avoided. Night and day, our service was continued. Saturday evening, January 23, WPAR began the job of raising money for the various relief agencies, and between 6 p.m. and midnight almost $1,400 had been paid, or pledged. By Monday evening the stage at Parkersburg was 54.5 feet, and still rising at the constant rate of .1 foot per hour. The situation became more tense ... fear of disease ... fear of food shortages ... fear for life of both humans and live stock became incessant.
After investigating each rumor and report, WPAR pounded away, hour after hour, attempting to dissipate false reports ... and at the same time, to impress upon those in danger the importance of care and precaution -- and to warn them of the possibility of the greatest flood since the historic one of 1913. Churches were turned into hotels, so to speak, and WPAR provided, through pleas, the clothing for beds and other necessary essentials for the comfort and protection of the less fortunates of the central Ohio Valley. Following our policy of serving public necessity, convenience, etc., all commercial broadcasts were cancelled ... the only object now was the preservation of life and property. And so we waited ... as the long hours passed by -- and the tide of the mighty Ohio growing, even more rapidly than the passing of hours.
---
Parkersburg's Oldest Radio Station Still Going Strong After 60 Years
This article appeared in the State Journal on Nov. 6, 1996.
By PAUL LAPANN
PARKERSBURG - Parkersburg's oldest radio station, WLTP "AM 1450," has undergone many changes over the past 60 years.
Just as the nation's fancy turned from AM radio to FM radio and from radio to television. WLTP has changed its call letters, position on the dial, wattage and programming.
WLTP went on the air as WPAR-1420 in downtown Parkersburg on July 11, 1935. The Federal Communications Commission granted the new station, owned by Ohio Valley Broadcasting Corp., 100 watts on which to broadcast.
It would be a decade before another radio station appeared in the Parkersburg area.
WPAR moved up the dial from 1420 to 1450 in 1941, where it remains today. That same year, the Parkersburg station raised its power to 250 watts.
Jack See, a West Virginia radio veteran of more than 50 years, began his career at WPAR in 1943 as a disc jockey. See was still in high school at the time.
See remembers WPAR playing mostly CBS network programs, mainly soap operas and dramatic shows. For a few hours each day, disc jockeys played phonograph records of the popular Big Band sounds.
"Every station played about the same music back then. There was no great competition," See said.
It wasn't until the 1960s and '70s that stations went after "fragmented audiences," See said.
Frank S. Dodd, another former WPAR employee, remembers the station playing contemporary and classical music, but no rock-n-roll in the 1960s. CBS network shows filled most of the time slots.
National bowling tournaments were also broadcast live on WPAR from Parkersburg bowling alleys during the 1960s, Dodd said.
By the early 1970s, WPAR was airing a contemporary top 40 music format. The station dropped its CBS affiliation in 1972.
On Sept. 1, 1975, WPAR joined the NBC radio network and adopted a middle of the road/beautiful music format.
In October 1983, the same year the station was sold, WPAR's call letters were changed to WIKS. Three years later, WIKS would become WLTP.
Call letters are often changed when a radio station has an identity problem or is charting a new direction in programming, said John Chalfant, program director at WLTP since 1993.
In the early 1990s, WLTP experimented with an "oldies" music format and later with a 24 hour-a-day country music program.
The station's current owner, Benn Co. of Virginia Beach, Va., took over in 1993 and by the next year had abandoned country music on WLTP for the news/talk/sports program format.
WLTP is now a 24-hour, seven-day-a-week radio station operating on 1,000 watts of power. It is an affiliate of CNN Radio.
The station features such heavy hitters in the talk show genre as Rush Limbaugh and Gordon Liddy, along with nationally syndicated medical authority Dr. Dean Edell and 30-year veteran talk radio personality Barry Farber.
A liberal voice appears on WLTP in the form of Alan Colmes of New York City.
The Station also broadcasts "Sports Byline U. S. A.," one of the nation's leading call-in talk shows from 10 p. m. to 6 a. m., Chalfant said.
On the weekends, listeners car expect to hear live sports on WLTP. The station broadcasts Parkersburg High football and basketball games, Ohio State and Marshall football and basketball, Ohio Valley College basketball and Cleveland Browns games.
Local news is important to WLTP and its sister stations - WNUS-FM (country music) and WDMX-FM (oldies) - in Wood County, Chalfant said.
Benn Co. maintains a two-person news staff that covers government meetings in Parkersburg and Marietta and reports this news and breaking events daily on the air.
Every Sunday morning, the three stations broadcast a 30-minute show called "Community Insight," which discusses issues of local interest.
WLTP also broadcasts five local talk shows: "Night Talk" on local political issues; "Sports Line 1450;" "Women to Women;" "On the Home" on house repairs and remodeling; and "Sports Kids," where local athletes are interviewed by host Chris Hunt.
After a slow start, the Parkersburg community is finally tuning into talk radio, Chalfant said. He credits talk shows and sports with being saviors of AM radio across the country.
WLTP is West Virginia's sixth oldest continuously licensed AM broadcast station. It operates from studios in Vienna.
Chalfant said the number of radio stations in the Parkersburg-Marietta market has grown from eight to 12 since he arrived in 1983.
---
WPAR Broadcast Pro-File
This is the Broadcast Pro-File for WPAR/WIKS/WLTP.
On April 15, 1935, the Federal Communications Commission granted a construction permit for a new broadcast station at Parkersburg, West Virginia to the Ohio Valley Broadcasting Corporation (Harold McWhorter, President) for 100 watt unlimited time operation on 1420 kilocycles. The call letters WPAR were soon assigned. On June 4, 1935, the FCC granted a modification of WPAR's permit to erect its transmitting site on Gihon Road, south of Parkersburg.
From temporary studios in the Chancellor Hotel, WPAR went on the air with an independent program schedule July 11, 1935 with Abe Rauch as its first General Manager. Permanent offices and studios were established in the Grinter Building in 1936. On February 2, 1937, the Ohio Valley Broadcasting Corporation was purchased from Harold McWhorter by The Exponent Company, publisher of "The Clarksburg Exponent" newspaper. Publisher John A. Kennedy then became WPAR's President and named Mortimer C. Watters to be its new General Manager. (In 1936, Mr. Kennedy bought WCHS at Charleston, West Virginia and formed the West Virginia Network there later in the year.) In 1937, WPAR became an affiliate of the Columbia Broadcasting System and joined the regional West Virginia Network. L. L. Jaquier was named Station Manager of WPAR in 1937.
By mid-1938, WPAR operated daily from 6:30 a. m. until 12:30 a. m. from its studios in the Grinter Building, 701 1/2 Market Street, Parkersburg. Its transmitter and single Ideco 179 foot tower remained on Gihon Road. When Station Manager "Jake" Jaquier resigned in mid-1938, Abe Rauch was named to succeed M. C. Watters as General Manager (Mr. Watters continued to manage WCHS at Charleston.) The FCC in late September 1940 authorized the station to raise power from 100 to 250 watts and to install a new transmitter. On March 1, 1941, WPAR's licensee, the Ohio Valley Broadcasting Corporation was transferred from The Exponent Company to the Charleston Broadcasting Company (all three firms under common ownership). John A. Kennedy became President and General Manager of WPAR in 1941. Mr. Kennedy owned WPAR at Parkersburg, WCHS at Charleston, WBLK at Clarksburg, and the regional West Virginia Network. Pursuant to the NARBA frequency reallocations, taking place Saturday, March 29, 1941, WPAR moved up the dial -- from 1420 to 1450 kilocycles. In late August 1941, WPAR raised power to 250 watts and moved to a new transmitting site on State Route Two.
President John A. Kennedy, a USNR Captain, took military leave in 1942. George H. Clinton was named to become WPAR's new General Manager in 1942. In 1945, Lt. Commander John A. Kennedy returned to civilian life as President of his West Virginia media empire. Offices and studios were moved from the Grinter Building to 211 Fifth Street, Parkersburg, in 1947. Also in 1947, the station's liaison with the West Virginia Network was dropped and George H. Clinton rose to Vice President and General Manager. Mr. and Mrs. John A. Kennedy sold WPAR's licensee, the Ohio Valley Broadcasting Company to a local group headed by Austin V. Wood in 1943. The $307,500 transfer also included WBLK at Clarksburg, West Virginia. Mr. Wood then became President of the stations. WPAR opened new studios at 211 1/2 Fifth Street in 1950. Transmitter and antenna continued to be located on State Route Two. George H. Clinton was promoted to Executive Vice President and General Manager of WPAR in 1951. By 1954, Parkersburg area population was 123,000; 36,510 homes were radio-equipped.
WSTV Inc. acquired the Ohio Valley Broadcasting Corporation and its WPAR for $250,000 on March 30, 1955. Jack N. Berkman was President of the station group, known informally as "The Friendly Group." George H. Clinton continued on under the new ownership as Vice President and General Manager. In May 1957, the station's licensee name was changed to the parent WSTV Inc. Robert E. Metcalfe became Managing Director of WPAR and Birt L. Walter became Station Manager in 1958. On June 10, 1960, WPAR was sold by WSTV Inc. (Jack N. Berkman, President et al) to WPAR Inc. for $157,000. Owner was President H. Max Good, the Reverend of a Columbus, Ohio church. FCC approval took place May 11th. Both Robert E. Metcalfe and Birt L. Walter left WPAR in 1960. In early 1961, Dale Lutz became General Manager of WPAR. In the summer of 1961, the FCC granted a permit for it to raise day power to 1,000 watts (nights to remain at the 250 watt level). Named to become General Manager in 1962 was Eddie Lane. The CBS affiliate raised day power in 1963. Also in 1963, Carl L. Loose became WPAR's new General Manager.
By mid-1964, the station operated daily from 5:25 a. m. until 12 midnight (Sunday sign-on was at 7:00 a. m.) from studios located at 211 Fifth Street. Carl L. Loose rose to Vice President and General Manager in 1965, but on November 26, 1966, he passed away at the age of 54. In early 1967, Calvin Dailey Jr. became General Manager. The station was sold by Rev. H. Max Good for $68,000 to Fred A. Grewe Jr. on March 5, 1968. Mr. Grewe then became President of WPAR Inc. Founder Harold McWhorter died at his own hands on April 22, 1970 in a Weston hospital while "in his sixties."
WPAR aired a "Contemporary Music" format by the early seventies. Its CBS affiliation was dropped in 1972. On September 1, 1974, Fred A. Grewe Jr. sold WPAR to the Burka Broadcasting Company (brothers Melvin S. and Bernard A. Burka, each with 30.7 percent interest) for a purchase price of $500,000. FCC approval came on August 27th. In September, Bernard "Bud" Burka became President and a month later named Joe M. Rada to become WPAR's new General Manager. On September 1, 1975, the station joined the NBC Radio Network. "Contemporary/Top 40" music was replaced by a new MOR/Beautiful Music" format in 1977. On March 29, 1977, former Vice President and General Manager George H. Clinton died at 68. General Manager Joe Rada left WPAR at the end of 1977. In early 1978, Richard Glaser was named to succeed him as General Manager. In 1979, "Beautiful Music" was dropped. WPAR continued to air a "MOR" music format.
In the spring of 1983, WPAR was sold by the Burka Broadcasting Company (B. A. "Bud" Burka, President) for $374,000 to Composite Broadcasting Inc. The sale gained FCC sanction March 24, 1983. The new licensee was owned by President John W. Patten (19 percent) and four others. In early October 1983, the "MOR" music station changed call letters from WPAR to WIKS. Another change in call letters -- from WIKS to WLTP -- took place in 1986. At this time, the station began airing an "Adult Contemporary" music format via satellite from Transtar.
WLTP was purchased from Composite Broadcasting Inc. (John W. Patten, President et al) by Somerset Broadcasting Inc. (Robert H. McKinney et al) on May 1, 1987. Also in 1987, nighttime power was raised from 250 to 1,000 watts (matching its daylight power output). Ben Bain succeeded Richard Glaser as General Manager in 1987 and WPAR moved to new studios at 1719 Washington Boulevard in nearby Belpre, Ohio. The station's NBC network affiliation was dropped in 1987. Former owner John A. Kennedy died at 88 at his La Jolla, California home on June 6, 1987. He sold his West Virginia holdings in 1951 and moved to San Diego to enter station ownership there.
In late 1990, WLTP was sold by The Somerset Group Inc. (Robert H. McKinney et al) to TRBC Inc. (Joel M. Thorpe, Chairman and one other) for $100,000. Also included was WNUS (FM) at Belpre, Ohio. This dual station transfer was granted by the FCC November 29, 1990. Also in late 1990, Jay Reynolds became President and General Manager and WLTP switched to Unistar's "Oldies Music" format. "Oldies" were replaced in 1991 by a 24 hour-a-day "Country Music" format via satellite from Unistar. Talk segments were added at this time, and WLTP joined CNN Radio. TRBC Inc. sold WLTP and WNUS (FM) to WNUS Inc. for $575,000 in the summer of 1993. FCC approval took place May 24, 1993. Bill Benns was CEO of the new licensee while Chairman Ron Bishop took over duties as General Manager. Offices and studios were moved from Belpre, Ohio to 6006 Grand Central Avenue, Vienna, West Virginia in 1994. In late 1994, country music was abandoned in favor of a "News/Talk/Sports" program format.
Today, WLTP "AM 1450," West Virginia's sixth oldest continuously licensed AM broadcast station, operates on 1450 kHz with 1,000 watts (non-directionally) from studios located at 6006 Grand Central Avenue, Vienna, but remains licensed to nearby Parkersburg, West Virginia. Licensee is WNUS Inc. -- Bill Benns CEO; Ron Bishop Chairman and General Manager. The "News/Talk/Sports" outlet, an affiliate of CNN Radio, operates 24 hours a day.
---
FCC Microfiche File
The following FCC microfiche file was transcribed by Xen Scott of ABC News, Washington, and is used here with his permission. These files contain no information past the early 1980s.
From the FCC microfiche files, July 21, 1997.

                                     WPAR

 3/26/35  Granted a C.P. for a new station on 1420kc with 100 watts,
          unlimited, at Parkersburg, WV.

 7/30/35  Date first licensed.  The licensee was the Ohio Valley
          Broadcasting Corp., Parkersburg, WV.  They were granted
          1420kc, 100 watts, unlimited.

  2/2/37  Vol. transfer of cont. of lic. corp. from Harold McWhorter,
          Marion McDowell and Wayne Van Gilder to the Exponent Co.

 10/1/40  Granted a C.P. for 1420kc, 250 watts, unlimited.

  3/4/41  Vol. transfer of cont. of lic. corp. to Charleston
          Broadcasting Co., eff. 4/8/41.

 3/24/41  Under NARBA, they were granted 1450kc, 100 watts, unlim.

  5/8/41  Granted a mod. of C.P. to specify NARBA frequency of
          1450kc.  There were extensions of completion date.
          License to cover the C.P. granted 8/28/41.

 1/23/47  Vol. transfer of cont. of lic. corp. from Charleston
          Broadcasting Co. to News Publishing Co., eff. 2/1/47.

  4/5/57  Vol. transfer of cont. of lic. corp. from News Publishing
          Co. to WSTV, Inc., eff. 5/10/57.

 7/23/57  Vol. assign. of lic. to WSTV, Inc, eff. 8/1/57.

 5/11/60  Vol. assign. of lic. to WPAR, Inc., eff. 6/10/60.

  7/6/61  Granted a C.P. for 1450kc, 250 watts, 1kw LS, unlimited.
          There were extensions of completion date.  License to cover
          the C.P. granted 4/23/63.

  3/5/68  Vol. transfer of cont. of lic. corp. from The Memorial
          Foundation (a corp.) to Fred A. Crewe, Jr.

 1/15/69  The Commission notified the station of Apparent Liability
          for $1000 fine for 3 rule violations.

12/17/69  The Commission, by Memorandum, Opinion and Order, ordered
          WPAR to pay $1000 forfeiture.

11/28/72  Vol. transfer of cont. of lic. corp. to Crewe Radio, Inc.,
          eff. 12/18/72.

 8/26/74  Vol. assign. of lic. to Burka Broadcasting Co., Inc.,
          eff. 9/4/74.

 9/14/78  License renewed.

          END OF FILE
---
WPAR TV?
In 1956 WPAR's studios at 211 5th Street were destroyed by a fire. For about a year, the station returned to its previous location at 7th and Market, in the Ginner Building, while 211 5th Street was being rebuilt. But was it a television studio they were building? If so, it would have been the first construction for a start up television facility in the state - not space remodeled to be a TV studio. Chuck Loose told me of the TV plans back in the 1970s. His father, Mutt Loose, was General Manager at WPAR in the late 50s and early 60s. According to Chuck, WPAR was owned by "Friendly Group" who also owned WSTV in Steubenville and several other small market TV stations and they wanted TV in Parkersburg. There was an open channel for Parkersburg, channel 57, but there is no evidence that anyone ever filed for a construction permit. In late 1957 WPAR moved the new modern studios on 5th Street. In the rear of the building was a cluster of studios - a large audience participation studio, an announcers booth and a huge control room. By 1957 radio was different - what radio stations needed or used their audience studios? And the control room was just too big for a radio station - there was enough room for audio/video controls and film chain. Next to the control room was the engineering office that I'm sure was meant to be photo processing/ film library because of the counter arrangement and shelving. And the large studio had rear entry from the alley large enough to bring in props, etc. The second story was never really finished but I think that's where radio would have been if TV became a reality. And what happened? The group owners likely backed out because UHF was sure risky in the 50s - and they sold WPAR a few year later. But I wonder, how would the landscape of Parkersburg broadcasting have changed if they had been WPAR TV?
Mark Aulabaugh
www.radioksey.com
---
Rudy Smith
The obituary of Rudy Smith follows:
MARIETTA - Rudy W. Smith, 81, a resident of the Arbors at Marietta, died Sept. 24, 2003, at the Arbors at Marietta. He was a retired letter carrier in Parkersburg. He was affiliated with the radio station WPAR and was a member of Emmanuel Baptist Church, both of Parkersburg. Burial will be 2 p.m. today at Evergreen North. There will be no visitation. The Marietta Chapter of Cawley & Peoples is in charge of arrangements.
Mark Aulabaugh writes: "Rudy worked at WPAR with my mother in the late 50s and early 60s. I would almost bet he was the first overnight DJ in Parkersburg. In about 1961, WPAR went 24 hours - in those days markets as small as Parkersburg just didn't have 24 hour operations. He did a little-talk, beautiful music show. The show was in the same vain as American Airline's "Music Till Dawn" which was on ABC in the 50s and early 60s. On occasion, Rudy would enjoy a few too many gin and tonics at about 3:00am. He had a couple of loyal listeners who were overnight cops in Ohio who would come to the station and track LPs when Rudy was a bit tight."
---
Harold W. Haught Sr.
The obituary of Harold W. Haught follows:
PARKERSBURG, W.Va. - Harold W. Haught Sr., 87, of Carolina Village, Hendersonville, N.C., died Saturday (July 21, 2007) at Pardee Hospital, following a brief illness. He was a native of Parkersburg, and son of the late Ruben E. and Georgia M. Haught. Mr. Haught was a radio announcer for six years at WPAR in Parkersburg and WMOA in Marietta. He served in the U.S. Army for 42 months during World War II. Following the war, he earned an AB degree in business administration from Marietta College in Ohio, using the GI Bill to pay for his education. He was a member of Delta Upsilon Fraternity. He was employed 33 years by Columbia Gas of Ohio, and spent the last 13 years with the company as district manager in Cambridge, Ohio. He lived in six cities during his career, serving on 27 boards in those communities. In 1954, he was honored by the Toledo Junior Chamber of Commerce as an outstanding young man of Toledo for his civic work. He was a 23 year scouter with the Boy Scouts of America, serving as district commissioner in Chillicothe and Findlay, and council commissioner in Findlay. He was general co-chairman of the committee to raise funds to purchase lands on which Ohio University-Chillicothe Branch was constructed. He was elected to the board of trustees of Guernsey Medical Center, Cambridge, where he served for 12 years, two as president. He was a 40 year Rotarian with 12 years as a member of the Hendersonville Rotary Club. He was a Mason for more than 40 years and a 21 year member of Hendersonville Shrine Club. He was a life member of Post 15 American Legion of West Virginia. He was preceded in death by three sisters. He is survived by a son, Harold W. "Chip" Haught Jr. of Oakland, Calif.; a daughter, Anne Haught of Petaluma, Calif.; and two nephews. Graveside services will be 10 a.m. Saturday at Mt. Olivet Cemetery, where he will be buried beside his wife, Dorcas Haught. Memorial contributions may be made to Library Fund at Carolina Village, 600 Carolina Village Road, Hendersonville, NC 28792. Online condolences may be sent to the family at www.LeavittFuneralHome.com
---
Notes
Brian Moore, program director and morning personality for WPAR in 1982-1983, writes, "WPAR experienced a brief return to A/C then CHR just before its sale to the company that changed it to WIKS. The General Manager after Dick Glaser was Jeff Thurston, succeeding him was Chuck Loose (son of Carl Loose, the General Manager back in the 1940s)."
According to the FCC web site, the call letters were changed to WIKS on Sept. 22, 1983, to WLTP on Nov. 1, 1986, and to WHNK on March 9, 2004. (In 2004 the WLTP call was in use on 910 kHz for Talk Radio 910 WLTP.)
According to the Wikipedia WHNK article, Clear Channel took WHNK off the air on April 28, 2014, after the station lost its lease with Walker Machinery, which owns WHNK's transmitter site. At the time of the closure, WHNK was broadcasting a classic country format.
On April 24, 2015, Tom Taggart posted to wvbroadcasting.net that WHNK was back on the air with a long wire antenna, airing iHeart Foggy Mountain classic country.
In 2020, the True Oldies Channel format was announced for AM-1450, FM-98.1, and FM-107.9. Call letters were expected to change to WVAM.