History of WRON, Ronceverte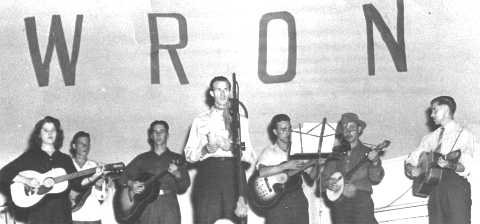 The first band to appear on the Greenbrier Valley Jamboree in 1947 was Bill Stone and the Greenbrier Ramblers who provided entertainment for Greenbrier Valley residents for many years. Members of the group appearing in this 1947 photo include (from left) Patsy Jean, Billy Ray Lackie, Warren Parker, Bill Stone, Lewis Holcomb, Carl Howard and one unidentified member. (Photo courtesy of Bill Stone)
---
This history was provided by the station.
W R O N AM, the first radio station in Greenbrier County, officially went on the air at noon on Friday, May 7, 1947 at 1400 kHz with an output of 250 watts. William "Bill" Blake III was the station's founder and manager. Other employees at the time included Phyllis Hutchinson, receptionist; Eileen Houchins, secretary and director of women's programs; Arch Holstein, program director; Art Keller, newscaster; Jimmy Peters, control operator and Eva Judy, continuity writer. The station was located upstairs in the Grand Theatre building on main street in downtown Ronceverte.
Blake's dream of a radio station for Ronceverte had finally come true.
Prior to serving with the 11th airborne paratroopers during WW II, Blake had worked as a reporter for several newspapers around West Virginia. His last job before going into the service was with W H I S AM in Bluefield. That's where he became hooked on radio and the idea that led to W R O N was planted.
The arrival of W R O N was a big event in Ronceverte and surrounding communities in eastern Greenbrier county. Blake allowed local people to share their talents (or lack thereof) over the airwaves with their friends and neighbors. A Saturday night jamboree was organized and aired live from the Clifford Armory in Ronceverte and, for a while, was shared with other stations around West Virginia via the "Hillbilly Network." Other programming included pre-recorded music, news, sports and local high school football. TV was just getting started, so W R O N also broadcast soap operas and radio dramas like 'The Green Hornet,' 'The Invisible Man' and "Jack Armstrong, All American Boy' as well as several comedy programs from The Mutual Broadcasting System. There were also regular remote broadcasts from the Old White Club at the Greenbrier Hotel featuring the Populaires. In order to have programming to accommodate as many listeners as possible, W R O N aired a wide variety of music over the first 25 or 30 years. there was everything from country and bluegrass, religious, rock and roll and even 'Dinner Music' each weekday evening from 6 until 7 p.m.
During the 40's and 50's, even small town radio stations were important to country music stars of the time. W R O N was visited by many including Bill Monroe and his bluegrass band, Tex Ritter, Grandpa Jones and Homer and Jethro. They would stop by and do interviews to promote their latest recording or an upcoming show in the area. Game show announcer Johnny Olsen, who bought a home in the area, would also stop by on occasion to visit with the staff.
In 1952 or 53, W R O N moved its studios and office to a more spacious building just across US 219 from the State Fair of West Virginia in Fairlea. In 1961 the station received permission from the FCC to increase its output power from 250 to 1000 watts during the day and was later permitted to operate at 1000 watts at all times.
A number of former W R O N employees have moved on to bigger and better careers over the years. Most notable is probably Tom T. Hall who worked at the station as an announcer in the early 60's. Hall enjoyed writing songs and would spend hours at the station after his air shift writing and playing his guitar. One song Hall wrote while he lived in this area was 'Harper Valley PTA' which was recorded by an unknown Jeanie C. Riley a few years later. The song became a huge country and pop hit. Hall moved on to a recording career as well becoming a major country music artist from the late 60's through the 70's with hits like "More About John Henry,' 'The Ballad of Forty Dollars,' 'I Remember the Year That Clayton Delaney Died' and 'Old Dogs and Children and Watermelon Wine.' Hall's knack for telling a story in song quickly earned him the nickname 'The Storyteller' which is also the name of his autobiography. Tom T. Hall is still writing hit songs today.
W R O N remained the only radio station in Greenbrier county until 1971 when W S L W-AM, a daytime only station, went on the air in White Sulphur Springs. More stations soon followed including W R R L-AM and W R R L-FM (now W R L B) in Rainelle, W Y K M-AM in Rupert, W K C J-FM in Lewisburg and W R O N-FM in Ronceverte.
W R O N-FM went on the air for the first time at 8 am, December 6, 1983 with a beautiful music format. The Class A station had an output of 452 watts on 97.7 MHz from a tower 800 feet above average terrain on Muddy Creek Mountain. The station was then upgraded to 1000 watts in May of 1991. In order to get a "city grade" into downtown Ronceverte, translator station W252AD was added to the W R O N-AM tower located just northeast of the city. W R O N-FM was an automated station with music on reel-to-reel tape machines and commercials and announcements on tape cartridges loaded into 3 SMC carousels that loaded the right carts (hopefully) for each commercial break. Music tapes had to be changed several times each day and this was done by the W R O N-AM staff. This system was far from perfect but it served the station well for the next 11 years.
In late 1994, the decision was made to computerize the operation of both stations and make the move to satellite music formats. In late August, 1995, both stations went online with the Jones Radio Networks. W R O N-AM began broadcasting the JRN 'Adult Hits' radio format, while sister station W R O N-FM became the areas 'Good Time Oldies' station. Both formats have been accepted quite well by the local listeners and both stations have now gone to 24 hour operation. Each station is now controlled by a DHK Group Audisk workstation networked together with 2 Audisk production units so that the stations can share audio files. Commercials and other announcements are now stored on computer hard drives, in digital form, always ready for playback on the air when needed. This, along with digital satellite receivers, has greatly improved both stations on-air audio quality.
The most recent change in ownership came on October 1, 1997 when Michael J. Kidd purchased the stations from Elaine B. Pugh who had operated the stations for 11 years. Mike has been with the company since 1970.
---
Notes
Mike Kidd retired from Radio Greenbrier on Dec 31, 2015. He also sold his half to Todd Robinson. Todd also owns Highlands Media Group in Covington, VA and Lynchburg Radio Group in Lynchburg, VA. (Thanks, Brian Allen.)
In 2018 the FCC web site indicated that WRON-1400 had been off the air since January 2018 due to unspecified technical reasons.
---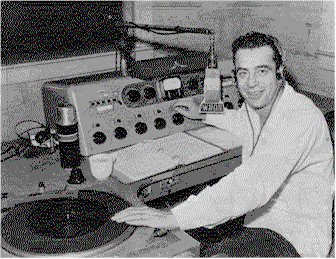 WRON founder Bill Blake