HISTORY OF BROADCASTING IN WEST VIRGINIA
WRSG, Middlebourne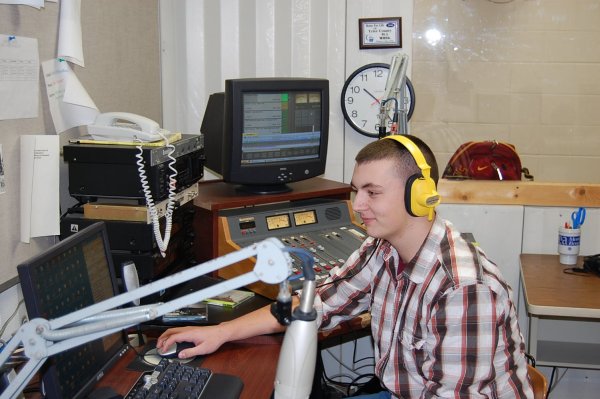 Photo from the former WRSG web site
WRSG 91.5 FM, also known as "Knights Radio," is licensed to the Tyler County Board of Education and operated by Tyler Consolidated High School.
The station began on May 14, 2001, funded by a grant from the Ruth Stealey Green foundation and utilizing a student's laptop and the DRS2006 automation system. The station began full-time operations in October of that year using a brand-new studio computer as well as the DRS2006 automation system. WRSG converted to TuneTracker systems in July 2006.
In December 2006, WRSG obtained the first of two translator frequencies, 101.7, licensed to Sistersville. (101.7 was the original frequency for WRRR radio in St. Mary's, which now broadcasts on 93.9. In 2010 Station manager Greg Goodfellow, who is a teacher at Tyler Consolidated Middle School, wrote, "LiteRock 93R serves as our guiding light; without them, we could not exist. They also graciously gave us use of a second translator frequency, 95.9 FM, located on the LiteRock 93R tower on Greens Run Road above St. Mary's."
In 2010 the station was broadcasting 24 hours a day, every day of the year, including a summertime radio opportunity for students called the "Summer Knights Radio Show," usually beginning in late June and running through early August, the time of the Tyler County Fair, from where WRSG airs daily remotes.
In 2010 the station was airing a variety format, leaning heavily on classic hits programming weekdays, with bluegrass music a mainstay on both Saturday and Sunday. It also featured both new and classic country, blues, classical and classic rock. A local resident produces a syndicated show focusing on both well-known and obscure classic rock tunes. Other syndicated hosts include Glenn Sauter, Stephen Keogh (a country DJ based in Ireland), Mike Walker, and Mike Mann.