History of WSAZ-TV, Huntington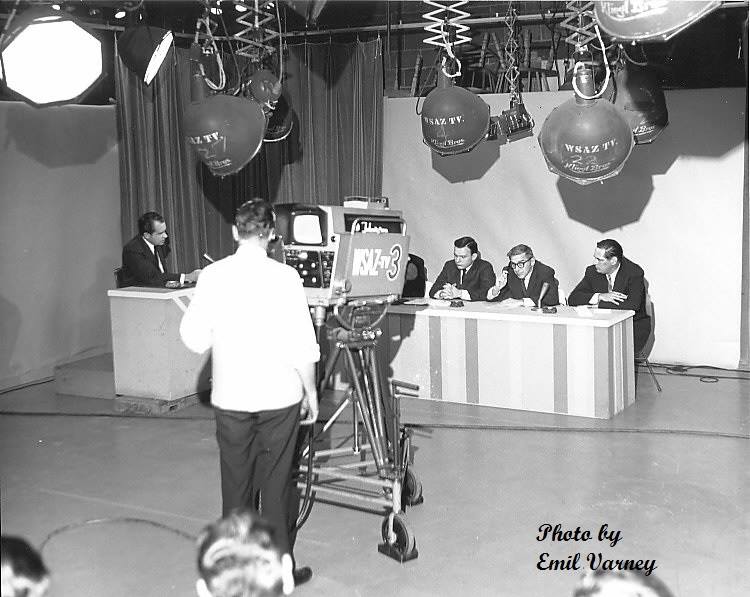 Richard Nixon in the WSAZ-TV Charleston studios. Photo by Emil Varney.
Pictures of WSAZ Radio and Television which I have uploaded to flickr are here. However, a much better collection of photos at flickr is here.
This history was provided by the station.
1948 was the year when one man's vision had its birth. Colonel J. H. Long, a man of rare foresight and courage. . .a leader of the Huntington community. . .in the state of West Virginia. . .wanted a "Video" station to serve the area. At the time, there were about two dozen television stations operating in larger metropolitan centers across the country. . .and all were losing money.
Despite these prevailing circumstances, heavy objections from some concerning this uncertain new media, and a lack of available trained personnel, Colonel Long, a man in his 80's wanted to take the risk.
So it was. . .in October of 1948 that the Federal Communications Commission granted approval for construction of station WSAZ television in Huntington. (Original CP applied for Channel 5 by Howard Chernoff, on suggestion of WCHS chief engineer Odes Robinson.)
It was only 38 years ago when television first came to the area. It was the summer of '49 and typical of any other along the banks of the Ohio. . .but something special was taking place on the south side of Huntington.
The seed planted the year before was beginning to grow. But instead of green foliage, 8th Street Hill was covered with the likes of gigantic spools of steel cable. . . Bat wings. . .without the bat . . .and a dish that might belong on the table of a giant.
Strange looking as it was to people in the area, this was the beginning of the Tri-State's new communications medium. . . television. The pieces of the puzzle were beginning to fit together, forming a 310 foot tower capped by a 50 foot bat wing antenna. . .soon to transmit a new form of entertainment.
At the same time, in the center of downtown Huntington, broadcast facilities were being readied on the 14th floor of the West Virginia Building. But, the area's first television pictures were to be transmitted from a small building 50 x 50 feet located at the transmitter site on 8th Street Hill.
WSAZ television became a reality when Channel 5 began its first test pattern on October 14, 1949.
On October 19th, an endless loop of film was aired for the benefit of 14 television set distributors and few individual set owners in the Huntington area. . .making WSAZ the 72nd station in the nation. Television had arrived in Huntington!
That same month, on October 24th, regular programming began with an NBC kinescope film of "Stop the Music" telecast for 300 viewers at the Governor Cabell Hotel.
The new studios were occupied in the West Virginia Building on November 8th, and some of the included the then familiar "Kukla, Fran and Ollie". . . with their friends Burr Tillstrom and Fran Allison. Plus everyone's favorite in 1949. . .and television's first cowboy hero, "Hopalong Cassidy."
The first live Marshall Basketball Game schedule was aired on December 3rd of 1949 with Jack Bradley as WSAZ-TV's first sports director. It was realized early in 1950 that live network programming was needed to stimulate lagging TV set sales and to increase the size of the viewing audience. The station had been using film replays of network programs.
In July, 1950, the FCC granted WSAZ permission to construct a microwave relay system to Cincinnati, in order to pick up live network shows. In the late summer of 1950, the nation's first privately owned microwave system was completed, with relay stations at South Portsmouth, Kentucky, Grassy Knob and Macon, Ohio.
The first live network service was scheduled for Labor Day of 1950. However, the relay system failed. Instead, WSAZ broadcast live, a fire at a nearby hotel. Four hours of fire. . .instead of a baseball game!
While television was still struggling in 1951, an older medium was searching for new ways to maintain its historic dominance in the area of entertainment, but it was now obvious to everyone that television was here to stay.
1951 was special for WSAZ television, too. Farmer Bill Click, after having been a county agent in West Virginia for nearly 40 years, joined the WSAZ staff and began his weekly farm programs. Farmer Click was one of the leaders instrumental in establishing the 4-H club movement in the Mountain State and was later named farm director in 1952.
This same year, Nick Basso joined the staff, with responsibility to create a news gathering team for the area's television pioneer.
1952 is remembered by most people as the year of the Korean conflict. . .a year when a World War II hero, Dwight David Eisenhower was headlining the news almost daily. . .as the republican candidate for President of the United States.
About this time, WSAZ personnel determined that the network picture quality from the Cincinnati relay system needed some improving and construction on a new microwave relay system from Columbus was started. By September of '52, the Cincinnati relay system was abandoned and the Columbus system put into use, with relay points in South Portsmouth, Kentucky, Chillicothe and Columbus, Ohio, thus allowing the broadcast of live network programs with fewer interruptions. It was in the late summer of 1952 that WSAZ put the "World's most powerful transmitter" on the air, and the station changed from channel 5 to channel 3. With a boost in power from 16.8 to 84 kilowatts, people as far away as Cuba, Australia and Nova Scotia were receiving the signal, which later had to be reduced.
1953 was a big year for television and for WSAZ. By then, television was a definite household word and viewers were able to see such historic events as Eisenhower on the campaign trail, and the coronation of Queen Elizabeth. It was in January of '53 that WSAZ-TV introduced a national first by filming the West Virginia legislature from the floor. And 1953 saw activity on Second Avenue in Huntington. WSAZ-TV moved into a new home with a new transmitter on the way.
1954, the year work began on the West Virginia Turnpike, also brought about some more "Firsts". WSAZ-TV became a basic NBC Network Station which included color programming and also introduced their very own first local colorcast.
In those early years, there was a constant quest to strengthen the station's signal to increase the numbers of people to be served by WSAZ. A second transmitter sight was under construction off Route 2, North of Huntington. Once again, the landscape was engulfed by heavy equipment, with men constructing and erecting huge towers and antenna systems. The big leap forward came for the station in the fall of '54, when the transmitter sight was moved from 8th Street Hill to its present location at Barker's Ridge. A tower height of 1102 feet-- second only to the Empire State Building at the time improved the station's signal and coverage area.
Who can forget "Parson's Study" as being one of the new local programs introduced in 1954?. . .along with "Camera Goes To School," which offered an educational outlet to viewers in the area.
Another unforgettable was Don Wagoner. The first in a long line of WSAZ children's program hosts as the "Beachcomber," he made a rousing public appearance following his return from the moon. And whirled about town surrounded by adoring fans. Then there was George Lewis as "Steamboat Bill," with his friend "Merlin the Sea Monster". . . followed by Jule Huffman as "Mr. Cartoon." One of the most popular local live efforts was the "Saturday Night Jamboree" featuring such local entertainers as Dean Sturm, Norma Lee, Sue Chambers, Connie Smith with Harry Mills and the Haylofters.
Soon WSAZ had its first live remote program when the "Jamboree" was telecast from Charleston. Charleston has always been a part of WSAZ, as was demonstrated with the opening of studio facilities, completely equipped for production and live programming. This made it possible in August of '54 for WSAZ to complete another National first, telecasting a dual-city newscast, with Bos Johnson anchoring in Charleston and Nick Basso in Huntington. Two months later the WSAZ News operation was cited by the 'Radio Directors' Association for outstanding service in the community. In 1954, Jim Thacker was named WSAZ sports director. The WVBA's Executive Director Marilyn Fletcher was Women's Director at that time, hosting "The Good Morning Show" cut-ins live from the Charleston studio, with the major portion of the program coming from the Huntington studio. The Charleston studio and offices were located on Dickinson Street, downtown, with offices upstairs above a dress shop. The studio was on the main floor, a converted garage and called 'small, but adequate.'
In 1955, Tennessee Senator Estes Kefauver was the honored guest for the third annual Adkins Reunion at Camden Park. As a presidential nominee in '52, Kefauver had adopted the Coonskin Cap and the old-fashioned handshake as his two campaign weapons, which were quite in evidence that day. There was also a gas war raging in the Huntington area, with prices often dipping as low as 20 cents a gallon. In January of '55, WSAZ instituted "Operation Big Switch, when the FCC granted approval for the station to more than double their power of 48 kilowatts.
It was the year Bob Horan became the first Charleston news director. Bob and Jan Carr joined the staff on the program "Current" and Mickey Banga became "Aunt Dru."
April 24th and 25th of 1956 were big and busy days around the station as preparations were taking place to originate a two-day "Today" show from WSAZ and the sternwheeler "The Weber Sebald." The show cast finally arrived, including Dave Garroway, Lee Ann Merriweather, Jack Lescoulie and Frank Blair. . .all amid great fanfare and throngs of people.
In 1957, WSAZ broadcast another national first; live coverage of the opening of the West Virginia State Legislature and "State of the State" message by Governor Cecil Underwood. The very latest innovation in television service arrived at WSAZ in 1958. . .and with it, another blue ribbon first for the station. The acquisition of an ampex videotape recorder made WSAZ the first station in the market to bring the ultimate of recorded television viewing to its public.
Neil Boggs joined the Charleston news staff in July of 1958. 1958 brought some sadness, as Colonel J. H. Long who, at the age of 95, died with the realization of a dream few men ever conceive. Born 6 weeks before the battle of Gettysburg on a Pennsylvania farm, his success sprang from humble beginnings, and was not without its setbacks. He began as a printer's devil, and lived to see the installation of color television at WSAZ.
The station lost a man who had become beloved by all, city and country folk alike, farmer Bill Click, winner of numerous awards in the field of agriculture. He was succeeded by another well known farm figure, John Heiskell who passed away in the 60's.
The first years in the history of WSAZ were really the most active; a decade when dramatic changes and innovations were taking place in television around the country, and particularly at WSAZ. It was a period of great growth.
WSAZ began the decade of the 70's with new modern facilities. The beginning of this new home was in December of 1971, on the corner of Fifth Avenue and 7th Street. This was another investment that would enable WSAZ to improve its capabilities and better serve the area. The move into the new plant took place in January of 1973. Another pioneering effort began in 1971. . .WSAZ was one of the first stations in the nation to institute the live series "Town Hall." In cooperation with the League of Women Voters, this community affairs program was a live four-hour prime time special that provided an opportunity for the voter and the candidate to become better acquainted. The series continues today.
In 1974 WSAZ opened its third full-time news bureau with an office in Parkersburg. And another first in 1974 was the introduction of "The Vidicam," a light weight fully portable electronic color camera which permitted the viewer to see events almost as soon as they happened. In 1976 WSAZ introduced to the area the first light weight portable microwave live equipment. This new technology permitted the instant broadcast of news and community affairs events.
WSAZ has always been a part of the Kanawha Valley so in 1977 the Charleston operation moved into new modern facilities off the interstate on Columbia Avenue. This was just another investment in the future that strengthened the earlier pioneering effort as the only station in the region operating with live newscasts originating from studios in two cities.
In 1980 the stars came out for the Scarlet Oaks Celebrity Golf Classic. Bob Bower and Budd Dailey hosted the affair when WSAZ broadcast live coverage of the two day event from the country club in Poca.
As those old days come back to mind.. .here are some familiar pictures to remember. . .Brownie Benson and Twilight Time. . .Bert Shimp from former WSAZ Radio and WSAZ Television. . .Maida Smith. . . in Maida's Kitchen. . .Bob Mills as the 'Old Timer'. . .Jule Huffman and 'Night Watch'. . .Or 'Shockwatch' hosted by Gaylord and played by Fred Briggs. . .now an NBC correspondent.
Over this period of 38 years, four different companies have owned this station. Even when changes occurred, they might well have escaped notice had they not been announced in newscasts, because the same attitude toward community service and community involvement has dictated the policies of this station regardless of the corporate name of the licensee. That's only natural, since the same people have been in most of the management positions in the station regardless of ownership. Many of the staff have worked at WSAZ-TV for more than 25 years. Many are natives of this immediate area. In this group is also one special person who spent over 36 years at WSAZ. He is WSAZ television 3's chief engineer John Clay, who put the station on the air in 1949, a true pioneer of the television industry who retired in 1986.
George R. Andrick, a native of Wood County and a former general manager, worked with WSAZ for 33 years before his retirement in 1986. (And both a Past President of the West Virginia Broadcasters Association and named a Distinguished Broadcaster by the WVBA).
It was just 38 years ago that the number of television sets in the Tri-state area was just a few hundred, and at that time there were actually only a million sets in the entire country. Television was just a conversation piece and this new medium, at the time, faced some basic questions. Would it be just a passing fad in the communications medium? What would the public reaction to it be? What would be its responsibilities? Well, it didn't take 35 years for us to get the answers to many of the initial misgivings concerning television. WSAZ pioneered this growth in the Kanawha Valley and the Tri-State. Its dedication and accomplishments over the past 35 years demonstrate a continuing commitment toward service to the peoples of the area as it looks ahead to the 90's.
WSAZ-TV began this decade with the addition of a modern state of the art mobile production unit that would provide quality on location production to area businesses plus origination of area events of importance to its viewers: added "PM Magazine" to the primetime program schedule; a weekday magazine featuring people, places, and lifestyles of this region and the country; introduced the "Live Eye". . .new equipment and technology that enables the WSAZ news team to get news as it happens and report it on-air live.
WSAZ-TV is now pioneering a local effort to recognize academic achievements of top scholars from high schools throughout the area with "Best of the Class." This effort includes a series of announcements that pay tribute to the efforts of these young people. Weather reports are important to most everyone and WSAZ's recent introduction of the Kavouras Triton Radar System provides the technology for weathercasts which gives viewers information from a whole new angle.
Another recent program undertaken by WSAZ was "Operation Missing Children," an on-going effort that includes special reports, public service announcements and a cooperative program with area law enforcement officials to fingerprint children and talk to them about safety. WSAZ's newest advancement in technology is the Ku Band Satellite System for reception of program service from the NBC Television Network. This ends 36 years of network interconnection by microwaves and coaxial cable, providing the viewer with a more reliable, versatile and superior quality picture. The Ku Band Satellite enhances news gathering capabilities from throughout the United States as well as the world.
Also, on February 26, 1987 WSAZ added the state's first satellite up-link system at its Charleston studio. The system is capable of distributing programming from Charleston to any place in the world. WSAZ has grown and will continue to grow and improve its capabilities so that it can better serve the interests of its viewers.
The current general manager is Gary Schmedding, who joined the station in 1987, replacing Howard Kennedy, who in turn replaced George Andrick. George had been general manager since 1961, retiring in 1987. (Andrick became Senior Manager when Kennedy came as General Manager.) During Andrick's 'partial retirement' he assumed the position of Community Relations Director for the station for a one-year period. WSAZ-TV established a George Andrick Scholarship Fund at Marshall University, Huntington upon Andrick's retirement. WSAZ-TV also furnished assistance to the WVBA during the years that Jack Williams was Executive Director of the WVBA. Jack assumed the WVBA position upon his retirement from WSAZ-TV.
---
Note: The above article states that Bob Horan was the first Charleston news director, in 1955. However, Gill Brooks (e-mail: gkzam-aol@Worldnet.att.net) initiated the first coverage by telecasting from the second floor converted radio studio. When Bob was hired, they were already using the new ground floor studio.
---
Recollections of Susan Chambers
My mother was Sue Chambers, and she worked at WSAZ from around 1954 to around 1959 or 1960. She was on a number of live shows at the station.
Although she normally didn't sing country/western music, she was asked to do a song or two each week on Saturday Night Jamboree. Many times I did Martha White commercials with my mother during those Saturday shows. I learned a lot from her when we were together. Flatt and Scruggs used to have a 15 minute show on Saturday too. Mother and I would come to the station Saturday, and in the afternoon, bake the biscuits that were to be used for the evening commercials. During the time they were baking, I would visit with Lester and Earl after they rehearsed before their show, or play on Steamboat Bill's boat, which was in the same studio as the kitchen. I'd also visit with some of the other entertainers on Saturday Night Jamboree, like Ralph Shannon and occasionally, Minnie Pearl.
Mother did a lot of commercials. I remember doing Sunbeam Bread and Martha White commercials with her. The show that she was most known for was Coffee Time with Dean Sturm, Brownie Benson's Combo, and others. It came on every morning. It was a talk show with a live audience and entertainment. She not only was on the panel, but sang too. Mother also had a "Charm School" segment where she did exercises, and talked about fashion, health and beauty issues. They even mailed out little booklets with exercises in them for those who requested it.
Near the end of her time at WSAZ she was on another show called Music in the Round, where popular music of the time was performed. Mother was one of the singers on the show. I believe Jule Huffman performed on that show as well.
I remember a lot of other personalities who worked at WSAZ during that time. They were all extremely nice, but a very young Fred Briggs was one of my favorites. He used to do Shock Watch on Saturday night, and sometimes I would have to be at the station before 11 p.m. for a dry cleaning commercial. They didn't tape things in those days, so everything was done live. I would watch Fred apply his vampire makeup while waiting for it to be time for my commercial. He really had fun doing that show, and he was quite creative.
Right before we moved to Michigan, the station was just getting modern recording equipment and the last year or so that Mother was there, they actually started taping a lot of their commercials. I was quite young at the time, but remember these really large machines that had huge reel to reel tapes on them.
Mother was good friends with Dorothy Jean (DJ) Schroeder, who was WSAZ's weather girl, Brownie Benson, and his wife Dottie, and Jule Huffman and his wife, Gladys. I also remember Jim Thacker, who did the sports. Mother was extremely professional and was well loved and respected by everyone she worked with at the station.
Some years after moving to Kalamazoo, Michigan, which was around 1960-61, she was asked by the station to come back to Huntington to work with Bob Hope for some sort of benefit that was being held. She also continued singing professionally with a big band, and doing radio and television work with other well-known personalities, here in Michigan.
Sadly, after a two and a half year valiant battle with cancer, Corinne Chambers (Sue) passed away August 24, 1980, and the early age of 54. She was a beautiful, talented, and loved person. She's greatly missed.
---
WSAZ Is First High-Power TV Station
RCA Ships 25-KW Conversion Equipment for
First Post-Freeze High-Power Installation
This article appeared in RCA Broadcast News, July-August, 1952. Photos from this article are available here.
by LEROY E. KILPATRICK
Chief Engineer, Station WSAZ-TV, Huntington, W. Va.
The receipt and installation by WSAZ-TV of complete high power TV conversion equipment marked the beginning of a new era in post-freeze television. When operation began under full power on August 4, WSAZ-TV became the first post-freeze, commercial, high power television station for VHF.
WSAZ-TV had been previously serving the Huntington area on Channel 5, using a standard RCA TT-5A, 5-KW Transmitter. For some time, plans had been made for increased power, and application was filed for a construction permit on Channel 3. Granted a top priority rating, WSAZ-TV was one of 30 stations in the United States authorized to change channels as part of the FCC's schedule for post-freeze national expansion. The FCC plan envisages nearly 2000 TV stations in this country. Only 109 are operating to date.
The new conversion amplifier at WSAZ-TV makes it possible for people in the West Virginia-Kentucky-Ohio tri-state area to enjoy high quality television reception. The new equipment has increased by five times the station's former power. This means much clearer pictures in our present reception area, and greatly extended coverage even into parts of Tennessee and Virginia. Fringe areas particularly, have gained the benefits from this power expansion.
Shipment of Equipment
The WSAZ 25-KW Amplifier, television's most powerful broadcast equipment yet shipped for commercial use, left the RCA Victor plant in Camden by truck caravan. The equipment was shipped by a "Pony Express" truck of Service, Inc., and weighed approximately 7500 pounds. It consisted of aural and visual power amplifier and blower units, each weighing 1000 pounds; and aural and visual power supply and filter units, each of 1000 pounds. In addition, there were aural and visual control units, 900 pounds each; aural and visual transformers, each 800 pounds; a vestigial sideband filter; and tubes and accessories. A three-bay television bat-wing type antenna was also supplied in a separate shipment from the RCA Victor plant.
Planning the Transmitter Room Layout
During early planning stages, we were perplexed with the problem of inadequate space in our transmitter room. Due to the flexibility of the TT-25AL Conversion Equipment, we found that it could be easily located in front of our TT-5A Transmitter and at the ends, rather than the usual arrangement which will be used by most broadcasters with larger transmitter rooms. In these cases, the conversion amplifier equipment would be located at the rear, with power and control cabinets at each end, in line with the transmitter.
In our final arrangement of equipment, we employed a horseshoe layout with all equipment in the front. Planning had indicated that our problem of spacing would not be entirely eliminated although it would be greatly improved. This was found true after installation, and the layout flexibility in the equipment has provided all that we anticipated. The final location of the TT-5A Transmitter, Conversion Equipment, and associated Power and Control Cabinets is shown in the floor plan of Fig. 4. As will be noted in Fig. 4, a wall section was moved to provide adequate walk-around space near the console and power cabinets.
Installing the Conversion Equipment
During the installation of the new power amplifier, the chief problem we faced was that of making a rapid changeover with no loss in air time. This work started shortly before the antenna change (see below) and proceeded simultaneously with the antenna changeover from Channel 5 to 3.
Changeover required that the following operations be performed overnight without loss of scheduled program service for the following day. Sign-off time was approximately midnight and sign-on around 11:00 a.m. the next day.
(A) Transmitter Equipment Installation
1. Installation of new tuning kits and crystals in both sound and picture transmitters.
2. Removal and modification of both Balun Units.
3. Retuning of sound and picture transmitters, re-neutralizing of driver stages, re-broadbanding of picture P. A. stage and power output check.
4. Completion of the coaxial line run from the new 25-KW Diplexer to the antenna lines at the point where they entered the building, including the 90-degree phasing section.
5. Air test and frequency checks of both carriers.
(B) Antenna Equipment Installation
(1) Channel 5 antenna was removed from tower during the night and
(2) placed on a telephone pole.
(3) Transmitter was then fed into this antenna.
(4) Channel 3 antenna was raised to tower and checked out.
The quality after changeover was found to be unchanged and the new antenna, VSWR, was excellent, showing 1.03 at picture carrier and 1.11 at sound carrier. These are the VSWR values taken from the TT-25AL reflectometers when first connected to the new antenna.
Both sets of radiators gave almost identical traces and the opening of a gate in a wire fence caused variations in the scope pattern showing that the antenna really had a better impedance match than curves had indicated. When mounted on the tower the match proved to be excellent. Reports were received over a wide area indicating increased signal strength and the elimination of "snow" from the pictures in the fringe areas.
Description of WSAZ Conversion Equipment
The WSAZ-TV 25-KW Conversion Equipment consists of a linear amplifier for the visual carrier and a Class C amplifier for the aural carrier, plus the necessary power and control cabinets for the aural and visual equipment.
Our new equipment employs air-cooled tubes and transformers, metering for all amplifier tubes and high speed a-c and d-c overload protection. R-F circuits are single-ended. The vestigial sideband characteristics are determined by a fixed-tuned sideband filter.
Each amplifier consists of a single power stage utilizing a cluster of seven air-cooled 5762 triodes in a grounded-grid circuit. Tank circuits are completely air-cooled. Diode monitors allow tuning and monitoring at both the 5-KW and 20-KW levels. The equipment contains the necessary auxiliaries such as bias supplies and control and protective circuits.
The amplifiers are housed in cylindrical cabinets which provide accessibility to all tubes as well as their circuit components. Air-cooling is provided from a blower incorporated in the base of each amplifier. Power supply as well as control and distribution facilities are housed in individual cabinets which match the TT-5A. There are two cabinets for the aural section and two for the visual section.
The visual amplifier is sufficiently broadbanded to prevent any substantial degradation of the 5-KW picture in passing through the amplifier. A reflectometer is included in both the aural and visual transmitters to provide direct readings of standing wave ratio and percentage of deviation from assigned power. The conversion amplifiers require 208/230-volt, 3-phase, 60-cycle power, and have a power factor of approximately 0.90.
TV and AM Future Studio Planning
At present, WSAZ A studio programs originate at 912 1/2 3rd Avenue in Huntington. TV studio programs are "microwaved" from the West Virginia building 14th floor to the WSAZ transmitter/tower site.
As a part of the WSAZ-TV expansion and planning and in keeping with the increase in station power, future AM and TV studio facilities will be centralized and combined in a single, modern studio building.
Plans submitted by the Austin Company, Engineers and Builders, for the proposed new WSAZ studio buildings are shown in the illustrations of Figs. 14, 15 and 16. The new building when completed will provide WSAZ with an efficient and centralized two-studio layout. One of the TV studios (Studio 2) will serve as a combination AM and TV studio and will include complete kitchen facilities for food or cooking commercials. Video control monitors will be located to provide visibility into both TV studios, announce booth and projection room. Just to the rear of the video console will be located a client's observation lounge which will provide visibility into the main Television Studio, No. 1; the AM Studio, No. 2; and into the control room. Also located on the first floor will be ample property and storage facilities with a ramp at one end and generous entrance doors at the other end leading into both TV Studios. This arrangement will provide smooth traffic flow during arrangements of shows.
Also to be situated on the first floor are Studios "A" and "B" and a separate recording room for AM programming. As a supplement to the Television film projection room, a separate film editing room is planned. General management, sales, publicity, production and programming offices will be located on the second floor (Fig. 16).
---
First Mr. Cartoon George Lewis Dead
December 20, 2000

HUNTINGTON (AP) - George Lewis, the original "Mr. Cartoon" for WSAZ-TV, has died from cancer. He was 74.

Lewis died Monday at his home near Baltimore.

During the late 1950s and 1960s, Lewis entertained children in West Virginia, Kentucky and Ohio as the star of WSAZ's "Steamboat Bill" and "Mr. Cartoon" programs.

Jule Huffman took over the role of "Mister Cartoon" in 1969 when Lewis left WSAZ to take a job with a Maryland television station.

"George was a very talented man and loved doing story line," said Huffman.

"He put his whole heart and soul into it."

Lewis began his career at WSAZ in 1957 as a staff announcer. He also was a news anchor for the station.

"He was a nice, easygoing person," said Bos Johnson, former news director at WSAZ. "But he had strong convictions. The program was for the children."

Lewis is survived by his wife, Dorothy Douekin Lewis, and five daughters.

A private memorial service will be Friday at St. Stephens Traditional Episcopal Church, Timonium, Md.