History of WTAP-TV, Parkersburg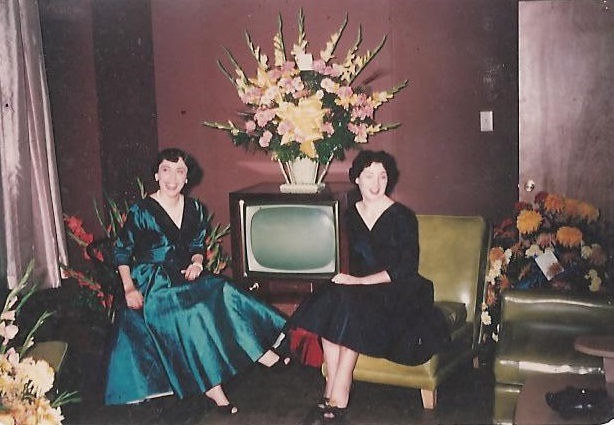 Mary Jo Bailey, Traffic Manager and Wilma Sams Moore in the lobby of WTAP
when the station signed on in 1953. Photo courtesy of Mark Aulabaugh.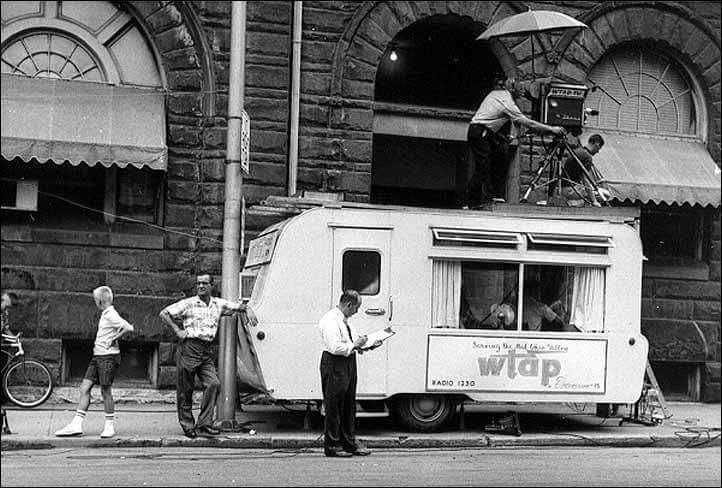 Most of the following information was supplied by the station.
According to the station, WTAP-TV, Channel 15, Parkersburg, went on the air on Oct. 8, 1953. The original owner was the Frank Baer Group.
On Oct. 8, 1953, WTAP-TV was granted Special Temporary Authorization to operate commercially; that may be the source of the above date.
Broadcasting magazine of Oct. 26, 1953, reported that WTAP began broadcasting "last week."
A newspaper article which is supposed to be from Nov. 10, 1953, reported, "WTAP, West Virginia's fourth television station, is scheduled to go on the air this week. The station will telecast over ultra high frequency channel 15. Ted Eiland, president and general manager of West Virginia Enterprizes Inc., said the outlet will be affiliated with the ABC and DuMont networks."
Ted Eiland was manager from 1953 to 1955. The 1954 Radio Annual lists Theodore A. Eiland as president and general manager of WTAP and West Virginia Enterprises, Inc. He earlier served seven years in an executive capacity with WSAZ AM-TV Huntington, and resigned in April 1953 to associate with West Virginia Enterprises Inc., and begin construction of WTAP.
On March 30, 1955, the sale of the station to T/R Inc. (Zanesville Publishing) was approved by the FCC.
Managers under T/R Inc. ownership were Milton Komito, Gene Loeffler, and Ron Maines.
On Nov. 2, 1967, WTAP-TV was sold to the R. L. Drake Co. (Drake Electronics, Miamisburg, Ohio).
From 1967 to 1972, Tom Garten, formerly sales manager at WSAZ-TV, served as manager.
In 1972 Shermann Grimm became the manager.
In November 1974 the sale of the station to PMA Communications Inc. was approved by the FCC.
On Dec. 14, 1979, the Benedek Broadcasting Corp. bought the station.
---
Tom Neale Obituary (2009)
Thomas Eugene Neale, 83, died Sunday, October 11, 2009, at Camden-Clark Memorial Hospital following a brief illness.
He was born in Wood County, W.Va., on September 19, 1926, son of the late Howard F. Neale and the late Gertrude B. Foster Neale.
Tom was a graduate of Parkersburg High School, class of 1944, and Ohio University, class of 1949, where he earned a degree is psychology. He also completed the Principles of Management Course from the Chamber of Commerce Institute at the University of Michigan. He served in the U. S. Marine Corps Reserve, from 1948-50. He was a member of Stout Memorial United Methodist Church.
His professional life was very active and diverse. After more than ten years in the radio business, where he worked as a broadcaster, advertising director, and sports analyst, Tom began a long association with Parkersburg's WTAP Television. His twelve years at WTAP, as a sportscaster, news anchor and program director, made him remain widely recognizable until his death. Tom was the first person to appear on WTAP when it went on the air in 1953.
After leaving WTAP-TV, Tom became Director of Marketing and Public Relations for Camden-Clark Memorial Hospital in Parkersburg, where he worked for an additional twelve years before retiring in 1991. He remained loyal to CCMH for an additional 19 years after retirement as a hospital volunteer.
In addition, Tom served as Assistant Managing Director for the Parkersburg Chamber of Commerce and the Executive Director of the Parkersburg Retail Merchants Association. He also was a former Executive Vice-President for the Marietta Chamber of Commerce and the Secretary of the Marietta Retail Merchants Association.
Tom also served the local area as past Chapter Chairman for the Mid-Ohio Valley American Red Cross, a past Chairman of the Parkersburg and Wood County Visitors and Convention Bureau, and a Past President of the Smoot Theater Board of Directors. He also served as a dedicated and active member of the Parkersburg High School Foundation.
Tom was well-known as "The Voice of the Big Reds" as the stadium play by play announcer at all Parkersburg High School football games for 32 years.
Tom was a member of the Benevolent and Protective order of Elks #198,. He was a member of the Ancient Free and Accepted Masons, Mount Olivet Lodge #3; the Scottish Rite, Valley of Parkersburg, and the Ancient and Arabic Order of the Nobles of the Mystic Shrine, Nemesis Temple of Parkersburg, where he was a member of the Directors Staff. He was a member and Past President of the Ohio Valley Shrine Club and a member of the Ben Bay Grotto.
In addition to his parents, Tom was preceded in death by Marjorie Snider Neale, until her death in 2003.
Tom is survived by his wife, Maxine Marshall Neale of Parkersburg, his son, Steven L. Neale of Phoenix, Arizona, and his step-daughter, Linda Marshall (Richard) Board of Vienna, W.Va.; a step-grandson, Jeffrey Marshall Board (Angie) of Vienna, W.Va.; and a step-great-grandson, Chase Michael Board of Vienna, W.Va.
Funeral services will be conducted by Lambert-Tatman Funeral Home of Vienna on Wednesday, October 14, 2009 at 2:00 p.m. with the Rev. Scott Sears officiating. Visitation will be Tuesday from 2:00 p.m. to 4:00 p.m. and 7:00 p.m. to 9:00 pm at the funeral home. Burial will be at Mount Olivet Cemetery with Masonic graveside services presented by Mount Olivet Lodge #3. In lieu of flowers, Tom's family requests that donations be made to the Stout Memorial United Methodist Church Building Fund or to the Shrine Crippled Children Hospitals.
---
Brevard Actor Theodore Eiland Dies (1998)
This article appeared in Florida Today on Feb. 6, 1998.
By LAURA J. BROWN
COCOA BEACH - Theodore A. "Ted" Eiland, a retired television executive, died Wednesday, Feb. 4, at Wueshoff Hospital in Rockledge. He was 81.
Mr. Eiland grew up in Logan, W.Va. After graduating from the University of West Virginia with a journalism degree, he served in the Navy as a lieutenant during World War II. Mr. Eiland began his career in broadcasting in Charleston, W.Va.
"Capt. John Kennedy was a speaker at his graduation and was very impressed with Ted. He owned a radio station in Charleston and asked Ted to come and work for him," said his wife of 51 years, Lillian Eiland of Cocoa Beach.
In 1970, Mr. Eiland moved to Brevard to own and operate WKKO radio station in Cocoa. He retired from broadcasting in 1975, and became a lecturer in communications at Western Carolina University. The Eilands returned to Cocoa Beach in 1978.
Throughout his life, Mr. Eiland maintained an active interest in the theater. He appeared in numerous plays in Melbourne and Cocoa Beach and traveled with the one-man show "Clarence Darrow". Matt Roush, a former Today critic, was quoted as saying, "'Clarence Darrow' is a provocative, stirring entertainment delivered with great style and energy by one of Brevard's best actors."
Mr. Eiland also wrote the play "The Most Dangerous Woman," which won a national award and was performed in New York City. The play also was aired on PBS.
"He was a very talented, compassionate man with a sense of humor and a great deal of integrity along with that," his wife said.
Other survivors include his sons, Howard Eiland of Sharon, MA, Stuart Eiland or Winchester, VA, Robert Eiland of Northborough, MA, and Richard Eiland of Orlando; and seven grandchildren.
No calling hours are scheduled. Services are at 11:30 a.m. today at Surfside Playhouse in Cocoa Beach. Burial will be in West Virginia. Beckman-Williamson Funeral Home in Cocoa Beach is in charge of arrangements.
Donations may be made to Surfside Players, P.O. Box 320053, Cocoa Beach, FL 32921; or to Wuesthoff Brevard Hospice, c/o Wuesthoff Health Systems Foundation, P.O. Box 565002, Rockledge, FL 32956-5002.
***** An Appreciation of Dad. There are zillions of ways my dad influenced me. But I think one of the things I find most inspirational is his courage at taking risks, even big ones, like investing all his money - and losing it - in a UHF TV station in WVA. It was an innovative idea before its time. His capacity to remain optimistic even in trying times was also something I try and hold to whenever I can. He was joking on his last day, even though his words were incoherent. Whether or not I always agreed with him, he always cared as much as, or more than, anything about being a good and caring father and husband. And he listened and learned as he aged. As his graciousness and timing were impeccable in life, so too in death. He went before the whole ordeal with nursing homes could get under way. I believe he chose to. His love, and ours for him, endure.
-Bob