History of WTIP, Charleston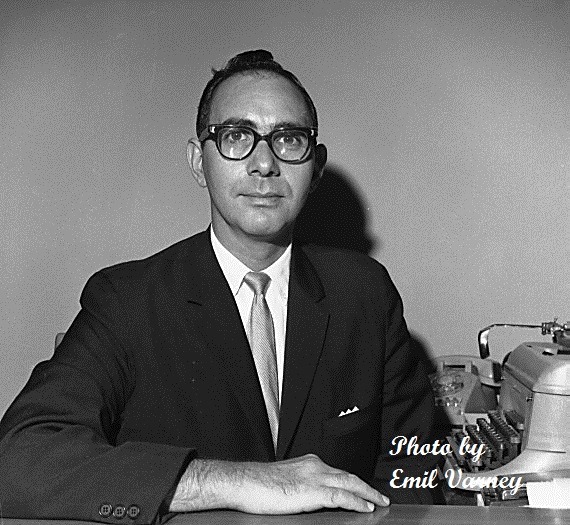 Mel Burka. Photo by Emil Varney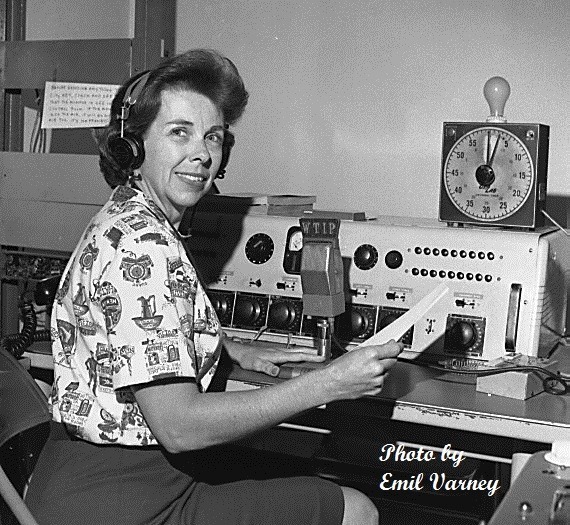 Shirley Annand in 1963. Photo by Emil Varney
Picture: Newspaper ad announcing WTIP, Charleston Gazette, Nov. 24, 1946
Picture: Early camera used by WTIP's experimental television station
---
These comments on the first year of WTIP's operation were provided by Ted McKay of Cincinnati, Ohio, a member of the original staff. A picture of McKay at WTIP in 1946 is shown below.
WTIP was the first Charleston station to go on the air following the construction boom that dominated the radio broadcasting industry after the lifting of the freeze that had been in effect during World War II. I joined WTIP the first week the station was on the air, and remember with fondness the time I spent there in 1946 and 47. I had been encouraged to move to Charleston from Cincinnati by the station's first Program Director, Dick Glaser, whom I had known as an announcer at WCPO in Cincinnati.
With a limited budget and the Mutual Network the station was little more than an oddity on a radio scene dominated by WCHS (CBS) and WGKV (NBC). The call letters were always assumed to mean "TOPS IN PROGRAMS," but that was probably more wishful thinking than an acronym! Nevertheless, the standard break was:
"TOPS IN PROGRAMS - WTIP, CHARLESTON."
Most of the original WTIP staff left during the first few weeks of operation, and within 2 months I was the senior announcer. Frank Annand joined the staff early in 1947, followed by Ned Skaff, Bob Bower and Tommy Woodrum (as Sports Director) later the same year.
Studios were above the Scott Drug Store at Capitol and Fife Streets and the transmitter was off the old Ferry Branch Road. The station broadcast 7 days a week from 6AM until 1AM; pretty much standard at that time. Announcers worked alone in 8 hour shifts. There was no local news other than what was provided by the Associated Press radio news wire read by the announcer on duty.
Gus Zaharis, the co-owner, had been a pioneer in experimental television, operating a TV station in Charleston before the war. Gus had hoped to open Charleston's first TV station if his AM venture proved successful. It was ironic that it was Zaharis' withdrawal of his application for channel 49 some years later that permitted WKNA to become Charleston's first commercial TV station.
Zaharis, an exceptionally innovative broadcast engineer, was responsible for what may well have been the first 2 way telephone calls ever broadcast. He tied in to the C&P lines and I took calls from listeners on my evening record request show Yours for the Asking. This venture was short lived since C&P quickly advised us that the telephone tariffs then in effect did not permit the use of regular telephone lines for radio broadcasting. It was several years later that the familiar but now extinct "beeper" was used to indicate that a call was being recorded and/or broadcast.
I left Charleston in November of 1947, but returned in mid 1949 when I joined WKNA.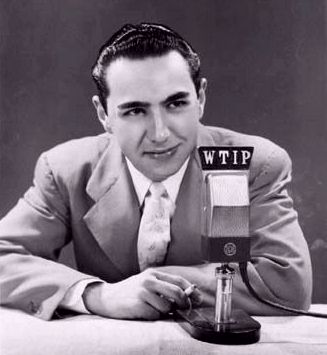 Ted McKay at WTIP in 1946
---
The following history of WTIP was supplied by the station.
WTIP-AM Charleston came on the air November 4, 1946 at 1240 khz. [Jeff Miller note: actual date was Nov. 24, 1946, at 2 p.m.] Chemical City Broadcasting, owned by Gus Zaharis and Mel Swillinger put WTIP on the air, with studios located on the second floor over the old Scott Drug Store on Capitol Street in downtown Charleston. The transmitter was located on Hillcrest Drive, Capitol Hill. As was typical in those days, the station's format was mixed...a little bit of everything. Dick Glaser was the first general manager. He left the station, went in the wholesale hardware business. Gus Zaharis bought Swillinger's share of the Station and became the sole owner.
When Glaser left, Bert Sonis came over from WCHS to become the general manager. Mel Burka became the sales manager. Then in about 1955, Bert became ill. At that time, Mel Burka became acting general manager. When Sonis died in 1956, Burka assumed the manager's position. His brother, Bud Burka became sales manager. Bob Bower joined the staff in both sales and play-by-play. He broadcast Morris Harvey basketball games for about 20 years. He also developed the first radio spots for Shoney's (when the first restaurant was a drive-in spot on Kanawha Boulevard), working with Continuity Director Shirley Annand. Bower died suddenly at the age of 45 in a doctor's office (immediately after having been proclaimed in great shape by the doctor!).
"Kanawha Valley Jamboree" was a favorite early morning program in the early days, with 'Sleepy' Jeffers on that air shift. Sleepy later went to WCHS-TV, where he had a country music show and also worked a board shift at WCHS-AM. Women's Director Shirley Annand began what became the longest running daytime interview program in the valley and was an air personality at WTIP for many years. Following her hosting the noon-time show was Marilyn Fletcher (WVBA Executive Director), then Nancy Hill. Fletcher was Continuity Director and Operations Manager for two years while doing the program.
A Mutual Network affiliate, the Station broadcast the World Series games. The staff would place two speakers just outside the second floor window so that people walking below could hear the game highlights. During some tense game moments, as many as 200 people would assemble below to hear the games.
In 1958 Don Catalano built a building on Dickenson Street, with the planning made for WTIP to occupy the entire second floor. At that time, the studios and offices were moved to 210 Dickenson. Mort Victorson joined the sales staff in 1957.
Among notables who worked at the station was Charlie Coleman, a Charleston 'fixture' in broadcasting. Charlie worked the morning show for many years until retirement. Bob Barron, air personality and local thespian went on to California where he became an actor and writer. He may be seen on network TV shows these days. Another well-known West Virginia broadcaster who worked for several years at WTIP was Hugh MacPherson. Hugh worked an afternoon show. Then his show 'Rehearsin' With MacPherson' was a late-night favorite in the area for many years until his retirement. (He was working for WV Public Broadcasting when his show was taken off the air.) Hugh's favorite talk show subject was unidentified flying objects. He had a great deal of interest and knowledge about jazz, being a former band leader and instrumentalist. Hugh interviewed many jazz 'greats' on his radio shows during his long career in the Charleston area and played the latest and best in jazz music.
Mort Victorson recalls that WTIP was the first station in the area to have 'on-the-spot' live news coverage when Gus Zaharis (who was an engineer) designed a homemade antenna, placing it on a white Buick, creating a remote vehicle. This car was used for some time at fires and other news events to broadcast on the scene coverage.
WTIO-FM came on the air in September 1964 at 102.7 mhz, with 50 kw power, simulcasting programming with WTIP AM.
For many years it was known as the 'Beautiful Music' station of Charleston. Early morning traffic reports were initiated in the Kanawha Valley by Bud Burka (in mobile # 1) and Mort Victorson (in mobile # 2) in the 70's. Manager Mel Burka was a vital leader in the West Virginia Broadcasters Association, serving in several offices, including being President. The association's Distinguished Broadcaster Award, presented yearly was named for him after his untimely death.
When Mel Burka died suddenly in 1975, Gus Zaharis took over the manager's position. Bud Burka retired, Mort Victorson left for WBES- FM. Sons Jim and George Zaharis became more active in the stations' management. Studios were downtown on Dickinson Street until about 1978 when the totally refurbished studios and offices were completed at transmitter site (and in building that once housed one of the city's earlier stations), 817 Suncrest Place.
The stations were sold in 1981 to Beasley Broadcasting. At that time the FM became WVSR, with format changed from big band/beautiful music to contemporary hit radio. Then in 1986, the stations were sold to Ardman Broadcasting. Both stations are now 24 hour/day operations, with the AM format being oldies; FM still contemporary hit radio. Jack Alix is the General Manager. He joined the station in 1988.
---
Clarke Ingram Comment
An interesting note about WTIO becoming WVSR. They had signed on to be one of the first affiliates of a new national Top 40 format called "SuperRadio," which would have featured WABC's Dan Ingram and other big-name talent. Another proposed affiliate was WQSR Catonsville-Baltimore, hence the "SR" call letters. The format launch was aborted and it never got off the ground, but the "SuperRadio" jingles were sung, and used on WVSR when it switched format.
---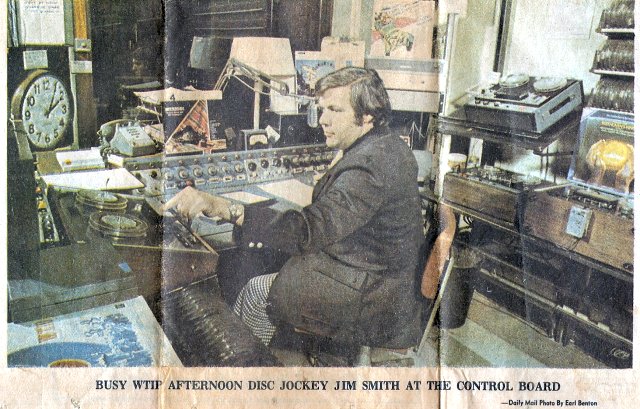 From the Charleston Daily Mail, May 11, 1977
---
Murphy Tinsley Comment
In July 1999, Murphy Tinsley, a television producer director with West Virginia University wrote the following:
In 1978 I worked at WTIP WTIO for a year between high school and college. It was owned by Gus Zaharis. Both of his sons worked there; Jim was the CE and George was a salesman. Mort Victorson, Bud Burka were in sales. Charlie Coleman did a morning show, Jim Smith, Bill Richardson, Frank and Shirley Annand were also air talent.
There was an hour of classical music on AM in the afternoon and a 2 hour syndicated classical show called Starlight Concert on FM. They carried the Metropolitan Opera in season and The Bud Burka Bowling Show in season, NBC News and I believe they did Morris Harvey Basketball.
The most distinctive thing I remember about the station were the 12 noon and midnight sounders. My father always listened to the station and I remember getting scared when the midnight sounder would play. Years later it cracked me up to be playing the same midnight and twelve noon sounders.
It was a great station, truly a class operation. I remember at the time C.W. McCall had a show about CB radio on the NBC Network. We had to cover all the net promos for the show because they found them to be offensive. Clients were never allowed to do their own spots, only station talent. They had a clearly defined sense of their audience (without the aid of consultants.) Even as a high school kid, the station taught me a lot about programming and never underestimating your audience. With today's Corporate mentality, a station like WTIP and WTIO could never exist.
Another TIP-TIO works with me in Morgantown, Greg Shock. Greg is a senior producer for the Mountaineer Sports Network.
---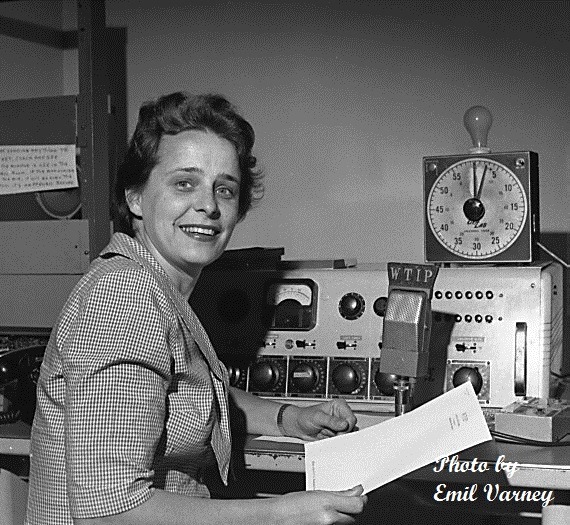 Photo by Emil Varney
---
Memories of WTIP/WTIO-FM
By David Hartsaw, Dunbar, WV
I went to work for WTIP in 1969 while at student at Charleston High School. My Uncle, Joe Herget, had been News and Program Director there in the early 50's. It was this connection that got my interview with Charlie Coleman the current Program Director. I began as weekend board operator from 6 P.M. until sign off.
I was immediately struck with what I considered a family atmosphere. Gus Zaharis was never more than a phone call away and his son Jim was Chief Engineer. I quickly learned that Gus Zaharis could diagnose almost any issue by telephone and Jim or George were quick to arrive and remedy the problem. Mel Burka was General Manager with Bud Burka and Mort Victorson in sales. Charlie Coleman was Program Director and morning on air while Hugh McPherson was afternoon talent noon to 6 P.M. Steve Smith worked evenings and Les Hamrick was another weekend staff member. Shirley Annand was Continuity Director and her husband Frank did a 6 P.M. newscast. Ruth Silverman served as Office Manager in a time when logs were a complex matter with many commercials written in by hand and meters read every half hour.
I recall that I trained for two weekends and was on my own with all music on 7 inch reels and what seemed to be hundreds of commercials and PSA's on 3 inch reels. Mastering that board (which I was told was built by Gus Zaharis) was no small feat.
All music was selected by Mel Burka and as time passed I was given the task of recording these selections on 7 inch reels.
I spent a good deal of time in one of the production rooms working on my delivery and had a keen interest in news. During my first year of college Mel Burka offered me additional air time doing afternoon newscasts and covering major local stories.
I have fond memories of my time at WTIP-WTIO FM. Mel Burka and Charlie Coleman taught me quite a bit and Hugh McPherson fostered my interest in Jazz. It was a fascinating first job in radio that I will never forget. I enjoyed every minute and left in late 1972.
---
Channel 2 Television, Never Built
Here is a partial timeline for the application of a television station on Channel 2 by WTIP and WMON, provided by Clarke Ingram.
March 27, 1953. Joint petition is filed by Chemical City Broadcasting Co. (WTIP), Charleston, and Fayette Assoc. (WMON), Montgomery, requesting allocation of VHF Channel 2 to Montgomery-Handley area so that joint application may be filed for TV station there. Minimum separation on Ch. 2 is observed, petition states.
May 11, 1953. Broadcasting reports that the joint petition of WTIP Charleston and WMON Montgomery seeking allocation of VHF channel 2 to Montgomery-Hadley was denied by the FCC. The stations had proposed a joint application for the channel.
Oct. 16, 1953. The addition of Channel 2 at Montgomery is sought in a joint petition by WTIP and WMON. They contend Channel 2 can be added without affecting any other assignment, explaining that VHF is needed to provide coverage to "narrow, deep and closed-in valleys" of the coal mining region. They cite a 483,000 population in a 35-mile radius. The decision as to which will file for the station has not yet been made.
Oct. 21, 1953. WSAZ-TV amends its previous application for a power increase to include a transmitter site change.
Nov. 2, 1953. Broadcasting reports that on Friday WTIP and WMON requested that the FCC withhold action on the application of WSAZ-TV to move its transmitter site because if the move were approved, it would wipe out the only area in Montgomery where a Channel 2 transmitter could be sited. The Oct. 16 petition found only a five-square-mile triangle available for the Montgomery station.
Nov. 12, 1953. West Virignia TV Corp. seeks VHF ch. 2; ERP 13.7 kw visual, 8.21 kw aural; antenna height above average terrain 670 ft, above ground 349 ft. Estimated construction cost $224,200, first year operating cost $216,000, revenue $216,000. Post office address c/o Arnold M. Vickers, Box 29, Montgomery, W. Va. Studio and transmitter location 3 miles N of Montgomery. Geographic coordinates 38° 13' 36" N. Lat., 81° 20' 16" W. Long. Transmitter and antenna RCA. Consulting engineer William L. Foss, Washington. Principals include WTIP Charleston, W. Va. (50%); WMON Montgomery, W. Va. (50%): President Arnold M. Vickers, president and 33⅓% stockholder WMON; Vice President Gus Zaharis, president and 25% stockholder WTIP, and Treasurer Raymond I. Kandel, treasurer and 33⅓% stockholder WMON.
---
Gus Zaharis Obituary
Gus Zaharis, 91, of Holiday, Fla., passed away May 29, 2005, in Tampa, Fla., after a short illness. He was the former owner of Charleston radio stations WTIP and WTIO-FM from 1946 until his retirement in 1982. Mr. Zaharis was an exceptionally innovative broadcast engineer. He was granted an experimental TV license, W8XGZ, by the FCC in 1946. He was preceded in death by his wife, Penelope, in 1968. He is survived by his son and daughter-in-law, James and Ann Zaharis of Tampa; a son, George Zaharis of Holiday; a daughter and her son-in-law, Neena and Jeff Davis of Barboursville, W.Va.; grandchildren, Alissa and Julianne Zaharis of Tampa, Tiffany Smith of Baltimore, Md., and Mark Davis of Huntington, W.Va.; and a brother, Alex of St. Augustine, Fla. A funeral service will be held at a later date. Arrangements are by Blount & Curry Funeral Home Carrollwood Chapel, Tampa, Fla., 813-968-2231.
---
Bernard A. Burka Obituary
Bud Burka. Photo by Emil Varney
Bernard "Bud" Burka, 76 of Charleston, died July 6, 2003, peacefully at home after a long illness battling congestive heart failure and diabetes. Bud was a lifelong W.Va. native, born and raised in Clarksburg. He began a radio career in his teens which was interrupted by World War II where he served in the Army Air Corps as a gunner on a B-24 Bomber in the South Pacific. Bud attended Salem College, moving to Charleston and graduating from Morris Harvey College in 1950. Bud worked briefly at WGKV then moved to WTIP/WTIO in 1950 and worked his way up through announcing, copywriter, sales and finally Sales Manager. For 22 years, Bud's popular daily radio program, "The Bud Burka Bowling Show" aired, where as an avid bowler himself, he read area bowling league scores, had chats with local bowlers plus on-the-spot interviews with national bowlers competing in tournaments around the country. For several years, Bud also put his talents to work creating sound tracks for local productions of Children's Theater and Kanawha Players from overture through background music, sound effects and finale. In 1957, Bud and his brother, Mel, became part owners of WTIP/WTIO and later were co-owners of WPAR in Parkersburg, where Bud was president of "Burka Broadcasting Co." until the station was sold in 1983. Bud left WTIP/WTIO in 1977 to create" Bud Burka Advertising Productions" for creative sound and video production work. Later, Bud began creating and recording audio music tapes to help ease the suffering for patients in chronic pain. Married since 1951 to Diane LeVine Burka, Bud is survived by his loving wife, Diane; daughters, Karen Baldwin and husband Pastor Mat, Pat Martin and Husband David of Bradenton, Fla., and JoAnne Burka of Charleston; son Rick A. Burka and wife Pam of Charleston; and grandchildren Chris and Austin Martin of Bradenton, Fla., and Josh and Mallory Burka of Charleston. Funeral Service will be Tuesday, July 8, 2003 at Barlow-Bonsall Funeral Home with Rabbi Helen Bar-Yaacov officiating. Burial will be in B'nai Israel Cemetery in Spring Hill Cemetery, Charleston. Friends may call at 12:00 noon on Tuesday at the funeral home. Donations may be made to Kanawha Hospice Care, Inc., 1143 Dunbar Avenue, Dunbar, WV 25064. Barlow-Bonsall Funeral Home is in charge of the arrangements.
---
Mort Victorson Obituary
Morton J. Victorson, 86, of Charleston passed away on his birthday, Monday, July 27, 2009. His career spanned over five decades in radio broadcasting with positions in sales, management and ownership for WTIP/WTIO, WBES, WQBE and WCHS. Among his community services, he had been president of B'nai Jacob Synagogue, president of the Charleston Exchange Club, president of the Medical Eye Bank of West Virginia, and chairman of the board of the Charleston Civic Center and Municipal Auditorium. Mort received a Lifetime Achievement Award from the Advertising Club of Charleston/Huntington and was a 2007 inductee into the West Virginia Broadcasting Hall of Fame. He was born in Clarksburg and graduated from Washington Irving High School. He earned his B.A. Degree from Morris Harvey College and his M.A. From West Virginia University. He was a World War II veteran, serving in the U.S. Army Air Corps and was a first lieutenant in the Army Air Corps Reserve. Additionally, Mort was a devoted WVU Mountaineer Fan! He is survived by his wife, Deborah; son and daughter-in-law, Michael and Janet of Charleston and their children, David and Sara; daughter, Rachel Sweet of Charleston and her daughter, Jessica; and daughter, Evie of Charlotte, N.C. Funeral service will be 11 a.m. Thursday, July 30, at Barlow-Bonsall Funeral Home, Charleston, with Rabbi Victor Urecki officiating. Burial will follow at B'nai Jacob Eternal Home, South Charleston. In lieu of flowers, the family requests that donations be made to either B'nai Jacob Synagogue, 1599 Virginia St. E., Charleston, WV 25311, or HospiceCare, 1606 Kanawha Blvd. W., Charleston, WV 25312. Condolences may be sent to the family at www.barlowbonsall.com. Barlow-Bonsall Funeral Home has been entrusted with the arrangements.
---
George Zaharis Obituary
George Zaharis, 64, of Holiday, Fla., passed away August 31, 2011, at Bay Pines Hospice in St. Petersburg, Fla., after a short illness. He was born June 6, 1947, in Charleston to the late Gus and Penelope Zaharis. George served in the U.S. Navy from 1967 to 1971. He graduated from the University of Charleston and taught computer science courses at George Washington High School. He was also previously employed by WTIP Radio station. After retiring to Florida, George taught basic computer skills and software applications to many organizations. George is survived by his brother, James; and sister-in-law, Ann, of Tampa, Fla.; his sister, Neena Z. Davis; and brother-in-law, Jeff of Barboursville; his nieces, Alissa Molina of Tampa, Fla., Julianne Zaharis of Waterville, Maine, Tiffany Smith of Hendersonville, Tenn.; his nephew, Mark Davis of Lubbock, Texas. Burial service will be in Charleston at a later date.