HISTORY OF BROADCASTING IN WEST VIRGINIA
WTRF, Wheeling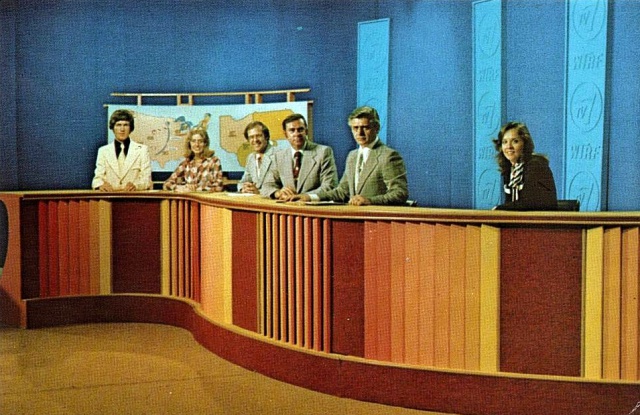 News set, about 1976. Photo provided by Ged Young.
The following history was supplied by the station in the 1980s.
WTRF began as an AM/FM radio station in Bellaire, Ohio, earning its call letters because of its "Two Radio Frequencies." On its first broadcast day in November 1947, WTRF-AM carried the Army-Navy game. Although FM radio was just beginning to carve its niche, WTRF-FM found a large audience in its broadcast of Cleveland Indians baseball. In 1953, the radio station was sold and a TV broadcasting license was granted to Wheeling. On October 24 of that year, WTRF TV-7 went on the air.
TV-7 began broadcasting with black-and-white cameras, using film for news stories and programs. In July 1959, WTRF installed a Vidicon camera which eliminated much of the picture fuzziness of the time and brought clearer, sharper quality to films and slides. The following October, TV-7 acquired a videotape machine, enabling the taping of local shows in order to check for accuracy and production details.
In July 1963, one of the tallest towers in the area was completed. Standing at 750 feet on top of Kirkwood Heights, the tower allows TV-7's signal to reach northeast to Pittsburgh and the outlying areas of Butler, New Brighton and New Castle and to the South in Weston and Southeast in Marietta and Parkersburg.
WTRF re-entered the field of radio on October 20, 1964, broadcasting beautiful music at 107.5 FM. Two years later, TV-7 became the first full color station in the Ohio Valley with the installation of color movie projectors, videotape machines and cameras. In 1969, WTRF moved into its new one million dollar complex at 96 Sixteenth Street in Wheeling, adding a special effects panel and color control room consoles which made many new production techniques possible. The new communications center, constructed on three levels with an underground garage, provided 28,500 feet of space, including a studio for WTRF-FM. That same year, the Forward Communications Corporation became the owner of WTRF-TV and radio.
WTRF continued to change and, in 1980, added 38% more building space, providing a new studio and increased storage and administrative office space. 1980 also saw TV-7 become a CBS affiliate, changing from its NBC affiliation for several reasons, including the opportunity for stronger local service and a positive association between the top-rated local and network news. The strong programming of CBS was also a factor and results have shown the original reasoning to be well-founded. Another transition in 1980 involved the radio station. Because of FCC ownership regulations WTRF divested itself of WTRF-FM.
In December 1981, WTRF took a step into the technological future by installing a seven-meter receiving satellite dish. Used for a variety of purposes including recording news information and various programs for playback the satellite dish has a 24 channel capability. TV- 7 has since added numerous receiving dishes to allow reception of all CBS network programs along with many of the syndicated shows. With the addition of these receiving dishes WTRF is now able to receive from any satellite which now covers North America.
TV-7 has also added many new technologies to its production department which enables area clients to achieve a top quality commercial. These innovations include: digital effects, Chyron IV computer graphics, and an electronic still store.
TV-7 was the first station in the Tri-State area to inaugurate a Monday through Friday 90-minute newscast which includes a full hour of local/regional news at 6:00 pm and a half-hour of national and international news from CBS at 7:00 pm.
The original four-man news team has more than doubled. Headed by News Director Sandra Hamm, Managing Editor Mark Davis, and Assistant News Director Howard Monroe, along with numerous reporters and photographers research and prepare stories for telecast. Seven news reports are presented each week-day, plus evening weekend reports at 6:00 and 11:00 p. m. Included three times a week is an editorial on an issue of community, state or national concern. Topics are chosen by an editorial board and presented by WTRF president Jim Squibb.
In the early years of TV-7, most shows were live or on film. Offerings included wrestling, the roller derby and cooking shows. Through the years, viewer interest prompted more programs involving drama, information and news. Today, WTRF offers a variety of local, syndicated and network programming, primarily on videotape. TV-7 covers many special events including the Elby's Wheeling Distance Race.
An annual feature is the "High School Preview," profiling West Virginia and Ohio high school football and basketball teams and West Virginia University, Ohio State University and Pitt University football and basketball pre-season reports.
TV-7 also produces religious programming such as "Spiritual Awakening" seen Sunday mornings. A series of two-minute messages entitled "Let There Be Light" is broadcast daily at various times.
"TV-7 Reports," a weekly public affairs program hosted by Pat Gaughan and seen Sunday mornings, has been broadcast on WTRF for 29 years. Covering a wide range of concerns "TV -7 Reports" has dealt with such issues as the readjustment of Vietnam veterans, the quality of education in West Virginia and the piggyback tax and has hosted such guests as the Governor and Attorney General of West Virginia.
Each year, TV-7 also broadcasts two national telethons and provides local breaks for fund-raising. The Muscular Dystrophy Telethon is televised in the fall. Hosted locally by Steve Mazure, the telethon was held for the eighth consecutive year on Labor Day weekend.
The Easter Seal Telethon, first broadcast in March, 1975, is hosted locally by Weather Director John Domenick and has been commended by the Easter Seal National board. The locally raised telethon money ranks invariably in the top twenty cities for dollars given and is first or second every year in per capita dollars.
Another service provided by TV-7 is the "Weather Watch" system that was first introduced in April 1981. Using six different symbols, each appearing in the lower right-hand corner of the TV screen, TV-7 alerts its audience to various potentially hazardous weather conditions including slippery roads, floods, and high winds. In December 1981, a school bus symbol, denoting school delays and/or cancellations, was added to the system.
For over 30 years, WTRF has broadcast top-rated entertainment and responsible public affairs programing, making it a home for the community's best aspirations. It has gained a reputation as a distinguished news-gathering operation, earning the highest ratings in news broadcasting in the Ohio Valley for over 30 years.
WTRF began operations in 1953 with 35 people and grew to a staff of 78 by 1987. Operating as Forward TeleProductions, Inc., a wholly owned subsidiary of the Wesray Corporation, TV-7 broadcasts 137 hours per week, 36 of which are locally originated. President and general manager James Squibb was previously local sales manager and is a Wheeling native. Squibb attended Linsly Institute and received a Bachelor of Arts Degree in Communications from Michigan State University in 1966. Charles Sherman was President and General Manager from 1979 to 1984. Sherman came to WTRF in 1979 from Indiana University where he served as chairman of the Department of Telecommunications. Prior to Sherman, Robert W. Ferguson was general manager and was involved with the station from its inception. In 1979, he was named Senior Vice President of Corporate Projects for the Forward group.
---
Mark Davis
DAVIS, Mark (Joseph Tarantini) 80, of Wheeling, died Monday, April 18, 2011 in Wheeling Hospital.
He was born in Pittsburgh, a son of the late Rocco and Blanche Bisegna Tarantini.
He was the retired News Director and Anchorman at WTRF TV7, Wheeling and spent his entire professional career in television and radio including news reporter at WWVA radio.
He received numerous awards during his career including the Presidents Award for Outstanding Achievement in 1981, the Distinguished West Virginian Award in 1977, the Philadelphia Regional Chapter of the National Academy of Television Arts and Sciences for Outstanding News Single News Broadcast and the 1996-97 Mid Atlantic Emmy Award.
He was a Catholic and a veteran of the US Air Force serving in the Korean War.
In addition to his parents, he was preceded in death by his brother, John Tarantini.
Surviving are two daughters, Gina Baker of Wheeling and Angela Tarantini of Morven, N.C., a son, Joseph Tarantini and his wife, Carol of Pittsburgh, a sister, Sue Kunz and her husband, Frank of Pittsburgh, seven grand children, Adam Baker and his wife, Jennifer of Manhattan, Kansas, Anthony Baker and Amanda Baker both of Wheeling, Joey and Joshua Tarantini both of Cameron, Toni Ann Tarantini and Gino Tarantini and his wife, Amer, all of N.C., a great grandchild, Alia Tarantini and his dear friend and beloved companion, Nancy Weatherson of Wheeling.
Friends will be received at Altmeyer Funeral Home, 1400 Eoff Street, Wheeling on Saturday from 1-9 p.m.
Funeral liturgy will be celebrated on Monday at 10 a.m. at St. Joseph Cathedral, Wheeling with Msgr, Kevin Quirk as celebrant.
Interment will be held at the National Cemetery of the Alleghenies.