HISTORY OF BROADCASTING IN WEST VIRGINIA
History of WSPZ/WVRC, Spencer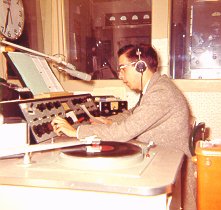 The photo is Bill Newbrough at the console, showing the old Collins board and turntables.
WSPZ 1400-AM signed on the air on Sept. 12, 1961, with 1000 watts day and 250 watts at night. The frequency had become available because WCAW in Charleston had moved from 1400 to 680 kHz.
Former WSPZ employee Bob Weaver writes, "Famous country musician and composer Tom T. Hall came to work at the station in the 1960s, got discouraged over the low pay and the fact the station manager felt he had little musical talent, telling him to 'just DJ.' He packed up and went to Nashville. The rest is history." [Weaver now lives in Calhoun County and is publisher of hurherald.com.]
The 1961-62 Broadcasting Yearbook shows WSPZ owned by Community Radio, H. Gordon Minns, President, with other staff as follows: Paul R. Fairchild, general manager; Robert J. Weaver, sales manager; Manuel Cederio, news director; and Emma Lou Mace, women's news director.
In 1966, the station was acquired by Nubro Broadcasting Co.
The call letters WVRC were chosen to stand for "the Voice of Roane County."
The 1969 Broadcasting Yearbook shows WVRC owned by Nubro Broadcasting Co., Inc., Jesse D. Newman, president and chief engineer, with other personnel as follows: Richard Dale Brooks, general manager and program director; and William Brannon, commercial manager.
---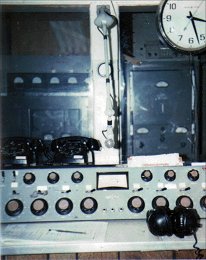 The Collins board at WVRC between 1973 and 1975. larger picture. Photo provided by Gary Russell.
---
Gary Russell writes:
I worked at WVRC from the fall of '73 to sometime early '75, during my high school years and shortly thereafter. When I was hired, it was during the transitional period between the Dale Brooks and Charles (Charlie Ray) Marlow et. al. ownership.

Dale Brooks used to do a half hour live show shortly after noon, where he'd play his guitar and sing. He used "New River Train" as the theme for the program, and anyone in town at that time remembers it. Dale was even inducted into the "Rockabilly Hall of Fame."

When Charles Marlow and company purchased the station, he hired Chuck Loose from Parkersburg as PD. One of the first things Loose did was purchase Tapecaster cart machines. He then turned the on-air studio around to the right so that it faced the transmitter, and made it a "stand-up" operation.

During this time, the block programming schedule was as follows:

6-10 Bill Brannon (Country)
10-2 Chuck Loose (PD) (AC)
2-6 Charlie 'Ray' Marlow (Country)
6-7 News/Public affairs/Easy Listening
7-11:05 M-W-F Chuck Stotts, T-T-S Gary Russell (Top 40/CHR)

Sundays were handled by newer trainees, who basically did board op for religious or syndicated programming, for the most part.

Chuck Loose signed the station up with the ABC network, which was why we signed off at 11:05 PM after the newscast.

Chuck Stotts and I were both high school kids at the time. Other Spencer High School kids included Tom Keith, Vince Metz, and Gary Camp (during the Dale Brooks years), Lee Johnson and his sister Kim, along with Stotts and myself during the Marlow years.

I've been in the station only twice since I worked there, the last time was in the early '90s. The studio was again rearranged, so that the announcer is once again facing the production room as shown in the pic you have of Bill Newbrough. And at that time, they were still using the old Tapecaster cart machines. (There were four purchased in '73, two recorders and two playback units. One set was on-air, and the other was in production)

I'll add this one story about Tom T. Hall. Charlie Marlow was working at the station during the same time Hall was there, and when Marlow decided to get married, they did so at the station. Charlie 'Ray' Marlow married his wife Amy, with Tom T. Hall standing in as best man, right in the production room of the station, something Charlie never tired of telling.
---
The 1975 Broadcasting Yearbook shows WVRC owned by Roane Broadcasting Co. (acq 7-1-66). Personnel listed are Richard Dale Brooks, general manager and vice president; Ann Ward, news director; William Brannon, commercial manager; and Charles R. Marlow, chief engineer. The format is MOR and country.
---
Jon F. Caudle Jr. recalls:
I went to work at the Spencer station (WVRC) in about May 1976. I used the on-air name "Johnny Frank." At that point Charles R Marlow ("Charlie Ray" on the air) was not only the engineer, but the manager. Bill and Patsy Brannon were both working at the time. Program director or music director or something of the sort was Jeff Rader, who was a junior or senior in high school (played trumpet in the Spencer high school band and bass guitar in a gospel trio with his dad, and then went to Marshall as a music major). Joyce Schoolcraft (also an SHS student) was on-air some. Scot Epling came on board in 1977. The local Assembly of God pastor, David - I believe his last name was Edwards - was on-air some, as was his son Wayne (HS junior in 1976-77). Charlie Ray's wife (Amy?) was the secretary. I did sign-on during the summer, and several evening shifts during the school year. And I heard all about Tom T. Hall having been there 15 years before me as sign on. We ran 1000 watts daytime, and 250 watts nighttime, signing off at 10:00 PM. Our format was gospel 6-8 AM, country 8AM - 5PM, and rock 5PM - 10PM. Sundays was all gospel, I believe. Mark Rhodes came in and worked the Sunday shifts. When I came to work, I was replacing a guy who went by the name "Grey Fox" on the air ... his daughter (or step-daughter was Janice Blevins) who was in my class at school. Another part-time employee was a postal worker (I think) who used the on-air name of "Sam Hill." I did the play-by-play for the Little League ball games during the summers 1976 and 1977. There was an ownership change during the summer, 1977, and a fellow named Bill Milliken came to work for the station. When I went in for a job interview in 1976, they pulled the news of the AP teletype and had me read through it for them. When I effortlessly read through names like Menachem Begin, Jose Lopez Portillo, and Valéry Giscard d'Estaing, they decided I qualified for the job.
---
The 1985 Broadcasting Yearbook shows WVRC owned by MPY Broadcasting Co. (acq 1977). Personnel shown are: James E. Damron, vice president and general manager; W. Ellis, program director; Scot Epling, music director; Sam Hall, news director; and Larry Koenig, chief engineer.

The 1986 Broadcasting Yearbook shows WVRC operated by Roane Communications Inc. (acq 9-22-82).

In 1985 the station was purchased by Star Communications, Inc. Officers included Larry Koenig (President) and partners Gordon Rogers and Doris Jane Rogers and their son-in-law Bob Zdanek (Bob Edwards).

In November 1992, WVRC-FM began broadcasting on 104.7 MHz with 3000 watts. It soon upgraded to 6000 watts.

In 2002, WVRC-FM was operating 24 hours per day with a format of modern country mixed heavily with country oldies. WVRC-AM had a southern gospel format. Bob Edwards did the morning show.