History of
WVVW/WKGA/WTBZ/WVUS, Grafton
Bill Newbrough in 1958 at the WVVW studio on Main Street in Grafton (larger image);
Newbrough at the WVVW remote control (larger image).
Left: John Cooper, WVVW station manager for a brief time. He was also on the original staff of WBOY-TV and WJPB-TV.
Center: John H. Right: Mack Rollins, who also worked at WBOY radio.
Several more pictures are here. Thanks to Clarke Ingram, who assisted with this page, which was last revised on Dec. 30, 2013.
WVVW Inc. applied for a radio station in Grafton on 1260 in June 1956.
On Jan. 7, 1957, Broadcasting magazine reported that the call letters WVVW were assigned.
The 1956 West Virginia Blue Book shows WVVW, Grafton, on 1260 kHz. The station was affiliated with Mutual Broadcasting System. Address: Radio Park. Route 50, Grafton. Owner: Beacom Broadcasting Enterprises. President: General Manager: J. Patrick Beacom.
Bill Newbrough worked at WVVW and WJPB-TV from 1958 to 1961. At his website, Newbrough writes:
My broadcast career began in 1958 at WVVW, in Grafton WV. WVVW (currently WTBZ), was, and is a 500 watt daytimer at 1260 kHz. I went into the station in the morning to see if there were any jobs. The job description didn't matter. The only thing that mattered was: Did the job come with a paycheck? The GM listened to my questions and told me to come back at 2 PM for an audition. That afternoon he hired me as weekend announcer. In 1960, when I obtained my First Class License, (anyone old enough to remember those?) I became Chief Engineer. The rest is history.
The 1961-62 Broadcasting Yearbook shows WVVW, Grafton, broadcasting on 1260 kHz with 500 watts daytime. The address was 400 Quincy St., Fairmont, and 203 West Main Street, Grafton. The licensee was WVVW, Inc. (original owner). Personnel were J. Patrick Beacom, president; Robert Hanna, station manager; Robert Bolyard, commercial manager; William Newbrough, program director; Phil Braken, news director; James McEwen, chief engineer. The on air date is given as January 1957.
The 1969 Broadcasting Yearbook shows the address for WVVW was 203 West Main St. The licensee was WVVW Inc. Personnel were: J. Patrick Beacom, president; Jean S. Larkin, vice president and general manager; Bernardine Waters, news director.
The 1977 Broadcasting Yearbook shows the following personnel: Jean Bolyard, vice president and general manager; Bernardine Waters, news director; Michael Better, chief engineer.
Jon F. Caudle Jr. recalls working at WVVW. He believes he started in the spring of 1978. Jean Bolyard was the owner. He recalls that the station had no cart machines and thus it aired commercials either live or on reel-to-reel tape. He writes, "The format was kinda' funny, too. Saturday mornings, for instance, was 'dance music.' To Mrs. Bolyard, the owner, that meant Rudy Vallee. But she was fine with the rest of us playing the BeeGees as dance music. Whatever the DJ thought was dance music was dance music."
On Sept. 10, 1979, WQIT-FM, "Grafton's QT-101," began broadcasting on 100.9 MHz. The 1980 Broadcasting Yearbook shows the licensee was Conti Broadcasting Inc. Personnel were: Stephen L. Conti, president and general manager; Herbert H. Chapman, program director; Michael F. Priore, chief engineer. WQIT lasted for less than a year. The studios were originally located in a mobile home at Jewell Mobile Acres just outside Grafton.
Bob Scharnhorst, general manager of WQIT, reports that the station used a CSI FM3000E transmitter and a Phelps-Dodge three-bay antenna. He recalls that the station showed up number one in Taylor and Harrison counties during its one year of operation. He writes, "The station signed off for the final time on the day before Thanksgiving Day 1980. I was the dj on duty along with my very dedicated air staff. [...] We moved out of our trailer to an office complex, a former doctor's office which was just across the street from the Grafton police station and courthouse on Main Street. We were downtown near where WVVW original studios were." He also recalls that WQIT teamed up with WTCS (AM) in Fairmont, simulcasting each other's programming, to raise money for the Jerry Lewis telethon.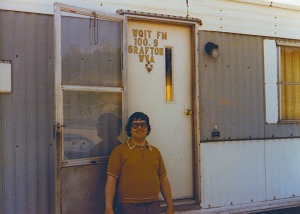 This WQIT photo is believed to show general manager Bob Scharnhorst. Photo courtesy of Mike Priore (larger).
The 1980 Broadcasting Yearbook shows WVVW personnel: Jean Bolyard, president and general manager; James C. Belt, chief engineer.
On Jan. 15, 1982, Taylor-Barbour Broadcasting, Inc., acquired the WQIT-FM. FCC records show that it became WTBZ(FM) on Feb. 10, 1982.
On July 15, 1982, WVVW changed its call to WKGA, according to FCC records.
On Feb. 27, 1986, WKGA changed its call to WTBZ and WTBZ(FM) became WTBZ-FM, according to FCC records.
In March 1986 Taylor-Barbour Broadcasting, Inc., acquired the AM station.
The 1986 Broadcasting Yearbook shows WKGA on 1260, owned by WVVW Inc., Personnel were: John R. Callahan, president and general manager; Robert Clinton, sales manager; John P. Callahan, program director; Beth Callahan, office manager; Cathy Callahan, news director; Robert Ice, chief engineer. It shows WTBZ(FM) on 100.9 MHz with 300 watts, and an antenna height of 150 feet above average terrain. The licensee was Taylor-Barbour Broadcasting Inc., (acquired Jan. 15, 1982). Personnel were: Tom Friend, president and general manager; Greg Mogush, commercial manager; Harold Norris, program and music director; Chuck Anziulewicz, news director; Bob Ice, chief engineer.
On Aug. 23, 2002, WTBZ-FM changed its call to WDKL. At this time the station was programming the "K-Love" Christian satellite music format. In 2004, FCC records show WDKL operating on 95.9 MHz with 6000 watts and an antenna height of 91 meters above average terrain.
On May 6, 2008, WTBZ changed its call letters to WVUS, and on Aug. 8, 2008, the station switched to 1190 kHz. On Dec. 23, 2009, WVUS was sold to Light of Life Community, Inc., and shortly thereafter switched to Catholic programming.
On Sept. 25, 2010, the WVUS tower receives a blessing with Holy Water by Father Jim O'Connor, administrator of St. Augustine's Catholic Church, Grafton, and St. Elizabeth's Catholic Church, Philippi. larger photo
---
Recollections by Dr. Cassandra Bolyard Whyte
This information was contributed in 2009 by Dr. Cassandra Whyte (wwhyte5404@aol.com).
WVVW had offices and a broadcast booth in a storefront building at 203 West Main Street of Grafton, West Virginia. Broadcasting from "sun up till sun down," the announcers signed on and off the air by script, describing their frequencies and business information referencing Beacom Enterprises. They then played The National Anthem.
Personnel during the early days of WVVW were Commercial Manager, Robert Glen Bolyard, known as Bob Bolyard when doing news and "Bobby B" when doing the DJ role of spinning the "Top 40's" recordings; Bill Newbrough, Program Director; Jim McEwen, Chief Engineer; Phil Braken, News Director; and Mr. J. Patrick Beacom, President and General Manager. The Broadcasting Yearbook of 1961-62 listed all of the names presented. It is thought that Ms. Bernadine Waters began working in the office of WVVW sometime during the era and later got into the news work.
Grafton, West Virginia is only a twenty minute drive from Fairmont, Morgantown or Clarksburg. It was a booming railroad hub in the 1920's and was a small industrial center where glass and pottery were made through World War II and into the 1950's. By the mid-fifties, however, many employees had to relocate due to changes in the economy as industrial jobs waned. .
By the end of the 1950's and early 1960's, Grafton business persons grouped for economic development and attempted to attract new businesses to the town. The information provided to potential investors promoted that Grafton residents were progressive and proud of their history at the same time. They were hard-working citizens, living near to higher education facilities, preserving their history, and had a radio station, thus proving they were a progressive community. Grafton is known as the town where the first Mother's Day service was coordinated in the Andrews Methodist Church, also on Main Street just a few blocks down from where the WVVW offices were located.
WVVW was housed just a portion of a block from the Post Office in Grafton on the opposite side of the street. The offices were at the west end of the main business district near the Taylor County Courthouse, also on the opposite side of the main street. The storefront, at 203 West Main Street, had a large glass-windowed front. As one entered, there were greeting spaces and about twenty feet back, there was a glassed-in broadcasting booth equipped with the turntable and large microphone of that era. Electronics/radio equipment was also prominent in the booth, along with a desk-top counter where the seated announcer or DJ talked into the mike and reached around and let the spinning record start. It is thought just the first floor was used.
Radio and TV in the 50's and 60's provided a training ground for those willing to work hard and enjoy change. Employees had to have the intelligence, personality, and energy to "go with the flow" of the rapidly changing telecommunications world. The very field was improving on a decade basis rather than a half-century basis as many other business categories. This rapid adaptation to change would spur the continuing development of communications modes through the coming decades.
For example, Bob Bolyard used to work at the radio station WVVW in Grafton and then proceed over to Fisher Mountain to work on television at WJPB. He loved the work and this became a training ground for young telecommunications employees. Actually, the management of that era was also plowing new ground.
In bad weather it was difficult to get up to the top of Fisher Mountain where WJPB had facilities at Jane Lew, right outside Weston. The TV station, at that time signed on in the early morning around 6:00 a.m. and then signed off the air at midnight or 1:00 a.m. with newscasters reciting a statement about the transmitters being "high on top Fisher Mountain." It was also stated that it was owned and operated by Beacom Enterprises and The National Anthem was played.
One snow storm was so bad the telecommunications group was snowed in on top of Fisher Mountain until the mountain road was safe to slide to the bottom. During the 11:00 p.m. newscast, the weather announcement let family of WJPB staff know the winter storm was so bad they would need to stay on top the mountain until the road was cleared some.
Bob Bolyard also worked with the newly formed station WJPB-TV that would become the WDTV station at Jane Lew or Weston, West Virginia. He had a dance show on the weekends and did the news coverage shows at regular intervals after working at WVVW in Grafton, West Virginia. The radio and television stations were owned at that time by the same company. Multi-responsibility jobs were done even in that era.
Though pursuing a lifetime career in the television industry in North Carolina and Virginia, Bob Bolyard left WVVW and WDTV to serve in the United States Army during the Viet Nam era. Robert Glen Bolyard "Bob", also an Army veteran, standing around 6 feet tall with black hair, worked in the television industry most of his adult life in management and in sales. As mentioned, when young, he was known as "BOBBY B", a radio DJ on WVVW Radio in Grafton, worked as a news anchor for WJPB-TV now WDTV in Weston, West Virginia and later was a Vice President for a television company WCTI-TV12 in New Bern, North Carolina. While in New Bern, he taught classes at Craven County Community College. He worked as the National Sales Manager at the Harrisonburg, Virginia station WHSV-TV3 at his death
Robert Glen "Bob" Bolyard was the son of Roy Everett Bolyard and Georgia Ellen Deavers Bolyard of Grafton, West Virginia. He was the only brother of Eldora Bolyard Nuzum wife of Jack R. Nuzum; Vonda Bolyard Norris wife of Clyde D. Norris; and Dr. Cassandra Bolyard Whyte, wife of William R. Whyte, Jr..
Bob Bolyard was married to Jacqueline Westfall Bolyard and they had two children, Jon Robert Bolyard who married Rachel Taylor and had children Isabelle Bolyard and Emma Bolyard, and Dawn Michelle Bolyard Wescott who married Terry Wescott and had one child, Lauren Kate Wescott.
Bob and Jackie Bolyard and family resided in Bridgewater, Virginia, near Harrisonburg where he worked at the time of his death.
---
Robert Glen "Bob" Bolyard (1938-1995). He used "Bobby B" when working as a DJ on the radio. Left: Around the time when he was working at WVVW in Grafton and then driving to WJPB-TV. Right: About age 56, shortly before he died of heart disease, which resulted from a mitral valve problem.
---
Recollections by Chuck Anziulewicz
I saw your website about radio history and thought I'd drop you a line.

It was in late 1981 that Tom Friend of Taylor-Barbour Broadcasting called me. He said he had heard through the grapevine that I was looking for a job in radio (having just recently graduated from WVU with a degree in broadcasting journalism), and he wondered if I might come work as the news director at a little radio station in Grafton (WTBZ) that he had just taken over. I said yes.

I was ostensibly the news director beginning in January 1982, but Grafton doesn't really have much in the way of news, so I also served as a deejay. I worked for WTBZ until July of 1986, when I was hired as an announcer/producer for West Virginia Public Radio in Charleston. I eventually became a full-time news reporter for WV Public Radio and worked there happily until December 1992. I am now an AIDS educator for the West Virginia Bureau for Public Health, but I still work part-time for WV Public Radio, hosting the morning programming every Saturday.

I was in the Grafton area recently and actually heard some of the same 45s that I used to play in the early 1980s, now being played on 1260 AM.

I wonder whatever became of Harold Norris (aka "Lee Grant") and our engineer, Bob Ice.

Best wishes,
Chuck Anziulewicz
http://www.livejournal.com/users/anziulewicz