History of WCIR, Beckley, West Virginia

This article was last revised on Dec. 4, 2018.
On Aug. 8, 1966, Broadcasting reported that Christian Broadcasting Corp. requested the call WCIR. On Sept. 19, 1966, Broadcasting reported that Christian Broadcasting Corp. was assigned the call letters WCIR.
WCIR-AM signed on the air as a daytime-only station on 1060 kHz at 7 a.m. on November 14, 1966. The original licensee was Christian Broadcasting Corporation, headed by Rev. Thomas M. Waldron, pastor of the First Assembly of God Church in Beckley. Waldron had previously conducted a daily 9:30 a.m. religious program, "Word of Life," on WWNR, and he transferred the program to WCIR. He said the call letters were chosen to stand for "Christianity in radio" or "Christ is risen." WCIR originally had a religious format from 9 a.m. to 1 p.m. and played secular music for the remainder of the day. Later call letters for the AM station were WJKK and WIWS and WBKW. The WCIR transmitter was located at Crab Orchard. The original studio location was on Main Street, above Jan Campbell Music.
The original general manager was Thomas K. Martin (who died at age 68 in 2002). The original announcers were Thomas K. Martin and Carlos Garten. Dan Sessler (later a sales representative for Harris Corporation) was heard on Sunday mornings; he later became chief engineer and manager of the station. John Sherrod was the original chief engineer.
Sometime during the first year of operation, the station switched to a country music format except for religious programming in the the midday.
On October 27, 1969, WCIR switched frequencies from 1060 to 1070. The change allowed the station to operate with 10,000 watts sunrise to sunset; on 1060 kHz the station had been required to decrease power to 1,000 watts during critical hours (the first and last two hours of the daytime broadcasting period).
The staff of the station at that time consisted of Waldron; Martin; Lee Daugherty, program director; Roger Fox, chief engineer; Bob McKeehan, sales manager; Jerry Wickline, news director and announcer; Gene Ellison, account executive and announcer; Betty Elkins, bookkeeper; Dan Sessler, assistant engineer and announcer; Vickie Pringle, secretary.
In an email, Steve Lineberry, who graduated from WWHS in 1969, recalled, "My first job was as a 'part-time' radio announcer for WCIR. I worked from 1968-1969, weekday afternoons from 3pm-6pm, Saturday afternoons and Sunday Afternoons. ... It was interesting how I started my radio career - I was in the Broadcasting Club at Woodrow Wilson High School and Gene Morehouse, then the General Manager of WJLS, heard me at an 'audition' and offered me a part time job. As you know, he was killed in the tragic Marshall University plane crash. The new General Manager rescinded the offer and I went over to WCIR."
WCIR-FM went on the air in the summer of 1971 with an easy listening format. The FM transmitter was originally located at the AM site in Crab Orchard.
In November 1971, WCIR-AM switched to an oldies format and became a Mutual affiliate. The FM station continued its automated beautiful music format and also carried Mutual newscasts.
In 1973 WCIR-FM began broadcasting in stereo.
In 1976 Waldron Broadcasting Inc. sold WCIR to Southern-Carper Broadcasting Inc., headed by Ira Southern and Grady Carper, both of Princeton, for $450,000. That same year, the new owners changed the format of WCIR-FM from a beautiful music format to rock. The format was simulcast on AM and FM. The original staff was Shane Randall (Southern) in the morning (6-10), Dan Robins middays (10-3), Bob Cannon afternoons (3-7), Jack Daniels evenings (7-12), and Jaque Bailey overnights (12-6).
In January 1981 the studios were moved to 305 Reservoir Road. The building was the same building from which WCFC had operated from 1946 to 1950.
FCC records indicate that the call letters of the AM station were changed to WJKK on April 1, 1981.
In 1985 the FM transmitter site was changed from Crab Orchard to Paint Mountain, near Kingston on the Raleigh-Fayette county line. This move increased the coverage area of the station.
In 1988, studios were relocated to 21 Airport Industrial Park Road in Beaver.
In 1990, the AM station, which had been simulcasting with WCIR-FM, adopted a visitor information format. FCC records indicate that the call letters of the AM station were changed to WIWS on March 15, 1990.
In July 1995 Southern Communications, the owner of WCIR, took over the operation of WMTD-FM in Hinton. At the time, the station manager was James Quesenberry. The company later also took over the operation of WWNR in Beckley.
In the late 1990s, the AM station on 1070 was using the call letters WIWS and featured an oldies format.
In 2000 Southern Communications purchased WMTD AM-FM from Bluestone Broadcasters Inc., Lonnie R. Mullins, president.
In February 2000 Southern Communications took over operation of WTNJ and WAXS.
In 2002 the studios of WCIR-FM, WTNJ-FM, WMTD-AM/FM, WAXS-FM, WWNR, and WIWS were moved to 306 South Kanawha Street in Beckley (the old Appalachian Power Company building).
Beginning on Good Friday 2005, WIWS 1070-AM began broadcasting Catholic religious programming known as "Relevant Radio," produced in Green Bay, Wis., and received by the station via satellite.
In 2007, the station lineup showed Jerry Farley, 5am-10am; Kathy St John, 10am-3pm; Rick Rizer, 3pm-7pm; and Nate Dogg, 7pm-Mid.
In 2009, the station line-up consisted of: Rick and Lola 2.0, 5am-10am; Kathy St John, 10am-3pm; Nate Dogg, 3pm-7pm; and Jesse D, 7pm-Mid.
In 2010 it was reported that WIWS 1070 AM would soon be getting a 250 watt FM translator.
FCC records indicate that the AM station call letters were changed to WBKW on Jan. 31, 2011.
In April 2011, the AM-1070 station changed its format to southern gospel music, using the name "The Ark." An FM translator on 93.5 MHz was added in May 2011.
In 2017 WBKW AM-1070 and its translator W228CF changed formats. On Dec. 26, 2017, the station's web site showed the name 93.5 The Buzz.
The web site of WCIR-FM is 103cir.com. The web site of W228CF is buzz935.com.
---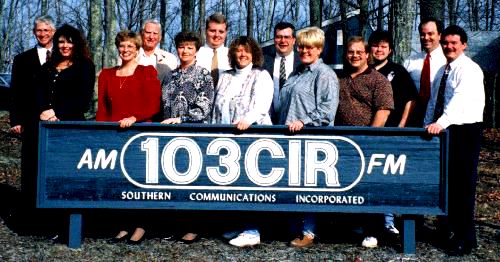 ---
Christopher A. Harrower

Chris worked at WCIR in the late 70's and early 80's. His air name was Chris Silver.
Chris Harrower, 50, Stevens, died tragically Sat., Sept. 18, 2010, in a fire in his East Cocalico Twp. home. Born in Royal Oak, Michigan, a son of Ian K. and Georgia G. (Eldridge) Harrower, he was the husband of Linda C. (McClure) Harrower for 22 years. A member of Mohn's Memorial Evangelical Congregational Church, Sinking Spring, he was employed as group sales manager with Dutch Apple Dinner Theatre, Lancaster. Also surviving: children, Amy (Anthony) Bowman, Ephrata; Bethany, Courtney, Emily, David, Jonathan and Jordan Harrower, all at home; a granddaughter, Riley; and brothers, Gordon Harrower, Lancaster; and Timothy Harrower, Portland, OR. He was predeceased by a son, Matthew. A memorial service celebrating Chris' life will be held on Wed., Sept. 29, at 2:00 pm in Mohn's Memorial E. C. Church, 708 Mohn's Hill Rd., Sinking Spring, PA 19608. Rather than flowers, contributions to Chris Harrower Family Fund at any Fulton Bank; additional information at www.lancasterpa.com.

---
Ira Southern
This article appeared in the Register-Herald on April 21, 2012.
Ira Southern, who with his son founded the Southern Communications Corp., died March 27 in the community of Lady Lake, Fla., where he had made his home for the past six years. He was 92.
Born in Mercer County, Southern was a World War II veteran, having hitchhiked to Roanoke, Va., to sign up with the U.S. Army Air Corps, according to his son, Shane Southern. He was stationed at Hickam Field in Hawaii when the Japanese attacked the adjacent Pearl Harbor Naval Base.
Ira Southern was a graduate of Concord College and earned a master's degree in public health from the University of Michigan.
He spent most of his career working in the public health field, spending several years in Saudi Arabia and then working for the Kroger Co. in Cincinnati. After spending five years with the National Institute of Mental Health, Southern returned to West Virginia and served on the Southern West Virginia Regional Health Council.
He continued his public service in his home county as city manager of Princeton, later serving on city council and then as mayor.
Southern and his son formed Southern Communications Inc., in Beckley in 1976, fulfilling the younger man's dream of a career in radio.
Working with his father on a day-to-day basis was "really good and really hard," Shane Southern says. "There were extremes of each."
The father-son team built Southern Communications from a single station, with the purchase of WCIR, into a conglomerate that today includes radio stations WTNJ, WAXS, WBKW, WMTD and WWNR.
Ira Southern was inducted into the West Virginia Broadcasting Hall of Fame in 2007.
After the passing of his wife, Judy, in 2003, Ira Southern lived by himself, although he had suffered mobility issues as he aged, his son says. He had knee replacement surgery less than four months prior to his death.
"He was a farmer, a businessman and a 32nd degree Mason — and he always did what he wanted," Shane Southern says.
In addition to his son, Ira Southern is survived by two daughters: Karen Martin of Charlotte, N.C., and Kristin Wallace of Pearisburg, Va., as well as grandchildren and great-grandchildren.
Plans for a local memorial service are incomplete at this time.