History of WOAY, Oak Hill-Beckley
This page was last revised on Jan. 25, 2021.
WOAY-AM signed on the air in February 1947, on 860 kHz with 250 watts.
It is believed that founder Robert R. Thomas had intended to request the call letters WOAK, for "Oak Hill," but that his hand-written application was misread by the FCC, and the call letters WOAY were instead assigned. An examination of call letters in use in 1947 shows that the call letters WOAK were apparently not in use and thus available.
On Feb. 20, 1947, the Beckley Post-Herald reported:
R. R. Thomas, Jr., owner and manager of radio station WOAY, said today that the station would start full time broadcasting Saturday morning [Feb. 22] at 7:15.

The station has been on the air for the past few nights for testing purposes. ...

The staff of the station will be composed of the following: Robert A. Brown, Wooster, Ohio, program director; Icel Mier, Wooster, Ohio, sports announcer; "Brud" Moon, Beckley, staff announcer; Albert Brunelle, Beckley, engineer; and Cecil Lindsey, Oak Hill, sales manager. There is still a vacancy in the woman's department. ...

Broadcasting will begin Saturday morning with the Alarm Clock Club. This program will feature Associated Press news, educational features, music, a program of public service, and other entertainment.

Rev. O. C. Rushing and family will present the Family Worship Hour. ...

The first of the church services will be broadcast from the Oak Hill Baptist Church Sunday morning, with Rev. Gilmer H. Cross, pastor, in charge, providing arrangements can be made.

Actual work began on the station building last October but the January opening had to be postponed when the coal strike kept the materials from arriving on schedule.
An ad in the Beckley Post-Herald of Jan. 19, 1948, shows the program schedule. It included the Bobby Cook Jamboree at 7:45 a.m., Elmer Hickman at 8:10, the Mount Hope Hour at 10:30 a.m., Tex Ritter at 12:30, the Hillbilly Tune Parade at 1:30, and Juke Box Revue at 3:05.
The 1948 Broadcasting Yearbook has: WOAY. 1946. 860, 1,000-D. Owner: Robert R. Thomas Jr. Robert R. Thomas, Pres. Harold B. Shaw, Prog. Dir., Gen. & Coml. Mgr. V. W. Moon Jr., Prom. Mgr. Robert R. Thomas, Chief Engr.
WOAY-FM went on the air in 1948. A 1948 application for the FM station requested 96.5 MHz, 15,500 watts, although I believe the station signed on the air on its current 94.1 MHz frequency. The 1949 Broadcasting Yearbook shows the station on 94.1.
On Nov. 27, 1948, Billboard reported, "Hugh McPherson Jr. has joined the jockey staff at WOAY, Oak Hill, W. Va."
On March 24, 1949, an Associated Press story reported that Robert R. Thomas Jr. of radio station WOAY announced today that he had applied for a television station on Channel 6 with 2 kilowatts of radiated power. He said that to his knowledge Oak Hill is the smallest community in the U. S. to make application for a TV station.
On January 8, 1952, an application was made to increase the power of WOAY-AM from 5 to 10 kw.
WOAY-TV broadcast its first test pattern at 5 p.m. on December 3, 1954, and broadcast several hours of programming on December 14, 1954.
On Dec. 15, 1954, the Raleigh Register reported, "Several hours of programs, local, and film presentations were telecast by Station WOAY-TV Tuesday evening. Clyde Higgins, production manager of the station, said that it might be a matter of a day or a week before the station goes on the air regularly with network programs. It depends on the adjustment of various mechanical problems, he emphasized, and will be as soon as possible."
According to a 2005 article at cmt.com, Barbara Hickman, widow of Elmer Hickman and then the mayor of Oak Hill, recalled that Elmer Hickman made the first public announcement of the death of Hank Williams. "After he signed the station on that morning," she recalls, "he said, 'Ladies and gentlemen, I have some sad news.' That's how he started it, and then he told about it." A 2016 article in the Beckley Register-Herald stated that Charles H. "Chuck" Balding "is recognized as the first newscaster to announce the musician's death."
On Jan. 1, 1954, WOAY(AM) increased power from 5000 watts to 10,000 watts, except 5000 watts during critical hours. At this time, the staff included announcers Charles H. Balding, Elmer Hickman, Doug Ford, and Dale Crawford; chief engineer Curt Horton; traffic manager Mrs. Charles Balding; receptionist Mrs. Kenneth Holand; and advertising manager J. W. Thompson.
On Dec. 17, 1955, Billboard reported that a Saturday afternoon dance show for teen-agers had begun, airing from 4:30 to 5:30 p.m.
The Sept. 15, 1956, TV Guide reported, "Bob Kent, Ch. 4's Saturday Night Wrestling host, may be moved to more spacious quarters because of the backlog of ticket requests. Mail is coming in from many outlying areas."
In the late 1960s, WOAY AM and FM simulcast 100%, although the AM station operated only in the daytime. The station had a block format.
On July 14, 1977, WOAY founder Robert R. Thomas Jr. died, at age 64.
A fire on Sept. 30, 1977, destroyed the studios and transmitters of WOAY radio and television.
Gary Russell provided several radio airchecks from January 1982 which are on the sounds page. He estimates that the station had been playing rock music for about 6 to 8 months by that time. He recalls, "The station wasn't much on personality (per the PD's mandate), instead letting, as Joe Perry/Aerosmith once put it, to 'Let the music do the talking.'"
In 1990 Thomas Broadcasting sold both the AM and FM stations to a Bluefield broadcaster. The FM station changed call letters to WVMA and then to WAXS.
WOAY's Shirley Love was elected to the West Virginia State Senate in 1994 and 1996. His legislative biography says he was born in Oak Hill on May 15, 1933.
In 1997 the FM station was owned by Paul Gonzales and the AM station was owned by Eugene Ellison. Ellison owned WOAY AM from 1990 to 2006.
In the late 1990s, WOAY 860 featured a religious format.
On Dec. 31, 2001, the website of WOAY AM 860 showed the following staff: Wayne Boone, Chief Engineer; Steve Bush, Announcer; Bettie Day, Traffic Manager; Gene Ellison, Pres/Gen Mgr.; Judy Ellison, Admin. Assistant; Janet McClung, Announcer/Marketing; Wes Caldwell, Announcer/Operator; Shirley Love and Bob Workman, Sports.
On April 2, 2001, WAXS-FM 94.1 (operated by Southern Communications) adopted the name "Groovy 94.1FM" and switched to an oldies format.
On Dec. 31, 2001, the website of Groovy 94.1 showed the following lineup: Paul Van Scott, 5-10am; Michael Meredith, 10-3pm; Shane Randall, 3-7pm; Kevin Williams, 7pm-Midnight; Dell Moore, weekends.
In 2002 the studios of WCIR-FM, WTNJ-FM, WMTD-AM/FM, WAXS-FM, WWNR, and WIWS were moved to 306 South Kanawha Street in Beckley (the old Appalachian Power Company building).
In November 2006, announcement of the sale of Commissioned Communications Inc., which operates WOAY-AM 860, to Mountaineer Media Inc. was made. The sale was expected to occur by the end of 2006, after regulatory approval. Gene Ellison, the primary owner of Commissioned Communications, said that the station would remain a Christian format station. Mountaineer owner Thomas H. Moffit Jr. said he would continue WOAY's Christian programming, emphasizing Bible teaching and family life.
According to the Wikipedia article, WOAY-TV closed down its analog transmission on channel 4 at 11:35 PM June 12, 2009. The station began broadcasting a digital signal on Channel 50, not choosing to use PSIP to appear to be on channel 4.
In November 2010 WOAY(AM) 860 applied for a voluntary assignment of the license from Mountaineer Media, Inc., to Foothills Broadcasting, Inc.
In February 2011, WOAY-TV was reported to be the only West Virginia TV station broadcasting local news in high definition.
Robert "Robbie" R. Thomas III, 66, died on November 23, 2016 at Appalachian Regional Hospital in Beckley. Born April 23, 1950, he was the son of the late Robert R. Thomas, Jr. and Helen Thomas.
In October 2019 WOAY-TV moved from channel 50 to channel 31 as part of the FCC-mandated frequency repack, and at this time it began using PSIP to appear to be on channel 4.
---
WOAY at 50: Times Change, But Format Stays Timeless (1997)
This article appeared in the (Beckley, W. Va.) Register-Herald on Mar. 9, 1997 and is reproduced here with permission.
By NEALE R. CLARK
OAK HILL -- The evolution of WOAY-AM radio has been a variegated, perhaps sometimes painful one, 50 years of bearing witness to incredible and equally painful wrinkles in the cloth of history -- a "police action" in Korea, another in Vietnam; a wall went up and a wall came down; a president was murdered, another resigned.
Yet throughout these upheavals, WOAY has sought to appeal to the common folk as they exist in Southern West Virginia.
Its founder, Robert R. Thomas Jr., was no-nonsense when it came to anything that might violate his sense of propriety. According to engineer Don Moye, who has been with WOAY since Day One, Thomas even turned away profit as a matter of principle.
"He would never accept any beer advertising," Moye recalled. That restriction eventually faded, Moye explained, because of the addition of television, where Thomas had no control over network advertising content.
As a result of Thomas' sense of the public pulse, much of the air time was devoted to "religious" programming. There were devotionals, gospel hymn times and a host of preachers -- Freddie Steele and Mont Carr, Ernest Barley and Roy Tyree, Hilda Carr and Dorothy Osborne, and singing groups like Rex and Eleanor, Louise and Lodema.
A couple of years after the death of Bob Thomas, "religious" programming declined and eventually disappeared from WOAY-AM as general managers changed and formats were altered. Then, in 1983, an 18-year veteran broadcaster returned to the station with a mission.
Gene Ellison, a 1966 graduate of Nuttall High School, first came to WOAY in August 1972, doing an odd lot of duties, including AM board work, television news and selling advertising for all three divisions.
He left the WOAY station 1979 to further his professional career. By 1982, he was part-owner and general manager of an all-bluegrass radio station in Hurricane.
Although business was good, he was driving 81 miles each way every day so he could continue living on his small farm near Oak Hill. Eventually, the demands of management began to bear.
"The pressure of the job was so great, I really started going back to my Christian roots because I had no other place to turn."
To help himself focus, he turned to the radio during each morning's 81-mile drive. "All I listened to was Christian programming ... just to make sure I got on the right track at the beginning of the day. I got blessed from it every day. What I was hearing was what I needed."
On Sundays, the Hurricane station ran an all-religious format. A local pastor brought Ellision a tape of programming generated by Moody Broadcasting Network. Satellite programming delivery was just beginning, and it was a concept that fascinated Ellison.
In time, the Christian messages he listened to during each morning's drive had their effect. "Through that process, the Lord indicated to me that that was the reason He put me in radio in the first place, to broadcast that type of programming."
In the fall of 1983 he came back to WOAY-AM, and by the following spring the Moody network was on the air at 860 on the AM dial.
Then in 1990, Thomas Broadcasting decided to sell off its radio stations. Both AM and FM initially were bought by a Bluefield broadcaster. The FM operation went its separate way, first operating as Y94, then becoming WVMA and most recently WAXS, now owned by Paul Gonzales. Ellison bought the AM side.
Although the station is part of a network, Ellison has his own sense of what the people need to hear.
"We might deal with a syndicator and get a better time for a good program than what the network put on. Also, one of the best black preachers was at first turned down by Moody. I went directly to his ministry and said we'll find a place for you."
The network has since picked up that dynamic preacher, the Rev. Tony Evans of Dallas, but WOAY refuses to move him from the original 12:30 time slot."
"We try to maintain as much consistency as possible," Ellison explained. "We don't want to have the station sound one way one hour and another way the next hour."
Local ministers are afforded access. "We do want to work with every church we possibly can," Ellison said, "because we feel we're hand-in-hand with this kind of work. We just feel a partnership, and we do realize that some might not feel that way, but we do. Part of what we're here for is to help fill up their churches on Sundays."
In 1985, Ellison hired a new employee. "I came to work in 1985," recalled Ed Neal, "fresh out of Midland Trail High School." He had no radio experience. "Gene said he'd be willing to show me if I'd be willing to learn. I worked for him for six years the first time."
Then Neal got married and left WOAY, taking a job with his father-in-law's trucking company. "I always took my lunch break and listened to Tony Evans, the urban alternative black ministry out of Dallas."
At the same time, Neal remained in close contact with Ellison. "We worked together, I helped with a couple of concerts."
Finally, Ellison made Neal an offer to return. He came back in early 1996 as promotions director.
"I really got into it for my love of music," he said.
"I feel that Christian radio is a companion. The message that we have helps so many people in encouragement and enlightenment."
He noted the misconception that the majority of people who listen to Christian radio are Christians. "We have found that a lot of people listen because we have programs on finances, about family, on psychological counseling. Of course, we have news and sports, but we offer so much more -- a message of hope."
Neal added that everyone at the station is a Christian. "Our staff is small, but they are all dedicated and all have positions in their local church."
The staff includes veteran Steve Bush as program director. Bush, who brings 17 years of experience to the station, is a familiar voice in the region, including a host of "voicing" chores for local television.
Also on staff are office manager Bettie Day, announcers Ron Beaumont and Henry Dempsey, and "Sid" Sydnor in sales.
Like Bob Thomas years before, WOAY-AM restricts its advertising content -- no alcohol ads, no lottery promotions.
"That kind of advertising keeps other radio stations afloat," Neal explained. "But for us, it's off limits. So in addition to more standard advertisers, we depend on Christian businesses, churches and individuals to keep us on the air."
"Monetarily, we probably wouldn't be considered a highly successful business," Ellison noted. "But we have shown a slow, steady growth through the years. Each year gets a little bit better than the year before." Ellison said he remains committed to the mission. "There was never a time where I said if this doesn't work we'll change the format.
If someone said we must do that, I'll just find another Christian station somewhere."
The important thing, he added, is realizing that "success" is a relative term. "As far as life-changing things, of people's lives being changed forever, we've been very successful there."
Ellison said the station receives many letters and phone calls indicating that, and Neal added that network and syndicated ministries advise the station when people take the time to write them and include the WOAY call letters. For the month of January, 70 some people wrote such letters to the Rev. James Dobson's "Focus on the Family" ministry.
For its 50th anniversary year, Neal said the station has several projects in mind, the first being a concert March 22 in Beckley with Larnelle Harris, five-time Grammy and 10-time Dove Award winner. That event will feature a mass choir drawn from the community, directed by Daniel Spurgeon from United Methodist Temple.
Now operating with the slogan "family radio," WOAY has entered its 51st year with a clear sense of where it wishes to go. Part of that sense is based on the knowledge that people are seeking what the station has to offer.
As Ellison expressed it, "We believe God created us with an empty heart that can only be filled with Jesus Christ. Some people try to fit a round peg into a square hole, trying to fill that emptiness with fancy cars, expensive homes. But no thing will fill that void."
The WOAY format exists as one way of filling the emptiness, and Ellison restated his belief that what he is doing is what God wants him to do.
"There is a scripture, Ephesians 2:10, that says there was a plan for our lives before we were even created, that God had this plan for us.
And I fully believe with all my being that that's why God put me here, that I took my first radio job in 1965 to be trained to do this very thing."
---
Shirley Love - Oak Hill High School Hall of Fame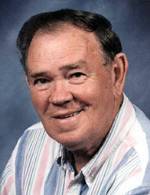 The following article was taken from a page of the Oak Hill High School website, features biographical information on the members of the OHHS Hall of Fame.
For over 44 years, fans of all sports in the Plateau area have identified with the one true voice of sports broadcasting, that of Shirley Love. As an Oak Hill High School alumni, Shirley has remained loyal to his hometown and school. Married for the past 46 years to the former Audrey Painter, Shirley is the father of three and grandfather to six grandchildren.
Shirley began his career in broadcasting in 1954, broadcasting his first play by play football and basketball games over W.O.A.Y. radio in Oak Hill, West Virginia.
Love's extensive career lasted until retirement from W.O.A.Y. in 1997 although from time to time you can still tune in to his unique play by play action on Family Christian Radio W.O.A.Y. AM 860 and Hometown Productions Cablevision Channel 5.
Known as the "Voice of the Red Devils" it is estimated that Love has broadcast well over 1,000 Oak Hill High School basketball, football and baseball games.
Biased as he was, for the Oak Hill teams, even in a loosing situation, Love always kept high hopes alive for a victory down to the last few seconds. Slow to "call the dogs" on the game if Oak Hill teams were behind, Love was equally as quick to refer to the old coon hunters terminology and "put out the fire and call the dogs, this ones in the bag" if Oak Hill were on a winning trail.
Love became a master at making a game sound much more exciting whether the game was "a real barnburner" or a blowout.
In questioning him as to a most memorable game, Shirley referred to a game at Charmco against Greenbrier West. It was the first game for the new school and they did not have most of the bleachers or a press box completed. Love got permission to broadcast the game from the top of a R.C. Cola beverage truck that the school was using as a refreshment stand. At the completion of the games, the driver of the truck forgot about Love who was still on the top of the truck, and drove off with Love and his equipment still on top!!!!
On W.O.A.Y. TV Channel 4, Shirley hosted a 30 minute TV show on area high school football each Thursday night, featuring the Red Devil Clips of the previous weeks opponent along with the two team coaches.
Presently, Shirley is a State Senator for the 11th senatorial district.
---
Love Reminisces as Oak Hill Station Celebrates Anniversary (1984)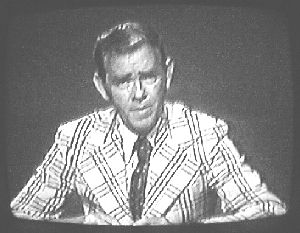 This article appeared in the (Beckley, W. Va.) Raleigh Register on Dec. 2, 1984. The photo shows Mr. Love in 1977 or 1978.
By VAUGHN RUDY
1954.
It was a time of live television, a time when an announcer had to be quick on the microphone, a time when watching the test pattern on a small box was a novelty, especially to families in the Oak Hill-Beckley area.
It was in the fall of that year that WOAY-TV, Channel 4, came into being after being little more than a dream of Robert R. Thomas Jr. Despite some skeptics who believed Thomas had made a bad business decision, WOAY was born, a television station to serve Southern West Virginia. It's still going strong today.
If there was ever any doubt about that, no one certainly told the hundreds of people who showed up Friday night at the television station's 30th Anniversary Celebration at the Ramada Inn in Beckley. Even ABC's One Life to Live soap opera stars Steve Blizzard, who portrays Brad Vernon, and Shelly Burch, who portrays Delilia Ralston Buchanan, took part in the festivities.
The celebration, a combined anniversary and premiere party honored not only the station's future but also its past—a past filled with fond memories for at least one station employee.
At the time WOAY went on the air, Shirley Love was working for Thomas' WOAY radio station. After finishing his radio shift, Love would go over and watch the television announcers.
"Some of the announcers liked to leave early, so I would read the copy for them," he said. "My voice became familiar on the air."
Love also would run the teleprompter machine for the announcers when they would do commercials. After WOAY had been on the air for about six months, one of the announcers for whom Love operated the teleprompter was fired. The announcer did not want to stick around for the extra two weeks.
"He (the fired announcer) said, 'If I had someone to do that commercial, I'd just walk out now,'" Love said. "I said, 'Go ahead, I know it.'"
Love did the commercial to the delight of his superiors and thus began his television career at WOAY.
"WOAY probably is the most unique television station the whole United States," Love said. "WOAY was the only family-operated or one-man owned television station in the United States that anyone knew of. Most of them are owned by corporations or groups of individuals.
"The station also was unique in that it didn't have a network when it came on the air. We signed on at 4 'clock in the evening and would sign off at 11 o'clock at night," he continued. "If you talk to anyone who lived in the area 30 years ago when television first came on, just watching the test pattern was novelty."
For years the station was independent, but then joined what was known as the Dumont Television Network. Later the station became affiliated with CBS before finally becoming affiliated with ABC, its current network, in 1967. For awhile, even though the station had joined ABC, it continued to telecast Walter Cronkite's CBS newscast and "Captain Kangaroo."
Doing live television is one thing Love remembers most about the history of WOAY. Local shows such as "Jukebox Dance Party," "West Virginia Bandstand," "The Chapel Hour," "Friday Night Barn Dance," and "Saturday Night Wrestling" were live and immensely popular.
Students from different area high schools would appear on "Jukebox Dance Party," an hour show airing Saturdays, and "West Virginia Bandstand," a half hour daily show similar to "American Bandstand."
"It was community involvement," Love said. "People got used to seeing people they knew; people got used to youngsters who were popular in their respective high schools, those who were the top teens, the class president, the top football and basketball stars. We even talked to some coaches and teachers. This was good because it explored that particular school, and the people in the community were more accustomed to what was happening in the school just through the involvement of those youngsters on television."
Similar activities took place on "Friday Night Barn Dance," a country-western dance show that gave many local performers a chance for recognition. Many country-western stars such as June Carter Cash, Little Jimmy Dickens, Charlie McCoy and others also appeared on the show.
"If someone came along and they played a good banjo, or a good violin or had a good quartet, then they would be invited to appear on "Friday Night Barn Dance," Love said.
One of the first live shows on WOAY was "The Chapel Hour," which was shown daily from 4 p.m. to 5 p.m. and featured local guest ministers, according to Love.
But probably the most popular live show on Channel 4 was "Saturday Night Wrestling," which featured famous professional wrestlers and local talents in matches performed first in the station's studios and then in an auditorium adjacent to the original WOAY station. The show lasted about two decades.
"This was probably the most watched show," said Love, who announced the matches for many years. "People would come from Virginia, Kentucky, even Ohio. ... People watched it for the wrestling itself, but other people watched it to see the people. Folks would get carried away, jump into the ring, and they'd do their thing, too. They would actually want to fight and a lot of them did fight.
"We would have wresting bears," he said. "We would have the top wrestlers in the country in that auditorium. We're talking about Argentine Rocko, Gorgeous George; we had them all when wrestling was in its heyday. The excitement that wasn't there, we'd create."
Hundreds of people would fill the auditorium every Saturday night to watch the matches, Love said.
"What made it the most popular here was interviewing the fans in between bouts. You talked to children, you talked to senior citizens, you talked to people from out-of-state, and often people would get carried away and forget they were on the air. Sometimes you had to be quick on the microphone trigger because anything could go across the airways, and did many times."
Love believes the local programming is what made WOAY popular with area viewers.
"When people remember and think of Channel 4, these are the things that pop into their minds, not necessarily a James Bond movie or a Jackie Gleason show."
The auditorium in which the matches took place first served as a skating rink and was part of a recreation complex that included the old TV Lanes Bowling alley and restaurant. Channel 4's television and radio studio was destroyed by fire in September 1977, just two months after the station's founder and owner had died, leaving his children, Robert R. Thomas III and Leah Thomas to take over the operations of the TV and radio stations.
Both WOAY-TV and WOAY radio were back on the air within less than a month. The auditorium was renovated to house the new studios. Later the radio station moved above the bowling alley, replacing the former restaurant called the Terrace Room. The stations today are in the same location.
From the station's beginnings when its shows, newscasts, commercials and even station identifications were live, WOAY advanced as new broadcasting technology developed.
Polaroid photographs and quick camera work were the order of the day when the station first started doing newscasts. Then, with the advent of color television, the station would use colored chalk to turn a black-and-white picture from a newswire service into a color photo for broadcast purposes. Eventually black-and-white video tape came into use, followed by color, microwave capabilities and other advances.
Love said WOAY usually was a few steps behind in getting the latest equipment, but modern technology eventually would reach the station.
"Today we have as much of a modern station as any station in the state of West Virginia, and we're really proud of it," he said.
WOAY's history is part of the heritage of many people in the Oak Hill-Beckley area, according to Love. Its future also will be a part of the area's future, he said.
"Channel 4 will be the voice of Southern West Virginia as far as programming in this area because now it's caught up with the times," Love said. "Channel 4 will grow with the times. As modern technology progresses, so will Channel 4, and with it the people will be better informed of what's going on around them."
The station's current general manger, Curtis Butler, agreed.
"We're certainly hoping to expand the audience considerably through better programming, more local programming and through finding out what the audience in our demographic area wants," Butler said. "As far as the future of the station is concerned, we're on a growth pattern."
Butler said he hopes WOAY will be able to cut out the Charleston and Huntington television stations' influence on this end of the state. He said Channel 4 is committed to serving Southern West Virginia for years to come.
"WOAY is gong great, and we'll be here at least another 30 years," Butler said.
---
Elton Karl McClung, Jr.
Mar. 21, 1944 - Dec. 11, 2015
Elton Karl McClung, Jr.
Elton "Butch" McClung, Jr.,71, of Hico, passed away Friday December 11, 2015 at Summers Nursing and Rehabilitation Center after a short illness.
He was born March 21, 1944 to the late Elton and Mabel Woodrum McClung of Hico.
He was a graduate of Glenville State College and had a Master's Degree in counseling from Marshall University.
Butch was a very fine musician from a very young age, He played the piano at Sunday Road Baptist Church in Hico when he was 11 or 12 years old. He played the processional and recessional for all four commencements for the years he was at Nuttall High School. He was also an accomplished organist giving several solo recitals and played at various local churches in West Virginia.
Shortly after graduating from high school, he embarked upon a very long and successful career as a radio announcer.
Butch actually got his start in radio broadcasting at the early age of 14 when, for about $10.00, he purchased a small AM-FM tansmitter, rigged a small antenna in his back yard and began broadcasting christian music on Sundays from his Hico residence. His broadcasts were heard as far away as Montgomery. This endeavor however was short lived as he hurriedly took his antenna down one day after he got wind that someone from the FCC was at a local gas station inquiring about where the broadcasts may be coming from. His interest in radio was only heightened though as he continued to learn as much as he could about radio and developed his wonderful deep accent-free voice.
Early in his career, Butch worked at radio sation WCKY AM in Cincinnati, Ohio where he mntored under the celebrated radio broadcast star, Nick Clooney. He also got to know Nick's sister Rosemary Clooney who recognized Butch's talents and wanted him to try his fortunes in Hollywood. It was at WCKY that "Karl Mack" became his radio name.
Butch returned to West Virginia and worked for a number of years as a talk show host and production director at WCHS in Charleston where he hosted a night jazz show. There he also worked with well known radio personalities Hugh McPherson and Ernie Saunders.
More recently and prior to his retirement, Butch was a radio announcer, newscaster and late night jazz host at WCWV FM in Beckley.
Butch is survived by several cousins and many friends who will dearly miss his laughter and spirited personality.
At Butch's request there will be a Graveside Service at 1:00 pm Wednesday, December 16, 2015 in the Chapel of Rest Mausoleum Chapel in Victor, WV with Pastor Allen Donaldson officiating . Entombment will follow in the Chapel of Rest Mausoleum.
Online condolences may be sent to wallaceandwallacefh.com
Wallace and Wallace of Ansted is in charge of the arrangements.
---
Fire-Ravaged Station Back On-Air in 10 Days (1978)
This article appeared in RCA Broadcast News, March 1978.
For 193 ABC network affiliates, televising the first game of the 1977 World Series was an exciting event, with excellent ratings.
For one ABC affiliate—WOAY-TV, Oak Hill, West Virginia—it was a miracle.
Just ten days earlier, September 30, the WOAY broadcast facility—AM, FM and TV—was totally destroyed by fire. Getting the station back on-air in less than two weeks in a new building took super effort, total dedication and decisive management. It also required quick, compassionate response from suppliers and fellow broadcasters.
Five Transmitters Destroyed
Lost in the fire was the entire WOAY broadcasting facility—TV, AM, FM—burned to the ground. Irreplaceable personal record collections and audio tapes; the station records; film and tape programs and commercials all were reduced to ashes. The entire equipment complement was destroyed, including five transmitters, one of which was a brand new TT-25FL ready for installation and test.
The response to the disaster was swift and positive. RCA had a TT-25FL 25 kW transmitter ready for tuning and test at Meadow Lands for another customer. It was diverted and shipped to WOAY on Sunday, October 2. A BTA-10L, 10 kW AM Transmitter and a BTF-10E, 10 kW FM Transmitter were also sent from Meadow Lands to replace the burned-out units. Another shipment of needed equipment was loaded in RCA, Camden and dispatched to the station. All of this equipment was accumulated and loaded for shipment before an order was signed, on the premise that the station would rebuild.
Robbie Thomas III, General Manager of WOAY wasted little time in deciding. An RCA proposal was reviewed and approved on Saturday, Oct. 1, and the action began at the new installation site. Even before the conclusion of negotiations, it was decided to relocate the WOAY broadcast facilities to an adjoining Sports Arena/Auditorium which was also owned by the Thomas family.
The first priority was to get on-air with the television operation, to generate network revenue. This happened in just ten days.
Transmitters Installed First
RCA Project Implementation personnel were already on-site; made a rough layout and quickly cleared an area for the transmitters. The TV, AM and FM transmitters were moved into the auditorium on Saturday and Sunday and positioned in the selected area which was to be a temporary location. The three transmitters were arranged in a line, resting on top of the existing hardwood floor. Assembly began at once—with many minor and major problems, one of which was a lack of power. With a massive effort, the power company got full power to the building in just five days.
The new TT-25FL transmitter got maximum attention. All new transmission line was required and this had to be cut, fitted and optimized on-site. The transmitter had to be tested and tuned on-location and under trying conditions. While the transmitters were being worked on, the WOAY personnel and contractors were busy ripping up the hardwood floor of the arena, removing the stage, pouring concrete, erecting partitions and preparing for the installation of studio equipment. Sawdust, crates, boxes and debris were everywhere.
Breaking In A New Chief
Chief Engineer Jim Martin came from educational station WMUL-TV in Huntington, West Virginia, and was scheduled to start work on TV-4 on October 3. It was an unusual introduction to a new job confronted with total destruction and the need to rebuild fast, without benefit of advance plans. "All of the manufacturers involved were just great. They recognized our need and responded to the emergency, giving us excellent cooperation and service. Other stations in the area helped out with loans of equipment. Within a week, network lines had been installed by AT&T."
"Our Competitors Are Also Our Friends"
Bob Brown, Station Manager of TV-4, was amazed at the reaction to the station being off-air. "People act like they've lost a friend," he said. "WHIS-TV in Bluefield has been tremendous, giving our WOAY news team five minutes a night on their station for Fayette and Raleigh County news coverage. I've been in this business for 30 years and am finding out that our competitors are also our friends. And that's a great feeling."
Unrealistic Target Date
Jim Martin is young, energetic and unflappable, and needed all of those attributes to get the WOAY operation back on the air. "The whole process was fantastic—just unbelievable for anyone who has never had the experience. We were hoping to be back on-air with basic radio and TV broadcasts within a month or two—which was a difficult goal.
"Our unrealistic target date for returning on-air with TV was under two weeks. It was October 10, the opening game of the World Series.
The official sign-on came at 5:58 P. M. on October 10, operating at half power (with special permission from the FCC).
"That night," Mr. Martin recalls, "we were flooded with calls from viewers complimenting us on the excellent pictures they were receiving."
There has been no RF problem with the television transmitter, even though all three transmitters are located close together in the same area. Jim Martin attributes this to the excellent RF shielding of the transmitter and to the groundstrapping of all the transmitters.
A Long Way To Go
Getting on-air with network programming was just one major milestone in the reconstruction of WOAY. It was still a long way from a normal—or even basic—broadcasting facility.
The AM-FM studio control room and announce booth were completed quickly and served as the TV "studio" for the first newscast after resuming broadcasting. The 20-foot ceiling created an unusual "boomy" effect on audio, but getting it on was the name of the game.
A new telecine system with TK-28 camera, two TP-66's and a TP-7 were installed and operational in less than a week. This was a key item, Jim Martin says, since it gave TV-4 the flexibility for airing local programs, commercials and ID's.
The video tape machines—two TR-22's—were brought in one day, and were used on air the next day. (A TCR-100 "cart" machine and a TR-70 tape recorder are on order for early 1978 delivery).
Also within the first week of resuming television operations, local commercials were being produced, using ENG cameras and videocassette recorders. The two quad VTR's and the 3/4-inch videocassettes are used for production as well as for on-air operations. A limited spot reel is made up for some tape commercials, but most are aired individually. Film commercials and PSA's are not dubbed to a spot reel, but are aired separately.
AM-FM Broadcasting Resume
Once the TV transmitter was on-air, action shifted to the AM and FM transmitting systems. WOAY-AM resumed broadcasts on November 6, and FM was back on air November 14.
By the end of 1977, WOAY was in full operation, with major construction completed, but still with a sizable backlog of projects, especially in the technical area. The next phase is to get back into production. The new studio—40 x 60 feet—is being readied, with the lighting grid already in place.
"Better Than Ever"
Rebuilding an entire TV/AM/FM broadcasting facility in three months time is a challenge few broadcasters face. WOAY General Manager Thomas is rightfully proud of this achievement, particularly of getting the TV operation on in less than two weeks.
"There was no way that we could meet this schedule—but we did. It took a lot of hard work, long hours, cooperation and plain good luck to carry it off, but our WOAY staff made the impossible dream of telecasting the 1977 World Series come true. We passed the test, and our station is better than ever."
---
Saturday Night Wrestlin'—A West Virginia Legend (2004)
This article appeared in the Register-Herald on Dec. 25, 2004.
By MANNIX PORTERFIELD
OAK HILL—Burdened with steaming bowls of mashed potatoes, half-runner green beans, fried chicken, and similar staples of Appalachia-style cuisine, the denizens of Hacker's Valley descend on a neighbor's house for dinner on the grounds.
Appetites sated from a sumptuous pot-luck meal spread on three picnic-style tables, two on the porch, the third resting in the yard, the diners then repair to the living room until all space is occupied.
When no one else can squeeze inside, those left outside take up positions at windows, venetian blinds up, curtains drawn aside. All eyes are riveted on a small, black-and-white television set for a weekly ritual.
This was "Saturday Nite Wrestlin,'" perhaps the most enduring of local shows fledgling WOAY-TV offered in television's crib days of the mid-1950s.
Hacker Valley sits in rural Webster County, a long drive from population centers in those days, but WOAY was known for its powerful signal that penetrated deep inside the hollows across a huge swath of West Virginia.
Gone the way of eight-track tapes (they died about the same time), the wrestling fare attracted an audience like no other—a social phenomenon that would, to paraphrase Sheriff Andy Taylor's observation of bumbling Deputy Barney Fife, make a good study for a psychiatrist ... if only Mayberry, or, in this case, Oak Hill, had one at the time.
Longtime emcee Shirley Love drew such an analogy based on how the 90-minute wrestling show—which aired for 20 years—often turned erstwhile timid souls into rowdy spectators.
"You couldn't get a psychiatrist to open those people up the way that show did," he mused.
"I always wondered how long it would take a psychiatrist to sit down in a session and get all the tension out of someone that the wrestling program did in an hour and a half.
"I've seen very reserved people come into the studio and you almost had to look them directly in the eye to just speak to them, and then they would only nod."
Love figures some devotees suffered an inferiority complex.
Whatever their hangup, the wildness of Saturday Night Wrestlin' had its own curious way of loosening inhibitions.
"They would sit there the first 15 minutes among themselves," Love recalled.
"Then the wrestling match would start. In about 10 or 15 minutes, they started to move. In another 15 minutes, they were on their feet. In another 15 minutes, I mean they were running up and slapping the ring. And when they left the building, they were just yap, yap, yap. This tension in them was just loosened up."
Many of the wrestling fans at times "opened up" a bit too wide to the point of becoming unhinged, passing from the stage of mere vocal critics to would-be ring participants while pro wrestlers—remember Jan Madrid, Chief Black Eagle, the Sheik and the Cuban Assassin? - entertained them.
Love's daughter recalls him coming home from work every Saturday night, his standard white shirt drenched from cups of soft drinks that fell a few feet shy of their intended mark in the ring, hurled at an unpopular grappler.
This was, after all, a live take on the old western movie themes. Good Guys versus Bad Guys, distinguished not only by personality but, seriously, to the point of black and white trunks.
"It was a fake," Love says with no apology. "It was show biz. We ran a disclaimer that cautioned everyone it was 'pre-arranged for your entertainment.'"
No sooner had the show hit the air than the state Athletic Commission sent word it wanted to sanction matches and charge the station a fee for providing referees. Failure to comply would bring the commission down on station owner Robert Thomas with a court order. Thomas would have none of it.
"This isn't an athletic event," he protested. "This is strictly entertainment."
So, on the next Saturday night, the resourceful owner prefaced the show with this:
"Ladies and gentlemen, the following program is not an athletic event. The following is pre-arranged for your enjoyment."
Even the marquee outside was altered to read, "Saturday Nite Wrestlin,'" omitting the "G" in the word "wrestling" to pacify the athletic commission.
Few paid any heed, as things developed, and the vanguard of the show's following took the wrestling as real as life itself.
"Those old mountain boys up some of the hollows in West Virginia believed the wrestling was for real and quite a few of them at times would hop into the ring," Love recalled.
Love had misgivings about his new assignment. First off, he wasn't up on all the wrestling vernacular, but agreed to give it a whirl, once the game plan was announced. All he had to do was wing it, using the basics, like a headlock, leg hold, arm lock, etc.
Who cared if he got one of them wrong, anyway?
After all, his forte was in the between-bouts interviews, when folks let down their guard.
Nothing shook off society's accepted restraints any more than the interviews with members of the audience.
Back then, Love was young and quick, but at times even a steady hand and cat-quick reflexes weren't enough to yank a detachable cord from his hand mike and muffle a salty-tongued spectator before he laced the air blue with expletives.
"A lot of times, I purposely let it happen," Love acknowledged.
In one memorable surprise, a tiny, gray-haired woman—the prototype of everyone's little grandmother—shocked Love by referring to a villainous wrestler as "that dirty S.O.B." Love had no chance to silence that one.
One night, on the opening of squirrel season, Love asked a hunter how he had fared.
"Just fine," the man replied. "I got 12."
Love tried to smooth things out, in case a conservation officer was tuned in, asking, "You mean four, don't you? That's the daily limit."
"I got 12," the man said.
"Sir, I don't think you understood me, you see, the daily limit is four," Love drilled.
"Oh," the man deadpanned. "I got four."
To enhance the dramatics in the ring, some athletes broke apart small capsules of dye concealed in their trunks, or a razor blade wrapped in tape so that only a tiny pinpoint was exposed. Under the intense heat of television lights, all it took was a quick jab, and real blood oozed onto the forehead.
Love was no small part of the act.
By a simple signal he flashed, usually the universal thumbs-up gesture, one wrestler would fling an opponent onto his broadcast table at ringside for dramatic effect. This little dimension at times got out of hand.
On one occasion, two midgets wound up on Love's table, and one of them leaped on his back, slugging it out in hand-to-hand combat with the other.
If there were more commercials in the script than normal, and a break was in order, all Love needed do was tug at an earlobe or rub his nose, and the referee would exercise a quick decision.
Wrestler down, wrestler pinned, wrestler decisioned. And now, a word from our sponsor.
---
"Wrestlin'"— Shirley Love's Musical Talent Led to Broadcast Career (2004)
This article appeared in the Register-Herald on Dec. 25, 2004.
By MANNIX PORTERFIELD
OAK HILL—Shirley Love's odyssey into the world of broadcast had its genesis as a youngster singing in church.
As a teen-ager, his voice touched R.R. Thomas Sr., a member of the Methodist Church, so much that the enterprising television-radio station owner made a point to call in a $100 pledge to hear Love sing a spiritual song in radio telethons carried in town.
"Well, let me tell you, $100 back then was a lot of pledge," Love recalled.
Thomas was organizing his own radio station at the time and he wanted to hear Love's voice on the airwaves as an announcer. An audition led to a 5-9 p.m. evening gig over WOAY-FM.
Before long, Love was called upon to extend his talent to the broadcast booth in area high school football games, an assignment that produced more than a few chuckles until he got the hang of it.
At the outset, it was almost a disaster.
"I didn't know all the ropes about calling a game," he acknowledged.
"When the quarterback handed off and the running back broke loose, I'd say, 'he's up to the 30, the 40, the 50, down to the 60, the 70 and so on."
Love saw his chance to move up in the world when the fledgling WOAY-TV debuted in 1954.
"I would slip over on the television side after 9 p.m., because some of the guys liked to leave at night," he said.
Love gleefully filled in for them, doing station breaks and maybe a promotional or two.
"I started getting my voice familiar on that," he said. "I'd do the announcing for them when they would leave."
Fate intervened for the budding announcer when a station manager found himself in the doghouse and the boss issued him his walking papers.
"He was supposed to leave on a Friday night, but he told me on Wednesday that if he didn't have to do the commercials Friday, he would just leave tomorrow," Love said.
Love knew the commercial scripts by heart from turning the teleprompter so announcers could read them on the air.
The lame-duck manager was hesitant to let Love take over until he recited them verbatim and he was satisfied Love wouldn't confuse refrigerators with used cars, or anything else the station was selling.
So, at 6:30 p.m. that night, Love put on a tie and jacket, but still had one more barrier to cross—the program director.
"You can't do that," he told Love.
"Sure I can."
"Well, you're responsible."
When the new week dawned, the replacement manager approached Love with high praise, and an invitation, "You want to do them again?"
Love's real break came when he was offered the job of emceeing the "Friday Night Barn Dance."
From there, he anchored another popular local show, a spinoff on Dick Clark's "American Bandstand," an afternoon dance fare for area schools.
In one enduring anecdote, Bob Pruett, now the head football coach at Marshall University, was on the track team at Woodrow Wilson High School in nearby Beckley.
Seizing on a chance to be on television and mingle with new girls, Pruett and his fellow trackmen convinced then-coach Jerome Van Meter they could shape up better if someone drove them over to Oak Hill, dropped them off and let the athletes walk the 14 miles or so back to Beckley.
"What they were doing was stopping by the television station for 'West Virginia Bandstand' for three or four minutes, then going on to Beckley," Love said. "They really had it made."
That is, until Van Meter's wife happened to tune into "Bandstand" one afternoon and the camera panned the dancers.
"After that, when they passed by, you couldn't get them to even look at the building," Love said. "Van Meter put the word on them."
In his heyday, Love was one of three announcers for both radio and television.
"I did whatever Mr. Thomas said," he recalled. "He was a very smart man. He was in business to make money. Quality wasn't his foremost concern. Making money was his first concern."
In his 43-year career, Love started out with a 75-cent per hour salary, minimum wage at the time. Then, the pay shot up to $1.24 an hour.
"I never asked him for a raise, because he gave me the opportunity to sell advertising and he was the boss, and he put me in a position to where I became my own boss," he said.
"I only had to answer to him."
In fact, the mainstay of Love's livelihood in those salad days came from peddling Electrolux floor cleaners door-to-door.
"It came to a point in the '60s I was selling vacuum cleaners and making three times as much as I was at the television and radio station," Love said.
Love threatened to leave WOAY, telling Thomas he had two children on the verge of going to college and had just been offered the post of assistant branch manager for Electrolux. Thomas insisted he stay on, reminding Love of his side income in selling advertising.
Trouble was, Love explained, each time he lassoed a new account, some hustling co-worker snatched it away.
Thomas then made him an offer he couldn't resist—10 percent of all TV ads, and 15 percent for radio beyond the first $800 in sales.
"If an account is out there and it's not on the air, you get it, and you'll keep it," Thomas promised. "If you have any problems, tell the other fellows to see me."
Thomas stood by his pledge, and Love parted with Electrolux.
"That's the way it was until Mr. Thomas died," Love said. "I made a lot of money selling advertising."
---
Robert R. "Bob" Brown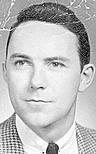 Robert R. Brown died on Monday, June 16, 2008, surrounded by love at Charleston Gardens. Bob was a resident of Charleston and Princeton.

Born on March 1, 1922, Bob was a graduate and senior class president of the Charleston High School Class of 1940 "The Class of 40." Bob entered World War II and served as a bombardier in the United States Air Force. Bob was in the 459th Bomb Group serving in Germany, Italy, China, Japan and eventually Korea. Bob ended his service career with an 18-month service with the Strategic Air Command.

Bob was a 1947 graduate of West Virginia University where he was a brother of Phi Delta Theta Fraternity. Bob received a Master of Arts in theater from Stanford University, Palo Alto, Calif.

Bob's professional career began in broadcasting with the Personality Stations in Beckley. Bob was a broadcast host and eventually General Manager of WJLS radio. Bob then moved to WOAY/TV 4 in Oak Hill as Station Manager and on-air talent. Bob left WOAY in 1980 and had a brief stint at WCHS TV-8 in Charleston before going to channel 45 in Miami/Fort Lauderdale Florida. Bob was a member of the West Virginia Broadcasters Association and served a term as their President.

In 1987, following his retirement from broadcasting, Bob joined the faculty of Concord College (University) where he taught public speaking and was the tennis coach. Bob was also the tennis pro at Pipestem State Resort, teaching clinics for guests until 2005.

Bob was a member of St. Stephen's Church, Beckley, where he served on the Vestry and was Parish Key Man. Bob was awarded the Bishop's Distinguished Service Cross for the Episcopal Diocese of West Virginia by his friend and spiritual guide, Bishop Wilburn Campbell. Bob was a founding member of All Souls Mission, Daniels.

Bob was preceded in death by his mother, Homazal Imboden Rebhan (1940) his stepfather, Frank Rebhan (1968) and his wives, Thelma Hildebrand Brown (1976) Betty Boywer Canterbury (1989) and Joann Ball Wright (2007).

Bob is survived by his dear friend and stepfather's wife, Mildred Martin Rebhan of Charleston and his son, Matthew of Charleston; stepdaughter, Joan Wright (Bruce Reid) of Toronto, Ontario; stepson, John Wright (Kay) of Kings George, Va.; and three granddaughters, Jessica, Rebecca and Rachael Wright.

Visitation will be at 5 p.m. on Monday, June 23, with a prayer service and a Celebration of Life Remembrance time from 7 to 8 p.m. at Barlow Bonsall Funeral Home.

In lieu of flowers, memorial contributions can be made to Concord University Foundation, Kanawha Hospice and the CAMC Foundation- Ziebold Family Fund.

Barlow-Bonsall Funeral Home is handling the arrangements.
---
Book Chronicles the Colorful Life of Love (2009)
This article appeared in the Register-Herald on April 24, 2009.
By JESSICA FARRISH
"Long before Johnny Cash tickled his country-and-western faithful with the woeful tale of a lad growing up saddled with a feminine name in 'A Boy Named Sue,' a coal miner's wife decided in southern West Virginia to name her second son Shirley."
And that begins the life of well-known Fayette County television personality and politician Shirley Love — and the first pages of a new book penned by Register-Herald reporter Mannix Porterfield.
"A Man Called Shirley" chronicles the colorful life of Love, who is known by thousands in West Virginia and around the country, as he grows up in southern West Virginia, marries the lovely Audrey Painter, lands on a local television program, then catapults into state politics.
Porterfield, a veteran newspaper writer who currently covers the Legislature for The Register-Herald, said he wrote the book after Sen. Love, D-Fayette, asked him in 2006 to put together a small booklet on Love's life.
"After thinking it over, I advised him if I wrote a book, I wanted one that was novel length, about 200 or 300 pages, covering his life from the point of arrival to his final time in the Senate," Porterfield said. "He agreed, and the rest, as they say, is history."
Clearly, Porterfield had no trouble filling the pages, collecting stories from the young Love's nights as the live host of "Saturday Nite Wrestlin'" on WOAY-TV in Oak Hill to his later days in the Legislature.
Love's contemporaries may experience a revival of their own life memories when reading "A Man Called Shirley" as he recalls days of early local television.
"Without question, the most enjoyable part of composing this book came with his reminiscing about the old days of 'Saturday Nite Wrestlin','" Porterfield said. "One reason is that I remember watching the youthful Shirley Love emcee that raucous event.
"It was popular among my junior high school peers — not the wrestling, of course — but the between-matches interviews."
- - -
Love was singing in church one Sunday morning when R.R. Thomas, the father of a local radio station owner, heard his voice and liked it.
Before long, Love was announcing for WOAY Radio in Oak Hill — and popping over to the other side of the WOAY complex, where WOAY-TV was on the air.
At WOAY-TV, Love began by announcing commercials. Everything in those early days of television was live, so what came out of his mouth was sent over the airwaves immediately.
Love devised "West Virginia Bandstand," a show that let local students dance to Elvis Presley, Ricky Nelson and Chuck Berry at WOAY studios. The shows were broadcast live.
Porterfield wrote that Woodrow Wilson High School athletes were driven to Oak Hill and let out to cover the 14-mile distance back to Beckley. One day, the boys couldn't resist sneaking a stop into WOAY to join the dancers.
Although the athletes tried to jitterbug outside the camera's range, it didn't work: They were recognized by WWHS coach Jerome Van Meter's wife, who happened to be tuning in to "West Virginia Bandstand."
"From that day on," Love mused in the book, "you couldn't get them to look in the door."
Love began announcing for a new local show that debuted in the fall of 1955: "Saturday Nite Wrestlin'."
The show was totally arranged, with one wrestler appearing humble and saying only nice things tailored to gain acceptance with the crowd. The other did all he could to stir the crowd with regionally charged insults. The people's choice wore white, while the "bad guy" dressed in black.
Each show was carefully scripted so that falls by the wrestlers would be decided by the amount of commercial time Love had to fill.
Often, Tyree Funeral Home would bring hearses, doubling as ambulances, to carry "unresponsive" wrestlers to the local hospital. Promoters gladly paid the $10 to $25 medical bill in exchange for the publicity.
For the night show at the TV Lanes Auditorium adjacent to WOAY-TV, Love would huddle with promoters before going on the air, setting the stage for the night's show.
One novelty that thrilled fans was a group of little people who wrestled.
They were called "midget wrestlers" in the book, and Love recalled that they would stand on his desk for their interviews and eventually would scrap. Once, a pint-sized grappler even hopped on Love's back.
"Thus was born the phenomenal wrestling program that magnetized a following that spilled into several states, turning WOAY-TV into a part of everyone's family, and morphed Shirley Love from an unassuming announcer and jack-of-all-trades into the voice of Saturday Night Wrestlin' and an eventual force in West Virginia politics," the book reads. "Love understood people, perhaps better than his boss, so his first innovation, almost right from the very start, was to inject a new wrinkle into the menu — live interviews with the fans."
Only the interviews with fans were unrehearsed.
These fans often arrived armed and angry. From a little old lady stabbing wrestlers with a hairpin to fans throwing food at wrestlers and bringing guns and knives to the matches, there was no doubt that "Wrestlin'" evoked passion among the local residents.
Station workers also played jokes on Love, who was broadcasting live on the air.
"Some of the fellows at the station would think it was humorous to do things to me, to put me in that position to see just how I would react," Love said in the book.
One time, a local minister's wife named Gladys Meadows dressed like a heavily made-up rogue, carrying a huge handbag.
"When the bad guy would come up right in front of my desk to ream out the Good Guy's eye with an object he had stashed in his trunks or bare hands, she would be behind me and swing that pocketbook," Love said.
Only, she "missed" the bad guy and instead caught Love with it.
"They had this lined up with the cameraman and everyone else," Love said. "She would swing and hit me, then say, 'I'm sorry.'
"I was ducking down, and I'd tell the promoter, 'Get that woman out of here!'"
Porterfield writes that after all these years, Love still shies away from calling the wrestlin' "fake," preferring instead the term "pre-arranged."
"An ordinary person couldn't do some of the things the wrestlers did, so you couldn't exactly call it a fake," Love is quoted.
Love, who also filled the news anchor seat at WOAY, among other positions, was inducted into the West Virginia Broadcasting Hall of Fame after a 44-year- career on WOAY-TV.
- - -
Love entered local politics because his boss, Robert R. Thomas Jr., didn't have Neilsen or Arbitron and wanted to get viewer demographics.
A friend told him to "run Shirley" as a delegate to the Democratic National Convention.
Love garnered votes only in the WOAY viewing area.
In 1962, Democratic Party chieftains wanted Love's co-announcer, Elmer Hickman, to run for the spot of Democratic committeeman, but Hickman penned Love's name on the paperwork.
Love, 26, beat out competitor John Frisk.
"Later, I felt bad for beating him because he was such a nice guy," Love remarked.
In 1960, Love silently recruited African-Americans from towns like Minden, Harlem Heights, Scarbro, and Glen Jean to work as poll clerks — positions that had been held only by whites until that point.
In his first county clerk race (a race he lost to some dirty politics, according to the book), opponents started a false rumor that Love had stolen a pig.
The rumormongers were so persistent and well rehearsed that Love began having doubts, not about his honesty but his memory, according to Porterfield.
"I didn't steal the pig, but it got so convincing that I said to my wife, 'I really didn't steal that pig, did I?'" Love recalled.
Love became a state senator in 1994, when a series of political events not only propelled him into accepting a five-month stint as a Democratic senator but ended up leaving his name as the only Democrat on the ballot in the primary election.
He defeated Republican John Lackey in the general election.
The book gives vivid accounts of brushes Love has had with national political figures and celebrities.
Porterfield recounts a humorous visit Love had with Dr. Ruth Westheimer, the world-renowned sex therapist and Holocaust survivor.
At the 1992 Democratic Convention in New York, Love and other delegates from each state were treated to dinner in an upscale restaurant with a celebrity.
Love's celebrity dinner companion was Dr. Ruth — a lady Love did not recognize.
A nearby diner explained that she was a "therapist," leaving Love to assume she was a physical therapist.
Dr. Ruth helped Love with the menu, and the small talk began, according to the book.
"As she recounted her horrific childhood in the Third Reich, passers-by stopped long enough at their table to wave and issue a greeting, which Dr. Ruth happily returned," Porterfield wrote.
When a reporter came by the table and asked Love if he'd read any of Dr. Ruth's books, Love was still unaware of the therapy Dr. Ruth gave. He assumed she helped people regain mobility.
"If your horse ain't sick, you don't take it to the vet," Love quipped.
When he awoke the following morning at his hotel, he picked up the day's supply of tabloids that room service had slid under the door. His picture with Dr. Ruth was on page 16. The caption read, "Dr. Ruth Has No Hate for Love."
"Ten minutes later, his telephone rang and his daughter Christie was on the other end, unleashing a scolding," Porterfield writes.
"You dumb hillbilly!" she berated him. "You're on the front page of The Register-Herald. You and Dr. Ruth. Didn't you know who Dr. Ruth is?"
In addition to national celebrities, area readers will also recognize the names of many of their friends and neighbors in the book.
Published by iUniverse, "A Man Called Shirley" is available at Barnes and Noble, Amazon.com and iUniverse. com.
---
William H. "Bill" O'Dell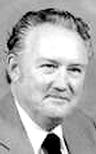 William H. "Bill" O'Dell, 80, of Hilltop went home to be with the Lord, Thursday, October 16, 2008, after an extended illness.

Born February 4, 1928, at Gamoca, near Gauley Bridge, he was the son of the late Alfred and Pearlie O'Dell. In addition to his parents, he was preceded in death by brothers, John of Craigsville and Joseph of Bristol, Tenn.; and sister, Virginia of Sharon.

An accomplished musician, Bill began his career on WOAY television's Saturday Night Barn Dance, before transitioning to broadcast announcer for both WOAY-TV and -Radio where he remained a veteran broadcaster for over 30 years before retiring due to ill health. After dedicating his life to the Lord, Bill devoted his musical talent to several local gospel groups and cherished every moment he spent with them. He was a longtime member of Cranberry Baptist Church and also attended Maple Fork Baptist Church.

He is survived by his devoted and loving wife of over 51 years, Lolitta Jean O'Dell; and their four children and their spouses, Randall and Michelle of Charleston, Susan of Fayetteville, Timothy of Hilltop and Gregory and Vickie of Oak Hill. Bill was the proud grandfather of seven grandchildren, Stacey, Amy and her husband, Josh, Keri, Kristin, Ashley, Gregory and Becca; and one great-grandson, Matthew. He is also survived by brothers, Clifford, Roger, Terry and Harry; sisters, Arbutus, Hazel and Jo Lynn; numerous cousins, nephews, and nieces; and a host of friends.

Services will be held at 1 p.m. Monday, October 20, at Blue Ridge Funeral Home, Beckley, with the Rev. Steve Board, the Rev. Paul Chapman, Pastor Robert Barley and the Rev. Ronald Adkins officiating. Burial will follow in Blue Ridge Memorial Gardens.

Friends may gather with the family from 4 to 7 p.m. Sunday at the funeral home.

Bill requested no flowers.

Online condolences may be sent to the family at www.blueridgefuneralhome.com.

Blue Ridge Funeral Home, 5251 Robert C. Byrd Drive, Beckley, is in charge of the arrangements.
---
Comments from Russ Turner (1997)
Russ Turner (russt@flex.net) wrote me on Oct. 31, 1997:
I enjoyed your web site very much!

I worked at WOAY-AM-FM-TV in 1960. I was an announcer and worked with Shirley Love and Elmer Hickman. I also did Juke Box Dance Party for about 3 months before it went off for a filmed version of Wrestling from Chicago. The in-studio Wrestling was quite an event also. I left Oak Hill in December of 1960 because my wife was pregnant and was homesick for her family in Texas. I came to work at KPRC-TV in Houston as an engineer in May of 1961 and have been here ever since.

I really enjoyed my short time at WOAY, and remember those days fondly.

Russ Turner
The Woodlands, Texas
---
Chuck Balding (Obituary)
This obituary appeared in the Register-Herald on June 14, 2000.
OAK HILL - Charles Henry "Chuck" Balding, an early WOAY radio and television personality, died Saturday, June 10, 2000, of a heart attack at his home in Richmond, Va. He was 74. Mr. Balding was best known for his Juke Box Revue program on WOAY radio in the late 1940s. He was the first announcer for both WOAY radio and television. A sportscaster, he did play-by-play broadcasts for the Oak Hill Red Devils. He also worked for New River Supply Co. in Oak Hill. Mr. Balding later was manager of KXII-TV in Sherman, Texas, and then was employed by Broadcast Systems in Austin, Texas. At the time of his death he was employed by Professional Products Inc. in Richmond. A 1943 graduate of Montgomery High School, he attended Hampden-Sydney and Emory and Henry colleges in Virginia and Baylor University in Texas. He was a Methodist and active in the Young People's Group at Oak Hill Methodist Church, serving as lay leader. He was manager of the American Legion baseball team in Oak Hill and a catcher for the Page Mining Co. baseball team. He also was a member of the Oak Hill Alumni Association. Mr. Balding served in the U.S. Navy in World War II. He also was a licensed pilot. Born June 27, 1925, in Kincaid, he was the son of David Leroy and Georgia Marie (Payne) Balding. He was also preceded in death by his wife, Forrest Ann (Fox) Balding; and a brother, Franklin Delano Roosevelt "Bud" Balding. Survivors include two daughters, Lisa Carter-Loubat and her husband, Jean Loubat, of St. Louis and Melanie Hale and her husband, Tim, of Sherman, Texas; a brother, Leroy and his wife, Alma, of Charleston; a sister, Joyce B. Wood of Beckley; a brother-in-law, James Lee Wood Jr. of Beckley; two grandsons, Nathaniel and Zachary Hale; and two granddaughters, Christina Carter of Dallas and Candace Hale of Sherman. Friends may call 6 to 9 p.m. today at Tyree Funeral Home, Oak Hill. Mr. Balding's brother, Leroy, will preside at graveside rites in High Lawn Memorial Park, Oak Hill, at 1 p.m. Thursday. Pallbearers will be Nathaniel Hale; Larry Balding, nephew; Jared and Ben Eren, grand-nephews; James Lee Wood Jr. and Matt Thompson. Zachary Hale will serve as honorary pallbearer. There will be flower memorials by Christina Carter and Candace Hale, granddaughters. Memorial contributions may be made to the Chuck Balding Scholarship Fund of the Oak Hill Alumni Association, P.O. Box 462, Oak Hill, WV 25901. Arrangements by Tyree Funeral Home, Oak Hill.
---
Hilda Carr Perry (Obituary)
Hilda Carr Perry, 87, passed away on July 11, 2018 at St. Mary's Hospital in Huntington, WV with her family by her side. She was preceded in death by her first husband Rev. Mont Carr and late husband Frank Perry, two sisters Zelma Alvezios, Virginia Gover, and two brothers Donald Calvert, Howard Calvert. Sister Perry retired as a minister for over 40 years from WOAY Television, she enjoyed traveling with her first husband Rev. Mont Carr attending tent revivals in his ministry and spreading Gods word. She was a member of Hill Top Family Worship Center for the last four years. She was a loving mother, sister, friend, and preacher who was loved by many. She will be missed greatly by her family and friends. She leaves behind a loving son Gary (Beverly) Gover of Hill Top, WV and her dog Blue, one sister Mary Andrews, Maple Fork, WV, and a host of loving friends and family. Funeral Services will be held at Blue Ridge Funeral Home on Tuesday, July 17, 2018 at 2:00PM with Rev.Terry Damron and Rev. Earnest Francis. Visitation for family and friends will be from 12-2PM at the funeral home. Burial will follow at Blue Ridge Memorial Gardens. Online condolences may be left for the family at www.blueridgefuneralhome.com
---
Comments from Curt Atkinson (April 2003)
Good Morning Jeff:

WOAY has a great history in the entertainment arena. Bob Thomas was a pioneer in the fact that he provided programs that met everyone's taste in music. For many years the morning voice of WOAY was that of a local man from over in Pax, W. Va., Elmer Hickman. He was a Country Western band leader, and Announcer. His band was in favor of Ernest Tubb whom Elmer seemed to loved his music.

Elmer was crippled from early in life and walked with two crutches but it never slowed him down in ability to be a great on air personality. The days of program with local ministers were very widely listened to, Freddie Steele & Jimmy Pittman, Ernest Barley, And Mont Carr broadcasting from the Oak Hill Orphanage. Speaking of Elmer, he was to interview the Great Hank Williams on the morning show that fateful day on January, of course Hank passed away and was found dead in his limo in front of the Top Hat Drive-In across the street from WOAY.

The advent of TV only added to WOAY"s popular programs. But back to radio for a moment. There was another on air person that was a favorite and that was Billy O'Dell, a great Guitar Player. He played for the Rev. Mont Carr, and had played with Elmer Hickman's Band. Every night we would listen to the sound of Twilight Time with that we knew the AM side was signing off the air and the FM side would take over. This programing featured a number of on air personalities Chuck Baldwin, Billy O'Dell, Shirley Love, Arnell Church, etc. Its format was a more of the dance band music, big band sound (Bob Thomas was a great musician) this format signed off at midnight.

I will close for now let me hear from you, I will give more information on event at WOAY.

Thanks until next time.
Curt