History of WWNR, Beckley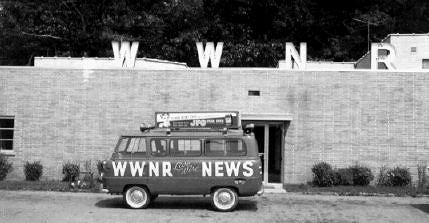 This page was last revised on July 15, 2019.
WWNR signed on the air Friday, August 9, 1946, at 8 p.m. A special introductory program was scheduled to include congratulatory messages from Gov. Clarence Meadows, Sen. Harley M. Kilgore, Rep. E. H. Hedrick, and Mayor W. A. Burke. The station originally operated with 250 watts on 1450 kHz. Studios and transmitter were originally located at 1516 Harper Road. The station was affiliated with the Mutual Network. A 175-foot tower was originally located next to the studio building.
The original staff included: Zara Jane Smith, program director; Steve Fisher and Eric Paige, announcers; Jim Fair, announcing and programming staff; Harold Kincaid, radio engineer; and Robert D. Buchanan, commercial and local news director; Frank R. Knutti, who formerly managed WORD in Spartanburg, S. C. According to a 1946 newspaper article, the station was equipped with two studios, one with a capacity of 100 persons and the other accommodating 25 persons.
According to a 1971 advertisement, "The NR in its call letters represent the initials of Nick Rahall, Beckley pioneer businessman and the father of the owners--N. Joe, Farris, Deem and Sam. (Deem was killed in a plane crash in 1952.) N. Joe Rahall continues to live in Beckley. Sam and Farris are located at the parent company's headquarters in St. Petersburg, Florida." Their father, Nick Rahall, was born in 1882 and died in 1975.
A 1963 newspaper article about WWNR reported that the first managers of WWNR were Frank Knutti, Norman Knight, and Tom Douds.
WWNR apparently was granted a 20 kW FM on 98.1 in the late 1940s but the station was never constructed.
On Nov. 12, 1946, the Charleston Daily Mail reported that Roy Lee Harmon joined the staff of WWNR as city news editor.
On Nov. 25, 1946, Broadcasting magazine reported that H. J. Forbes had resigned as manager of WWNR, effective Nov. 30, and that N. Joe Rahall, president and general manager of Rahall Broadcasting Co., planned to assume complete charge of WWNR.
A QSL card from Dec. 9, 1946, shows Alfred L. Brunelle as Technical Advisor.
On May 26, 1947, Broadcasting magazine reported an application to the FCC to mount the FM antenna on the AM tower.
On Jan. 3, 1949, Broadcasting magazine reported that the FM permit for WWNR-FM was deleted by the FCC.
The 1950 Broadcasting Yearbook shows WWNR on 1450 kHz with 250 watts, and an affiliate of the Mutual network. The licensee was Rahall Broadcasting Co., N. Joe Rahall, President. Other staff were: Tom Douds, General Manager; Don Hays, Program Director; and Estil Wills, Chief Engineer.
A Feb. 20, 1950, QSL card is signed by Chief Engineer Estil Wills. It has the slogan "Your Mutual Friend."
On May 15, 1950, the FCC granted a frequency change from 1450 to 620 kHz, with a power increase from 250 watts to 1000 watts day, 500 watts at night.
On Apr. 23, 1951, Broadcasting magazine reported: "WWNR Beckley, W. Va., has dedicated new facilities which shifts the station from 1450 kc with 250 w to 620 kc with 1 kw fulltime. Officiating at the ceremonies was N. Joe Rahall, president. The voice of Sen. Harley M. Kilgore (D-W. Va.) was heard in the principal address. Sen. Kilgore could not attend the dedication because of a previous commitment but sent a recorded congratulatory message to Beckley for the event."
Power was increased to 1000 watts day and 500 watts at night. The lower dial position and higher power output allowed for an increased coverage area. The transmitter site was moved to Cabell at this time, since operation on 620 kHz required a directional antenna system consisting of four towers to be used at night.
In January 1952 Richard Booth became station manager.
In 1952, WWNR applied to operate a TV station on Channel 6. The station proposed 100 kW visual, 50 kW aural, 1280 feet AAT, 503 feet above ground, 14 miles SSW of Beckley atop Indian Grave Mountain at 37 35 30, 81 09 00. (The station may also have applied to operate a TV station on Channel 4 at another time in the 1950s.)
A program schedule in the Beckley Daily News-Digest of Oct. 9, 1952, shows the station signing on at 4:45 a.m. with Hit the Deck, and signing off at 12:30 a.m. The schedule shows Mutual Network programs at night. (An image of the schedule is on the pictures page.)
On Nov. 17, 1952, WWNR dropped its Mutual affiliation. On Dec. 6, 1952, Billboard reported, "WWNR Beckley, W. Va., went indie Monday (17), and is now featuring 19 hours of music, news and sports per day with Dick Lawrence spinning the pops and rhythm and Denny Hollandsworth taking care of the hillbilly."
A January 1953 newspaper shows that WWNR was broadcasting Woodrow Wilson High School basketball games that year.
On May 16, 1953, Billboard reported, "Cousin Dennie Hollandsworth is doing the daily 'Grand Oe Opry on Records' spinner at WWNR in Beckley, W. Va."
On June 11, 1955, Billboard reported, "The three top deejays at WWNR, Beckley, W. Va.—Marv Stone, Phil Vogel, Dick Braun and c.&w. deejay Denny Hollandsworrth—broadcast their platter shows from a tent last month during a 29-hour marathon staged by the station from Beckley's Government Square. All of the station's shows originated from the square as part of a joint promotion staged by WWNR in co-operation with 20 local merchants. "
The 1956 Broadcasting Yearbook shows the following personnel: N. Joe Rahall, president; Richard H. Booth, general manager; Eugene J. Morehouse, commercial manager and sports director; C. Phil Vogel, program director; Shirley D. Walker, program manager; Anthony P. Gonzales, chief engineer; C. P. Vogel Jr. and Dennis Hollandsworth, farm director; Nannie Ellen Tucker, women's director. [More information about Mr. Morehouse is here.]
The 1971 advertisement has:
Some of the old time shows were Uncle Gene, Women's Angle, Open Mike, Hillbilly Jamboree, and Polka Time. Many air personalities have appeared on WWNR, but perhaps the most unusual was "Gus" the talking mynah bird who appeared with the morning announcer for almost five years. In the early 50's WWNR broke the tradition of doing all of its programs from the studio and began broadcasting from everywhere in southern West Virginia. It is believed that WWNR has done more "remote" broadcasts than any station in West Virginia.
The mynah bird was known as "Static," at least during part of its time on the air. A 1963 newspaper article referred to Static, the talking mynah bird.
A 1960 listing shows N. Joe Rahall, president; R. H. Booth, general and station manager; Margaret A. Jenkins, comm. mgr.,; Paul Harless, sls. rpm. mgr.; Robert B. Harvit, program, publicity dir.; Jack Slygh, chief engineer.
The 1961-62 Broadcasting Yearbook shows the following staff: Anthony P. Gonzales, general manager; Robert Harvit, commercial manager; Frank M. "Bud" Kurtz, program director; Margaret A. Jenkins, program manager; Robert Miller, news director; Jack Slygh, chief engineer.
In the 1960s WWNR was described as one of the most successful small-market stations in the U. S. WWNR had no network affiliation through most of the 1960s, but did join the American Contemporary Radio Network in 1969. (During the weekend of the assassination of President Kennedy in 1963, WWNR arranged to carry programming of the NBC radio network.)
An advertisement in the Beckley Post-Herald/Raleigh Register on November 14, 1971, on the 25th anniversary of WWNR, shows the NR good guys with the following caption: "The WWNR staff was officially proclaimed 'The Good Guys' in 1964 by John Wesley Smith, then mayor of this city. From left to right: Bob Horton, who came to WWNR as music director from Bristol, Virginia, in May of 1965; Dick Callaway who joined the 'Good Guys' in September, 1966, as news director; Rod O'Dell who joined the staff in June, 1961, and is now program director; D. S. Goodwin, the Public Service Director for WWNR who started in December 1969; and Phil Vogel who has been with WWNR since January, 1955 and is currently the production manager for WWNR." The advertisement lists the sales staff as Lyle O. Weagel, Pat Roach, Bob Skaggs, Danny Tilson, and Tom Hicks. The office staff is shown as Sandie Lilly, receptionist; Betsy Hatcher, bookkeeper and office manager; Cathi Lipsinic, traffic director; Fred Persinger, copy director.
In April 1984 the station was purchased by Al Martine.
Al Martine wrote in a Facebook post in 2016:
When I purchased WWNR it was originally on Harper Road. We had to move the station to Prince Street because we were only able to purchase two parking spots. Stereo was perfected for AM stations in the 1980's and WWNR was one of the first AM stereo stations in the nation, but there were limited AM Stereo receivers and it never became popular. We sold the station in 1995. It was an honor and privilege to serve the Beckley, WV market for 12 years.
In 1994 the station was sold to Dynastar Communications Inc., Hugh M. Caperton, president.
In the 1990s the station featured a talk format, with mostly network programming. Southern Communications, owner of WCIR, took over the operation of WWNR in the 1990s (and in about 2001 purchased the station from Dynastar Communications Inc.) Three of the four towers at Cabell were taken down and WWNR switched to non-directional operation at night, with lower power.
In June 2000, WWNR had a talk format, featuring programs such as Rush Limbaugh and Dr. Laura Schlessinger, as well as Cincinnati Reds baseball and CBS News on the hour. A local talk show, the Mid-Morning Monitor, was hosted by Steve O'Brien. Local programming for the station was originated at the facility near the Airport Road Industrial Park which also housed the WCIR studios.
On Nov. 15, 2000, WWNR began transmitting its signal from Crab Orchard, utilizing the same tower as WIWS-1070.
By that time station had begun airing Beckley's Morning News, a three hour news block from 6 a.m. to 9 a.m. weekdays, as well as The WWNR News Hour, a 5 p.m. hour update. WWNR was utilizing three anchors and three or four reporters and providing traffic reports from Skyhawk traffic.
On Feb. 6, 2001, the last of the four towers at Cabell - a 305-foot Blaw-Knox tower -- was taken down.
On Feb. 22, 2002, daytime power output was increased to 5000 watts, utilizing a Broadcast Electronics AM5E transmitter.
In 2002 the studios of WCIR-FM, WTNJ-FM, WMTD-AM/FM, WAXS-FM, WWNR, and WIWS were moved to 306 South Kanawha Street in Beckley (the old Appalachian Power Company building).
In January 2003, WWNR was programming local news from 6 a.m. to 9 a.m., a local talk show hosted by Steve O'Brien from 10 a.m. -12 noon, Dr. Bill O'Brien from 3 p. to 5 p.m., and a local news hour from 5 p.m. to 6 p.m.
In 2004, Southern Communications Corporation, which had been operating WWNR, took over ownership of the station. The Federal Communications Commission approved the transfer of ownership on January 26, 2004.
On Feb. 11, 2004, WWNR began streaming its locally-originated programming on the Internet from its web site, which is now at http://www.wwnrradio.com/.
In 2010 WWNR was using a 250-watt translator on 101.1 FM. The transmitter site is on Sullivan Hill south of Beckley.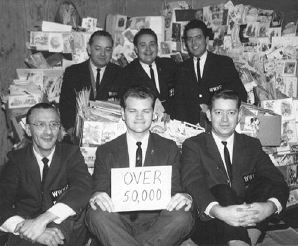 From the 1960s. Front row: Phil Vogel, Bob Horton, Bob Miller.
Back row: Tom Hicks, Rod O'Dell, Tom Martin.
Bob Horton says the 50,000 sign on his lap "represents the number of
used Christmas cards sent in to earn a day of with pay (I won). We
sent the cards to a church so they could recycle them...that was the
first year...the second year got over 175,000 (I won again)." Bob
Horton now lives in Winston-Salem; his e-mail address is
SHorton106@aol.com.
---
Gonzales Will Manage Station

This article appeared in the Beckley Post-Herald in 1962 or 1961.
Tony Gonzales has been named general manager of Radio Station WWNR, according to an announcement today by Ogden R. Davies, of Allentown, Pa., who is general manager for the five N. Joe Rahall radio stations.
Gonzales succeeds Richard (Dick) Booth, who will assume the position of general manager of WEEZ, Chester, Pa., effective June 1.
Having been associated with WWNR for the past nine years, Gonzales has served in the capacity of chief engineer and more recently account executive.
A native of Niagara Falls, N. Y., he is married to the former Maxine Bragg, of Beckley, and the couple has three children, one daughter and two sons, and reside at 119 Curtis Ave.
Gonzales is a graduate of Central Radio and Television Schools, Kansas City, Mo. He has served as president of the Maxwell Hill Parent-Teacher Assn. for the past two years and currently is president of the Maxwell Hill Country Life Program. A member of the Elks and Moose Lodges, he is looking forward to active participation in both the local Chamber of Commerce and Beckley Business Bureau.
"There will be no changes in the staff of WWNR," stated Gonzales. He added that Robert Harvit would continue as sales manager, Frank "Bud" Kurtz in charge of the program department, Jack Slygh, chief engineer and Mrs. Paul Jenkins, office manager.
Booth, a native of Sharon Hill, Pa., has served as station manager of WWNR since January, 1952. He noted that "Gonzales has been associated with WWNR for a longer period of time than present staff members and has done an excellent job in his capacity."
The three Rahall brothers, Joe, Sam and Farris own and operate, in addition to Radio Station WWNR the following stations: WKAP, Allentown, Pa., WQTY, Arlington, Fla., WLCY, St. Petersburg, Fla., and have received the examiner's initial decision for Channel 10 Television in St. Petersburg, Fla.
---
Anthony P. Gonzalez Sr. (1930-2001)
Anthony P. "Tony" Gonzalez Sr., 71, of Goldcrest Drive, Beckley, died Tuesday, May 22, 2001, in Washington, D.C., while on a business trip.
Born May 25, 1930, in Niagara Falls, N.Y., he was the son of the late Nemesia and Josefa Marcos Alvarez Gonzalez.
After receiving radio schooling in Kansas City, Tony joined WWNR Radio in 1956 and planned to stay six months to gain radio experience; he has been here ever since. He worked for WWNR (Rahall Group) until 1980 when he along with Congressman Nick Rahall put Radio Station WTNJ on the air; the call letters stand for Tony and Nick Joe. Congressman Rahall was the president and Tony was secretary/treasurer and manager. Radio station WAXS, formerly WOAY Radio, had entered a leasing agreement, and Tony also served as manager of that station.
During his years of broadcasting, he was the promoter and director of the Raleigh County Home Show, The Women's Expo and numerous other station promotions and concerts, parades and sport banquets for basketball championships.
Tony, along with then recreation director for the city of Beckley, Frank Rodriquez, co-chaired the fund raising for the creation of the New River Park Swimming Pool for Mayor John McCulloch. He held all offices for the West Virginia Broadcasters Association including the office of president. He was also a recipient of the Broadcaster Of The Year Award and served on the National Board of The Associated Press. He also served on the SALT Treaty under President Jimmy Carter.
Tony was a member of the Memorial Baptist Church, Beckley, the Gideons International and was a member of the Board of Directors of the Bank of Mount Hope. He also belonged to many civic organizations.
Survivors include his wife of 30 years, Betsy Hatcher Gonzalez; a daughter, Carmen Davis and her husband, Steve, of Roanoke, Va.; two sons, Paul Gonzalez and his wife, Carol, of Fayetteville and Robert Gonzalez and his wife, Methlyn, of Safety Harbor, Fla.; two grandchildren, Kara Davis of Salt Lake City, Utah, and Makenzie Gonzalez of Fayetteville; a sister, Josephine Alexander and her husband, Jack, of Carlsbad, N.M.; and four brothers, James Gonzalez and his wife, Louise, and Angelo Gonzalez and his wife, Josephine, all of St. Petersburg, Fla., Neal Gonzalez and his wife, Lois, of Albuquerque, N.M., and Paul Gonzalez of Chicago, Ill.
Service will be 1 p.m. Saturday at the Memorial Baptist Church, 1405 S. Kanawha St., Beckley, with the Revs. Paul Blizard and Jim Franklin officiating. Burial will follow in the Blue Ridge Memorial Gardens, Beckley.
Friends may call 6 to 9 p.m. today at the church.
Pallbearers will be Fred Persinger, Randy Kerbawy, Ron Clay, Don Bare, Mike Moore and Frank Rodriquez.
Donations of sympathy may be made to Memorial Baptist Church or to Gideons International.
Arrangements by Melton Mortuary, Beckley.
---
Frank M. "Bud" Kurtz, Jr.
Bud Kurtz died on December 20, 2006, at the age of 79. At the time he was living in Lakeland. He owned WVFM-FM 94.1 with partners Duane McConnell and Herb Todd. After selling the stations, he worked there for an additional eight years. According to this page, he was originally from Joplin, Missouri. He left WWNR in 1963 to go to WLAK in Lakeland, Fla., as sales manager. He worked briefly at WFTV in Orlando in sales, but returned to Lakeland to start WVFM in 1967.
---
Robert B. Harvit
Robert Bruce Harvit, formerly of Beckley and Williamson, passed away Tuesday, March 25, 2008, at the age of 70 at Mount Sinai Hospital in Miami, where he resided. He was preceded in death by his parents, Ann and Edward Harvit of Beckley, and a brother, Harold Harvit of Williamson. Bob was born in Beckley and graduated from Woodrow Wilson High School, where he was a member of the Flying Eagle football team. Bob began his illustrious broadcasting career while he was still in high school, working as an announcer at WWNR in Beckley. After attending West Virginia University, Bob returned to WWNR to resume his career in broadcasting as an announcer and a sales manager. In 1966, Bob became the owner of WBTH in Williamson. He eventually expanded that facility, formed Harvit Broadcasting and owned several stations in West Virginia (White Sulphur Springs, Montgomery and Fairmont), as well as Kentucky and Indiana. Bob was very active in the Williamson community. During the Tug River flood in 1977, Bob kept WBTH on the air and served as the focal point for emergency information. He served on the Board of Directors of the West Virginia Broadcasters Association and was twice elected as the board's president. In 1977, Bob earned the association's Mel Burka Distinguished Broadcaster Award, which recognizes the organization's most outstanding broadcaster. In 2007, Bob was inducted into the West Virginia Broadcasters Hall of Fame. After contracting multiple sclerosis, Bob was forced to decrease his broadcasting activities. He eventually sold his radio stations and moved to Miami Beach, although his love for West Virginia remained strong, and he returned to his home state as frequently as he could. Bob will be remembered as a dedicated businessman and loving family member who inspired those who knew him with his courage, ceaseless zest for life and grand sense of humor. Bob's survivors include his wife, Wilda Harvit; daughter and son-in-law, Kathe and Peirce Whitt of Williamson; sister and brother-in-law, Rita and Nemo Nearman of Charleston; nephew, Bill Harvit and his wife, Pam, of Charleston; niece, Lynn Kuhn and her husband, Don, of Charlotte, N.C.; sister-in-law, Gloria Harvit of Charlotte; nephew, Merrill Nearman and his wife, Sandy, of Boca Raton, Fla.; niece, Polly Nearman Greene of Baltimore, Md.; and nephew, Henry Nearman and his wife, Tammy, of Charleston. In lieu of flowers, the family requests that donations be made to local humane societies in tribute to Bob's strong lifelong love for animals, to a hospice organization or to any charity in Bob's honor. A memorial/celebration of Bob's life will be announced later.
---
Phil Vogel (1916-1975)
This article was provided by Steve Vogel.
Charles Philip (Phil) Vogel Jr. was born in Huntington on Halloween (October 31) 1916. He went to school at various places in southern West Virginia, graduating from Greenbrier High School in Ronceverte. He was a talented percussion musician and attended Concord College (now University) in Athens, W.Va., on a scholarship for a time.
After trying out a few other various fields, Phil began his radio career as an announcer at WGKV, Charleston, late in 1940. He was there a little more than a year, then went to Cincinnati and worked at two different stations before returning to West Virginia early in 1943 at WJLS, Beckley. Later that year he was back at WGKV.
There he initiated or was involved in several innovative projects, such as a daily "Man on the Street" ("Curbstone Quizzer") segment from the front of the old Diamond Department Store, a program called "Musical Pictures" broadcast for schoolchildren in which they were encouraged to draw pictures inspired by music played on a particular theme, and a live broadcast from a B-36 bomber flying over Charleston. During World War II, he produced and directed radio productions for "The Kanawha Players." Because of the war, it was impossible to stage shows, but by using radio, people could play multiple roles, making it possible to put on a show with a smaller cast. It was also at this time that he learned to use sound effects.
He was promoted to Program Director at WGKV and remained there until he left to become General Manager at WKNA radio in Charleston in mid-1953. He briefly returned to his hometown of Ronceverte to work at WRON but in January 1955, began a more than 20-year stint at WWNR in Beckley. At that station, Phil was the epitome of a small-town radio station talent. At various times in various combinations, he was a DJ ("Your Phil of Music"), Production Manager, Program Director, News Director, Sports Director, play-by-play sports announcer, talk show host ("Anything Goes") and host of a swap show ("Trade Arcade").
Among his most memorable shows was "The Beautiful Isle of Somewhere," the program name taken from the title of the theme music, which were daily radio obituaries sponsored by a local funeral home. Students that he lectured in speech classes at Marshall University while his daughter was a student there were fascinated by his long and varied career, especially by the idea of radio obits. And of course, he was also a salesman selling his own air time and talent.
Off the air, Phil was a Mason, a lay preacher and leader in his church and a Little League coach, among other things. He also was very involved in his hobby of model railroading. Small in stature at only 5'8", Phil had a large radio voice and the universal comment when people saw him for the first time was that they couldn't believe such a large voice could come from such a small person.
Phil's radio career culminated when he was called to the Control Room in the Sky in November 1975. His wife, Dorothy Hope Woelflin, passed away a few years ago outside of Mobile, Alabama. Marti, his daughter, a graduate of Marshall University, recently retired from a 36-year career in print journalism and lives in Charleston. His son Steve is in the Atlanta, Ga., area.
---
The following appeared in a Charleston newspaper in 1953:
When George Gray moved to WKNA-TV, Phil Vogel, program director for WGKV for the past ten years, was selected to be the new manager of WKNA-radio. Vogel was born in Huntington and attended schools in Ohio and West Virginia. After graduating from Greenbrier high school in Ronceverte, Vogel attended Concord college, Athens, on a music scholarship. While in college Vogel played in the college band an symphony and a popular dance band. Phil entered radio in Charleston in 1940 as a staff announcer for WGKV. From there he spent a period of time in Cincinnati working for two stations there, WCPO and WKRC. He was program director for WJLS in Beckley in early 1943 and from there moved to WGKV where he remained until July this year when he was appointed manager of WKNA-radio. Phil Vogel still maintains his popular noon hour newscast over WKNA. This popular noontime feature has been associated with Phil for the past ten years. Phil is married and has two children, a boy 7 and a girl 4.
---
Bob Miller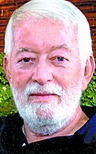 Robert F. "Bob" Miller of Charleston died June 15, 2010, at Hubbard Hospice House, Charleston, after a brief but courageous bout with cancer. He had enjoyed a successful career in West Virginia as a journalist, government official and labor historian. Born the son of Lula and William Miller, deceased, on December 30, 1935, in Beckley, he was a graduate of Woodrow Wilson High School and a veteran of the United States Army, having served in military intelligence in Germany in the early 1950s. Upon his return to the States, he married Brenda Gale Davis of Beckley on June 25, 1961. He was news director of radio station WWNR in Beckley for several years, during which time he helped established a cooperative, sharing news operation for Associated Press radio stations across West Virginia. After leaving Beckley, he became press assistant and head of the Office of Public Information for Governor Hulett C. Smith from 1965 to 1969. In all, he served in various governmental capacities in the administrations of Governors Smith, Arch A. Moore Jr., Gaston Caperton and Cecil H. Underwood. He was a key campaign strategist in the gubernatorial political campaigns of Jay Rockefeller, Caperton, Warren McGraw and Lyle Sattes. He headed two U.S. Senate campaigns for former U.S. Senator Jennings Randolph. A passionate Democrat, he also headed "advance teams" over a period spanning 40 years in the campaigns of Democratic presidential candidates from Hubert Humphrey to Barack Obama. He served as deputy labor commissioner during the administrations of Governors Caperton and Underwood. He also was an expert on West Virginia labor history, especially in the mining industry, and a frequent guest contributor to The Charleston Gazette. He was author of several papers about West Virginia history. He entered the public relations business in 1973 as a partner in Canfield-Miller & Associates, later to become Robert F. Miller & Associates, and served as executive director of the West Virginia Independent Bankers Association. He also served as a member of the West Virginia Manufactured Housing Construction and Safety Standards Board. An avid gardener in retirement, he won awards for gardening in Charleston's historic East End, and was a passionate fan of classical music. He also was a citizen lobbyist who consistently opposed capital punishment and was equally fervent about improving civil rights in America. He is survived by his wife of 49 years, Brenda Davis Miller of Charleston. He was predeceased by his son, Michael, in 2001; by brothers, John and Howard; and sisters, Margaret Cornett, Gail Henrich, Evelyn Estep and Mary Helen Nelson. He is also survived by two granddaughters, Sidney Miller and Brittney Thomas and their mother, Darla Blackmon, of Charleston; sister, Ann Ahlband of Columbus, Ind.; brother-in-law, Jim Davis of Jacksonville, Fla., and wife Monica; sister-in-law, Kay Davis of Venice, Fla.; cousin, Judy Davis and her husband, Lee Sumpter, of Wise, Va.; cousins, Vic and Nelda Keathley of Cross Lanes; special niece, Kim Miller Ramsey of Charlotte, N.C.; lifelong friends, Jack and June Canfield of Charleston; and many good neighbors in Charleston's East End. At his request, there will be no funeral. A gathering of family and friends will be held from 1 to 3 p.m. Sunday, June 20, at 28 Bradford Street, Charleston. All friends of Bob's are invited. In lieu of flowers, the family suggests contributions to Hubbard Hospice House, 1001 Kennawa Drive, Charleston, WV 25311, and/or St. Paul Lutheran Church, 1423 Lee St. E., Charleston, WV 25301. Online condolences may be made at www.barlowbonsall.com. Barlow-Bonsall Funeral Home has been entrusted to handle the arrangements. [Charleston Gazette]

---
FCC Microfiche File
3/7/46 Granted a C.P. for a new station on 1450kc with 250 watts at Beckley, West Virginia.
6/5/46 Granted a modification of C.P.to specify the transmitter as a W.E. 451-A-1.
9/26/46 Date first licensed. The licensee was Rahall Broadcasting Co., Inc., Raleigh County Bank Bldg., Beckley, West Virginia. They were granted 1450kc, 250 watts, unlim.
5/12/50 Granted a C.P. for 620kc, 1kw-D, 500 watts DA-N. License to cover the C.P. granted 7/11/51.
8/17/62 Granted a C.P. for a new main transmitter (Gates BC-1T). License to cover the C.P. and to use old main transmitter (W.E. 443A-1) as an auxiliary granted 4/22/63.
7/25/69 Vol. transfer of cont. of lic. corp. to Rahall Communications, Inc., eff. 10/3/69.
7/28/78 Vol. transfer of cont. of lic. corp. to Gulf United Corp.
The FCC microfiche files was transcribed by Xen Scott of ABC News, Washington, and is posted here with his permission. The microfiche files are incomplete in coverage of events in the 1920s, and they contain no information past the early 1980s.
---
WWNR-AM Now at 5000 Watts
This article appeared in the Register-Herald on March 19, 2002.
By JESSICA SHIFFLETT
Extra power equals clear sound and stronger transmission for listeners of WWNR-AM radio in Beckley. The station's broadcast power was increased last month from 1,000 to 5,000 watts.
"The extra power helps by making a clearer signal," Station Manager Jay Quesenberry said. "People in town will notice the increase in power. They'll notice a stronger sound without interference."
When WWNR first began broadcasting 56 years ago, only AM radio was available in West Virginia because AM radio signals wave up and down, transversing the mountains, a WWNR representative explained.
When the interstate cut through the mountains, FM radio waves - flat waves - could take sound without being blocked by the mountains. AM radio waves aren't as strong as FM waves and they gain more interference, WWNR reps explained, a factor that has been lessened by the stronger power.
"What this means to people in southern West Virginia is that we've made a huge commitment to this community and this station," Quesenberry said. "We want to be a good news talk station to all our listeners and community."
The station manager said listeners may have already noticed less interference and a cleaner, stronger sound since the station upped its power, something that is important since WWNR's news/talk format is interactive and features call-in talk shows.
"Since it's news format, this enables more people to participate," Quesenberry explained.
"News talk is a discussion of topics of interest to listeners, from medicine to economic issues to personal issues like relationships.
"It's audience participation," he added.
Steve O'Brien, host of WWNR news talk show "Mid-Morning Monitor," says his program has been affected by the AM power surge the extra watts generate.
"This increase of power gives me a new source of listeners from as far away as Summersville to Logan to Lewisburg to Princeton.
"I think the popularity will increase twofold. It's really a major rebirth for AM radio in the area," said O'Brien.
"This is just my opinion, but I think that we have the clearest sound with our new transmitter of any AM station in the state."
---
Broadcasting Legend
This article appeared in the Register-Herald on Sept. 28, 2009.
By MANNIX PORTERFIELD
Back in the less complicated era of the early 1960s, before America turned into a high-tech fantasy world of iPods, video games, cell phones and the like, summer nights drew rock 'n' rollers like fireflies to Little Beaver Lake.
That was the day of the live remote broadcasting, and eventual disc jockey legend Rod O'Dell was right there in the thick of things.
"Radio was fun in those days," the Beckley native said Friday, on the eve of his induction into the West Virginia Broadcasting Hall of Fame at its museum in Huntington.
"It's become more of a job now. Most of the live stuff is gone. They do a lot of voice tracking, satellite broadcasting, and then other places just set it up in a computer and let it run."
O'Dell misses the personal touch, recalling how he handled the mic and spun the hits for WWNR-AM in Beckley some 18 summers at the Little Beaver Record Hop.
While a pioneer in broadcasting, O'Dell can't actually lay claim to starting the record hop, but he was the program's longest-serving emcee, inheriting the job from Bob Miller, who in turn had taken over for the originators, "Big Daddy" Bill Shupert and Al Sahley of Charleston, who abandoned it after about two months.
"In those days, they didn't have all the video games," O'Dell recalled.
"We had three channels on television. There was nothing else to do on Saturday night. That was where everybody gathered. There would be hundreds of them there."
Life was not only simpler, but safer as well.
"When I was just a child, we used to leave the house and walk up to town Saturday night," O'Dell said.
"That was where the action was. You never thought of locking your house. You do that now and when you come back you wouldn't have a stick of furniture in your house."
O'Dell became synonymous with the younger listeners, but he also won the hearts of older Beckleyans by calling the play-by-play for both football and basketball games at his alma mater, Woodrow Wilson High School, where he was part of the Class of 1956 — the watershed year for rock 'n' roll.
"I grew up with it," he said of the music, a revolutionary sound at the time.
"It's the greatest music in the world."
Born on Stanley Street, O'Dell attended Lincoln Grade and Beckley Junior High schools before advancing to WWHS, then on Park Avenue.
Known as "Roddel Oddel, the Fat Daddy" to his radio fans, O'Dell says his greatest satisfaction came not from playing pop music of the day but in broadcasting Flying Eagle sporting events.
"That's what I miss more than anything else," he said.
"I just loved sports and I loved the camaraderie of being with the players and watching them grow up. I worked with Phil Vogel a little while. When Tom Hicks came to town, Tom and I traveled together for 19 years. That was really great. It was a great time."
In all that stretch, O'Dell never missed a Flying Eagle game.
Now working part-time for Mullens radio station WVJO-FM, he reflected on his storied career in broadcasting as one fraught with rewards.
"I thank the Lord for every day of it," he said.
Tom Resler, committee chairman for the Hall of Fame, said the legacy of broadcasting is well represented by its inductees.
"These inductees have created a rich diversity of programming at radio and TV stations across the state," he said.
"This year's class of 14, along with the previous years, represent West Virginians who have been an important part of the lives of viewers and listeners in the region and even across the country."
Other members of the fourth class of inductees are:
Gilbert "Gil" Brooks, a pioneer in radio and television and first news anchor in Charleston; Ray Brooks of WHIS-TV, part of the "Snoop and Scoop" show, the Circle 6 Ranch 19 years, first cameraman and production manager 40 years; George "Mickey" Curry, who rose from switchboard operator at WSAZ-TV to studio floor person, director, producer and program director; Calvin "Randy" Jay Dailey, who owned WFGM in Fairmont and stations in Parkersburg and Ravenswood; Doug "Dougger" Hoffman, a radio legend at WKWK in Wheeling, WXIL in Parkersburg, WFGM in Fairmont and WETZ in New Martinsville; Wallace Horn, who launched the "Friendly Neighbor Show" in 1967 at WVOW; Richard "Dick" Hustead, a Clarksburg disc jockey who invited the Sky Castle remotes from drive-ins and moved on to station ownerships, including WVOY radio and television, and opened the first cable firm in the Tri-State region; George Hutchinson, a Huntington broadcaster who began as a staff announcer at WSAZ and was program director and chief announcer at WCMI in Ashland, Ky., and program director of WHTN in Huntington; Dave McLain, disc jockey and program director when WTCR twice was named CMA station of the year; Bob Miller, who began at WIRO in Ironton, Ohio, worked at WKEE and WGNT, and once was named air personality of the year by Billboard Magazine; Bert Shimp, WSAZ radio disc jockey and program director, also was in television and an active community leader in Huntington; Jim Slade, who broadcast space chronicles on ABC-TV and with CNN, NBC radio, Mutual, the Westinghouse Broadcasting system and worked with Voice of America; and Eddie Walters, an engineer at WHEZ radio in Huntington and WTCR in Ashland.